Game Guides
How to Play Wizard Of Oz Casino on PC With BlueStacks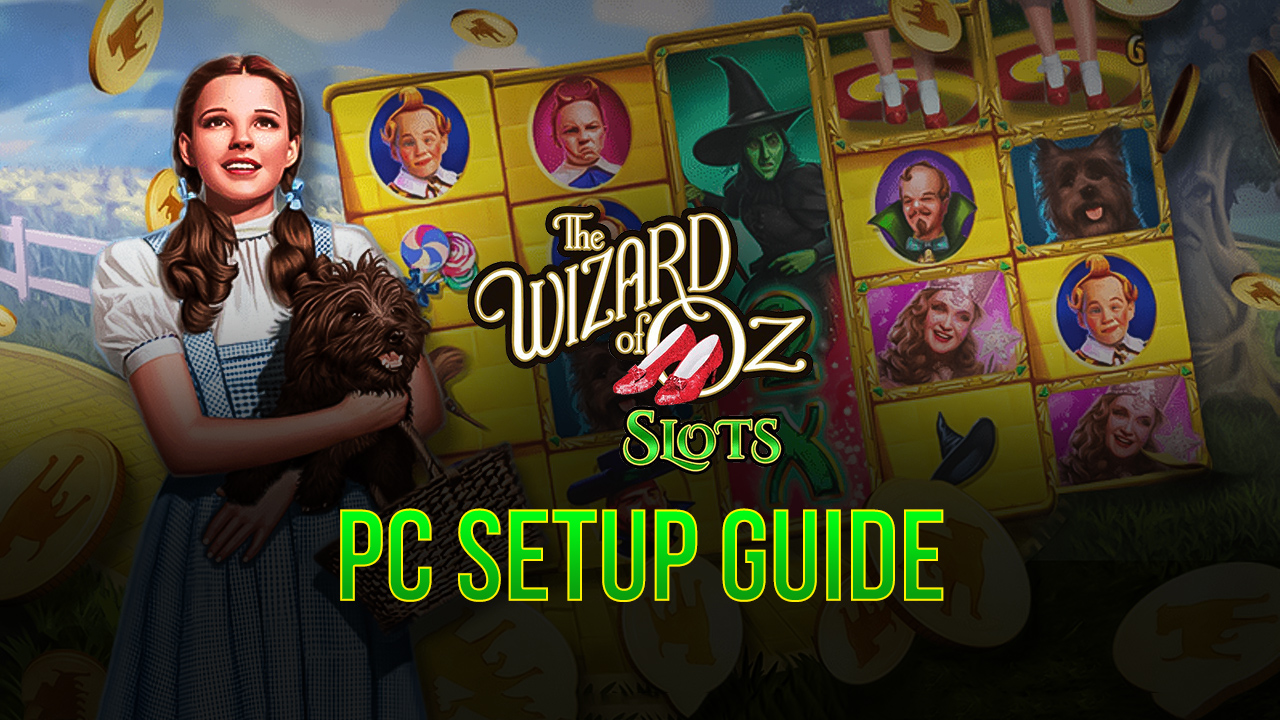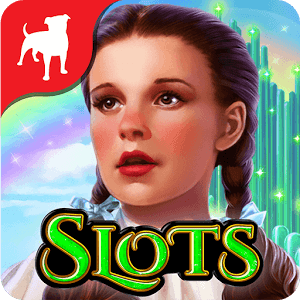 Wizard of Oz Casino introduces a magical twist to your favorite casino game. Using the much-beloved Wizard of Oz series as the primary theme for this slot machine game, watching your game win various prizes is nothing short of entertaining. Not to mention, there's the added bonus of reliving one of the most recognizable stories in the world. Using a platform like BlueStacks to play this game on your computer makes playing Wizard of Oz Casino so much more enjoyable as opposed to playing it on mobile.
Have you ever tried playing in a casino before? Well, actually, your prior experience doesn't actually matter; whether or not you've played before, Wizard of Oz can show you why the adults are so obsessed with throwing their money at slot machines with every chance they get. Playing this game simulates the experience of playing in a casino without the real-life costs of gambling exorbitant amounts of cash just for the chance to play again. Unless you're planning on topping up some credits in the game, that is.
How To Set Up Wizard of Oz on BlueStacks
Not satisfied with playing Wizard of Oz on your smart device? Time to take it to the next level by taking your favorite game to your computer with the help of BlueStacks, the no. 1 Android emulator available on the market! With BlueStacks, you can play any Android game available just by following a few steps. Time to take a break and test your luck; go ahead and bet all your in-game coins on Wizard of Oz Free Slot Casino on your computer after a hard days' work!
Download and install BlueStacks

on your PC.

Complete Google Sign-in to access the Play Store, or do it later.

Look for Wizard of Oz Free Slots Casino in the search bar at the top-right corner.

Click to install Wizard of Oz Free Slots Casino from the search results.

Complete Google Sign-in (if you skipped step 2) to install Wizard of Oz Free Slots Casino.

Click the Wizard of Oz Free Slots Casino icon on the home screen to start playing.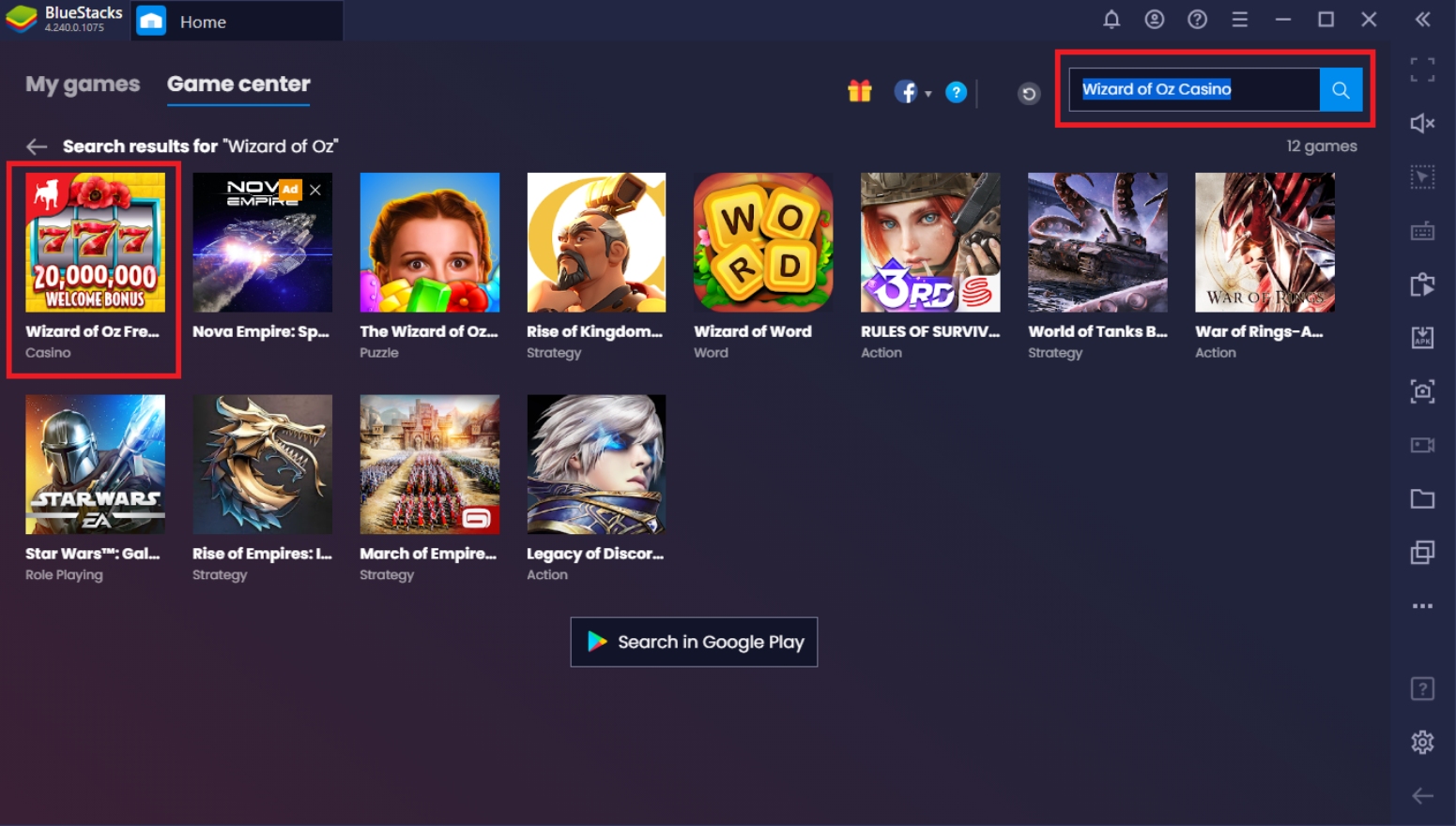 Useful Features When Playing Wizard of Oz Casino on BlueStacks
Finished installing Wizard of Oz on your BlueStacks client? Before you jump into the fun, learn about all the things that make playing this game on your computer the best experience you could ever wish for. BlueStacks has useful features that are designed to improve the quality of gaming that is almost impossible to have when playing on your smart device. Here are some of the features that you can enjoy when you're on your BlueStacks client:
Multi-Instance Function
Watching your slots spin by themselves while waiting for a huge jackpot can be fun, but doing just that for an extended period of time can get dull pretty quickly. The Multi-Instance Function allows players to open multiple BlueStacks instances at the same time so that all the games you want to play are active simultaneously. Why bother switching through different games? After all, with this function, you can have your cake and eat it too; just have all the games you want active on your windows screen, where you can monitor each and every one of them.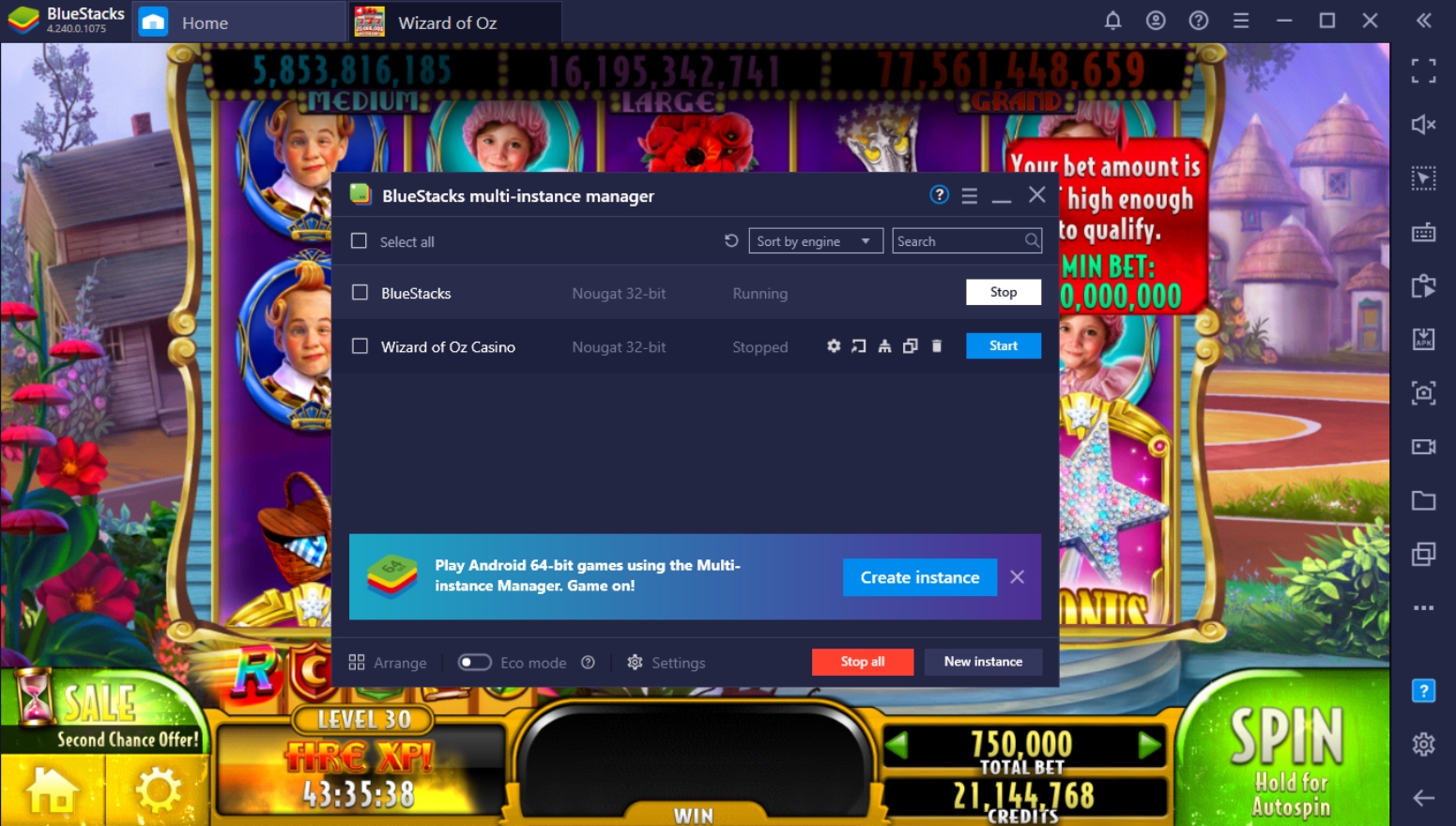 Using the Multi-Instance Function, you can play different games at the same time or open multiple instances of Wizard of Oz Casino. The more instances of this game you have open, the higher your chances are of hitting the jackpot! The number of instances you can open is only limited by how many your computer can handle. With this, you can easily manage all the accounts that are automatically rolling for you while you kick back and see the magic unfold.
Eco Mode
Wizard of Oz Casino is the type of game you can play in the background while you do your work or play other games. However, playing this game on multiple instances or leaving it open while you use power-hungry applications can leave your computer weak on its knees. In times like these, you might be forced to close a few apps so that you can do what you need to do.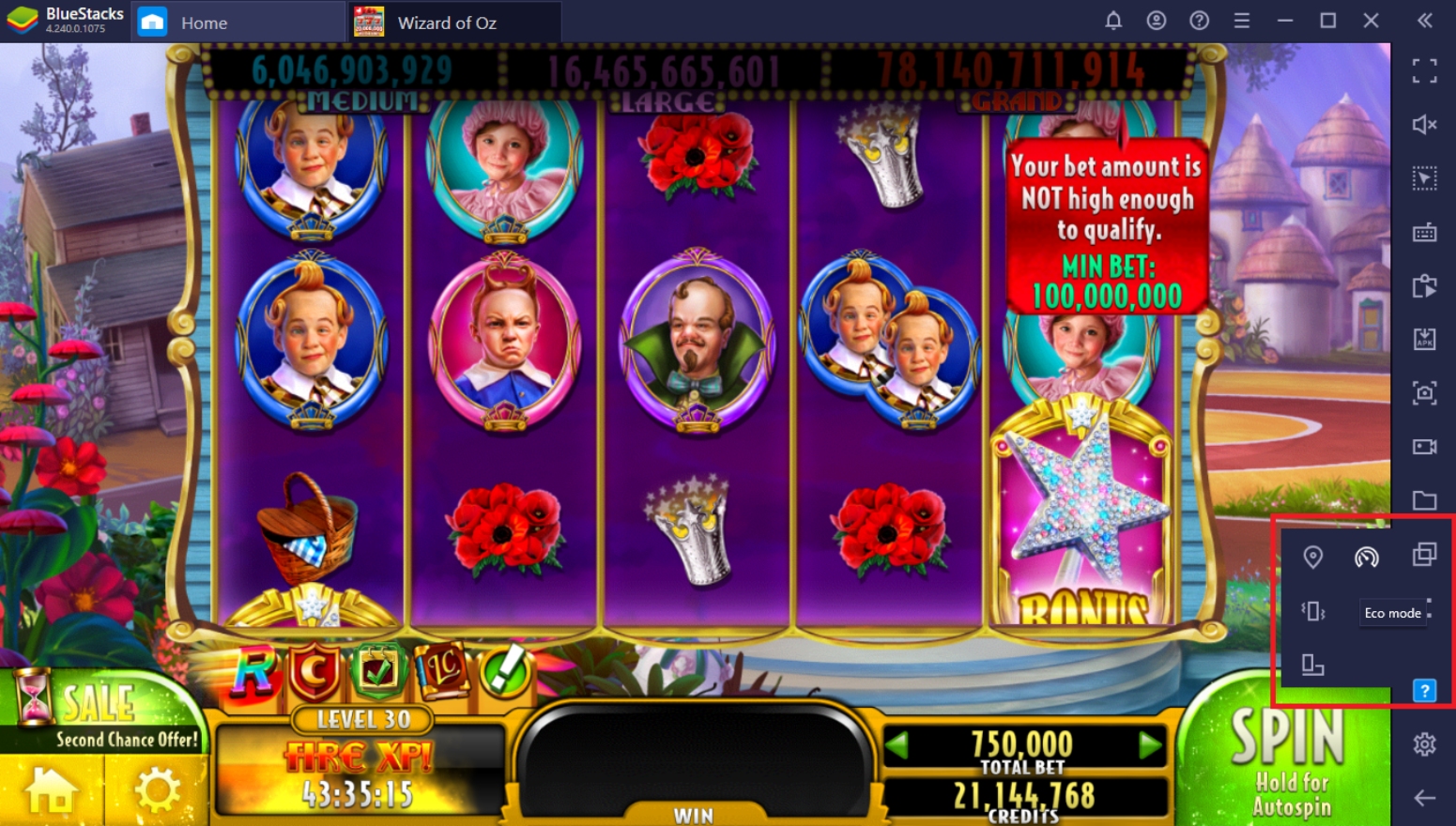 The BlueStacks Eco Mode significantly drops the processing needs of your instances to give a bit more space for other important applications on your computer. You don't need to close any apps when, alternatively, you could simply tone down the amount of processing your game demands. This way, you can still leave your game open and monitor it clearly while you finish other important tasks.
Screen Recorder
The BlueStacks Screen Recorder is basically an upgraded version of your phone's screen capture function. So many android devices have subpar screen capture capabilities; the few that don't often make your game lag or heat up your phone before you know it. With BlueStacks, you can record your game without worrying about your device's performance dropping.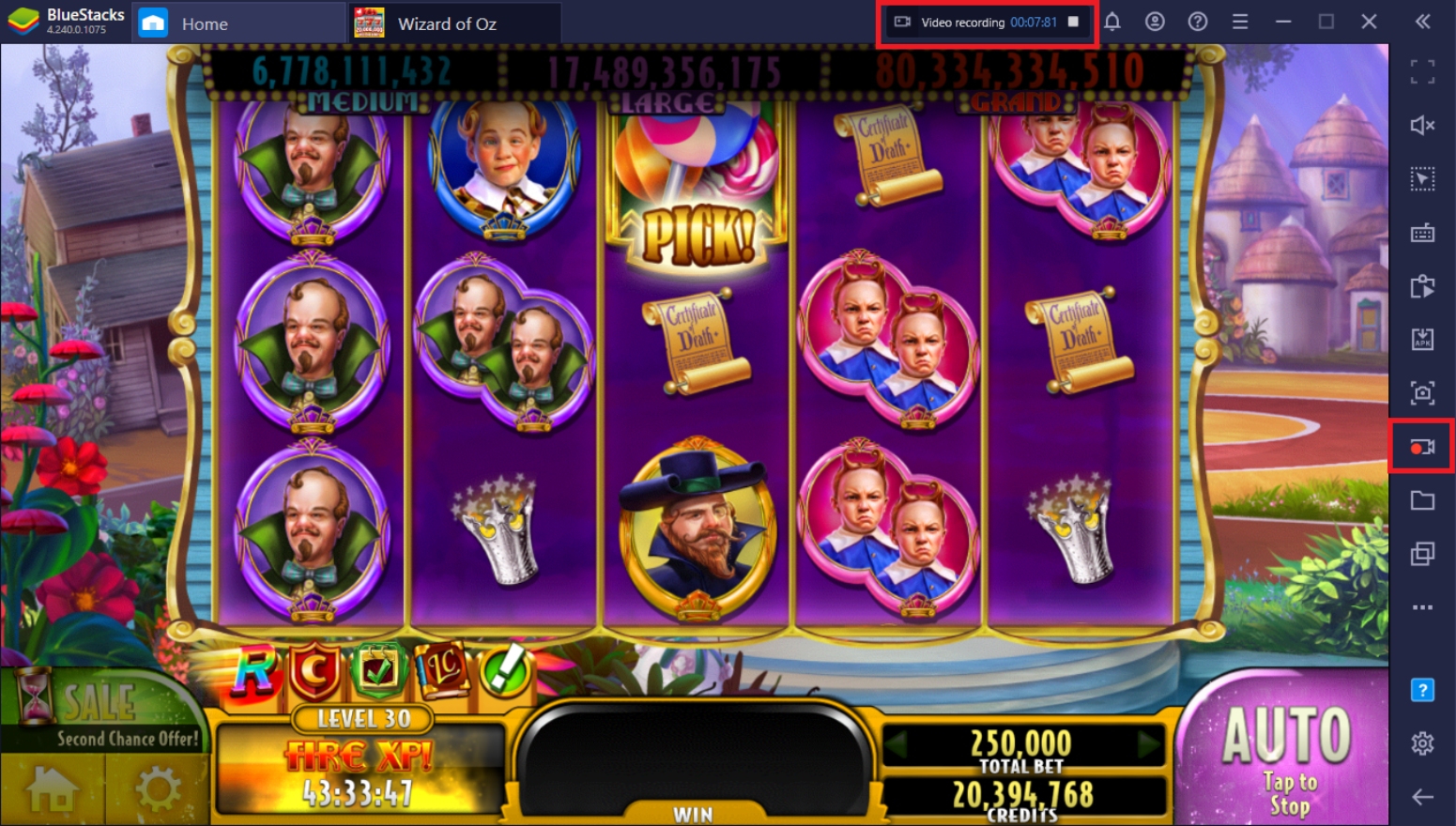 This function allows you to save your gameplay, and – since it records mobile games – the file size outcome isn't as big as you'd expect either. It replicates the behavior of a real phone screen recorder and stores it on your computer. You can also use the Streaming Mode to share your gameplay live.
Time To Go On A Magical Adventure In The Casino!
Playing Wizard of Oz Casino has proved to be a rather enjoyable experience overall. In classic casinos, looking at the standard symbols can get quite repetitive once you get used to it. Wizard of Oz takes what makes casino slot machines enjoyable but adds a fun little twist to the rules; you might need to relearn it all over!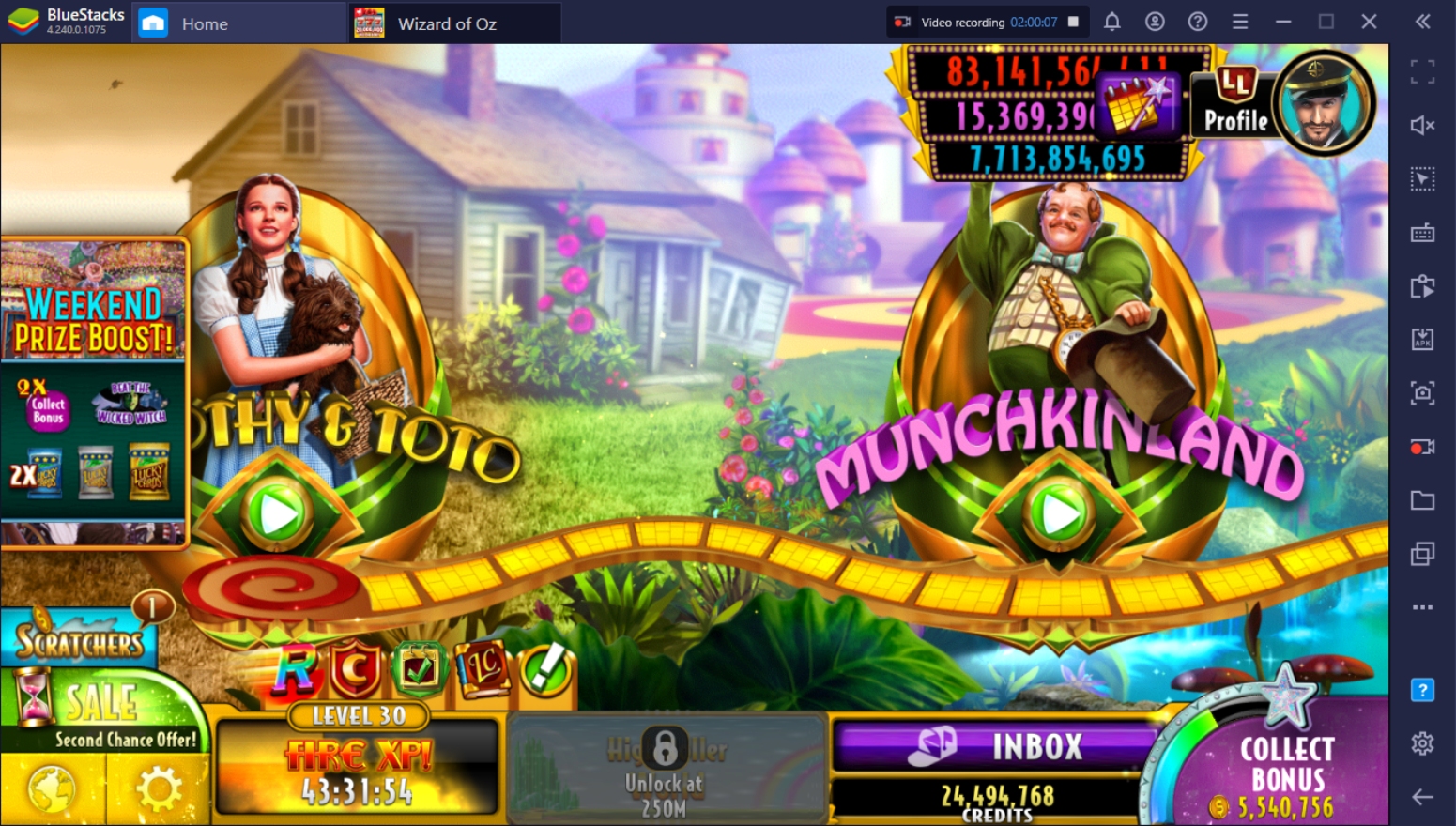 Both casino fanatics with bad luck as well as aspiring casino-goers who don't have the time or money to go can release all their slot machine needs on this game! Enjoy the magical adventures of Dorothy through the mystical Land of Oz while you cash in on some wonderful prizes. What are you waiting for? Get this game on your BlueStacks device today!