Game Guides
WWE Undefeated – How to Use BlueStacks to Stomp Your Enemies in the Ring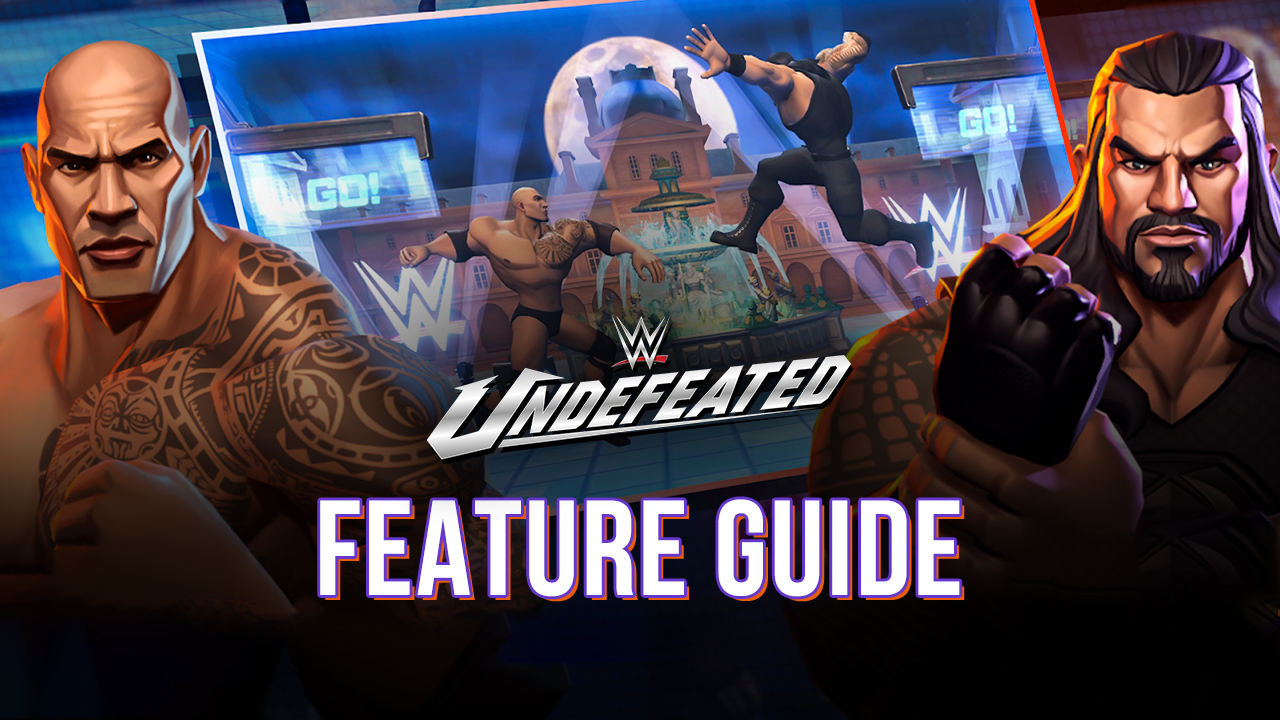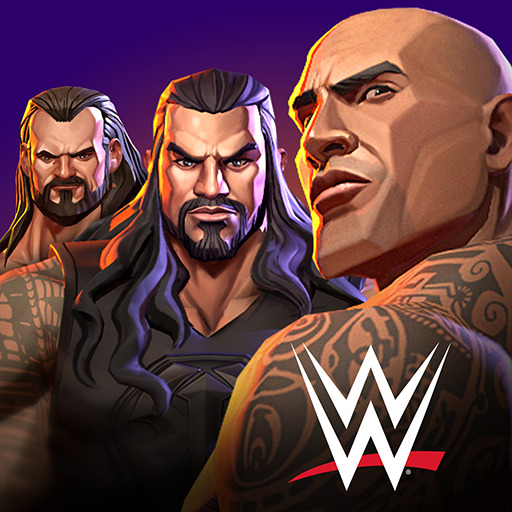 WWE Undefeated is the recently-released mobile wrestling game developed by nWay, offering the players bone-crunching, back-breaking, hype-inducing action by the hands of some of the most renowned WWE characters of all time.
A Mobile Wrestling Game… With a Twist!
This title is played very much like a fighting game, with players facing off against each other in a 2D perspective. The players can freely move left and right to control the distance to their opponent, and can also use a variety of special moves including striking, grapples, and counterattacks to knock out and pin their enemy to take the victory.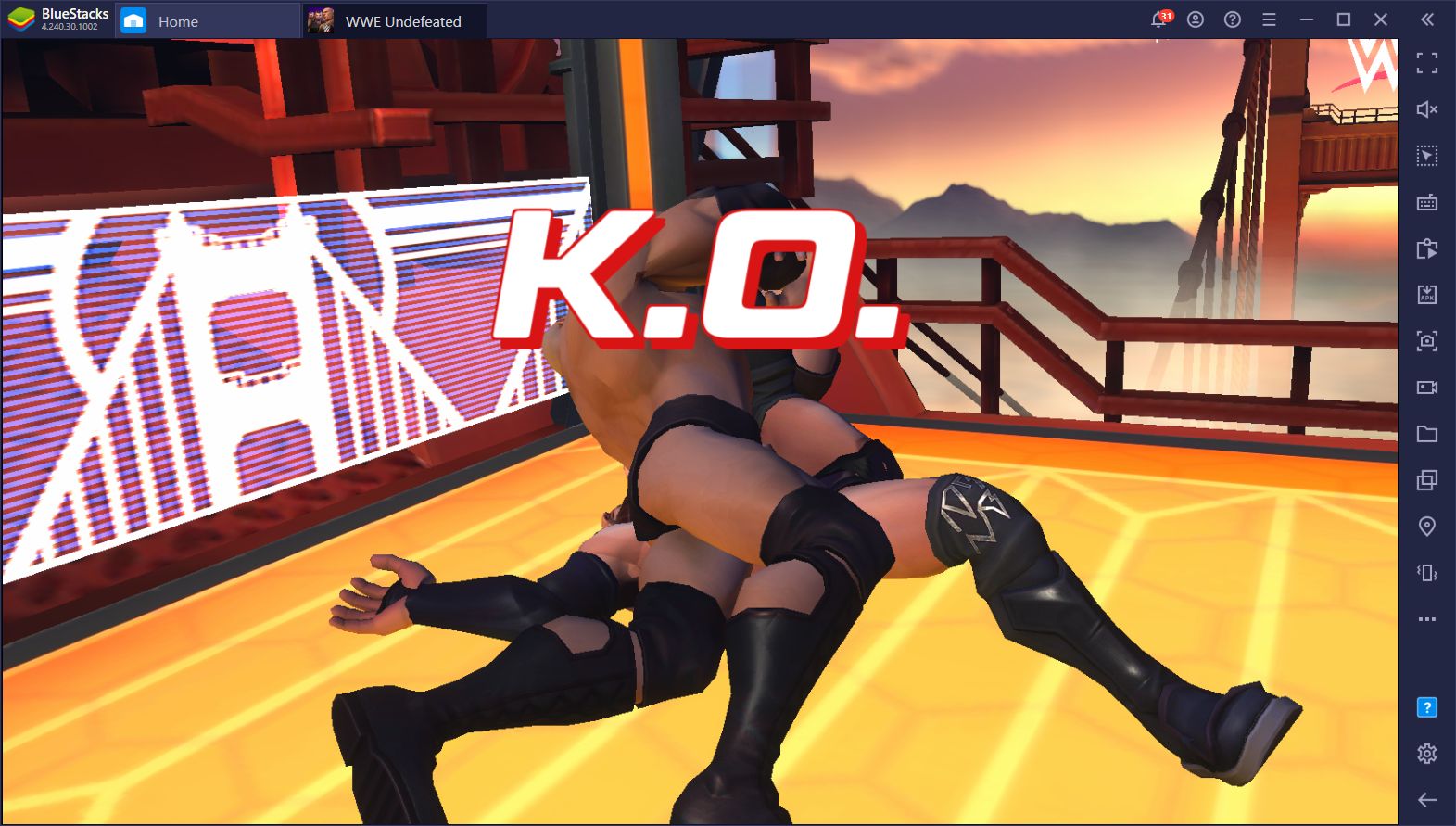 However, unlike traditional fighting games where the characters can freely use their attacks, all the moves in WWE Undefeated come in the form of decks with cards that are drawn at random. The players can draw up to 3 cards at any given moment, and use them to execute powerful moves. However, using these cards costs stamina, a resource that regenerates automatically over time.
In essence, the fights in this game boil down to smacking each other silly. When the health of a fighter drops to 0, they will fall and get automatically pinned. If they fall a second time, they get pinned again and automatically lose. This is the game's way of implementing a round system, with the first player to win 2 rounds being the victor.
Even though WWE Undefeated has an RPG progression system in the form of different skill cards and characters to unlock and upgrade, the battles themselves are fast and intense, and consist of constantly moving back and forth to control the distance from your opponent, and moving in to strike when the opportunity presents itself. This style of gameplay requires finesse and precision, especially when fighting against the tougher opponents.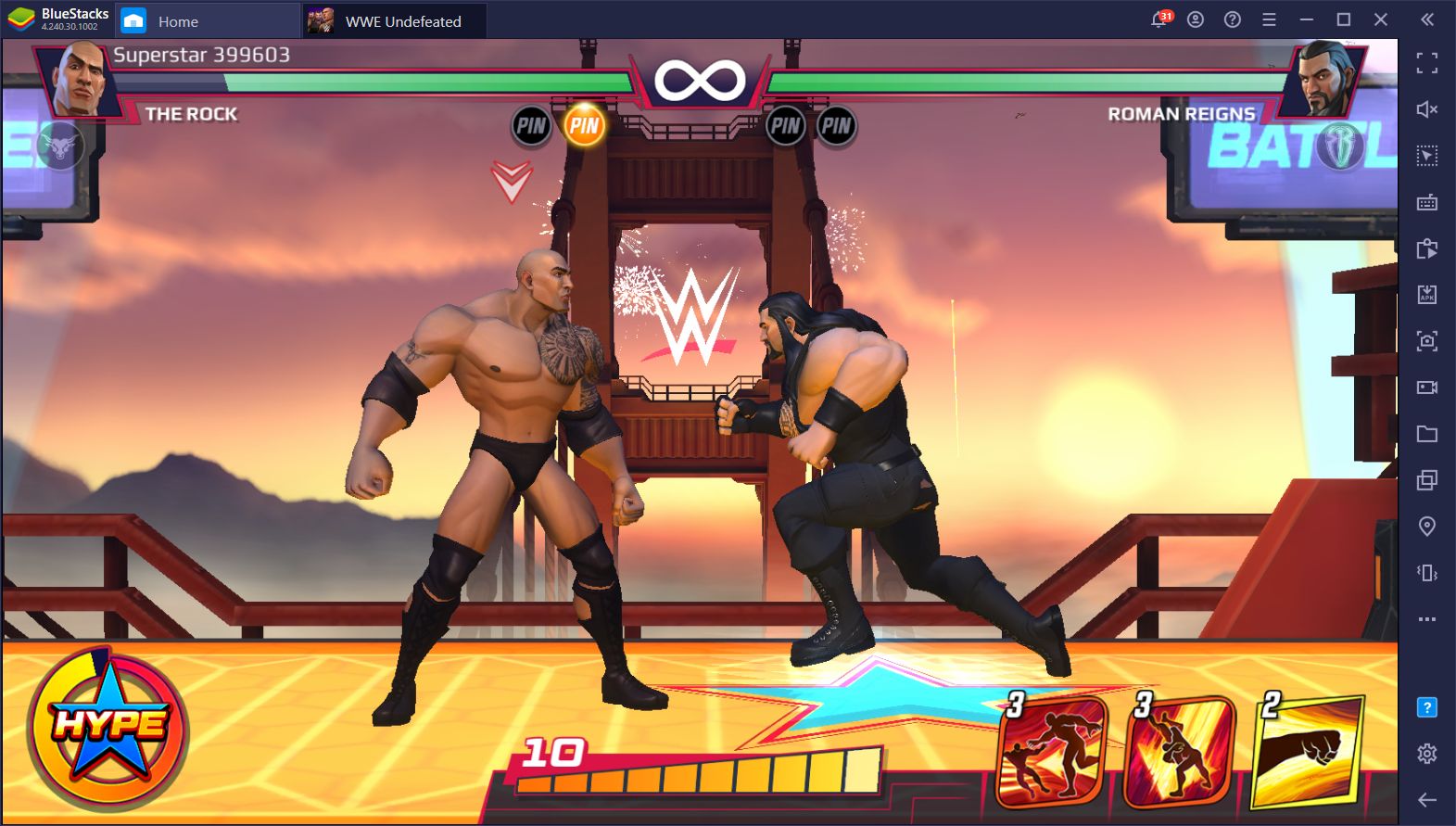 Sadly, while the game is designed for phones, your controls and handling suffer greatly when trying to play on your touchscreen. Further, you need a really good phone to play the game with decent performance and graphics, which can set you back a lot of money; and even if you have one of these, you'll still have to deal with battery issues. However, by playing WWE Undefeated on PC with BlueStacks, you not only WON'T have to worry about any of these, but you'll also get access to exclusive tools that will significantly improve your experience far beyond what a phone could ever provide.
The Best Graphics and Performance
While Android games can be quite demanding on the older phones, you don't really need to worry about this if you're playing them on your computer. Since your PC hardware is likely superior to that of your phone's, especially if you own a gaming PC, it can run every single game much better than your handheld device.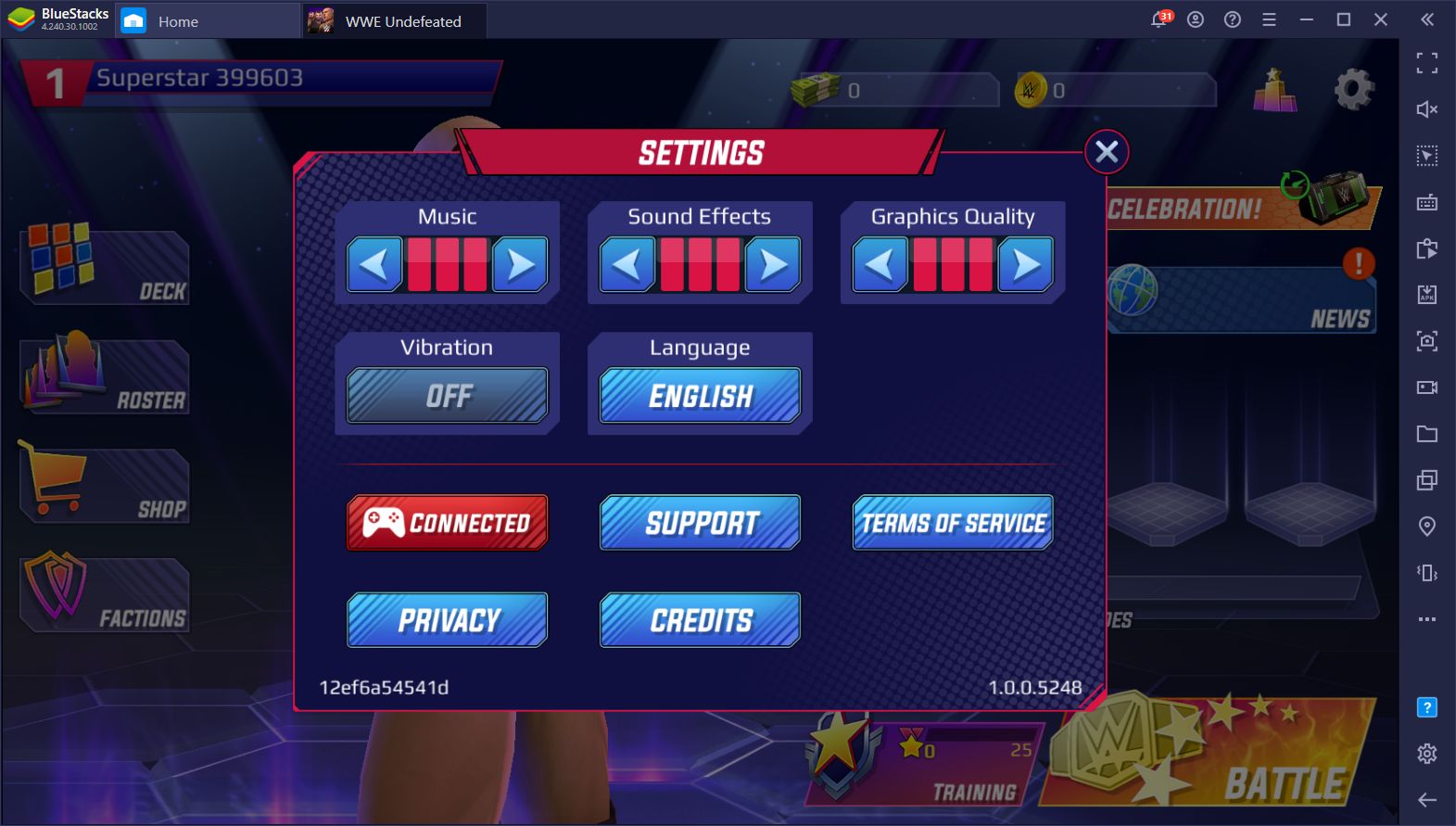 WWE Undefeated looks really nice, featuring detailed character models as well as some smooth animations on most of the special moves. Plus, the effects on some attacks can get quite wild depending on the character, with lots of eye candy and bone-crunching action. However, most of this detail is lost if you're rocking anything but the highest graphical settings.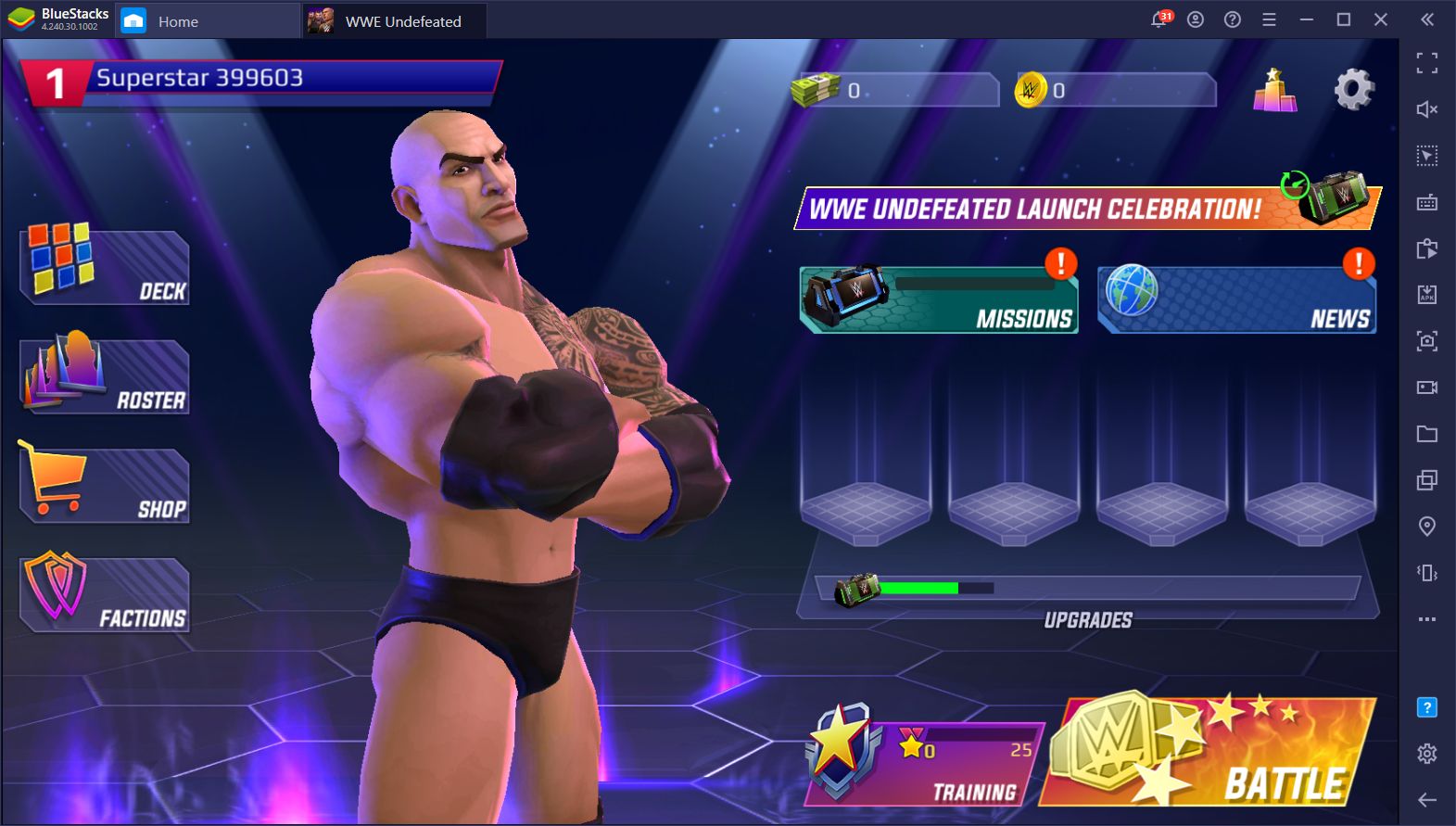 Luckily, since you're probably playing this mobile wrestling game on PC with BlueStacks, you can simply set your graphics to the limit, and enjoy the best visuals and framerate that WWE Undefeated has to offer. Trust us when we say that you won't be disappointed.
The Best Keyboard Controls With the Keymapping Tool
While WWE Undefeated is an RPG at its core, considering that there are many different characters and moves to unlock and upgrade, most of its action takes place in real-time. Even if you have the best wrestler and moves unlocked, those aren't worth anything if you're up against a skilled opponent that can dodge and counter every single attack.
Most of your success in this game will come from your controls. Specifically, from your mastery over your controls, which will allow you to maintain proper distancing and close in at the right moment to strike. In fighting games, this back and forth between players is called "footsies" and is hard enough to do with a controller, imagine doing them with your touchscreen!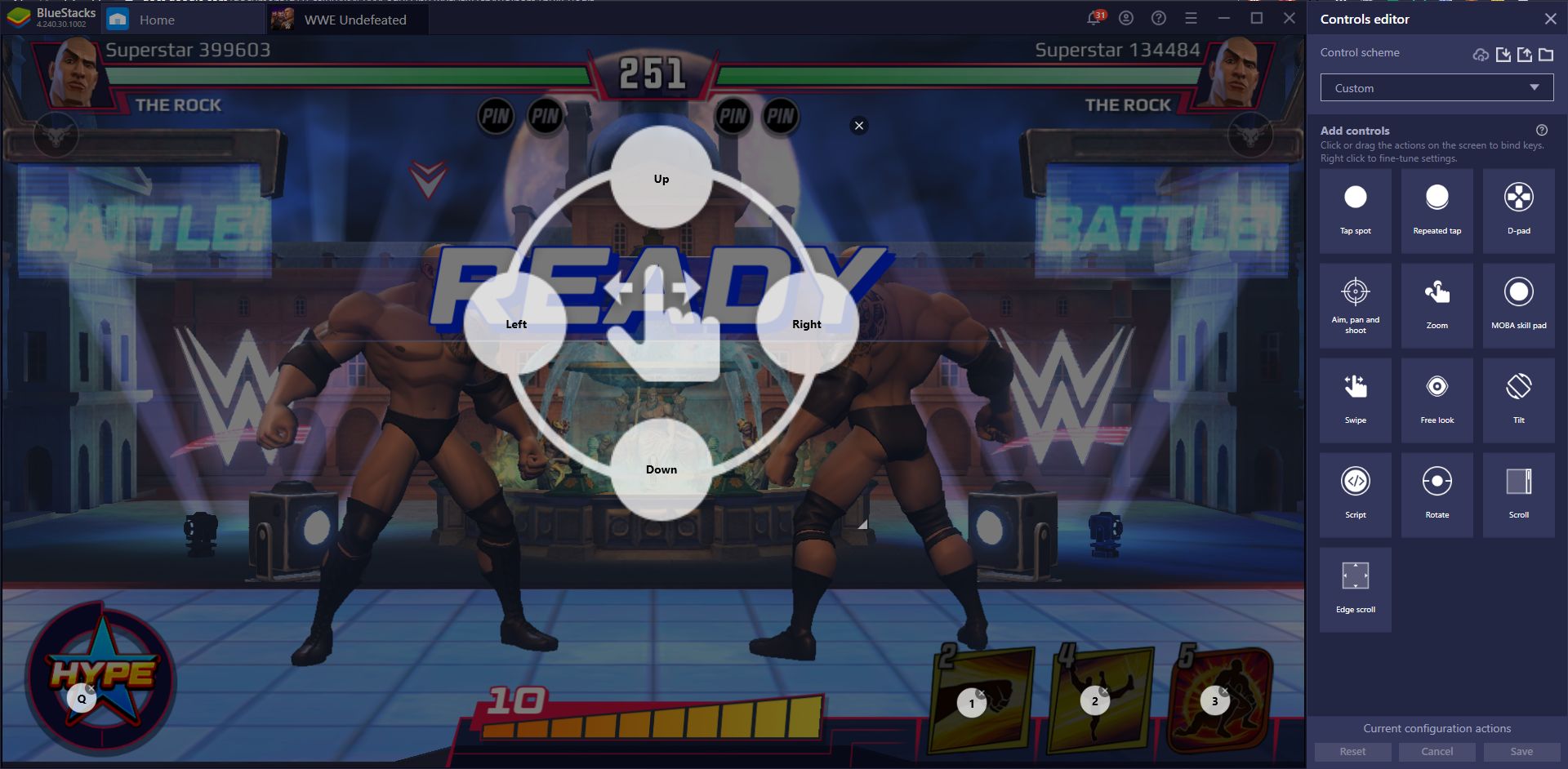 Luckily, if you play WWE Undefeated on PC with BlueStacks, you can use the Keymapping Tool to create custom control schemes that will give you superior handling using your keyboard, allowing you to defeat all your opponents with ease. And even if you somehow don't win with our control schemes, you'll at least have a much better time losing. In any case, with the Keymapping Tool, you'll only lose to the best opponents, which are often the best and most instructive types of losses!
Stream and Capture Your Wins
WWE Undefeated is all about hype. There are even special moves that you can use once your Hype meter is full. However, aside from the in-game hype system, this title is great for streaming and generating hype online with your friends and followers.
The BlueStacks Recorder tool lets you easily capture your best moments in this wrestling and conveniently save them as .mp4 clips so you can edit or share them online as-is. To activate this feature, you simply need to press Ctrl + Shift + R once to start recording, and then once again to stop the recorder. The tool will then save your clip to a directory of your choosing.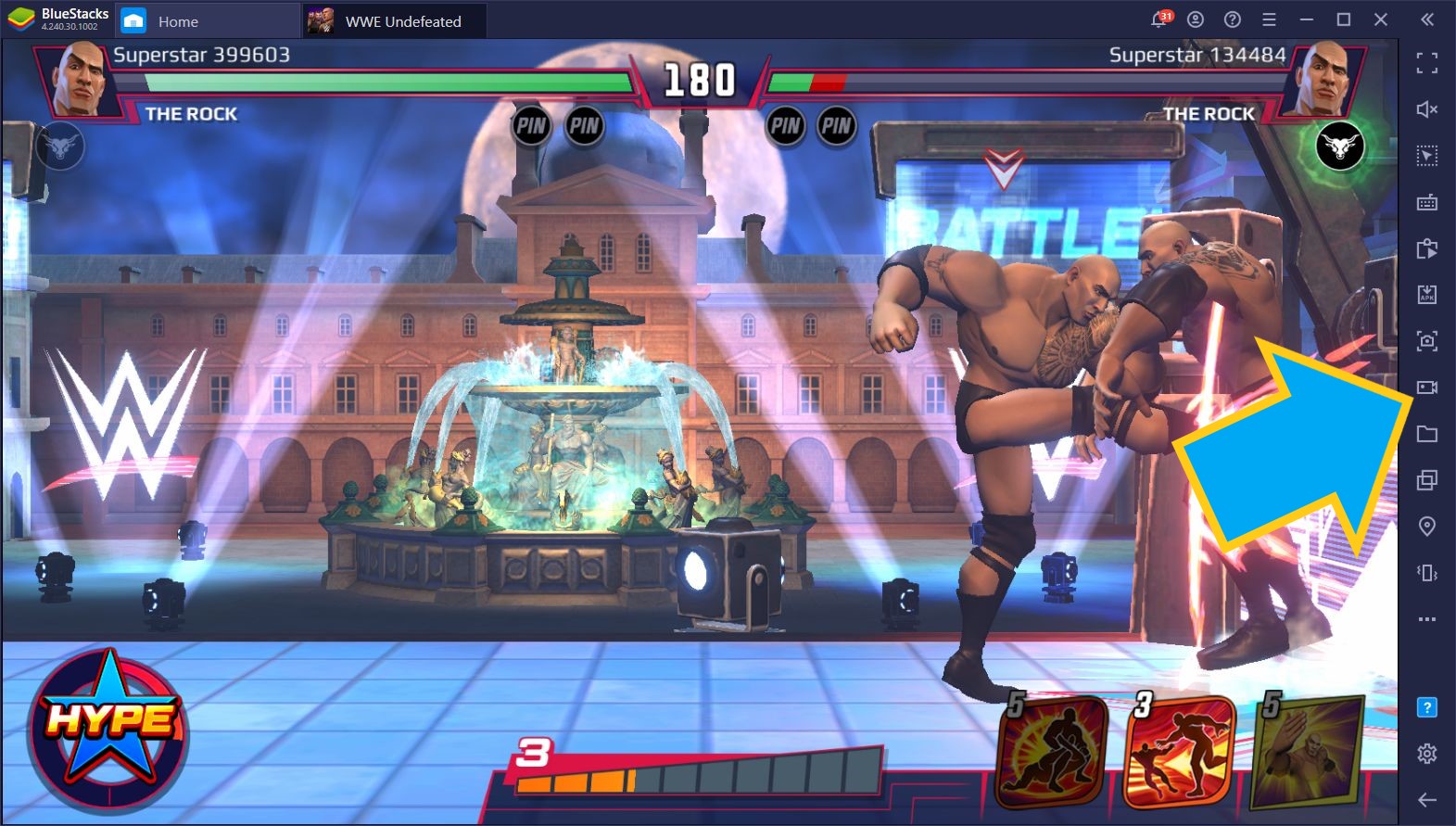 Alternatively, if you're a streamer, you can use the BlueStacks Streaming Mode to make the game screen pop out from the BlueStacks panel, which will make it far easier to capture with your broadcasting software. You can activate this feature from the BlueStacks burger menu on the top right of the window.
Have you already tried WWE Undefeated on PC with BlueStacks? We'd love to hear your thoughts and comments in the section below!