Game Guides
Yokai Tamer on PC: Tips and Tricks for Beginners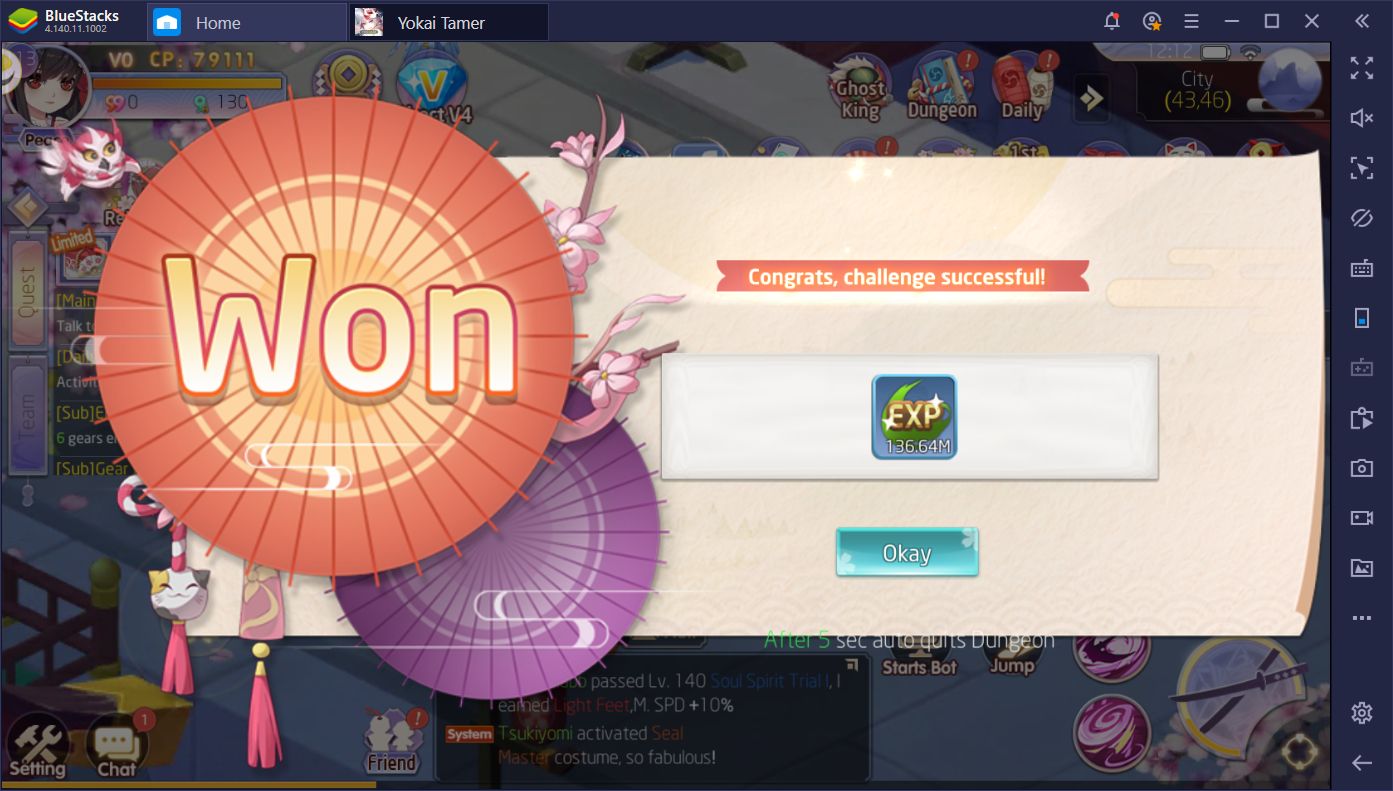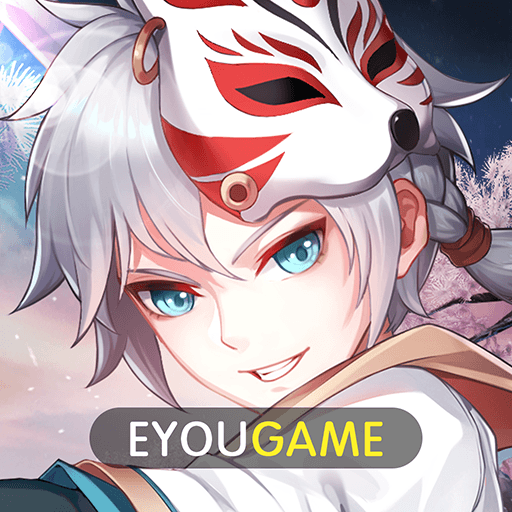 There are many games like Yokai Tamer on the market. These Mobile MMORPGs occupy a niche in the genre as they offer specific features that cater more towards casual gamers. Case in point, this game has tons of automation perks that allows you to progress without paying much attention. In fact, you can reach level 100+ with your character fairly quickly, assuming you know where to grind and what to do.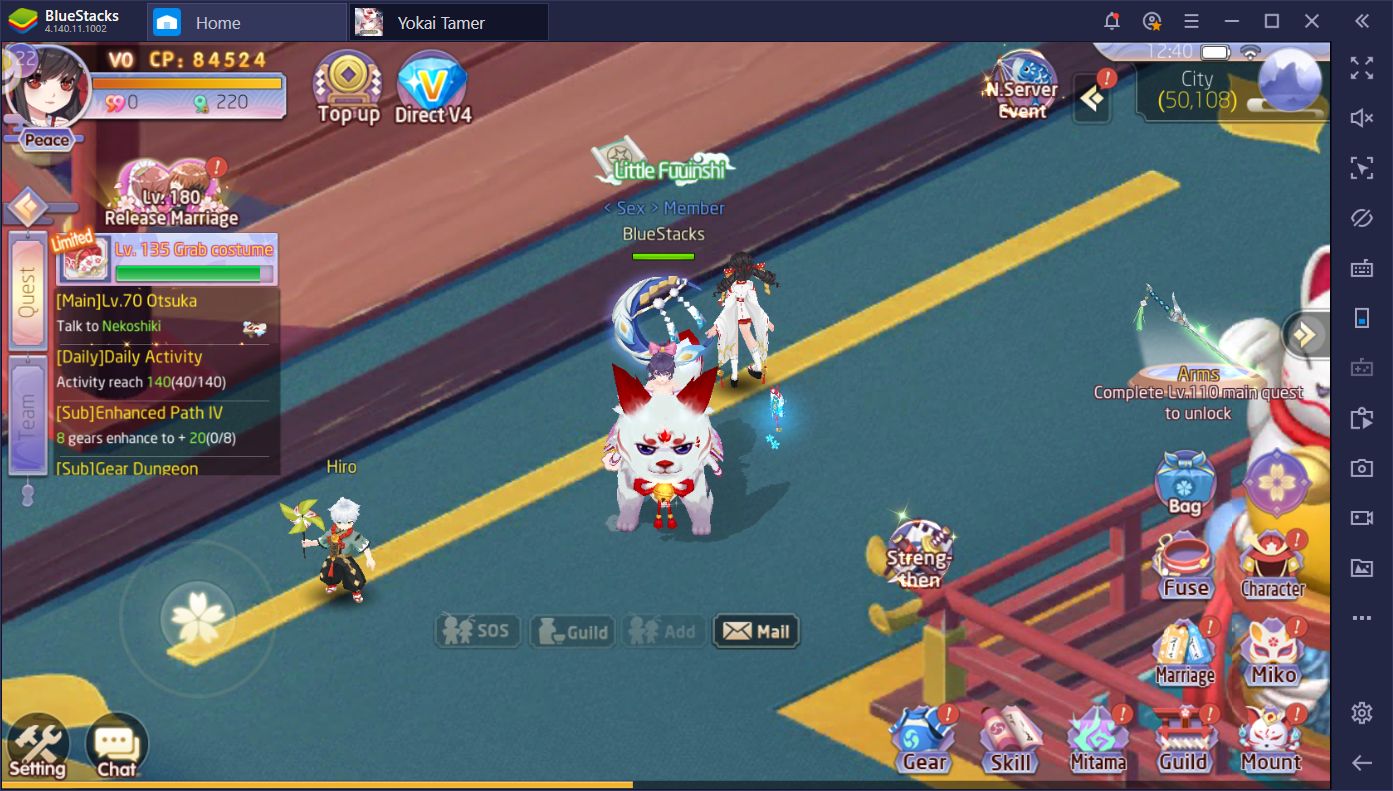 If you're a newcomer to Yokai Tamer, we recommend reading our BlueStacks usage guide for this game, where we talk about how to use our Android emulator to greatly improve your experience while leveling and progressing. However, today we've come to share some tips and tricks to get you started in this mobile MMORPG, so you can progress as fast as possible, without wasting any time.
Use The Keymapping Tool to Accelerate Your Questing
We already talked about this in our BlueStacks usage guide. However, this tip is so important for Yokai Tamer, that we decided to mention it on both guides.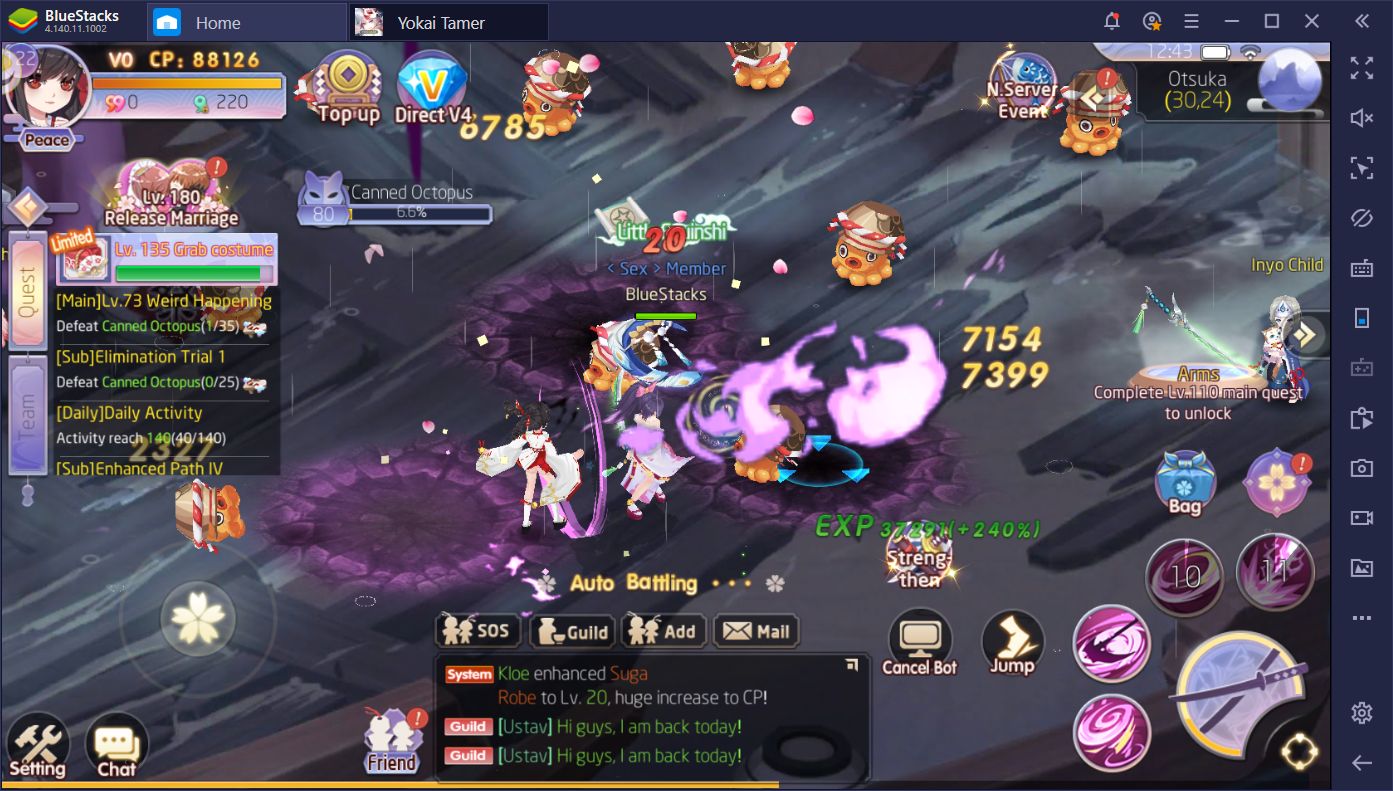 In Yokai Tamer, the most important task you can do after creating your character is following the main campaign quests. These missions will not only help to expand upon the story events, but they will also reward you with experience and gear, as well as unlock many different features that you'll need in order to continue developing your toon. However, while the game's auto-battle and auto-navigation features can help to streamline completing these missions, the AI leaves a lot to be desired.
When using the auto-navigation feature to complete missions, you'll find that your character will sometimes stay behind grinding on monsters. While this is a good way to farm for experience, it doesn't help at all when all you want is to complete story missions. Luckily, with the Keymapping Tool, you can order your character to stop hunting and to go to the next quest destination, by pressing a single button.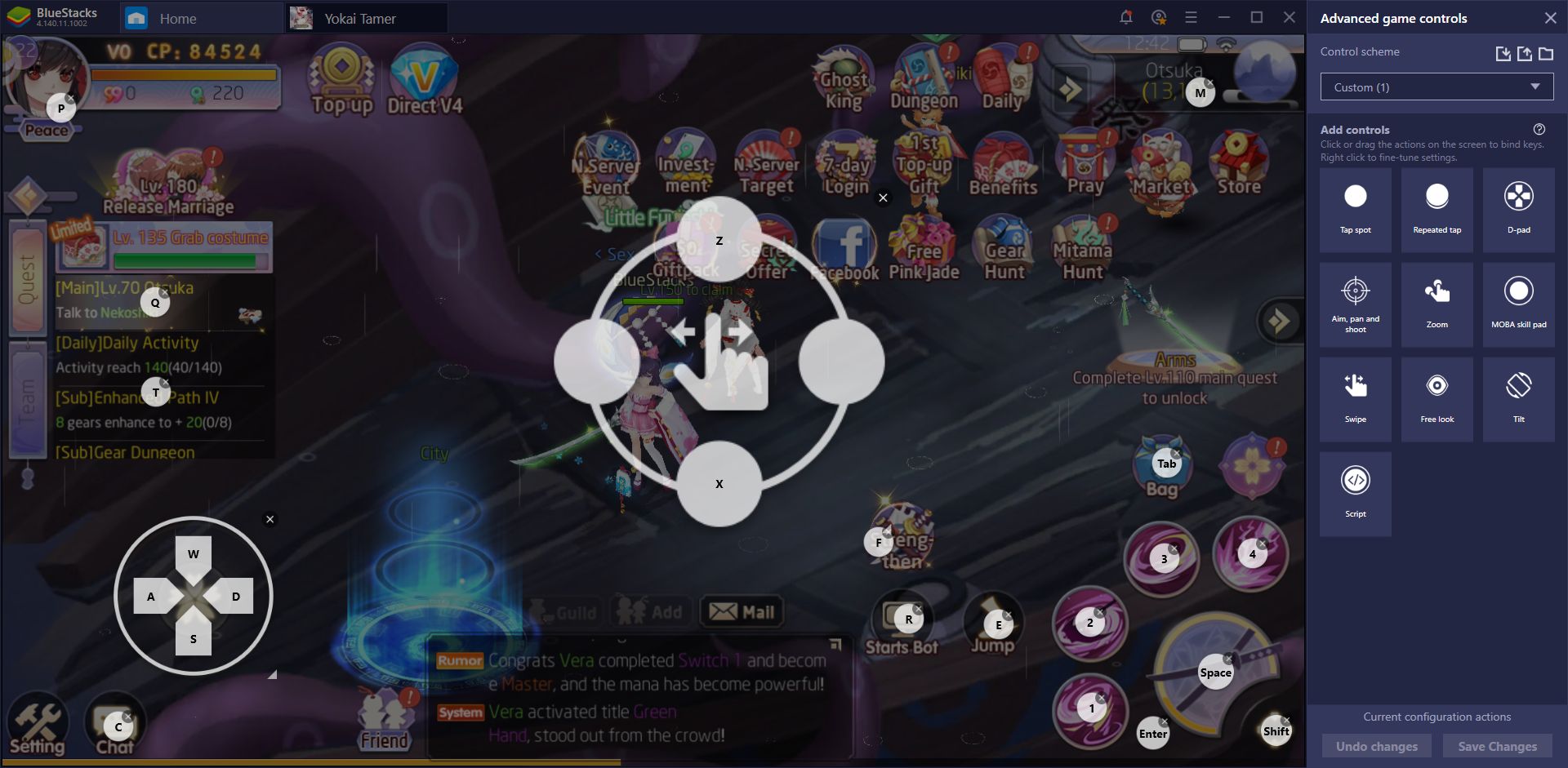 While being able to keep your character focused on completing the tasks at hand is great, this tool can also be used for creating shortcuts to some of the game's most frequented menus. For instance, since you'll be visiting your Daily missions frequently, you can set a shortcut to this menu so that you can access it via a button press, instead of having to click on the button manually using your mouse.
The more shortcuts you add to the screen with the Keymapping Tool, the better your experience with Yokai Tamer will be.
Do the Daily Quests
Aside from the story missions we just mentioned, another important aspect of progressing in Yokai Tamer is to complete your daily missions. Through finishing these simple requests, you will receive tons of experience, gold, and other useful items. These missions are very straightforward and usually consist either of killing a few mobs, fighting a boss, or talking to an NPC. What's more, you can even complete them automatically by clicking on the task in the quest list. Make sure to set a shortcut to the quest list to streamline this process.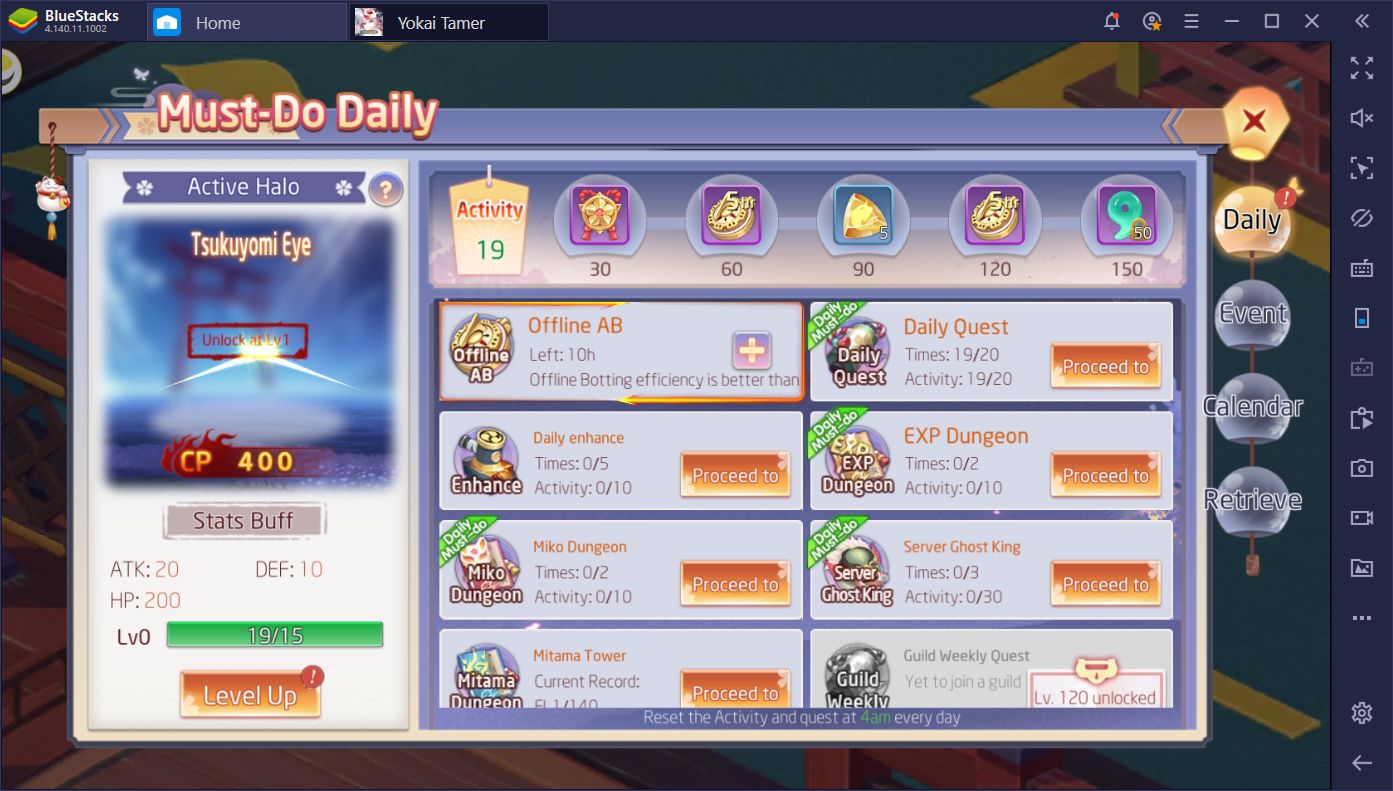 Aside from the 20 daily quests that you can complete, there are other challenges that refresh every 24 hours, and that you should definitely strive to complete if you want to power up as fast as possible. These tasks can be found in the same "Daily" menu as the daily quests, and include daily enhancements, experience dungeons, Miko dungeon, Gear dungeon, the Mitama Tower, and so on.
All these challenges grant different rewards from completion. Nevertheless, if you have some free time, you should try to complete them all as they each contribute towards your activity milestones. Once you finish a number of these tasks, and reach said milestones, you will receive additional rewards, which include offline botting time, blue jade, mount gems, escort tokens, and many others.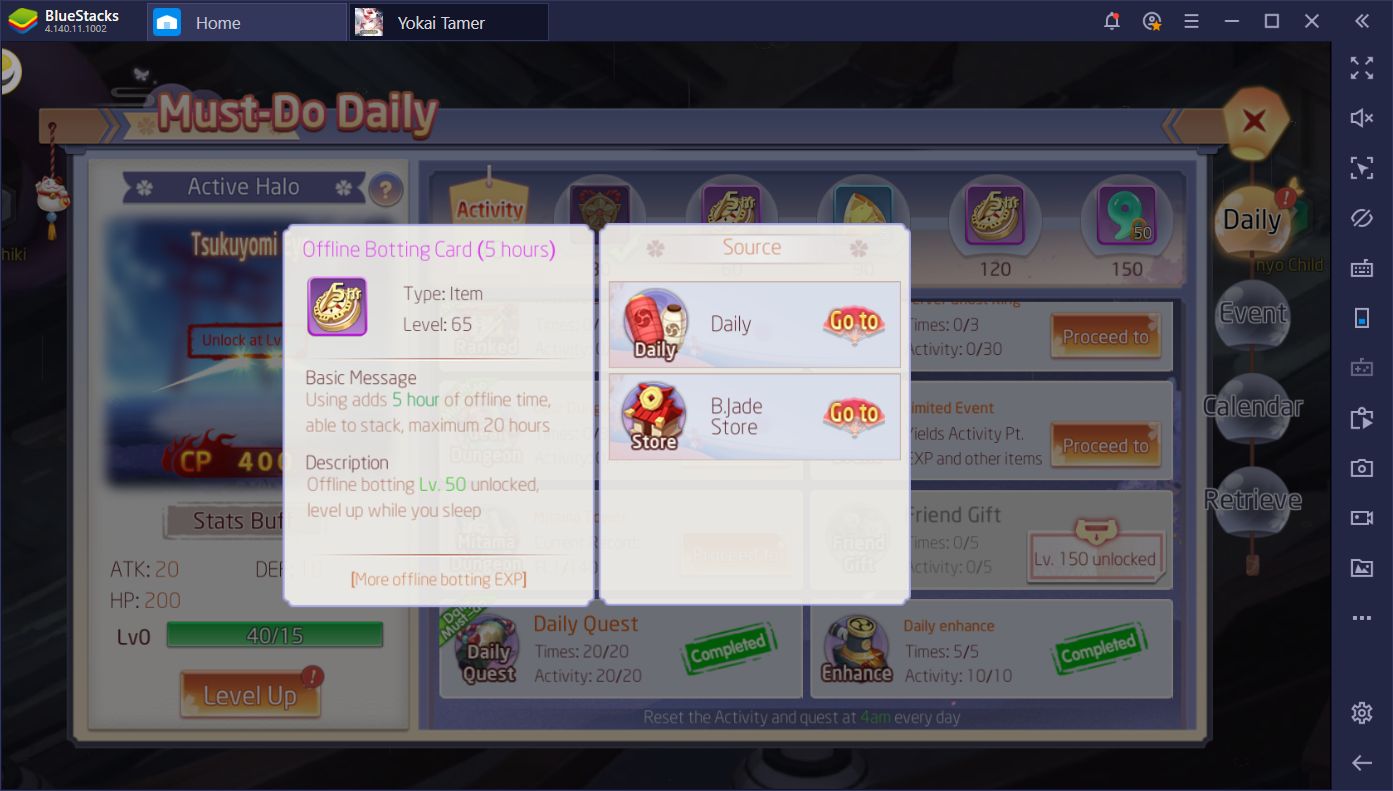 In a nutshell, those who want to become the strongest players in Yokai Tamer will have to do the daily missions without fail.
Keep Your Gear Enhanced
An important part of strengthening your toon in Yokai Tamer is by equipping them with the best gear. However, even these powerful pieces of equipment require enhancing to release their full potential. Luckily, in this game, the upgrade levels transfer from piece to piece. In other words, if you upgrade a weak starter headgear to +10, this upgrade level will transfer to the next piece you equip, at no additional cost.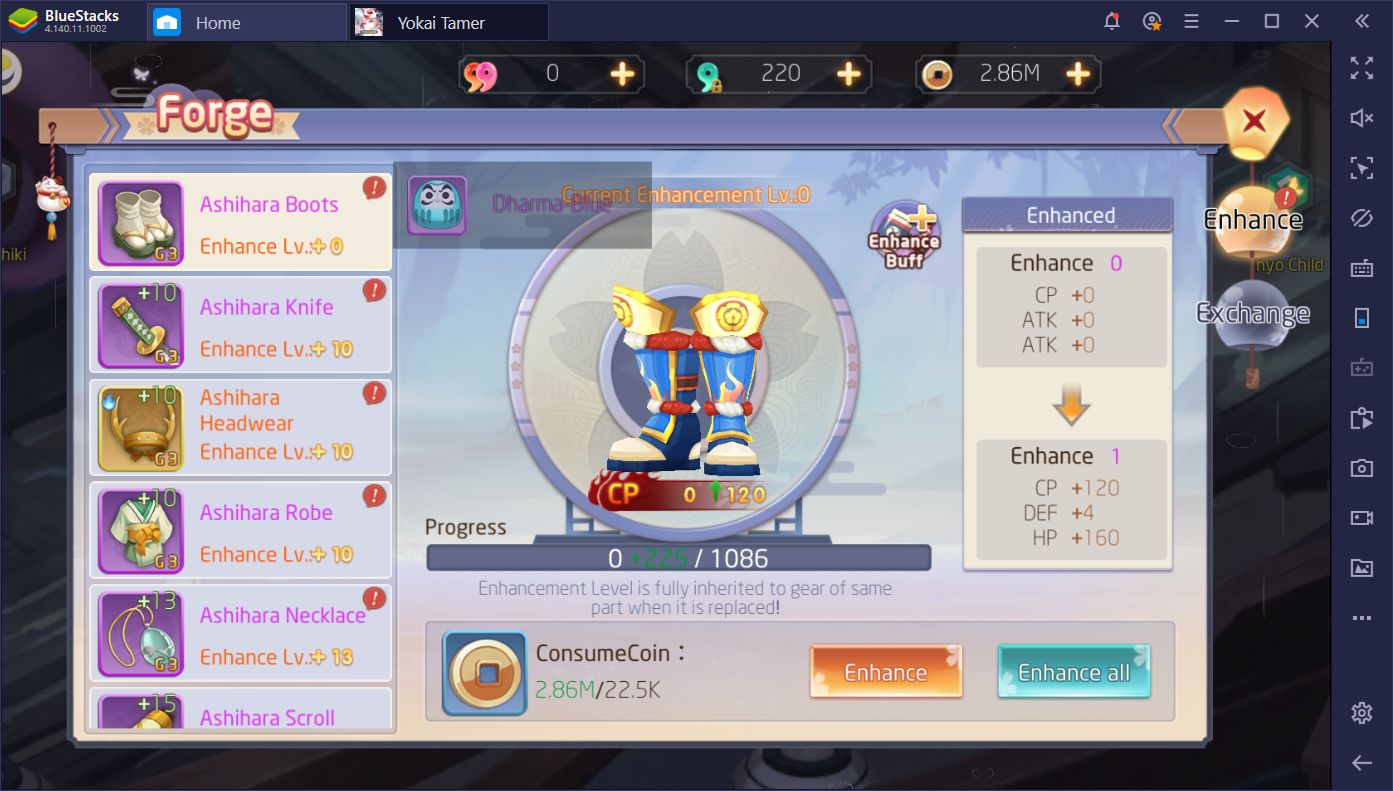 Whenever you have the necessary gold, make sure to visit the strengthen menu to upgrade your gear and increase your stats.
Complete the Exp. Dungeons
Once you reach level 75, you'll unlock the Experience Dungeon, which is an instanced challenge that allows you and two other players to access and fight against waves of monsters to grind for experience. While technically a part of the daily tasks we mentioned above, the experience dungeons are incredibly important as they are a great way to level up your character. From just one run, we got over 100 million experience points, which was enough to get us from level 108, to well over level 112.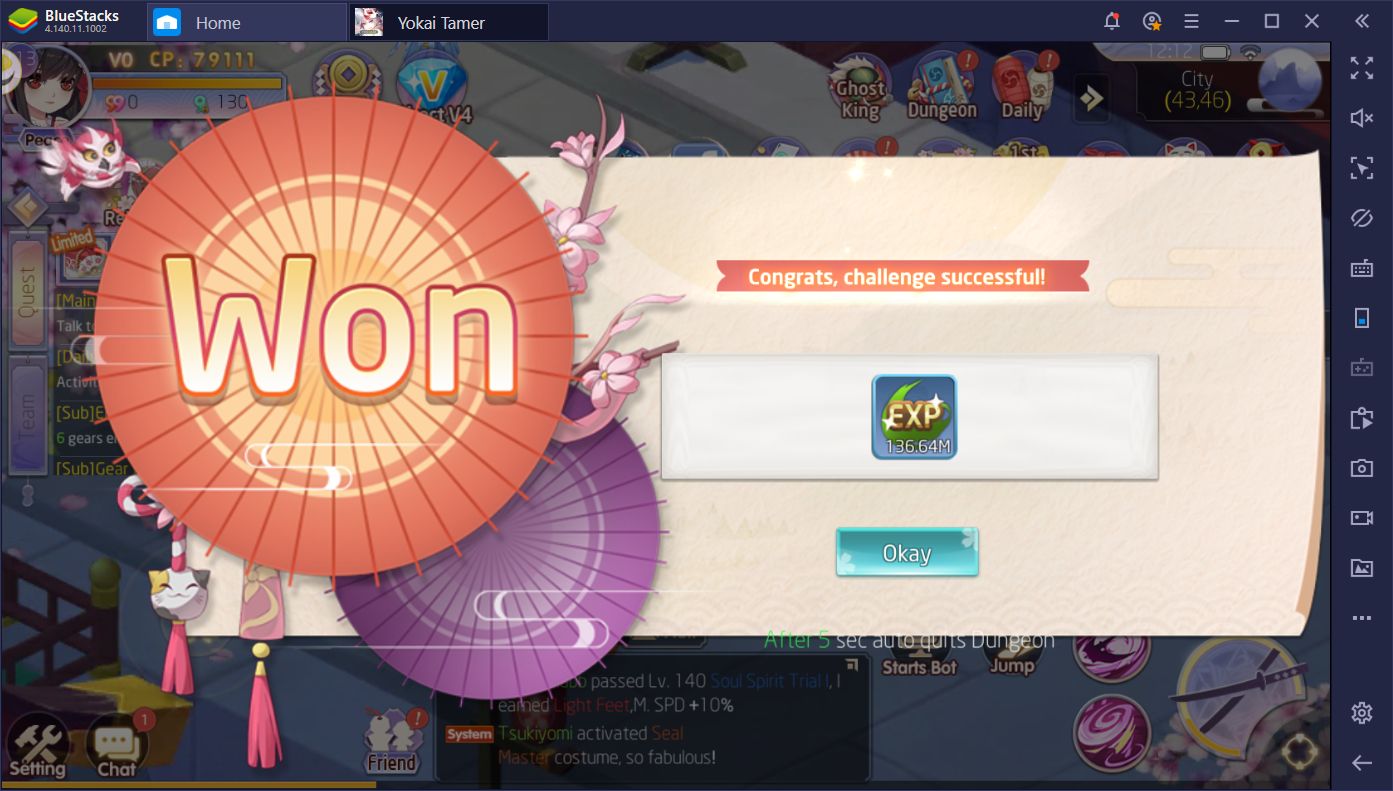 If you only have a few minutes to play Yokai Tamer, and can't complete all the daily missions, we suggest going for the Experience Dungeons first, and leaving the rest for later.
Increase Your Achievement Level for Permanent Stat Boosts
Like in many other mobile MMORPGs, Yokai Tamer offers a list of achievements that anyone can complete to earn important rewards. These awesome prizes are a bit difficult to find, considering they're within a submenu.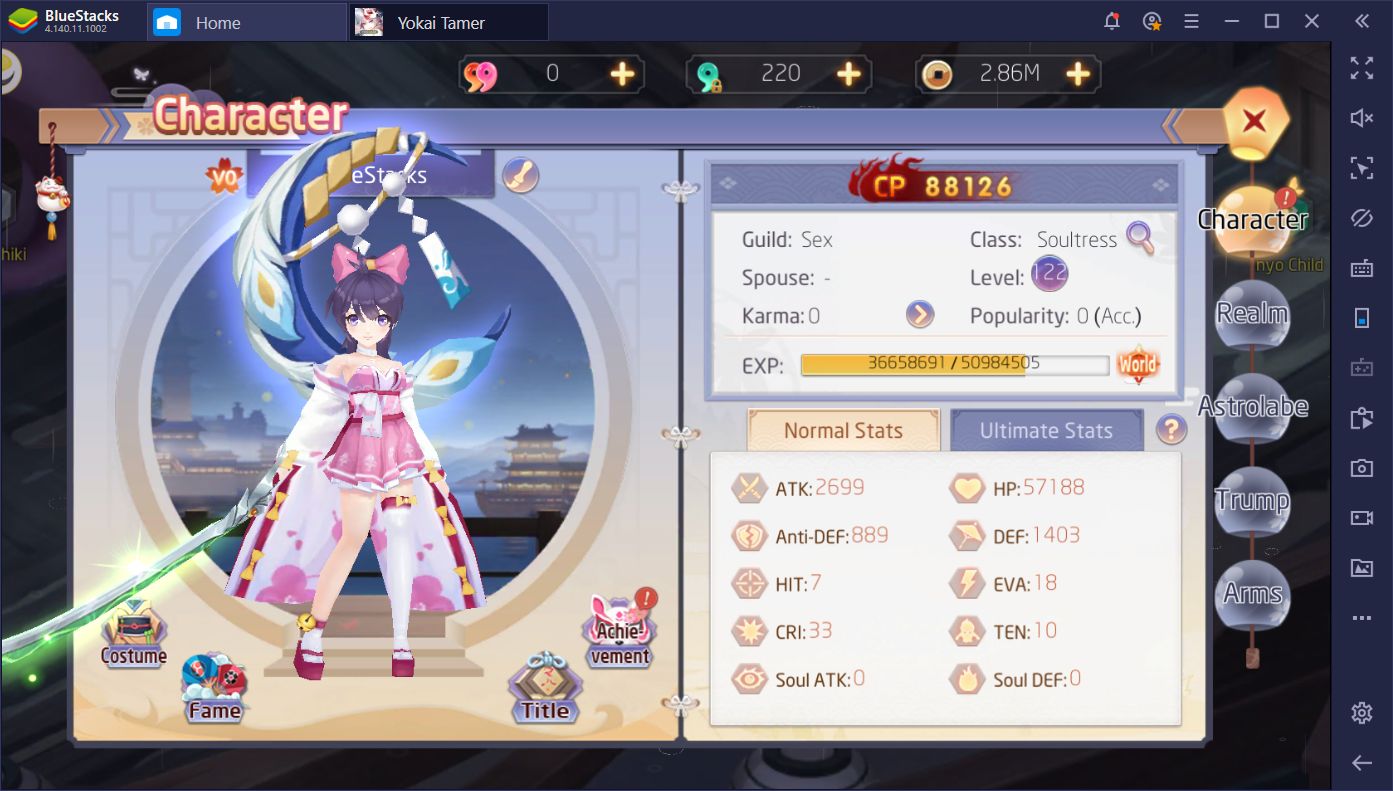 By clicking in the "achievements" button located beside your character in the "character" menu, you can view a list of tasks that you must complete in order to claim useful boons such as gold, blue jade, runes, and so on. Furthermore, as you complete achievements, you earn achievement points that are used to upgrade your achievement level, granting you permanent stat bonuses to your toon.
Earning achievements in Yokai Tamer is not so much about gaining recognition from your peers, but for upgrading your character with the stat bonus granted by your achievement level. In this sense, if you're not sure what to do next, swing by the achievements menu to see if there are any tasks you can complete quickly; these stat boosts are always welcome.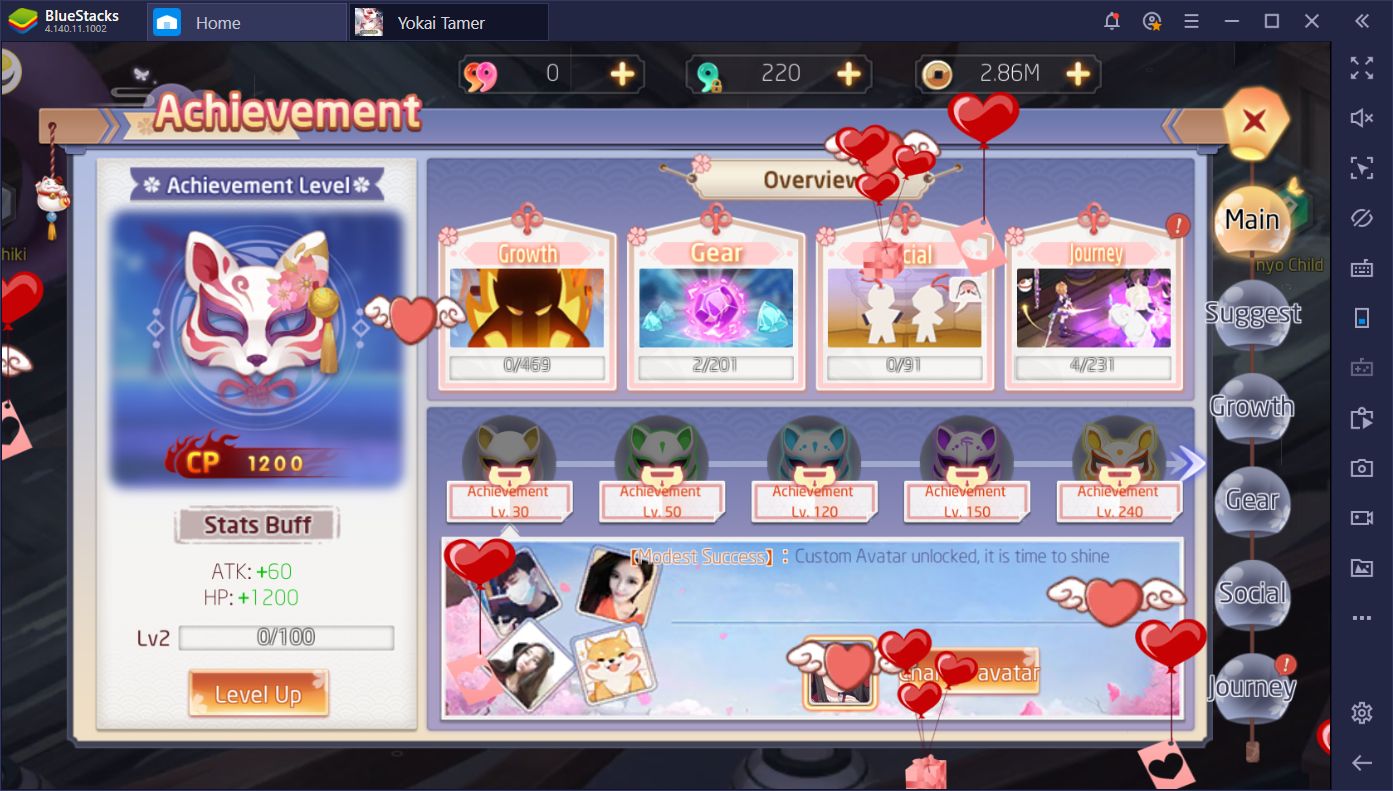 There are many, many ways to increase your power in Yokai Tamer—too many to list in a single article. Fortunately, the methods we mentioned in this guide are some of the most important for this purpose and will help you to quickly reach level 75 so you can start doing daily challenges and making real progress towards becoming the best player in your server. Luckily, the game launched a few weeks ago so you still have time to catch up if you start now!