Game Guides
Z Day: Hearts of Heroes - Guide to Getting and Crafting Gear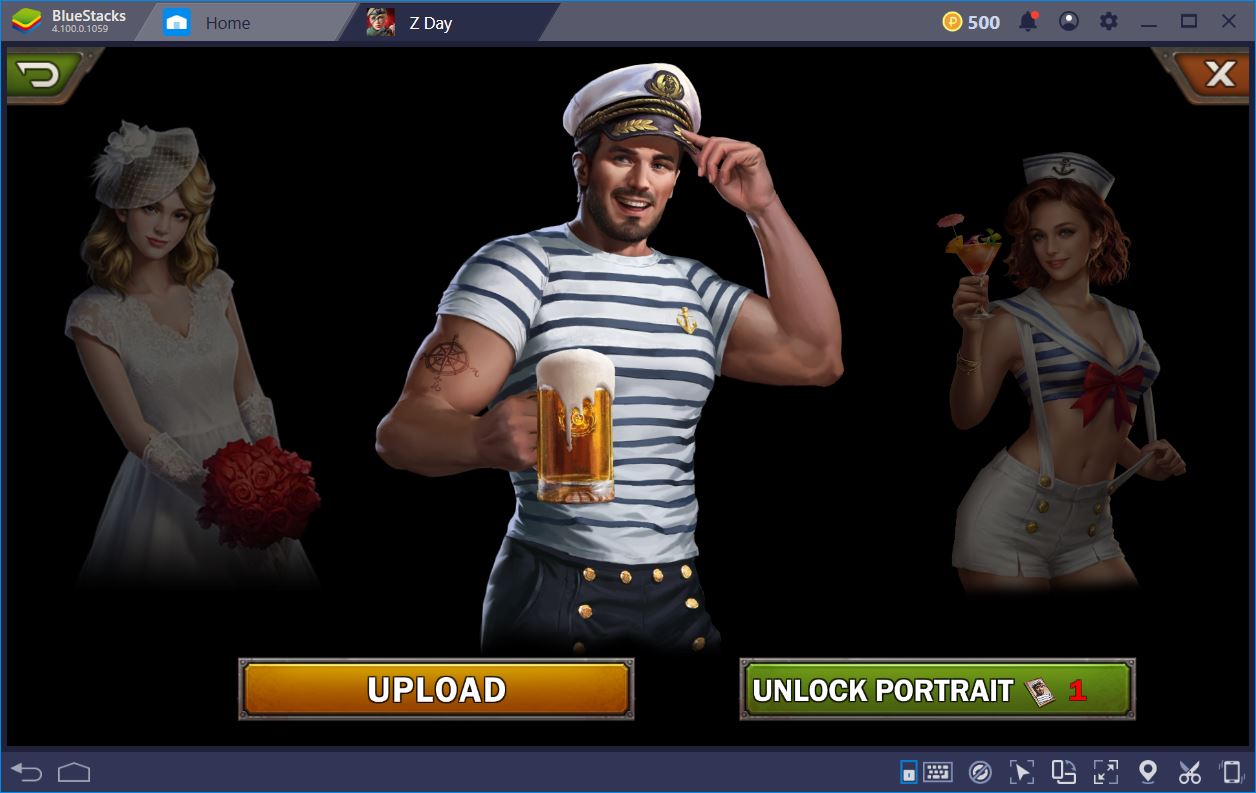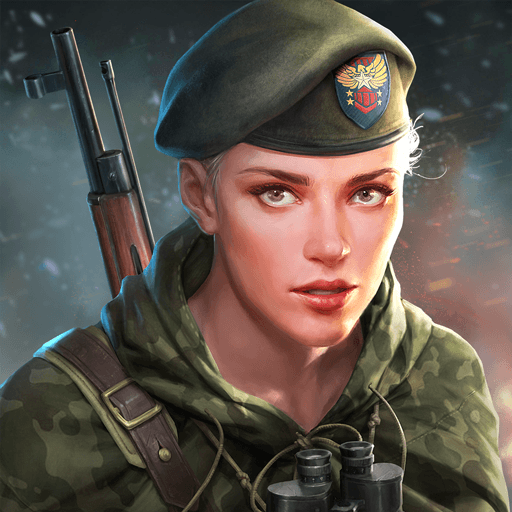 Z Day: Hearts of Heroes is all about how you match up against other players. We've covered the fundamentals of how to raise your combat power in a different article, so this one will be entirely focused on getting the best attacking gear for your commander. We basically doubled our total CP in less than a day just by following those pointers.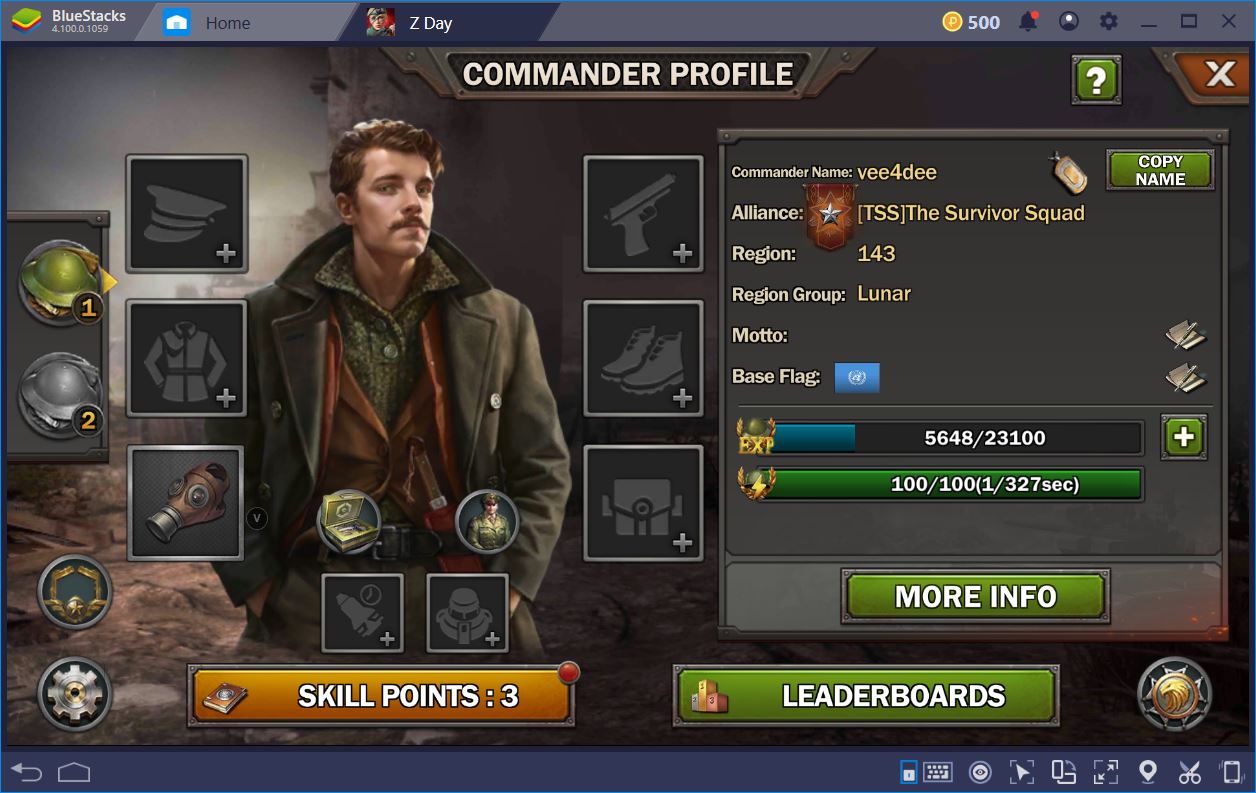 We don't really care about farming or defence that much. Why do you ask? We'll let you in on a secret to protecting your army during attacks a bit further down. We just want to be able to hit everyone very hard, so all of our equipment will reflect this style of gameplay. Some generals say that the best defence is an outstanding offence. We tend to agree.
Where it All Happens
Crafting gear in Z Day is not as challenging as it is in survival RPGs. We still have flashbacks from how hard it was to get everything together to make a simple wooden bow in Frostborn. We have to say, the Vikings had it rough! In Z Day, it doesn't take anywhere near take that long to complete an item. The trick is to have the materials to do so already standing by. To see what you can do with your resources, head over to the Equipment Workshop.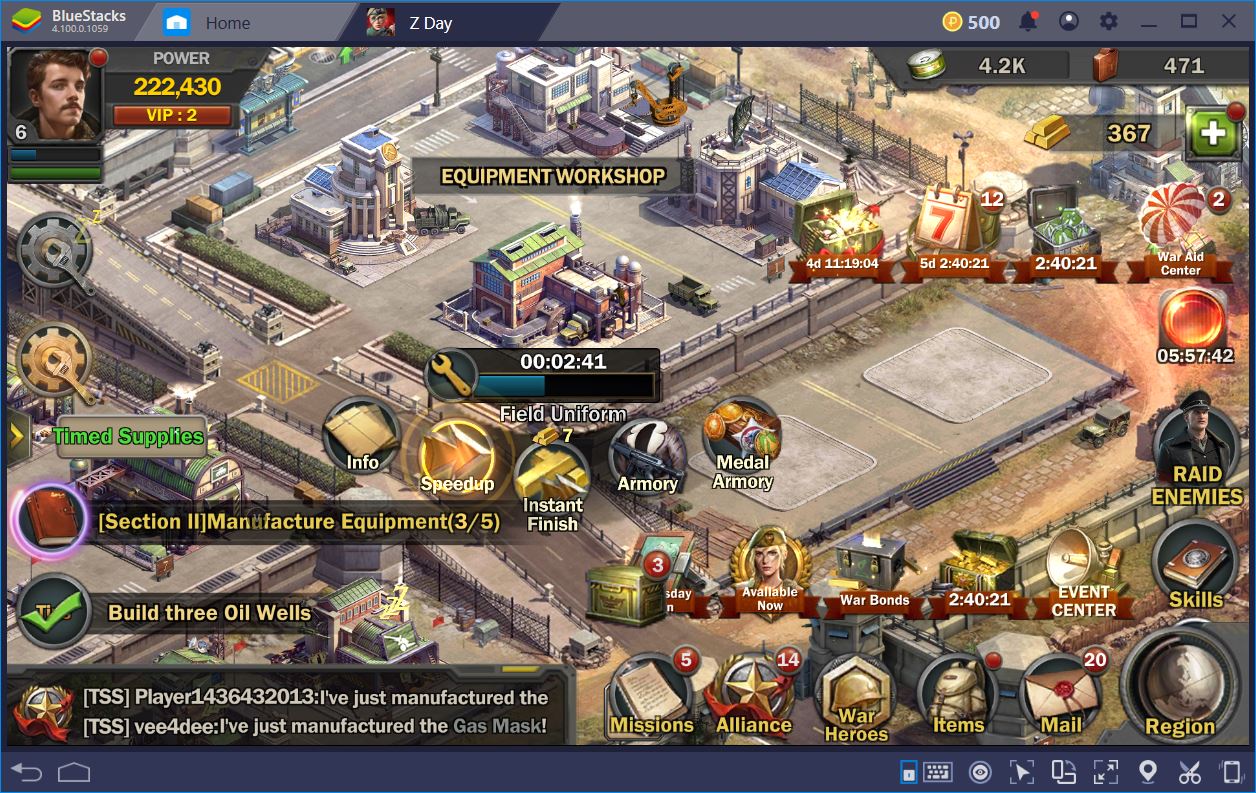 This is where all the magic happens. Now, the system has recently undergone a significant overhaul, meaning that you no longer need to get fragments in order to discover designs, which can then be crafted into pieces of gear. This is a good thing, since you already have everything neatly cataloged and ready to be crafted. It also gives you a good overview of how many resources you'll need for a full set.
Instead of designs, the devs introduced punch cards that you can easily get by defeating threats of the gear level you're looking to get. It may look intimidating, to begin with, but we guarantee the system as it is right now is much better and easier to progress through.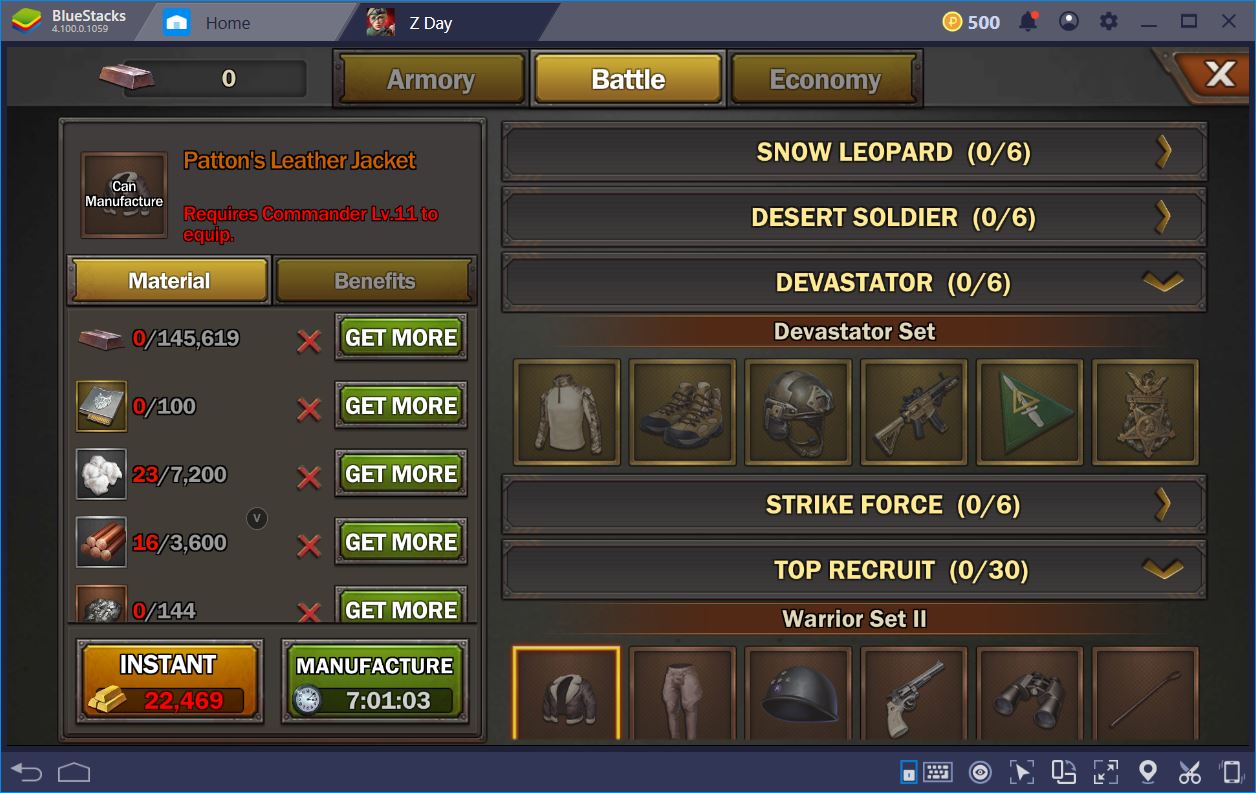 For example, to get the New Recruit Set, which is the first series of items in the Battle category, you'll need roughly 40k steel. The latter is the most demanding category of resources required by these items, so it can also be used as a measure of how hard it is to make something from scratch. Keep in mind that this is not counting specialty items such as Lithium-Ion, Graphite, or Diamonds, which are needed for certain sets.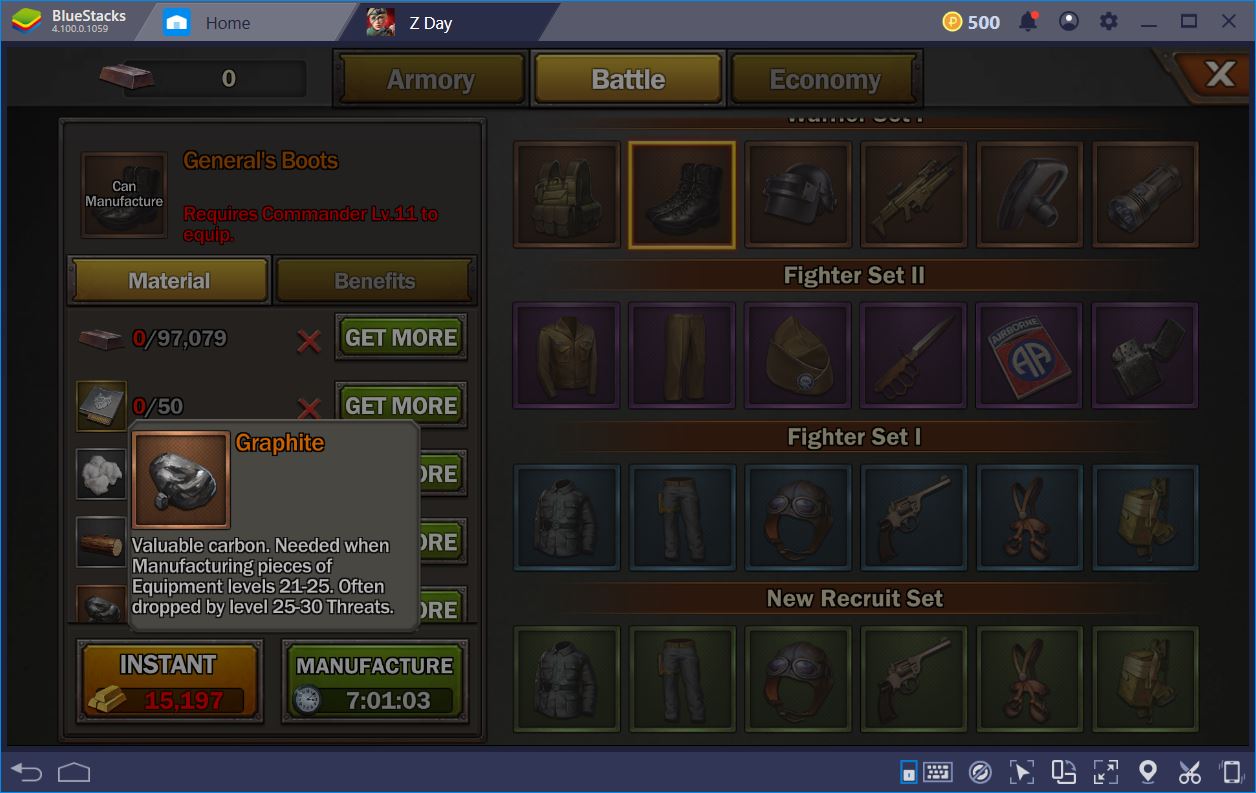 The downside is that the steel is not as readily available as other resources. To get it, you'll need to build the Alloy Plant, which requires a level 15 headquarters. Again, it's not good and it's not bad. It will just take a bit to get there, which we find heightens our perception of how valuable an item is.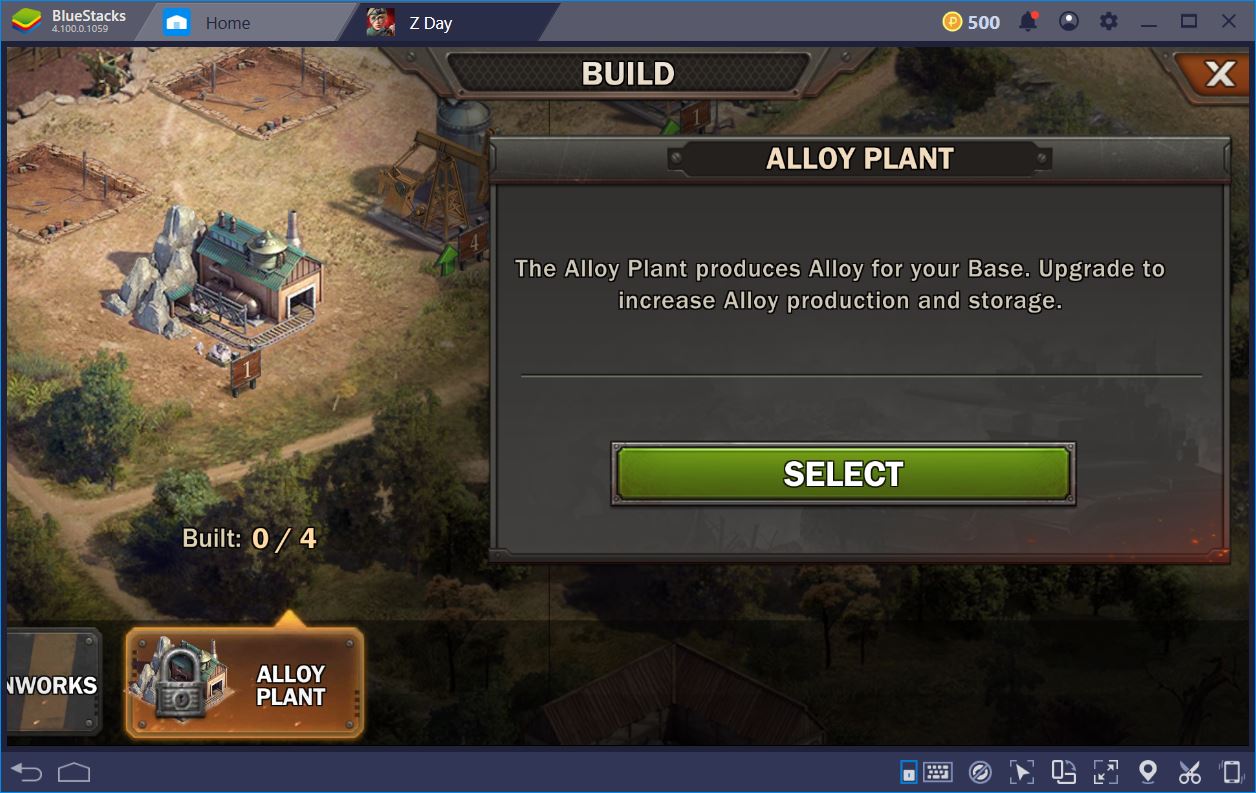 What to Focus On
As we've mentioned in our tips and tricks for beginners, attacking threats and completing missions is the name of the game. And since we love being on the offensive, we might as well focus on the commander equipment that gives us an edge when we're dabbling in conquests. Since even the first battle set requires a steel to be made, we ought to focus on what gets us in a position to make as much steel in as little time as possible.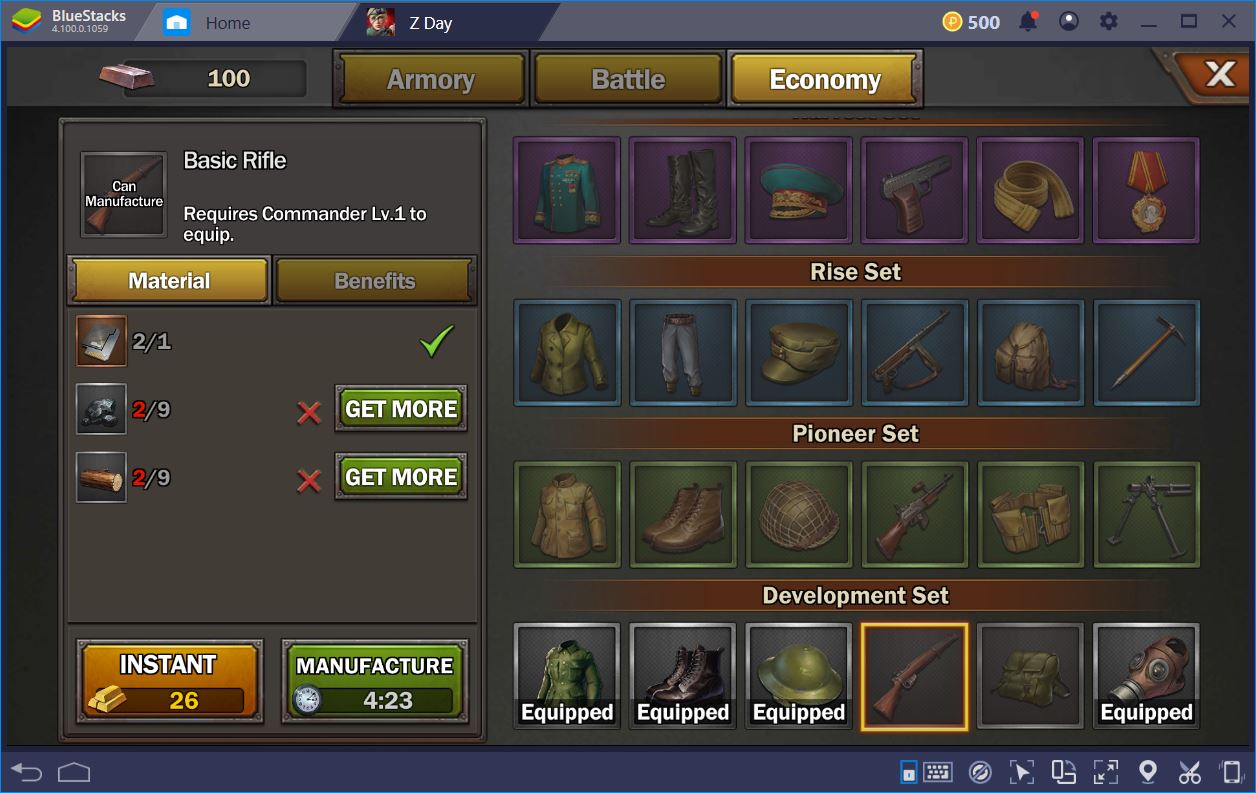 Consequently, the Economy set should be the first one you craft. Granted, it's not ideal. However, we'd rather be on the front lines with something in our hands and on our backs rather than with nothing at all. Sure, we could fight the enemy with our bare fists, yet we'd prefer having a gun standing by just in case. Maybe a rifle. Perhaps a tank. Maybe a whole company of them.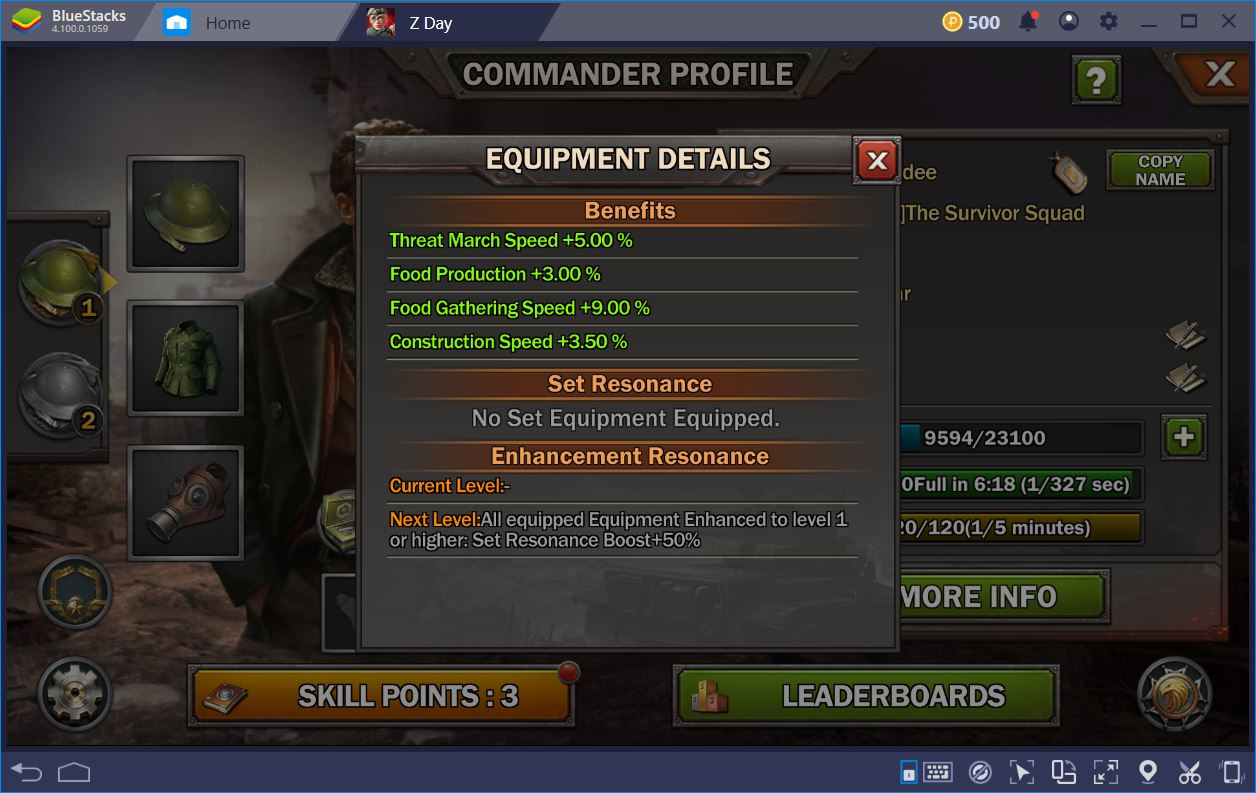 As you can see, even the first Economy set gives us several substantial boosts. Food production and construction speed are both instrumental towards progressing through the early game. Furthermore, threat march speed basically ensures you can farm NPCs faster, which means you'll get even more resources in a smaller amount of time. In essence, this will boost your way towards that Alloy Factory and the much-desired Battle sets.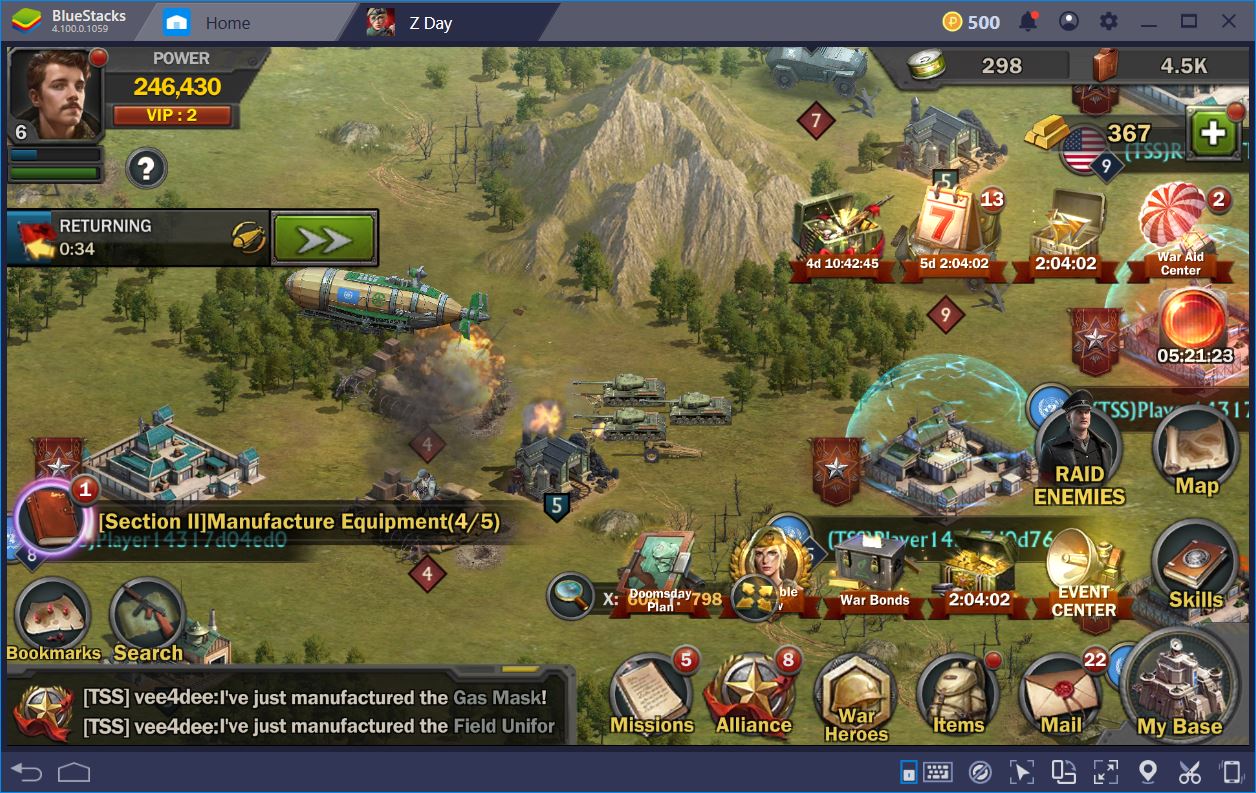 Look at us being able to get to the most relevant New Race bases and units within minutes. We go, we see, and we conquer. In the meantime, we'll also take that commander and destroyer experience. The two might not necessarily be our goal for the time being, but they sure help make us stronger.
The Secret to a Perfect Defence
Focusing on offense is not just something we're keen on doing because we're so aggro. The reason we can do this is that we have a great defense strategy that will allow you to get the upper hand in any PvP engagement. This does not mean that you should take on players 5-10x stronger than you are. We don't guarantee you'll survive. However, those who are less than 50% bigger than you will definitely be in for a field day.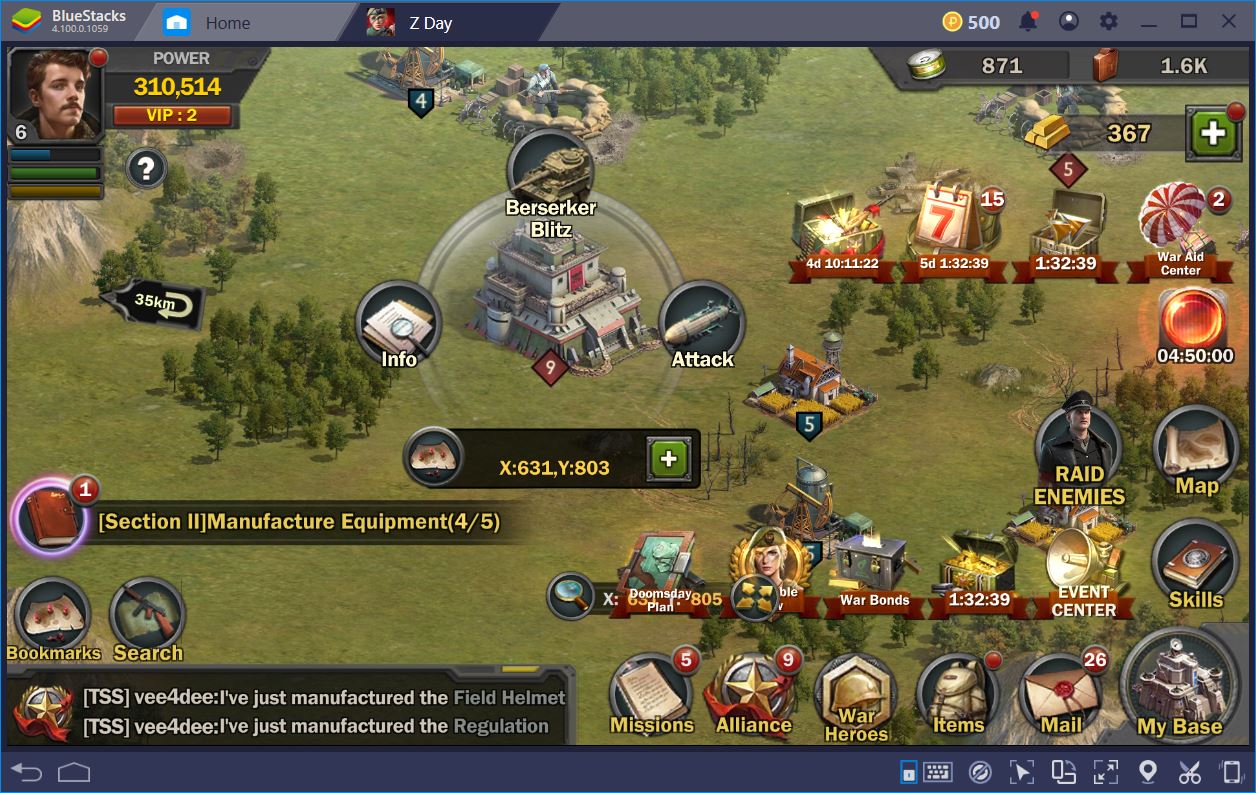 Here's what you're going to do when you're about to be attacked. First, make sure that you don't have extra resources lying around. Then, search on the region map for a New Race base. Select whichever you like (make sure your force can handle them, just in case) and then rally your troops there for a full hour.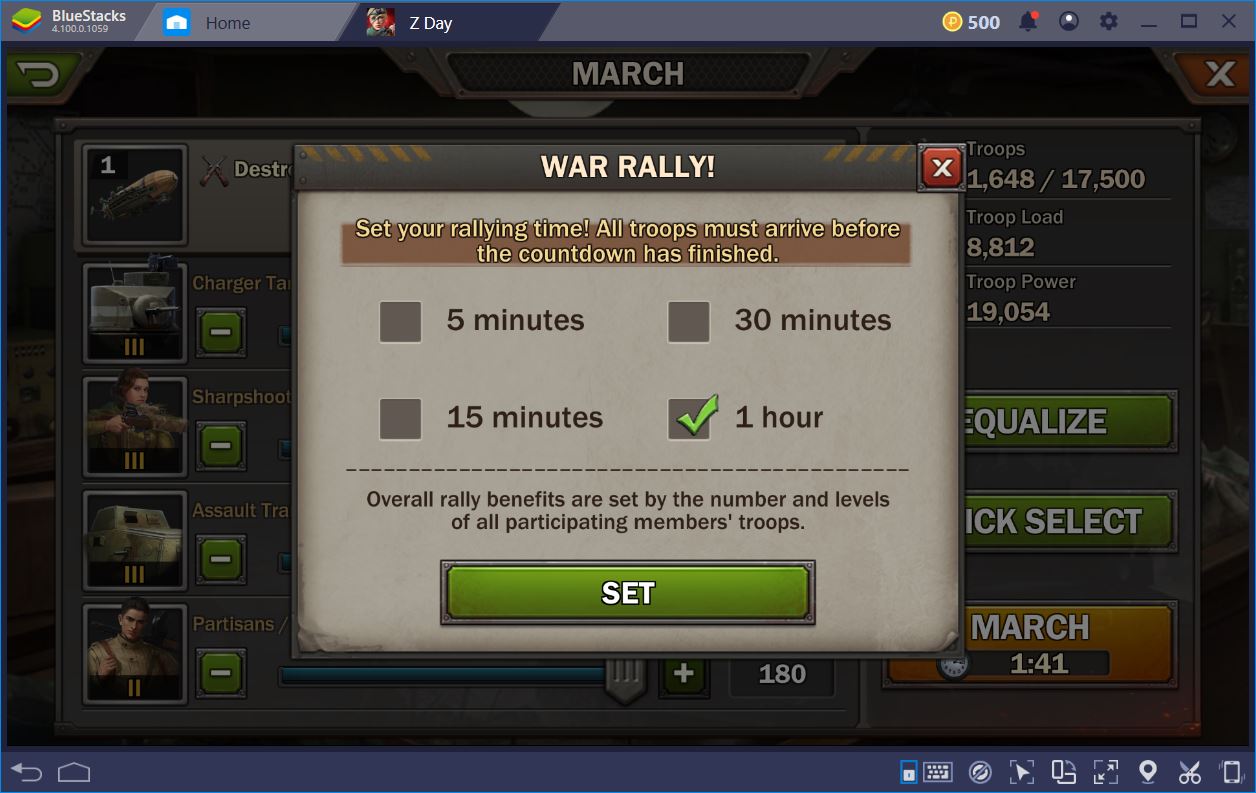 Now, wait for the attack to pass, check to see what the enemy had and enjoy the damage he took from your traps. Oh, this reminds us, don't forget to build plenty of traps. Once the attack is complete and they're weakened, you can instantly disband your rally and have them either come back to defend against a second wave or go on the offense and beat the hell out of them at their own game.
Better Control, Better Command
Playing Z Day: Hearts of Heroes on BlueStacks gives you a tactical advantage since you are able to more easily navigate through your base, the user interface, as well as harvest resources. To be honest, if we weren't saving all the dead time we'd otherwise have to spend tapping on a small screen, we'd have little to no fun playing this outstanding MMO RTS.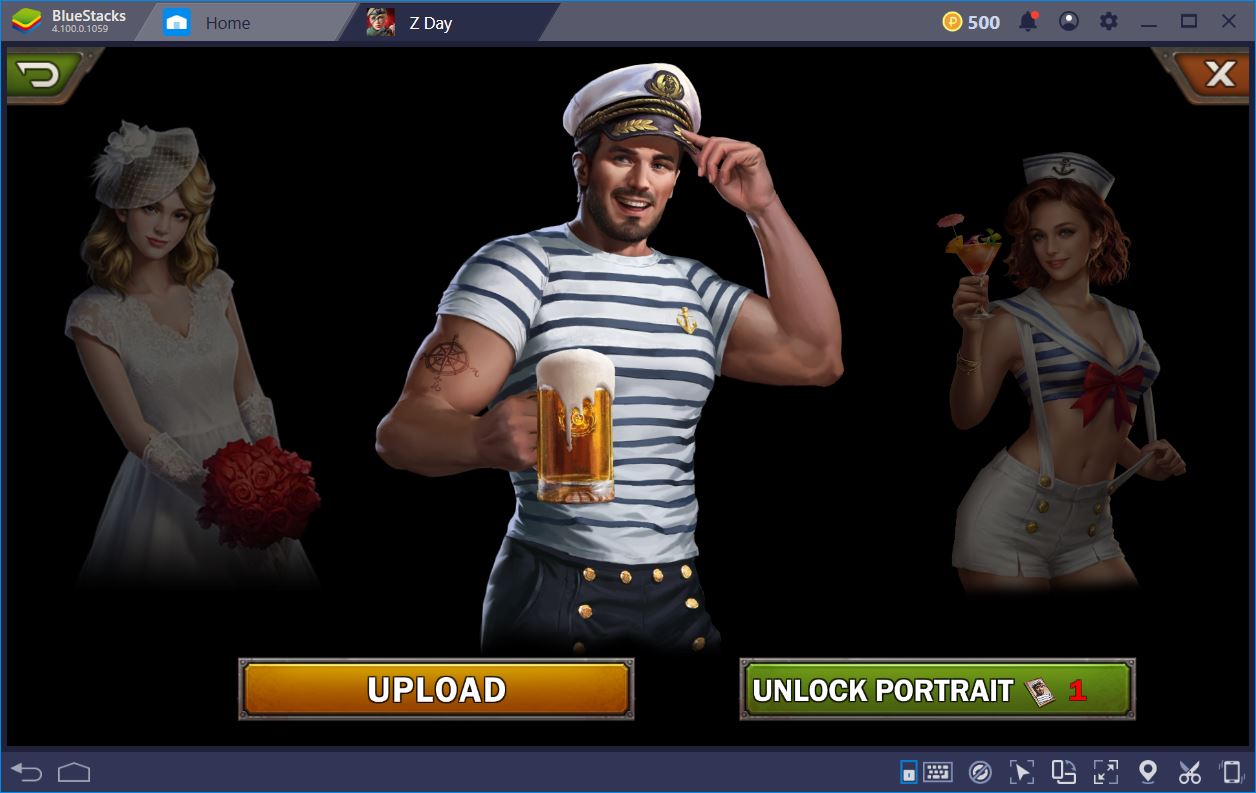 One last thing. Don't forget to choose an appropriate commander picture. You can upload your own poker face, but, in our experience, nothing is more annoying than a jolly sailor outmaneuvering you each and every time you want to catch their troops off guard.