News
V4 – Nexon's Stunning New MMORPG Just Launched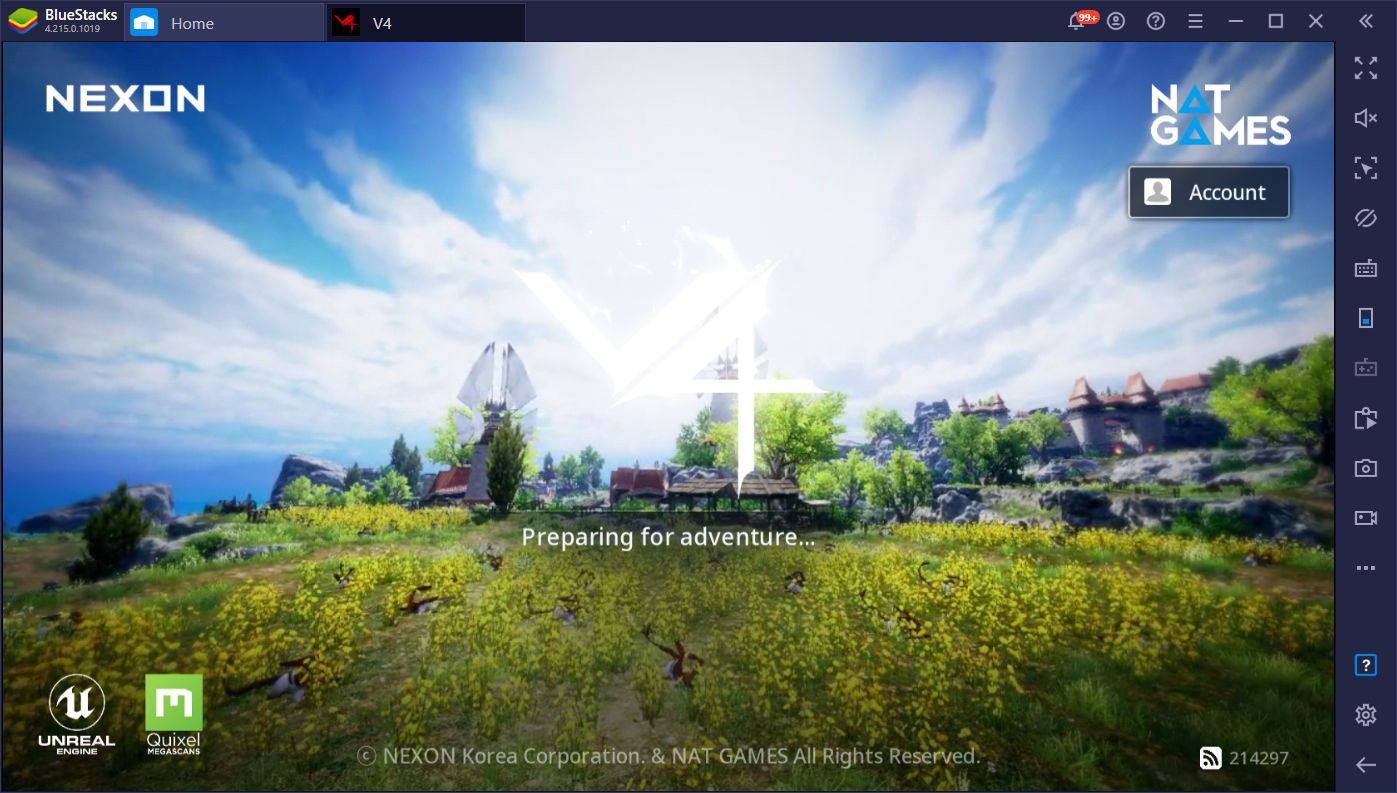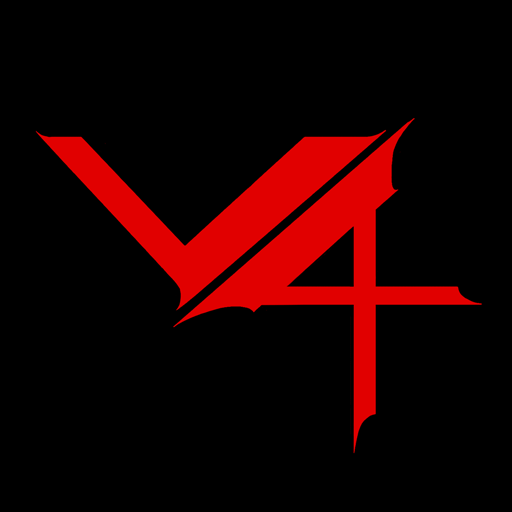 Those who keep up to date with the mobile gaming industry might have heard that Nexon was up to something. Back in 2018, they revealed they were working with NAT Games, the devs behind the massively popular OVERHIT, on another big project. That project was called V4, and it was meant to be yet another entry into the mobile MMORPG genre.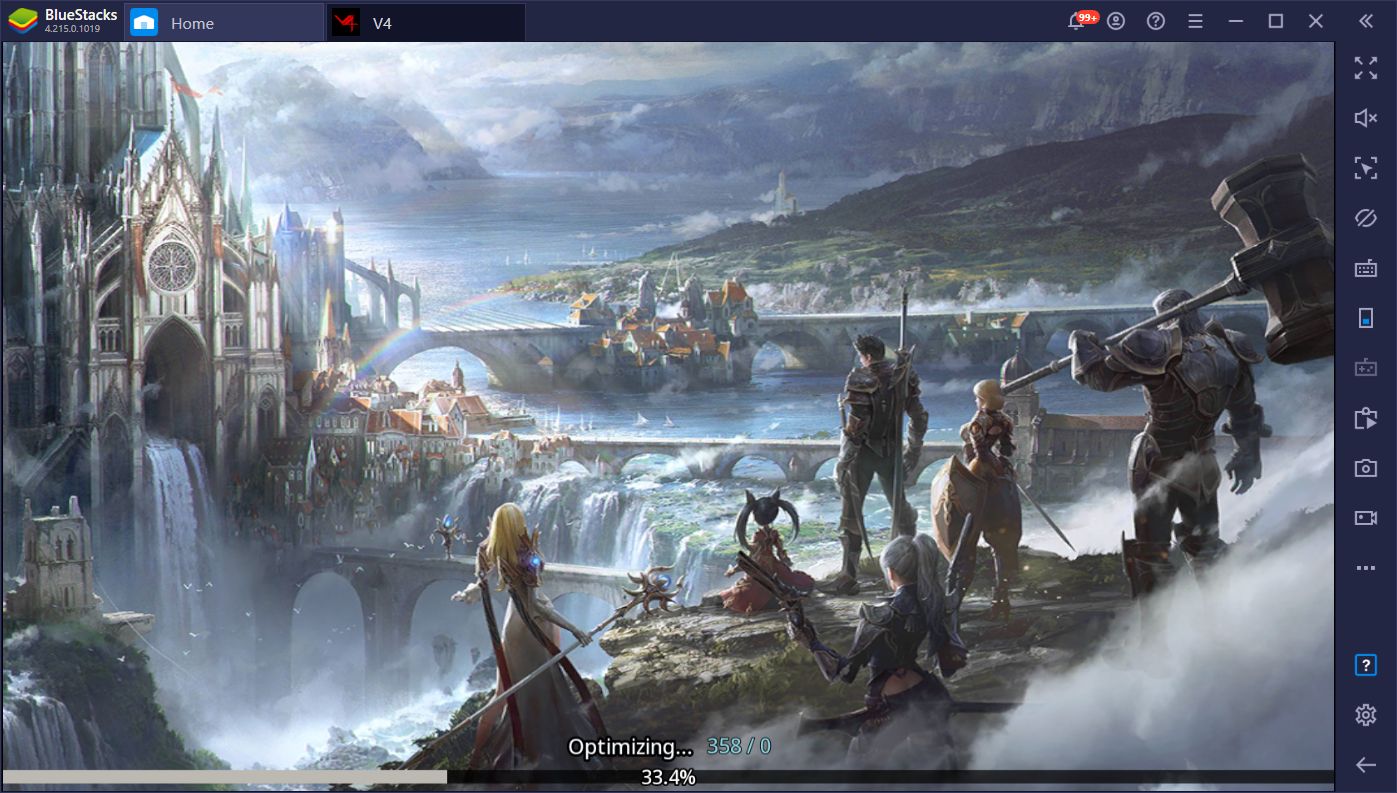 Well, the project went into global pre-registration last month and was released just a few days ago; and oh boy, we've got a lot to say about it. Here's a brief overview of what you'll find in V4.
A Vast World and Lots of PvP
In a nutshell, V4 is an MMORPG game, offering a vast open world, a variety of classes to explore, and many different systems and mechanics. At a glance, we can tell that this game is heavily inspired by Black Desert Mobile in its UI, combat system, and overall aesthetics. While it doesn't have nearly as many life features as BDM, the combat and exploration are all there for everyone to enjoy.
However, there's one main difference in V4, the PvP.
V4 is heavily-geared towards player-vs-player combat, as the game features loads of features for this type of combat, the main of which being world PvP. In this game, you can freely activate your hostile status, which allows you to freely engage against other players on the field. With this mode turned on, you can also get attacked at any moment, and by anyone who also has PvP enabled. These conflicts are often encouraged, especially in areas where players go to farm resources. After all, if your enemies are dead, you're free to loot everything in the area.
Aside from the PvP mode, V4 also has a feature exclusive to this game called the Inter-Server. This system allows players from different servers to meet and team up to tackle many different types of content, including server PvP and other PvE modes. This means that V4 could effectively allow Server vs Server content, among other interesting game modes.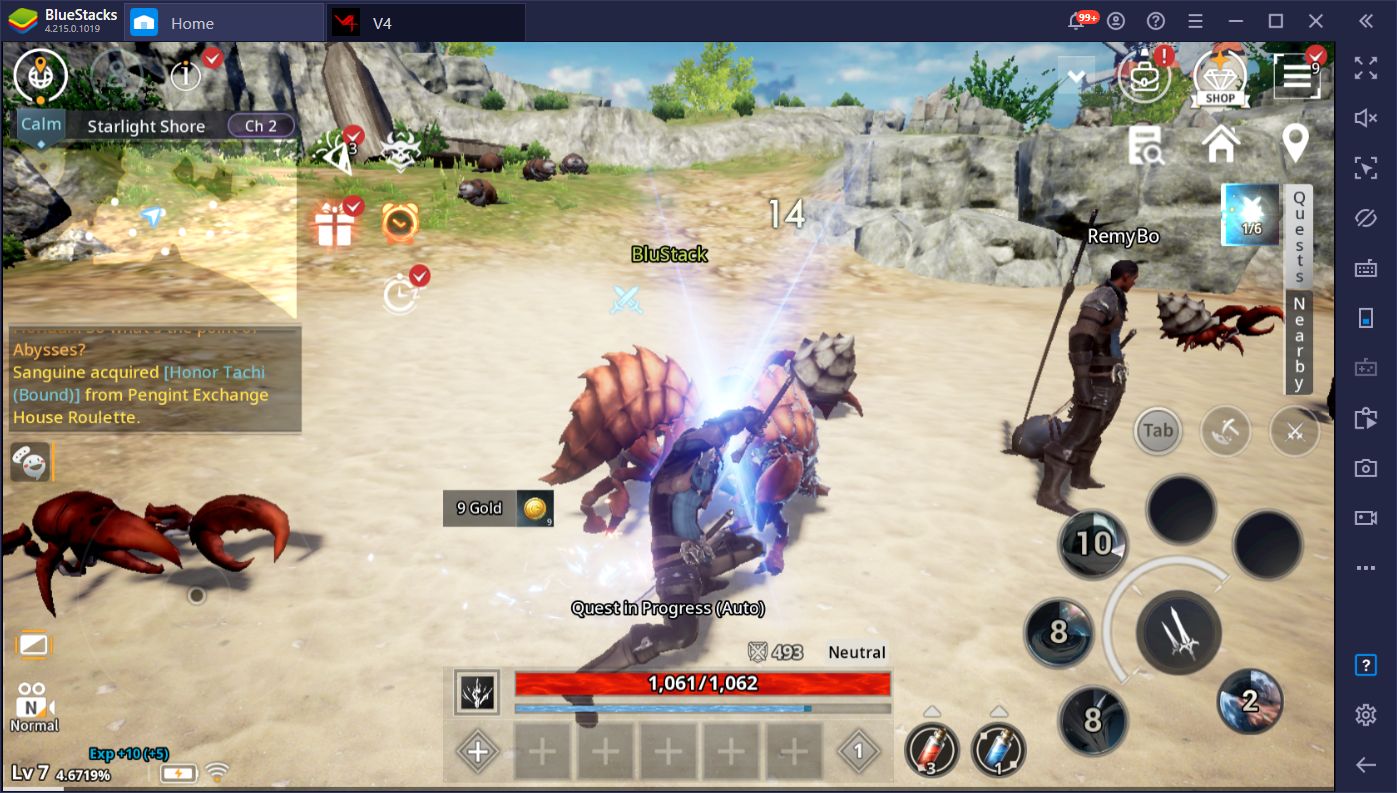 When starting out, players can choose from 6 different classes, all of which feature different playstyles:
Enchantress: Armed with her staff and arcane knowledge, she pelts enemies with powerful spells.
Warlord: Uses a massive hammer and his powerful gauntlet to pummel enemies into dust.
Slayer: Armed with both a shortsword and a longsword, he offers a balanced mix of attack and mobility.
Knight: Your typical sword and shield user that dives headfirst into battle, taking on multiple enemies at the same time.
Gunslinger: Wielding a pair of firearms, this class turns any foe into swiss cheese as she fills them with hot lead.
Boomblade: A unique class that uses an axe-cannon to both rend her enemies and blast them to bits.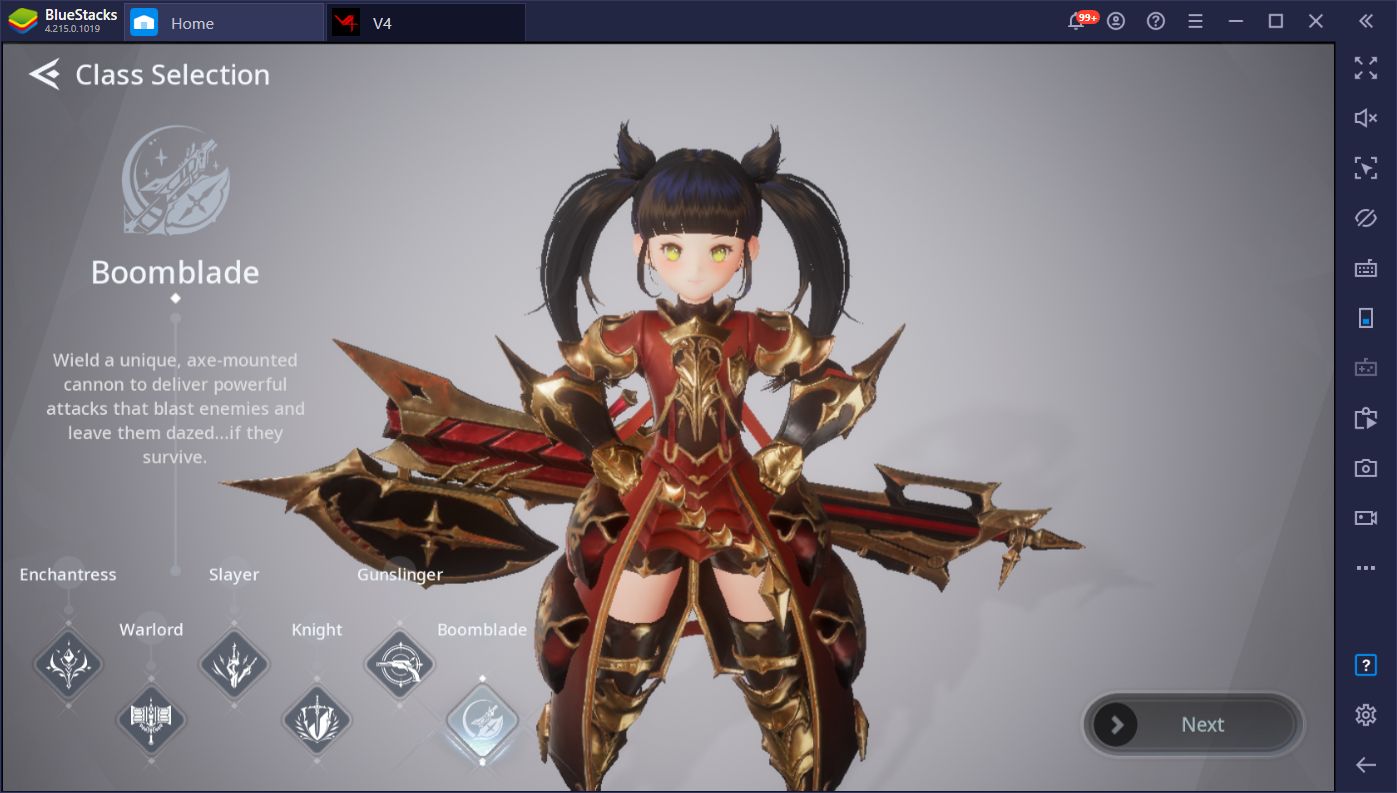 Stunning, Cutting-Edge Graphics and Visuals
Gameplay aside, this new MMORPG looks truly stunning. It's developed using Unreal Engine 4, which means that it features awesome visuals; this is basically as good as graphics get for phone games. However, this means that V4 isn't designed for older phones. In fact, the developers recommend using at least a Galaxy S7 or an iPhone 7 to properly run the game at max graphics. Or you could simply download BlueStacks and enjoy V4 on PC, with the best possible graphics and performance, and without having to spend hundreds on a good phone.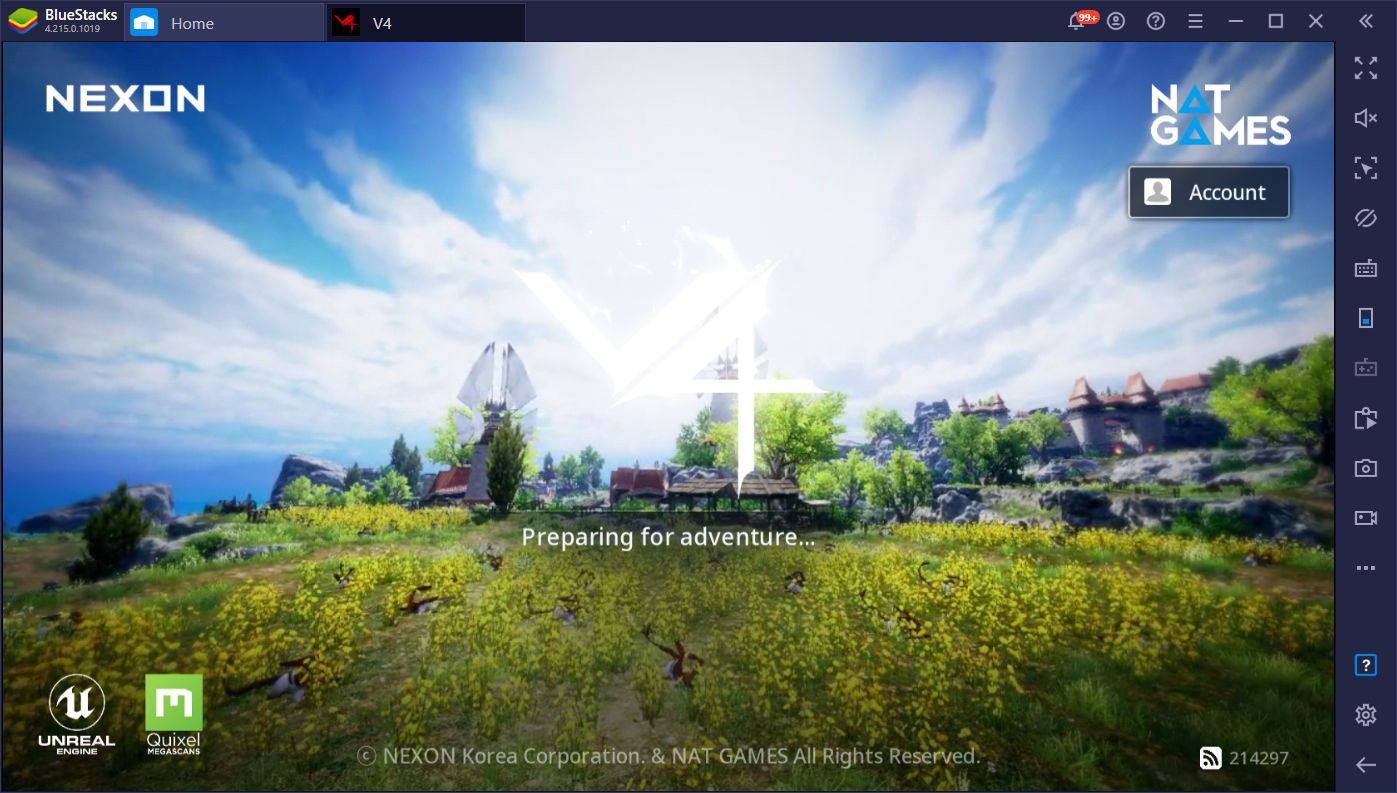 With BlueStacks, you can even set the graphics to their max settings without worrying about battery life, overheating, lag, slowdown, or stutters, and you don't even have to own a beastly gaming PC to achieve this.
If you're a fan of awesome, open-world MMORPG, then you'll definitely want to take a look at V4. Just remember to play it on BlueStacks to get the most out of it!