Updates
All You Need to Know About AFK Arena's 2nd Anniversary Event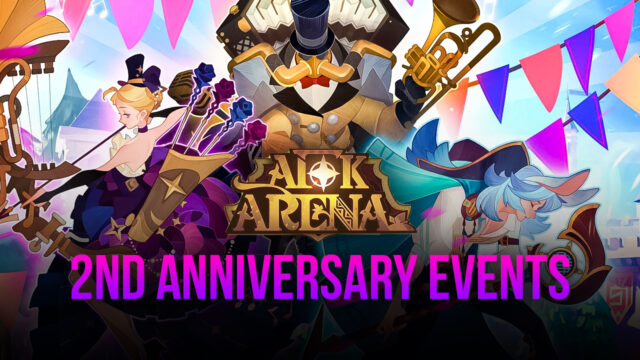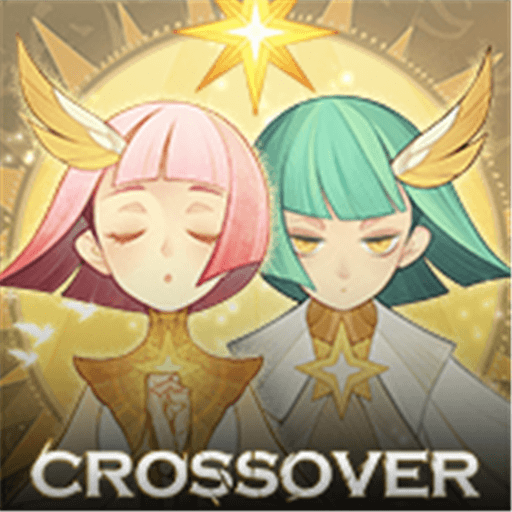 Two whole years of battles, two whole years of adventures, two whole years of going around Esperia and meeting new heroes, and most importantly two whole years of fun — this was what playing AFK Arena brought to us for about 730 days.
All of us, old and even relatively new players, shared our sentiments, our strategies, our laughs, and most importantly we shared the magical world of Esperia in such a short time.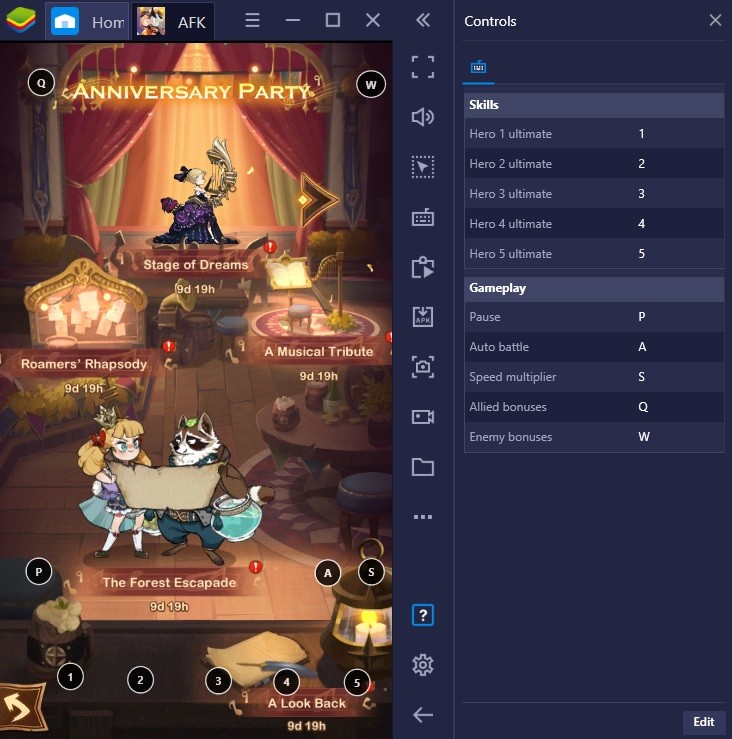 To give back to everyone, Lilith Games is holding an anniversary event packed with lots of activities, freebies, and rewards for everyone.
When is AFK Arena's 2nd Anniversary Party Event?
AFK Arena's 2nd Anniversary Party Event starts on April 6 and ends on April 15.
What are the in-game events in AFK Arena's 2nd Anniversary Party Event?
There are four different in-game events during this time.
Here is AFK Arena's 2nd Anniversary Party explained.
Ranhorn has prepared something for the fans during this special time, which includes an exciting giveaway from the Noble Tavern.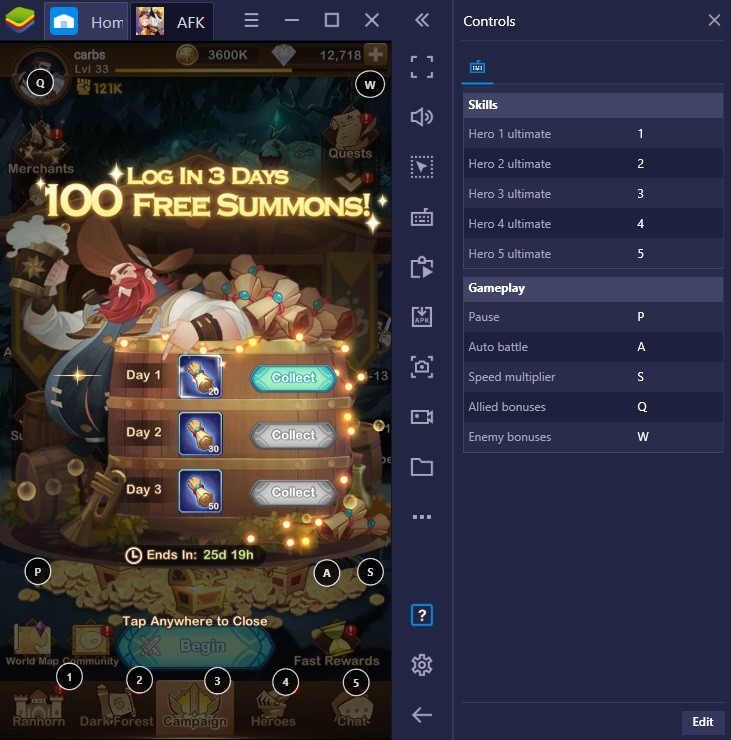 You can claim a total of 100 free hero summon scrolls in this mini login event. All you need to do is login for three consecutive days.
Day 1 – 20 Hero Summon Scrolls

Day 2 – 30 Hero Summon Scrolls

Day 3 – 50 Hero Summon Scrolls
Another login event prepared by Angelo, the Musical Tribute gives away amazing rewards if you log in for seven days. All you need to do is find the list notes in order to complete the musical staff to unlock more rewards. This means that for each Musical Note that you find, it will let you unlock the final prize a day earlier.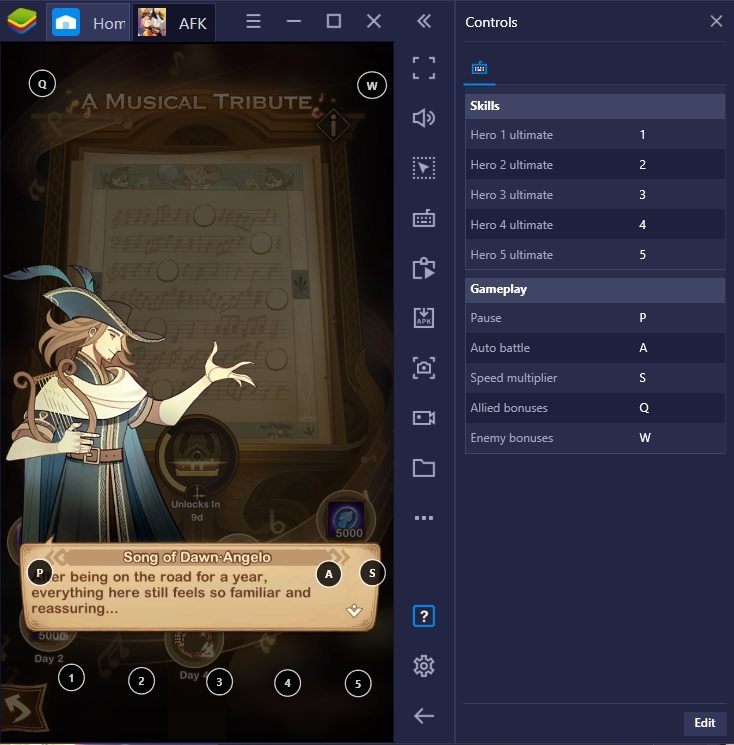 Day 1 – 6x Large Crate of Hero's Essence

Day 2 – 5,000 Labyrinth Tokens

Day 3 – 6x Large Crate of Hero EXP

Day 4 – Limited 2021 Two Year Anniversary Frame

Day 5 – 5,000 Hero Coins

Day 6 – 24x Large Crate of Gold

Day 7 – 5,000 Guild Coins
Gear up and put out your best heroes in the field in this new AFK Arena mini event! Gather up all your AFK Arena friends to form a five-member group in order to join the Hunting Fields. If you need help in figuring out the best AFK Arena hero compositions, read our previous blog about advanced team building guide in AFK Arena.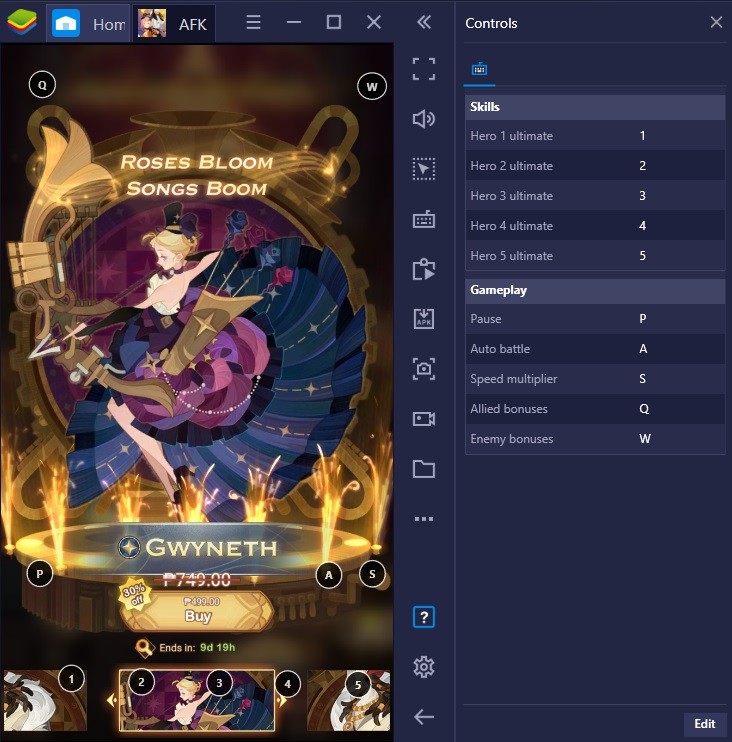 Of course, if you are playing on PC, you will also need a guide on how to win your games using BlueStacks' Macros feature. Macros lets you record all the tedious tasks inside the game and then later on execute it with just the press of a button. Simply record all the monotonous tasks you want to automate and replay them later to any key you wish!
The Great Forest Escapade
Have you seen AFK Arena's two new heroes, Raku and Peggy?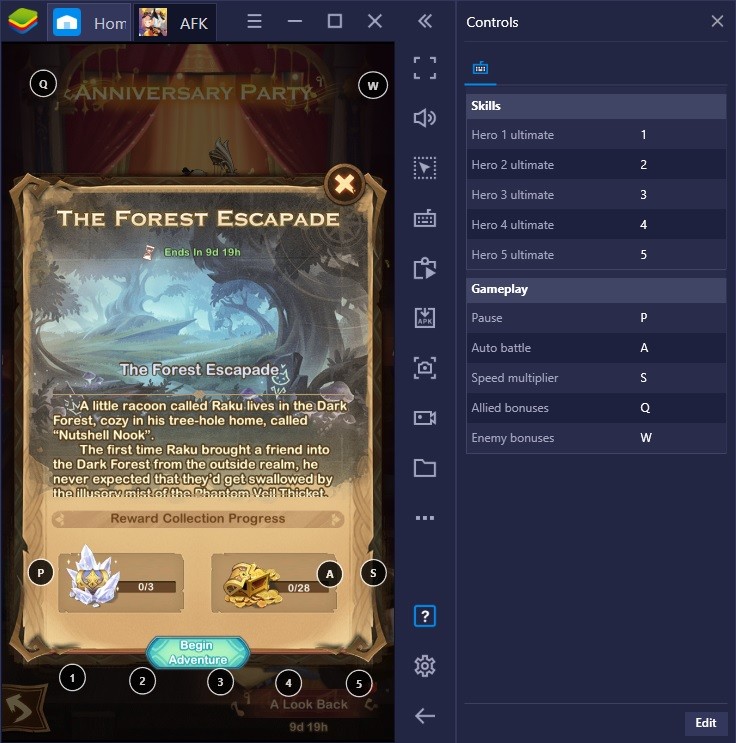 Raku looks like a giant raccoon. He carries his weapon of choice, a slingshot. Strapped across his body are two bowls: the one on his left contains toast while the one on his right contains tiny fishes.
Raku also wears a distinctive leaf on top of his head so he is pretty hard to miss.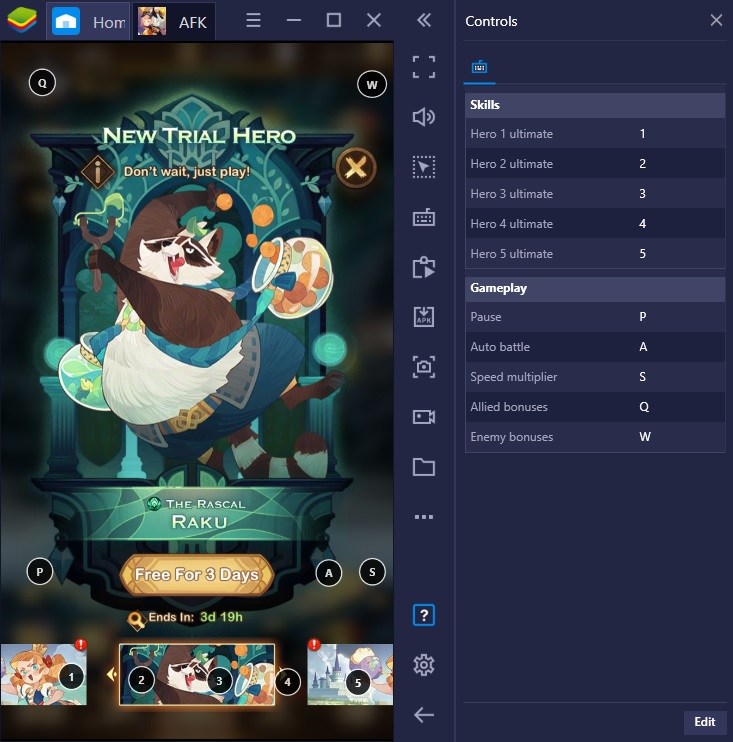 Meanwhile, Peggy is your typical lonesome princess. If we were to like her to a pop culture character, she looks close to the Powerpuff Girls' Princess with the twin tails and the crown. She also wears this proud look on her face. You can read more about their lore and abilities in our previous blog post.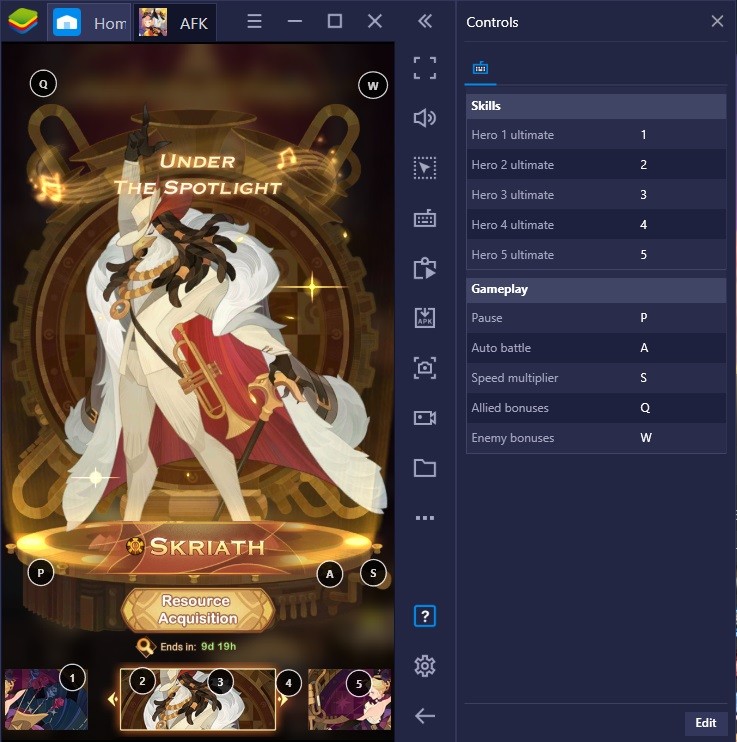 Aside from their Bountiful Trials, these two have their own event called the Great Forest Escapade. In this event, you can use your own team to help Peggy and Raku get out of the Dark Forest and free them from entrapment. The following rewards can be obtained in this event:
1x Raku Crystal Chest

1x True Companion Crystal Chest

1x Peggy Crystal Chest

Skriath's Exclusive Skin – The Kingpin

Dreamy Chest

Large Crate of Hero's Essence

500k Gold Coins

30x Rare Hero Soulstone

100x Diamonds
The Roamers' Rhapsody is a new realm at the Voyage of Wonders. In order to participate, you need to complete Stage 6-20 in the Campaign mode to unlock Roamers' Rhapsody.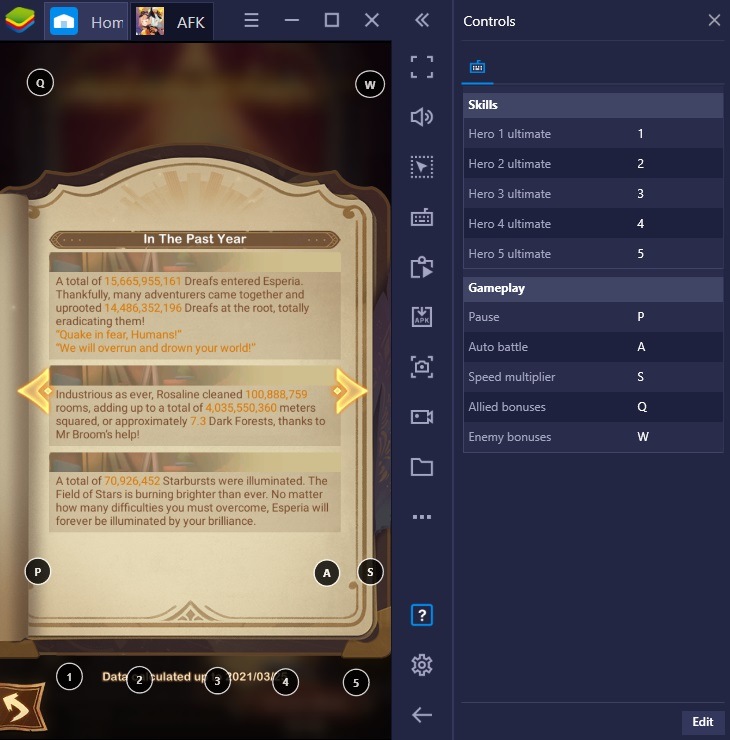 The 2nd Anniversary Party would not be complete without a walk down memory lane. A Look Back feature shows your progress as a player throughout these years (or days) in Esperia. It shows your summoned heroes, friends, and your overall accomplishments in AFK Arena
What are the community events in AFK Arena's 2nd Anniversary Party Event?
AFK Arena has prepared four different community events for everyone to participate on social media.
As AFK Arena turns two years old, all of us are invited to write a birthday message for the celebration. Comment your in-game ID or in-game name then drop your birthday message on the game's Facebook, Twitter, or Instagram. You can be one of the 1,150 random players to win a Dreaf plushie for free!
2nd Anniversary Fan Art Contest
Are you overflowing with creative juices, love creating masterpieces, or just into art? You can join AFK Arena's Fan Art Contest.
Your artwork must fit the AFK Arena 2nd Anniversary theme. You can publish it on Instagram or Twitter using the hashtags #AFKArena and #Party2gether along with your in-game name, ID, title, and a short description. The deadline for this contest is on April 21, 11:59 p.m. UTC.
You can win the following prizes:
Ascended Prize x 1: iPad Air 4 (256g)

Mythic Prize x 10: US$100 Amazon gift card + 10,000 Diamonds

Legendary Prize x 20: 10,000 Diamonds

Elite Prize x 50: 3,000 Diamonds
Other community events include the 24-Hour Quiz and the Anniversary Meme Contest which have yet to be unlocked soon.
What is the AFK Arena's 2nd Anniversary Party Event Art Gallery?
Lilith Games created a three-dimensional gallery for you to visit and hang around, featuring beautiful artworks of the heroes we have known and loved.
Each art contains a description and the name of the artist for guest artworks. You can view all of AFK Arena's glorious artworks, official and guest-related, here.
AFK Arena 2nd Anniversary Code
Of course, the party will not be complete without a free code from our favorite game.
You can use the code aaz27uvgfi to claim 100 free Common Hero Scrolls until May 5 at 11:59 UTC. You can redeem this AFK Arena code here.
Are you enjoying this global, special event so far? Let us know how you feel in the comments!