Updates
Epic Seven – New Hero Archdemon's Shadow, SC Carmainerose, Alencia Banner with Side Story and More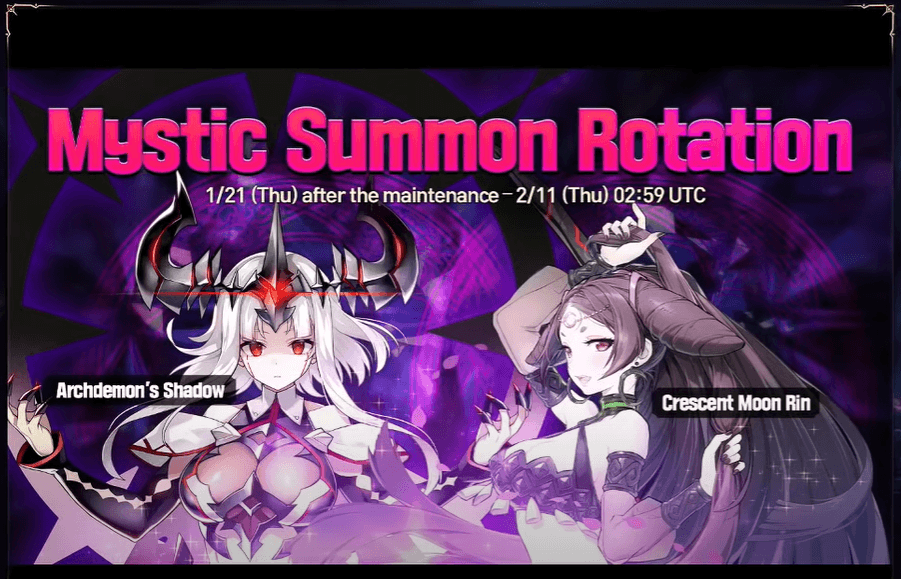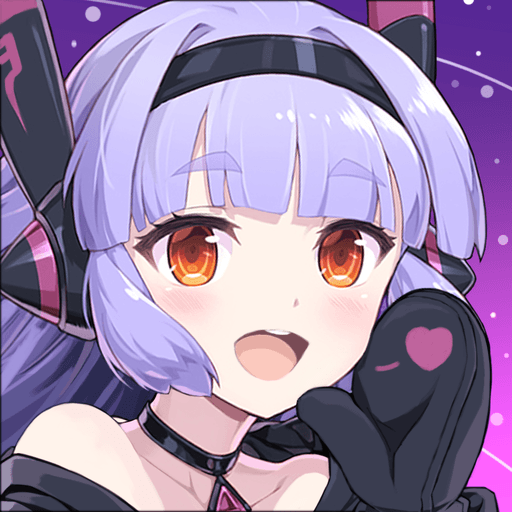 Epic Seven Patch Previews are always hyped. Smilegate likes to start the year by dropping some big news for its popular turn-based mobile RPG.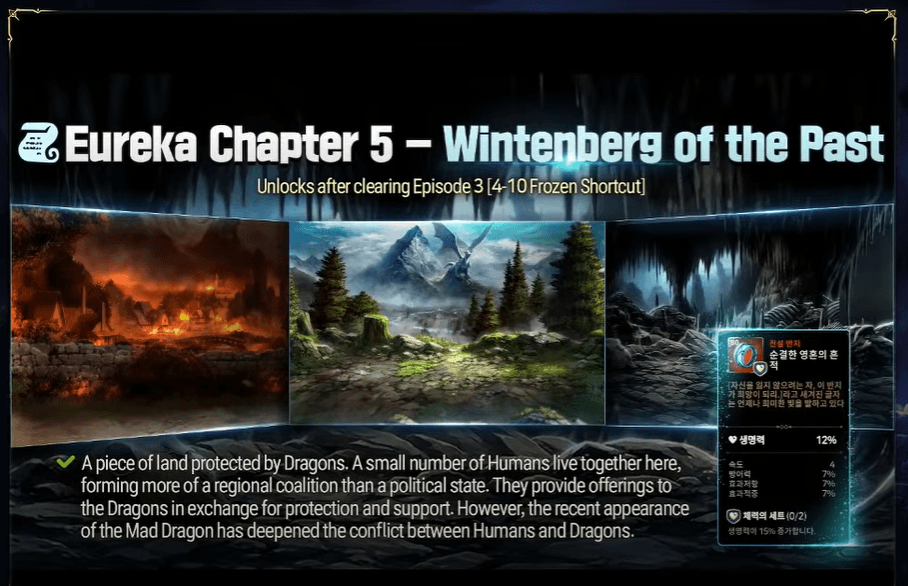 This month's Patch Preview starts off the year by introducing a new ML 5-Star hero Archdemon's Shadow, a new Specialty Change for the existing 3-Star Fire hero Carmainerose, a new Alencia side story as well as the monthly rate-up banners.
New Character – Archdemon's Shadow
Smilegate has dropped one of the most hyped characters in the storyline of Epic Seven. This hero is none other than the boss of Episode 1 in the story as well as Hall of Trials. The Archdemon has taken control of the deuteragonist Mercedes and she is ready to wreak havoc on the enemies. Archdemon's Shadow is a 5-Star Dark Elemental Mage Character. Players will be able to summon Archdemon's Shadow starting from 21st January 2021 in the Mystic Medals Rotation as well as from Covenant and Galaxy Bookmarks.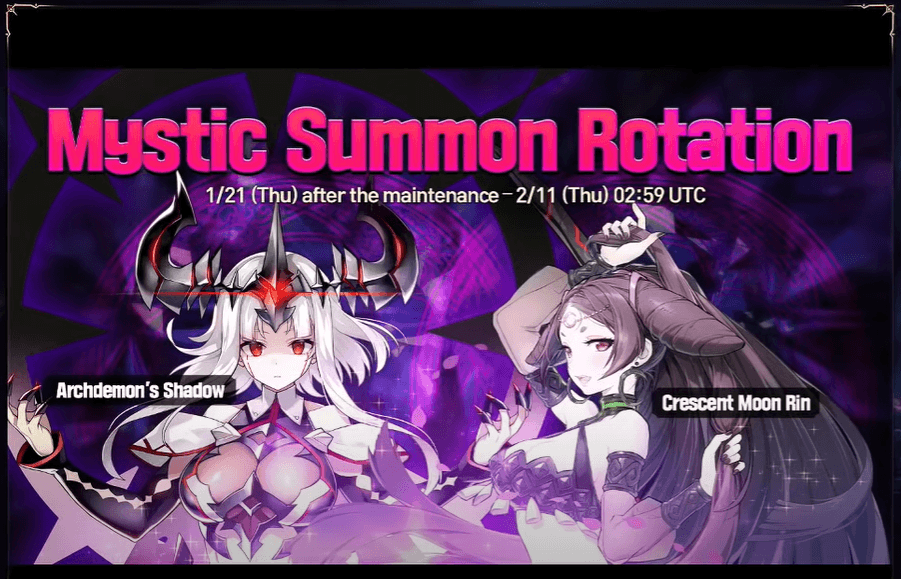 Archdemon's Shadow Skill Kit is going to be Meta-changing as many are assuming. Introducing a new mechanic called "Seal" which disables passives on the units it is applied to, this Seal debuff can be seen in Archdemon's Skill 1 Touch of Chaos. The Ultimate ability "Dissolution" is an AOE(Area of Effect on all enemies) Burn skill which immediately grants her another turn and is not prone to counterattacks. Her passive also allows her to provide some critical damage resistance up to 30% when fully maxed out as well as a fixed chance to activate another mechanic called "Burst". This fixed chance is doubled when attacking enemies under Seal debuff. "Burst" is a skill that attacks all enemies before increasing Archdemon's Combat Readiness by 25%.
Specialty Change – Zealot Carmainerose
More specialty changes are always welcomed in the Epic Seven community. These changes make lesser-used units more viable by buffing them in several ways. Smilegate teased a Specialty Change in the last week of December 2020. It was revealed in the Patch Preview Stream to be of 3-Star Fire Elemental Carmainerose, the second of the banshee sisters getting a specialty change. After the specialty change, her new name will be Zealot Carmainerose.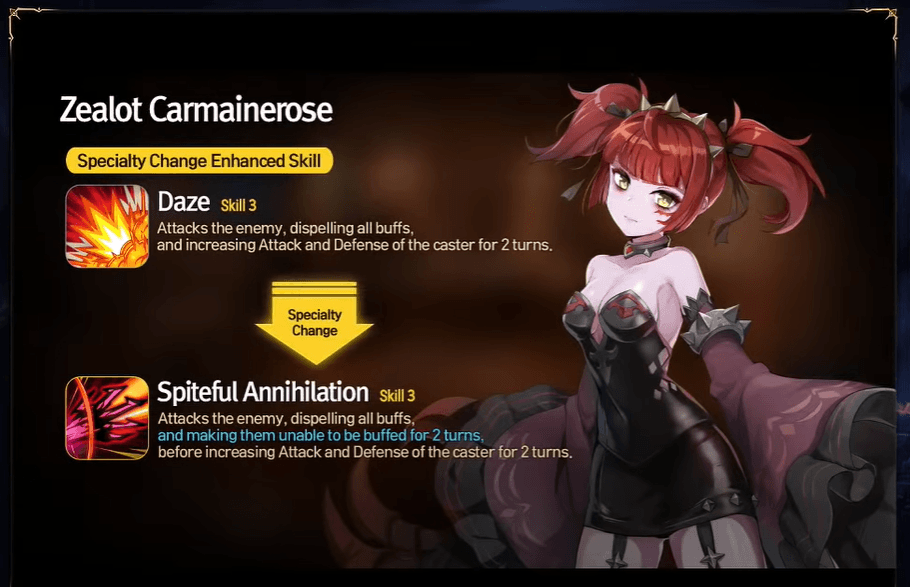 Her buff will give her an enhanced ultimate along with its unique animation called "Spiteful Annihilation". The new ultimate now blocks debuffs on the targeted enemy for 2 turns. Her survivability is also increased with the base numbers in the Attack, Defense, and HP section going up after enhancing her Runes. Zealot Carmainerose also gets a base 65% effectiveness against Earth elemental units after enhancing all her runes. She is expected to be a top tier unit for Golem Hunt stages after her Specialty Change.
Rate-Up Banners January 2021
Cermia with Border Coin: 1/7/21 – 1/14/21
Celine with Secret Art Storm Sword: 1/7/21 – 1/14/21
Vivian with Dignus Orb: 1/14/21 – 1/21/21
Alencia with Alencinox's Wrath: – 1/14/21 – 1/21/21
Side Story – Memories of the Remorseful
In a Wintenburg of days long past, an ominous prophecy and a new connection approach the Dragon Alencia as she soars throughout cloudless blue skies, unaware of the sorrowful future that awaits her. This Side Story is going to feature Alencia's past with the beginning of Chapter in Episode 3 of the main story. Players will get to experience Alencia's youth days and the tragedy that changed her.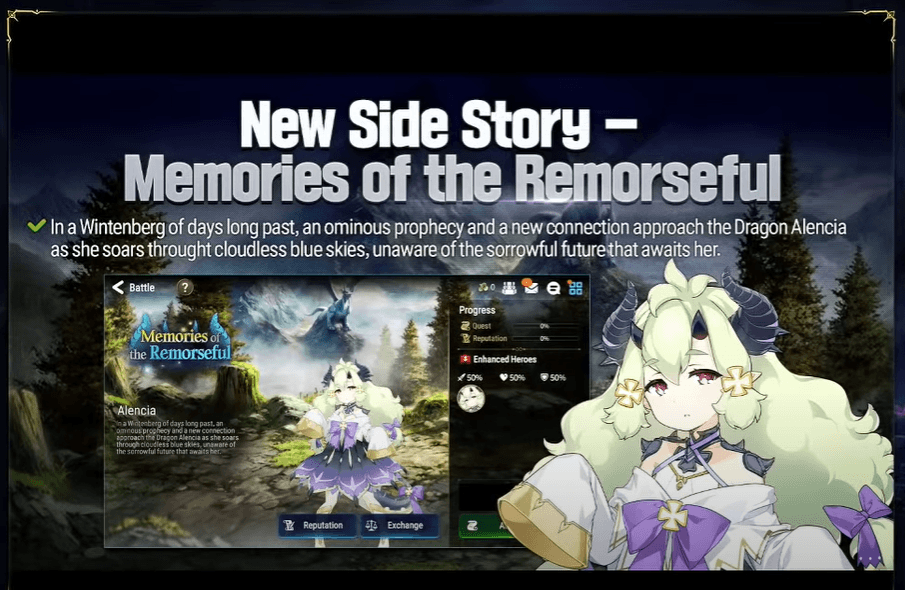 While playing the side story, players will be able to collect the event currency which can later be exchanged for exciting rewards like MolaGora, Charms of different rarities, Covenant Bookmarks, Phantasms, Penguins, and much more. Players will be rewarded with Skystones when completing the different stages of the side story. Bonus rewards will be given after completing all the reputation missions of the side story.
Players will be able to witness this side story alongside the Alencia Rate-up banner from 14th January 2021. Alencia will get a buff of 50% Attack, Health, and Defense when used in clearing stages of the side story. Adventures in a Winter Wonderland side story will be finished on the same day as well, so this week will be your last chance to complete it and exchange the event currency for amazing rewards.
These are some of the most important changes and features coming to the game. For a more detailed understanding, feel free to read the official patch notes. Let us know your thoughts on these upcoming characters and features in the comments section below!