Updates
Epic Seven – New Hero Mediator Kawerik, Balance Adjustments, and New Check-In Rewards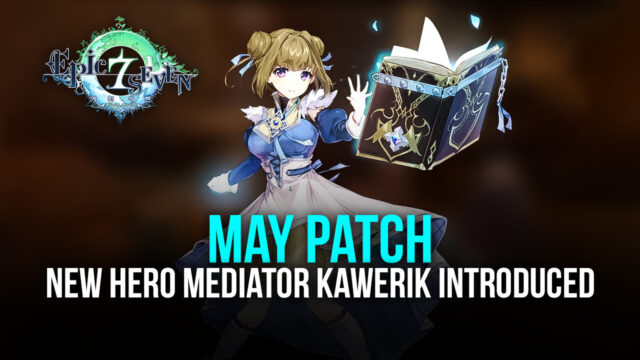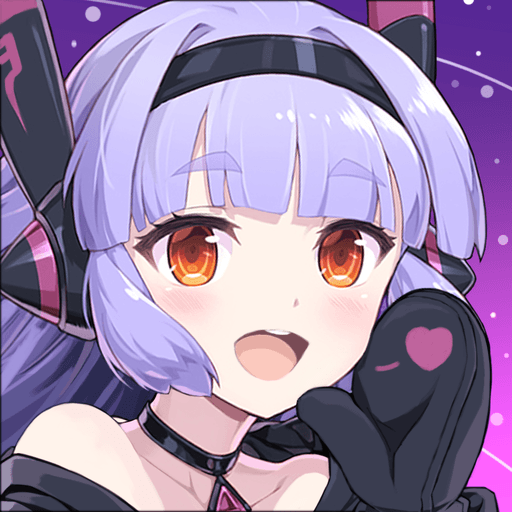 Smilegate live-streamed their upcoming patch preview for their popular turn-based RPG Epic Seven on their official YouTube channel hosted by the community managers Mashuu and Nue. Many new revelations for the upcoming May 13th Patch and May 27th update were made during the Livestream.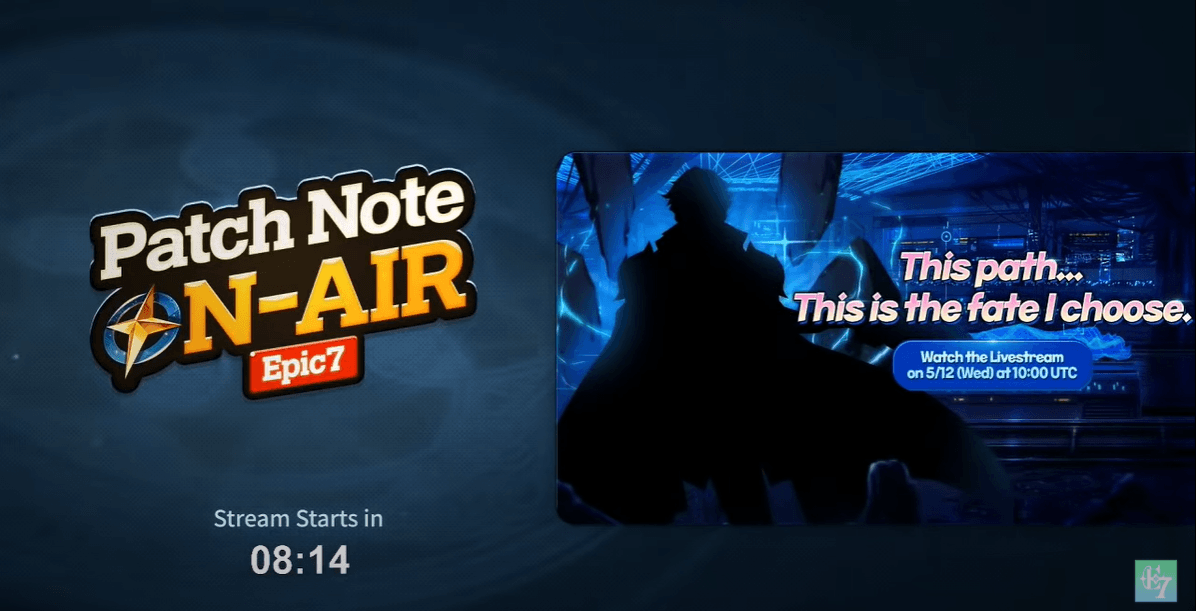 This Patch introduces a new dark elemental 5-Star hero Mediator Kawerik, the moonlight version of the existing fire element 5-Star Kawerik. The banner will go live on May 27th with Shooting Star Achates and can be summoned using Mystic Summons. A thorough list of the upcoming balance patch for heroes and artifacts was also released on their official forums. The balance list includes heroes which were highly recommended for buffs by the community like Maid Chloe, Cecilia, Flan, Mercedes, Mascot Hazel, and Chaos Sect Axe. Many new QOL features were also introduced for ease of newer as well as existing players. A new Check-In reward system was also introduced which will take into effect from May 27th. Let's check out the update in detail.
Mediator Kawerik
Smilegate teased all its Epic Seven players with a dark silhouette just days before the patch preview live stream on their official YouTube channel. The silhouette was revealed to be of a new dark elemental 5-Star hero Mediator Kawerik. The new hero Mediator Kawerik will be available alongside Shooting Star Achates on the Mystic Summons banner from May 27th, 2021 till June 17th, 2021. Mediator Kawerik is a Warrior Class hero which specializes in supporting allies and increasing their survivability by cleansing all debuffs and providing buffs like Barrier and Increased Attack. His base stats, especially HP and Defense are very high compared to other Warriors in the game. His 1st skill Retribution is a single target damaging skill which scales with his MAX HP and increases the combat readiness by 10% of the ally with the highest combat readiness.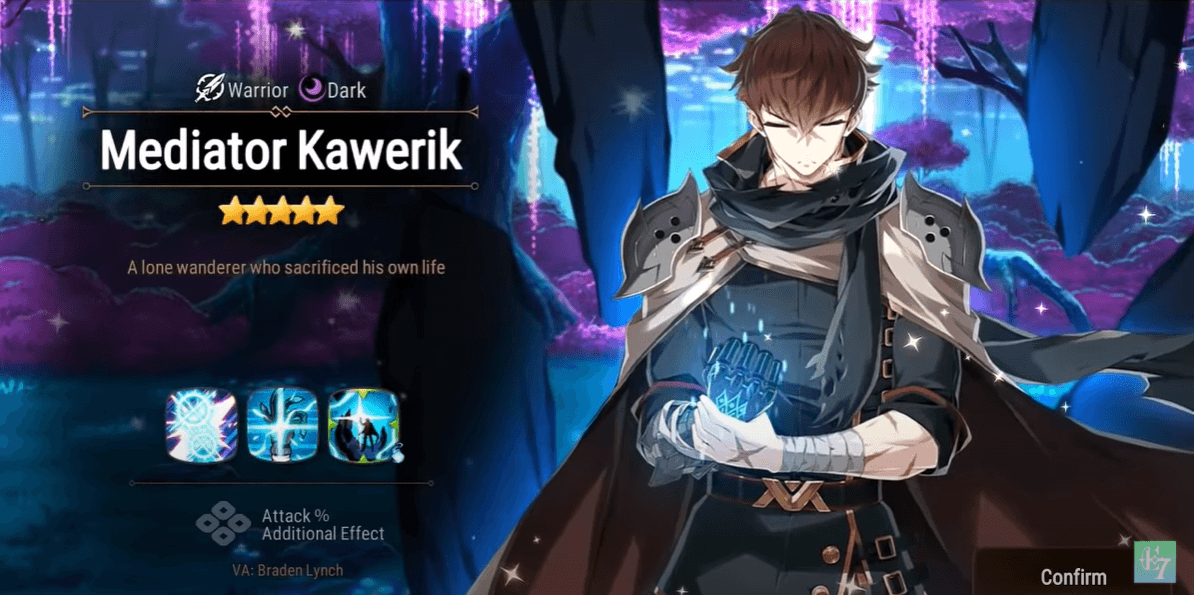 His 2nd skill Balance of Power is also a single target damaging skill which scales with his MAX HP. This skill also has a chance to inflict a Decreased Attack debuff for 2 turns and grants all allies Barrier equal to allies' MAX HP. This skill is a great supporting skill but also deals a good amount of damage. His 3rd skill, Nature Restoration, is an AOE cleanse skill that removes all debuffs from allies and grants them Attack and Immunity buffs for 2 turns. Players can Soulburn this skill to extend the debuffs provided by this skill for 1 more turn.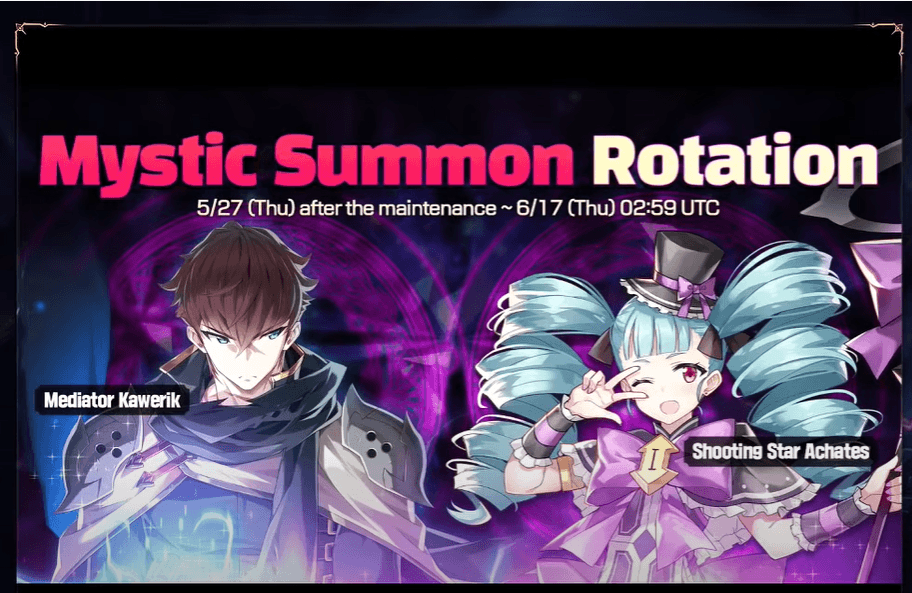 As we can see from his skills, he has the potential to dish out great damage while providing immense support for all the allies. The only drawback for Mediator Kawerik is his awfully low base speed of 102. In such a Meta where speed is king, having such low base speed might hamper its usability against teams that utilize popular heroes like Cerise, Faithless Lidica, etc. His base HP and Defense is very high and his skills also scale with his MAX HP, so we would recommend building him with as high HP as possible for the most optimum results. So far, we have not got the exact multiplier numbers on his skills. We recommend building him for Speed/Immunity, Health/Immunity/Hit, or Speed/Health set with a focus on HP, Speed, and Defense stats. Take a look at his skills in detail:
Retribution – Dashes toward the enemy to attack, increases Combat Readiness of the ally except for the caster with the highest Combat Readiness by 10%. Damage dealt increases proportional to the caster's Max Health.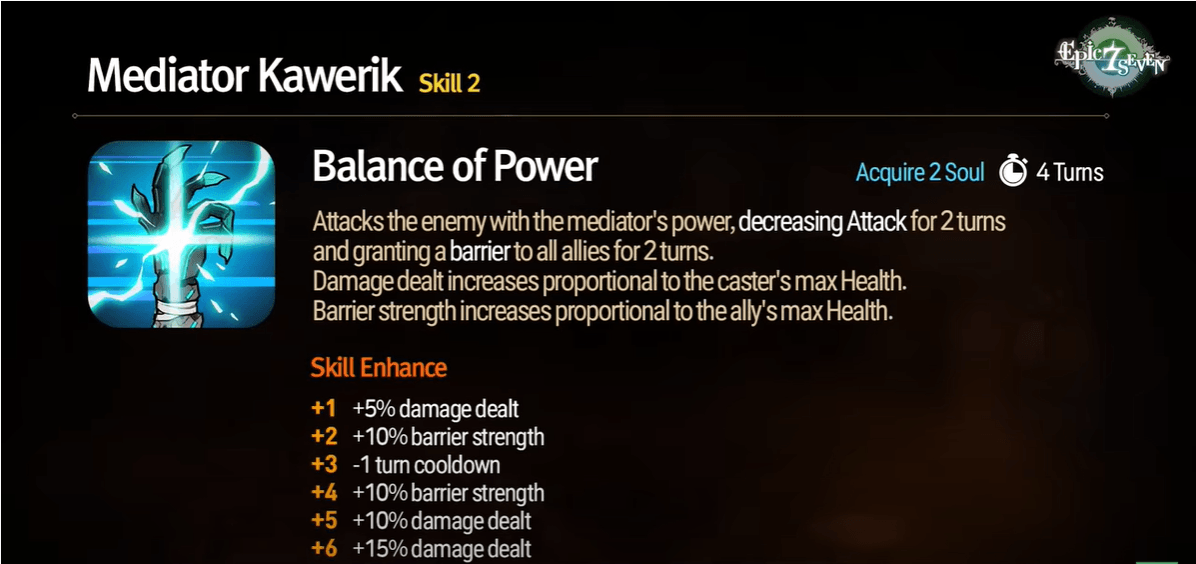 Balance of Power– Attacks the enemy with the mediator's power, decreasing Attack for 2 turns and granting a barrier to all allies for 2 turns. Damage dealt increases proportional to the caster's max Health. Barrier strength increases proportionally to the ally's max Health.
Nature Restoration – Restores balance that has been destroyed, dispelling all debuffs from all allies and granting increased Attack and immunity for 2 turns.
Burn Effect: Extends the duration of buffs granted by this skill by 1 turn.
Hero/Artifact Balance Adjustments
Smilegate has released its balance adjustments for both heroes and artifacts for Epic Seven. These adjustments are scheduled to take place from May 13th after maintenance completion for the new patch. The heroes and artifacts are chosen for balance adjustments according to popular demand from the community as well as to make them viable in other areas of the game.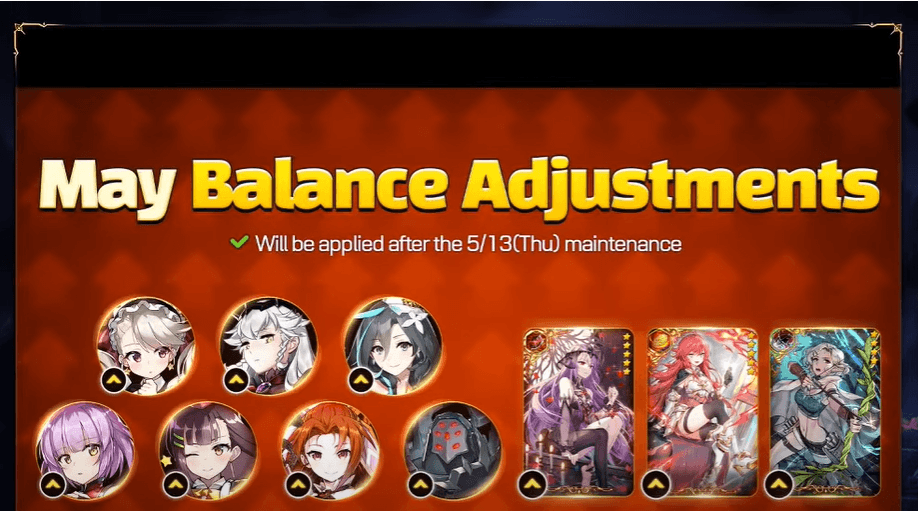 Smilegate clearly states that some of these heroes were less picked or had a low win rate in Arena or other areas of the game and their popularity among players was very low. Some of the significant balance changes are as follows:-
Maid Chloe (Hero)

– Her 1

st

skill

Heavy Strike

got an increased chance to stun from 35% to 40% and additionally if the target gets stunned by this skill, she will increase the combat readiness of all allies by 15%. Her 2

nd

skill

Maid's Cheer

now increases all allies' Effect Resistance by 20% and recovers the health of 2 allies with the lowest HP. This recovery amount increases according to her MAX HP amount. Her 3

rd

skill

VIP Treatment

now dispels 2 debuffs from all allies and increases their Attack for 3 turns if they are still alive. If they are dead, she will do the same as she did before by reviving them with 20% health.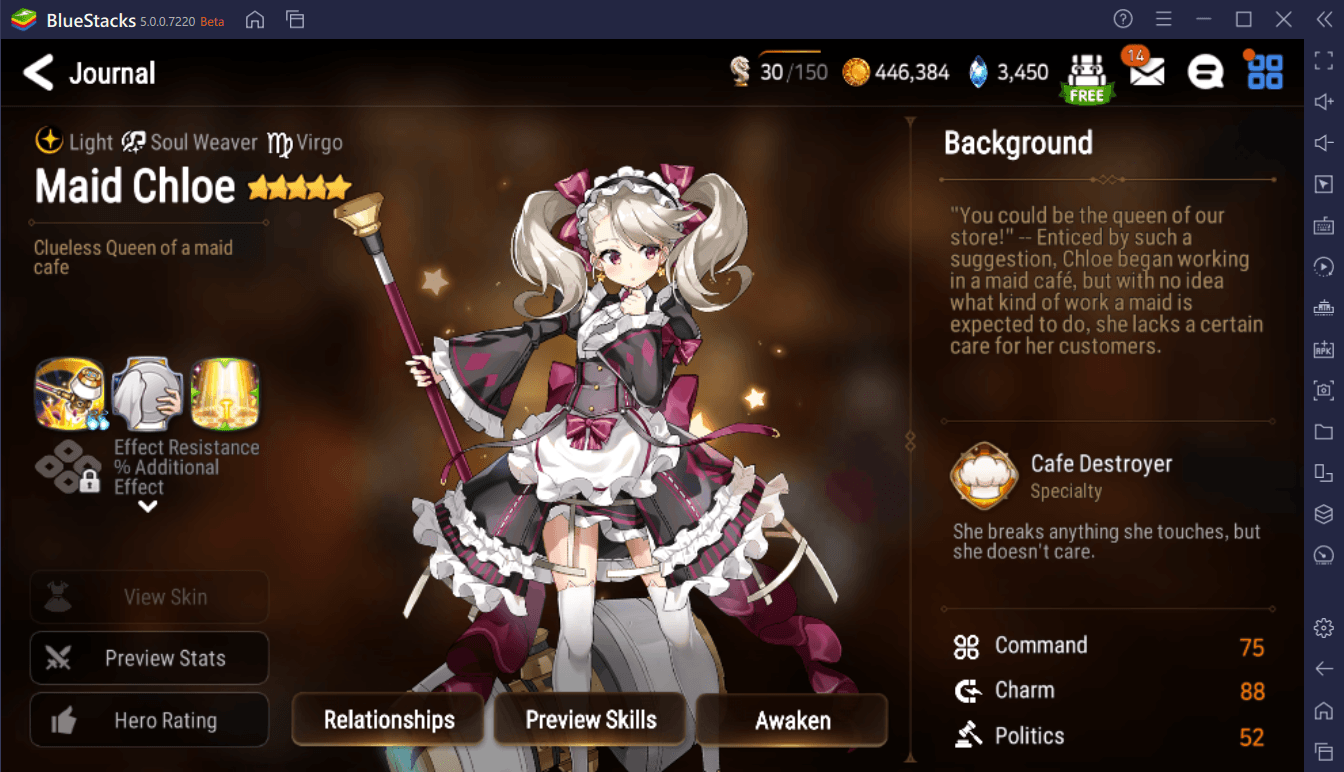 Cecilia (Hero)

– Her 1

st

skill

Deliverance

will now additionally inflict a Decreased Defense debuff with an additional 25% chance if the target is already under a Decreased Attack debuff. The damage of this skill scaled with the caster's MAX HP. Her 3

rd

skill

Steel Cloudburst

will now decrease Attack for 2 turns of all enemies with 100% chance before dispelling one buff from them. Additionally, her new exclusive equipment gives her a 100% chance to inflict Decrease Speed debuff to all enemies with this skill.
Flan (Hero)

– Flan, the 5-Star Ice elemental Ranger hero will receive changes in her Soulburst skill. Earlier, her 1

st

skill

Communication Breakdown

could be soul burned to increase the effect chance to dispel a debuff to 100% and dispel another additional debuff. This Soulburn effect has been removed from her 1

st

skill and added to her 3

rd

skill

Advantageous Deal

. Her 3

rd

skill can now be soul burned to grant her another turn after inflicting an Unhealable and Decrease Defense debuff for 2 turns and decreasing the enemy's combat readiness by 15%. Her 2

nd

skill

Data Monopoly

also now Increases Attack and Critical Hit Damage for 2 turns after increasing combat readiness by 40%. This skill will also grant her more souls now. She can be used as a good unit for cleaving as she can now use her 3

rd

skill then 2

nd

skill after soul burning.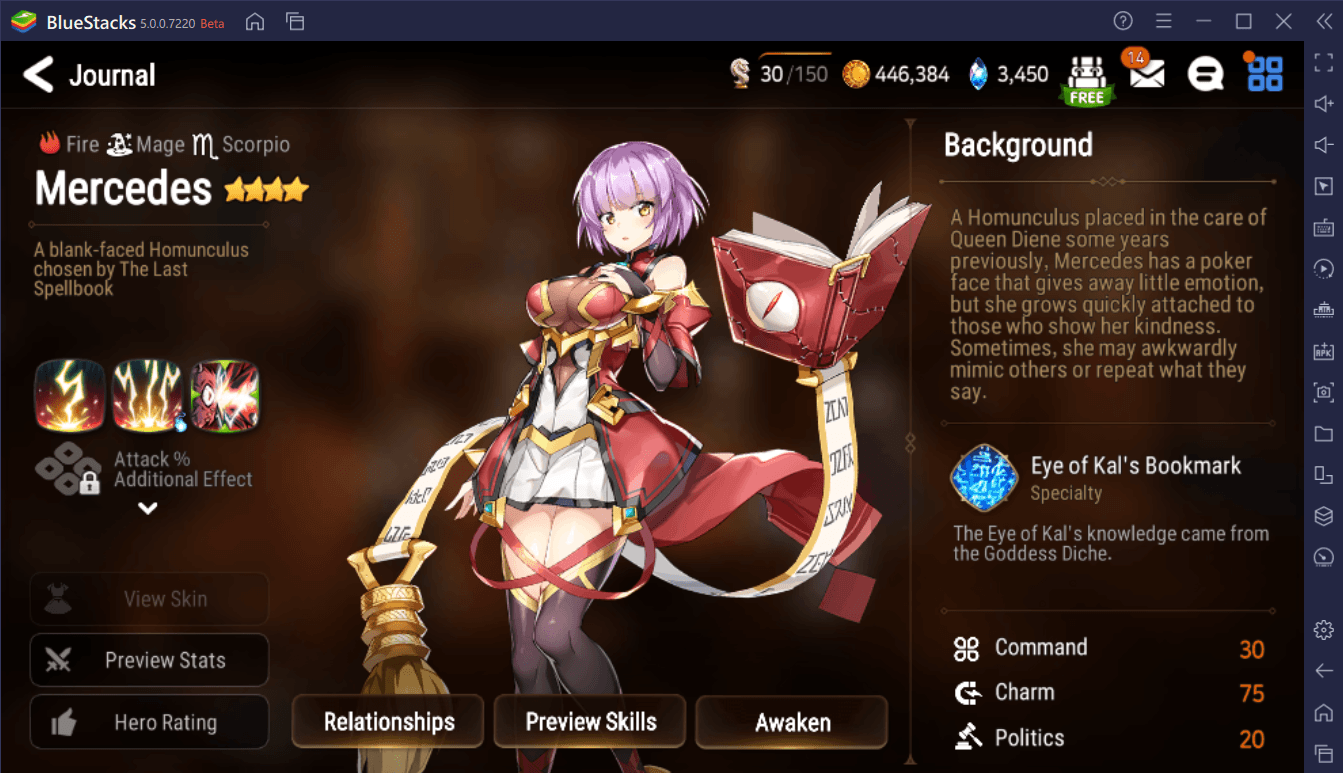 Mercedes (Hero)

– Her 1

st

skill

Dimensional Rupture

now uses this skill again if there are 3 or fewer enemies left. The damage of this skill also increases if there are fewer enemies left. However, when it can only be used once and its damage is decreased when it's cast again. Her 3

rd

skill

Blazing Eye of Kal

now grants her Increased Attack for 2 turns before doing an AOE damaging skill.
Mascot Hazel (Hero)

– Her 2

nd

skill

Urgent Regen

skill description changed to – "Heals the target proportional to the caster's Attack and the target's max Health, before increasing the combat readiness of the caster by 15%. Amount recovered is doubled when the target's Health is 50% or less" Her 3

rd

skill

A Girl in Uniform

skill description now reads "Encourages all allies by increasing their Attack for 2 turns, recovering their Health and dispelling 1 buff.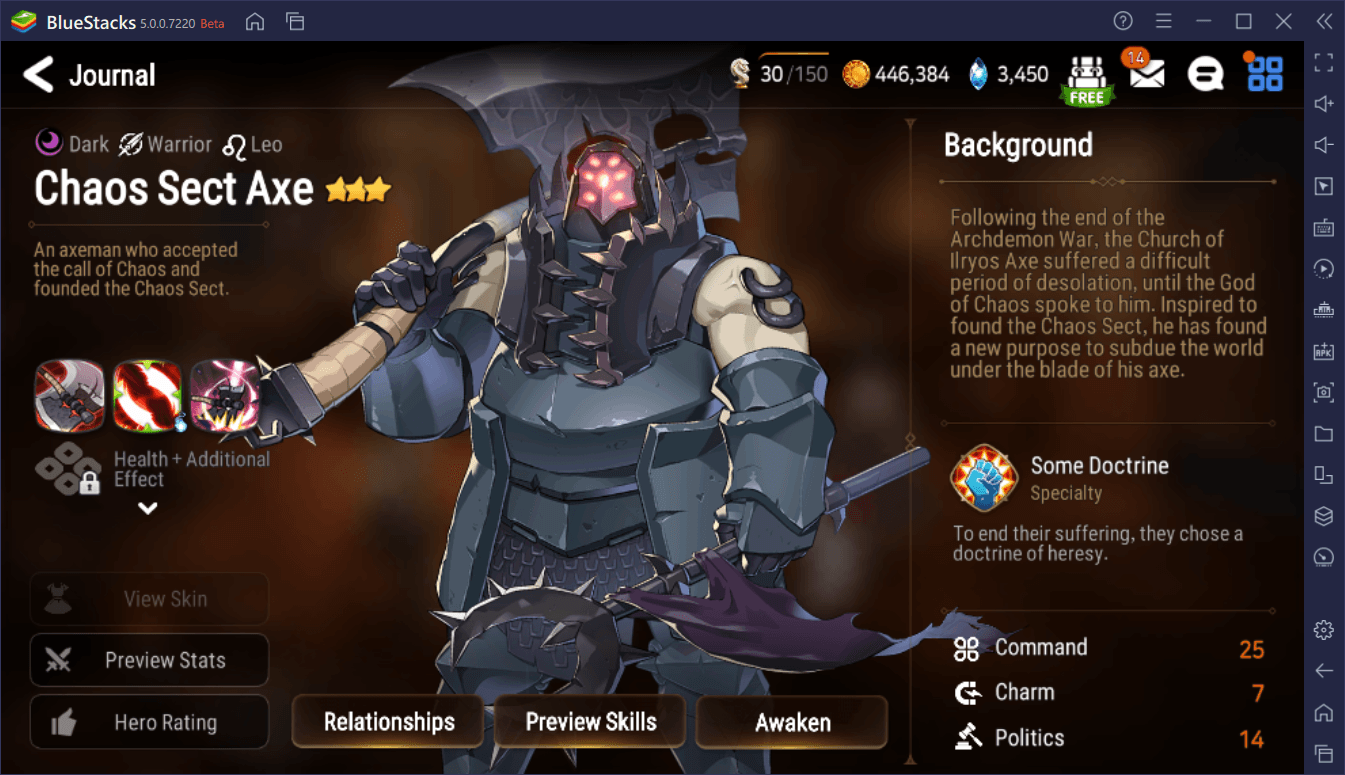 Chaos Sect Axe (Hero)

– His 1

st

skill

Disconnect

now inflicts a Provoke debuff to the target with a 75% chance. The damage of this skill increases proportionally to his MAX HP. His 2

nd

skill

Attack Chain

now scales proportionally to his MAX HP. The Soulburn effect for this skill is changed from Increased damage dealt with Skill cooldown decreased by 2 turns. His 3

rd

skill

Vigorous Strike

has an effect added which grants him another turn if the target is killed by this attack. The damage of this skill also scales proportionally to his MAX HP.
Bloody Rose (Artifact)

– A new effect added which states that when the caster equipped with this artifact attacks a target, it has a 50% chance to inflict a Vampiric Touch debuff to the target for 2 turns. This effect cannot be inflicted when the target is attacked by a counter, dual attack, or extra attack.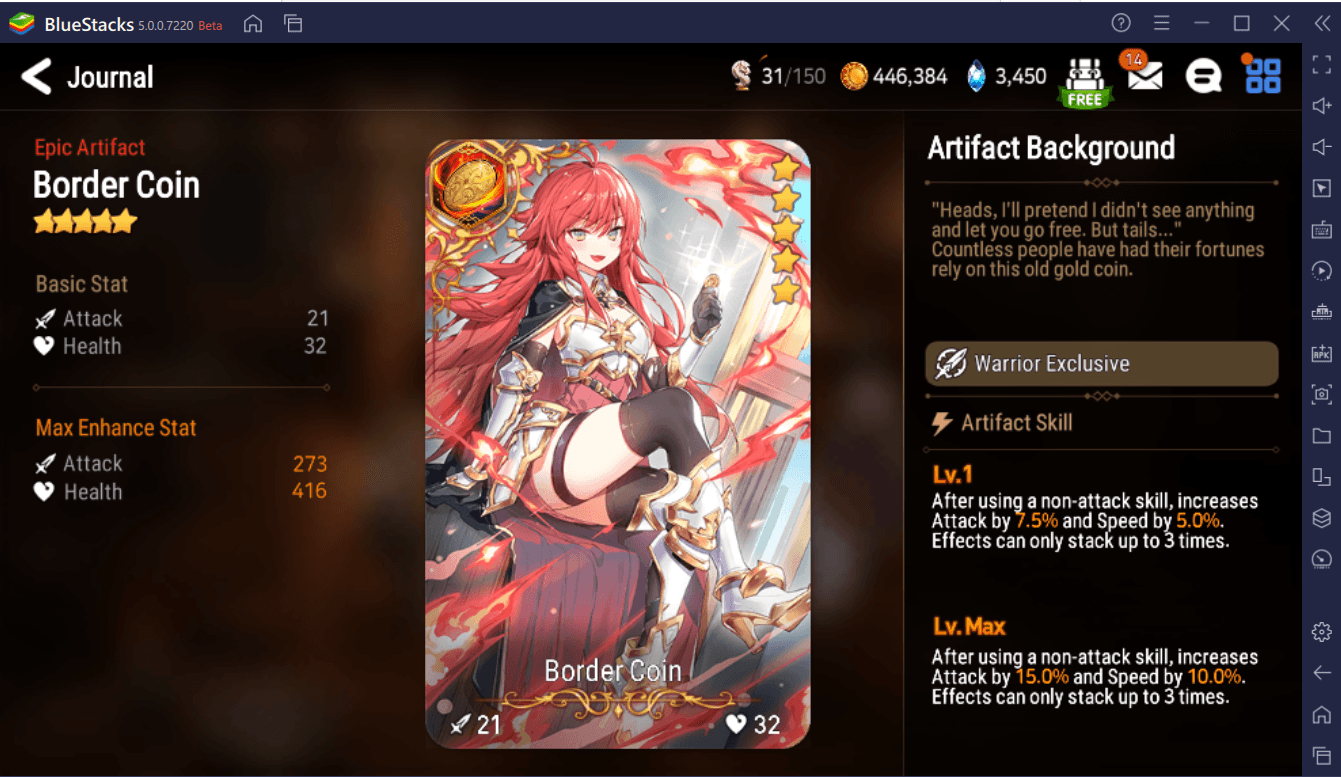 Border Coin (Artifact)

– After using a non-attack skill, increases Attack by 15% and Speed by 10%. Effects can stack up to 3 times.
Ambrote (Artifact)

– Increases damage dealt by a basic attack by 20%. Increases speed by 2% after basic skill. Increased speed effect can stack up to 5 times.
May 2021 Drop-Rate up Banners
Senya with Spear of a New Dawn (May 6

th

to May 20

th

)

Kawerik with Black Hand of The Goddess (May 13

th

to May 20

th

)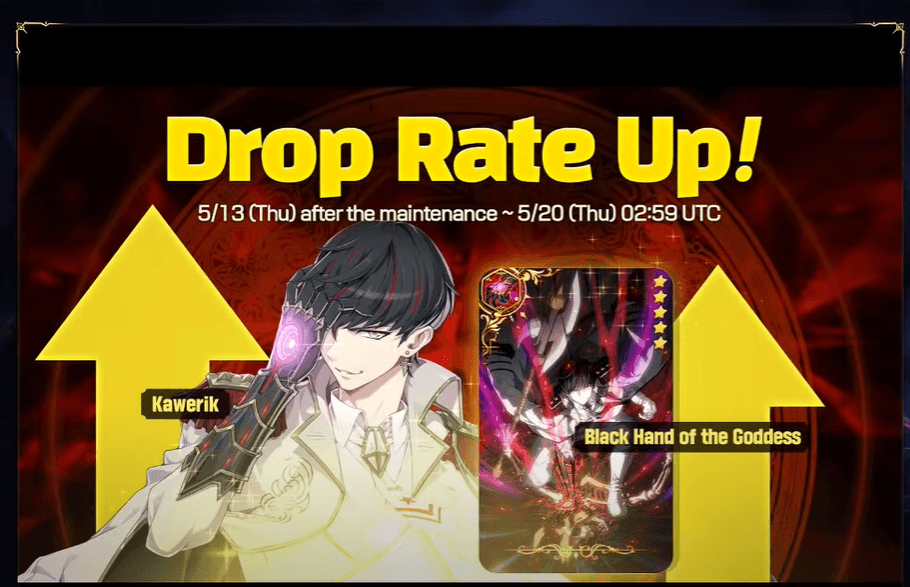 Sigret with Cradle of Life (May 20

th

to May 27

th

)

Choux with Snow Crystal (May 20

th

to May 27

th

)
Merurin's Check-In Reward Changes
Smilegate posted their new revamped Check-In rewards which will be starting from May 27th and continue permanently. The old Merurin Check-In Rewards will be terminated after this month and the new rewards will be in effect instead. Players who are already completing the current Check-In rewards will receive double rewards from both the Check-In's till all the earlier Check-In rewards are received. The new rewards are changed so players can receive more MolaGora's per month and the 2-Star penguins are removed. More information can be found by reading the announcement for the change coming into effect with the May 27th patch.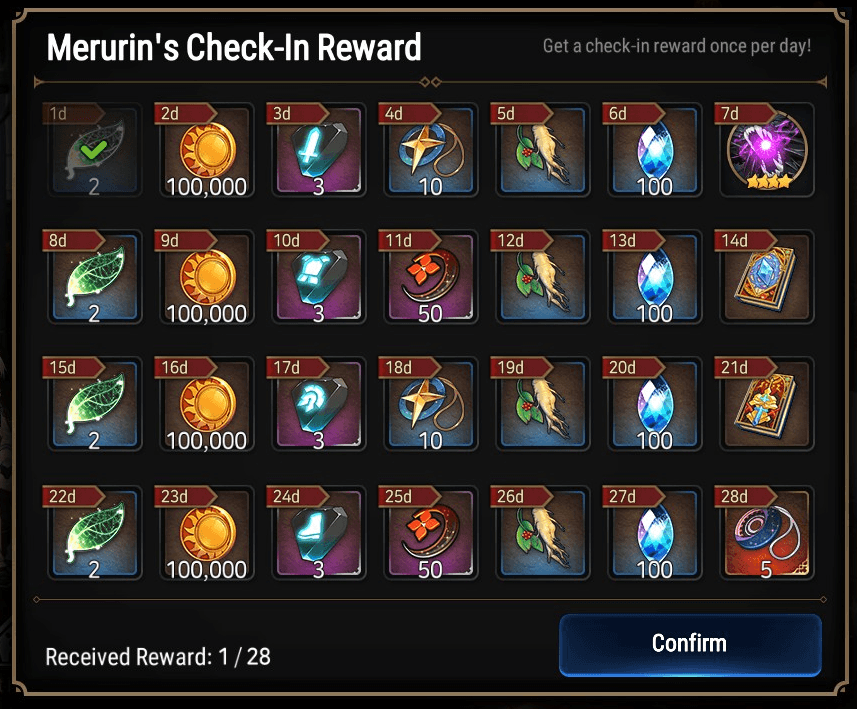 So, that is all for this update of Epic Seven. New hero Mediator Kawerik is anticipated to be an underused champion due to his low base speed of 102 but he might get buffed or given exclusive equipment before release. The new balance adjustments are positively taken as Smilegate continues to listen to their community and strive harder to make Epic Seven even more popular than it already is. Make sure to read the official patch notes. Share your thoughts with us in the comments below!
We highly recommend playing Epic Seven on PC with BlueStacks using a keyboard and mouse.