Updates
Epic Seven 3/17/21 Patch Brings a Specialty Change Guilty Gear Collab and Much More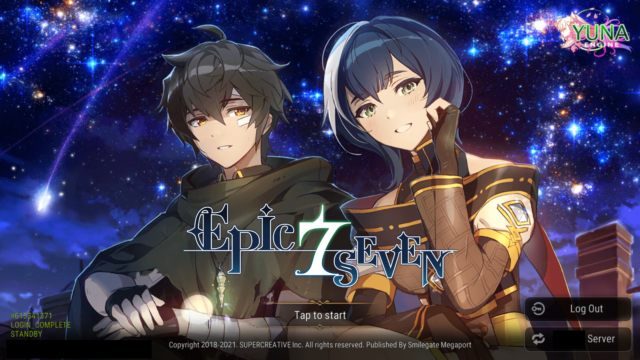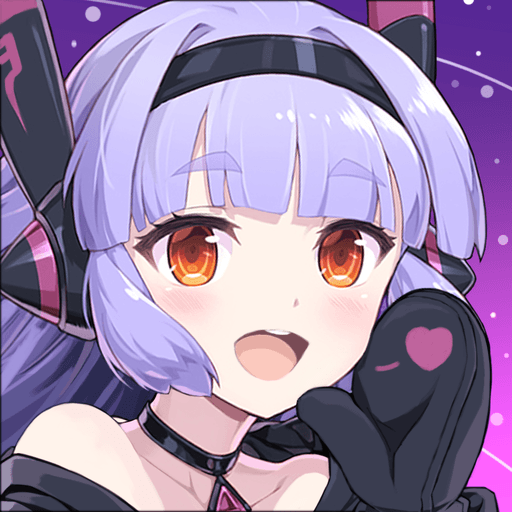 This Wednesday brings another Patch Preview Live stream of the popular turn-based RPG Epic Seven presented by Smilegate and hosted by community managers Mashuu and Nue on their official YouTube channel.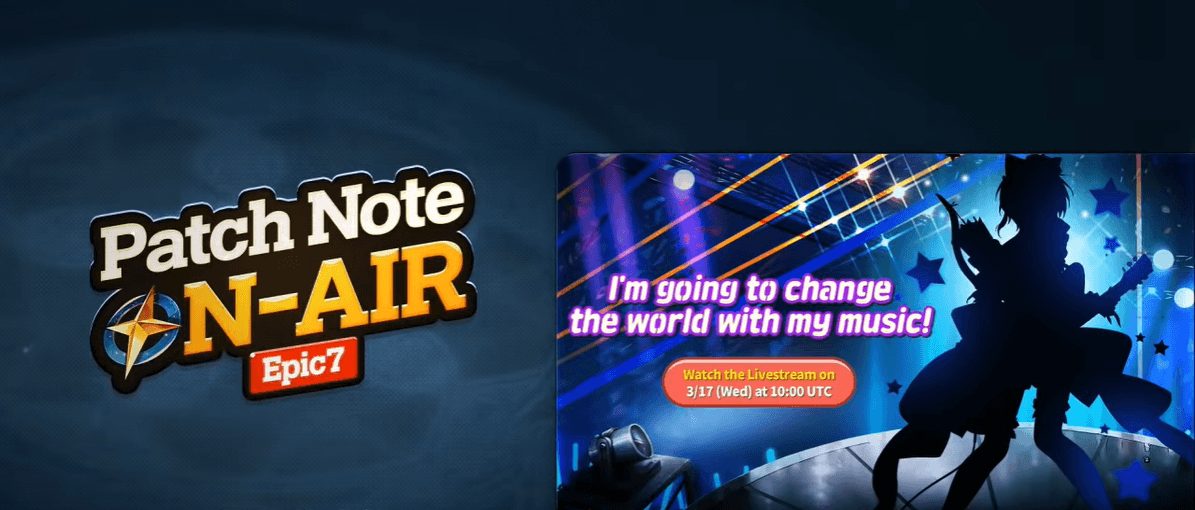 This Patch Preview marks the 2nd one for March 2021. This Patch introduces a new Specialty Change for the 3-Star Ice elemental hero Rima. This new specialty change sees her transform into Muse Rima with enhanced abilities and additional awakenings. This Patch also announces the official rerun of Guilty Gear Collab Banners for the 3rd consecutive time with the banner going live in the 1st week of April 2021. A New Side Story of Vivian called "An Uphill Battle" and some interesting changes to Expedition content were also revealed to be coming soon.
Specialty Change Muse Rima
Specialty Changes are essential for the players as well as the ecosystem of the game. They are essentially major buffs to the existing 3-Star heroes which do not have the stats as well as the skills to compete in PvP or PvE content. With the major success of past Specialty Changes, Smilegate has made it a point to keep giving 3-Star heroes the love they deserve. It also encourages the F2P community and content creators to suggest heroes as they are easier to get and max out. This Patch provides us the revelation of the next Specialty change which is going to be Muse Rima, an SC to the existing 3-Star Ice Elemental Ranger unit Rima.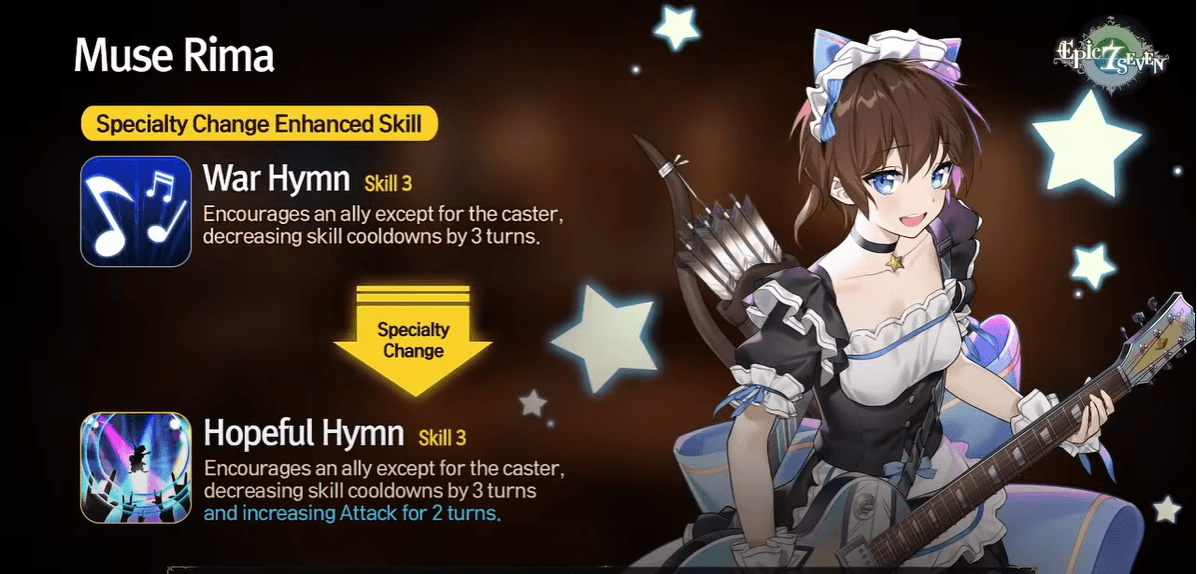 With this Specialty Change, Rima's 3rd skill War Hymn will change to Hopeful Hymn which now increases the chosen ally's Attack for 2 Turns in addition to decreasing all skill cooldowns by 3 turns.
Her skills will also do additional effects if all allies are of Ice Element. This makes her synergize well with all Ice Elemental heroes and essentially makes her viable for content like Brutal Pherus Expedition and Wyvern Hunts. Her Basic skill Quick Shot now has a 20/30/50% chance to increase combat readiness by 5% of the ally hero with the highest attack depending on the number of Ice Elemental allies. Her 2nd Skill Lullaby Arrow now has an additional 100% chance to decrease Defense by 100% of all allies are of Ice Element. It also has a 100% chance to decrease the target's combat readiness by 10% if the hit lands as a Critical Hit. Apart from these skill buffs, her runes also additionally enhance her Health (10%), Effectiveness (25%), and Effectiveness of all allies (5%).
Guilty Gear Collab Banner Re-run
The Guilty Gear Collab which features popular units like Dizzy, Sol, Baiken, and Elphelt in Epic Seven will return for the 3rd consecutive time to the game. The Banner will have a Group summon feature as we saw in the recent Group limited 3-way summon with Diene, Landy, and Cerise in February of 2021.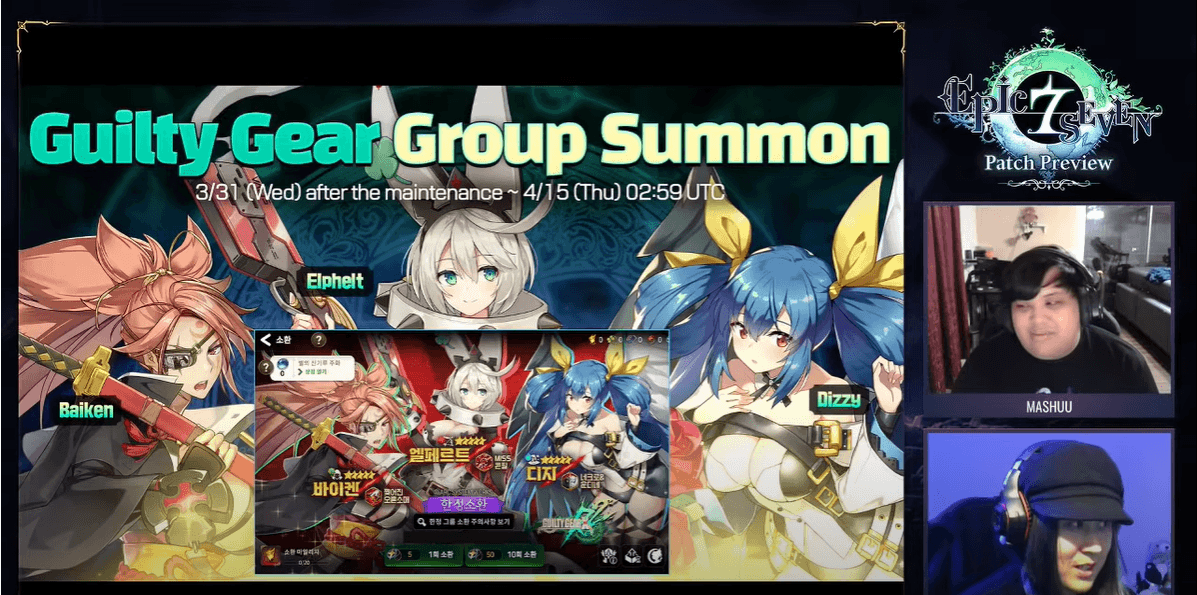 These Group Summon banners seem to be a success for Smilegate and have received positive reviews from the players as well. Like in the Limited Group Summon, we can assume that we will have a separate currency for these banners which can be accumulated by summoning on this banner. This currency can be exchanged in the Banner exchange shop for the Banner Heroes ( Baiken, Dizzy, and Elphelt), their limited artifacts as well as other lucrative items like MolaGoras, Charms, and Item chests.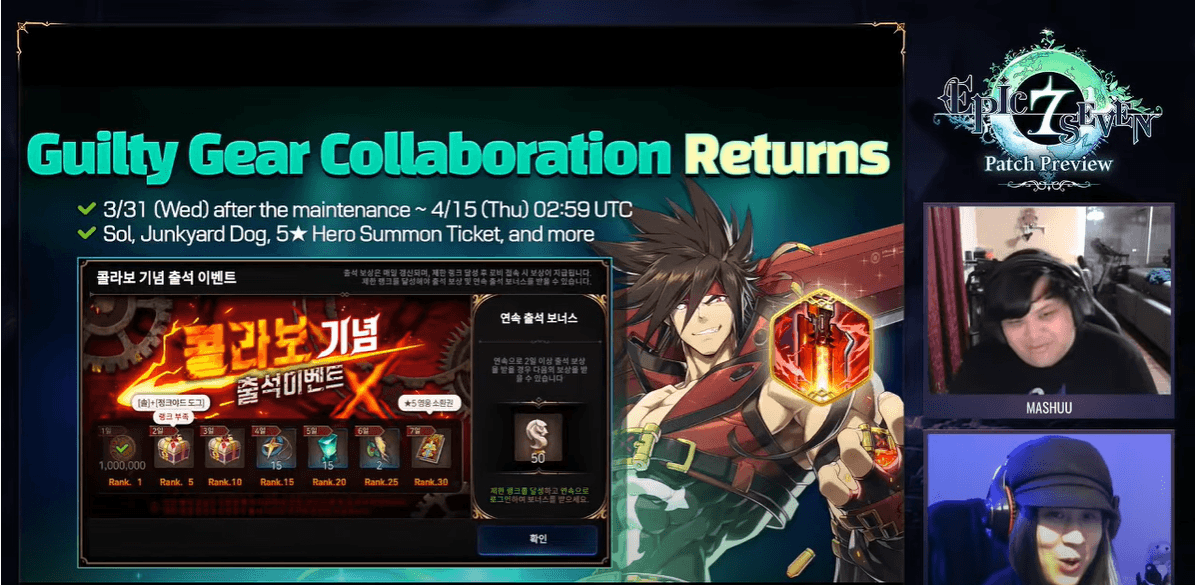 Along with the summoning event, players will be able to get copies of the hero Sol and additional rewards by logging into the game during the collab rerun. The Rewards include the following:-
Day 1:

Gold x 1,000,000

Day 2:

Epic Catalyst Chest

Day 3:

Lvl 85 Equipment Gear Chest

Day 4:

15 Covenant Bookmarks

Day 5

: 15 Silver Transit Stones

Day 6:

2 MolaGora

Day 7:

5-Star Random Hero Summon Ticket
Side Story – An Uphill Battle
A new side-story will be available for players to be played after the Patch on 3/25/21 and will be a 2-week long side story ending on 4/8/21. The side story prologues say, "With her impressive magical ability, Vivian won the title of city lord, but it seems that her fellow is unwilling to accept someone with such humble beginnings. In the rise of facing disdain and mystery, Vivian's battle begins…"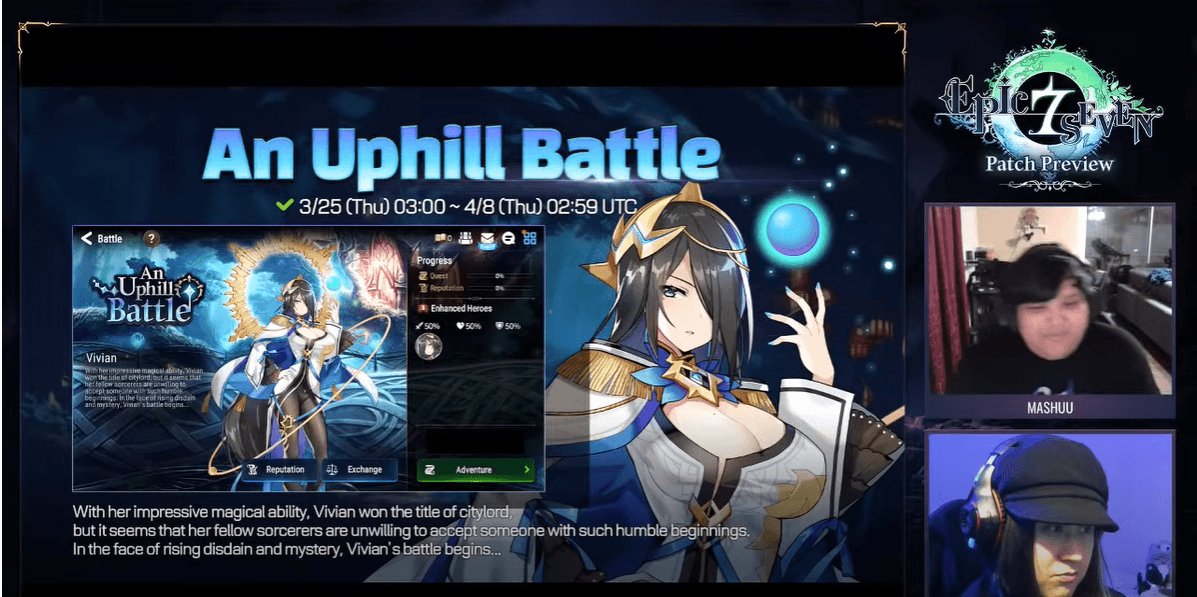 During the side story, players will be able to earn event currency by playing the side story stages. Completing all the stages of the side story will also give players rewards like Skystones, Gold, Covenant Bookmark, Penguins, Phantasms, Low Spirit Runes of Fire/Green/Water element as well as 4-Star Random Artifact. Players can exchange the Event currency in the Exchange shop for more rewards like MolaGora, Epic, and Rare Catalysts, Mega and Rare Phantasms, 3-Star Penguins, Greater and Lesser Equipment, and Artifact Charms. During the Side-story, using Vivian in your team while playing through the stages will boost her Attack, Health, and Defense base stats by 50%. Make sure to complete this side-story for some good rewards.
Expedition Changes
Community managers Mashuu and Nue also leaked some changes coming to the Expedition to make the content more appealing and accessible for newer players to complete. Recently with the release of Substat changing stones being limited to Expedition, Smilegate tried to make players play more of the Expedition content with better rewards. However, the difficulty level of Expedition was higher than other PvE content. Hence, after the recent patch, Expedition level 3 difficulties will be reduced for all the bosses. Boss HP and Defense will be reduced. Starting from April, 2 sets of 6 Greater Equipment Modification Gem Selection Sets will be awarded to players as well (2 Sets per Boss).
Rate-Up Banners for March 2021
Charles with Justice For All: 3/18/21 – 3/25/21

Tamarinne with Idol's Cheer: 3/25/21 – 4/1/21

Vivian with Dignus Orb: 3/25/21 – 4/1/21

Desert Jewel Basar and Great Chief Khawana (Mystic Banner Summon): 3/25/21 – 4/15/21
Hero Balance Changes
Starting from 3/18/21, the Balance Changes announced for March will be applied to the respective heroes. The Affected heroes include Desert Jewel Basar, Choux, Crimson Armin, Troublemaker Crozet, Khawana, and Mercenary Helga. The Buff to Soul Weavers of the Sagittarius constellation will also be live after 3/18 Maintenance. The full list of Balance Changes can be found out here.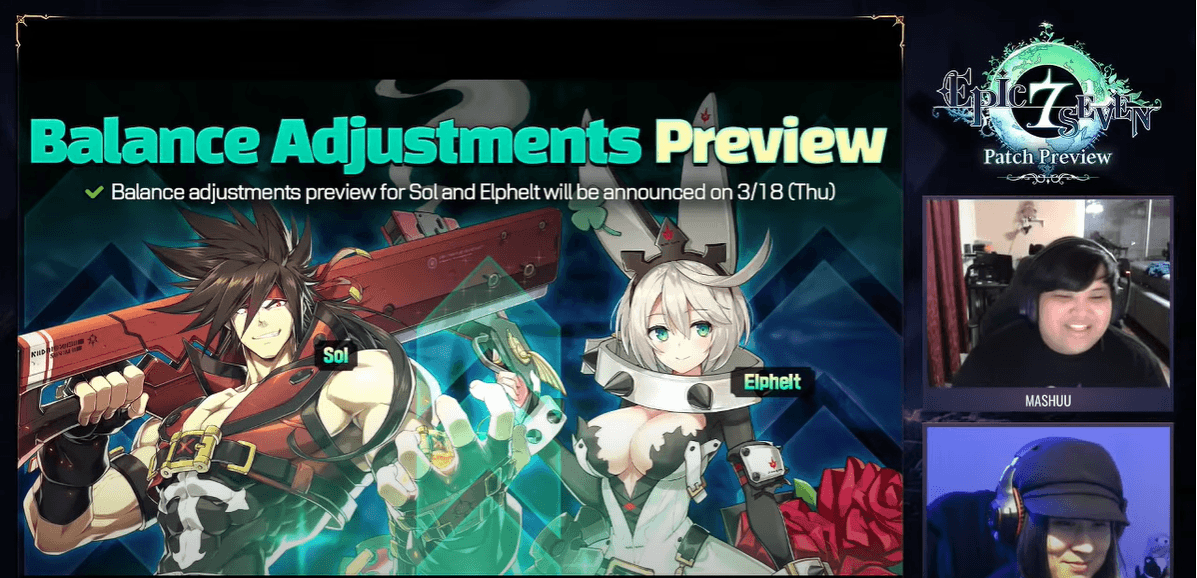 Apart from the usual hero balance adjustments, for the first time in possibly any turn-based RPG, the collab units Sol and Elphelt are on the road to get buffed. The buffs will apply to all their skills and according to Community Manager Nue, they will be significant. The buffs are scheduled to be announced on 3/18 and will be implemented when the Guilty Gear collab rerun starts.
So, that is all for this Patch Preview. A lot of exciting events and changes coming to the ever-growing Epic Seven! Share your thoughts with us in the comments below!