Updates
Free Fire Diwali Event 2020 (India Only) – The Rewards And Everything Else You Need To Know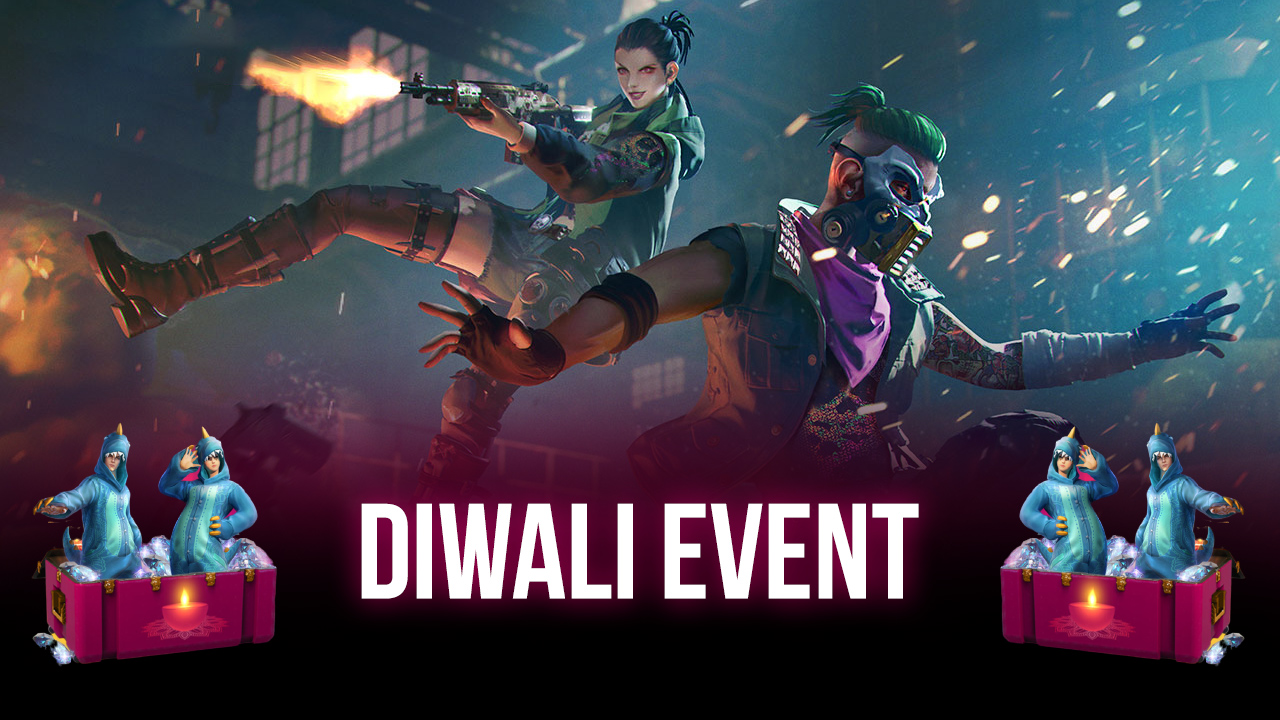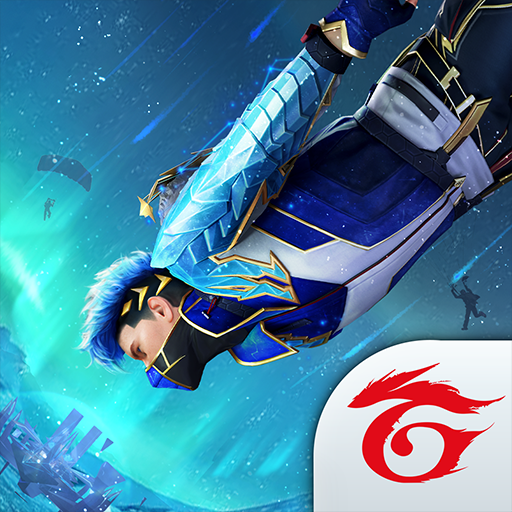 Diwali is just around the corner, but Free Fire India officially announced that this time around Diwali will be coming early for the Indian players. This year's Diwali event in Garena Free Fire is going to bring several in-game rewards that can be obtained by competing in different challenges. From costumes to free emotes to in-games skins and bundles, tons of rewards are there for the players who will participate in this year's Diwali event.
Even though the Diwali 2020 event began on the 30th of October, players still have plenty of time to participate, compete in all the challenges and win in-game rewards as the event will last till November 15.
Diwali Preparation
The first category in the Diwali 2020 events' section is the 'Diwali Preparation'. In this event, players need to collect 'Chakri crackers from the map'. They can then redeem it for a Character Level 8 Card (only once), Character Level 4 Card (only once), Weapon Royale Voucher (up to 3 times), and Supply Crates (up to 99 times).
However, this event is yet to start. The duration of the event is from November 7 to November 9.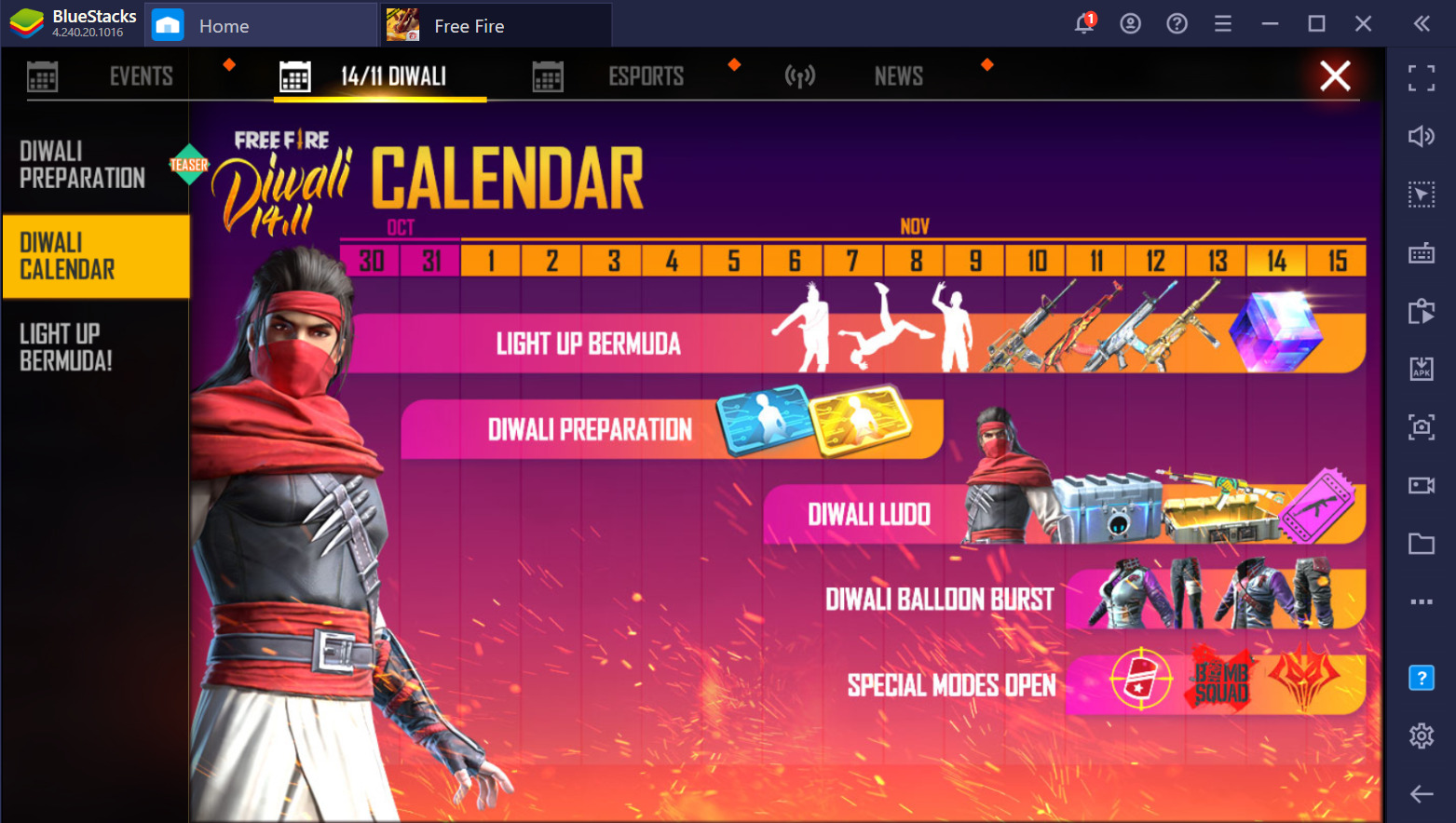 Light Up Bermuda
This event first began on October 30 but will be available to the players till November 15. Talking about the challenge in this event; players have to collect 'Diyas' from certain in-game missions which can then be redeemed to obtain a 'Magic Cube' for free.
Moreover, players can also redeem several other in-game items such as emotes, gun skins, and much more.
Also Read: How To Unlock 90 FPS In Garena Free Fire.
Diwali Ludo
This sub-event from the Diwali 2020 event will be starting from November 6 and will end somewhere around November 15 i.e. the last day of the event. Free Fire India has not revealed any other details regarding this event so far but, the in-game event picture hints at rewards like crates, weapon skins, and other usable cards for the players.
Diwali Balloon Burst
The 'Diwali Balloon Burst' event will start later around November 11 and will end on November 15. Just like the Diwali Ludo sub-event, no other information is available about this as well. However, looking at the event picture it seems like this sub-event will be rewarding the players with different types of in-game costumes.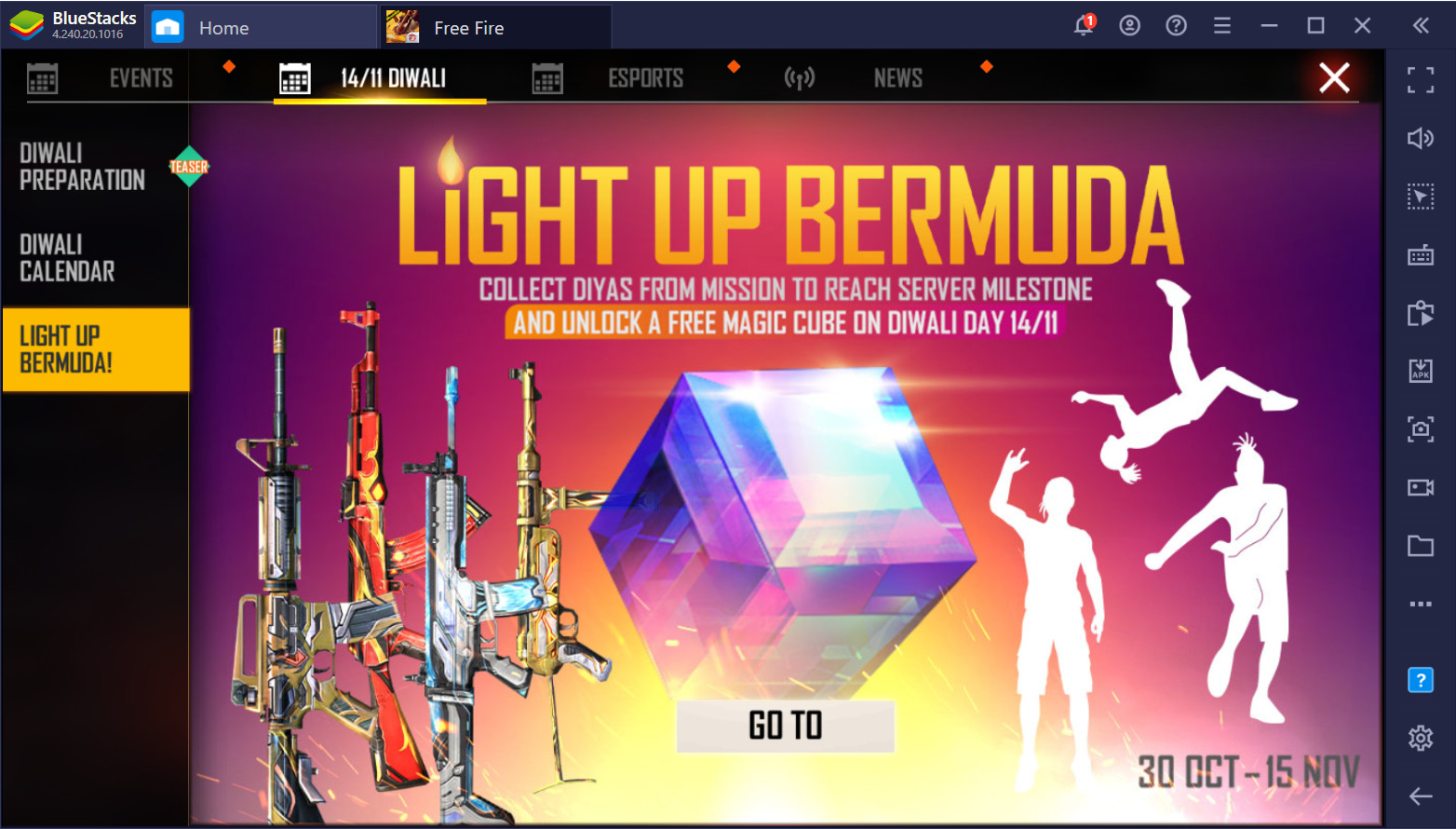 Apart from these events and sub-events, three unique gameplay modes are also making their way to Free Fire. These modes will be made available to the players from November 11 to November 15.
FAQ's – Free Fire Diwali Event 2020
When did the Diwali event start and when it's going to end?
The Garena Free Fire Diwali event started on October 30 and will end on November 15.
Apart from these events and sub-events; are there any other missions?
Yes, there are several other daily missions that players can complete to get one step closer to the 'Magic Cube' or to other exciting in-game rewards.
I started participating in the event quite late, can I still grab all the rewards?
Well, the events and sub-events are for a limited duration so joining the event late reduces your chance of winning all the rewards.
Late to the party? No worries. Events like 'Diwali Balloon Burst', 'Diwali Ludo' and 'Light Up Bermuda' are still available till November 15.