BlueStacks Roundups
Top Most Anticipated Android Games in 2022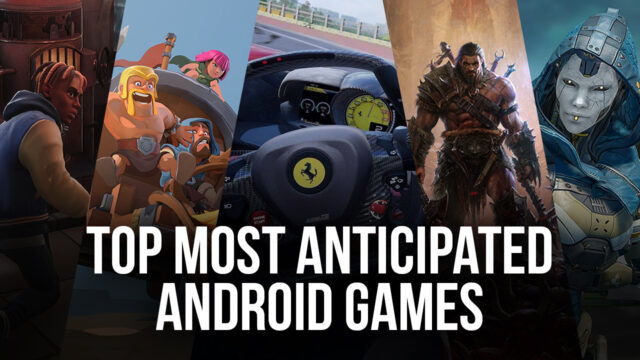 In terms of game creation, greater technology comes with greater responsibility, and as time passes, designers find new genres and technologies to work on more games. There has been a significant focus on graphic fidelity, intuitive controls, and epic narrative in recent years, and with the numbers the platform is creating, there is no doubt that we will see incredible games in the near future.
In terms of gaming, 2021 was a huge success, and we're looking forward to seeing what the current year has in store, especially because we've already seen a peek of what we'll be able to experience in the coming months thanks to the power of mobile gaming. So, taking into account all genres and current trends, we've produced a list of the most anticipated Android games for 2022.
1. Apex Legends Mobile
Apex Legends Mobile is a Battle Royale game that blends amazing abilities with unique environmental elements to create a unique immersive experience. The game was released for the first time in 2019 for consoles and PC, and it is being developed by the same studio, Electronic Arts, for their Android adaptation, which was announced last year. The game retains all of the original's characters, locations, and graphic intensity, all of which have been thoroughly polished during development.
Legends are the characters in this game, and they have three distinct abilities: passive, tactical, and ultimate. You may queue with up to three individuals in a 60-player Battle Royale or warm up in 3v3 competitive combats in the other arena option. Apex Legends isn't your typical realistic battle royale game; instead, it concentrates on complex mechanics and combat rewards.
Apex Legends was first announced last year and is set to launch the next few months. The game is currently in closed beta, and you can sign up for the launch here.
2. Racing Master
Racing Master is a racing game developed by NetEase and Codemasters that promises to provide you with the most immersive racing experience available on the platform. The game has an ultra-realistic racing experience that includes their new pioneering physics engine, hundreds of fully licenced luxury automobiles, massive modifications, and stunning racing circuits designed from the ground up, such as Yas Marina, Sicily, and Barcelona.
Racing Master, being a racing simulator, has a lot of graphics and many racing modes to offer you a realistic racing experience without having to spend a lot of time learning how to use the controls. Thanks to the new Unreal engine, cars are highly responsive along with gorgeous scenery.
The racing game was unveiled last year and is presently undergoing regional testing, will be released later this year according to NetEase.
3. Grand Theft Auto : The Trilogy
Grand Theft Auto: The Trilogy is a collection of GTA games published throughout the years. GTA: San Andreas, GTA: Vice City, and GTA 3 are all remastered in this trilogy. Since a few years, Rockstar Games has been working on this project to add high-fidelity visuals and modern controls so that the current generation can enjoy these classics.
The resolution will be increased, and characters and NPCs will have new or updated facial models, as well as a dynamic lighting system, entirely redesigned vegetation, and improved reflections. The games are being updated while maintaining the traditional vintage vibe that they will continue to provide.
GTA: The Trilogy was revealed last year and had a release date for various platforms, as well as a date for an Android release in 2022.
4. Diablo Immortal
Blizzard Entertainment's Diablo Immortal is planned to be the first massively multiplayer online action mobile game on the platform. Diablo Immortal is a hack-and-slash MMORPG with a lot of variety in terms of gameplay. The game is intended to be a smooth ride because it is developed by the same people that created the popular MMORPG World of Warcraft.
In addition to the single player content, players will be able to team up with friends to fight the forces of evil or go it alone in combat via online and co-op gameplay. You begin by selecting from a variety of characters; the game also has a large selection of customised weapons and equipment, making the grind worthwhile.
Diablo Immortal was revealed in 2018 and is one of the most anticipated games of all time, but it is now expected to release in the first quarter of 2022.
5. Clash Heroes
Supercell's Clash Heroes is a role-playing puzzle game set in the world of Clash of Clans. The game has the appearance of a Minecraft dungeon, but with better visuals and COC characters. Clash Heroes has been compared to Blizzard's Diablo, however it appears to be a much lighter version of the game. The player hub is simple, with two primary buttons that appear to be a main attack and a special skill.
The Barbarian, Wizard, Archer, and Bomber are among the characters, however Supercell claims that their appearance and skills will be altered. It's being developed by Supercell so that more experienced gamers may modify their gameplay. It appears that there will be some character customisation, which will add to the cohesion of Clash Heroes' co-op features, since the game may be played with up to three people in a group.
Clash Heroes was revealed last year and is still in the works, with a release date set for 2022.
6. Propnight Mobile
Propnight combines physics-based prop hunting with conventional horror survival in a four-player multiplayer game.Teenagers continue to vanish inexplicably in a tiny provincial town, and either you are the cause or you discover the cause. There are four Survivors, one of whom becomes the Killer. Survivors have a variety of options, such as transforming into props and utilising things, but nothing beats outsmarting the murderer with a well-placed prop.
Killers are also a lot of fun, and each one has a unique vibe about them. The game is a port of the game's well-known PC version, which is well-polished and a lot of fun. It is recommended that you play the game with your friends, and it has to be one of the most interesting games available.
Propnight Mobile is currently in development, with a release date set for later this year.
7. Battlefield Mobile
Electronic Arts has released another PC port, Battlefield Mobile. Big conflicts are becoming increasingly enticing as mobile game technology improves. With this game, the popular brand makes its mobile debut, and there's no better way to bring the best of the battlefield types and excitement to the platform.
You and your team will launch an attack on both new and old levels and modes. Assemble a collection of real-life weapons and devices. In their typical conquest mode, battle for control of heavy vehicles such as tanks and ATVs.
The game will be similar to Battlefield in terms of chaotic circumstances and spectacular spectacles. With destructible structures and surroundings strewn over the map, this will undoubtedly be a high-resolution game.
Battlefield Mobile was revealed last year and is set to arrive this year, with additional technical previews expected soon.
8. Garena's Undawn
Lightspeed & Quantum Studios are the creators behind Garena's Undawn, a new open-world zombie game. You struggle for life against the threats of zombies and other people in this co-op action game set in a harsh and merciless environment. The game includes both Player vs Player (PvP) and Player vs Enemy (PvE), making it appealing to a wide range of players.
Not only is there action, but you must also build shelters to protect yourself from the zombies while exchanging resources with your friends to keep them well-supplied, you also have a lot of character customizations.
Undawn is currently available for pre-registration and will be released later this year.
9. Harry Potter: Magic Awakened
Harry Potter: Magic Awakened is Warner Bros's hybrid of a card and a role-playing game in which you play as a first-year student at Hogwarts, joining hundreds of other players online as you peruse the sparkling stores in Diagon Alley, walk the halls of Hogwarts, and adventure through the Harry Potter world.
Beyond standard card games, Harry Potter: Magic Awakened provides an immersive gaming experience. You may play with friends or by yourself, in PvP or co-op mode, collecting things and customising your avatar, or simply enjoying the RPG game elements. There's no better way to expose the world of Hogwarts to smartphone users than this.
Harry Potter: Magic Awakened was announced in 2019 and released in a few locations three months ago, although it has yet to receive a global release date for 2022
10. Valorant Mobile
Valorant Mobile, a popular FPS shooter from Riot Games, will be released on mobile this year following a successful debut on PC. The 5v5 Hero Shooter game is poised to push the mobile platform to new heights. Players may choose from a roster of Agents, each of whom has their own set of talents and powers, as well as a variety of weapons such as SMGs, shotguns, and assault rifles. There are a variety of game types to select from, but the most popular is the basic assault and defend concept.
There aren't many specifics available now, but riot is continually working on the game to bring every element from the PC version to the platform. The shooter will undoubtedly have clean visuals and easy-to-understand controls for newcomers.
Valorant is set to launch before the end of this year, according to its Year 1 announcement, which included a pre-release.