BlueStacks Roundups
Top Android Games For High-End Phones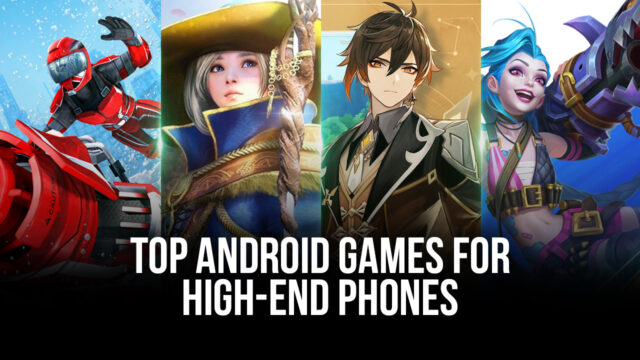 Mobile phones have become more and more sophisticated and powerful as technology has advanced. Gone are the days when phones would barely have any space for you to add music or videos to them, let alone high-end video games. Nowadays, phones offer hundreds of GBs of space, tons of RAM, large-high-quality screens with different sorts of display capabilities, and hours-long battery life that won't run out quickly even if you have a dozen apps running at once.
If you have such a mobile phone and want to use it to its fullest capabilities, check out these 8 Android games made for high-end phones.
1. Genshin Impact
With over ten million downloads, Genshin Impact is rated 4.1 out of 5 stars on Google Play Store.
First on our list is miHoYo's Genshin Impact, one of the most popular games in the world right now, and for very good reason. Released in September of 2020, Genshin Impact has swiftly climbed the charts, with the game grossing over $2 billion within the first year of its release. One of the primary reasons why the game has gotten as popular as it has is simply because of how great it is to look at. The graphics are amongst the best you can find right now, and at no point in the game do you get bored of looking at the fantastic scenes that surround you.
Genshin Impact takes place in a fictional world called Teyvat. Teyvat is home to seven different nations, and each of these nations is tied to a particular element, such as water, fire, air, etc., and is ruled by a God. It is in this world of Teyvat that the player finds themselves at the beginning of the game. The story revolves around a pair of twins who are in a hurry to leave Teyvat once they find out that one of the seven nations is under attack and is being destroyed. On their way out, however, they are confronted by a God, and this God separates the twins, taking one with them, and sealing away the other. Five hundred years into the future, the sealed twin, played by the user, wakes up and sets off on their quest to find their separated twin. This quest takes them across the entire expanse of Teyvat. They find and fight several adversaries, make new friends, unlock characters that can be played, and go up against several bosses.
The game is incredibly easy to play and accessible. The basic controls include running, swimming, climbing, and gliding. All of these movements require stamina, however, which is not a lot at the beginning of the game, but you can upgrade it as you keep playing and increase your overall stamina. As mentioned, the player unlocks several playable characters as the game progresses. You can switch between these characters, with a maximum of four characters equipped at any given time. Switching between characters is very useful when fighting against enemies and bosses since you have the ability to send in a different character that is fully charged up with their special ability once your current player is exhausted, and hence cause immense damage to your opponents. Apart from the main storyline and exploring the game on your own, you can also complete several challenges that have been placed all over the map. Completing these challenges not only increases your rank, but you also get different rewards that are incredibly useful in your main journey. Along with this, there is also a multiplayer mode that allows you to connect with up to three more players who have the same current objectives as you do. Enjoy Genshin Impact game on your PC.
The game takes up 366 MBs of space, and requires Android 5.0 and up to play it.
2. Black Desert Mobile
With over ten million downloads, Black Desert Mobile is rated 4.1 out of 5 stars on Google Play Store.
A game that has been highly acclaimed for its insanely good graphics, next on our list is Black Desert Mobile, released by Pearl Abyss in 2018. Black Desert Mobile is the mobile adaptation of the popular MMORPG Black Desert Online, which has been up and running since 2015. Set in a high fantasy world, the main storyline of Black Desert Mobile revolves around four areas, namely, Calpheon, Serendia, Balenos, and Mediah, which were all at peace until the Black Plague struck. The merchants of Valencia were the ones who began to spread the plague into these areas. Finally, having gotten tired of millions of people dying with no respite, three of the four main areas, Calpheon, Serendia, and Balenos, form an alliance to fight against Valencia, in a war that lasts 30 years. Mediah, meanwhile, grew rich as the war went on since they were able to harvest black stones that they sold to the other areas. As you can imagine, the storyline is long and complex and is one of the many aspects of the game that has drawn in hordes of fans.
One aspect of the game that has garnered immense praise, as mentioned, is the graphics. It would not be a stretch to say that Black Desert Mobile is one of the best-looking Android games of all time. The character models are incredibly detailed, and so are the background and other elements of the game. Combat in this game looks amazing, and each move or spell has its own unique animation. There are six classes in the game for you to choose from, including, Warrior, Ranger, Witch, Giant, Valkyrie, or Sorceress. After choosing your character's class, you are given full freedom to customize your character's appearance as you like, and there is no dearth of options on this front. The gameplay for Black Desert Mobile is a little simpler than it is for Black Desert Online. This is because it is obviously a lot harder to have a combat system as complex as Black Desert Online for a mobile device. There are a few similarities, however, such as the importance of dodging during combat. Players of Black Desert Online will know how important dodging is to survive in the game, and that is still the case with Black Desert Mobile.
Once you start progressing in the game, you reach a point where you get to build your own base, which will be your safe haven of sorts. Boss fights are also extremely fun and keep you hooked to the game for a long time. If, however, you're bored of playing alone, the game's multiplayer mode awaits you, which you can use to team up with random players from across the world. Try playing Black Desert Mobile on PC.
The game takes up 88 MBs of space, and requires Android 5.0 and up to play it.
3. Asphalt 9: Legends
With over fifty million downloads, Asphalt 9: Legends is rated 4.5 out of 5 stars on Google Play Store.
Gameloft's Asphalt 9: Legends is the ninth installment in the popular Asphalt series. While it resembles its predecessor, Asphalt 8: Airborne, in many ways, there are tons of new features added to the game. For starters, it is agreed upon across the board in gaming circles that Gameloft has upped its graphics game with Asphalt 9 by a significant margin. This is not to say that any of the previous Asphalt games were bad looking, but Asphalt 9 really ups the ante and is undoubtedly one of, if not the best-looking racing games available today. Another area in which the game improved is the range of cars available for players to use in-game. It was 52 cars when the game was released worldwide, and as of September 2021, the tally stands at 142 cars. The cars are divided into five different tiers, Tiers D, C, B, A, and S, with D being the lowest, and S being the highest. The Mitsubishi Lancer Evolution X is the car that the user starts with, and they must work their way up to cars in the S tier, some of which include the Bugatti La Voiture Noire, and the BXR Bailey Blade GT1.
The game features three main game modes: Career, Multiplayer, Events. Apart from these, there are also Special Events and Grand Prix. The Career mode includes five chapters in which the player must participate in several races that focus on a particular car type or tier. Multiplayer mode allows you to go online and participate in races with other players from around the world. The Events mode allows you to partake in challenges in which the player must attempt to beat the times of other players in races, and earn rewards and gifts by doing this. The Special Events game mode comes up once in a while and is not a staple in the game. These events pop up whenever there is a big event, such as the Buggati Chiron event in December of 2018. The Grand Prix mode falls under Special Events. In it, players must race each other for the key to the Grand Prix car featured as the prize of the event. Winning this key means you can unlock the featured car without any Blueprints, which is the usual way of unlocking cars in the game.
Asphalt 9: Legends has four different types of races that users can partake in. There is the "classic" race mode, in which users must go from point A to point B and the first one to cross the finish line wins the race. Next is "Time Attack", in which users must cross the finish line within a stipulated time limit. The police are on your tail in the "Hunted" mode, and you must escape them without getting busted or running out of time. Be careful not to damage your car, though, since doing this would mean getting busted immediately. In "Slipstream" users can follow a slipstream left behind by the cars in front of them, and following this slipstream fills up your nitro meter very quickly, allowing you to overtake opponents faster. Have a fun time with your friends while playing Asphalt 9: Legends on PC.
The game takes up 13 MBs of space and requires Android 7.0 and up to play it.
4. Grand Mountain Adventure
With over one million downloads, Grand Mountain Adventure is rated 4.3 out of 5 stars on Google Play Store.
Toppluva AB's Grand Mountain Adventure is a skiing game that gives you several snow-covered peaks all to yourself. There is no tutorial, you are simply placed on a snowy mountain and you must find the ropes yourself. The controls are extremely simple. There is a small ski icon to the left and one to the right. To move to your left you press the left ski and to move to the right you move the right ski. Since you're stationary at the beginning of the game, in order to move you must press both buttons alternatively in order to shimmy your way into movement and have gravity propel you forward as you would in real life if you were skiing. From here you can go wherever you like. You can explore the mountains and ski down the various paths you see in front of you. Once you begin skiing down such a path the game records your time. You can jump and perform tricks as well, and once you're done with a particular path you can find cable cars to take you back to the top of the mountain where you can ski that path again in order to improve your time or find another path to ski on. Completing paths and setting time records opens up even more paths for you to ski on, and there is no shortage of such paths to unlock. When playing the game, be on the lookout for orange umbrellas that are hidden across the mountain. Finding such an umbrella will give you a reward, such as the telescopic view which allows you to view things from the first-person, as opposed to the default birds-eye-view of the game.
In terms of graphics, Grand Mountain Adventure is hard to beat. Not only are the views incredibly gorgeous, but the game also handles so well that you feel like you're watching a high-quality video of someone actually skiing instead of a video game, from the snow to the tracks on the snow to the shadows, everything feels tactile and real. This feeling is accentuated by the incredibly realistic sound effects. From the skiing itself to the landing after making a big jump, each sound effect is realistic and accurate. If you have a high-end phone capable of handling high graphics, you can even go into the settings and turn the frame rate up to 60fps, which will make the game feel even smoother than it did previously.
The game takes up 73 MBs of space and requires Android 6.0 and up to play it.
5. OCO
With over one hundred thousand downloads, OCO is rated 4.4 out of 5 stars on Google Play Store.
Next on our list is Spectrum48's OCO, a minimalist puzzle platformer with an incredible soundtrack and a concept that is simple yet refreshing. The main objective of the game is for you to tap the screen to jump. Sounds simple, and kind of boring right? Well, OCO is the exact opposite of boring, and users report spending hours at a time hooked to the game. You play the role of a white square pellet that is dropped onto a somewhat circular, rotating platform. There are yellow square pellets hanging from some areas of the platform, and you must tap the screen to jump in order to catch these yellow pellets. You must do this quickly and in as few jumps as possible, or else you will have to repeat the level before moving on to the next one. Since the only thing you have under your control in the game is the ability to jump, in order to change directions you must collide with a wall, which will send you moving in the opposite direction. While this is a blessing since you don't need to use any more jumps in order to change directions, it can also take from you some of those precious seconds you need in order to beat the time the game has assigned to you for that level. The levels get tougher and more complex as you get further into the game, but the best part about OCO is that it doesn't overburden you with a bunch of added components in the tougher levels. What it does instead is it swaps out the mechanics of the easier levels with those of the tougher levels.
One cannot write about OCO without mentioning how beautiful the game is. There is a solid background to each level, the platform rotates smoothly and without hurry, the colors are bright and attractive, and there is no visual element that takes up more space than it should; everything is in its right place. The soundtrack that goes along with the visuals is an absolute treat in and of itself. The soft electronica soundtrack truly transports you into a different world, especially if you're wearing headphones. The best part, however, is how interactive the sound design is. Every jump you make, every yellow pellet you consume, and every wall you bash into to change directions adds a small element to the sound, whether it be percussion or a synth note.
The game takes up 57 MBs of space and requires Android 6.0 and up to play it.
6. BADLAND
With over ten million downloads, Badland is rated 4.5 out of 5 stars on Google Play Store.
Badland is Frogmind Games' debut creation which came out in 2013 and is still one of the best Android games you can play right now. Badland, like OCO, also has only one control, which is to tap the screen in order to make your character fly up and forward. Your character isn't human and hasn't been given a name either. The best way to describe it would be a floppy ball of fur that is trying to find its way out of the titular Badland. As you may have figured out by this short description alone, the objective of the game revolves around survival. Your little gremlin must try its hardest to not fall into any one of the unending traps that the game has placed for it. Some of these traps include spinning fans, saws, pistons, and other booby traps, all placed throughout the game with the sole objective of killing you. And you die. Very frequently. The game also has several types of power-ups spread across the levels which you must use in order to finish these levels. Some power-ups make your character smaller, while others make it larger, and others still spit out several clones of your character which can be incredibly useful when playing the game. For instance, there are a few particularly pesky levels in which it is imperative that you have several clones since most of them will die and there is only a slim chance that one of the clones will make it through so that you can continue playing.
The game is very harsh in the way it treats players. There are no narrow escapes, no lucky draws, and no hacks or shortcuts to make the game easier for you. If you mess up, you die. And it is exactly this harsh environment that makes the game so frustrating yet rewarding. Finally getting through the level you've been stuck on for ages feels very satisfying. This harshness of the game is also reflected in the way it looks. The game utilizes a dark and earthy color palette, and all of the traps in the game are in silhouette, none of them being clearly visible to the user. So, play BADLAND on PC and have a fun time with your gaming buddies using BlueStacks.
The game takes up 63 MBs of space and requires Android 4.1 and up to play it.
7. League of Legends: Wild Rift
With over ten million downloads, League of Legends: Wild Rift is rated 4.4 out of 5 stars on Google Play Store.
League of Legends: Wild Rift is a mobile adaptation of the immensely popular League of Legends. Released in 2020, the game has been created by Riot Games and is swiftly becoming one of the more popular games on Google Play Store. The mechanics of Wild Rift are similar to those of the original PC League of Legends. You must assemble a team of five characters, known as Champions in-game, and fight against another team of five. The main objective of each match is to destroy the opposing team's Nexus while safeguarding your own Nexus from being destroyed. There are, however, some differences between the two games. The maps, for instance, are a lot smaller in Wild Rift than they are in the original PC game. The game also moves a lot faster and requires less time in Wild Rift. These changes have obviously been put into place due to platform differences. A mobile screen is smaller than a computer screen, hence the smaller maps and the way games are played on mobile necessitate quicker gameplay and matches.
The game has a competitive ladder which is used to have better and more accurate matchmaking, so as to not have one team be too overpowered, and vice versa. There are currently ten different competitive tiers, which include Iron, Bronze, Silver, Gold, Platinum, Emerald, Diamond, Master, Grandmaster, and Challenger. Iron is the least skilled while Challenger is the most skilled. Apart from the main mode, the game also has an ARAM mode, which is an abbreviation for the "All Random, All Mid" mode. In the ARAM mode, you still have five players going up against five players, but the twist is that the Champions are chosen at random, and this mode has no dragon or baron quest. Along with this, due to the lack of a jungle area as well as the top and lower route, the size of the map in this mode is also quite small.
The size of this game varies with the device, and it requires Android 5.0 and up to play it.
8. Riptide GP: Renegade ($2.99)
With over five hundred thousand downloads, Riptide GP: Renegade is rated 4.4 out of 5 stars on Google Play Store.
Riptide GP: Renegade is the last game on our list of the best Android games for high-end phones. Created by Vector Unit, Riptide GP: Renegade is an aquatic racing game and is the successor to Riptide GP2, released in 2013 by the same company. Renegade differs from its predecessors in a few different ways. Firstly, due to the advancements in technology between the release of the two games, Renegade's graphics are a lot more impressive, and still hold water even though the game was released in 2016. The colors in the game are muted and you feel like you're constantly racing in overcast weather, but apart from that, there are barely any criticisms of the game in terms of visuals. The tracks and the area surrounding them look phenomenal and the water effects and the way in which the liquid moves in the game feel very realistic.
The game's plotline revolves around a racer, played by the user, who is arrested for illegal racing. This arrest, however, was plotted by your main enemy, and once you're out of jail you decide to climb back up the charts of aquatic racing and beat your nemesis in a race. While the story itself may not seem super enticing, the races most definitely are. The racecourses in this game are phenomenal and definitely take the cake for being the most impressive aspect of this game out of all its different elements. There is tons of variety when it comes to racecourses and no two courses ever feel the same. Each course is peppered with obstacles. In some, there are police officers on jet skis trying to push you off the course, while in others there are rockets taking off right in front of you which causes huge ripples in the water on your track. There are also various objects such as gunships floating past you which you can use to jump high into the air and do tricks.
There are several modes available to you in Riptide GP: Renegade. First is the main career mode, which is quite challenging and requires a considerable amount of time to get through. There is the quick race mode, which is great if you're not in the mood to sit through cutscenes that progress the plot and wait for the race to begin. The challenge mode allows you to climb up the global leaderboard. Then comes the multiplayer mode in which you can play with your friends or with random users from around the world. The game also has a split-screen mode which can be used if you have MFi controllers. Enjoy Riptide GP: Renegade on your Computer.
The game takes up 93 MBs of space and requires Android 4.1 and up to play it.