BlueStacks Roundups
Top Android Games Like Free Fire!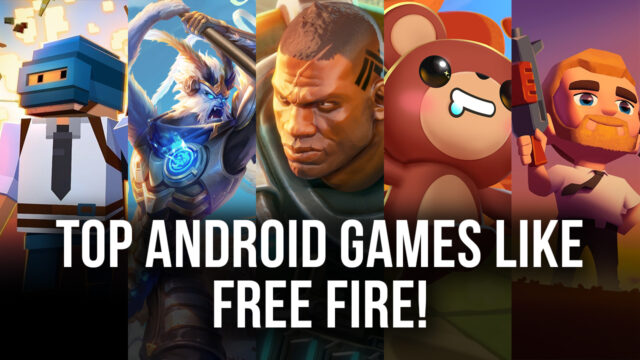 Battle royales are all about surviving and shooting to the best of your ability, and Garena's Free Fire is a treasure when it comes to battle royales. The game is difficult to master and is only intended to test your competitiveness. There are a variety of maps to drop onto, as well as a large number of gun drops to keep an eye out for on your run, but there's no stopping you until you grab the booyah. As time passes and you grind the game, you get a desire to try something new. We considered all of these factors to help you find the best Android alternative to Free Fire.
1. Survival Heroes – MOBA Battle Royale
Survival Heroes, a MOBA Battle Royale game, with over 1 million downloads and a 3.5-star rating on Google Play.
Survival Heroes is unlike any other battle royale game because it blends the exciting feeling of a royale with a Multiplayer Online Battle Arena game. The game is essentially a Battle Royale placed in a MOBA game, with tonnes of features such as 30 distinct weapons, numerous unique skills, and powerful firepower to murder everyone in your way, or if you like the sneaky beaky method, plenty of built traps to hide in the bush and wait for your opponent to step on.
This game may be played with up to four friends, and you will be queuing in groups of four. It also has a ranked mode for you to look up to if you want to play competitively, with slick MOBA controls and the thrill of battle royale. Survival Heroes is one of a kind.
Survival Heroes may be the finest way to experience battle royale if you've ever played a MOBA.
2. Bombergrounds: Battle Royale
Bombergrounds: Battle Royale is a one-of-a-kind game in the genre, with over 1 million downloads and a 4.1 star rating on the Google Play Store.
Bombergrounds: Battle Royale is a massively multiplayer action game inspired by classic old bomber games, but with a twist: it sets 25 players against each other in a battle to see who will be the last one remaining. The game has a lovely yet lethal vibe to it, with animals as characters battling for the right to rule the land! However, only one animal may rule them all.
The game is a wonderful blend of two sorts of games, immersing you in a chaotic, fast-paced, action-packed universe loaded with exploding explosives to create hilarious moments. In addition to fluent controls, the lesson is rather straightforward to comprehend and takes no more than 10 minutes. You may form a three-person squad with your buddies, complete with character customization, explosives, and a kicking bat. For competitive gamers, the game contains a ranked mode and a leaderboard system.
If you're seeking a unique battle royale with a high level of fun, this is the game for you. This may be a good place to start.
3. Hero Hunters
Hero Hunters, a large battle royale game, with over 10 million downloads and a 4.3-star rating on the App Store.
Hero Hunters is the most fantastic online multiplayer hero-based battle royale on mobile yet. The game contains 100+ characters to pick from and allows you to conquer with your friends in a variety of jaw-dropping modes. Join epic games with friends in Co-op Missions, and battle in Real-time multiplayer Online PvP Battles such as Daily Events, Gauntlet Mode, Survival Mode, and Boss Raids with players all over the globe!
At first, Hero Hunters may feel a little similar – you're an army soldier fixed and you have to shoot every bad guy that comes at you – but as the game progresses, new missions become available, making it a highly fun experience. There is a lot of grinding in the game to achieve the finest gear and unlock additional characters.
4. PUBG MOBILE
PUBG MOBILE has a 4.1-star rating in the Google Play Store, with over 1 billion players worldwide.
Pubg Mobile is the place to be if you want a true premium battle royale experience. PUBG Mobile has spectacular graphics and an engaging gameplay experience with large maps to explore. There are more than 5 maps in the game, and you may play in a variety of modes such as arcade mode, which lasts around 5 minutes, Team Deathmatch mode, which allows you to train, and classic mode, which allows you to jump right into the action.
Other than free fire, PUBG mobile has been a strong candidate for the greatest battle royale game. The game contains similar concepts but at a quicker pace. The game plays nicely on a regular smartphone and features a variety of controls that will make you feel at home. There's also a competitive option in the game where you may climb the ranks and show off your abilities in the lobby. The makers also appear to be interested in expanding the competitive scene to the next level, so if you're used to Free Fire, this may be another game to master.
5. Rules of Survival
Rules of Survival has a 4.2 star rating on the Google Play Store, with over 50 million downloads worldwide.
Rules of Survival is a multiplayer online battle royale game in which 120 people compete to be the last man remaining on an island. The game makes every effort to replicate the PC experience as closely as possible. The battlefield seems more responsive than competing games thanks to high-quality visuals and a variety of technologically superior firearms to pick from.
Attractive graphics aren't the only thing this game has going for it; the gameplay is where it really shines. Players may either dig down and wait till the playing field has been thinned out or go on the offensive after finding good arms while the game rewards you with both.
The game is significantly different from Free Fire, yet it provides players with a respectable, if not amazing, experience. It specializes in creating tense action moments that are incredibly engaging. This may be it if you're looking for something fresh to jump on.
6. Scarfall: The Royal Comat
Scarfall: The Royal Combat has a 4-star rating on Google Play, with over 5 million downloads.
Scarfall: The Royal Comat is a fantastic multiplayer battle royale game that can be played in either multiplayer or single-player modes. On the battlefields, you go on a realistic survival shooter's quest. With parachute landings from high-speed flying helicopters, explore the surroundings of the shooting battlegrounds.
You may play it with up to four people on a variety of maps in which you will be spawned alongside 47 other players and must locate the last guy remaining. The game has well-done 3D visuals and rather realistic animations, as well as a unique yet effective targeting mechanism.
Scarfall features a large number of maps and game types, which keeps players on their toes at all times. The game feels different from free fire, but it's never too late to try something new.
The game is unlike any other battle royale game, and it genuinely offers something fresh. It's fast-paced, a lot of fun, and has enough different aspects that you won't feel bored with.
7. Grand Battle Royale
The Grand Battle Royal has over 10 million downloads and a 4 star rating on Google Play.
Battle royale, but with a hint of Minecraft nostalgia? That is, after all, what the Grand Battle Royal is all about. It's a pixel-based military game with aesthetically attractive Pixel visuals and blocky characters. The aim is to be the last man remaining, the last hero, or the king of the battlefield, but the game is more than just a battle royale; it also features a range of unique variants to try out, such as a zombie mode or a horde mode.
The game is similar to a standard battle royale, but the addition of blocky characters and a variety of modes makes it a great option to test with your friends, as the artwork appears to be rather hilarious while playing co-op, and you'll have a lot of fun taking down fights.
Grand Battle Royale includes some extremely fascinating maps and a great system for introducing you to new things.
8. Battlelands Royale
Battlelands Royal has over 5 Million downloads and an average of 4.1 Rating on the Play Store.
Battlelands Royale is a little battle royale game that manages to provide a fast-paced experience while keeping its promise of cartoon visuals, small terrain, and top-notch overhead view. With just 30 players each round, the game immediately immerses you in a tiny battle royale experience as soon as you land and begin searching the small map for weaponry. The controls are really smooth, and the landscape is simple to explore, with plenty of interesting clues to assist you to identify and avoid opponents.
It may be difficult to go through the tutorial for newcomers, but it is a nice addition for little breaks or if you have less time for games, the game is incredibly enjoyable to play with your friends during small breaks or if you have less time for games. The controls are really efficient, and the maps are rather fascinating.
The game has carved out its own sub-genre within the enormous battle royale genre, and it's simple enough to play in under 10 minutes to help you relax.
9. Fortnite Mobile
With over 350 Million Users in the past year, Fortnite Mobile is still one of the Best Battle Royale available on the mobile platform.
Fortnite is largely a PC game. A huge battle royale game in which the goal is to be the last person remaining. Each battle begins with each character boarding a flying bus that travels through an island with a variety of landscapes and cities on a random path. The ability to construct buildings is a key feature of Fortnite that distinguishes it from other battle royale games like PUBG. Players may construct basic walls out of the material harvested using the harvesting tool, or they can practice and end up building a skyscraper.
Fortnite periodically releases new game modes, such as a team deathmatch option and even a custom mode where you may invite your friends and queue up according to your own set of rules.
Controls are just as vital as fluency in this game because they're the only tools you'll have to create with throughout your Fortnite trip. It's one of the games worth checking out because it has a crossplay mechanism that allows you to invite friends from other platforms.
10. PUBG: NEW STATE
On the Android market, PUBG: NEW STATE has over 10 million downloads and an average rating of 3.6 stars.
By the creators of PUBG, PUBG: NEW STATE is a next-generation action-based battle royale game. The game mixes traditional battle royale gameplay with next-generation mechanisms and technology, resulting in a variety of new features. The game is set in the year 2051 in the future. It also contains a lot of gleaming skyscrapers all across the planet, as well as ultra-modern yet hidden technologies.
Troi, a never-before-seen 8×8 map with a varied landscape of hills, streams, valleys, and flat plains, is included in the popular game. This map's varied terrain is meant to create a variety of battle scenarios, with each area and terrain having its own set of advantages.
The game will keep you hooked if you are seeking a magnificent visual and gameplay experience. New State provides you a fresh introduction to the Battle Royale genre with next-generation technologies.