BlueStacks Roundups
Top 10 Offline Android RPGs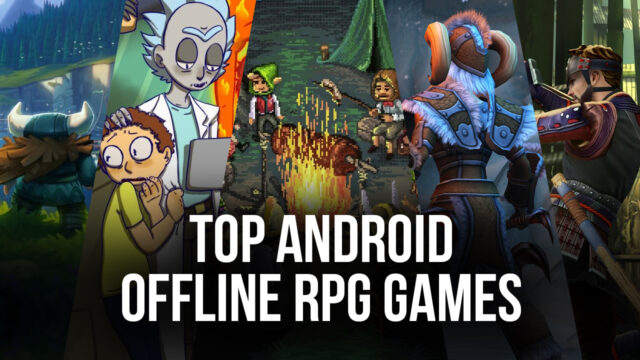 Offline Android games offer a unique and enjoyable gaming experience because they provide convenience and flexibility, allowing players to enjoy gaming entertainment even when they don't have an internet connection. This makes them perfect for situations where access to Wi-Fi or mobile data is limited, such as during travel or in areas with poor network coverage.
In this article, we list the ten best offline Android RPGs for you to enjoy!
1. Eternium
Eternium is a highly acclaimed action RPG that has garnered a dedicated following among Android gamers for its immersive gameplay, captivating storyline, and impressive features. Developed by Making Fun Inc., the game offers a rich and rewarding experience for RPG enthusiasts.
Eternium, which is set in the world of Eternia, sends players to a place where demonic forces have taken over following a catastrophic occurrence. Players take on the role of the chosen hero and set out on an action-packed mission to defeat the evil and put the land back to rights. The tale is deep and fascinating because of the narrative's engaging conversations, intriguing adventures, and endearing characters. Players progressively learn the mysteries of Eternia while forming alliances, facing up against terrifying adversaries, and exploring this fantastical land.
On mobile devices, Eternium provides simple touch-based controls that guarantee fluid fighting and seamless navigation. With just a swipe or tap, players can easily move their characters, launch lethal assaults, and cast potent spells. The action-packed gameplay is enhanced by the intuitive controls, making for a fun and engaging experience.
The three different character classes available in Eternium are Mage, Warrior, and Bounty Hunter. There are different skill trees, playstyles, and abilities to discover for each class. Players can customize their character's powers and appearance to fit their preferred playstyle thanks to a wide variety of customization choices. This degree of personalization enables a variety of tactics and improves replay value.
Eternium has an exciting and quick-paced fighting system. In real-time fights, players launch destructive spells on swarms of adversaries while stringing together strikes. With the help of elaborate symbols they draw on the screen, players can perform spells in the game using gestures. Dynamic combat systems guarantee exciting and tactical battles throughout the entire game.
The lucrative loot system in Eternium keeps players interested and inspired. Players amass a broad variety of weapons, armor, and magical items as they advance through the game. To increase their potency in battle, these items can be improved, charmed, and combined. Players can fine-tune their characters to fit their desired playstyle through the acquisition and customization of treasure, which gives the game a sense of progression.
With the special cooperative gameplay element found in Eternium, players can band together with local friends or people from around the globe. Together, they may go on difficult adventures, defeat powerful opponents, and reap the rewards. The cooperative nature of the game encourages a sense of community while also enhancing the overall experience with more excitement and collaboration.
With its captivating storyline, engaging gaming mechanics, and distinctive features, Eternium stands out as an exceptional Android RPG. It is a noteworthy title in the genre thanks to the captivating narrative, simple controls, customizable characters, dynamic combat system, lucrative loot, and cooperative gameplay. As players explore Eternia and set out on an epic journey to save the land, Eternium offers a gripping and pleasurable gaming experience that will keep them fascinated for hours.
With over ten million downloads, Eternium is rated 4.8 out of 5 stars on Google Play Store.
2. Postknight (Free)
Postknight is a delightful and addictive Android game that has captured the hearts of players with its unique blend of role-playing and endless runner elements. Developed by Kurechii, the game offers a charming storyline, engaging gameplay, and a visually appealing art style.
Players in the game Postknight take on the role of a novice knight entrusted with carrying letters and packages to various areas in the medieval kingdom of Kurestal. Players meet intriguing individuals, solve riddles, and overcome difficult obstacles as the plot develops. The storyline is interesting and full of touching scenes that give the game's endearing environment more dimension.
In Postknight, players set out on delivery missions while navigating colorful environments, dodging hazards, and engaging in combat with foes. The game deftly fuses endless runner principles with role-playing components, offering a novel take on conventional RPG gameplay.
Players engage in skill-based battles against a variety of monsters and foes in the game's real-time combat engagements. Players can defeat opponents and win awards by strategically timing strikes and employing the knight's skills. The fighting system is entertaining for gamers of all skill levels because it strikes a balance between difficulty and accessibility.
Players get experience points, gold, and resources as they finish objectives and fight foes. The knight's stats can be leveled up using these resources, and he can also get access to new abilities and improve his gear. The progression system enables players to modify their knight's skills and equipment, improving their fighting ability and toughness.
Players can visit the village and speak with different NPCs while waiting for deliveries. Not only does developing ties with these characters deepen the plot, but it also makes special equipment and stat boosts available. Players may resupply, forge new equipment, and investigate side pursuits in the village, which acts as a major hub and significantly enhances gameplay.
An important component of Postknight is time management. The delivery missions must be balanced against the knight's energy and time limitations. To manage resources effectively and maximize deliveries, rest intervals, and rest times, careful planning and strategic decision-making are needed. The gameplay is made more challenging and immersive by this component.
Postknight has a beautiful art aesthetic with endearing character designs, vibrant landscapes, and intricate animations. The game's charming soundtrack enhances the gameplay and creates a more immersive experience.
With its endearing storyline, exciting gameplay, and noteworthy features, Postknight provides a distinctive and alluring Android RPG experience. The game is entertaining and addictive because it combines endless runner features with RPG components, real-time combat encounters, character advancement, and relationship-building systems. The immersive acoustics and aesthetically pleasing art style significantly improve the entire effect. Postknight is a remarkable example of mobile gaming's ingenuity and inventiveness, offering countless hours of fun and a lovely voyage through the Kurestal realm.
With over five million downloads, Postknight is rated 4.7 out of 5 stars on Google Play Store.
3. Oceanhorn (Free)
Oceanhorn is a captivating action-adventure game that has captivated Android gamers with its enchanting storyline, stunning visuals, and immersive gameplay. Developed by Cornfox & Bros., the game draws inspiration from classic titles like The Legend of Zelda series, delivering a memorable experience on mobile devices.
Gamers that play Oceanhorn are transported to the colorful land of Arcadia, where they set out on a mission to solve the mystery surrounding the enigmatic Oceanhorn, an ancient sea monster. A young hero's quest to learn the truth about his father's disappearance and the significance of the fabled beast is followed throughout the game. The game's dramatic ending is reached after players have encountered intriguing personalities, explored a variety of settings, and unearthed buried mysteries. The carefully designed story and intriguing plot turns keep players interested throughout the entire quest.
Players can explore a sizable and gorgeously drawn landscape in Oceanhorn. Each setting has its own set of riddles, secrets, and difficulties, from lush woodlands to perilous dungeons and exotic islands. The game rewards players for in-depth exploration by providing them with useful objects, improvements, and plot advancement.
The game includes a variety of puzzles, including both logical and environmental ones. To advance in these puzzles, players must manipulate objects, interpret hints, and use critical thinking. When solved, the puzzles are smoothly incorporated into the game, giving the player a rewarding sense of accomplishment.
In Oceanhorn, players engage in thrilling real-time combat confrontations with a variety of foes. To defeat enemies, players engage in swordplay, perform ranged attacks, and use magic. The intuitive and quick fighting mechanics combine skill and strategy in a gratifying way.
Players amass an armory of weapons, shields, and magical objects as they go through the game. These can be strengthened using the resources amassed, increasing their strength and potency. Players can adapt their playstyle and approach difficulties in their preferred manner thanks to the opportunity to personalize and improve equipment.
The great Nobuo Uematsu, well known for his work on the Final Fantasy series, is responsible for the music score for Oceanhorn, which is truly astounding. The engaging melodies enhance the atmosphere of the game and transport players to Arcadia.
Boss fights in Oceanhorn are exhilarating and put players' abilities and strategic thinking to the test. These encounters offer unique and difficult game-playing moments while showcasing remarkable design. The plot advances and the protagonist feels a sense of success after defeating these difficult foes.
A variety of entertaining side tasks and mini-games are available in Oceanhorn in addition to the main plot. These pursuits offer rewards and chances for future research while adding depth and richness. Fishing, racing, and other pastimes are available to players, giving the game more variety and replay value.
Oceanhorn is a standout Android adventure game thanks to its engrossing storyline, engaging gameplay, and distinctive features. Fans of action-adventure games should play Oceanhorn because of its captivating story, captivating exploration, difficult puzzles, intuitive combat, weapon upgrades, and breathtaking aesthetics. Oceanhorn delivers a unique voyage through the enchanted realm of Arcadia with its iconic soundtrack and rich side material, providing an experience that keeps players captivated and entertained for hours at a time.
With over five million downloads, Oceanhorn is rated 3.7 out of 5 stars on Google Play Store.
4. Dungeon Hunter 5 (Free)
Dungeon Hunter 5 is an exhilarating action RPG that has garnered popularity among Android gamers for its immersive gameplay, captivating plotline, and extensive features. Developed by Gameloft, the game offers a rich and dynamic experience, combining intense combat, intricate dungeons, and a compelling storyline.
The plot of Dungeon Hunter 5, which is set in the Valenthian realm, centers on a bounty hunter who must defeat the demonic threats to the region. Players fight in epic battles, unearth sinister mysteries, and learn the truth about Valenthia's fall in the game's colorful fantasy universe. Players are drawn into a quest-driven adventure with twists, allies, and betrayals as they travel through the kingdom to prevent its oncoming destruction.
Hack-and-slash action is fast-paced and thrilling in Dungeon Hunter 5. Utilizing a variety of weapons, spells, and special abilities, players fight hordes of opponents in real-time. The fighting engine in the game allows for smooth combination strikes, dodges, and the tactical use of talents, making for an exciting combat experience.
The game has a wide range of meticulously constructed dungeons, each of which presents different difficulties and rewards. These dungeons are explored by players in order to take down tough enemies, find rich loot, and find hidden treasure. Dungeon exploring gives the game depth and promotes replayability.
In the cooperative multiplayer mode of Dungeon Hunter 5, users can team up with local friends or people from around the world. Together, they can take on difficult quests, participate in unique competitions, and fight in guild wars. The game's multiplayer function develops a sense of community and gives it a competitive edge.
By selecting from various character classes and outfitting them with a variety of weapons, armor, and accessories, players may design and personalize their own distinctive bounty hunter. Players can modify their character's appearance, skills, and playstyle to suit their preferences thanks to the comprehensive customization possibilities.
Players can create and protect their own Stronghold, a movable center of operations, in Dungeon Hunter 5. Players can train their minions, make powerful equipment, and keep their loot in the Stronghold, which acts as a central location. Players must defend their stronghold from attacks from other players while also launching their own raids in the stronghold defense component of the game.
Players can improve their equipment by using the game's fusion and enchantment systems. The stats of a player's gear can be improved by combining and fusing different things, and they can also unleash strong powers. Time-limited challenges and events are frequently added to Dungeon Hunter 5 with special rewards and advantages. These occasions include boss raids, PvP competitions, and special dungeons. Events lend the game interest and variety, ensuring that gamers never run out of new activities to engage in.
With its captivating storyline, exhilarating gameplay, and unique features, Dungeon Hunter 5 distinguishes out as an exceptional Android action RPG. A rewarding game experience is created by the compelling story, fierce fighting, dungeon exploration, multiplayer mode, rich customization, stronghold defense, fusion system, and dynamic events. Hours of enjoyment and a fascinating voyage through the dangerous and ominous world of Valenthia are provided by Dungeon Hunter 5.
With over ten million downloads, Dungeon Hunter 5 is rated 4.1 out of 5 stars on Google Play Store.
5. Soul Knight (Free)
Soul Knight is a highly addictive and popular Android game that has captivated players with its retro pixel art style, engaging gameplay, and unique blend of genres. Developed by ChillyRoom, the game offers a thrilling and challenging experience as players embark on a quest to save the world from an ancient evil.
In Soul Knight, players are placed in a world that is under attack from aliens that want to steal the mystical stone, which is essential for preserving equilibrium. Players must retrieve the stone, drive out the attackers, and establish peace as one of the heroes. The gameplay and progressing through a succession of randomly created dungeons loaded with items, foes, and difficult boss fights are the main attractions despite the plot's scant development.
Roguelike gameplay is used in Soul Knight, with randomly generated levels making each playthrough distinct. The permadeath system in the game introduces a degree of danger and rewards tactical judgment. Every run has different difficulties that force players to adjust and make use of their resources.
Heroes from a variety of backgrounds and playstyles are featured in the game. Players can select their own hero and modify their skills through skill upgrades. Heroes range from strong melee fighters to proficient archers and spellcasters. The diversity of characters enables various tactics and increases the game's replayability.
Soul Knight adopts an endearing retro pixel graphic aesthetic that honors vintage arcade games. A visually appealing and nostalgic ambiance is produced by brilliant colors, fluid animations, and intricate pixelated surroundings. The game's charm and distinct individuality are enhanced by the pixel art graphics.
From pistols and shotguns to laser rifles and magical staffs, Soul Knight provides a wide variety of weapons. Throughout their runs, players can collect and switch between several weapons, each of which has a different set of stats and abilities. In-game currency can also be used to improve weapons, increasing their damage output and activating special effects.
The cooperative multiplayer option in Soul Knight is one of its best qualities. Players can collaborate with pals offline or online to take on dungeons while splitting the prizes and challenges. The cooperative option makes the gameplay more social, encouraging cooperation and improving the entire experience.
Throughout the course of the game, players will come across and be able to hire charming pet companions who offer a variety of advantages. Pets can help in battle, offer passive benefits, and even fetch things. Pet friends provide an additional layer of strategy and company.
A variety of gameplay elements are used in Soul Knight to keep players interested. These consist of enemies, obstacles, riddles, NPC encounters, and unlocked people and places. The variety of gaming components guarantees that players are continuously challenged and amused.
With its captivating storyline, fascinating gameplay, and unique features, Soul Knight distinguishes out as an exceptional Android game. An immersive and compelling experience is produced by the union of roguelike gameplay mechanisms, pixel art aesthetics, a range of heroes, weapons, cooperative multiplayer, pet companions, and gameplay mechanics. Players can test their abilities, find lost treasures, and save the world from the advancing alien danger in Soul Knight's hard and entertaining journey.
With over fifty million downloads, Soul Knight is rated 4.5 out of 5 stars on Google Play Store.
6. Vampire's Fall (Free)
Vampire's Fall is a captivating Android RPG that has garnered praise for its immersive storyline, strategic gameplay, and unique vampire-themed setting. Developed by Early Morning Studio, the game takes players on an epic journey through the dark and treacherous world of Moradu.
Players can explore a sizable open-world setting in Vampire's Fall. The game's intricate settings provide players with a sense of immersion and exploration with their depictions of creepy forests, bleak wastelands, and historic ruins. Hidden gems, unusual objects, and interactions with interesting personalities are rewarded for exploration, which enhances the gameplay.
Turn-based combat in the game lets players carefully plan their course of action throughout conflicts. To engage in tactical confrontations, players can select from a variety of weapons, skills, and spells. Each combat necessitates careful consideration of player skills, resource management, and enemy weaknesses. The battle system gives the player depth and strategy, and it presents a great challenge.
A sophisticated character advancement system in Vampire's Fall enables users to create and grow their vampire avatar. Players can level up and distribute skill points across different traits including strength, agility, and magic by accumulating experience points. Additionally, the game offers a novel bloodline system that lets players gain and improve potent vampire powers.
A faction system in the game enables players to support various organizations in the realm of Moradu. The tasks, awards, and narratives offered by each side are distinct, allowing the player to customize their experience and make moral decisions. With the faction system, players can explore many pathways and outcomes depending on their allegiances, which adds depth and replayability.
A detailed system for crafting and enchantment is included in Vampire's Fall. Players can gather materials, make potions, weapons, armor, and other items, and add strong enchantments to their gear to improve it. The crafting system provides a level of progression and customization that enables users to design personalized gear specific to their play style.
The emphasis of the game is on player actions and their effects, letting choices have an effect on the story and the environment they are in. The ties between characters and factions can change depending on dialogue choices, mission results, and encounters with non-player characters. The options given to players give them a sense of agency and add to the game's immersive storytelling.
Dark comedy and smart banter are incorporated into Vampire's Fall throughout the entire game. Writing that is hilarious and witty frequently appears in NPC interactions, dialogue options, and task descriptions. This gives the game's gloomy and moody backdrop a special appeal and sense of humor.
With its engaging plot, tactical gameplay, and unique features, Vampire's Fall stands out as a remarkable Android RPG. A compelling and memorable gaming experience is created through the immersive world of Moradu, turn-based combat, character growth, faction system, crafting and enchantment features, player choices, and dark humor.
With over ten million downloads, Vampire's Fall is rated 4.6 out of 5 stars on Google Play Store.
7. Inotia 4 (Free)
Inotia 4 is a captivating Android RPG that has gained popularity for its immersive storyline, expansive gameplay, and engaging features. Developed by Com2uS, the game takes players on an epic quest in the fantasy world of Inotia, filled with ancient prophecies, mythical creatures, and challenging battles.
Players are transported to a realm in Inotia 4 where the forces of light and darkness are engaged in a never-ending conflict. The journey of Kiyan, a proficient assassin, and Eara, a strong Channel of Light, as they look to learn the truth about the terrible conspiracy threatening the kingdom, is followed in the game. The two must be led through dangerous dungeons, verdant forests, and deadly mountains while fending off formidable foes and discovering the mysteries of the Inotia planet.
Players in Inotia 4 have a wide variety of playable characters to select from, each having their own specialties, playstyles, and skill sets. Warriors, assassins, mages, and priests are just a few of the many classes available in the game, giving players the option to assemble a team that best suits their preferred playing style. The ability to flip between characters gives the game more complex and tactical options.
Real-time fighting is a feature of the game that enables players to fight a variety of foes in exhilarating conflicts. To overcome difficult battles, players can employ lethal powers, strong combos, and cunning moves. The quick-fire combat mechanism keeps players interested and encourages good play.
Inotia 4 has a powerful skill customization system that enables players to enhance and modify the skills of their characters. Players can distribute skill points among various skill trees as they level up to gain new spells, attacks, and passive powers. Players may customize their characters' playstyles and adapt to various combat scenarios thanks to the skill customization feature.
There are towns, villages, and dungeons to explore in the game's expansive and immersive environment. A variety of quests, including side missions, character-specific objectives, and main story quests, are available for players to take on. There is a sense of advancement and adventure because the objectives frequently include interacting with NPCs, gathering stuff, and taking on formidable enemies.
The item creation and improvement mechanism in Inotia 4 enables players to build strong gear and improve their equipment. The crafting system allows players to create new weapons, armor, and accessories by gathering ingredients. Enchantment stones can also be used by players to improve their gear, boosting stats and unlocking new effects.
In the game's new party system, players can assemble a powerful squad by selecting and commanding various characters. Every party member brings their special talents and skills to the table, promoting strategic gameplay and synergy. Players can also raise pet companions that aid in combat, grant benefits, and provide company during the quest.
Players can compete against other players in a player-versus-player arena in Inotia 4. Players can fight for rankings, gain rewards, and show off their combat prowess by participating in PvP encounters. The PvP arena gives the game a competitive edge and encourages players to hone their tactics and interact with other players.
With its captivating storyline, extensive gameplay, and distinctive features, Inotia 4 distinguishes out as an exceptional Android RPG. A rich and engaging gaming experience is created by the epic journey through the land of Inotia, several playable characters, real-time combat, skill customization, exploration, questing, item making, party system, pet companions, and PvP arena. As players explore the rich heritage of Inotia, solve mysteries, and participate in thrilling combat with imposing opponents, the game provides hours of pleasure.
With over five million downloads, Inotia 4 is rated 4.6 out of 5 stars on Google Play Store.
8. AdventureQuest 3D (Free)
AdventureQuest 3D is an exciting Android RPG that has gained popularity for its immersive world, engaging gameplay, and unique cross-platform features. Developed by Artix Entertainment, the game offers a seamless multiplayer experience where players can embark on thrilling quests, battle fearsome monsters, and forge their destinies.
The fantasy setting of Lore, where AdventureQuest 3D takes place, is plagued by turmoil and darkness. The story of the game is centered around "The Shattering," a catastrophic occurrence that split the world into different realms. The protagonist of the game is entrusted with balancing Lore and learning the truth about The Shattering. Through missions, character interactions, and epic story-driven events, the interesting plot line develops, engrossing players in a great journey full of peril and intrigue.
Cross-platform interoperability, which enables users on Android, iOS, and PC to play together in the same persistent universe, is one of AdventureQuest 3D's unique features. This distinctive feature fosters collaboration and rivalry as users team up to take on difficult challenges, establishing a dynamic community of adventurers.
Real-time fighting is a component of the game, making it immersive and action-packed. Players engage in combat with a variety of enemies while using a vast number of tools, spells, and skills. Battles are sure to be exciting because of the game's smooth fighting systems, responsive controls, and aesthetically stunning animations.
Players can select from a wide range of diverse character classes in AdventureQuest 3D, including warrior, mage, rogue, and guardian. The different playstyles and abilities of each class allow players to customize their characters to fit their favorite fighting style. Players can further individualize their avatars by changing the clothing, tools, and accessories used by their characters.
The game promotes group play by giving players the option to take on difficult objectives and boss fights together with friends or other intrepid explorers. The cooperative feature gives the game a social component, encouraging teamwork and providing possibilities for shared experiences and special moments.
The extensive crafting system in AdventureQuest 3D enables players to gather materials and create a broad variety of weapons, armor, and accessories. Players might feel like they are progressing when they gather rare resources and make powerful gear thanks to the crafting system. In order to further boost the strength and efficiency of their characters, players can modify and enchant their equipment.
Players have the option to purchase and personalize their own virtual residences in the game. Players are able to furnish their homes with a variety of items, showcase their adventure-related medals, and even host guests for social gatherings. Players can also create personal shops inside of their homes where they can trade and sell goods to other players, promoting a vibrant player-driven economy.
Special events and updates are frequently added to AdventureQuest 3D, keeping the game's user base interested and engaged. These occasions frequently consist of community-wide challenges, one-time-only missions, and special awards. The continuous updates give players the feeling that they are progressing within the game's environment and guarantee that there is always new material to examine.
With its captivating storyline, engaging gameplay elements, and distinctive cross-platform capabilities, AdventureQuest 3D provides an unparalleled Android RPG experience. Players will have a dynamic and interesting experience thanks to the compelling Lore universe, real-time fighting mechanisms, class system, cooperative gaming, crafting, housing, and frequent updates. AdventureQuest 3D is a standout product in the Android gaming market thanks to its seamless multiplayer features and constantly changing material, giving RPG fans hours of thrilling exploration and spectacular combat.
With over one million downloads, AdventureQuest 3D is rated 4.3 out of 5 stars on Google Play Store.
9. Stardew Valley ($4.99)
Stardew Valley is an enchanting Android game that has captured the hearts of players with its charming visuals, immersive gameplay, and rich content. Developed by ConcernedApe, this indie farming simulation RPG takes players on a delightful journey as they inherit a neglected farm and transform it into a thriving oasis. In this note, we will explore the engaging plotline, diverse gameplay aspects, and unique features that make Stardew Valley a standout title in the Android gaming realm.
In the opening moments of Stardew Valley, the player's character inherits a dilapidated farm in the peaceful Pelican Town. The main character decides to leave the city in search of a simpler life in the country since he is sick of the corporate lifestyle. Players engage with a variety of colorful individuals as they explore the environment of Stardew Valley. Each character has a unique backstory, aspirations, and difficulties. The main objectives are to bring the farm back to its former splendor, develop relationships with the locals, and learn the mysteries of the valley.
Stardew Valley's primary gameplay focuses on farming and agricultural activities. Participants cultivate the soil, plant seeds, water crops, and gather the harvest. They can engage in more specialized endeavors like beekeeping and winemaking in addition to growing a variety of crops and raising cattle. As players see the results of their labor and gradually increase the production of their farm, the farming component gives them a sense of fulfillment.
The expansive and varied environment of Stardew Valley is available for exploration, from the farm's rolling fields to the adjacent mines and cryptic caverns. Through social interactions and gift-giving, players can forge ties with the villagers, take part in festivals, and socialize with the locals. The sensation of belonging and the close relationships formed with the characters give the game world life and produce a welcoming atmosphere.
The game includes a robust crafting system that enables players to make practical structures, tools, and equipment. Players can create devices like sprinklers to automate farming, furnaces to smelt ore, and even buildings to expand their farm by gathering resources from the surrounding area. The option to upgrade equipment and structures gives the gameplay depth and customization, fostering a sense of advancement and effectiveness.
Players can trek into the mines to find useful minerals and difficult monsters outside of the tranquil farm life. Players must make smart decisions as they move through procedurally created stages, harvest ore, and find rare items while mining. Players can defeat animals and acquire useful materials for manufacturing and commerce by engaging in simple yet fun combat mechanisms.
Players can throw their hooks into rivers, lakes, and the ocean in Stardew Valley's calm fishing mechanics in order to catch a variety of species. In addition to being a source of money, fishing offers a peaceful hobby to unwind after a long day on the farm. Another dimension of exploration and discovery is added by the ability for players to forage in the forest for wild plants, berries, and mushrooms.
Stardew Valley has four unique seasons that each have their own weather patterns and crop-suitable times of the year. Based on the varying seasons, players must modify their agricultural tactics to maximize yield. The game also has yearly festivals that bring the neighborhood together for one-of-a-kind events and activities, adding to the immersion.
Stardew Valley accepts player-made mods, enabling the community to improve and customize the game to their tastes. By introducing new material, making graphic improvements, and changing the gameplay, this feature makes it possible for players to completely customize their experience with Stardew Valley.
Stardew Valley's fascinating storyline, varied gameplay mechanics, and distinctive features make it a pleasant and engrossing Android gaming experience. A very engaging gameplay loop is produced by the interaction of farming, exploring, relationship-building, crafting, and seasonal events. Stardew Valley stands out as a stunning game in the Android gaming environment with its appealing pixel visual style, calming music, and attention to detail, offering hours of happiness and peace for gamers of all ages.
With over one million downloads, Stardew Valley is rated 4.6 out of 5 stars on Google Play Store.
10. Baldur's Gate II ($9.99)
Baldur's Gate II, an iconic Android game developed by BioWare, is hailed as one of the greatest role-playing games of all time. Based on the Dungeons & Dragons tabletop system, this classic title has captivated players with its immersive plotline, strategic gameplay, and richly detailed world. In this note, we will explore the epic plotline, engaging gameplay aspects, and unique features that make Baldur's Gate a standout title in the Android gaming realm.
Baldur's Gate transports players to the Sword Coast region for a great adventure set in the Forgotten Realms campaign setting. The protagonist of the game referred to as the "Bhaalspawn," is a person with divine ancestry and a destiny bound up with the fate of the entire universe. The plot develops as players explore perilous dungeons, decipher political intrigue, and battle formidable foes while making decisions that affect their character's moral compass. A fully immersive and lasting experience is produced by the plot's complexity and depth, together with lovable characters and memorable choices.
A party-based gameplay system in Baldur's Gate enables players to enlist and communicate with a wide variety of allies. The distinct skills, personalities, and goals of each partner provide depth and variation to the gameplay. Success in the game depends on controlling party dynamics and companion relationships because their loyalty and interactions have a big impact on the plot.
Players can strategize, give orders, and respond to battle scenarios in the game's real-time combat system, which also has a pause feature. Due to the fact that players must think about placement, spellcasting, weapon selection, and party coordination in order to defeat difficult enemies, this tactical approach gives battles depth and complexity. Each fight is exciting and gratifying because of the real-time combat mechanisms that establish a mix between action and strategy.
A complex character creation system is available in Baldur's Gate, letting players customize their protagonist's race, class, skills, and alignment. Numerous playstyles and party configurations are possible because of the rich character customization features and the availability of allies. Players can allocate points to characters' characteristics, talents, and spells as they level up and collect experience, creating a sense of growth and advancement.
Players are encouraged to explore a variety of environments, including cities, woods, dungeons, and vast wilderness areas in Baldur's Gate's enormous and intricately rendered game world. The complexity of the environment is revealed by participating in tasks, both main and side, and doing so rewards players with experience points, useful loot, and storyline advancement. There are many opportunities for immersion and discovery due to the open-ended nature of exploring and the abundance of quests.
Baldur's Gate perfectly captures the essence of real role-playing by letting players make significant decisions that impact the story and the growth of their characters. Players encounter moral conundrums, form alliances, and make critical decisions that have an impact on the game's outcomes. As a result, morality, ethics, and personal views play a vital role in the game. The ability to define one's character through decisions and role-playing enhances the gameplay experience by deepening it and making it more personal.
The famed Forgotten Realms campaign setting, a richly created world with a rich narrative and history, serves as the backdrop for Baldur's Gate. The game expertly combines aspects of mythology, fantasy, and political intrigue to envelop players in a colorful and realistic realm. The meticulous attention to world-building details and the intriguing lore enhance the game's immersive atmosphere and provide a really engrossing experience.
Baldur's Gate is a standout Android role-playing game thanks to its epic storyline, tactical gameplay, and rich world-building. The game offers an engaging and difficult experience for RPG enthusiasts with its party-based mechanics, real-time with pause combat, character customization, and extensive role-playing aspects. One of the most cherished Android games of all time, Baldur's Gate has a reputation as a genre classic thanks to its iconic features and timeless plot.
With over one hundred thousand downloads, Baldur's Gate II is rated 4.0 out of 5 stars on Google Play Store.