BlueStacks Roundups
Top 10 Offline Android Games to play in 2023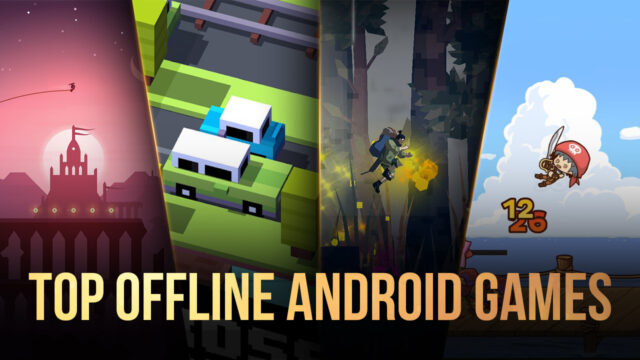 Offline games are great for those situations where you may not have internet access. Although the internet is now widely available, there are still moments when you may not have an active connection, such as on an airplane. In such situations, offline games are a lifesaver. In this article, we will be listing the ten best offline Android games to play in 2023.
1. Traffic Rider (Free)
The first game on our list of the best offline Android games for 2023 is Traffic Rider. Traffic Rider is a POV riding game in which you are a biker atop a motorcycle, and the only thing you need to do is ride as far and fast as you can without crashing the bike into any of the vehicles on the road which will be obstructing your way.
The game has a career mode with over 90 missions for you to complete. These missions vary from one to another. While one mission may be to overtake a set number of vehicles on the road, another might be to ride a certain distance in a stipulated amount of time. The more of these missions you complete, the more coins you get, which can then be used for a number of things in the game such as upgrading your bike, etc.
Speaking of bikes, Traffic Rider has 34 different motorcycles for you to choose from. Each of them has a different set of features, and you have a huge variety not only in terms of performance but also in terms of looks. If you're a fan of retro bikes then there's a ton for you to choose from, and the same thing goes if you are a fan of superbikes.
The game has amazing graphics and you can tell from the instant you play the game that a lot of effort has been put into making the game and its environment as detailed as possible. You have the option to ride both during the day and the night, with the latter usually being more difficult since you only have your headlight to show you the way. Along with this, the game has real, recorded motorbike sounds, making you feel immersed in the game and giving you the feeling of riding a real bike.
The gameplay is simple and easy to learn, as are the controls. The bikes in this game ride very smoothly, and you have the option to use your horn or your indicator lights to assist you as you ride on the highway. Overall, Traffic Rider is a must-play if you are a fan of bike riding games or offline games.
With over one hundred million downloads, Traffic Rider is rated 4.3 out of 5 stars on Google Play Store.
2. Mars: Mars (Free)
Next up is Mars: Mars, released by Pomelo Games. Mars: Mars is based on a very simple concept. MarsCorp, a space exploration company, wants to put humans on Mars no matter what. For this reason, they have created a jetpack that will allow its user to roam around Mars and explore the red planet. However, many astronauts would tell you that the jetpacks aren't all that great, and can actually be a liability once you reach Mars. To find out if this is true or not, however, you will need to go to Mars as a part of MarsCorp.
The gameplay is extremely simple in Mars: Mars. All you need to do is tap on either side of the screen to fire up your jet and move from platform to platform in order to explore Mars to the extent you can. The game has amazing, minimalistic graphics. The red planet is built with painstaking detail and it is a complete joy to explore it…as long as your jetpack works.
Apart from exploring the planet, you must also survive its harsh conditions the best you can. Of course, you will die many times in the game, but each foray into Mars' strange, lonely atmosphere will earn you points that you can use to upgrade your jetpack, making each trip longer and more insightful.
Mars: Mars is an amazing offline game that will be great for anyone who wants a low-stress game that they can use to relax.
With over five million downloads, Mars: Mars is rated 4.5 out of 5 stars on Google Play Store.
3. Alto's Odyssey (Free)
The sequel to Alto's Adventure by developer Noodlecake Studios, Alto's Odyssey, is next on our list. Alto's Odyssey is an endless runner scrolling game like its predecessor, but unlike the latter, this time Alto must sandboard through a desert landscape with rocky terrain, coast through tricky sand dunes, ride across bumpy wall formations, avoid cunning lemurs, and grumble past twisted vines and desolate ruined surfaces in order to unravel the secrets hidden within the desert's wilderness. Alto's Odyssey is the follow-up to Alto's Adventure, although you don't need to have played one to be able to play the others because the game may be played without having played Alto's Adventure first.
Skidding through the desert environment that flows into the right side of the screen is the only difficult task at hand. Similar to Alto's Adventure, the user must tap the screen to jump, press and hold it to execute tricks, link combos to master motions and add to the score, and strive to complete the 180 goals that have been painstakingly crafted using intuitive control.
There are numerous ecosystems and biomes to explore throughout the vast and untamed geography of Alto's Odyssey, giving it a more exploratory feel. The game features three distinct biomes: unrestricted canyons, rich dunes with rippling hills and rocky terrain as obstacles, and ancient temples with vines and streams that increase movement and speed.
Each biome has its own distinct traits and aesthetics. As you go through the game, you can buy a compass to aid you in navigating more challenging biomes. Coins are the in-game currency. The weather and day-night cycles of Alto's Adventure are also there, however, they have been adapted to fit the desert environment. In the backdrop, there are lightning strikes, sandstorms, tornadoes, cyclones, flowing water, and shooting stars. The utilization of a hot air balloon, jumping off grind rails, and skidding down rough wall formations are other ways for your character to ascend. Similar to Alto's Adventure, you can unlock the wingsuit and six different sand boarder characters as you advance through the stages, each with its own set of abilities.
Another unique feature in Alto's Odyssey is the 'Photo Mode' which enables us to pause the screen during particularly memorable moments of the game and capture these moments to share with friends, family, and fellow players. Alto's Adventure uses biomes to expand the playfulness and charm of the changing visual experience; it creates a dynamic movement to invigorate the players. The game also boasts gorgeous visuals of the desert landscape and a handcrafted score with an original audio background of serene piano notes and meditative crescendos, thus allowing users to take a break and unwind. All in all, if you are looking for a cathartic game that helps you relax, but also offers a competitive incentive, look no further than Alto's Odyssey.
The "Photo Mode" in Alto's Odyssey is another special feature that enables us to pause the game during very poignant times and take pictures of these moments to share with friends, family, and other players. Alto's Adventure uses biomes to increase the playfulness and appeal of the changing visual experience and to give the players a sense of dynamic movement. Users can take a break from the game and relax thanks to its stunning desert environment graphics, unique music, and original audio background of peaceful piano notes and hypnotic crescendos. Overall, Alto's Odyssey is a great option if you're searching for a cathartic game that gives both a relaxing experience and a competitive incentive, all without an active internet connection.
With over ten million downloads, Alto's Odyssey is rated 4.4 out of 5 stars on Google Play Store.
4. Crossy Road (Free)
Crossy Road, which is based on the wildly popular arcade game Frogger, is next on our list. The purpose of the game is obvious. You control a figure who must dodge obstacles for as long as possible (by default, the character is a chicken). The game was created in 2011 by Hipster Whale as a parody of the joke "Why did the chicken cross the road?" As long as the player avoids obstacles, Crossy Road has no end, unlike Frogger, and can go on forever.
A single press on the top or bottom of the screen propels you up or down, and a swipe to the left or right moves you in either direction. The controls are similarly straightforward. Among the dangers, the player must avoid are cars, rivers, and railroad tracks. If you take too long to move your character, you risk being captured by a bald eagle, which would cause the game to end. This game features a wide range of characters that you may get to know and interact with, from the Chicken to the Android Logo. Another 12 characters can only be unlocked using green tokens obtained by watching advertising or earning high points on the leaderboard. There are about 204 characters that may be unlocked using in-game currency. Because of the way that it looks and sounds, it transports you back to the heyday of arcade gaming, which accounts for why it has received over 50 million downloads in less than three months after its release.
Additionally, Crossy Road offers a local multiplayer mode that supports up to four players at once. You can now play with your friends while the game's goal—to earn the greatest score possible—remains the same. Because only when all four players have died does the game end. If you're the only person left, you can travel back in time to bring your dead companions back to life before carrying on. On the same device, two players can play the game simultaneously in split-screen multiplayer mode.
With over a hundred million downloads, Crossy Road is rated 4.6 out of 5 stars on Google Play Store.
5. Dead Rain 2: Tree Virus (Free)
Next on our list of the best offline games for Android in 2023 is Dead Rain 2: Tree Virus. Created by Devbox Games, Dead Rain 2 is a side-scrolling action role-playing game in which the user must survive in a world where trees grow inside of people's bodies. The gameplay is simple and easy to use but is a lot of fun to play. Hiding behind every object can be a horde of zombies and you will have to do your best to kill all of them in order to survive.
The game also requires you to move around objects in the game in order to maneuver and get around to different places. The game has a multitude of stages for you to participate in, and you have various boss fights in which you will take on huge bosses which are difficult to beat. The game also has hidden elements for you to explore at every stage of the game.
Dead Rain 2: Tree Virus is also distinctive in the way it looks and feels. The game feels like an upscaled Roblox game, with blocky graphics that have a really cool visual effect and immerse you in the game completely. Overall, it is a really fun RPG to play for any Android gaming enthusiast.
With over one million downloads, Dead Rain 2: Tree Virus is rated 4.1 out of 5 stars on Google Play Store.
6. Postknight (Free)
Postknight, created by Malaysian game company Kurechii, is the following title on our list. The game's quick, bite-sized missions are ideal if you only have a few minutes to kill and don't want to spend the entire day playing it. The game's eponymous Postknight, a hybrid between a postman and a knight, delivers goods and messages to remote settlements while battling off numerous creatures in Kurestal, the game's environment. In the game, Postknight is sent to the village of Pompon where he must first rescue the locals who have fled the village in fear of a dragon onslaught before delivering their packages and letters.
Postknight mainly relies on its auto-play feature, which makes playing the game relatively simple for users. Although some players may find this tedious if they wish to finish the game totally on their own without any help from the CPU, Postknight's primary purpose is to give you a quick and simple gaming experience in which you don't need to invest a lot of your time or energy. Your character in the game runs along the side-scroll panel and engages in melee combat with any foes he comes across. Only three commands—charge, shield, and potion—are supported by the game.
The directions are rather self-explanatory; pushing the charge button leads you to charge at adversaries for a short period of time, dealing them greater damage while pressing the shield button causes you to have a better defense for that same period of time. Both of these are fantastic when you run into huge armies of enemies or bosses with absurdly high health that take a long time to take down. The latter case benefits greatly from the potions button because it lets you slightly increase your character's health, hence extending the duration of the conflict. The potions button is useful when you are about to defeat your opponent but are dangerously low on life.
In Postknight, you get loot or rewards for killing foes, and at the conclusion of each mission or "excursion," you get a treasure chest with three possible goodies. This suggests that when a few missions are finished and a few enemies have been eliminated, you will have enough loot to enhance your character. Character advancement in Postknight is based on your loot level. Your character's shield, potions, and intangible traits like strength, speed, agility, and intelligence can all be improved.
With over five million downloads, Postknight is rated 4.7 out of 5 stars on Google Play Store.
7. Really Bad Chess (Free)
Next up is Really Bad Chess, the title of which is pretty much self-descriptive. Created by Noodlecake, Really Bad Chess opens up the game of chess to new players and forces more experienced players to throw away whatever they know about the game since nothing of what they have learned so far, be it openings or end games, will apply to Really Bad Chess.
Really Bad Chess is a chess game in which there are completely random pieces on the board. This means that you could play a game with eight knights, four bishops, and two pawns, and you will have to use the pieces in your control to build a strategy on the go and find a way to win against your opponent.
This makes the game of Chess – which is both loved worldwide but can also be seen as boring – inviting and exciting to people who have never played it before. It also adds an element of unexpectedness for those players who already love the game and have been playing it for a while.
Overall, Really Bad Chess is an amazing game that any Chess lover (or hater) must try.
With over one million downloads, Really Bad Chess is rated 4.2 out of 5 stars on Google Play Store.
8. Shadow Fight 3 (Free)
Nekki's Shadow Fight 3 is without a doubt one of the best action and fighting-based games today, especially one that can be played offline. It combines gorgeous graphics and fantastic gameplay. Similar to previous brawling and one-on-one combat games like Tekken, Shadow Fight 3's fundamental premise is that you have to kill your opponent before they kill you. But it's how this straightforward idea is implemented that sets this game apart from the countless other fighting games that are currently available in app stores. There are the visuals first. It's astounding to see this level of technical mastery and prowess in game creation, particularly for a game that originally began as a Facebook flash game.
Following the popularity of Shadow Fight 2, the third installment in the Shadow Fight series, titled Shadow Fight 3, was released in 2017. With a variety of character builds to choose from with each character having their own attitude and fighting style, the game is vivid, vibrant, and lifelike. The player chooses their character's appearance, puts on their weapons, and starts the game by looking for blood. You must eliminate as many adversaries as you can to move forward in the game. You can use the in-game money you earn from doing this to improve your character's special abilities and the weapons they use.
Landing blows while playing against an opponent will fill up your Shadow meter, allowing you to unleash a lethal assault that drastically lowers your opponent's health.
But it's not as though the game is faultless. Because you're paired with opponents who are significantly stronger than you, it can be impossible to land even a single hit on them in the extremely difficult online PvP mode. Naturally, this was done to encourage gamers to spend real money on in-game upgrades. By grinding through earlier levels in Shadow Fight 3 and gathering enough in-game currency to advance your character, you can, however, prevent this.
With over a hundred million downloads, Shadow Fight 3 is rated 4.3 out of 5 stars on Google Play Store.
9. Fallout Shelter (Free)
Since Fallout (1997), the first Fallout game, was released, the Fallout universe has steadily grown in popularity. The games in the series are all set in a post-apocalyptic future where nuclear devastation is a continual threat to life. Fallout Shelter largely relies on simulation, in contrast to most of the games in this series, which have been role-playing games. The main objective of the game, which is an expansion of the Fallout universe, is for the player to be in command of a vault where nuclear fallout survivors can dwell and survive. The game, created by Bethesda Game Studios, has garnered generally favorable reviews from critics and the general public, and its first two weeks of sales brought in more than $5 million.
The gameplay in Fallout Shelter is incredibly straightforward, which is one of the key aspects that both critics and users around the world have applauded. As previously said, the user is in charge of a vault that houses nuclear fallout survivors and must strike a balance between providing various resources and amenities necessary for everyone living in the vault to survive—things like food, water, power, etc. The user must dig through the mountain that the vault is built into in order to make space for additional residents because the population of the vault grows through reproduction. For safe drinking water and cafeterias for food, you need water treatment plants. To keep the vault powered up and all resources operational, the user must also build power plants.
Despite the fact that everything in the game builds instantaneously, you must pay Caps to construct anything. These Caps take some time to replenish, and the game's creators have chosen not to provide gamers any ways to purchase more Caps in order to make the game really free to play. Each inhabitant of the vault has stats that complement a certain kind of factory, and they are employed at various locations across the vault. Your industries start to operate more efficiently and produce more items, the majority of which your community of dwellers sorely requires if work is assigned properly while taking dweller statistics into consideration. The fun part of the game begins here.
You come to the realization during the course of the game that you lack the workforce or resources necessary to operate every factory at once. This entails balancing the use of various resources. When labor and resources are scarce, the user must choose between providing food and clean water for their inhabitants.
Additionally, you may encounter sporadic raider invasions, radroach attacks, or fires; all of these obstacles prevent the game from becoming monotonous and repetitive. You have to manage all of these different parts of the vault simultaneously and decide which is most crucial and ought to come first on your list of priorities, which keeps you on your toes.
Along the lines of randomization, users are also given "Lunchboxes" at random, which contain cards that grant them access to resources such as goods, dwellers, or other resources. The Fallout franchise is well-known for its typical cartoon-like art style, which is used in the design of the game. The lack of a defined end goal is one criticism of the game that should be taken into consideration. Fallout Shelter is infinite, in the sense that you can keep developing your vault indefinitely, once you've used up all of your resources, and for a while, the game starts to get a little boring. It's possible for some users to feel a little let down if they maximize their resources and have things run as smoothly as possible.
With over fifty million downloads, Fallout Shelter is rated 4.5 out of 5 stars on Google Play Store.
10. Crashlands ($6.99)
Crafting role-playing game Crashlands by Butterscotch Shenanigans is exquisitely made. Like the majority of Butterscotch Shenanigans' games, Crashlands is a colorful and creative game that will keep you occupied for a while. The basic premise is that you, Flux Dabes, a cosmic being who also drives a truck for the Bureau of Shipping, are on your way to deliver something when the antagonist, Hewgoodoko, tampers with and destroys your spaceship. After becoming stuck on the strange alien planet of Waonope, you now have to repair your ship and make the delivery on schedule while fending off the dangerous forces that stand in your way. Juicebox, a lovable robot companion in the game, will assist you on your adventure and ensure that you return to your home planet without incident.
Waonope has four unique races, three enormous continents, and a lot of exploration chances. You meet a variety of people throughout the game, each with their own narrative; some are enemies, while others are friends; the more strength you have, the further you may travel in the game. You can learn from and absorb the skills of your adversaries while using your crafting tools to hone your abilities. You can also slow them down, stun them, and set them on fire. In essence, there is no such thing as boredom because there is no limit to the amount of crafting and skill-based combat you may engage in. Instead of relying on points, Crashlands' RPG advancement is based on successfully completing objectives. You gain access to weapons, tools, resources, and equipment by completing tasks and missions.
Crafting, exploration, adventure, survival, and other game genres are just a handful that set Crashlands apart from other gaming environments. This combination, together with the captivating RPG components, creates a unique game. There are up to 500 craftable items available as you travel around Waonope in Crashlands, which boasts a robust crafting system. You are given a crafting station from which you can create nearly anything, from simple tools to dangerous weaponry; in order to do this, you must gather a wide variety of raw materials while exploring the world, such as grass, dirt, and wood. Basically, you have to gather these raw materials, break them down, and use the pieces to make tools, weapons, furniture, armory, and other things that will help you survive. Crashlands is an engaging combination of crafting and role-playing elements since it requires you to continually craft while also requiring you to explore and endure several locations, carry out hundreds of tasks, and play through many different scenarios.
With over one hundred thousand downloads, Crashlands is rated 4.5 out of 5 stars on Google Play Store.