BlueStacks Roundups
Top Offline Android Games to Play with BlueStacks in 2022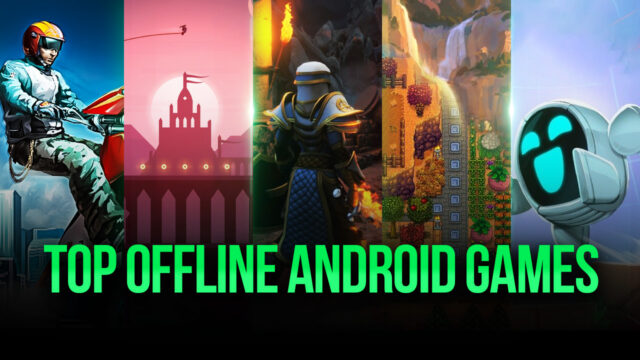 As more and more video games pop up on mobile devices, both Android and iOS, the age-old tradition of games that can be played without any sort of internet connection is losing its hold over the industry. Many of these games require active internet connections in order for you to play them, usually because these are multiplayer games in which having an internet connection is a must.
The following ten games, however, are offline and don't require an internet connection for you to play them. This means you can play them anywhere and at any time; on airplanes, in areas with low internet connectivity, etc.
1. The Elder Scrolls: Blades (Free)
Bethesda's The Elder Scrolls: Blades is a spin-off that takes place after The Elder Scrolls V: Skyrim in the same Elder Scrolls universe as the rest of the series. The first-person RPG can be played in either portrait or landscape orientation, with the former making it incredibly simple to control with just one hand. Unlike most major PC game conversions, Elder Scrolls: Blades was specifically created for mobile devices, as evidenced by the combat system and overall game design. Bethesda did not attempt to cram the PC version of the game into a mobile device. Like all previous PC/Console Elder Scrolls games, this one is linear rather than open-world.
The player engages in one-on-one combat by swiping, tapping, or using the on-screen dual-stick controls. This game is for you if turn-based combat bores you and you prefer to play a game where you can engage opponents in real-time combat. The player can choose from a sizable number of unlocked characters as well as a wide variety of weapons. The player's primary objective is to move from point A to point B while killing anything in the way because, as was previously mentioned, the game is linear. The seamless battle mechanics, the renowned Elder Scrolls music, and the stunning visuals of the game—even on mobile devices—make this game, which at first glance might seem to be straightforward, incredibly engaging.
Town building is another feature of the game worth noting that sets it apart from its open-world console/PC predecessors. In The Elder Scrolls: Blades, you build your own town using your collected resources rather than searching for existing ones. If you run out of supplies, you can always use real money to buy gems, the in-game currency, to finish building your town. Guilds and PvP features have also received positive user feedback.
With over five million downloads, The Elder Scrolls: Blades is rated 3.9 out of 5 stars on Google Play Store.
2. Morphite (Free)
Morphite is a 2017 release of a space-based action game developed by Crescent Moon Games. One of the most sought-after substances in the universe, the titular Morphite, is the focus of the story. The story is set many years in the future when space travel is commonplace and humanity has conquered a significant portion of the galaxy. A space explorer named Myrah Kale who works on a space station learns about her mysterious past and her connection to the rare material one day. Myrah is searching various planets for Morphite while attempting to understand the substance's true purpose, the reason it is so uncommon, and the powers it possesses.
The game's graphics are blocky and low-res, but it is clear from the outset that the developers made this choice with consideration. Every time you arrive on a new planet and start exploring everything there is to explore, you see a variety of geographical features that are specific to each planet, as well as different flora and fauna. The blocky aesthetic gives every environment a more otherworldly appearance and makes you curious about what lies beyond the horizon.
Morphite and No Man's Sky are frequently compared, and for good reason, but there are some significant differences between the two games. Despite being a well-made game with amazing stylistic sensibility, No Man's Sky lacks direction and content, and there isn't much for you to do, making it easy for the user to get bored. Morphite, on the other hand, allows users to take their own paths and explore their surroundings while still being linear and straightforward. However, the game does give you rewards for following the right path, and it does a fantastic job of making both simple tasks like scanning your surroundings and more difficult ones like eliminating different enemies feel exciting and new.
With over one million downloads, Morphite is rated 3.6 out of 5 stars on Google Play Store.
3. Postknight (Free)
The next game on our list is Postknight, which Malaysian game developer Kurechii released in 2017. The game's short, bite-sized missions are perfect for when you just want to kill a few minutes but don't want to spend all day playing it. In Kurestal, the setting of the game, the Postknight—a cross between a postman and a knight—delivers packages and letters to outlying villages while fending off various monsters. In the game, Postknight is dispatched to the village of Pompon, where he must first rescue the villagers who have scattered in and around the village out of fear that a dragon may attack before bringing them their packages and letters.
Postknight heavily relies on its auto-play system, which makes it incredibly easy for players to carry on with the game. While those who want to complete the game entirely on their own without any assistance from the CPU may find this tedious, Postknight's entire goal is to provide you with a quick and easy gaming experience in which you don't need to expend a lot of your time or energy. When you play the game, your character runs on the side-scroll panel and attacks any enemies he encounters. The game only accepts three commands: charge, shield, and potion.
The commands are fairly self-explanatory; pressing the charge button causes you to temporarily charge at enemies and deal extra damage to them while pressing the shield button causes you to temporarily have a higher defense. Both of these are excellent when you encounter massive armies of adversaries or bosses with astronomically high health that require more time to defeat. For the latter, the potions button is great because it enables you to slightly boost your character's health, extending the duration of the battle. When you are on the verge of defeating your opponent but are critically low on health, the potions button is helpful.
In Postknight, you receive loot or rewards for defeating enemies, and you also receive a treasure chest with three different rewards at the end of each mission or "excursion". This indicates that after completing a few missions and taking down a few adversaries, you will have enough loot to upgrade your character. In Postknight, character upgrades are dependent on how much loot you have. You can upgrade your character's shield, potions, as well as intangible qualities like speed, agility, strength, and intelligence.
With over five million downloads, Postknight is rated 4.7 out of 5 stars on Google Play Store.
4. My Friend Pedro: Ripe for Revenge (Free)
Next on our list is the shoot-'em-up game from DevolverDigital known as My Friend Pedro: Ripe for Revenge. The game has an incredible plotline that revolves around a sentient banana – Pedro, who convinces our masked and unnamed protagonist to kill certain people. It is later revealed that Pedro is a figment of the protagonists' imagination and that the people he had been killing held a special significance in his life.
The gameplay for My Friend Pedro is fairly simple since it is based on an initial flash game released by Adult Swim Games in 2014. In the game, the user has the ability to slow time, split his aim between two different enemies, dodge bullets, etc. New additions to the original flash controls include the ability to kick enemies as well as objects, as well as the ability to kill enemies by bullets that ricochet off of frying pans or signboards. For each hit the user gets on an opponent, they get a point, and for every kill, the current point multiplier goes up by one.
The game has simple yet captivating graphics, which work very well with the sidescrolling action aesthetic of the game. Each level in My Friend Pedro has a different theme, and each level also has different structures and architecture for the user to encounter and play through, making each level its own unique experience.
With over five million downloads, My Friend Pedro: Ripe for Revenge is rated 4.5 out of 5 stars on Google Play Store.
5. Shadow Fight 3 (Free)
Nekki's Shadow Fight 3 is without a doubt one of the best action and fighting-based games available, especially one that can be played offline. It is a beautiful combination of gorgeous graphics and fantastic gameplay. Similar to other brawling and one-on-one combat games like Tekken, Shadow Fight 3's fundamental premise is that you have to kill your opponent before they kill you. But it's how this straightforward idea is implemented that sets this game apart from the countless other combat games that are currently available on app stores. There are the visuals first. It's astounding to see this level of technical mastery and prowess in game design, particularly for a game that originally began as a Facebook flash game.
The player chooses their character's appearance, selects their weapons, and starts the game. You must eliminate as many adversaries as you can to move forward in the game. You can use the in-game currency you earn from doing this to improve your character's special abilities and the weapons they use. Hitting strikes while playing against an opponent will fill up your Shadow meter, allowing you to unleash a lethal attack that drastically lowers your opponent's health.
But it's not as if the game is faultless. Because you're paired with opponents who are significantly stronger than you, it can be difficult to land even a single hit on them in the extremely difficult online PvP mode. Of course, this was done to encourage players of Shadow Fight 3 to spend real money on in-game upgrades. By grinding through earlier levels and gathering enough in-game currency to advance your character, you can, however, avoid this.
With over one hundred million downloads, Shadow Fight 3 is rated 4.5 out of 5 stars on Google Play Store.
6. Eternium (Free)
Since its initial release in 2014 by Making Fun Inc., Eternium has enjoyed significant success, with a sizable fan base that continues to play the game and keep up with its upgrades. What sets Eternium apart from other hack-and-slash or action role-playing games are its controls. Users frequently complain about how difficult it is to play these games because the controls are cumbersome and inaccurate, and rightfully so. The lack of controller compatibility for the vast majority of such games is frequently followed by complaints. Eternium's controls, which are so seamless and well-designed that you forget the game can be played with a controller as well, stand out the most and are frequently cited as its best feature.
When the game first starts, you can choose your character's class. Warrior, Mage, and Bounty Hunter are the available classes. Your gameplay will be significantly impacted by the character class you choose, including changes to your basic attacks, abilities, passive attacks, and loot. Therefore, it is advised that you carefully consider your character class choices and pick a class that you feel would fit your playstyle. Warrior may be the class for you if you are a more aggressive player who prefers to advance and attack opponents without regard for defense. Mage might be the best choice for you if, on the other hand, you prefer to play more defensively and need healing when your character's health is low.
A variety of enemies can be encountered throughout the game, from small, manageable skeletal hordes early on to larger, more difficult foes as the action nears its climax. The antagonists and enemies in the game also pay homage to classics like Diablo and Torchlight, with some foes bearing direct or indirect influences from those games. Like Diablo, Eternium allows you to play with other players who may help you with your missions and objectives, and interacting with other players only increases the game's depth. Three different planets, two of which are locked, will be present when you first begin the game. These stand in for the three acts into which the story is divided.
The best thing about Eternium is that you can play it anywhere and at any time because it is free to play and doesn't require an internet connection. You don't have to use real money to complete levels while playing Eternium because it doesn't use a pay-to-win system. Working hard and putting in the hours are the only ways to advance in this game.
With over ten million downloads, Eternium is rated 4.8 out of 5 stars on Google Play Store.
7. Once Upon A Tower (Free)
The story of the knight who saves the princess stuck in a tower is as old as time. Pomelo Games' Once Upon A Tower plays on this story, but with an important twist: the knight isn't coming. Not because he doesn't want to save the princess but because he was eaten by the dragon that guards the tower in which the princess is stuck. Now, in order to make it out of the tower, the princess must save herself, using the hammer the knight has left behind.
Once Upon A Tower is an offline platformer, in which the user plays the role of the princess who must save her own life and make it out of the tower she is locked in. The game is offline and doesn't require an internet connection for you to play it. The princess must descend from the tower, and using the weapons left behind by the knight, she must make her way down, fighting enemies and monsters that get stronger and nastier the further you go.
The game has a variety of princesses that you can choose from to be your main character. Along with this, the game also provides you with various power-ups that can be used to increase the strength of the princess as she fights the monsters keeping her from going down the tower. The game is pretty ruthless, however, since if you fall or die while fighting these monsters, you will have to begin again, all the way at the top of the tower.
The game is well made and the graphics are cute and cartoony, lending the game a playful and childlike vibe.
With over five million downloads, Once Upon A Tower is rated 4.3 out of 5 stars on Google Play Store.
8. Knights of Pen and Paper 2 (Free)
Knights of Pen & Paper 2 is among the most well-known role-playing games for Android, and for good reason. Despite having a fairly conventional RPG plot, it adds an additional layer of meta-commentary, which gives the creators and, consequently, the players, a wide range of options. You take on the role of a role-player in the game, which implies that the character you are controlling is participating in a role-playing board game resembling Dungeons & Dragons. As you may expect, Knights of Pen and Paper 2 is largely influenced by the original Dungeons and Dragons board game. The players can exert much more control over the game thanks to this type of meta-narrative than would have been possible with a standard RPG.
You can control the board game's dungeon master, which gives you the option to decide which battles you want to participate in, in addition to controlling your own character and, in turn, their character in the board game they're playing.
You can choose your race (human, elf, or dwarf) and social group in the game in addition to your class, which can be a mage, healer, or warrior, as in other RPGs. Each has a unique set of benefits and drawbacks, and there are numerous combinations to choose from. Each will have a big impact on how you play the game. Additionally, you can arm your chosen heroes with a variety of weapons, each of which will change certain aspects of their stats.
The meta-commentary of the game is crucial to the story you are involved in. In the game, your character meets the Paper Knight, a formidable being with Second Edition abilities whom neither you nor your other First Edition characters have ever seen or heard of. Finding the Disc of House Rules, which will strip the Paper Knight of his special abilities, is the object of the game. Even though the premise of Knights of Pen and Paper 2 seems too straightforward to keep you interested, playing it is a lot of fun, especially when you take into account the constant tongue-in-cheek banter and the retro, pixelated graphics.
With over one million downloads, Knights of Pen and Paper 2 is rated 4.4 out of 5 stars on Google Play Store.
9. Crashlands ($6.99)
Next on our list is the exquisitely made crafting role-playing game Crashlands released by Butterscotch Shenanigans. Like the majority of Butterscotch Shenanigans' games, Crashlands is a colorful and creative game that will keep you occupied for a while. The basic premise is that you, Flux Dabes, a cosmic being who also drives a truck for the Bureau of Shipping, are on your way to deliver something when the antagonist, Hewgoodoko, tampers with and destroys your spaceship. After getting stuck on the strange alien planet of Waonope, you now have to repair your ship and make the delivery on schedule while fending off the dangerous forces that stand in your way. Juicebox, a lovable robot companion in the game, will assist you on your journey and ensure that you return to your home planet without incident.
Waonope has four unique races, three enormous continents, and a lot of exploration opportunities. You meet a variety of people in the game, each with their own backstory; some are enemies, while others are friends; the more strength you have, the deeper you may go in the game. You can learn from and absorb the skills of your adversaries while using your crafting tools to hone your abilities. You can also slow them down, stun them, and set them on fire.
Crafting, exploration, adventure, survival, and other game genres are just a few that set Crashlands apart from other gaming environments. This combination, along with the captivating RPG components, creates a unique game. There are up to 500 craftable items available as you travel through Waonope in Crashlands, which has a robust crafting system. You are given a crafting station from which you can create practically anything, from simple tools to dangerous weaponry; in order to do this, you must gather a wide variety of raw materials while exploring the planet, such as grass, dirt, and wood. Basically, you have to gather these raw materials, break them down, and use the pieces to make tools, weapons, furniture, armory, and other things that will help you survive.
Crashlands is an engaging combination of crafting and role-playing elements because it requires you to constantly craft while also requiring you to explore and endure numerous locations, carry out hundreds of tasks, and play through many different scenarios.
With over one hundred thousand downloads, Crashlands is rated 4.5 out of 5 stars on Google Play Store.
10. Stardew Valley ($4.99)
Stardew Valley, a highly regarded simulation role-playing game, was made available for mobile devices in 2016. It was published by Chucklefish Limited. Stardew Valley is an open-ended role-playing game in which the user assumes control of their deceased grandfather's old farm (which is not in a particularly good condition), with the primary goal of the game being for the user to fix the dilapidated farm, grow crops, raise livestock, and live a peaceful life in the countryside. Stardew Valley was heavily influenced by the Harvest Moon game series. The game also has a number of social features that let players interact with the NPCs who live in the town and take part in social activities like marriage and childrearing.
The player starts the game by creating a special character that they will use for the duration of the game and choosing the kind of farm in Pelican Town, where the character's grandfather lived, that they would like to work on. Each type of farm has its own advantages and disadvantages. For example, the Standard farm is excellent for raising animals and poultry as well as the broadest range of crops. Contrarily, the Riverland farm has plenty of water for fishing but little room for growing crops. Whichever farm the user selects, it will be initially defiled with weeds, trees, boulders, etc.; in order to properly start farming, the user must work to clear these.
Although it does take some time to start your farm by getting the right number of seeds, figuring out irrigation, etc., farming is relatively simple. Users can also undertake a variety of quests to increase their game earnings. You can also return certain items, known as bundles, to the community center in the town, which will net you a variety of rewards, including tools and seeds, both of which are crucial for your farm. You can unlock new game areas like the desert by completing several bundles.
The calendar system and seasonal changes that periodically take place in the game are another significant and enjoyable aspect of it. The game is based on the seasons, and as the weather changes from hot and sunny to cold and snowy over time, the game's theme music also changes to match the visual change. Every 28-day season has its own preferred fish, crops, and festivals to keep you interested. When you play Stardew Valley, you can cultivate your own food, make a living, and create a community in Pelican Town. It is a must-have for any fan of classic RPGs, and it comes with a fantastic soundtrack and fluid gameplay.
With over one million downloads, Stardew Valley is rated 4.6 out of 5 stars on Google Play Store.