BlueStacks Roundups
Top 10 PC Games Franchises that Released on Android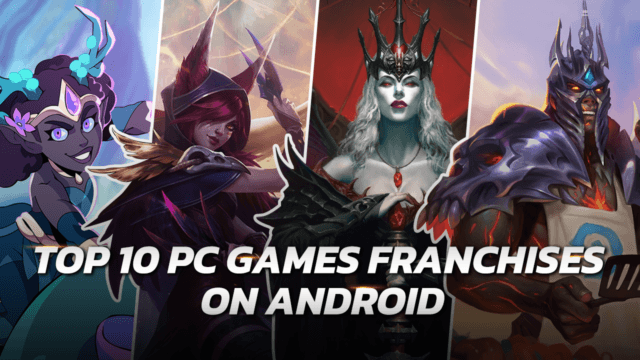 While playing games made exclusively for your mobile device is fun and there is no dearth of amazing games on Android, sometimes you want to enjoy your favorite PC games on your mobile device. In this list, we will be discussing the top 10 PC games for Android.
1. Apex Legends Mobile (Free)
Apex Legends Mobile, which was released by Electronic Arts in 2022, is the first game on our list. Instead of being a mobile port of the well-known console and PC Battle Royale game, Apex Legends Mobile is a completely new version of the title designed with mobile users in mind and is set in the Apex Legends Universe. The eponymous Legends, all of which have special abilities that can be used in-game while you are battling other players on the map for survival, are Apex Legends' main selling point.
Apex Legends Mobile shares the same fundamental idea as other battle royale games. After forming teams, players are dropped onto a location of their choosing on the map. Players can pick up any weapons they can find once they are on the ground and use them to hunt down members of the other teams until there is only one team left at the end of the game.
For instance, Bloodhound, one of the most well-known Legends, has the ability known as Tracker, which can be used to discover the movements of other players. Bloodhound also has a skill called Eye of the Allfather, which they can use to see the covert traps their adversaries have set up for them. These skills might indicate that Bloodhound is a Legend who excels at pushing opponents and going on the attack. Users would be best served if they chose Legends whose skills match their preferred gameplay, as this would result in more effective combat and a greater likelihood of surviving in-game.
In addition to the Battle Royale mode, Apex Legends Mobile offers users access to additional game modes. Users can choose the weapons they want to use in the game before they spawn in the "Team Deathmatch" mode as well as the "Quick Battle" mode, which is a condensed version of the original Battle Royale mode. The user must kill members of the opposing team as frequently as they can once they are in the Team Deathmatch in order to reach a score cap. The match is won by the first team to reach the scoring threshold.
Along with a vast selection of weapons and gorgeous maps and arenas, Apex Legends Mobile also has a tonne of content that is exclusive to mobile devices. The game connects to a controller and has a user interface that is also customizable.
With over ten million downloads, Apex Legends Mobile is rated 4.4 out of 5 stars on Google Play Store.
2. Call of Duty: Mobile (Free)
The classic Call of Duty franchise is brought to your mobile phone as a mobile shooter game by Activision's Call of Duty: Mobile. With a set of simple and adaptable controls, Call of Duty: Mobile offers HD gaming similar to that found on PC and consoles. The game works on the basis of seasons and the plot of each new season is expanded upon and new material is provided for the players to enjoy. You can play PvP and Battle Royale in Call of Duty: Mobile, as well as engaging multiplayer modes like Domination, Kill-confirmed and Team Deathmatch. Classic maps from the previous Call of Duty games, including Raid, Shipment and Standoff, are included in this game.
You will unlock and gain access to weapons, outfits, operators, scorestreaks and gear pieces as you advance through the game, allowing you to easily customize your loadouts and play how you want to. You have the choice to engage in both competitive and social play, play in competitive rank mode, or join a clan to build a sense of belonging. Credits and COD Points are the two types of in-game currency found in Call of Duty: Mobile. As you advance through the game, credits are earned and COD points must be purchased with real money. Exclusive upgrades are accessible with COD points.
Prop Hunt, One Shot, Rapid Fire, Capture the Flag, Gun Game, Attack of the Undead and Snipers Only are just a few of the game's short-lived but unique multiplayer modes. You can play in a two-person team or a four-person team in the Battle Royale mode.
At the start of the game, each player has the option of selecting a healing skill and each team has a jump leader who chooses where the team will land on the map. Each player starts out with just a knife, but the map is filled with a variety of tools, vehicles and supplies that they can use to improve their team's chances of surviving. There is room for up to 100 players in the Battle Royale mode. Limited modes like Battle Royale Alcatraz, Battle Royale Blackout, Battle Royale Blitz, 20v20 Warfare and the Sniper Challenge are also available in Call of Duty: Mobile's Battle Royale mode. In the game's Zombies mode, which was released in 2019, players must gather supplies for survival while fending off hordes of zombies.
With over one hundred million downloads, Call of Duty: Mobile is rated 4.3 out of 5 stars on Google Play Store.
3. Among Us (Free)
Next on our list is Innersloth's 2018 release, Among Us. The game is a social deduction and mystery game similar to board games like Mafia, but it takes place on a spaceship, and players must identify the players who are killing the ship's crew in order to win.
In order to play Among Us, at least four players are needed and the game can support up to fifteen crew members simultaneously. The game starts with one or two players becoming "imposters" in the game. Throughout the entire game, imposters' sole purpose is to interfere with the spaceship's operations in any way they can and to murder as many crew members as they can without being discovered. Imposters can make the spaceship malfunction, such as by causing power outages that cause the automatic doors to close and the lights to go out. This frequently results in some crew members becoming trapped in areas with imposters, giving the latter the perfect opportunity to kill the former. The imposter is prevented from pressing the "Kill" button again for a while after each kill. The crew members can escape in time during this cooling-down period, which also prevents the imposter from gaining too much power. In order to avoid being seen with a dead body or to find their next victim, imposters also have the ability to "vent," which refers to using air vents to covertly move from one part of the spaceship to another.
The crew can convene an emergency meeting after another crew member finds a dead body so that everyone, including the imposters, has a chance to identify one person as the imposter. After considering their options, the crew members must decide whether to expel the player they believe to be the imposter. Additionally, crew members have the option to abstain from voting.
A crew member will be expelled from the ship if the majority decides to remove one of them, and the game will reveal whether or not they were fake. By completing the tasks assigned to them at the beginning of the match, the crew members can defeat the imposter in another way. These include unimportant tasks like running a body scan, turning switches on and off, etc. In Among Us, these tasks are assigned to every crew member aside from the imposter and if they are all completed before the imposter can kill the majority of the crew members, the crew members automatically win the match.
With over five hundred million downloads, Among Us is rated 3.7 out of 5 stars on Google Play Store.
4. Brawlhalla (Free)
The best competition for Nintendo's Super Smash Bros. is Brawlhalla, a platformer from Ubisoft. It adheres to the fundamentals of a combat game and flawlessly carries them out. Brawlhalla differs from other 2D fighting games like Tekken or Street Fighter in that you must knock your opponents off the field of battle rather than gradually wear them down and deplete their health. Instead, you must wait until you have the opportunity to strike them down before witnessing them capitulate.
The game is frequently mistaken for being a casual combat game because none of the characters in it have unique attack moves. However, as was already mentioned, Ubisoft sticks to the fundamentals and the attacks that the game gives you are more than sufficient to create a fantastic playing experience. As a result, anyone looking for an arcade-style combat game that isn't Tekken or Super Smash Bros. should definitely try out Brawlhalla. Additionally advantageous are the game's over 50 playable characters, playful art and an online mode where you can engage in matches with other players.
In addition to a featured mode that is regularly updated, Brawlhalla offers a variety of casual game modes that you can play. These include online ranked matches in which players go up against one another in 1v1 or 2v2 matches. Rankings in Brawlhalla range from Tin, all the way up to Platinum and even further. Winning such ranked matches will help you progress up the global leaderboard. Apart from this, there is also the 4-player free-for-all mode, in which four players enter a match, but only one player wins it. All four must battle each other in order to win the match. The game also features regular Brawl-of-the-week matches in which players from around the world participate. There is also an experimental mode and various other such game modes that you can play on Brawlhalla,
With over ten million downloads, Brawlhalla is rated 4.3 out of 5 stars on Google Play Store.
5. Hearthstone (Free)
Next on our list is Blizzard Entertainment's collectible card game set in the World of Warcraft universe, Hearthstone. The gameplay for Hearthstone is fairly simple. The game takes place between two players, in which each player has a deck of thirty cards and a hero who has a unique ability of some sort. The main aim is for the two players to summon various creatures and use their cards in different ways to attack their enemy until the opposing hero has been destroyed.
Users can choose between ten different classes for their hero, with each class having its unique set of abilities. The cards in the game are of seven different types, namely, minions, spells, weapons, enchantment, location, hero power and hero cards. Each has a different function and is useful in its own way during matches. For example, the minion card summons minions who will attack the minions of the opposing hero, or even the hero themselves. This can lead to massive damage if strategized well and if the card is used at the right time. The location card, on the other hand, is used to target minions that usually cannot be targetted using the spell or hero cards.
Each card has a different Mana cost and users can have a maximum of ten Mana at any given point. Using cards during matches costs Mana and Mana is replenished by one each turn. This allows the Hearthstone to be competitive and keeps the user with the superior cards from dominating the matches.
With over fifty million downloads, Hearthstone is rated 3.6 out of 5 stars on Google Play Store.
6. Diablo Immortal (Free)
Users who have been gaming for a few decades will most likely remember Diablo with fondness. It is now time for them to rejoice since Diablo has come to their mobile screens through Diablo Immortal.
The setting of Diablo Immortal remains the same as that of the original game, the fictional world of Sanctuary and the events of the game take place between the plotlines of Diablo II and Diablo III. The main plotline includes the user trying to destroy the hidden shards of the Worldstone, which have been scattered all across the land. This must be done so that Skarn, the Lord of Damnation, will destroy Sanctuary if he gets his hands on the shards.
Diablo Immortal features isometric graphics and is an online-only MMORPG. The game requires you to create a character as you begin playing the game and you must choose between six different character classes for your character. These classes include Barbarian, Wizard, Monk, Necromancer, Demon Hunter and Crusader. Each of these classes includes twelve different unlockable skills, out of which you can only use five skills at once. For the first time in Diablo's history, you can also change the class of your character once you have begun playing the game. Changing character class means that you will be provided with the appropriate weapons and skills in congruence with your skill level and progress. This class change requires no in-game currency. However, the game limits your ability to change your character's class to once per week.
The game features more bite-sized missions when compared to the previous Diablo games. This is due to platform limitations and also because of the evolving style of mobile gaming which demands short, eventful missions, instead of long, drawn-out ones. The game has no energy system in place that keeps you from playing the game unless you have energy points, effectively allowing you to play the game for as long as you like. The game also does away with the Mana system, instead opting for a cooldown system.
Apart from the main story mode, Diablo Immortal also allows you to play other game modes which include random quests, bounties, challenge rifts and elder rifts. With modern-day graphics added to the familiar gritty environment of the previous games, Diablo Immortal is a must-play for any fan of the Diablo series.
With over five million downloads, Diablo Immortal is rated 3.6 out of 5 stars on Google Play Store.
7. League of Legends: Wild Rift (Free)
League of Legends: Wild Rift, a mobile adaptation of the enormously popular League of Legends game, is another fantastic title that deserves your attention. The game is quickly ascending to the top of the Google Play Store's game charts after being developed and released by Riot Games in 2020. The gameplay mechanics of Wild Rift are similar to those of the original League of Legends PC game.
You must put together a team of five characters, known as Champions in the game, in order to compete against another team. The main objective of each game is to destroy the Nexus of the opposing team while keeping your own Nexus from being destroyed. However, there are some distinct differences between the two games. For instance, Wild Rift's maps are much smaller than they were in the game's original PC version.
The game also moves along much more quickly and takes a lot less time in Wild Rift. It is obvious that these changes are a result of platform variations. A mobile screen is smaller than a computer screen, so the smaller maps and the way that games are played on mobile devices require faster gameplay and matches.
In order to provide better and more accurate matchmaking and prevent one team from being overpowered and vice versa, a competitive ladder is used in the game. The current ten competitive tiers are Iron, Bronze, Silver, Gold, Platinum, Emerald, Diamond, Master, Grandmaster and Challenger. Iron is the least skilled, while Challenger is the most skilled.
In addition to the main mode, the game also offers an ARAM mode, also referred to as the "All Random, All Mid" mode. The ARAM mode still pits five players against another five, but with a twist: there is no dragon or baron quest and the Champions are chosen at random. Due to the lack of a jungle region and the top and lower routes, the map size in this mode is also quite small.
With over ten million downloads, League of Legends: Wild Rift is rated 3.7 out of 5 stars on Google Play Store.
8. Black Desert Mobile (Free)
Next on our list is Black Desert Mobile, a 2018 title from Pearl Abyss that has received a lot of praise for its insanely impressive graphics. The well-known MMORPG Black Desert Online has a mobile version called Black Desert Mobile, which launched in 2015. The main plot of Black Desert Mobile, which takes place in a high fantasy world, centers on Calpheon, Serendia, Balenos and Mediah—four places that were peaceful before the Black Plague struck. The first people to introduce the plague to these regions were the traders of Valencia.
After getting tired of watching millions of people perish without any relief, three of the four major regions—Calpheon, Serendia and Balenos—join forces to battle Valencia in a 30-year war. In the meantime, Mediah prospered as the war dragged on thanks to their ability to gather black stones, which they then sold to the other regions. As you might expect, the game's lengthy and intricate storyline is one of the many elements that has attracted throngs of fans.
As mentioned, the graphics of the game have received a great deal of praise. One could argue that Black Desert Mobile is among the most visually stunning Android games ever. Both the background and other game elements, as well as the character models, are extremely detailed. This game's combat has stunning visuals and each move or spell has a distinctive animation. You can play as a Warrior, Ranger, Witch, Giant, Valkyrie, or Sorceress among the game's six classes. You are given complete freedom to alter your character's appearance after selecting their class and there are plenty of options available.
Compared to Black Desert Online, Black Desert Mobile's gameplay is a little easier. This is due to the fact that creating a combat system as complex as Black Desert Online for a mobile device is obviously much more difficult. However, there are some parallels, such as how crucial dodging is in combat. Black Desert Mobile players will be familiar with how crucial dodging is to survival in the game, just as it was in Black Desert Online.
As you advance through the game, you get to a point where you can construct your own base, which will serve as a sort of safe haven. Boss battles are also a lot of fun and keep you interested in the game for a while. But if you get tired of playing by yourself, you can join forces with other players from all over the world in the game's multiplayer mode.
With over ten million downloads, Black Desert Mobile is rated 4.1 out of 5 stars on Google Play Store.
9. PUBG Mobile (Free)
The incredible gameplay and graphics of PUBG Mobile, developed by Tencent Games, have made it a household name over the past few years and contributed to its enormous popularity.
The game takes place on a sizable island with various distinct geographic features. After everyone has parachuted onto the map, a border forms that gradually gets smaller over the course of a few minutes. The entire area inside the border is referred to as the "safe zone." If the player doesn't quickly return to the safe zone after leaving it, their health will eventually start to decline at a rate of one second per second.
Red Zones are another feature of the game that appear randomly throughout the map in addition to this. Red Zones are areas that are about to be airstriked, so once they are declared, users must immediately hide or flee the area.
The map itself contains every weapon that a player is able to use. To win a game, players must look for the best weapons to use. There is no shortage of weapons available for users to select in PUBG Mobile, including assault rifles, SMGs and flamethrowers. The game also includes special packages that, like the weapons, can be found on the map at random times. These packages include a variety of primary and secondary weapons, protective gear like jackets and helmets and first aid kits.
Users can play on a variety of maps in PUBG Mobile, each with a different layout. In addition to this, users can explore a wide variety of game modes, such as Payload, 4v4 Arena matches and Infection Mode.
With over five hundred million downloads, PUBG Mobile is rated 4.1 out of 5 stars on Google Play Store.
10. Dead Cells ($8.99)
The last game on our list, Dead Cells, was created by Motion Twin and was first released in 2018. It was ported to Android in 2020. Dead Cells is not your typical dungeon-crawling hack and slash game; instead, it is modeled after Metroidvania games. In these games, you take control of a strange, formless creature that takes control of a dead body in a dungeon and must now fight its way out.
Any prospective player of the game should be aware that Dead Cells is by no means an easy game to play; its combat has been compared to the Souls series. The permadeath system used in the game, which results in the loss of all in-game currency upon death, means that you must essentially start over if your character dies, which it will do more than once, is one of the ways that it challenges you. The primary form of currency in the game is "Cells." Enemies leave behind Cells after they are killed or defeated and these Cells can be collected and used to purchase a variety of power-ups, such as health potions, etc. However, since you lose them all when you die in the game, one must be careful to spend their Cells frequently. You can also amass a variety of weapons, skins, abilities, etc. by battling through the games' dungeons.
Dead Cells' combat is arguably where the game shines best. Combat in Dead Cells is a hailstorm of jumping, running, attacking, dodging and, inevitably, dying. It is fast-paced, full of momentum and there is no time to rest. The design of Dead Cells, including the game's environment and architecture, forces you to move at breakneck speed, disregarding the fact that one wrong move could kill you and send you back to the beginning of the level, robbed of all your hard-earned Cells. Although you could play the game with a little more patience and caution, measuring out each move before you press a button.
Playing through the different Dead Cells levels never gets boring because of the game's massive enemy population and variety of their attacks and movement patterns. Every time you die, it may be discouraging, but it also gives you more motivation to return to the level and dominate your adversaries.
With over five hundred thousand downloads, Dead Cells is rated 4.3 out of 5 stars on Google Play Store.