Game Guides
Black Desert Mobile: A Guide to Resources and Farming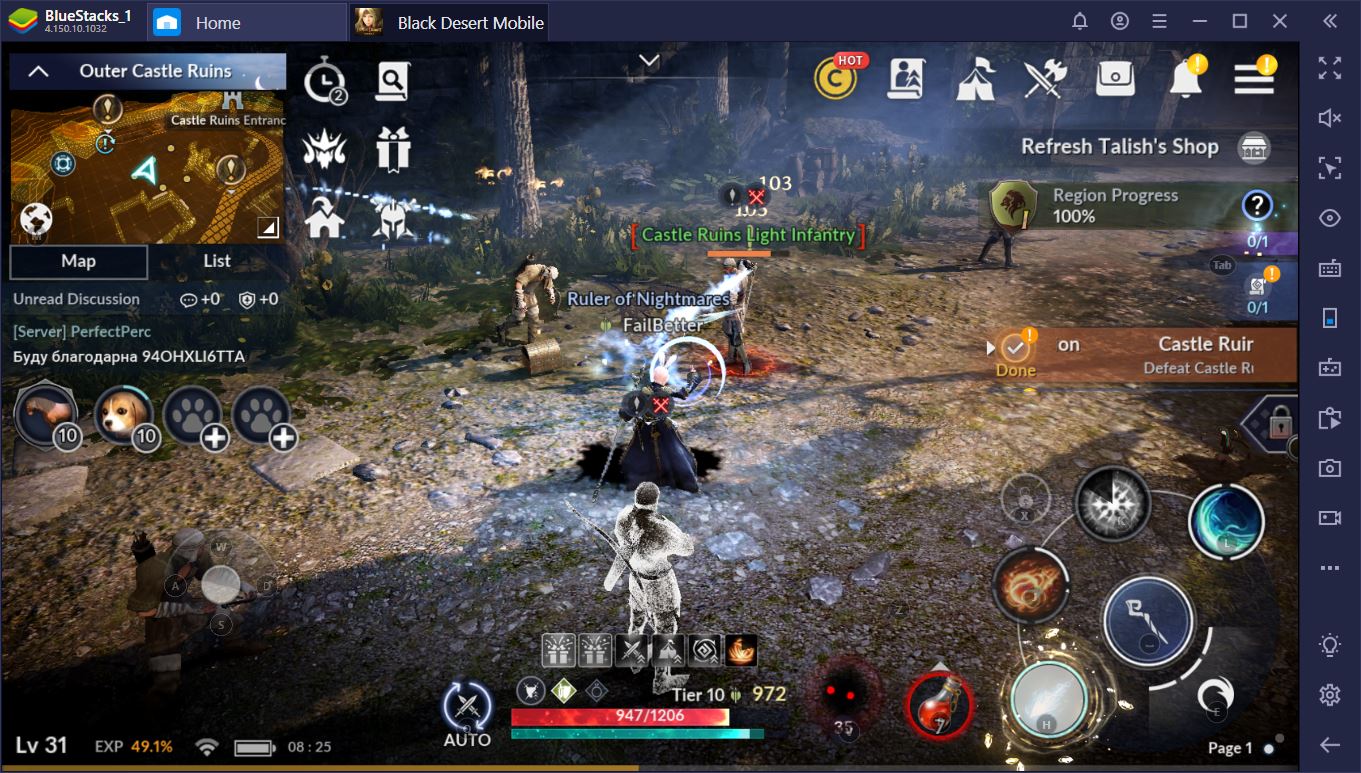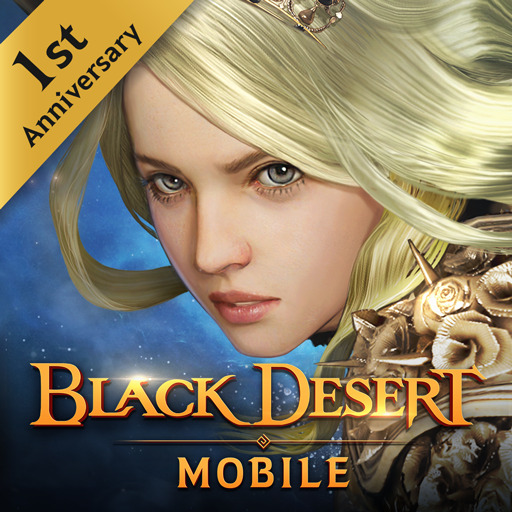 Pearl Abyss' Black Desert Mobile has been out for a few days and the mobile gaming community is in overdrive. Those who had the chance to play the beta continue to praise it as one of the best mobile MMORPGs, while new players are often left with the impression that the devs managed to out-design a lot of PC and console-based games from the same genre. And it's not just the character creation that is downright impressive. The combat system is to die for.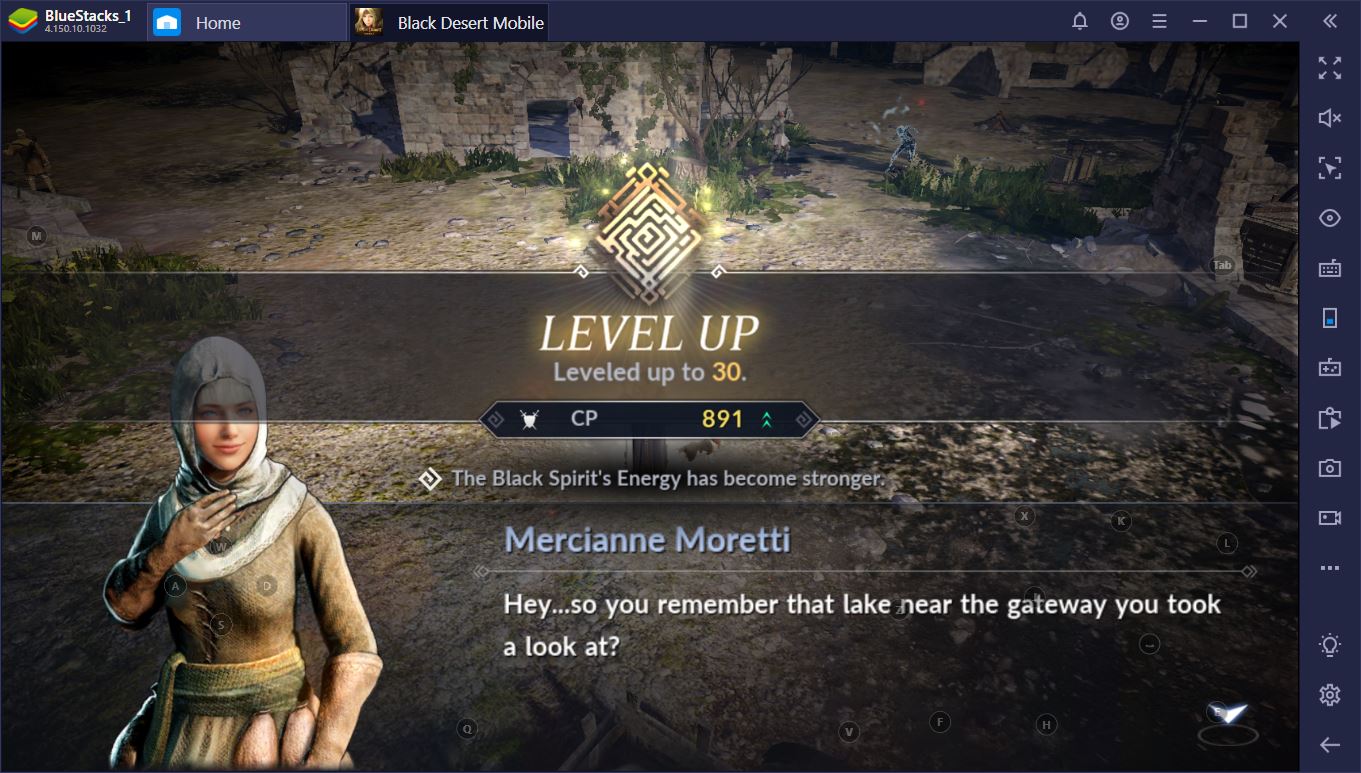 Although the official release has seen its fair share of p2w balancing, which we're decidedly unhappy with, BDM continues to be a thoroughly enjoyable mobile RPG that you can easily play without having to resort to your Google wallet. In this article, we'd like to focus on the three most important currencies in the game (silver, ancient gold coins, and black pearls) and what you can do to accumulate as much of each as possible.
Silver Is the Name of the Game
Since silver can pretty much buy you anything, curtesy of the marketplace, you can never have enough of it. You need it to upgrade your skills, enhance your gear, fuse crystals, upgrade your camp, buy potions, acquire pet food, and more. As a newbie, you might think that your days of becoming a silver bank are way ahead of you, but the truth is that your economy game starts from the very first minute you go around and kill stuff.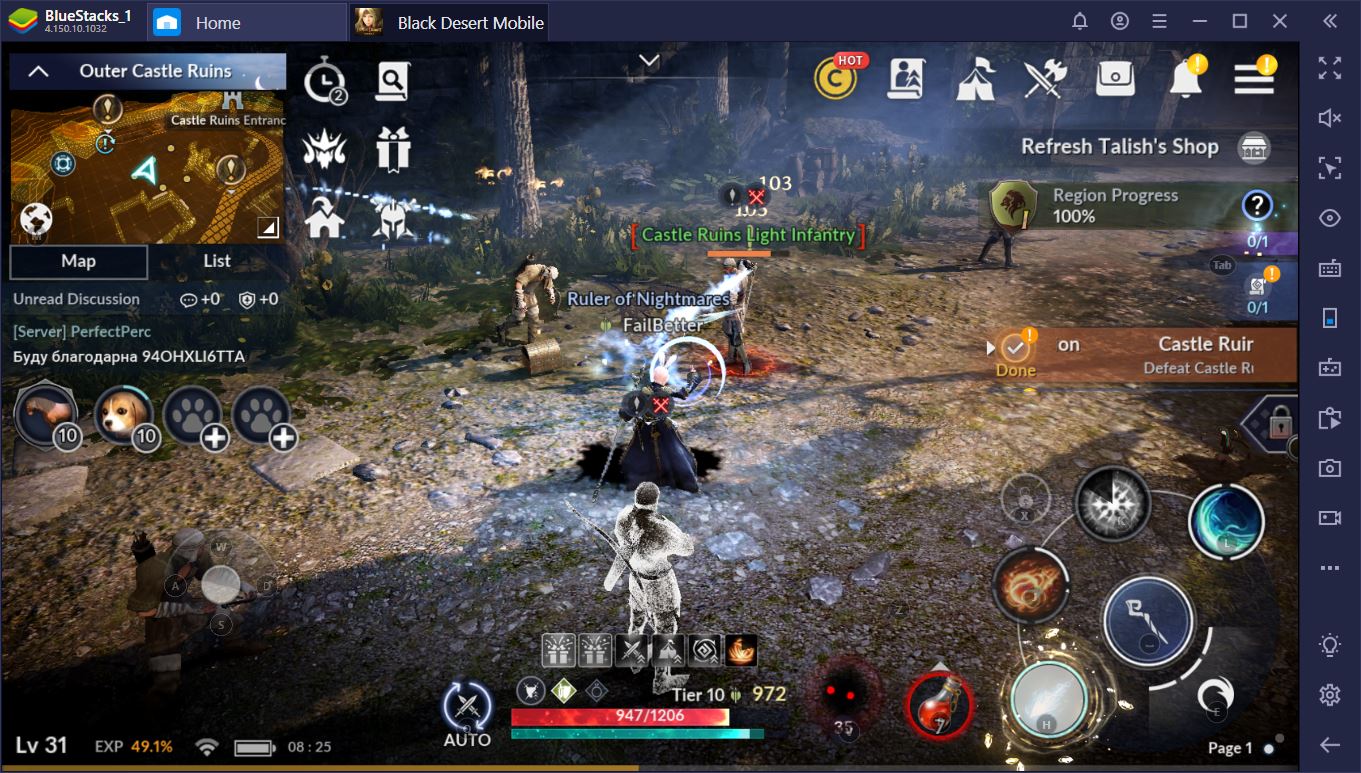 Let's make a quick inventory of how you can amass more silver for your BDM characters:
Town Hall
Once per day, your camp's town hall generously hands out some coin. The amount depends on how upgraded your building is.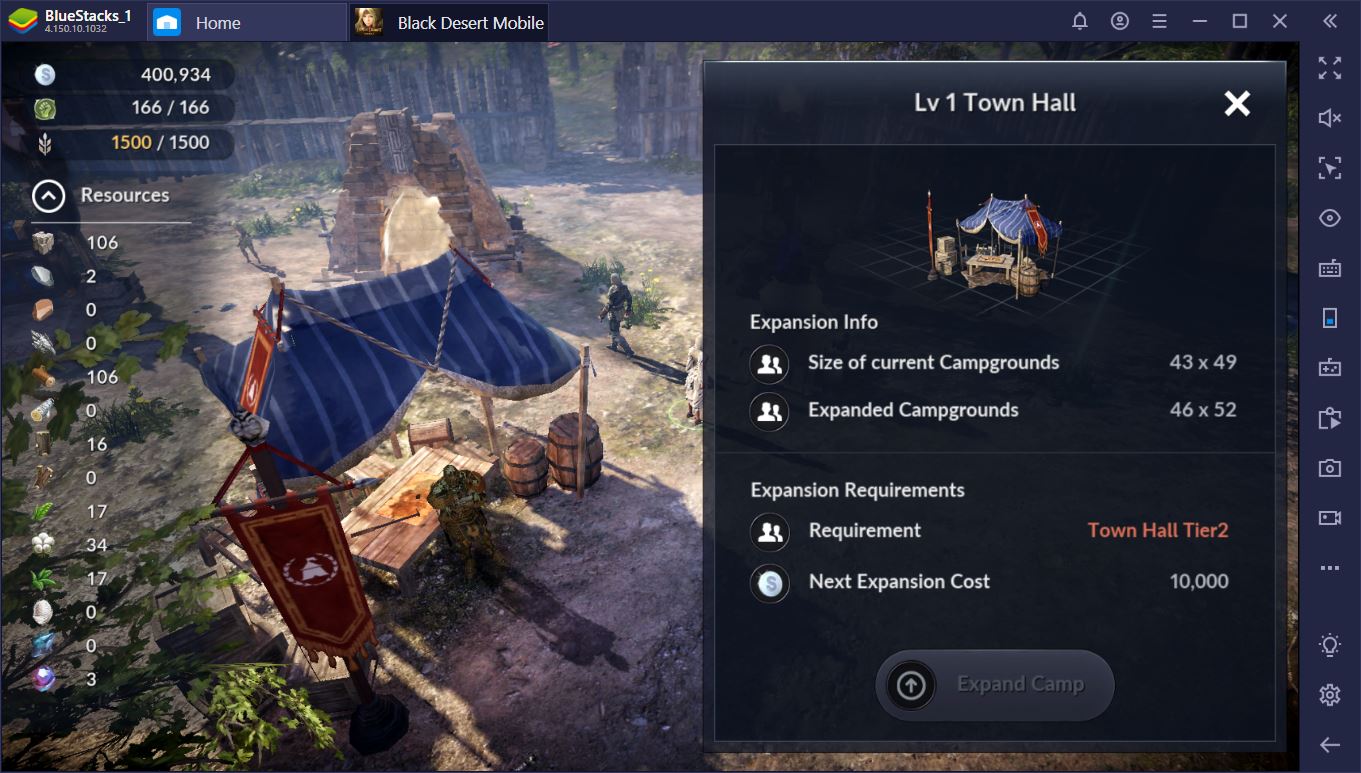 Marketplace Trading
Whenever a new game (or an expansion to an existing one) is launched, there is always a percentage of players who want to make it to the top fast. What this means is that rare gear (from Blue and upwards), as well as the items you need to enhance it (Black Stones of identical rarity) are incredibly expensive. There's nothing special behind this overarching trend – it's just high demand for scarce offer. If you're not bent on being the first, you should absolutely take advantage of this trend. High rarity skillbooks, especially passives, are also a good way to monetize in the first few weeks of the release.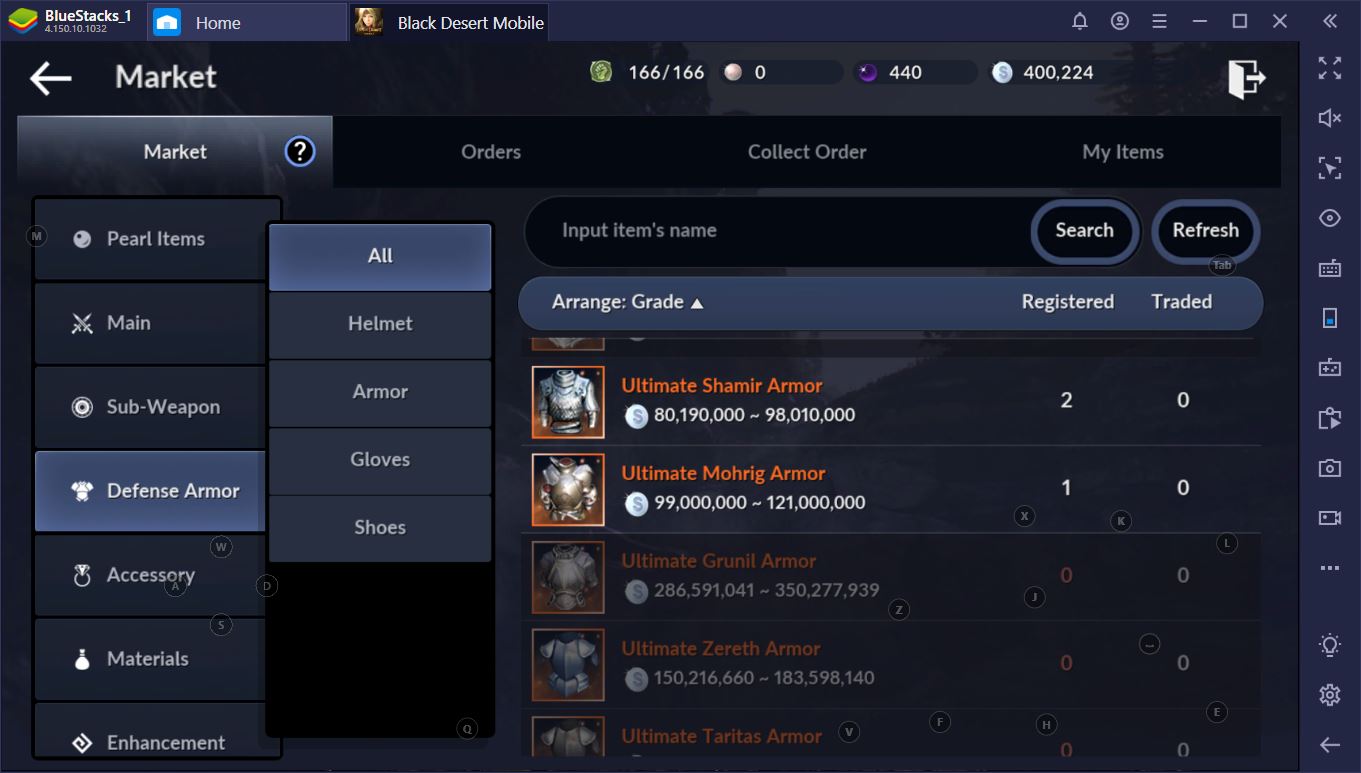 The Blacksmith
Make sure to level your Blacksmith with every occasion. For the reasons stated above, whatever resources you'll need to craft purple and higher quality armor will pay off in spades. For more information about camp life, you can jump to our BDM camp guide.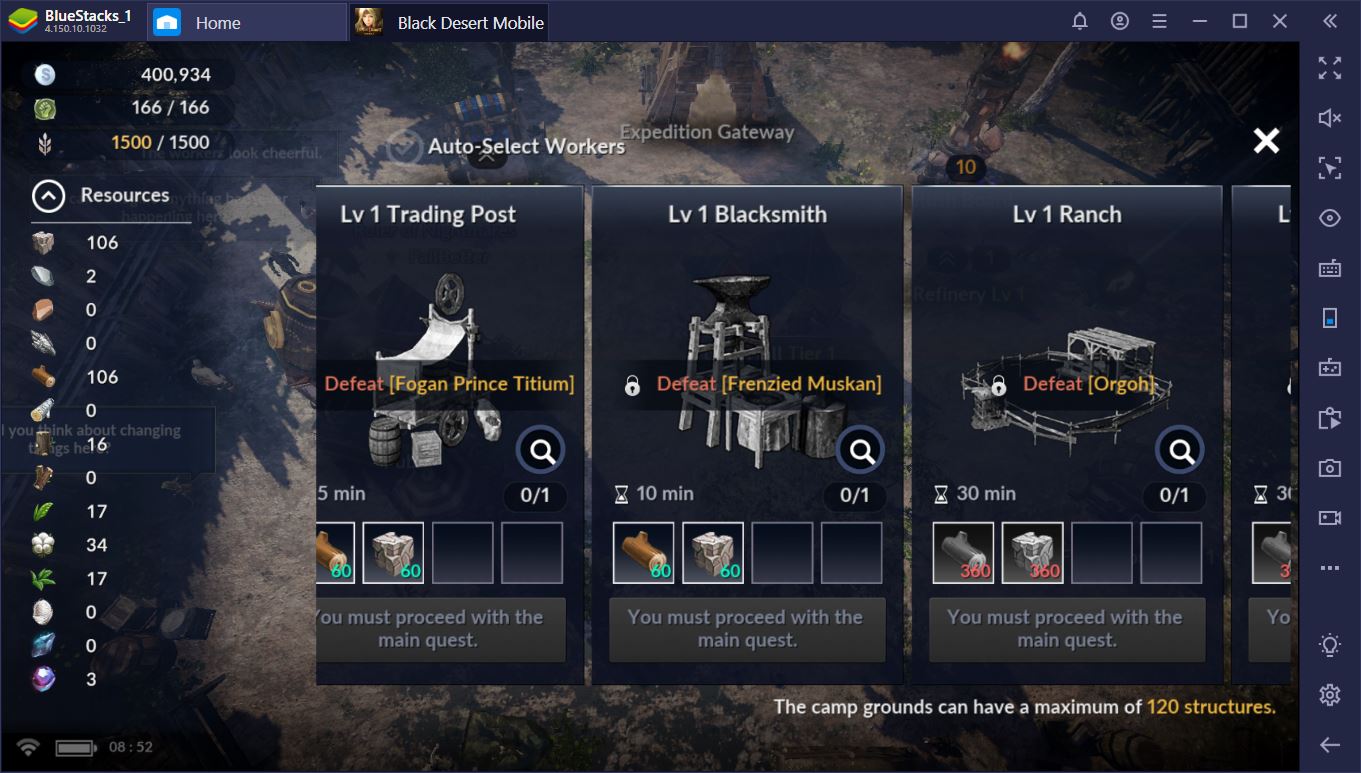 Pearls, Silver, and Gold Coins
Aside from spending tons of silver, the following methods can earn other valuable exchange items. While ancient gold coins are the only currency you can use in Shakatu's Gear Shop, which is your most reliable source of good gear, black pearls are mainly used in the pearl shop, as well as to exchange Boss Rush ticket stamps. You'll want to check the pearl shop quite often, since it gives away incredible deals on a regular basis. Just now, we managed to snatch a purple item, Ronard Earrings, for just 26 BP.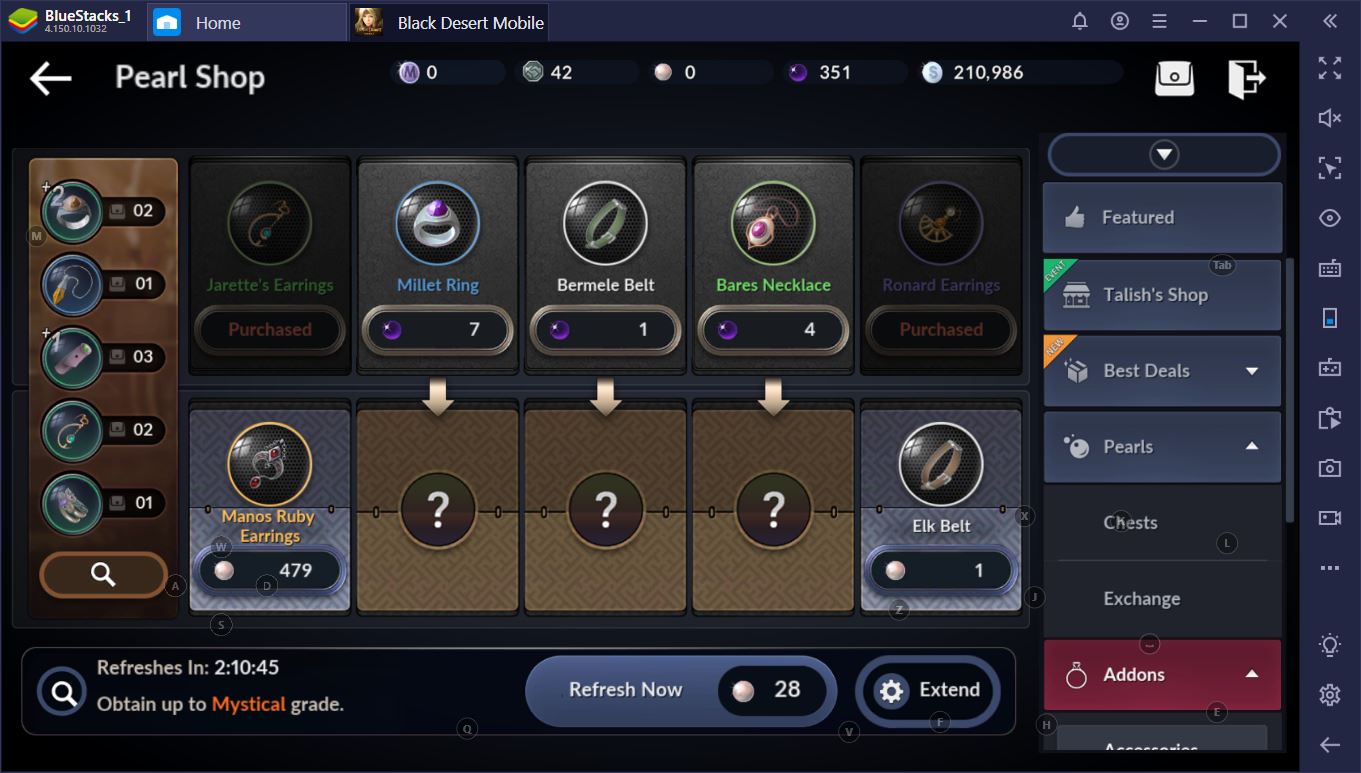 As is, the item sells for 55 to 65 BP on the Marketplace, so we can male over 100% profit. You can do the same with some of the items you get from Shakatu. This Orange dagger we just landed can earn us a handsome 13 million silver in just one go. Since we've just mentioned the Boss Rush, you ought to know that this is also a great place to make your fortune. Clearing all five stages of Al Rhundi will see you gain 72k silver, no less than 6 gold coins, and some useful weapon and armor black stones.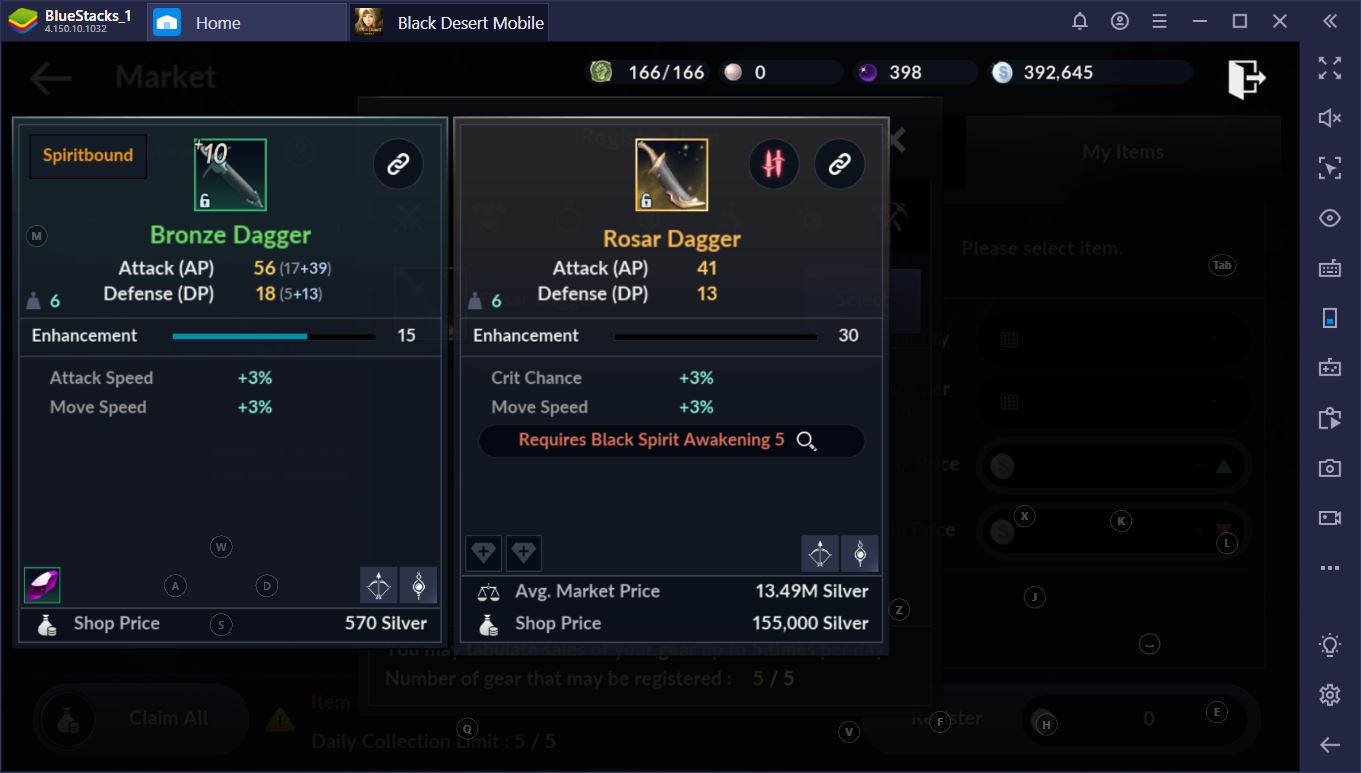 The higher in level you are, the higher difficulty of Boss Rush you can complete, the more bounty comes your way. Ancient Ruins are even better than the solo dungeons, since they give you access to more gold coins, silver, lightstones, and other goodies. The downside is that you'll need 4-5 players to join in. Fortunately, many people are in the quick-join queue, so you won't have to wait more than a few seconds to get in.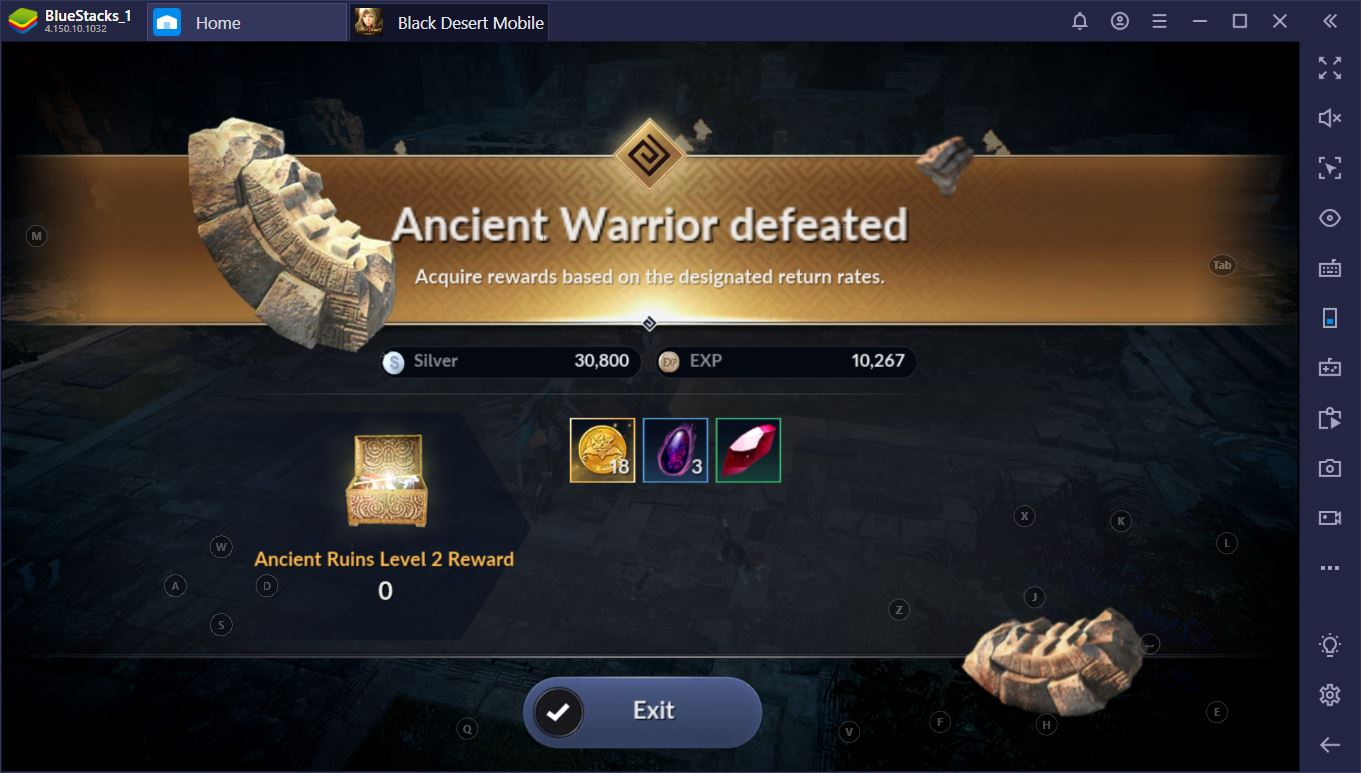 Another incredibly lucrative way to earn both silver and black pearls is to complete achievements. All of them give some of these two currencies, but the Arena Level is, by far, the most outstanding one. At level 10, you get 300k silver. At level 20, you're given 500k. Then it goes up to 700, 900, 1.1 mil and, when you reach 60, a mouth-watering 3.9 million. It might seem like it's an insurmountable task, but this is not the case. What you need to do is keep your character appropriately geared and upgraded for your level, as well as read our guide to PvP combat in BDM.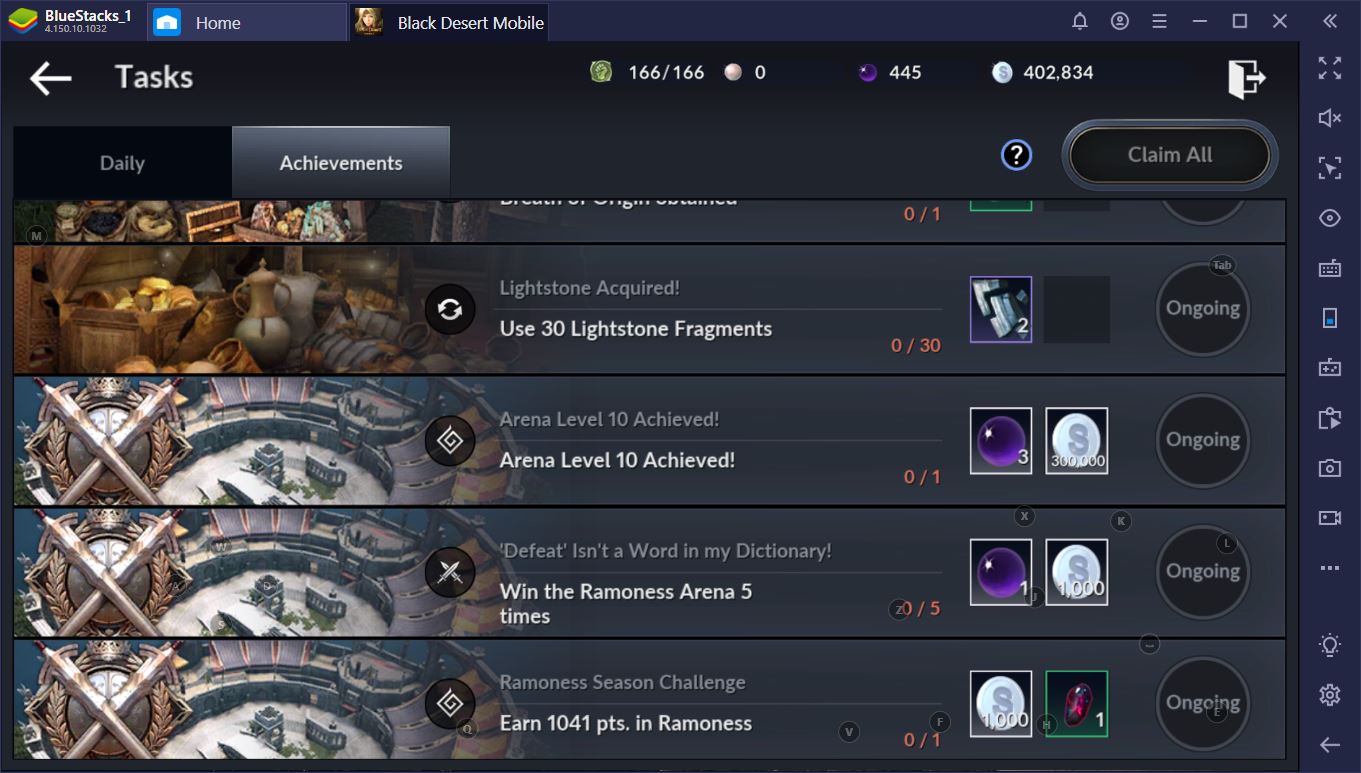 Farm Better and More with BlueStacks
Aside from everything we've said so far, you can also get handsome amounts of silver, gear, skill books, stamps for Boss Rush, and upgrade stones from good old farming. The trick with farming, which you can also do offline with the help of your black spirit, is to find the right spot for your CP. Naturally, Nightmare Mode is much more rewarding, with the downside that you'll likely get killed by higher level characters. A good way to offset this is to join a good Guild and set up farming parties with similarly-levelled people.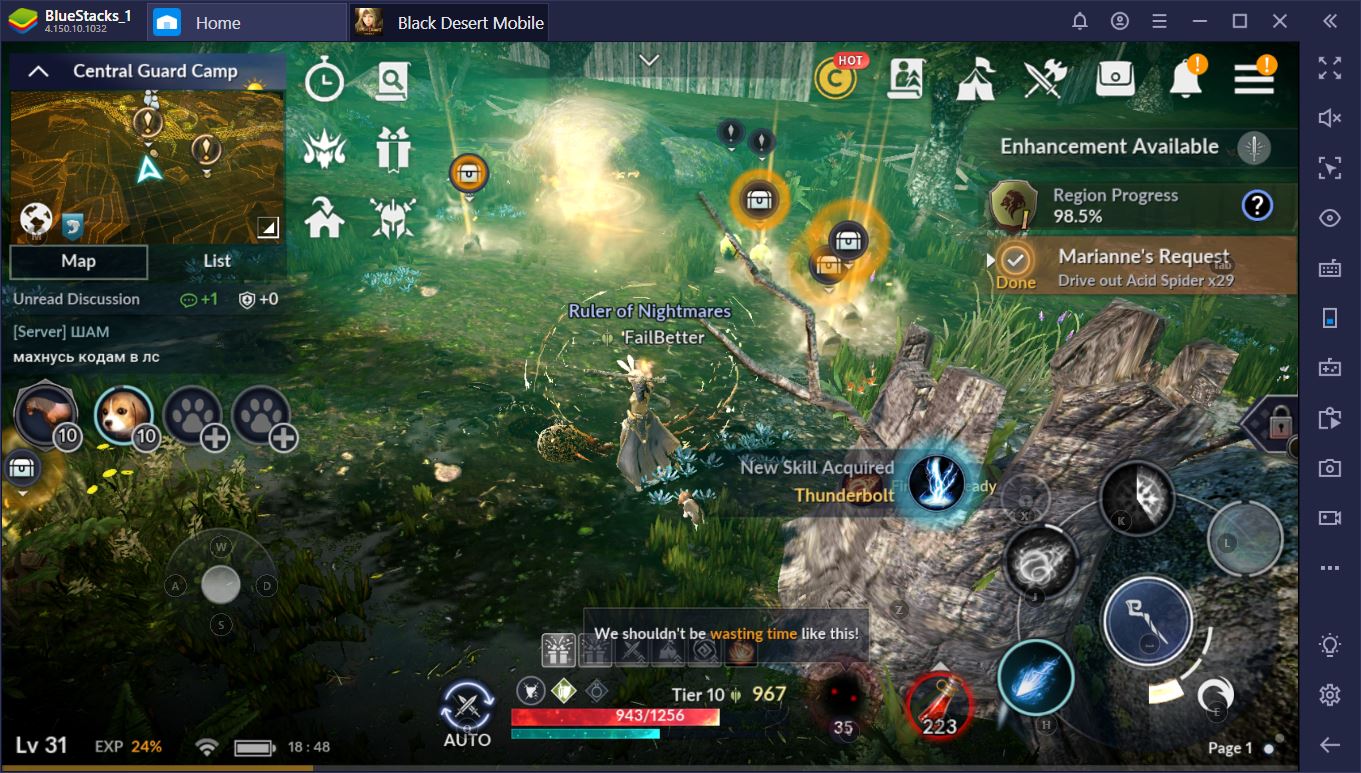 Since you cannot attack members of your guild, these groups decrease your likelihood of your dying – whether because you won't get attacked in the first place or because you'll be harder to kill when surrounded by allies. The downside is that you'll miss out on a lot of loot, since your pet can only gather so much within a limited timeframe.
When you play Black Desert Mobile on BlueStacks, you don't have to enter farm mode at all. You can just go to an area that's a bit under your CP, switch on Nightmare Mode, and check the surroundings for intruders from time to time. If you follow all of the tips we've mentioned so far, you'll be swimming in silver in no time.