Game Guides
Blade & Soul Revolution on PC - How to Get the Most Out of Your Game When Playing on BlueStacks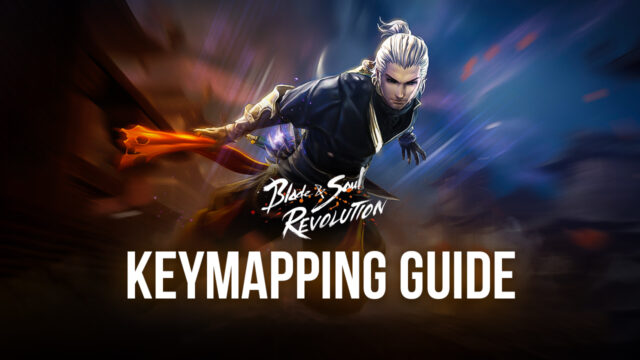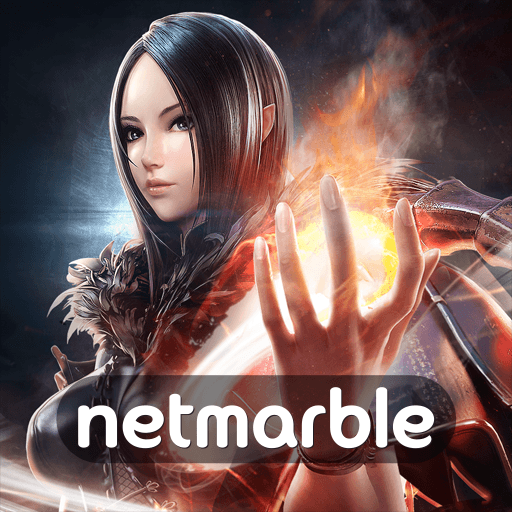 Note: While we'll be talking about Blade & Soul Revolution using BlueStacks 4, this game is already available on the New BlueStacks 5 with much better performance, less resource consumption, and more stability. Download the Latest Version of our Android emulator and give it a try!
Despite one of the main strengths of mobile gaming being the fact that you can enjoy simplistic games that don't require much in the way of skill, from virtually anywhere in the world, there are some titles that go against the grain and actually offer complex and intricate mechanics that rival that of PC and console games. Blade & Soul Revolution is one of such games that, just like with Black Desert Mobile, aspires to break free of the inherent restrictions of the platform, and allows players to enjoy a deep and intense combat system where every input is crucial to your success.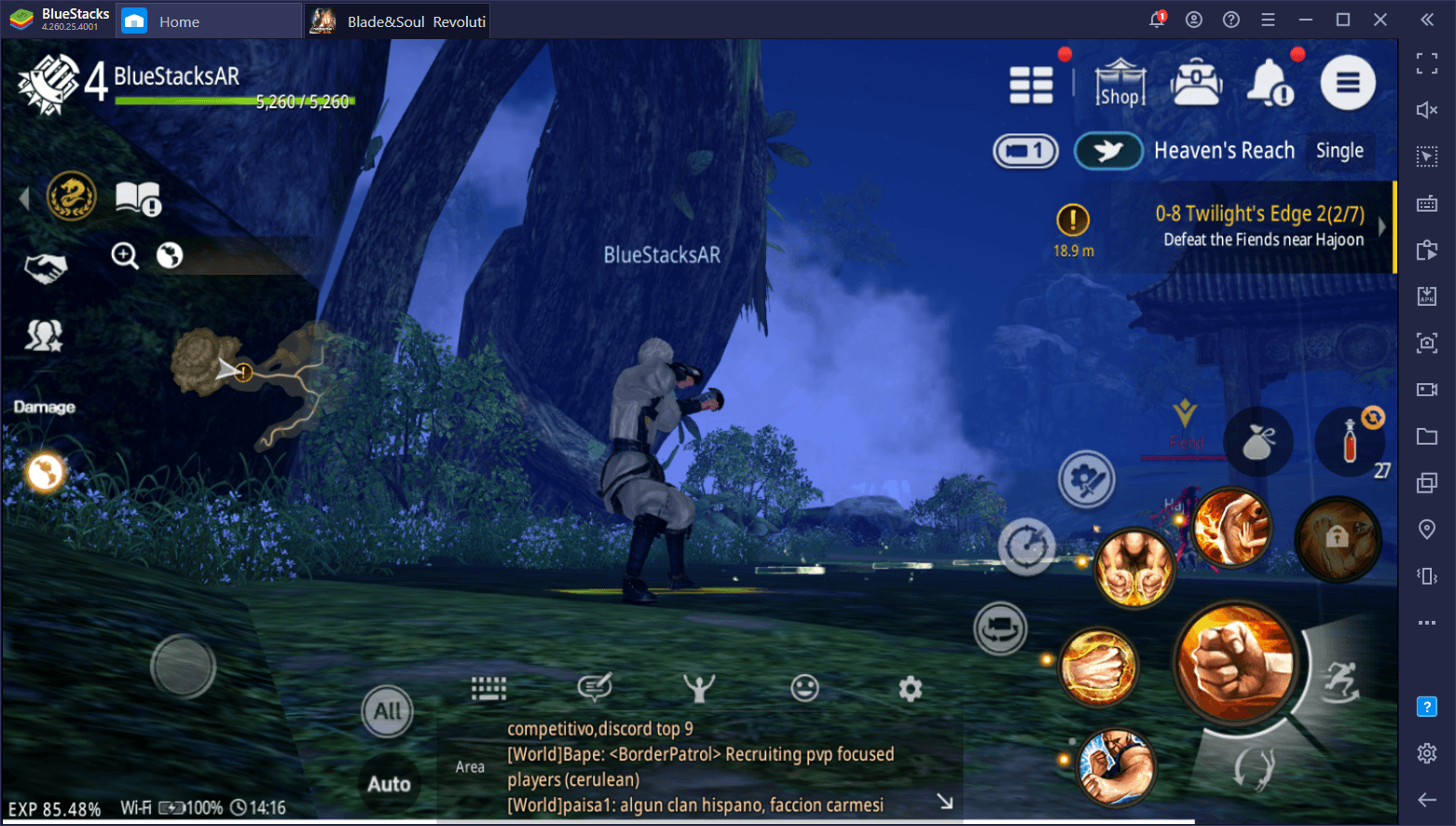 However, even with the ambitious scope of the game, Blade & Soul is still held back by these restrictions, such as having to use touchscreen controls, and requiring powerful and expensive phones if you want decent performance and passable graphics. Luckily, this is not the same when you play Blade & Soul Revolution on PC with BlueStacks.
Our powerful Android emulator is not only faster than even the most expensive phones, but it also lets you enjoy your favorite mobile games on your large monitor, and with mouse and keyboard. Moreover, it also has lots of different tools that you can use to enhance your experience with any game, with the Keymapping Tool being one of the most important for Blade & Soul, specifically.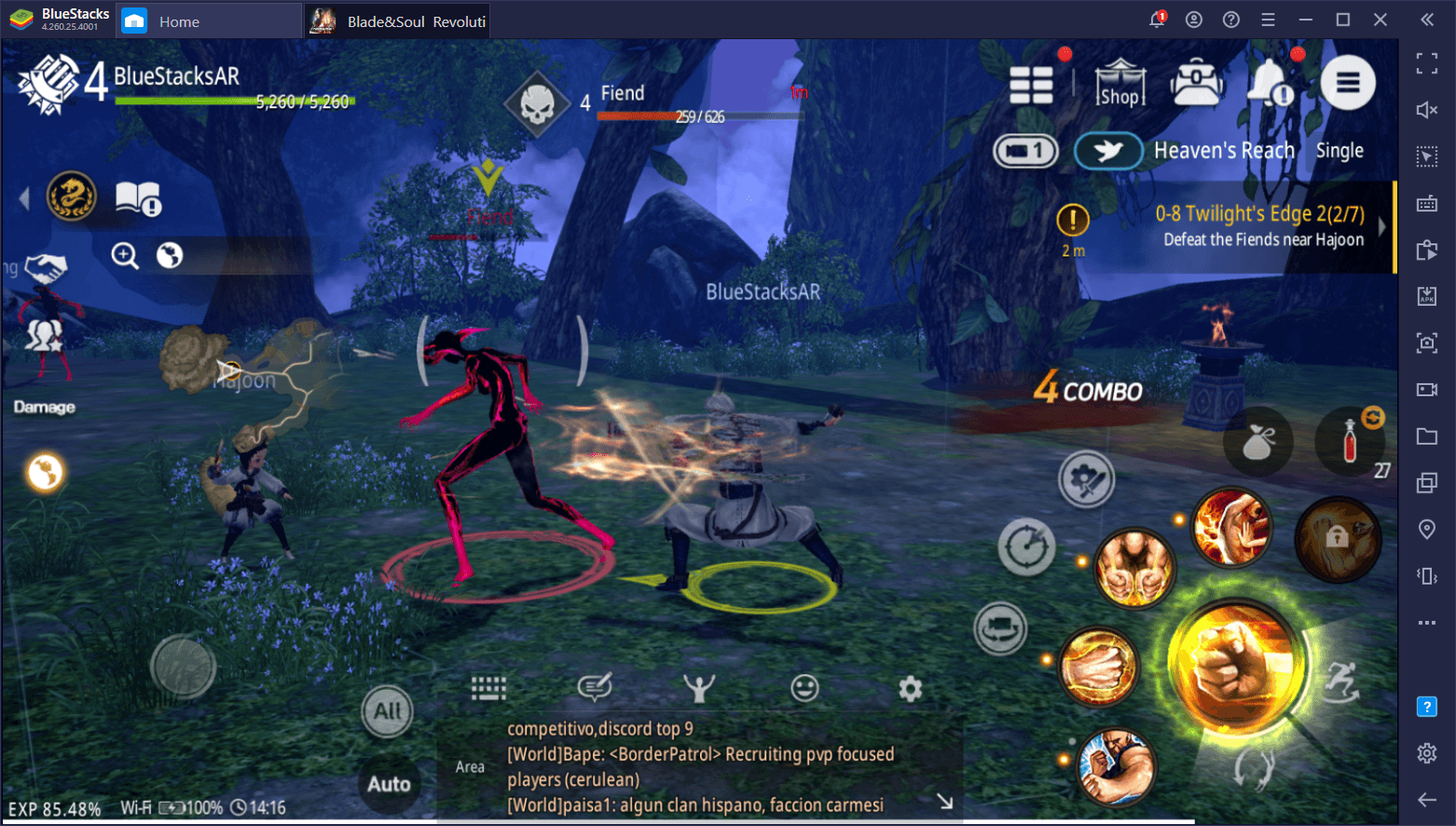 In this article, we'll be showing you how to use BlueStacks' features to improve your controls in this game, and make it much easier for you to run, dodge, unleash powerful combos, and defeat all your enemies.
Using The BlueStacks Keymapping Tool
As we mentioned just now, the Keymapping Tool is crucial for Blade & Soul Revolution, mainly because it allows you to control your character using your mouse and keyboard.
With a combat system as complex and intricate as the one in this game, having proper controls will be essential for not only dealing tons of damage, but also for getting out of the way of enemy attacks and staying alive for longer. This is because, instead of having to clumsily swipe and tap on your small phone screen, you can control all the action with your mouse and keyboard, just like with a regular action game on your PC.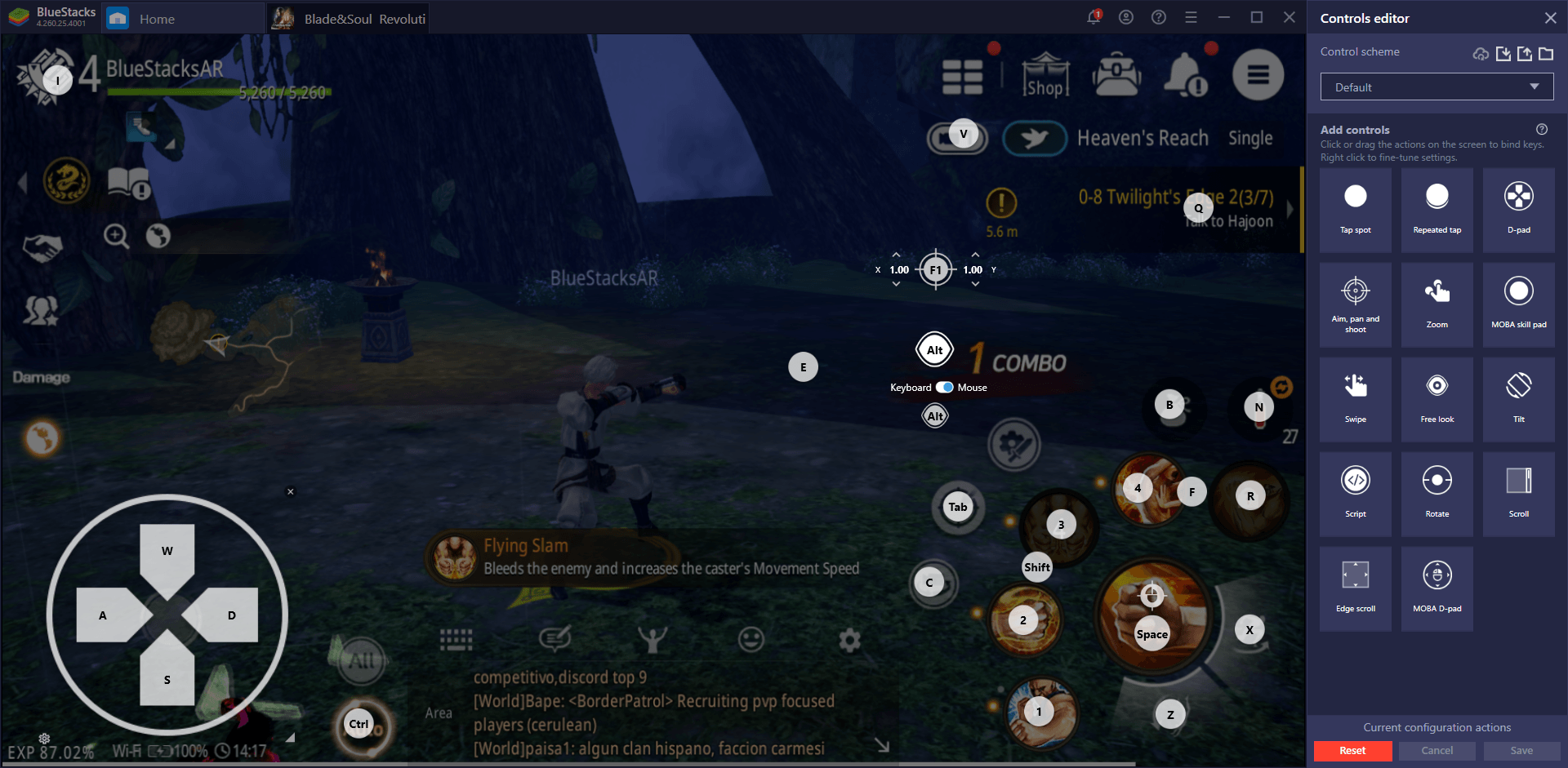 When you first boot up the game, you might notice that there are already a bunch of predefined shortcuts set up beforehand. This base control scheme is created by our team at BlueStacks, and covers most of the basic features of the game. However, in a game like Blade & Soul, it's hardly sufficient when it comes to the complex combat system. Fortunately, you can access the Keymapping Tool at any moment by pressing Ctrl + Shift + A, where you can add more shortcuts on the screen, or modify existing bindings.
To add more shortcuts, you simply need to drag the desired function from the panel on the right to anywhere you need on the screen, and then give the new function a binding on your keyboard. As you level up in the game, you might unlock more skills and features that aren't covered by our basic control scheme, so knowing how to add your own shortcuts will be essential for this game.
Keep in mind that, by right clicking on any of the shortcuts you have placed on the screen, you can access the element's properties and, in some cases, will be able to adjust its values to tweak its behavior. You won't have to do this for the most part, but it's worth knowing in case you need to perform slight adjustments.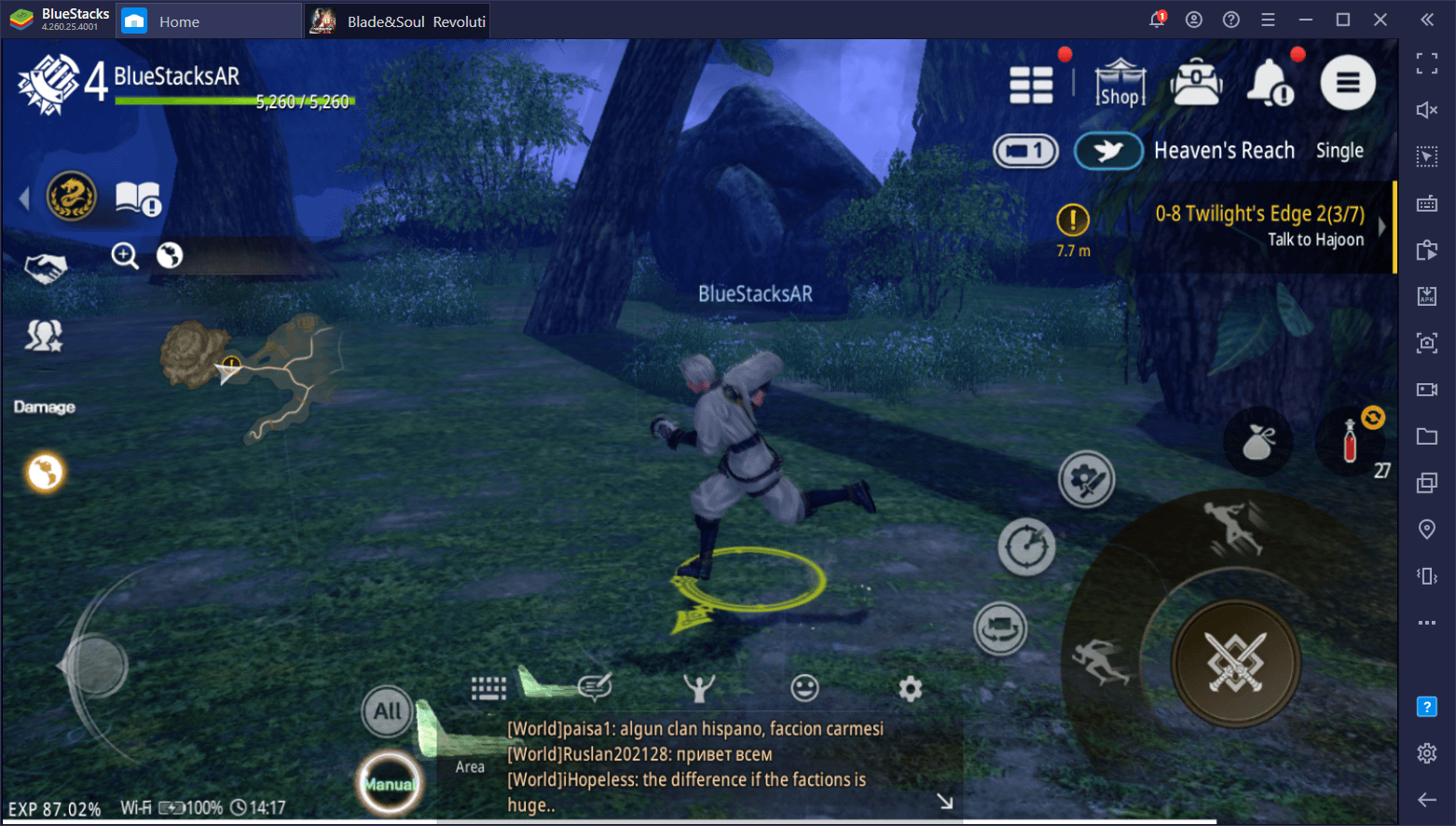 Once you're done configuring your new shortcuts, make sure to click on "Save" to store your changes. Otherwise, you'll lose everything you added. Also, remember that you can also toggle the controls overlay on your screen by pressing Ctrl + Shift + F6 at any moment. This will be useful for when you're still learning the controls and need a visual aid to discern what each button does.
The Aim, Pan, Shoot Feature in Blade & Soul
When it comes to the Keymapping Tool, this aspect has several features that are specifically designed to improve your experience with certain games and genres. Some of these aspects include the MOBA Skill Pad, the MOBA D-Pad, the "Free Look" feature, and the "Aim, pan, and shoot" function, among a few others. Out of all of these, however, we want to bring the latter one to your attention.
Despite being used mostly in shooters, this feature actually works very nicely in Blade & Soul Revolution since it allows you to control the camera simply by moving your mouse, like in a shooter game, and to perform basic attacks with your left mouse click, as well as giving you access to your skills with the regular number buttons. The result is a control scheme that emphasizes precision, enhances your reaction times, and makes it easier to execute devastating combos.
To use the "Aim, pan, and shoot" feature, simply follow these steps:
Open the Keymapping Tool and drag the feature from the panel and place it anywhere on the screen.

Right click on the placed icon to access its properties and check the "Fire with mouse left" box.

Make sure to click and drag the icon beside the checkbox and place it where your attack button is located. This step allows you to attack by using your left mouse button while Fire Mode is active.

Every time you want to activate this feature, simply press the corresponding button (F1 by default), which will make your cursor disappear and allow you to move the camera, as well as perform basic attacks, using your mouse exclusively. Press F1 again whenever you wish to turn it off and return to using your mouse cursor.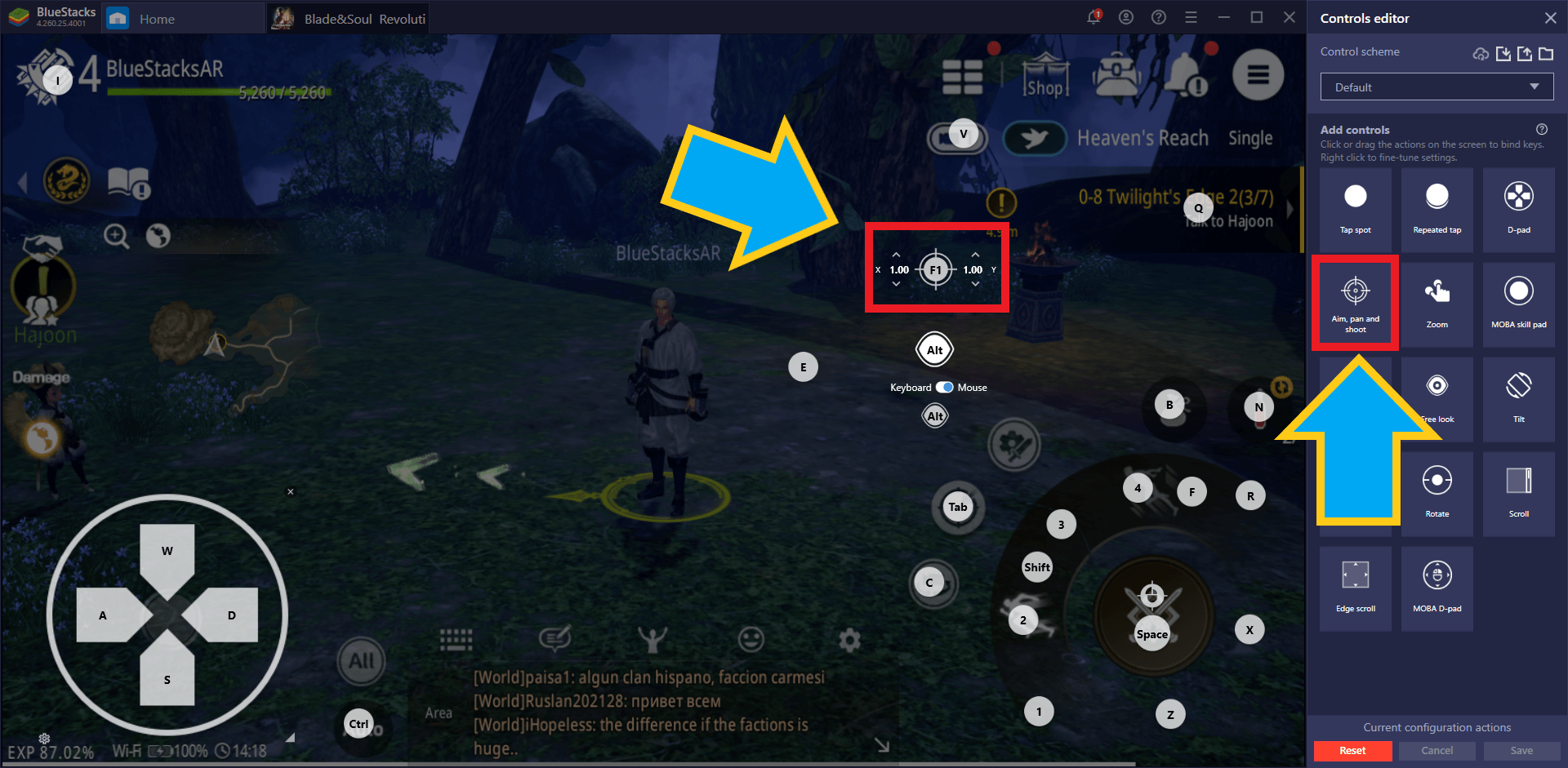 Drag the 'Aim, pan, and shoot' function anywhere on the screen.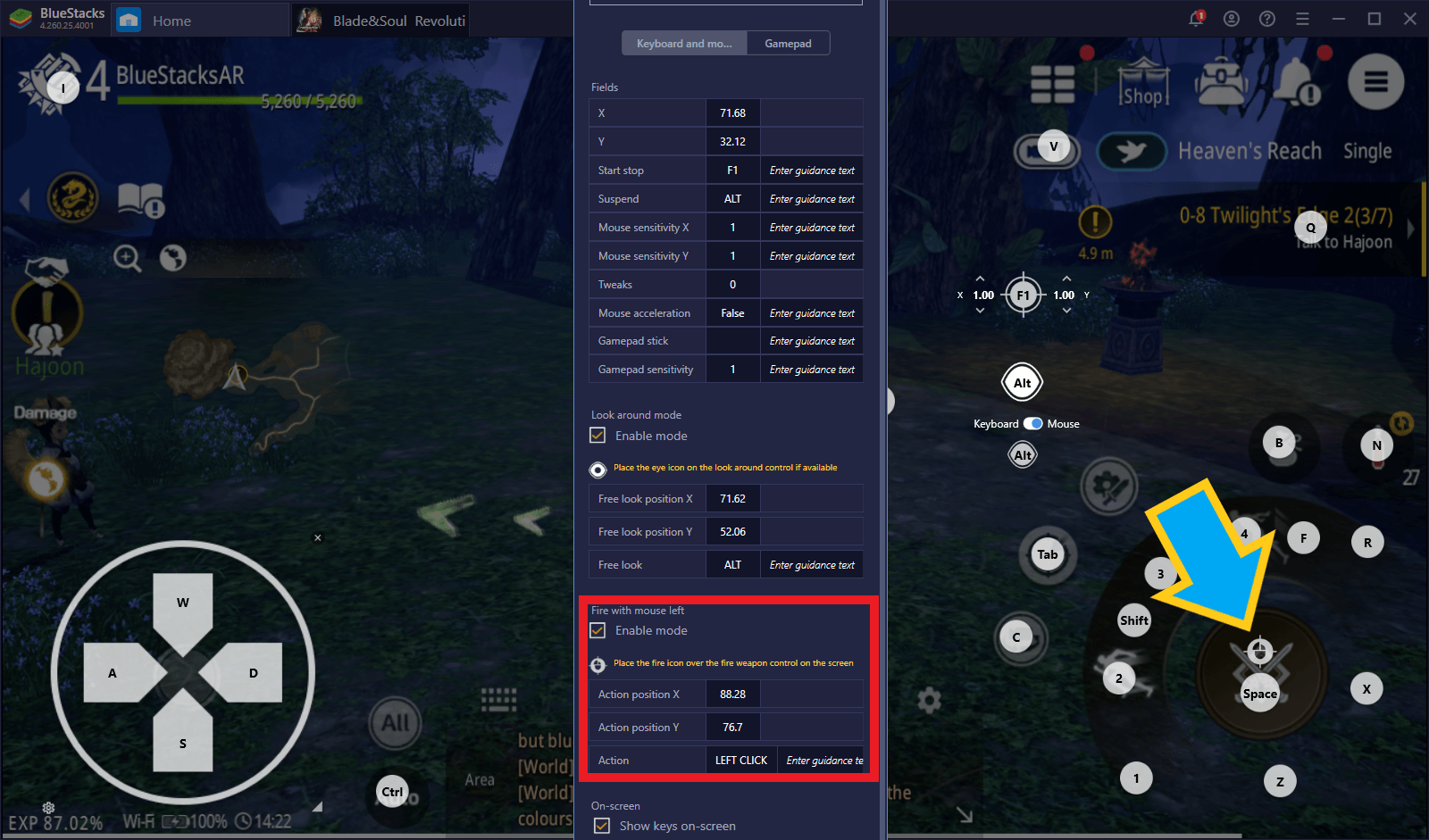 Right click the function to open its settings, activate "Fire Mode" and drag its icon onto your attack button.
If you're just starting out, keep in mind that, aside from the aforementioned in-game overlay that you can toggle on and off, you can also always keep your controls in view at all times through the Game Guide by pressing Ctrl + Shift + H while in-game. This is a less intrusive way of viewing your controls at all times, which is great for beginners that appreciate keeping their screen clutter-free.
The Keymapping Tool is a fantastic feature for any game, but particularly so for titles like Blade & Soul Revolution, which rely heavily on accurate inputs and fast reaction times. Let us know in the comments below if you have any questions about this feature and we'll be happy to help!