Game Guides
BLEACH Mobile 3D on PC: The 8 Essential Tips & Tricks for Beginners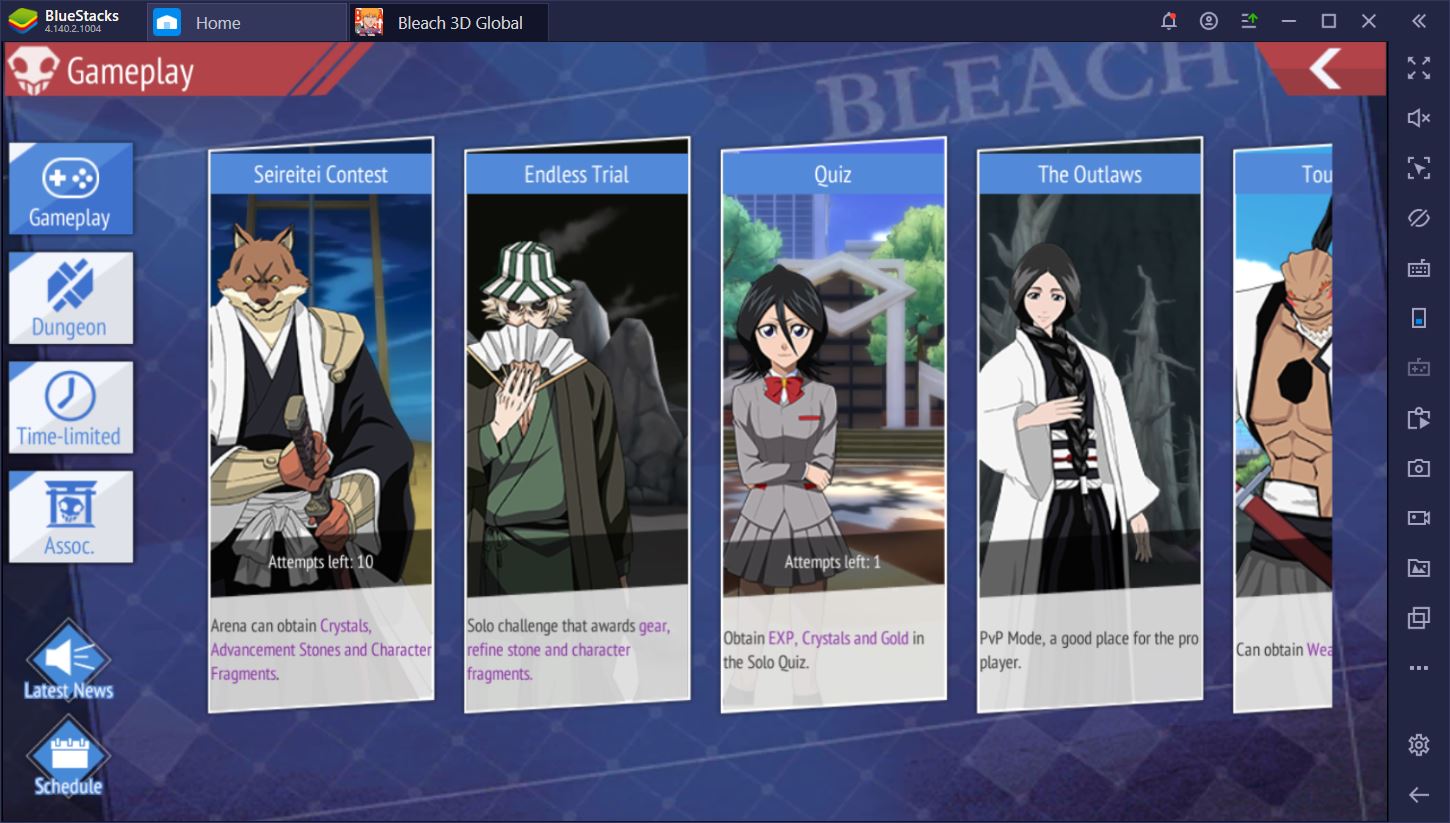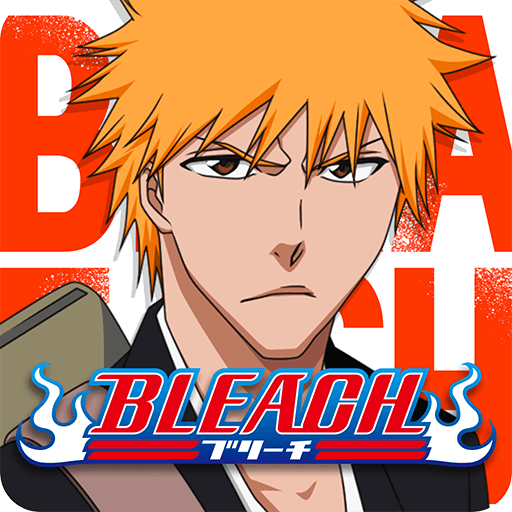 Bleach Mobile 3D is a semi-open world mobile RPG inspired by the Bleach universe and designed to give fans of this anime the opportunity to explore the story of a soul reaper agent first-hand. Often compared to Bleach: Brave Souls, this new release is allegedly more generous in terms of SR and SSR drop rates, but you shouldn't let the appearances fool you.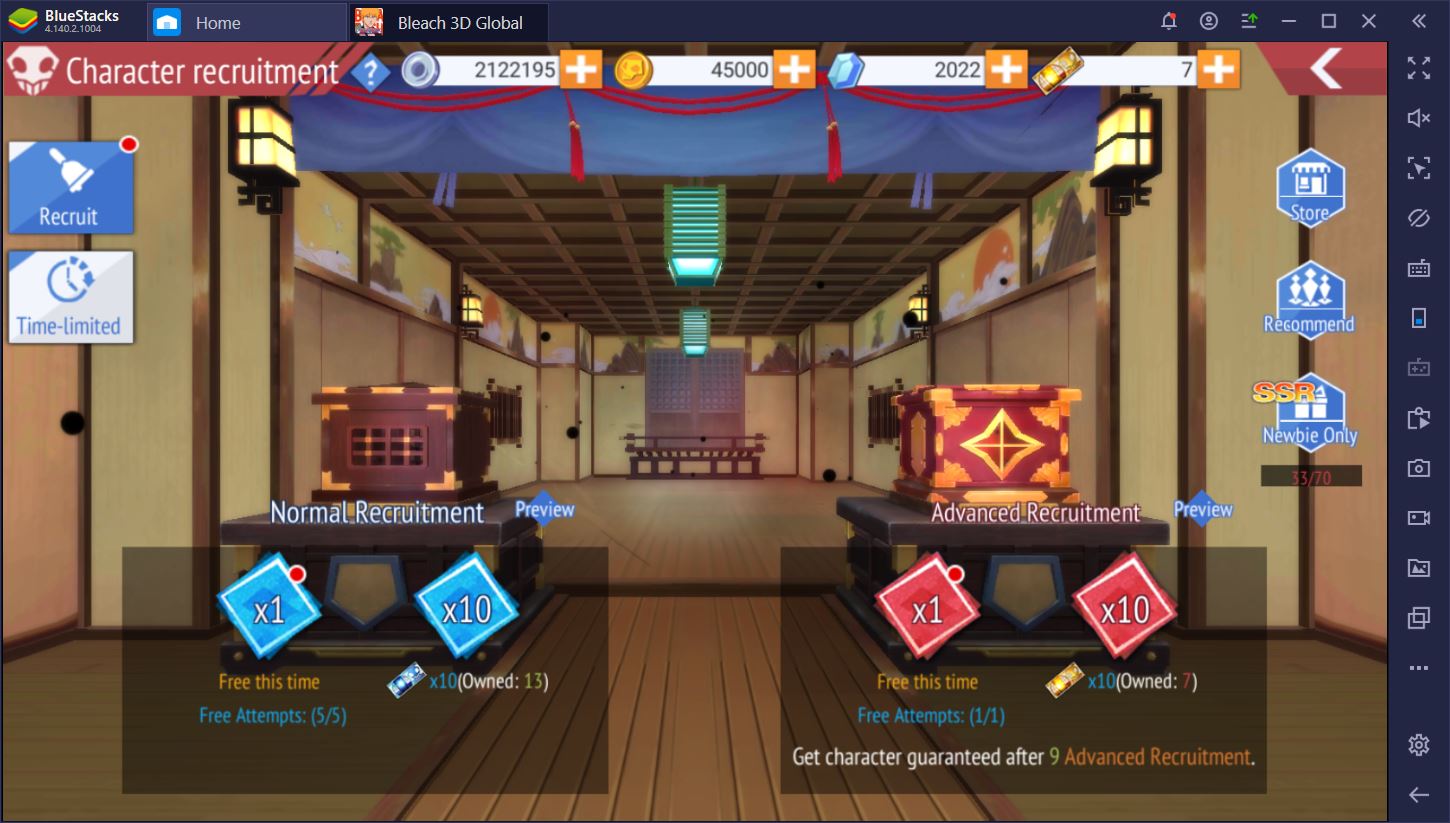 Although it may be easier to obtain characters in Bleach Mobile 3D, upgrading them is a long, arduous, and potentially expensive journey. Especially if you're an F2P player like us, you'll want to learn the basics before you start wasting rare resources on starter characters that will soon hit the dustbin. That's why we've put together these essential tips that will carry you through the early-game and set you up nicely for a satisfying playthrough.
1. Hoard Upgrade Materials
Can't stress this one enough. When you start a new game, Bleach Mobile 3D will throw a handful of rare upgrade materials your way and you'll be tempted to use them on your starter characters – Ichigo Kurosaki, Yasutora Sado, and Uryu Ishida. Unfortunately, these R-rated soul reapers are not nearly as useful as they seem and it would be a waste to upgrade them any further than necessary to progress through the first 3 campaign chapters.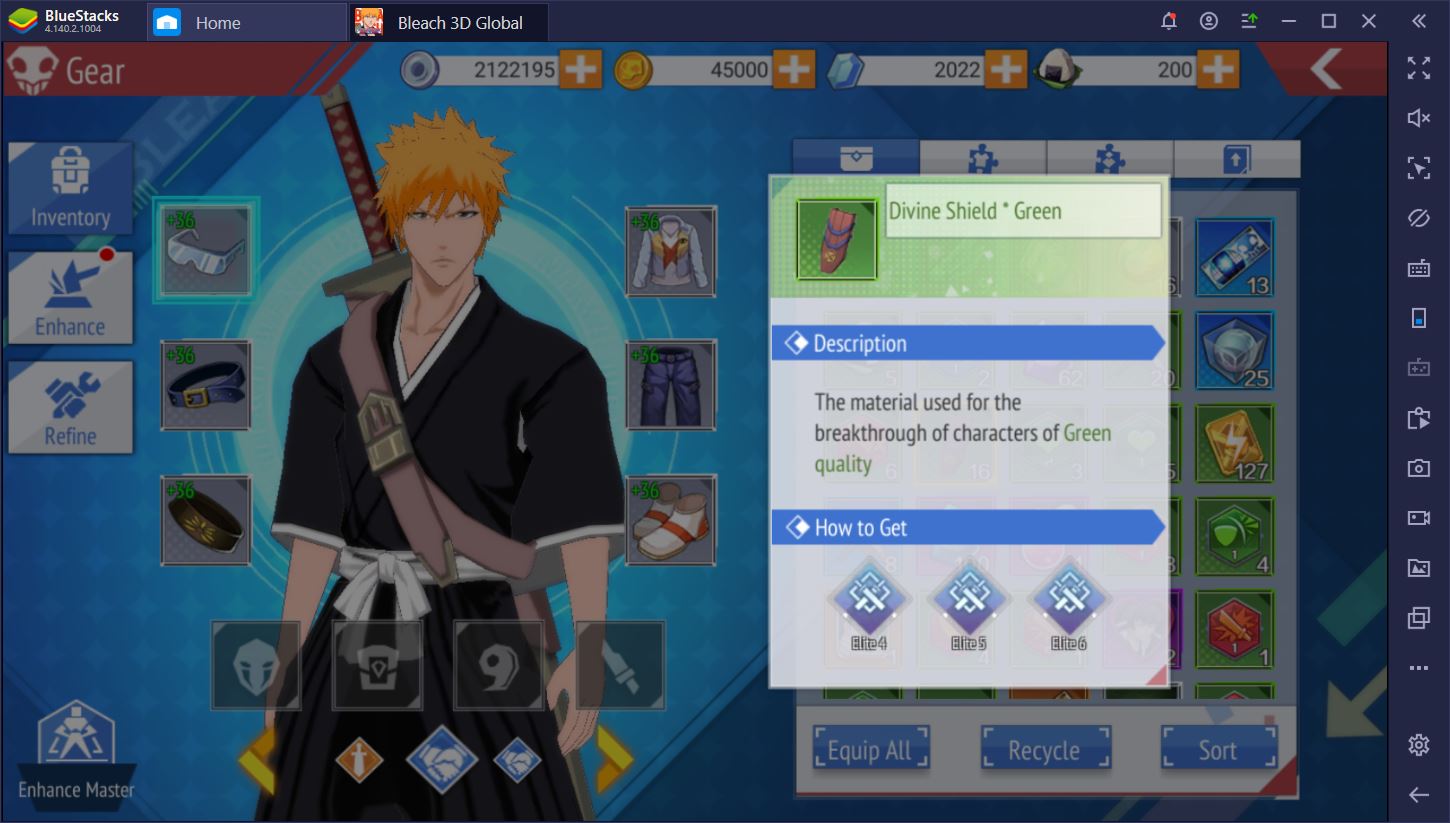 Over your first week, you'll have the opportunity to earn dozens of Advanced Recruit Tickets, which will eventually land you an SSR at the very least. Save all the upgrade materials you don't absolutely need for better characters because these resources are as scarce as they get.
2. Join an Active Association
Like with most mobile games, you can have more fun if you join a group of like-minded people who love Bleach just as much as you do. Not only does this allow you to meet and engage with other players, but it also unlocks several new game modes, which you can use to earn more resources and upgrade your main team.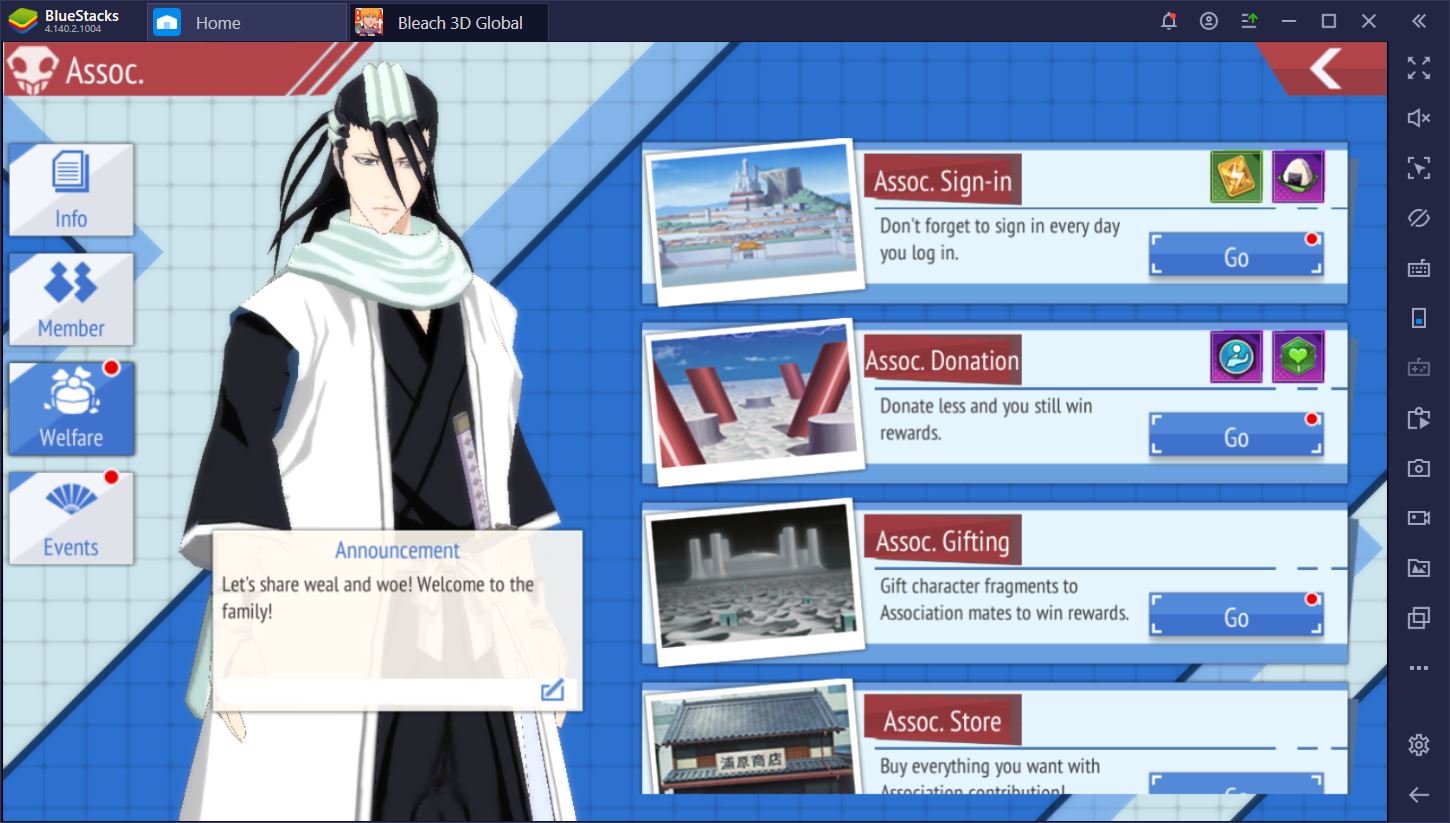 Every day, donations from assoc. members are counted towards a meter that grants varying amounts of Association Points at different intervals. The more active your assoc. is, the more points you will be able to accumulate and then spend in the Assoc. Shop. At the very least, you'll want to buy the Advanced Recruit Ticket (3000 points) from this shop every day.
3. Add More Friends
It's good to know that there's someone there to help you out with a multiplayer dungeon when you need it, but adding friends in Bleach Mobile 3D also fulfils another purpose. If, in other mobile RPGs, the currency you get from friends is more or less useless, in this game, friends can each send you 1 Stamina per day and you can do the same for them.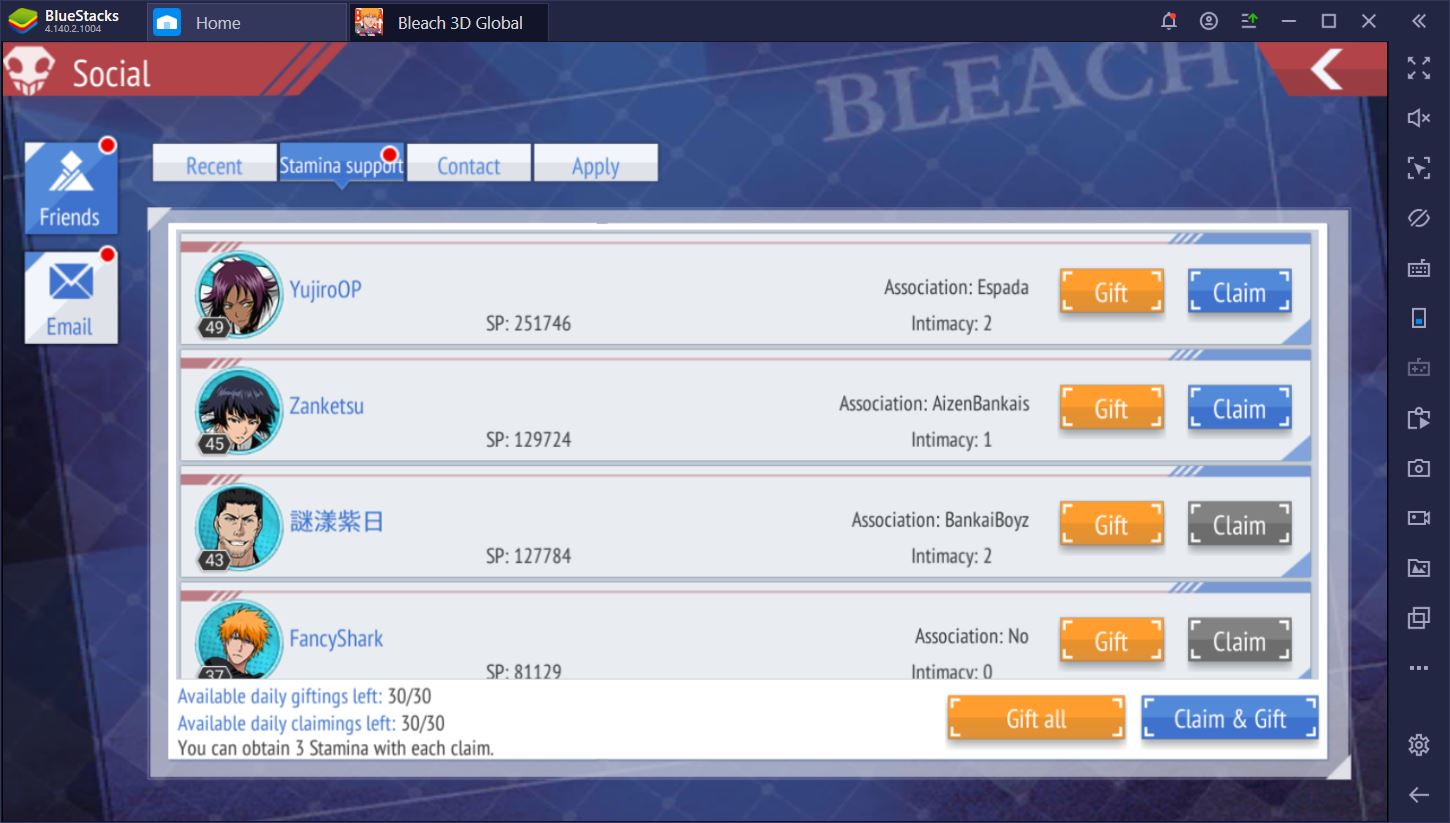 Although this might seem little to begin with, you can earn 30 Stamina each day in this manner, which is no small feat.
4. Complete All Daily Missions
Daily missions give out all kinds of useful rewards, from Silver to Gold, XP, regular Recruit Coupons, and more. However, what you really want from these missions is to earn Activity Points, which can land you a Treasure Chest (200 points) that includes 1 Advanced Recruit Ticket and additional goodies each day.
5. Access Miscellanea Upgrades
All players are more or less familiar with the main character screen and the upgrades that can be made there. Yet these are not the only ways to improve both the SP of your agents and your overall SP. For example, the Accessory feature can only be accessed from the main screen, while the "Moniker" (or player title) is hidden in the Player Info tab that can be accessed by clicking your profile picture.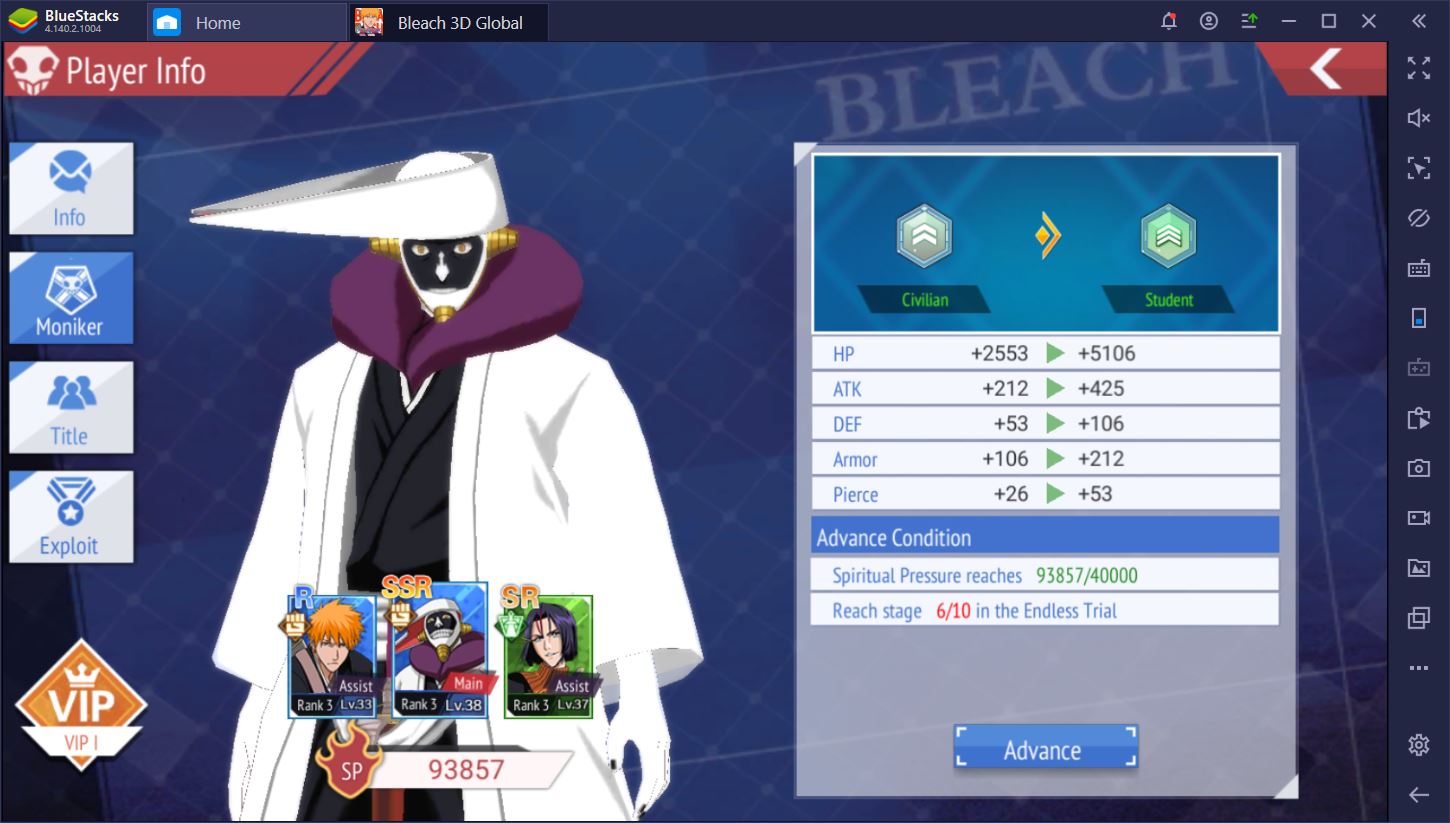 Although slightly more difficult to reach, these features and several others can improve your stats and overall SP.
6. Collect All the Freebies
Just like the different methods to increase your SP, freebies are scattered across several menus in Bleach Mobile 3D. First, you have the "Welfare" tab where you can access your Daily Sign-In rewards, as well as your 8-Day Login Rewards, and your Online Rewards. Once every 4 days, the latter will land you no less than 5 Advanced Recruit Tickets.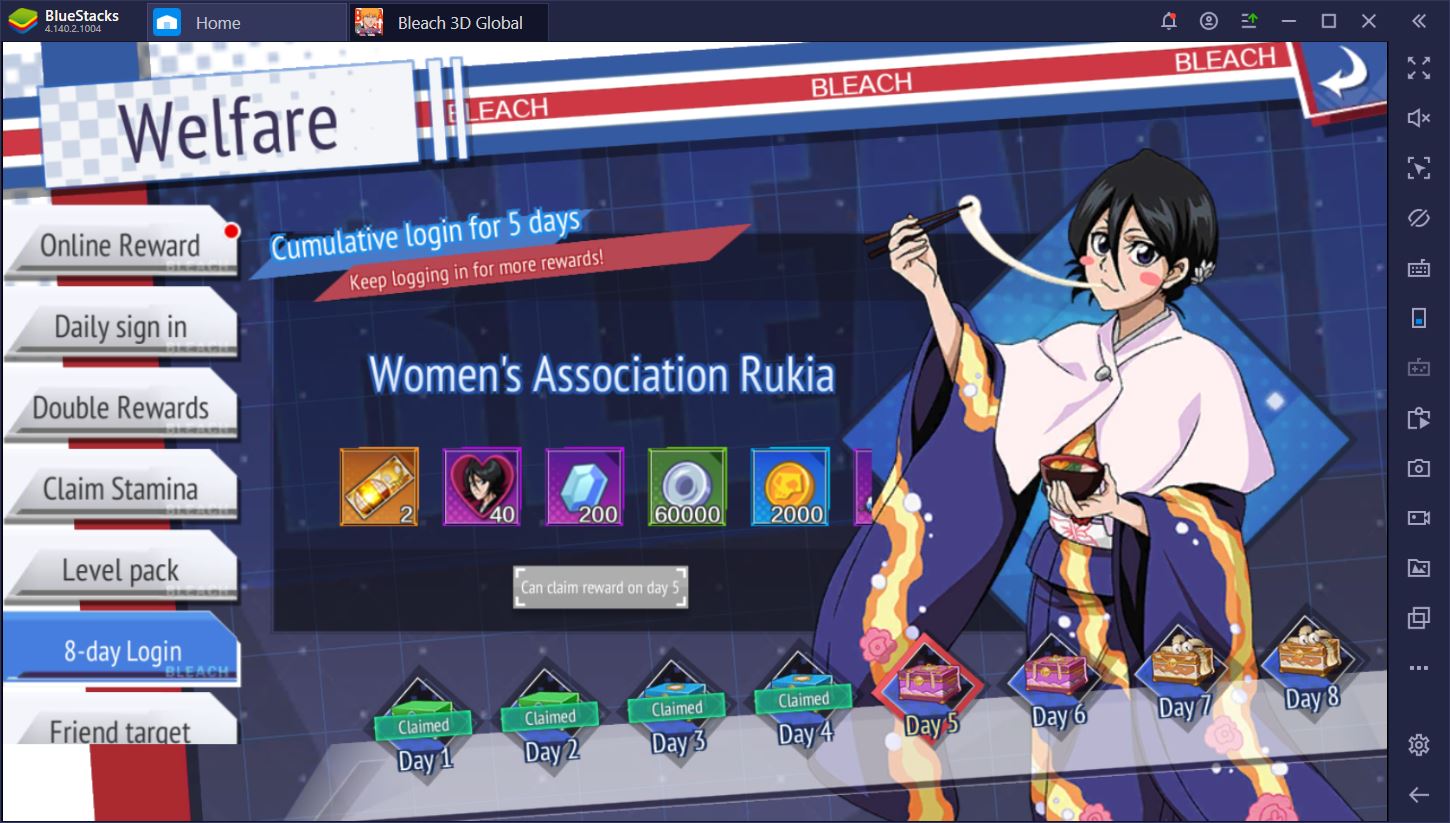 Once you're done with Welfare, don't forget to check the Recruit screen for 5 free standard recruits and 1 free Advanced Recruit Ticket once every 24 hours. Finally, you should also visit the Events and Carnival menus at least once per day, before you log off. You're guaranteed to find even more freebies here based on the activities that you've completed during the day.
7. Use Advanced Recruit Coupons as They Become Available
In some Gacha games, using 10 summons at once comes with benefits such as an increased drop rate for SSR characters. This is not the case in Bleach Mobile 3D, but that's not to say that you don't get bonuses for multiple pulls.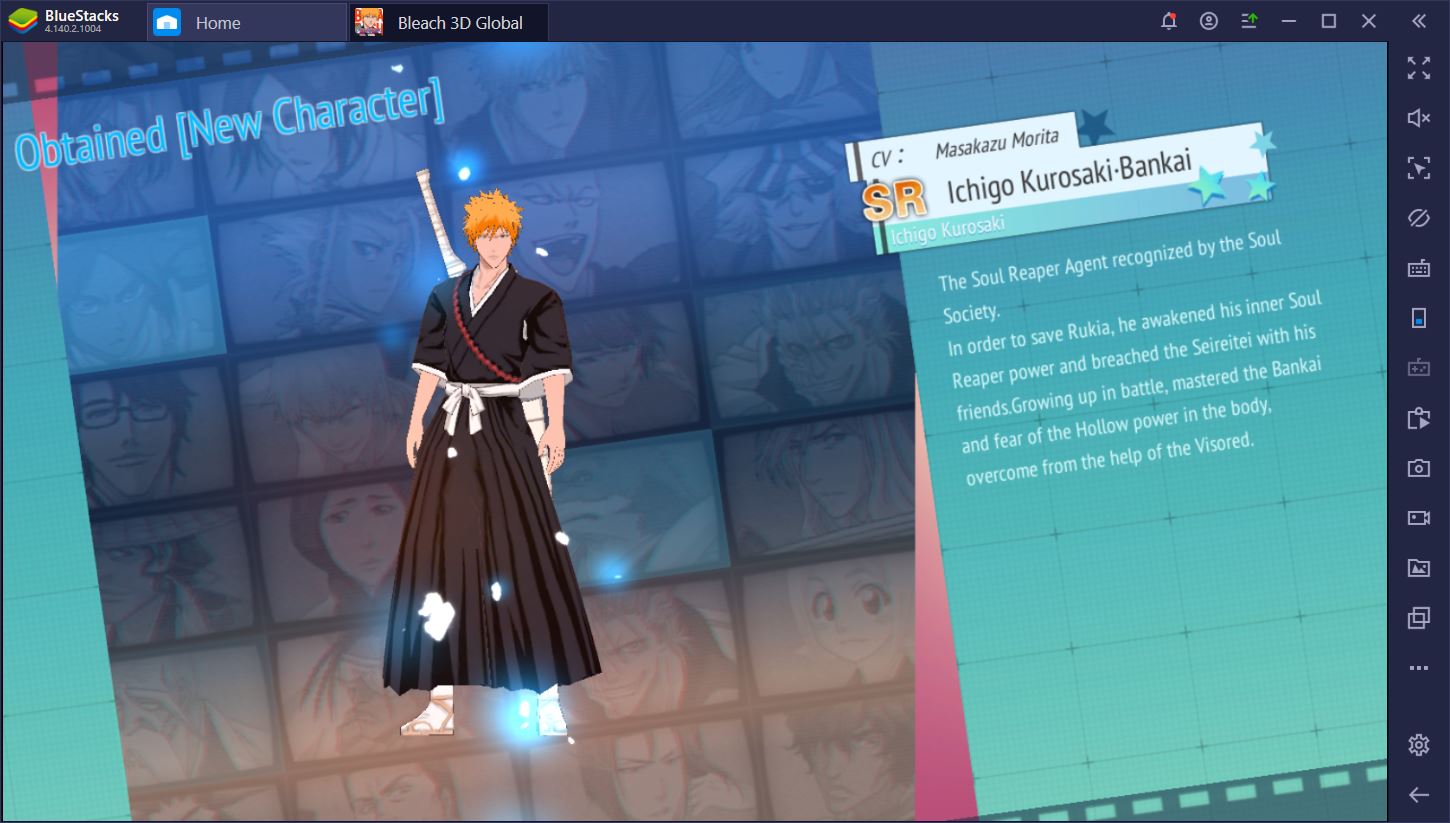 In this game, you are guaranteed to pull a character once every 10 Tickets used, regardless of when you use them. Furthermore, you are guaranteed to draw an SSR after 30 and 70 Tickets, respectively, which is a decent bonus as far as Gacha games are concerned. Due to this summoning system, you're better off using your Advanced Recruit Coupons as you get them. You never know when you land a lucky SSR that is worth your hoarded upgrade materials.
8. Explore Different Game Modes
Whether you're a fan of PvP or PvE content, Bleach Mobile 3D gives you plenty of reasons to try out all of its game modes. Aside from the time-limited events, which tend to be more demanding than other activities, dungeons and battles are very easy to complete even on Auto mode. There's no reason not to exhaust your tries each day, especially since you can play Bleach Mobile 3D on PC with BlueStacks and just let your characters do all the work in the background.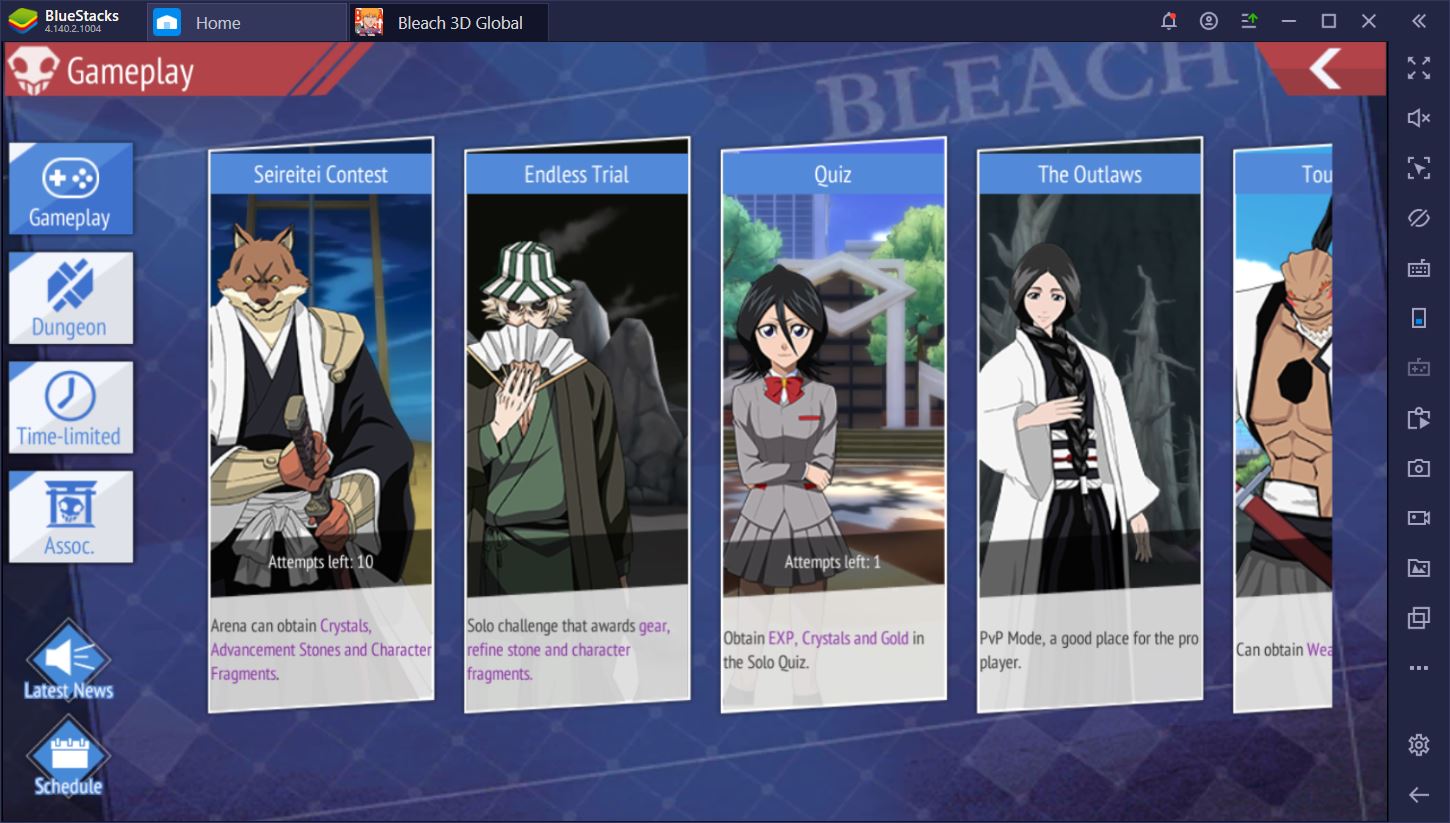 As a beginner, following these essential tips and tricks will ensure that you have a great start in Bleach Mobile 3D. Of course, you'll need more and more information about combat, characters, and upgrades as you level up, but for the time being, at least you won't waste your precious materials on characters you only use for a couple of missions.