Game Guides
Play & Win – How to Play Coin Dozer: Sweepstakes on PC with BlueStacks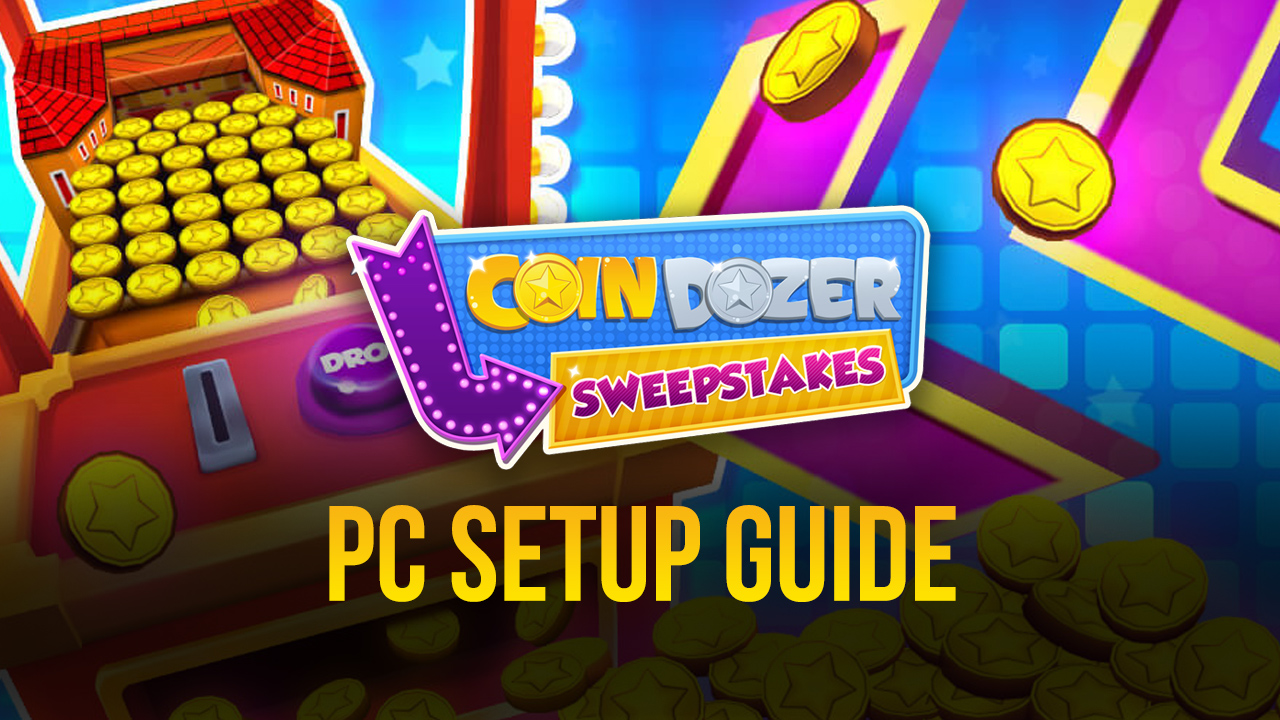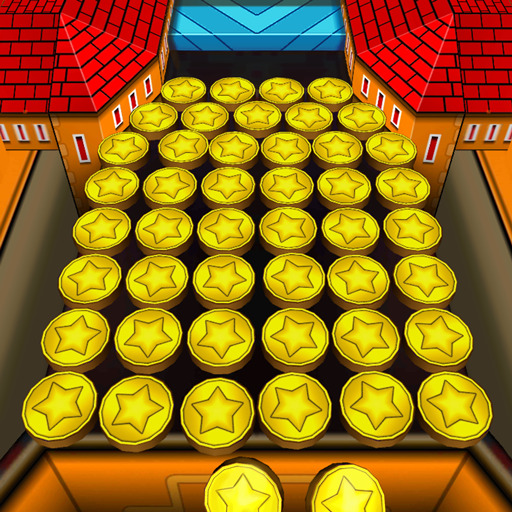 If you have ever been to an arcade, do you remember those machines that contained a massive amount of coins inside? You insert a coin into the top of the machine, watch it gracefully fall to the bottom, and eventually, a mechanism pushes the coin into the huge pile of coins in front of it. The challenge was to add as many coins as possible (if you could afford it) in order to have enough force to push off the coins clinging on the front edge. When some coins finally go down, you usually win plenty of tickets you can exchange for with prizes.
This machine is called the coin pusher and you can relive the thrilling experiences brought by the arcade classic with Coin Dozer: Sweepstakes. Now, you can virtually replay the iconic arcade game with more power than ever as you have a regenerating supply of coins and awesome features never before seen in actual coin pusher machines.
How to Install Coin Dozer: Sweepstakes
What's even better is that you can play Coin Dozer: Sweepstakes at the comfort of your own PC or Mac with BlueStacks. And what's even way better than that is that you can use BlueStacks' exclusive features to maximize your winnings. So, how do you install the game?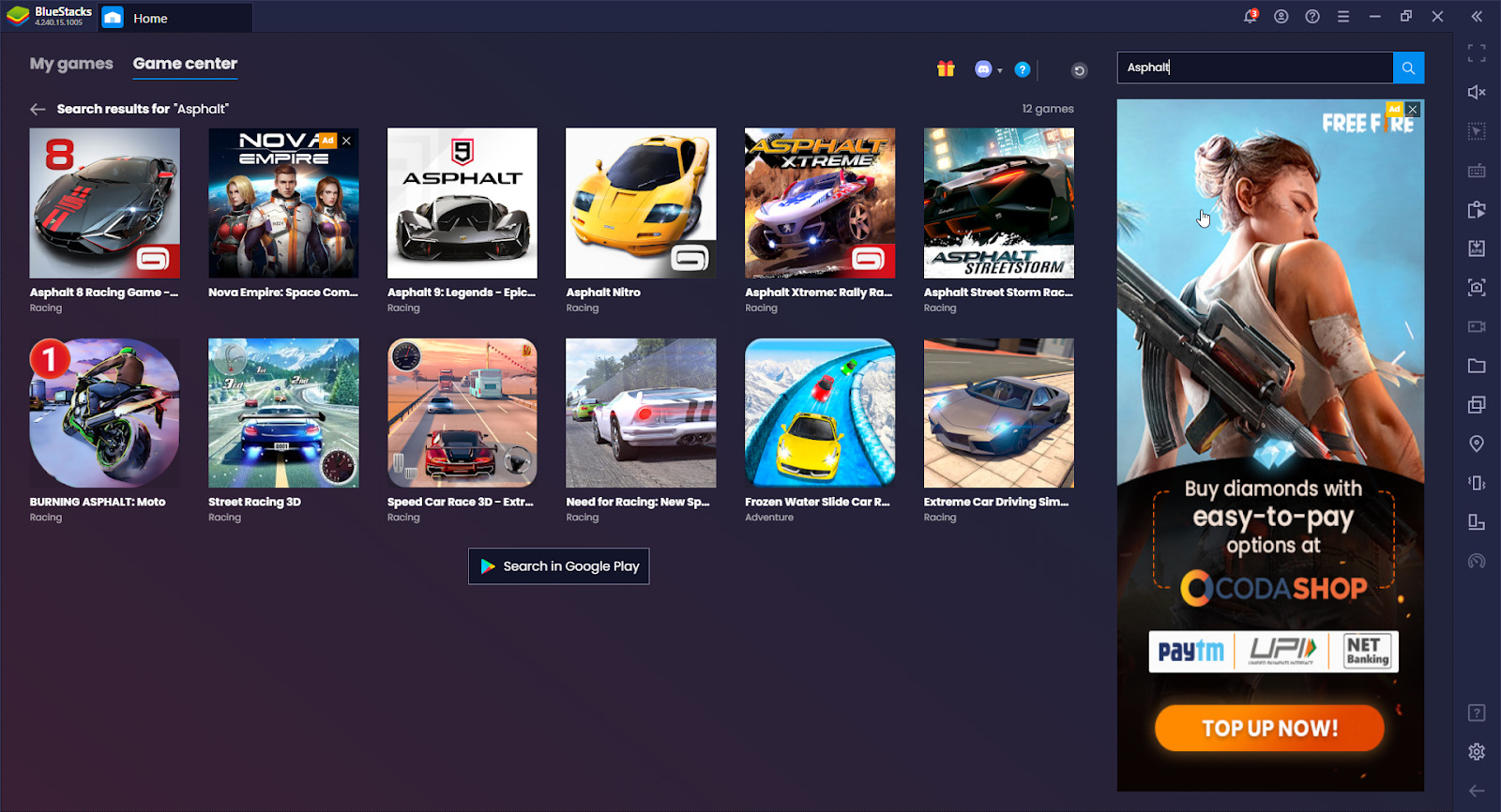 Download and install BlueStacks

on your PC.

Complete Google Sign-in to access the Play Store, or do it later.

Look for

Coin Dozer: Sweepstakes

in the search bar at the top-right corner.

Click to install

Coin Dozer: Sweepstakes

from the search results.

Complete Google Sign-in (if you skipped step 2) to install Coin Dozer: Sweepstakes.

Click the

Coin Dozer: Sweepstakes

icon on the home screen to start playing.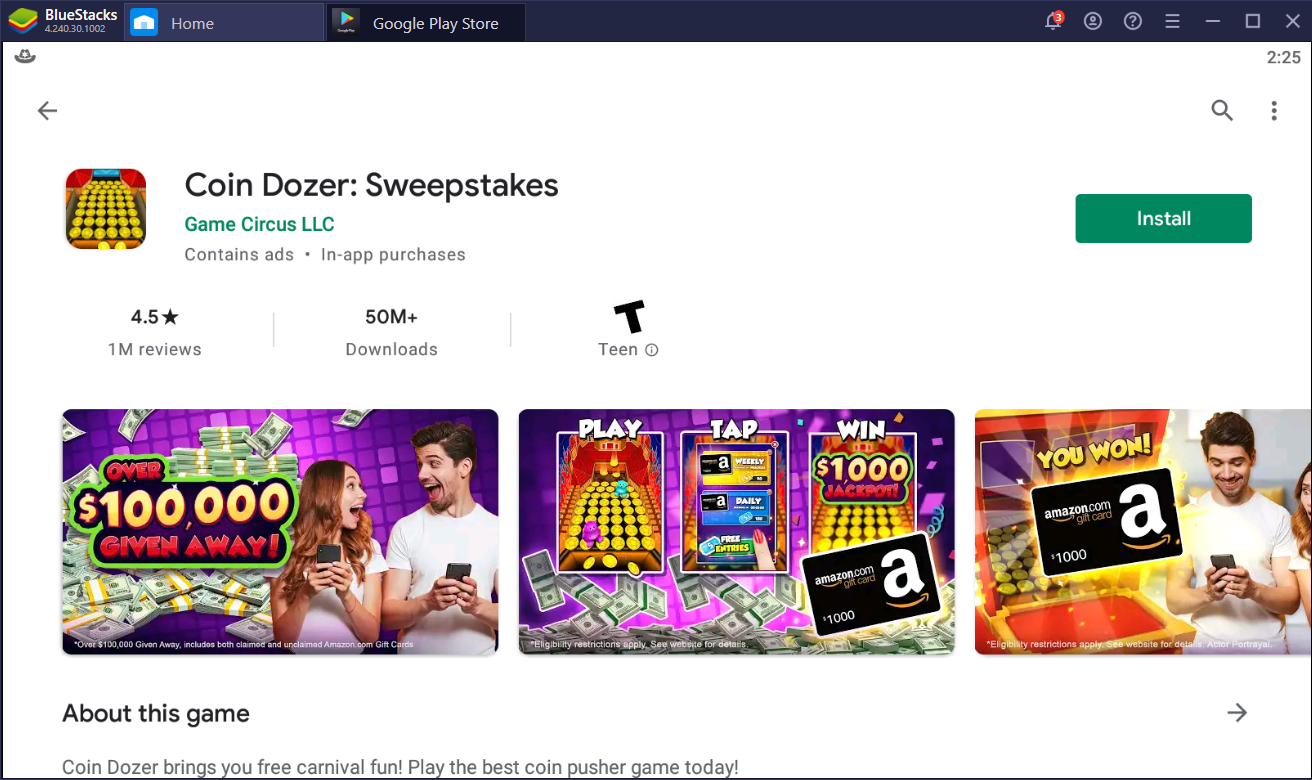 Play the Iconic Arcade Coin Pusher
The rules are exactly the same as the ones in the arcade version.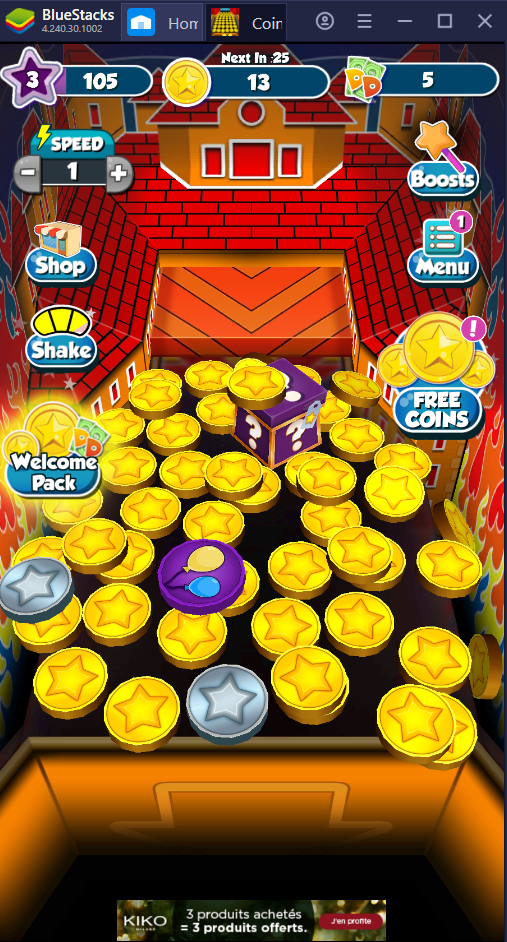 You drop a coin and hope that it will be enough to push off the coins hanging on the front-most edge. Coins that fall on the left and or right side are not counted.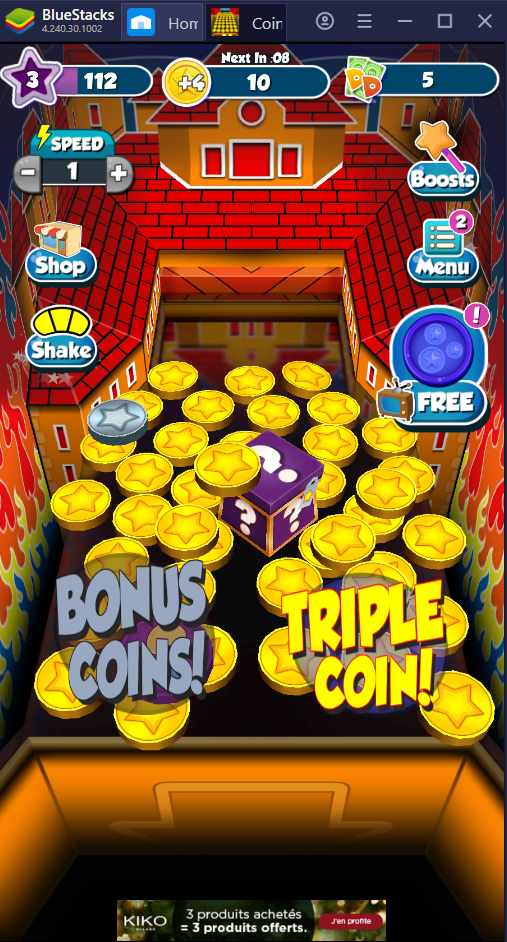 What makes Coin Dozer: Sweepstakes more interesting than its real-life counterpart is that you play it with a technically unlimited amount of coins. You have a maximum of 20 coins that you can drop and. The game will regenerate a coin every 30 seconds but you can refill your coin supply faster just by simply pushing coins off of the front edge. One coin that drops equals to one coin that you get back.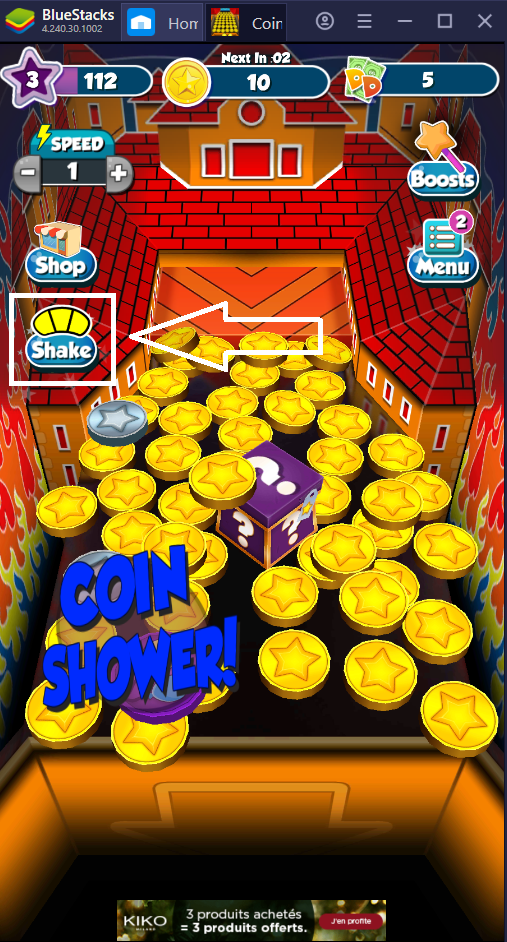 When playing the physical coin pusher, have you ever tried bumping or staggering it in an effort to artificially make the coins fall? You can do the exact same thing in the game by pressing the Shake button, which will make the virtual coin pusher tremble to the point where coins start falling everywhere. The Shake Meter is used to gauge the strength of the shaking and this is gradually increases as more coins fall down.
If you want some tips on how to win more, check out this game guide.
Play Other Classic Arcade Games
Coin Dozer: Sweepstakes is not just entirely about coins. As you play the game, you will eventually unlock a special coin with a balloon icon.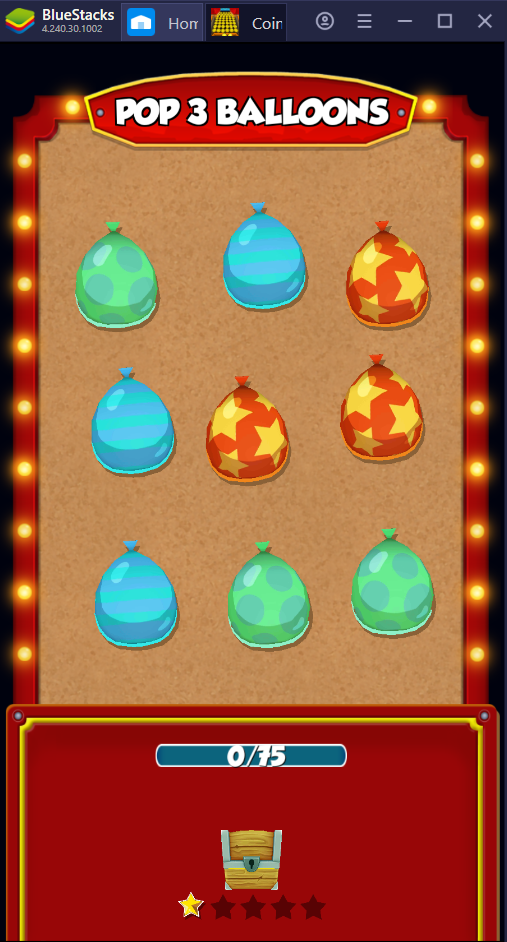 Once this particular coin falls off the machine, the game will let you play one of the classic arcade and carnival games, the balloon popping game.
Each balloon contains a certain number of points and those points are needed to unlock a chest that can give you rewards (i.e. more coins to play with). The winning of prizes do not stop there because you can win more awesome rewards by levelling up
Level Up and Unlock Awesome Prizes
As more coins fall off, more XP is earned. After accumulating the enough XP, you will eventually level up.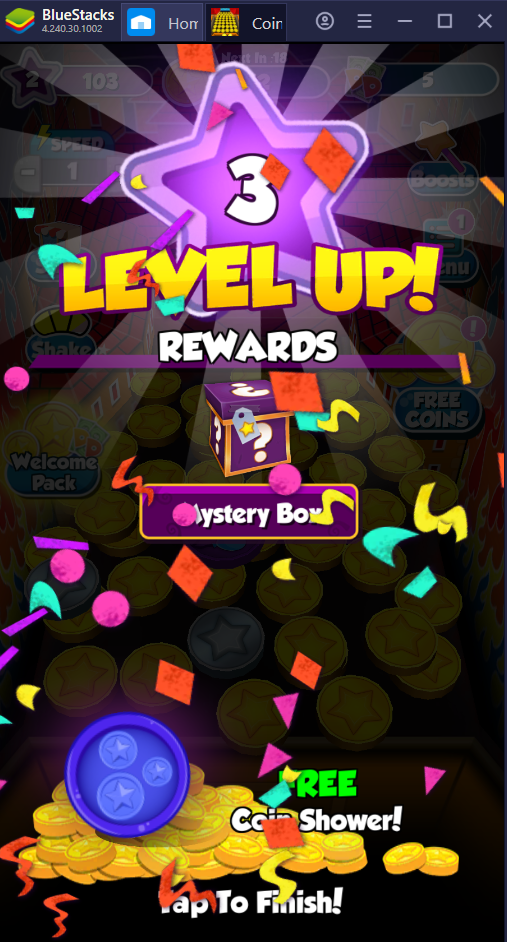 After levelling up, the game rewards you with some special coins. However, you can get lucky and instead receive awesome prizes.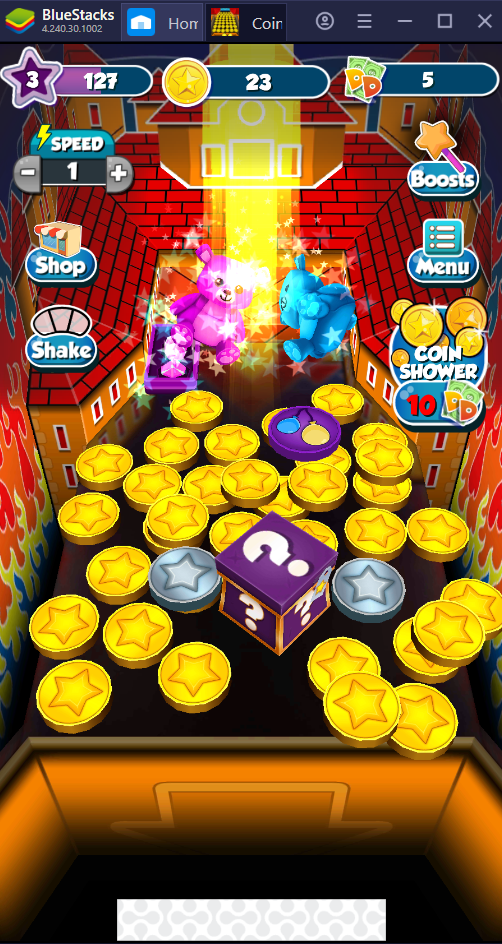 The prizes in question are stuffed-toy-like objects that you unlock whenever you reach a certain in-game level. These prizes are not simply decoration and actually gives you in-game boosts that makes the mundane things easier. For instance, the stuffed bear prize makes coin regeneration faster. There are more prizes like this that each give a unique benefit and you can find more about them here. Can you unlock them all?
Win More with BlueStacks
The main disadvantage with the physical coin pushers is that you would eventually run out of coins to drop. On top of that, you cannot risk going anywhere because you have to stay at the machine to keep playing and ensure that no one else wins those prizes. Fortunately with BlueStacks, you can make the game play for you with the use of scripts. BlueStacks has an extensive scripting tool you can use to maximize you winnings in Coin Dozer: Sweepstakes. In fact, you can read this game guide to know how to script this game in particular.
Playing this Coin Dozer: Sweepstakes would be more efficient if you are playing it as a part of multi-tasking. Meaning, it is best to play it while you are working on something else on your computer such as document work, content creation, and the like. However, multi-tasking can be quite power hungry but you don't have to worry about that with BlueStacks' Eco-mode, which will run the emulator at lower power consumption. If you are a laptop-user, you now don't have to worry about your battery running out while playing this game in the background.
It's your time to be a winner so install Coin Dozer: Sweepstakes on your PC or Mac now with BlueStacks and start claiming those prizes. How many prizes have you won? Let us know in the comments below.