Game Guides
Counterside Tips and Tricks for Efficient Progression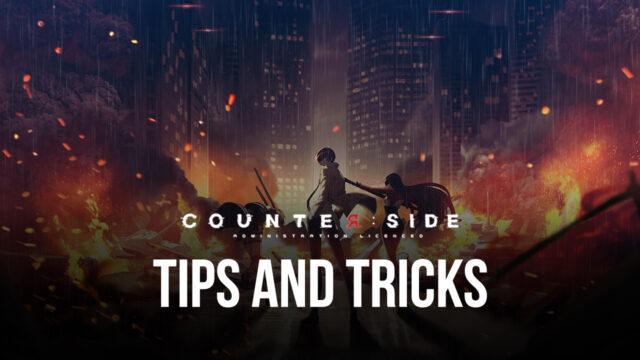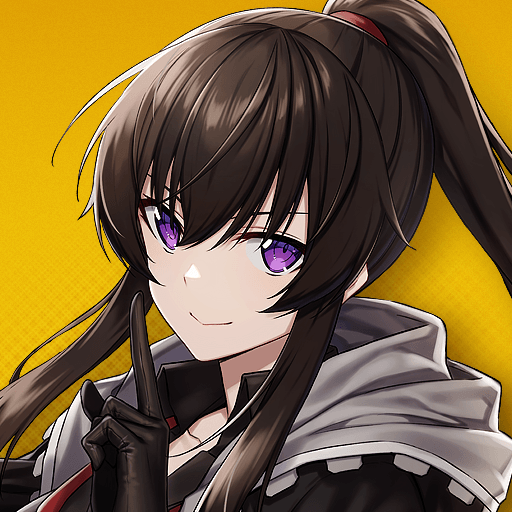 The newest SRPG side-scrolling action battler Counterside by Studiobside is taking the mobile genre by a storm as it has already garnered over 1 million downloads on both Google Play Store as well as Apple App Store. Players can summon and collect different types of employees to recruit them into their mercenary organization as the player role-plays a CEO of such a mercenary organization. Players form different formations of employees and battleships to defeat the Counter Side which are enemies of Earth and are threatening humanity in the apocalyptic sci-fi storyline of Counterside.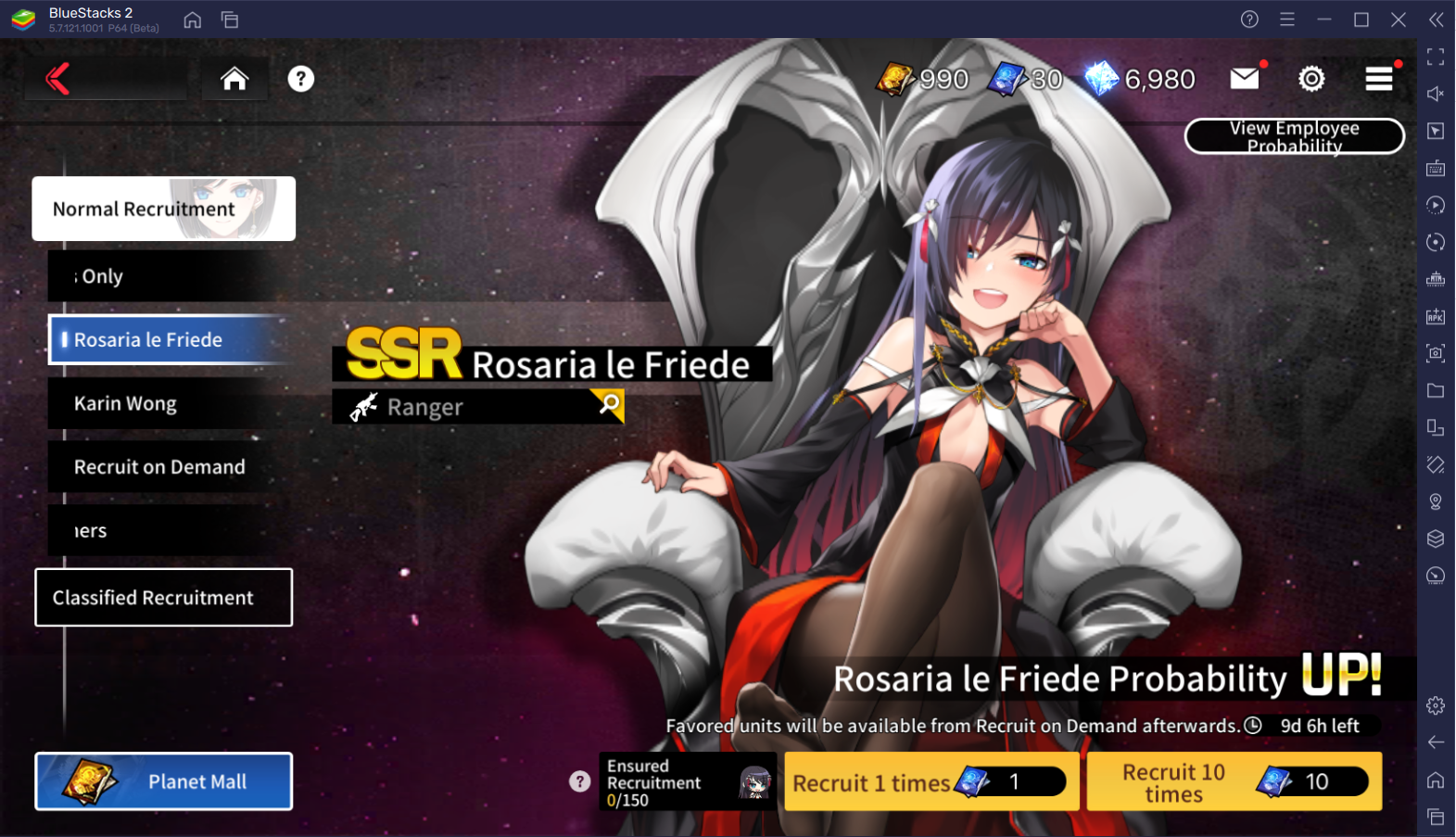 Counterside is not your regular run-of-the-mill gacha game but a solid contender for one of the best gacha games in 2022 as it has received massive success in its overseas version in Korea, Taiwan, and Japan. Players can experience thrilling visuals and Live 2D animations powered by a powerful graphical engine. Each employee, which are the characters in Counterside have their own special ultimate abilities which are semi-animated and the game makes use of the haptic vibration system to give players a feel of impact and war as they see the fight in the gruesome and bloodstained battlefields fighting waves of enemies.
As the game's main objective is to predominantly defeat enemies and progress through the main story, it's required that players have strong formations of multiple strong employees. To successfully climb the rankings in PvP modes, which are officially termed Gauntlet battles, players will also need a separate formation that comprises strong heroes in order to emerge victorious. It's highly recommended that players make use of the gacha system to get more employees and have a streamlined progression. Players can refer to the beginner's guide for Counterside in case they are feeling helpless and want to understand how to progress faster and enhance their employees.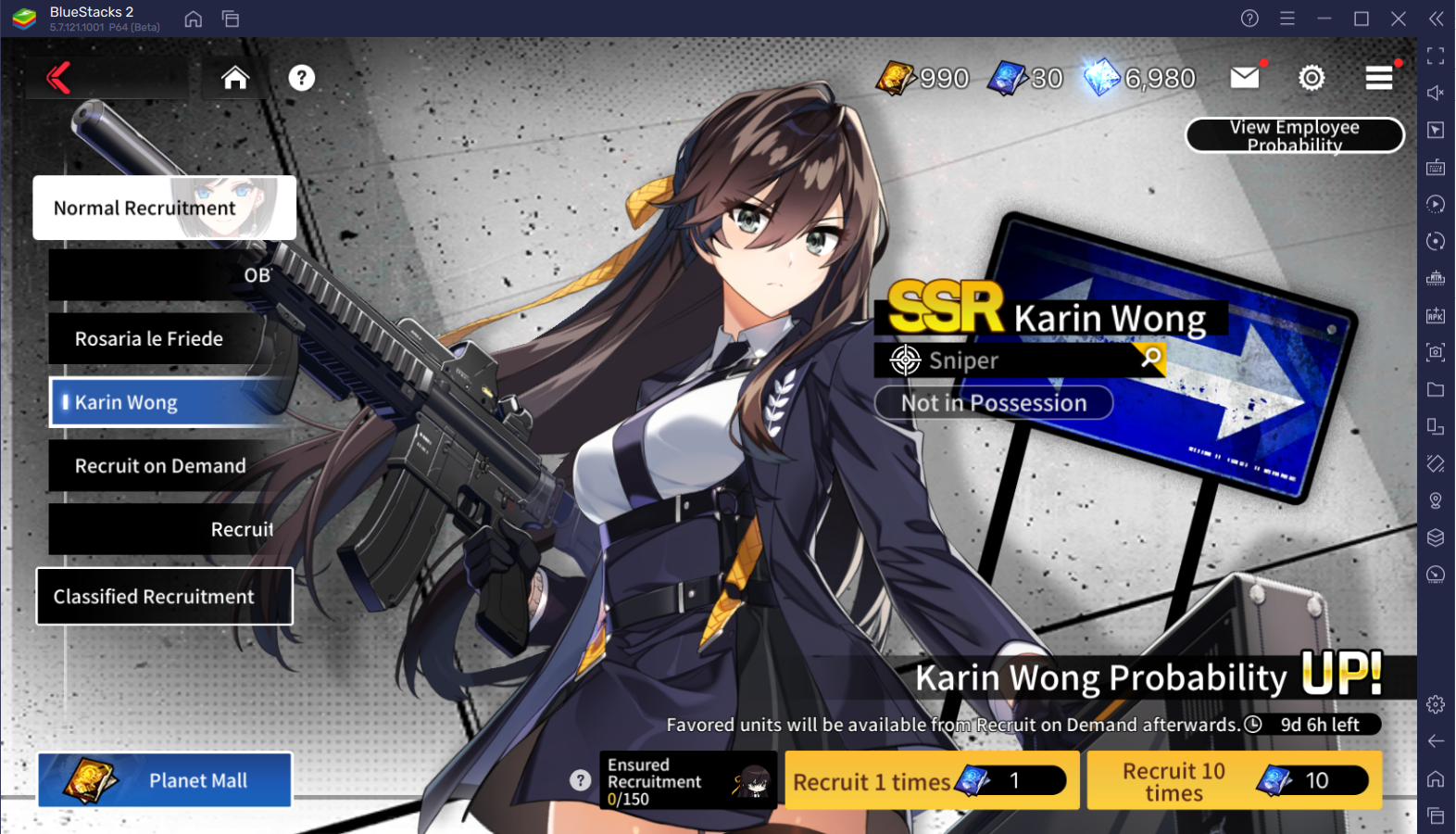 With such a huge amount of employees required to advance through the hard stages and content available, let's take a look at the gacha system for Counterside as this system is usually dependent on RNG (Random Number generator). Players can get employees through different methods like farming their fragments from Free Contracts, SR/SSR summoning tickets, and lastly the lucrative gacha system. Employee's come in different rarities and the highest rarity available is SSR. The rates to summon the different rarity heroes from the Recruit system in Counterside is as follows:
SSR Heroes

– 3.5% Probability to summon

SR Heroes

– 15% Probability to summon

R Heroes

– 39% Probability to summon

N Heroes

– 42.5% Probability to summon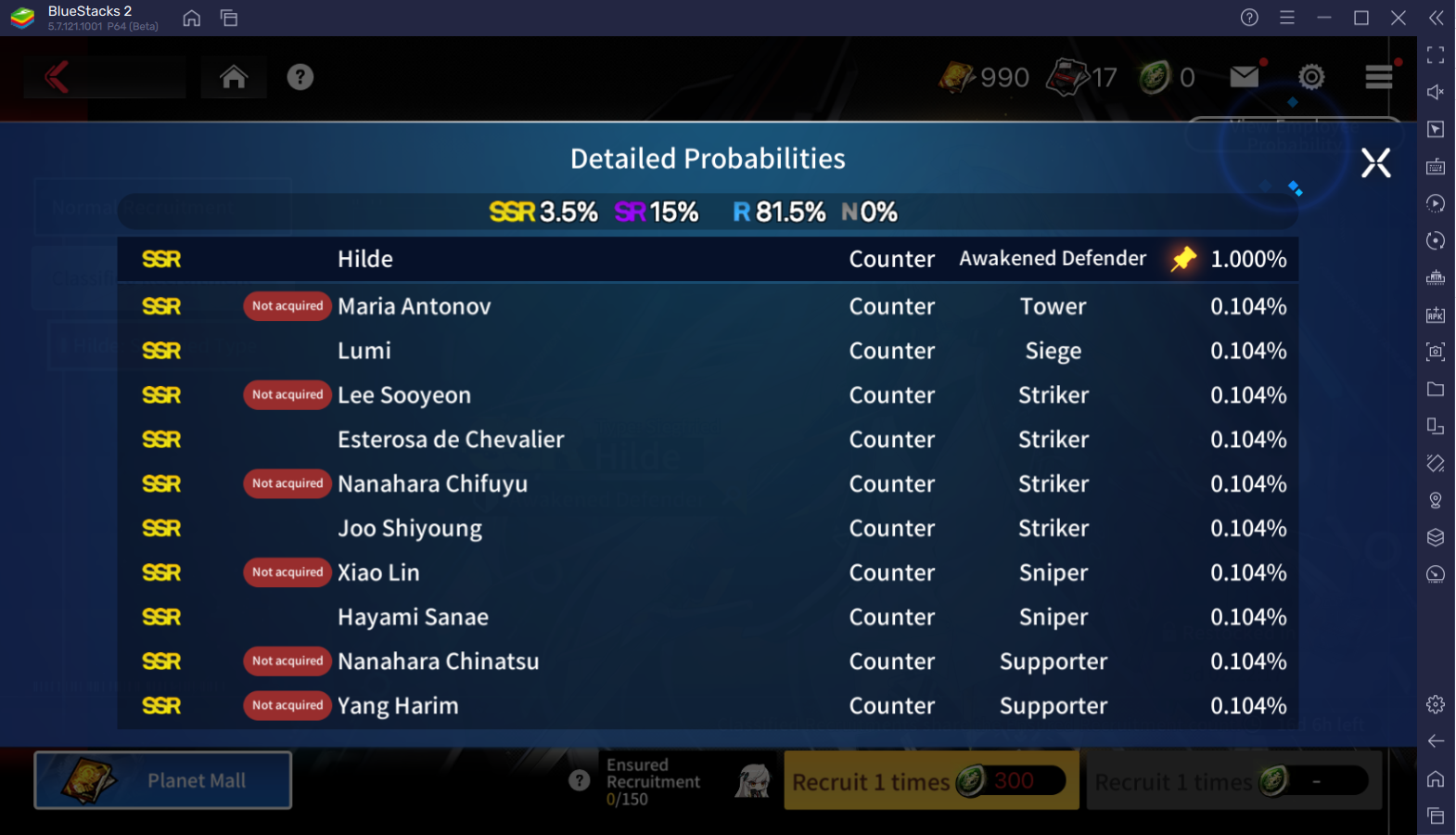 Luckily for players, Counterside does support a hard pity system for all of its banners except the New CEO recruitment banner and normal recruitment banner. The pity exists at 150 summons, where the player is guaranteed the featured employee on the banner at the 150th summon, granted they haven't summoned that employee within 150 summons.
In this article, we will provide the different tips and tricks to save your time in Counterside and progress more efficiently. Players can feel free to do what they feel is best and can use these tips and tricks as advice.
Tip #1. Understand How to Win Battles
To get the upper hand in battles, it's always best to understand the different classes under which all employees are classified into. This class system follows the traditional tropes of element systems in old-school RPGs like Pokemon where each class is stronger and weaker than another class. This system is available in the game to increase the combat depth of the game and offer more strategy to the player. Players can make use of this system in order to gain an advantage over the enemies by taking the employees of the stronger class.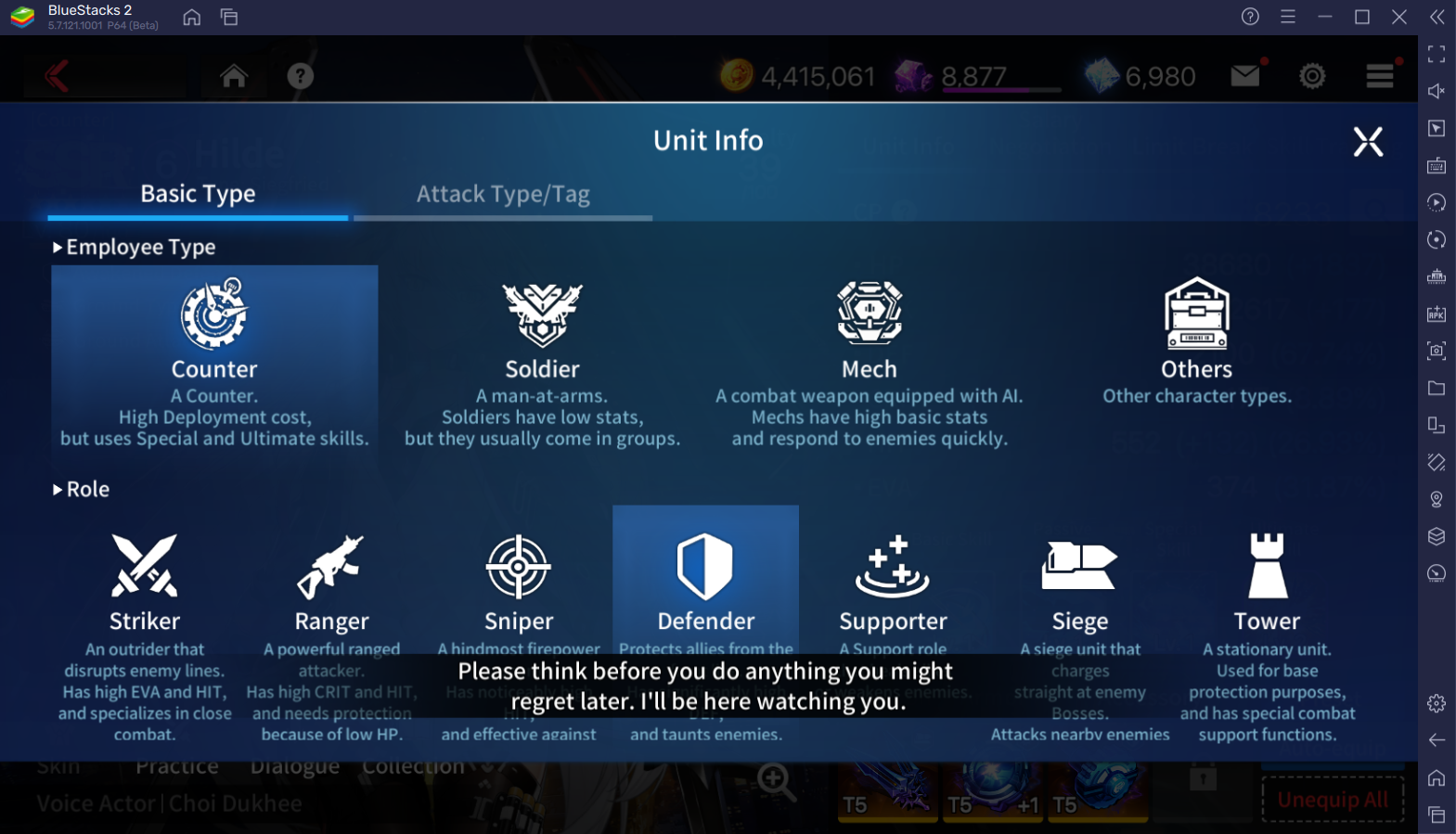 Players can do so by simply viewing the enemies featured in the stage they are fighting against and taking the class which is stronger against the class of enemies. The 4 different classes and the relation between them is as follows:
Sniper

(Sniper is weak to Defender but strong against Strikers)

Defender

(Defender is weak to Ranger but strong against Sniper)

Striker

(Striker is weak to Sniper but strong against Ranger)

Ranger

(Ranger is weak to Striker but strong against Defender)
Tip #2. Do not Waste Quartz on Summons
Quartz, which is a premium currency in Counterside, is very abundant at the start of the game when players have not cleared a majority of the content and earn tons of quartz by simply progressing through the main story. Players can also get more Quartz from pre-registration rewards like 3500 Quartz as well as by redeeming some codes available at the start of the global launch which provides even more quartz up to 1500. With all these Quartz in hand, many players lose the importance of this resource and just it all up to summon their favorite employee in the Recruit system. We recommend players to use this resource judiciously as they get very scarce the more the player progresses. Here are some tips for using your Quartz to get the most efficient use out of them: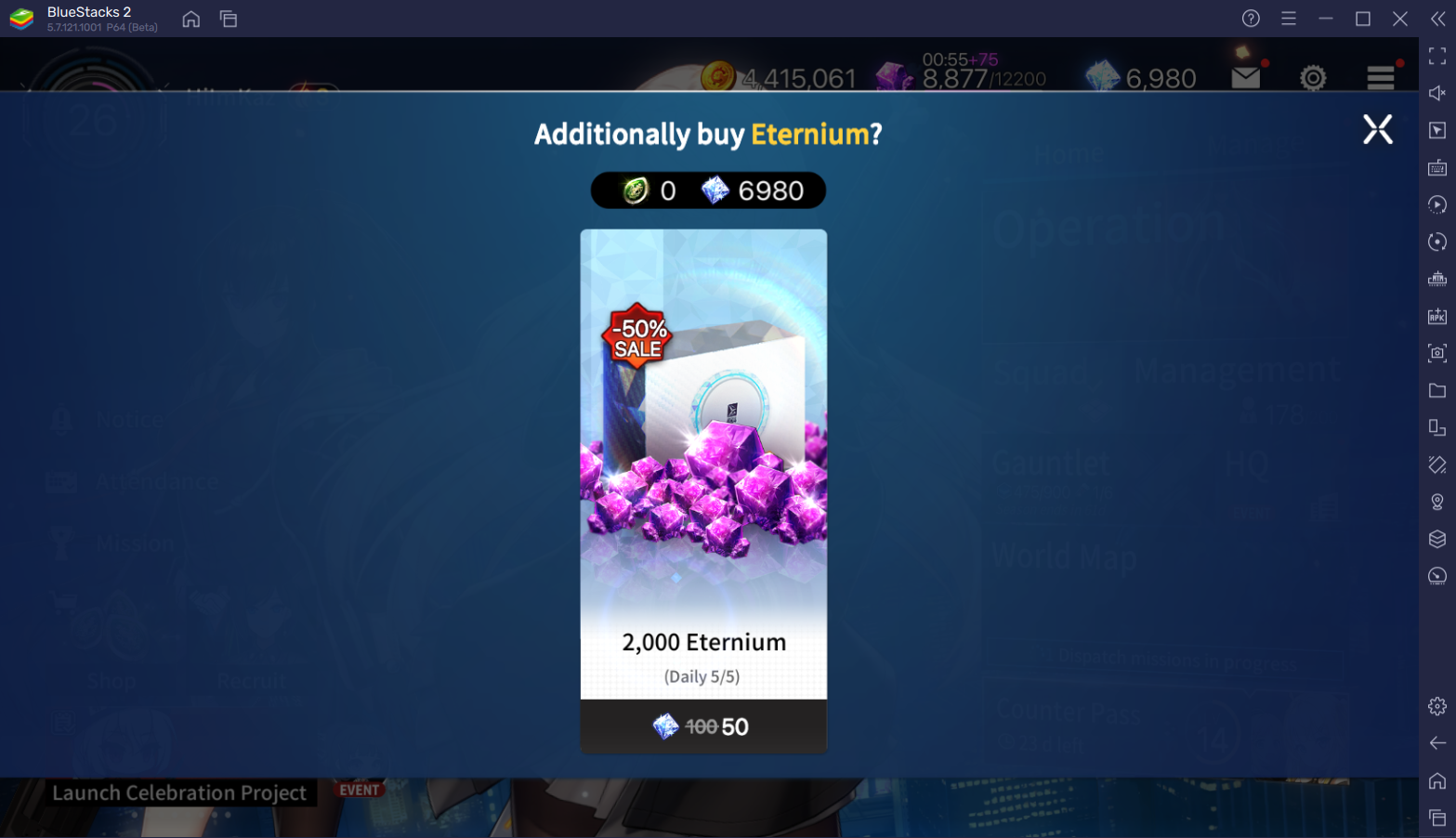 Use 2750 Quartz every week to purchase the Classified employee recruitment tickets from the Classified recruitment banner. This purchase will provide players with 220 Classified employment tickets which can be used to make 11 summons to get their hands on Awakened employees which are the most valuable category of employees.

Use Quartz to recharge Eternium. We highly recommend buying Eternium using Quartz for up to a maximum of 5 times. At least, make sure to buy the 2000 Eternium for 50 quartz which is offered daily for a 50% discount.

Use Quartz in order to increase your maximum employee storage as this storage gets filled quite fast. The early modifications to the storage cost a little amount of Quartz but this cost increases dramatically the further the players increase their storage.
Tip #3. Use Simulation Tries Everyday
Counterside is usually a very time-friendly game where players do not get an advantage when they log in at certain times. However, a major flaw or progression gating system is at the core of the game as the main resources required to enhance your employees are time-gated. Yes, we are talking about the Simulations. Simulation is that PvE content that is included in the beginner tutorial but the importance of the system is not justified. Simulation training offers these 3 resources:
Attack Training

(Used for acquiring the differing quality of Apprisals)

Defense Training

(Used for acquiring the differing quality of Training Data)

Anti-air Training

(Used for acquiring the differing quality of APT Cores)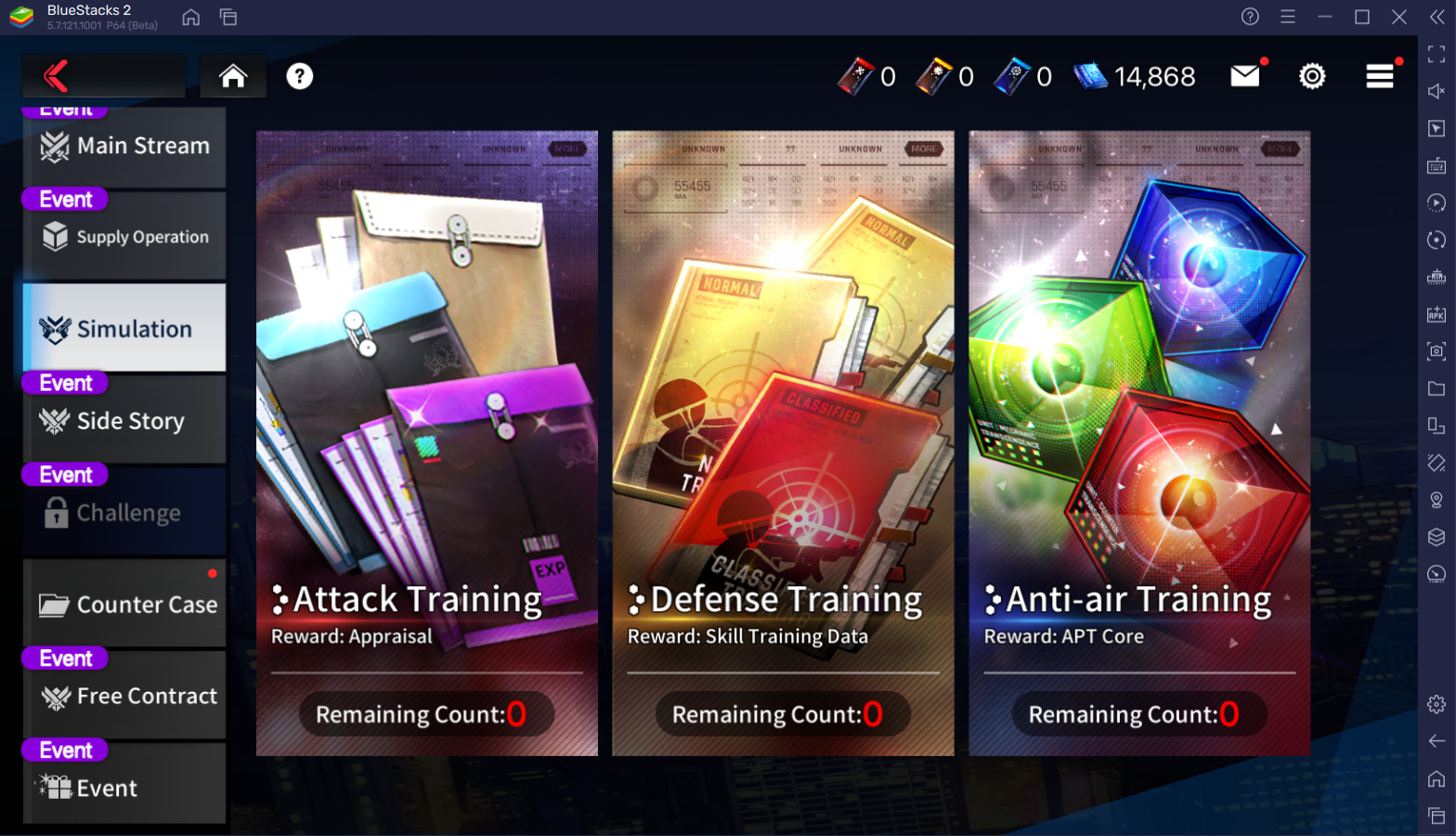 Players only get 2 tries per day for each type of training simulation. Hence, we highly advise players to not miss a single chance of acquiring these limited resources as they are required for leveling up employees, enhancing their skills, and promoting them to increase their level cap respectively. These Simulations reset each day.
Tip #4. Leveling Up your Battleships
Oftentimes, we have observed many players overlook the importance of Battleships in formations and players forget that these ships also provide bonus effects and active skills in battle. These battleships also help increase the overall CP (Combat Power) of your formations. These battleships come in different rarities and attributes. For example, the 3 main classifications of battleships are as follows:
Assault Battleship

(These battleships cannot move but are added to assault positions)

Armoured Battleship

(These battleships can move 1 line horizontally)

Cruiser Battleship

(These battleships can move 1 single line in a straight line)

Auxiliary Battleship

(These battleships can move 1 cell diagonally)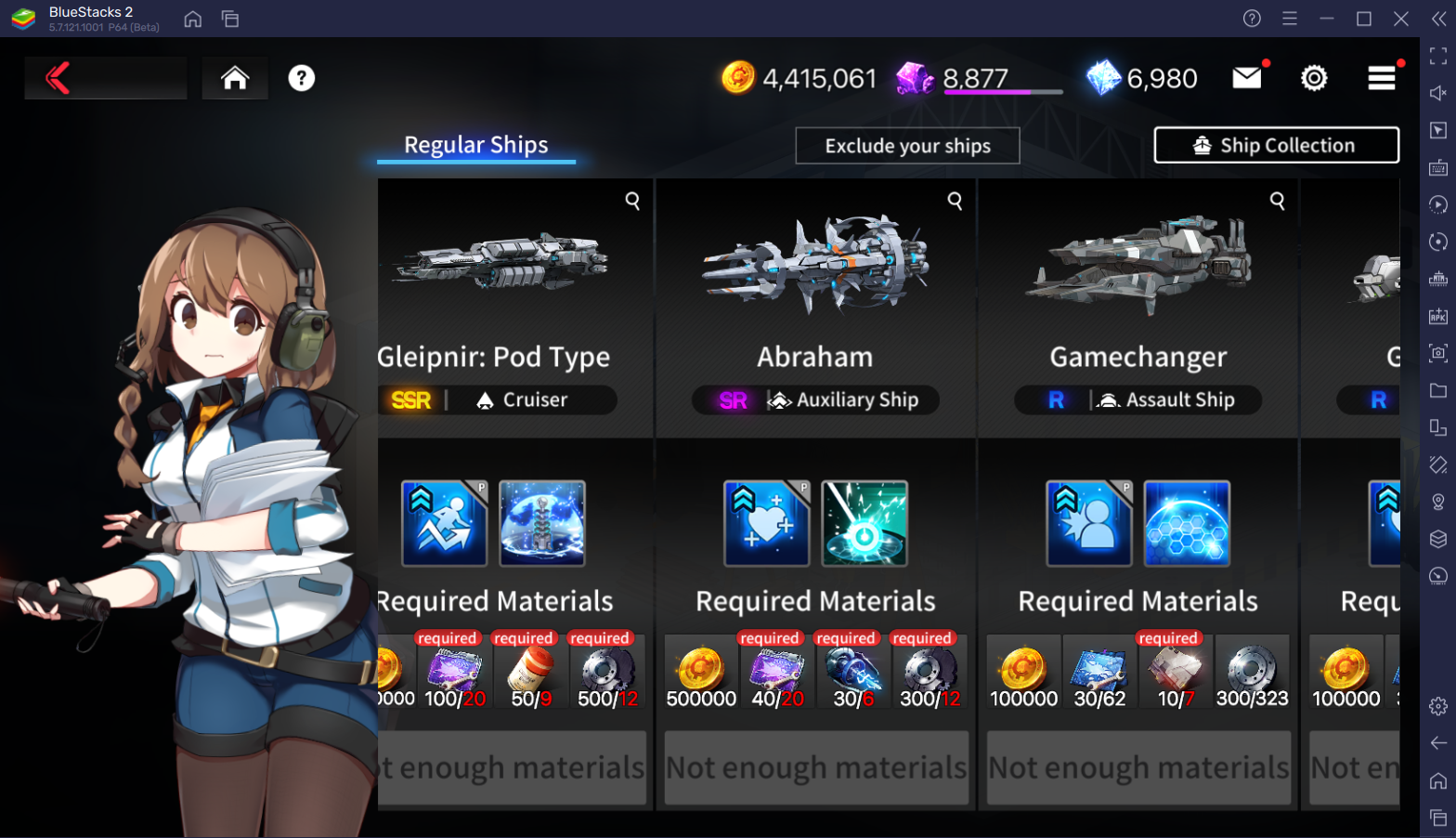 The higher the level of these battleships, the more firepower they can produce. Do remember that in PvP, the player who destroys the battleship always wins first. Hence, if your battleship is weak and base model it's easily susceptible to damage and will make you lose easily against enemies with a stronger battleship.
Tip #5. Equipping Gear
Gearing is perhaps the most important of the game when it comes to PvP and high-end PvE content. Many players completely skip gearing their employees due to their lack of knowledge on how to gear. Counterside tutorial also explains gears and their uses in a shallow manner without going in-depth. Although, we cannot go in-depth on how to gear each character here are some basics regarding gearing in Counterside which the players can use: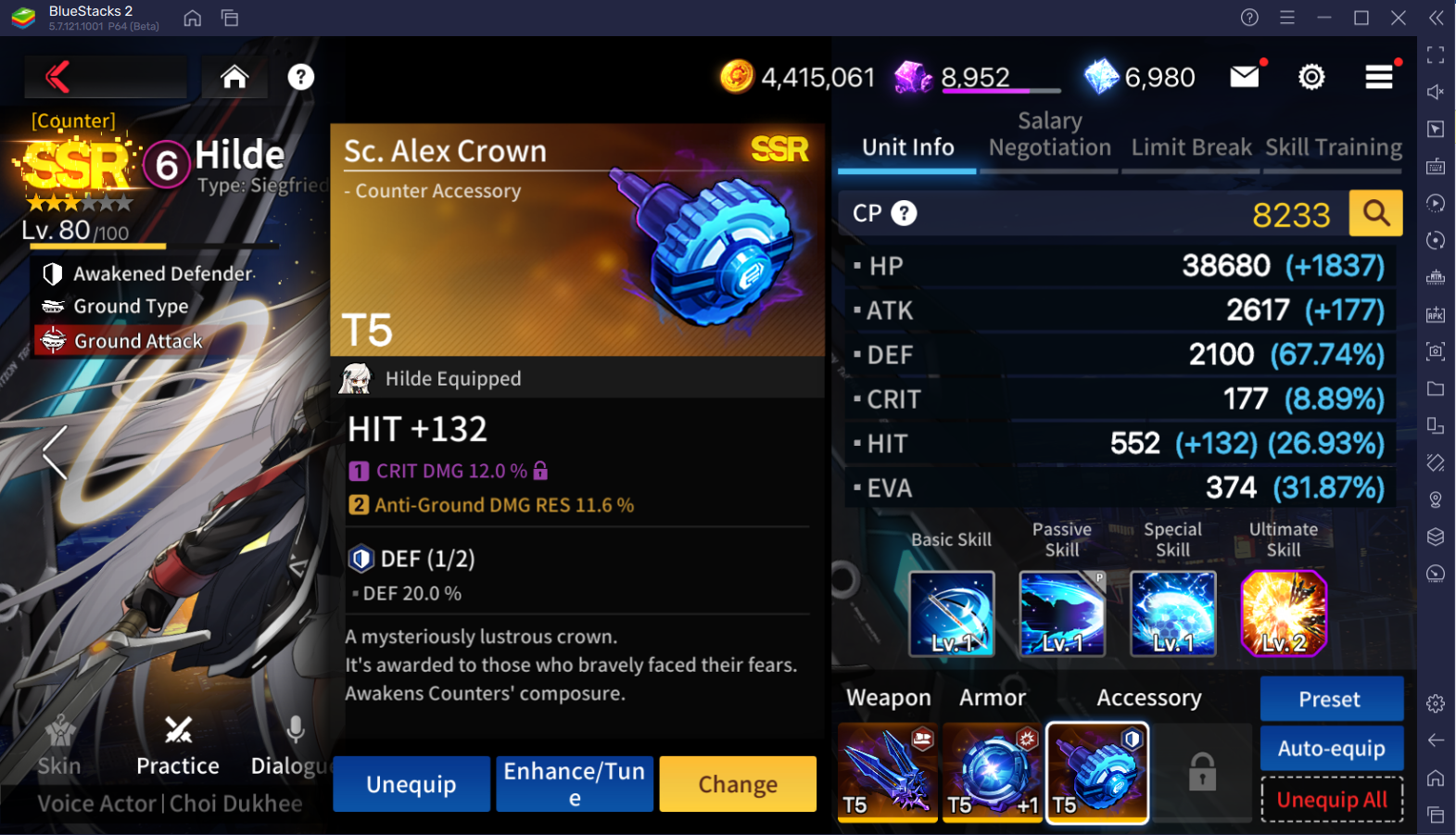 Always remember that Gears come in different types, sets, and tiers. The higher the tier, the stronger the base stats of the gear and more stats they provide to the employee equipped with it.

Each employee scales with different stats. For example, Awakened Hilde deals more damage the more Defense she has. Hence, look for the right main stats for the right employee. Players can also make use of the "Auto-Equip" feature which does a decent job at doing this.

Gears come in different sets and 2 pieces of gear provide a set effect. This is helpful as every employee has 4 slots of gears with the 4

th

slot being unlocked when the employee is promoted to 6 stars.

Gears can be enhanced to provide more stats.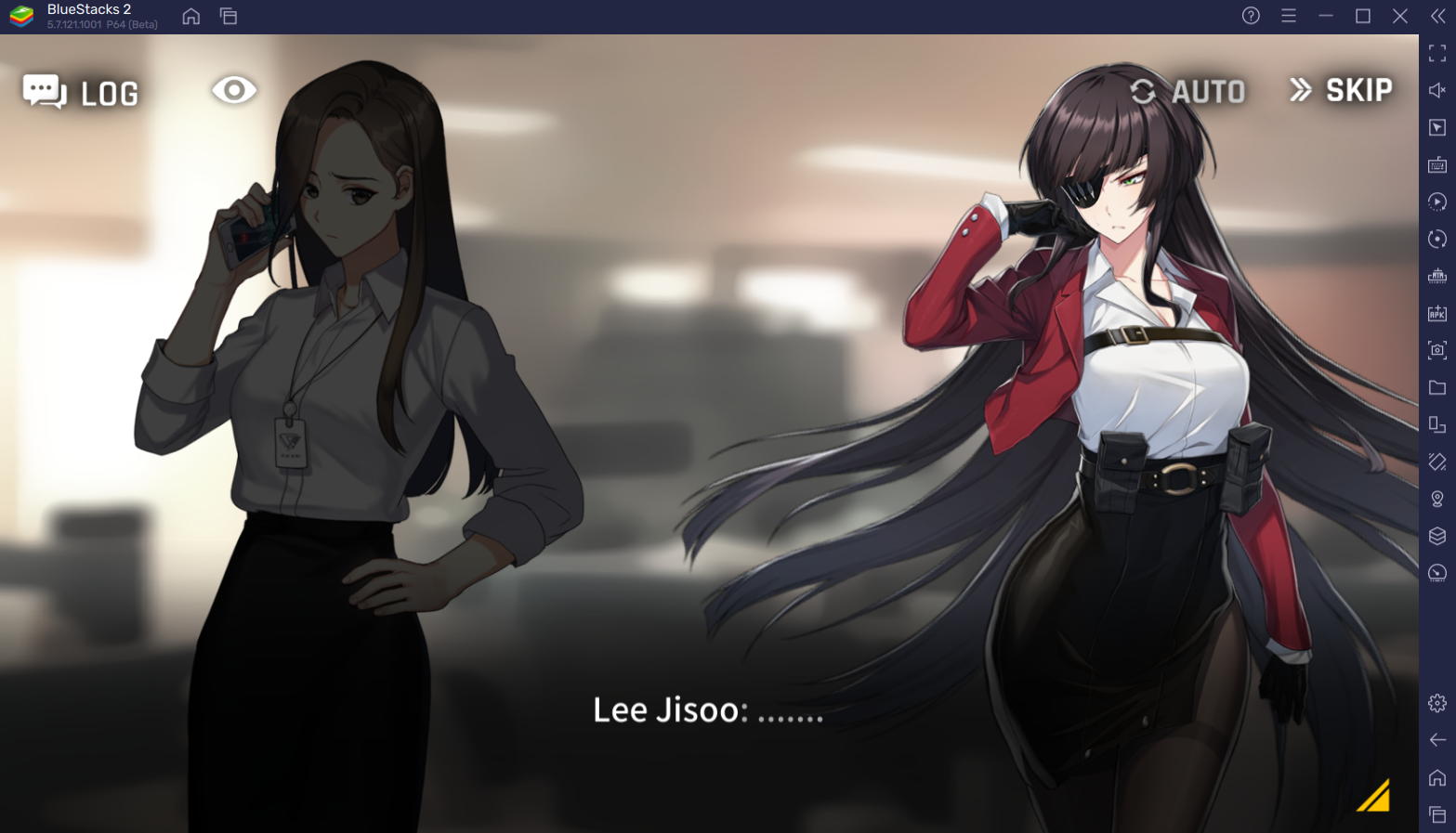 This concludes our tips and tricks for Counterside. Players can get an ample amount of progression by following these tips and tricks. For more such guides and coverage of Counterside, feel free to check out our Blog section. Playing Counterside on a bigger screen of your PC with BlueStacks using a keyboard and mouse is highly suggested for a lag-free, smooth, and optimized gameplay experience.