Game Guides
How to Use BlueStacks to Improve Your Performance With Crash Bandicoot: On the Run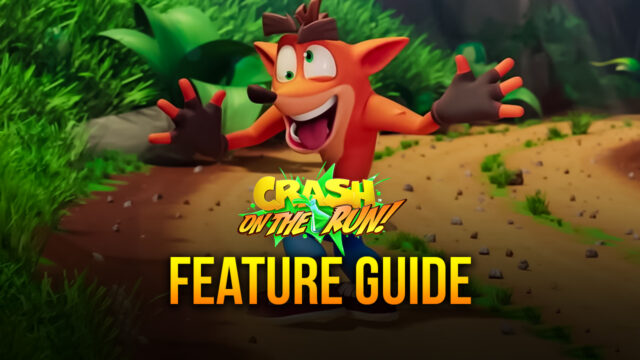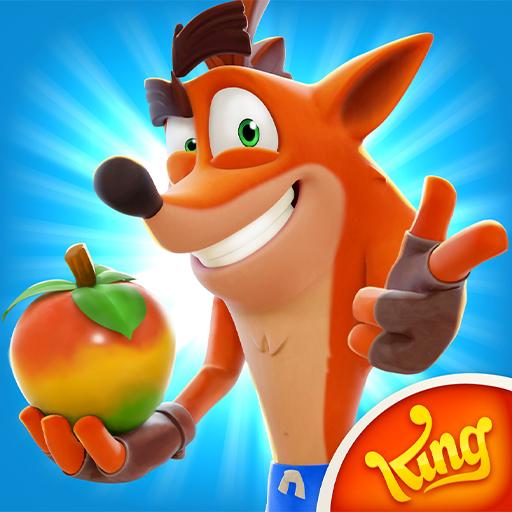 Note: While we'll be talking about Crash Bandicoot: On the Run using BlueStacks 4, this game is already available on the new BlueStacks 5 with much better performance, less resource consumption, and more stability. Download the latest version of our Android emulator and give it a try!
Crash Bandicoot: On the Run is the amazing new auto-runner game released by King a few days ago, featuring everyone's favorite crazy marsupials, Crash and Coco Bandicoot, as they once again face off against the evil Doctor Neo Cortex.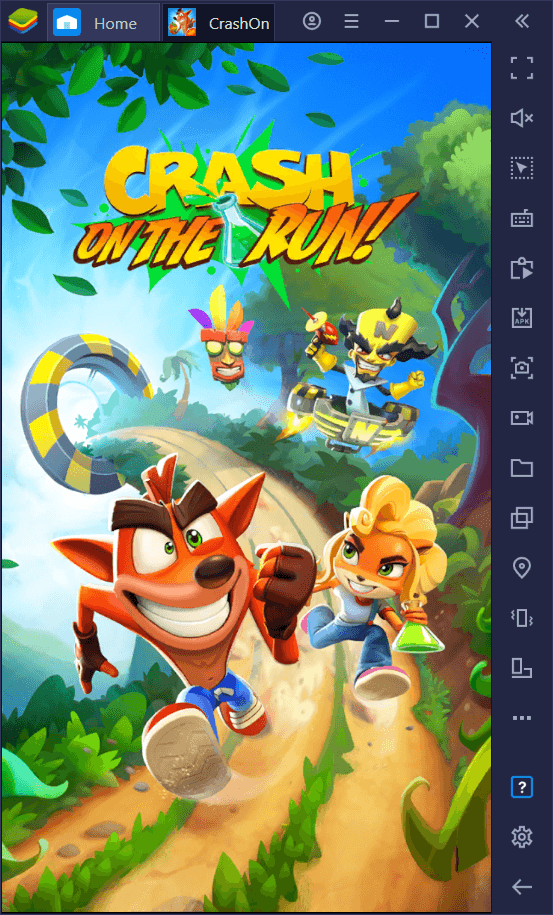 The auto-runner genre is quite popular, and with good reason; the gameplay of these games is simple yet very addictive as it requires careful precision and coordination in order to run through all the obstacles while staying alive. The gameplay of the original Crash Bandicoot games on the PS1 actually fits this genre perfectly, as most of the stages in auto-runners have a similar layout and obstacles. In fact, the only difference that On the Run has with its original counterparts is that your characters run automatically. Other than that, you can expect many hijinks and fun as Crash and Coco run, jump, spin, and belly flop through anyone who dares stand in their way.
Popularity-wise, the game definitely has to be doing something right since it got over 8 million downloads on its first debut day in the Play Store. However, while it's a very good game overall, the only shortcoming we can think of right now is that it's stuck on the mobile platform.
Don't get us wrong, mobile games can be great, but if you're at home (like most of us are right now), you'd probably want to game on your console or PC. Luckily, you can easily install and play Crash Bandicoot: On the Run on PC with BlueStacks, and get access to a wide variety of tools, as well as the best performance and graphics that the game has to offer. Feel free to check out our installation guide to learn how to get started.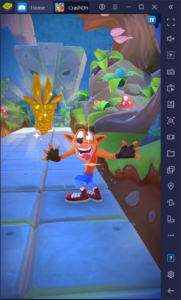 If you've already set up On the Run on PC, then this guide is for you. In the following sections, you'll find some great tips and tricks on how to use BlueStacks to your advantage in this awesome auto-runner game.
Use the Keymapping Tool to Enhance Your Controls
Aside from being able to play the game with great graphics and performance thanks to the superior hardware of your computer, BlueStacks also features mouse and keyboard support so that you can enhance your controls and increase your precision in any game, including auto-runners like Crash Bandicoot: On the Run. These enhanced controls are possible thanks to our Keymapping Tool, a feature through which you can create customized control schemes using your mouse and keyboard for any game.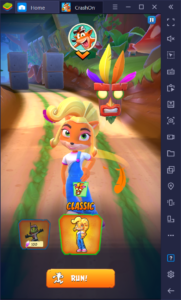 This means that, instead of tapping and swiping on your touchscreen with no actual feedback, you can play your games by actually using the physical buttons of your PC mouse and keyboard, which is something that can dramatically increase your precision in games like Crash Bandicoot: On the Run.
To access the Keymapping Tool, you simply need to launch the game, and then press Ctrl + Shift + A. In this new screen, you'll have access to all the shortcuts that are already placed on the screen, which correspond to the default control scheme created by us here at BlueStacks, and can modify the current bindings or move them around to adjust them to your screen size and resolution, if necessary. You can also add new shortcuts by using the predefined functions on the rightmost panel, in case you want to add more functionality to your current control scheme.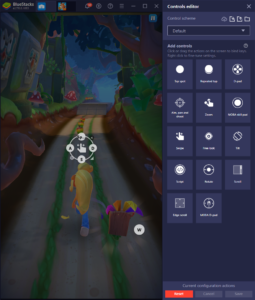 The idea of the Keymapping Tool is for you to get superior control over your Crash and Coco in order to easily complete all the challenges and levels in the game. And you can do just that by creating a customized control scheme tailored to your needs.
Automate Collection Runs with the Macro Recorder
One of the best features that BlueStacks offers when it comes to Crash Bandicoot: On the Run, is definitely the Macro Recorder, which allows you to automate some of the grinding.
In order to progress in this game, you need to craft special materials like Nitro Serum, Nitro Bombs, Nitro Rayguns, and Nitro Bazookas, all of which are used for defeating Doctor Neo Cortex's lackeys. Without these items, you won't even be able to access the story levels. However, crafting these goods requires lots of different materials such as Glow Bark, Nitric Fungi, Alpha Parts, Beta Parts, and so on, all of which are obtained from collection runs.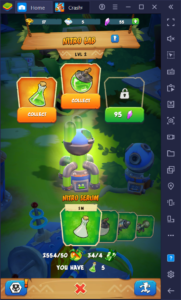 Collection runs are this game's version of endless runner levels, which feature a wide variety of routes that are littered with all sorts of materials, and that players will need to visit often in order to farm and grind for necessary supplies. And while these levels are endless, they offer a bounty of different materials for those who have the patience and skill to brave their challenges.
However, an important aspect of these levels when it comes to playing Crash Bandicoot on PC with BlueStacks, is that their layouts are always 100% the same. The only thing that changes between runs is the available materials, as these take a while to refill once collected. In this sense, you can easily automate your grinding and farming in the game using our Macro Recorder.
This BlueStacks tool lets you create macros by recording yourself doing anything in the game, and then reproduce these same actions with 100% precision by pressing a single button. For Crash Bandicoot: On the Run, this means that you can record yourself running through the longest routes of any collection level, and then use the resulting macros to automate subsequent runs after the materials refill.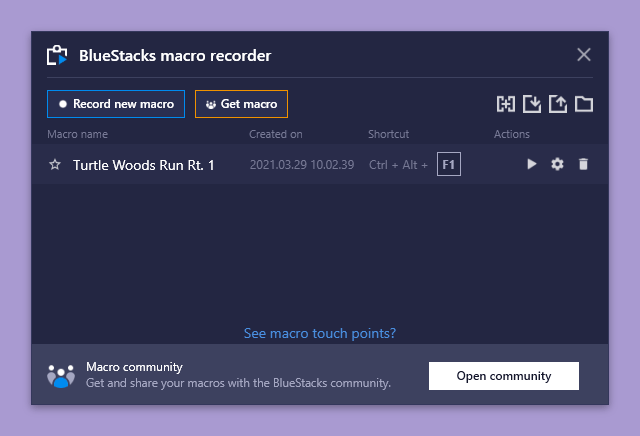 You can access the Macro Recorder by pressing Ctrl + Shift + 7, and then start recording your own macro by clicking on, you guessed it, "Record new macro". Just remember to create multiple macros for the same collection run level in order to cover most of the routes after every refill. A few good macros can go a long way for streamlining your farming and grinding in this auto-runner.
It's amazing how only two features can significantly enhance your enjoyment and performance in Crash Bandicoot: On the Run. But you don't have to take our word for it; download it today and try it for yourself! Let us know if you have any questions in the comments below, and we'll get back to you ASAP.