Game Guides
Crossing Void Combat Guide: How To Become The Ultimate Dengeki Bunko Fighter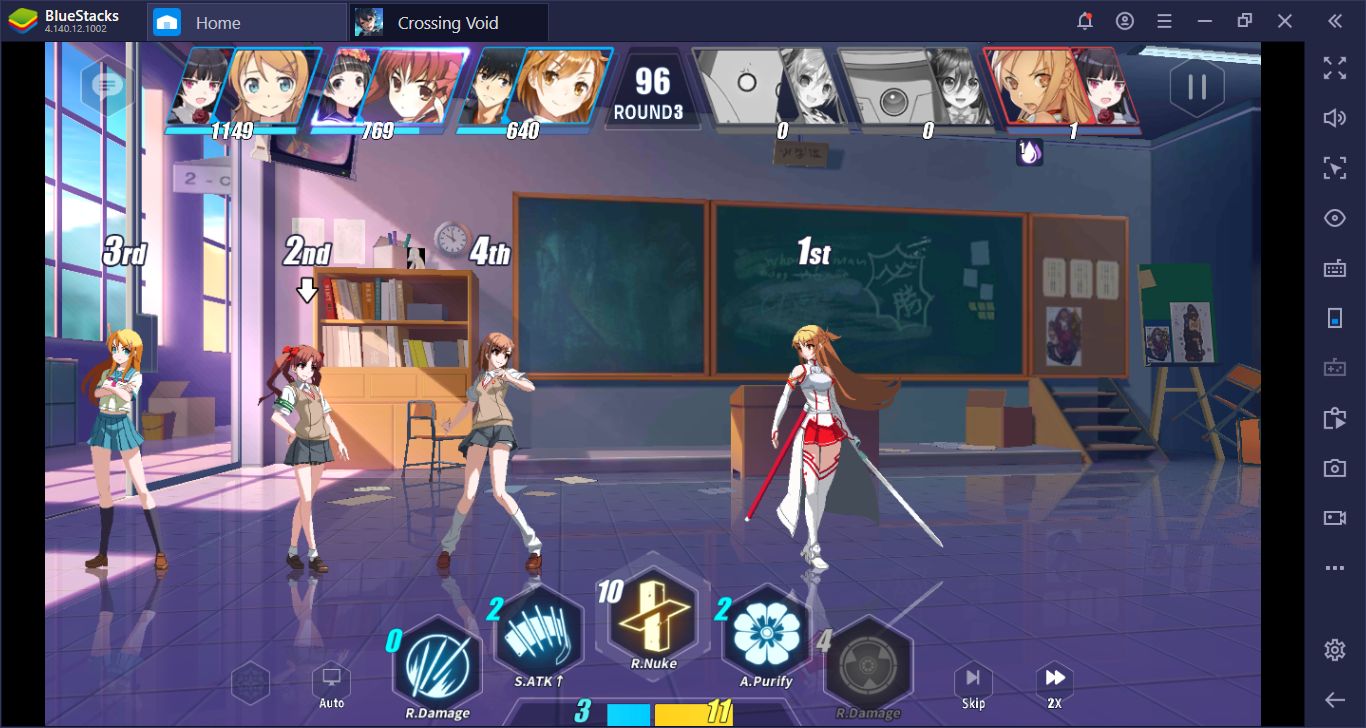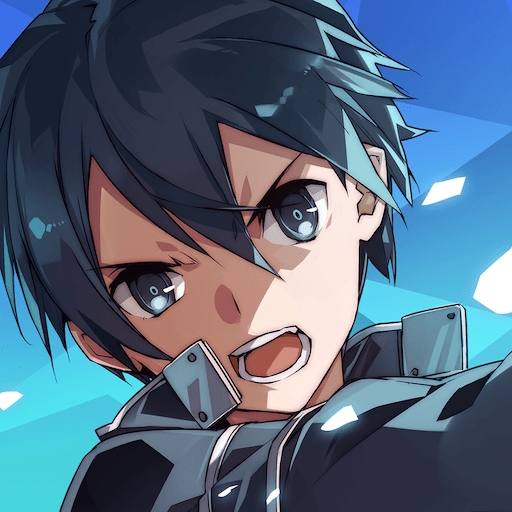 The combat system of Crossing Void is unique and innovative: You cannot win fights simply by pressing the keys randomly. You must carefully calculate each move to create the right combo and try to activate your powerful attack skills as quickly as possible. In order to do all of these, you need to learn how the combat mechanics work and, more importantly, how can you create the perfect team of heroes with complementary skills. Well, worry no more: Below, we will talk about everything you need to know about the Crossing Void combat system.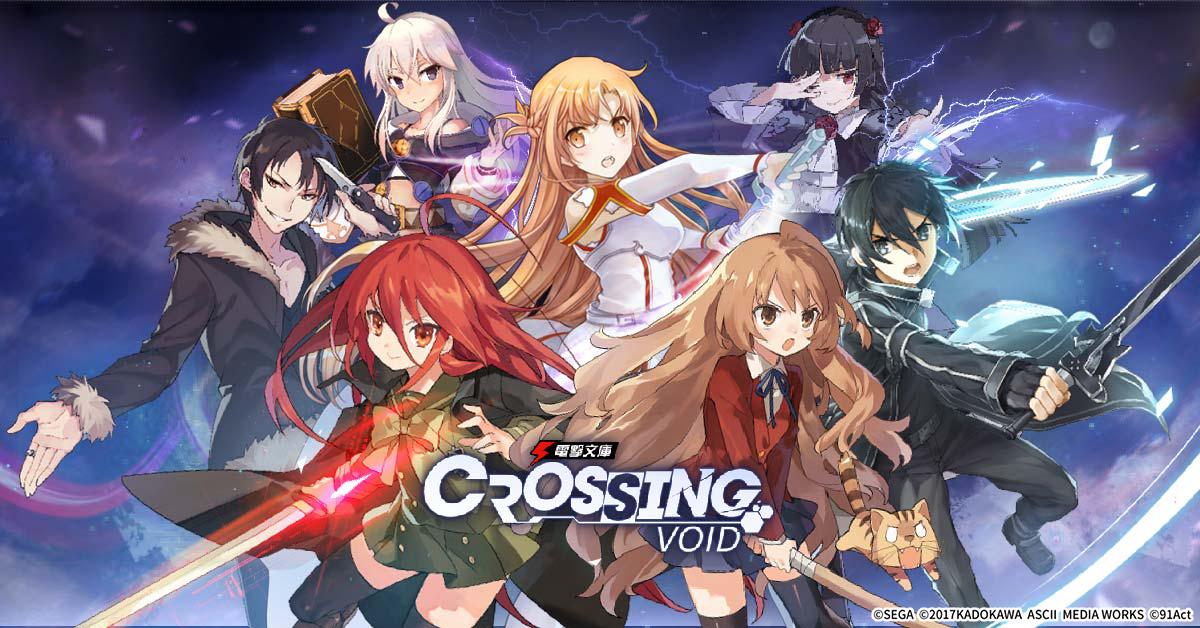 Which Crossing Void Characters Are Best To Use Together?
The first thing you need to know is that there are two different types of characters in Crossing Void global, main and support. Main characters are the ones who actually fight, and support characters are linked to them. A support character can give an extra ability to use to the main character. And if you combine the right characters that have a "cross skill", you will get an additional bonus on the battlefield. Note that you cannot simply combine the rarest/most powerful main and support characters together and hope to create the perfect combo. Each character is "compatible" with another one and you need to take this into account while creating your party.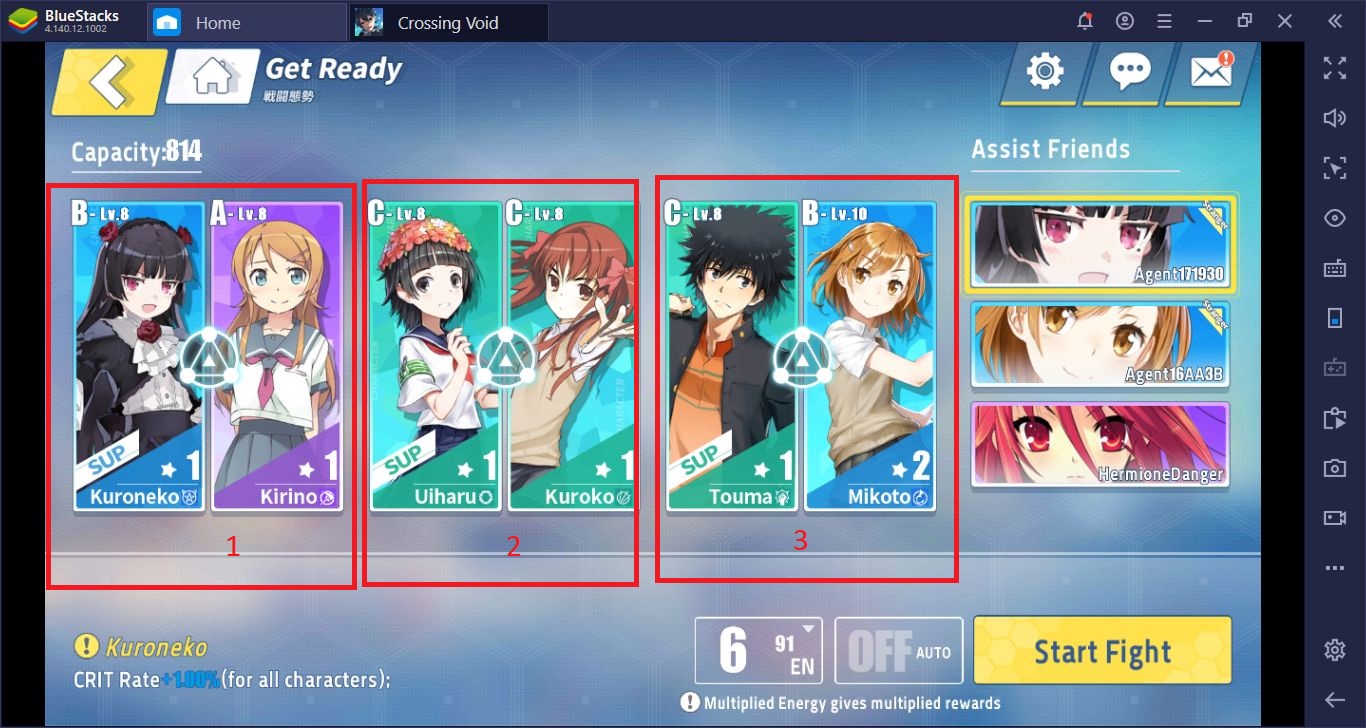 This is your party screen. Each party can host three main characters. The support characters do not join the fight.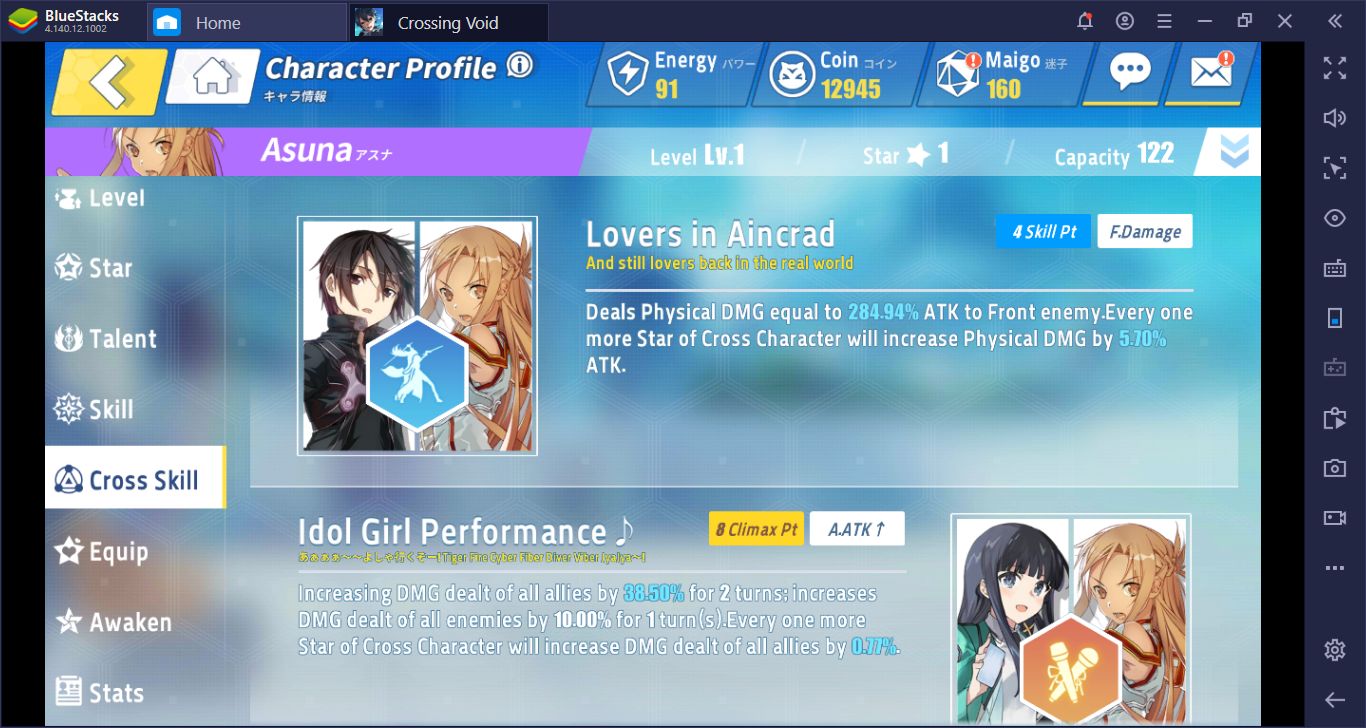 Open the profile of any character and look for the "cross skill" option. You can see a list of other heroes that the character is compatible with on this screen. There will be multiple other characters that you can team up with, and each one will offer a different bonus.
Basically, creating the perfect party is not about finding the rarest and most powerful heroes: It is about creating harmony. If you combine the right characters together, you can get really strong bonuses and beat any enemy you encounter. There are multiple combinations you can create, but our Crossing Void cross skill suggestions are:
Misaka Mikoto (main) / Kuroko (support)
Shiba Miyuki (main) / Zero (support)
Shana (main) / Wilhelmina (support)
Different pairings will give different results: Sometimes you will get an AOE skill, sometimes a strong debuff, or an amazing buff for the entire party. Experiment with different characters and choose the best Crossing Void pairings for your game style/party formation.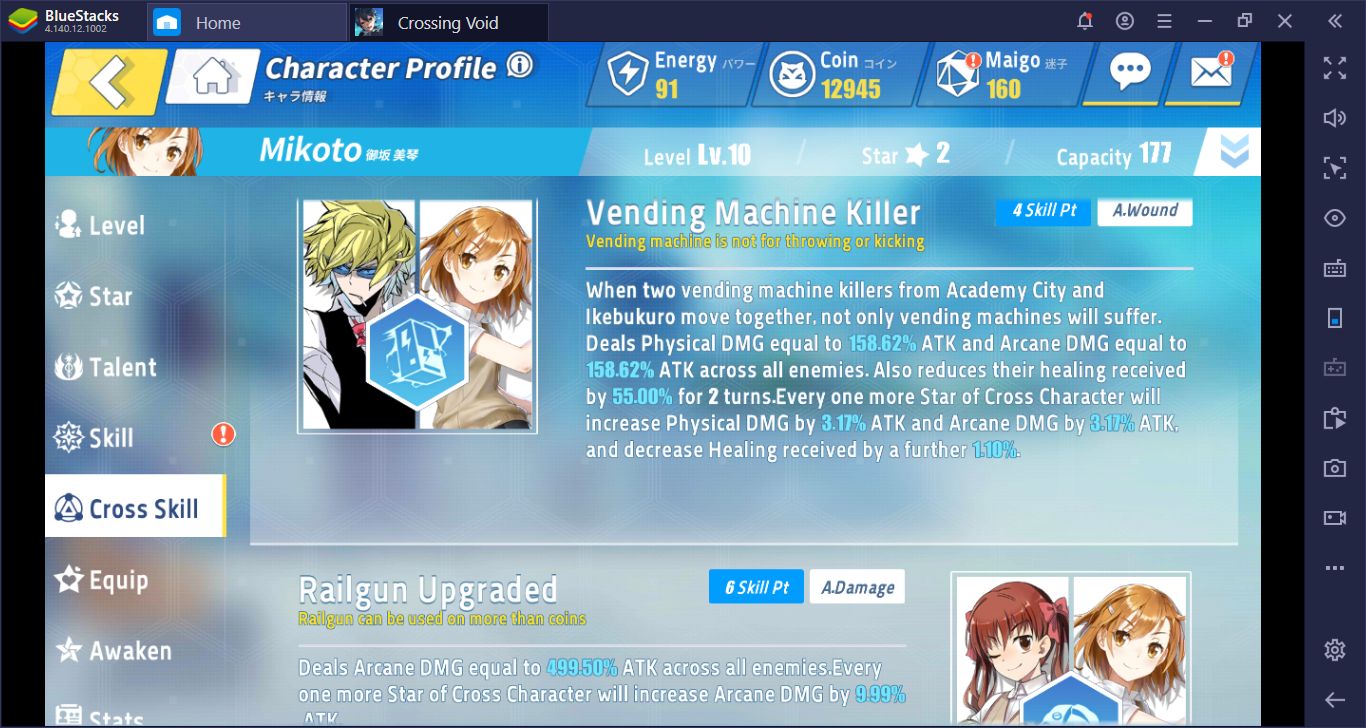 The cross skill list of Mikoto. You can either get an AOE skill that deals damage to all enemies, or a skill that deals 499.50% more damage to a single target – your choice.
Crossing Void Combat Mechanics: How Do They Work?
Crossing Void combat is turn-based, which means you and the enemy attack in turns. Most of the RPG/gacha games are based on the same mechanics, but Crossing Void global has a difference: You cannot pick a target to attack, the game picks a target according to your skills. For example, if it is Mikoto's turn to attack and her skill only harms the enemy in the back, the game will automatically select the enemy in the rear as the target: The other enemies will not be harmed, even if you want to.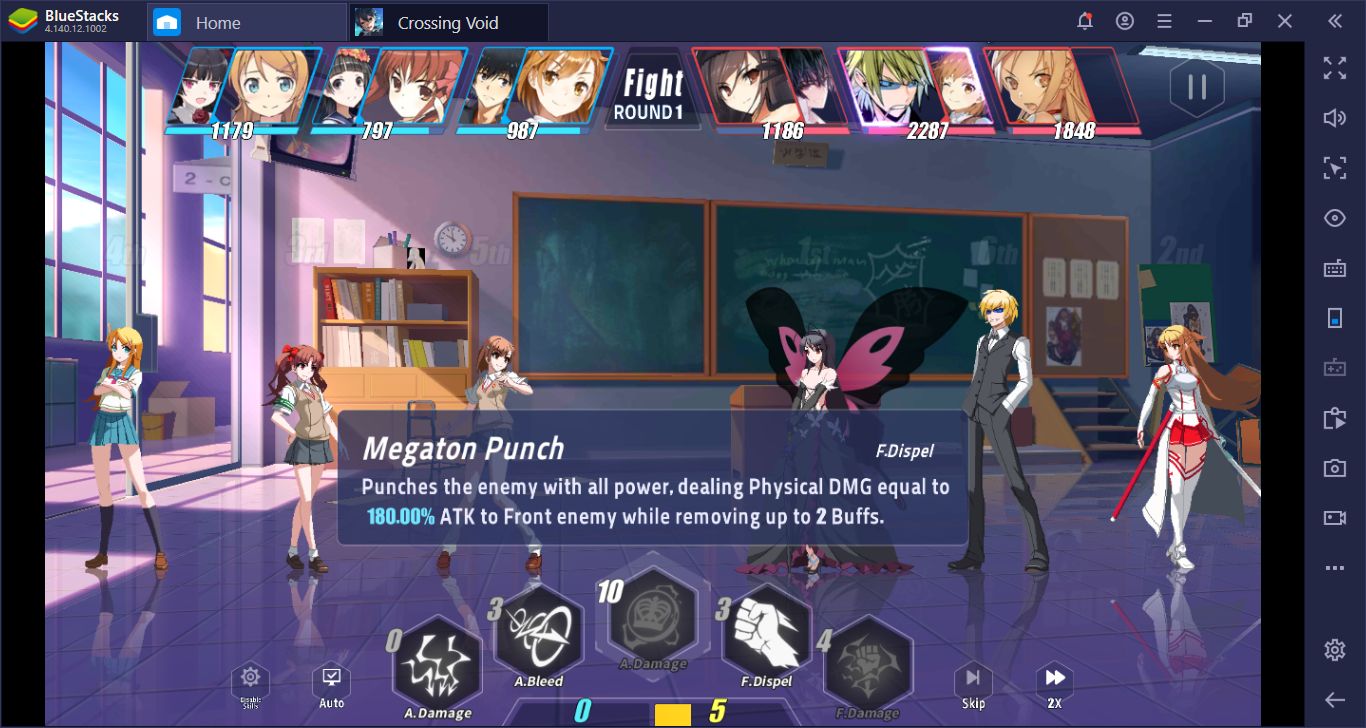 Some skills hit the enemy in front, some skills hit the enemy in the back, and some hit all enemies (AOE). Click and hold a skill button to see a popup that tells you what it does. This one, for example, hits only the enemy it the front.
So, how does the actual combat mechanics work? Let's explain them with a screenshot – it will be much easier.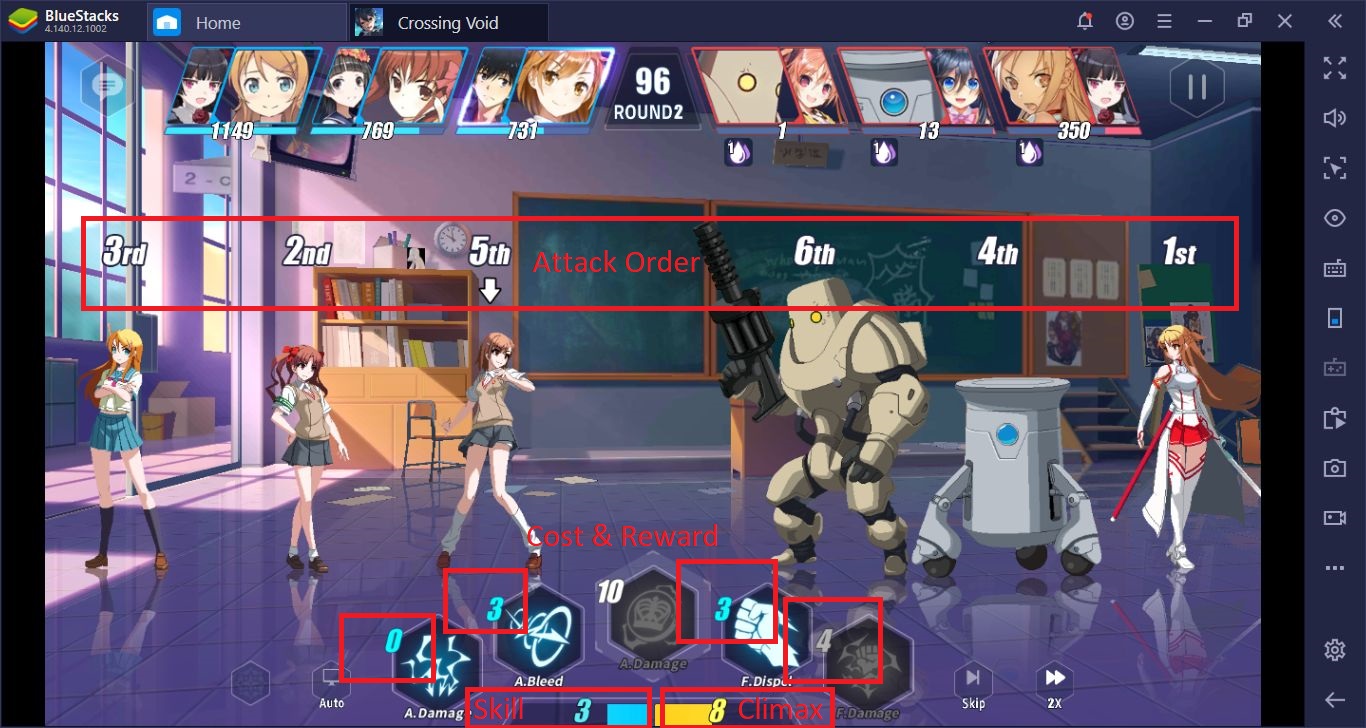 Attack Order: These figures show the attack order of all the units on the battlefield.
Skill Bar: Shows how many skill points you have. Each skill costs a certain point, for example, to cast "A. Bleed" skill, you need 3 points. Some skills do not cost anything: The "A. Damage" skill in this screenshot, for example, can be cast freely. You get 1 skill point automatically every time when it is your turn.
Climax Bar: When you spend points, you gain Climax points. The skill cost and gain are the same: For example, casting "A. Bleed" skill will cost 3 skill points and give 3 Climax points. When you reach a certain Climax total (usually 8 or 10), you can use a special and powerful attack.
Cost & Reward: These numbers show how many points are needed to use these skills and how much Climax points you'll earn after using them.
Basically, your goal is to collect as many Climax points as possible, in the shortest amount of time. Activating your most powerful attack usually ends the battle too: It is really that good.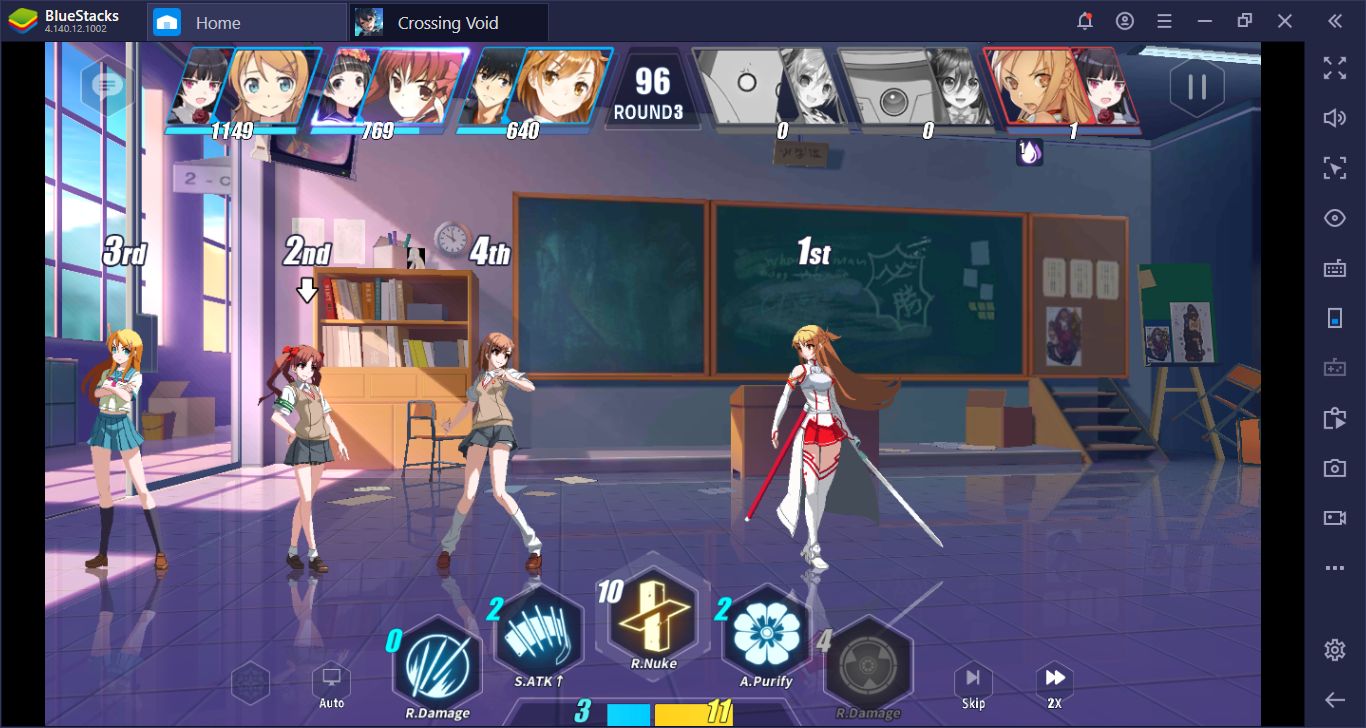 We collected enough Climax points and we are ready to "nuke" the last remaining enemy.
You can use the BlueStacks macro recorder feature to record the best combos that give the most Climax points and use them automatically. In fact, why don't you take a look at our setup guide and learn how to do that? We have other Crossing Void guides too and each of them contains useful information that will help you – make sure to check them all. You are now ready to become the ultimate Dengeki Bunko fighter and beat any enemy you encounter: Good luck out there!