Game Guides
How to Play Dark Exile on PC with BlueStacks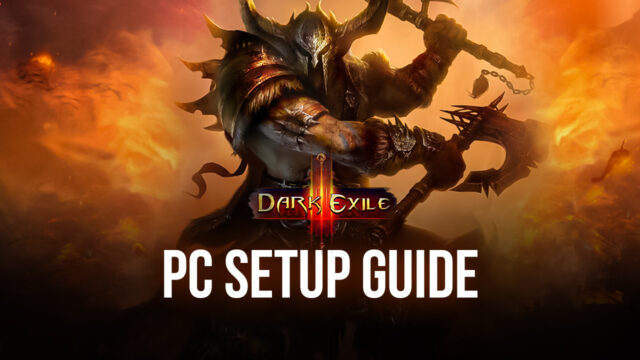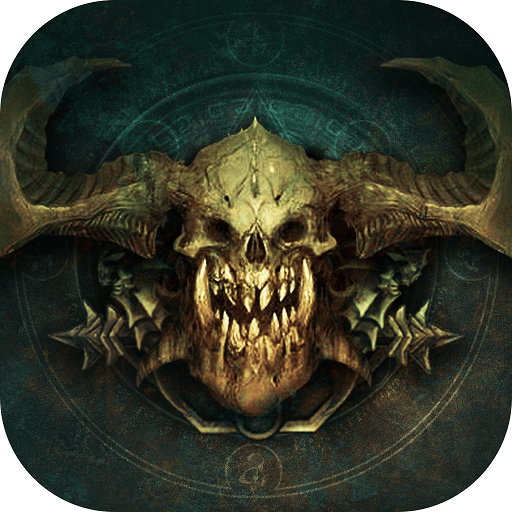 Dark Exile is an idle MMORPG that has its players grind through endless waves of monster packs as they work alongside other players to defeat bosses and earn valuable loot. All this effort is to equip their characters for even stronger foes in the future! The game is a simplified version of the beloved genre but still offers an enjoyable experience for both the MMO veteran and the newcomer that has high expectations for playing such games on their Android devices.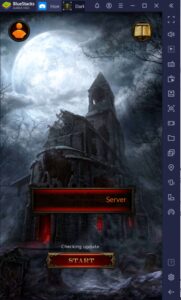 The MMORPG genre is one of the oldest game categories in the world with millions of gamers worldwide playing at least one or two games like these on their computers. Now that MMORPGs are accessible on the mobile platform, the game is extended to an even wider audience, despite the decreased interest. A new generation of gamers for new-generation games like Dark Exile are trying to uphold and advance the legacy of a once-great genre to an entirely new age of gameplay.
How to Set Up Dark Exile on BlueStacks
Playing Dark Exile on your phone can get pretty stale after a few hours because of how little action is presented to players in such a tiny screen. Dark Exile requires more management than actual action-gameplay, which means that your phone is the last place that you want to leave your game open. After all, you have so many other tasks that you can accomplish while having this game open in the background. Download it on BlueStacks to get a better all-around idle game experience.
Download and Install BlueStacks

on your PC.

Complete Google Sign-in to access the Play Store, or do it later.

Look for Dark Exile in the search bar at the top-right corner.

Click to install Dark Exile from the search results.

Complete Google Sign-in (if you skipped step 2) to install Dark Exile.

Click the Dark Exile icon on the home screen to start playing.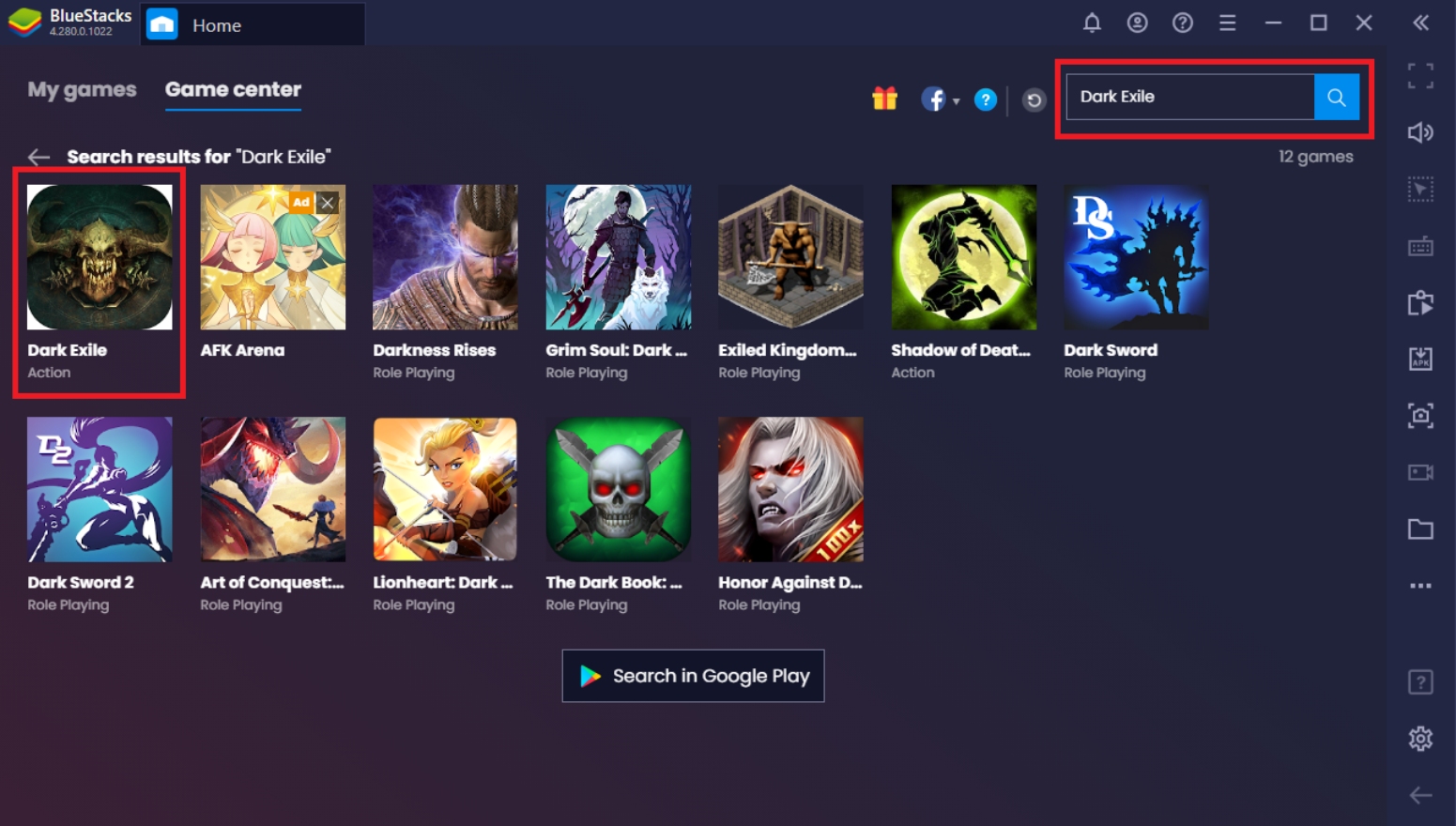 Useful Features On BlueStacks For Dark Exile
BlueStacks is home to mobile gamers that feel like their smartphone isn't giving them the right tools to reach a level of competitiveness that a more powerful platform could give them. BlueStacks has dedicated years of research and development to create features that allow gamers to take their gameplay to another level. Here are some of the most useful features that players can take advantage of when playing Dark Exile on the BlueStacks platform.
Multi-Instance Function
The Multi-Instance Feature is the most popular feature that BlueStacks' users enjoy the most when making the switch. This function allows players to enjoy having two or more games open at the same time so that they don't have to waste valuable time on progressing through an important phase or level while they are busy tending to another game. Having another game open while your other game is busy running auto-quests is the best way to enjoy Dark Exile.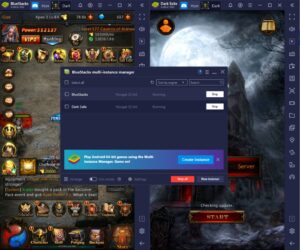 Dark Exile is an idle game that doesn't require the player to do much other than watch the character idly slash away some monsters. The most important tasks only require about 5-10 minutes of gameplay every other hour, so the player can choose not to pay attention for the entire time that they're playing. Of course, players still need to keep the tab open so that the character continues to gain experience and gold that they'll need to upgrade their skills and items later on.
Macro Feature
The Macro Feature is another way to enjoy the auto-gameplay that most players enjoy in Dark Exile. By activating this feature, players can record the set of commands that they do when playing the game so that they can replay it a certain number of times later on. Players just need to hit the Record New Macro button and do what they would normally do when playing the game and save it. You can set the number of intervals and length of delay between the intervals.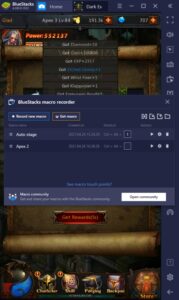 Dark Exile does have quite a few tedious tasks that are better off being done by the boss. For example, stages appear only after defeating two to three waves; instead of waiting for your character to clear monsters and clicking it every minute, let the macro system do it for you. This feature has a lot of other uses too, as long as the player understands the necessary timing and actions that the character will perform, so that the auto-replay won't interfere with the Macro.
Screen Recorder
The Screen Recorder is an upgrade of its mobile version. Players that like to post videos online or stream their gameplay prefer doing it on BlueStacks rather than doing it on their mobile phone. This is because their PC has more powerful specs to deal with the data processing that it takes when playing a game while it's being recorded.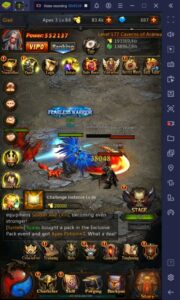 The biggest problem that mobile phones have when recording their gameplay is that the recorder causes the game to experience FPS drops or lag significantly. Mobile phones are also prone to overheating when overlapping two processes at the same time, which is why recording for long durations isn't advisable. Players that choose to record on the BlueStacks platform won't have to deal with these problems.
Conquer the World in Dark Exile
Dark Exile doesn't have much of a story, but the endless grind of killing waves of monsters may actually help release some pent-up stress. The world is filled with large monsters and small pests that you can hack and slash your way through to achieve your goal as the strongest warrior in the realm. Compete against other players to climb the rankings and establish yourself as the Alpha.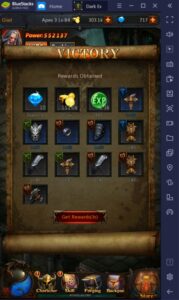 MMORPGs are best enjoyed when playing with a group. Invite your friends to try this game out too so that you can all level-up together as you team up to defeat bosses and enter dungeons. Don't forget to invite them on BlueStacks so that you can all reap the benefits together and conquer the world of Dark Exile as you go on an epic adventure.