Game Guides
How to Play Dragon City on PC with BlueStacks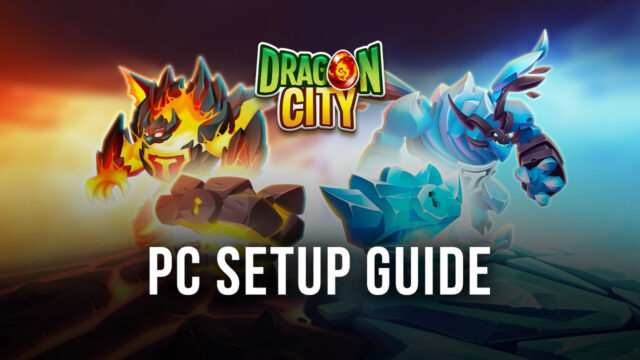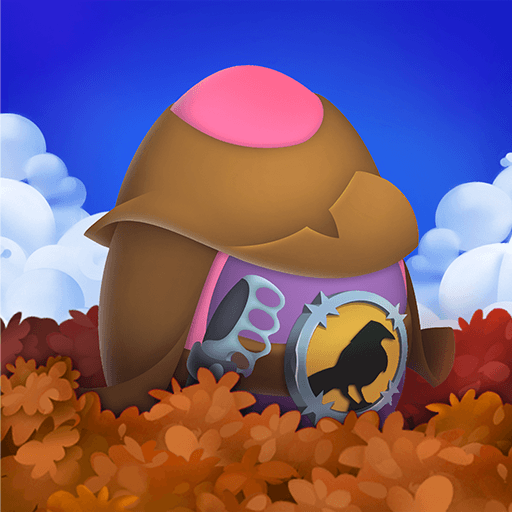 Dragon City is a management game where players will raise dragons of different types and strengths by breeding them or leveling them up so that they can eventually use them in battle against other players in the arena. With over 1500 dragons in the lineup, players can create the ultimate team of dragons that can stand up to the best players in the world. It's time to raise your most epic companions in the magical world of Dragon City as the main stage of your adventure.
The management involved in playing Dragon City includes feeding, leveling, breeding, and collecting dragon orbs that contain the essence of different units. Each dragon has a unique set of moves of varying elemental affinities to create the strength/weakness relationship that games like these often have. It's up to you, the dragon tamer, to create the ultimate team by training the best dragons available in the collection to ultimately make them battle-ready even against veteran players.
How To Set Up Dragon City on BlueStacks
Dragon City involves a lot of managing and training that players might find too difficult to keep up with on a limited device like a smartphone. The best way to keep up with all the tasks is to play on a platform that assists in doing everything possible using the most efficient functions on the market. When playing games like these, there's no better place to download and play Dragon City than by playing it on the BlueStacks platform; here's how to get started.
Download and Install BlueStacks

on your PC.

Complete Google Sign-in to access the Play Store, or do it later.

Look for Dragon City in the search bar at the top-right corner.

Click to install Dragon City from the search results.

Complete Google Sign-in (if you skipped step 2) to install Dragon City.

Click the Dragon City icon on the home screen to start playing.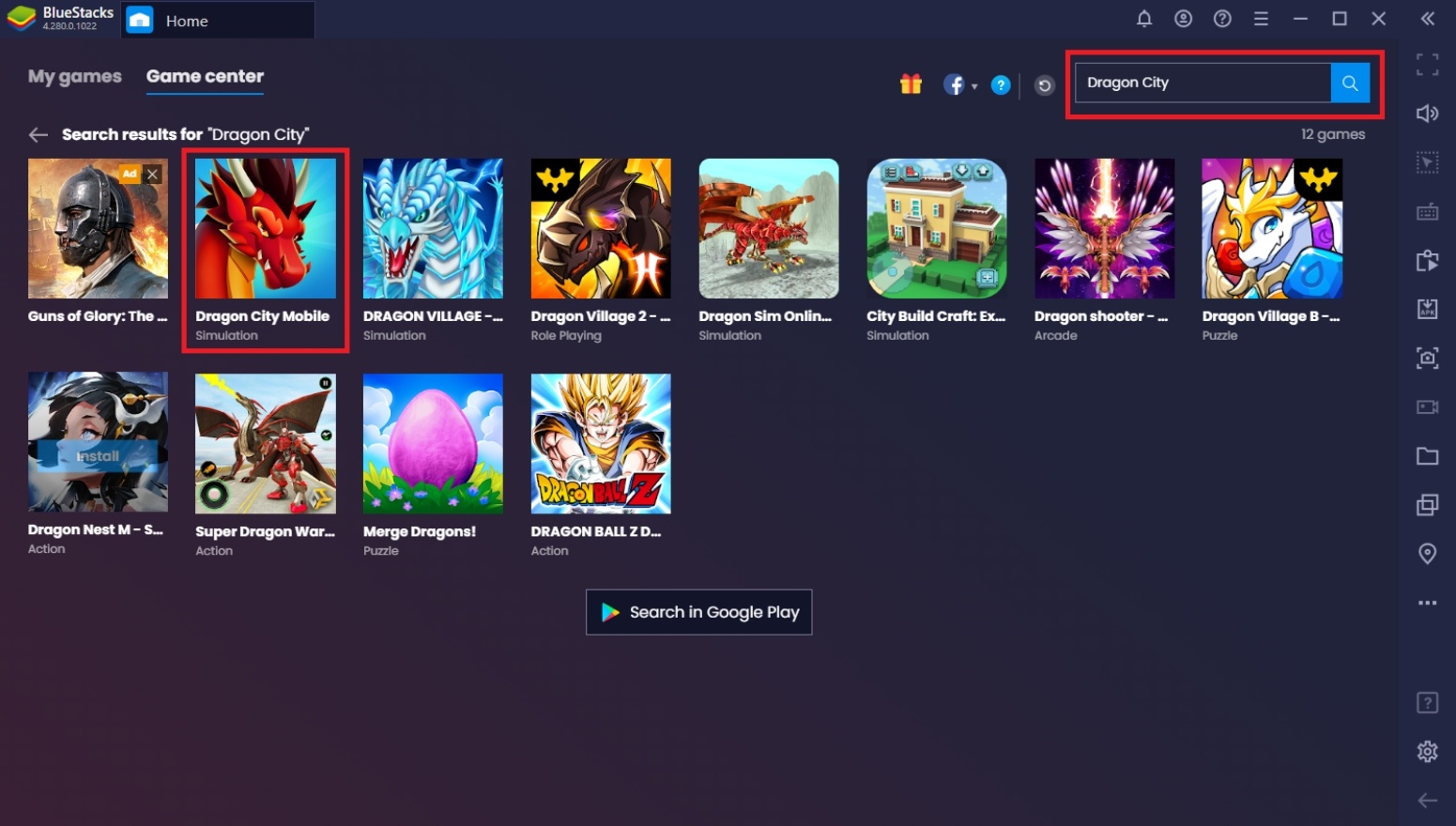 Useful Features When Playing Dragon City on BlueStacks
BlueStacks has everything a gamer needs to seize every advantage they can get when playing Android games. Games like Dragon City that have a little bit of a competitive aspect to them are popularly played on this platform because it allows the players to use functions that can't be found on your average smartphone. Here are some of the most popular examples of BlueStacks functions that you can use when playing this game on your computer.
Multi-Instance Function
Like many other management-based games, Dragon City doesn't involve too many hands-on actions that occupy the player's time or attention. However, it's recommended that players monitor the game by checking on in-game timers to check the growth of food or the progress of egg hatching. On the average smartphone, it's extremely tedious to monitor the game's progress like this since one would need to constantly open and close the app in between sessions.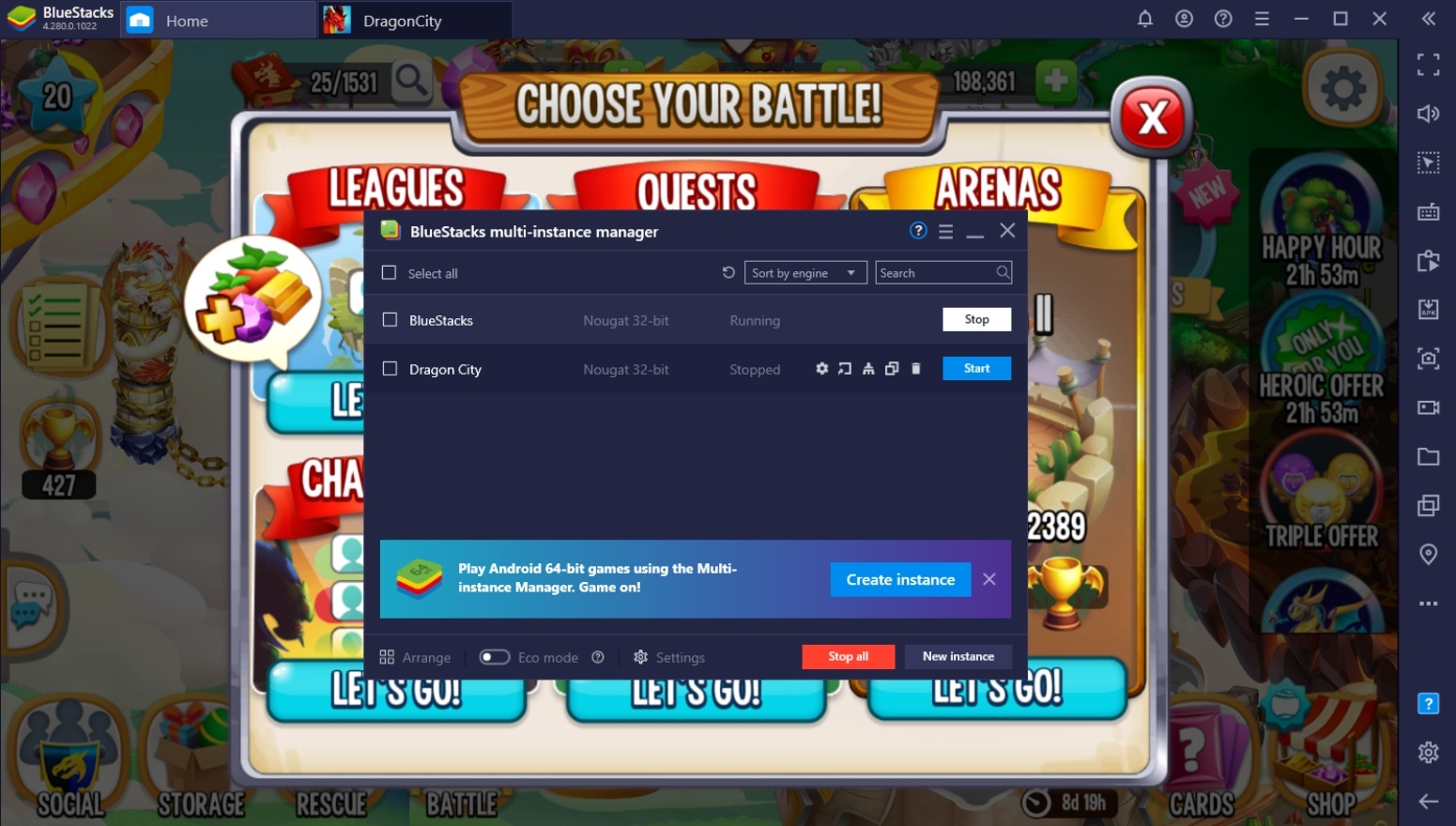 The Multi-Instance Function bypasses the need to continuously shift through different apps by introducing the option to have them all open at the same time. This feature basically allows the player to open several apps at the same time on separate BlueStacks instances so that they're always visible on your screen. This means that you can play several Android games at the same time without worrying about forgetting one or the other after playing your favorite games.
Macro Feature
Food values in farming are odd, to say the least, in Dragon City. Players are rewarded bigger harvests when they plant seeds that have lower growth timers, despite the more advanced seeds costing more gold. This is the game's way of rewarding players for spending more time in game and earning longer login hours. However, not everyone has the time to plant and harvest seeds every five minutes just to get the most bang for your buck when it comes to food for dragons.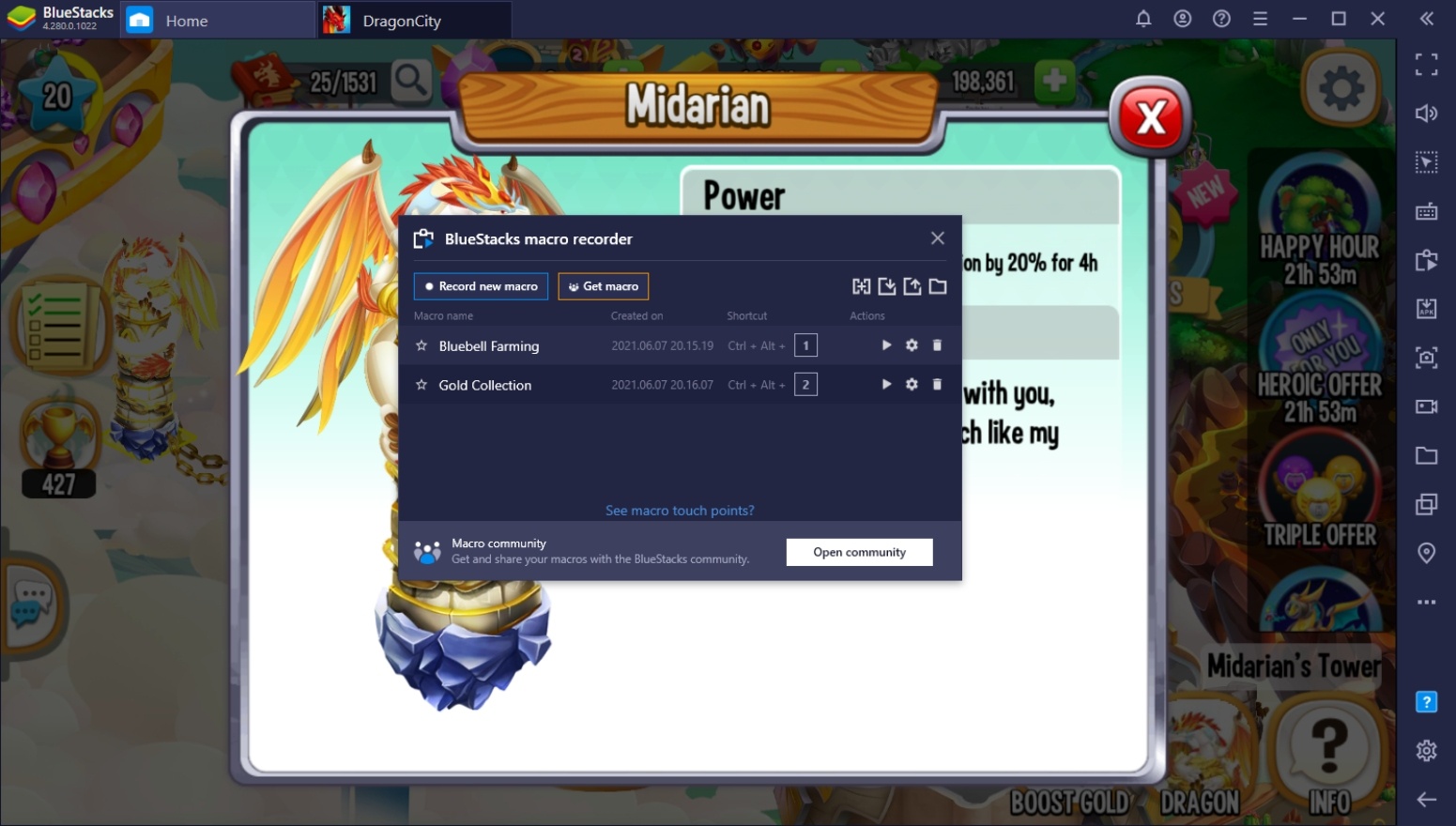 The BlueStacks Macro Feature allows players to maximize harvesting and planting food in game without the hassle of actually checking up on it. This feature basically introduces an auto-play function to any Android game by recording a series of actions made by the player and replaying it at a later time. Once the player has recorded the set of commands, they can adjust the number of intervals and delay per interval to create an auto-farming macro.
Screen Recorder
Recording one's gameplay has become one of the most popular hobbies that players from this generation have been increasingly fond of. Aspiring YouTubers and streamers have been recording parts of their gameplay to help other people with difficulties that they may be having when encountering a challenging opponent. It's never too late to start your own streaming channel to help others gain an advantage when playing your favorite game.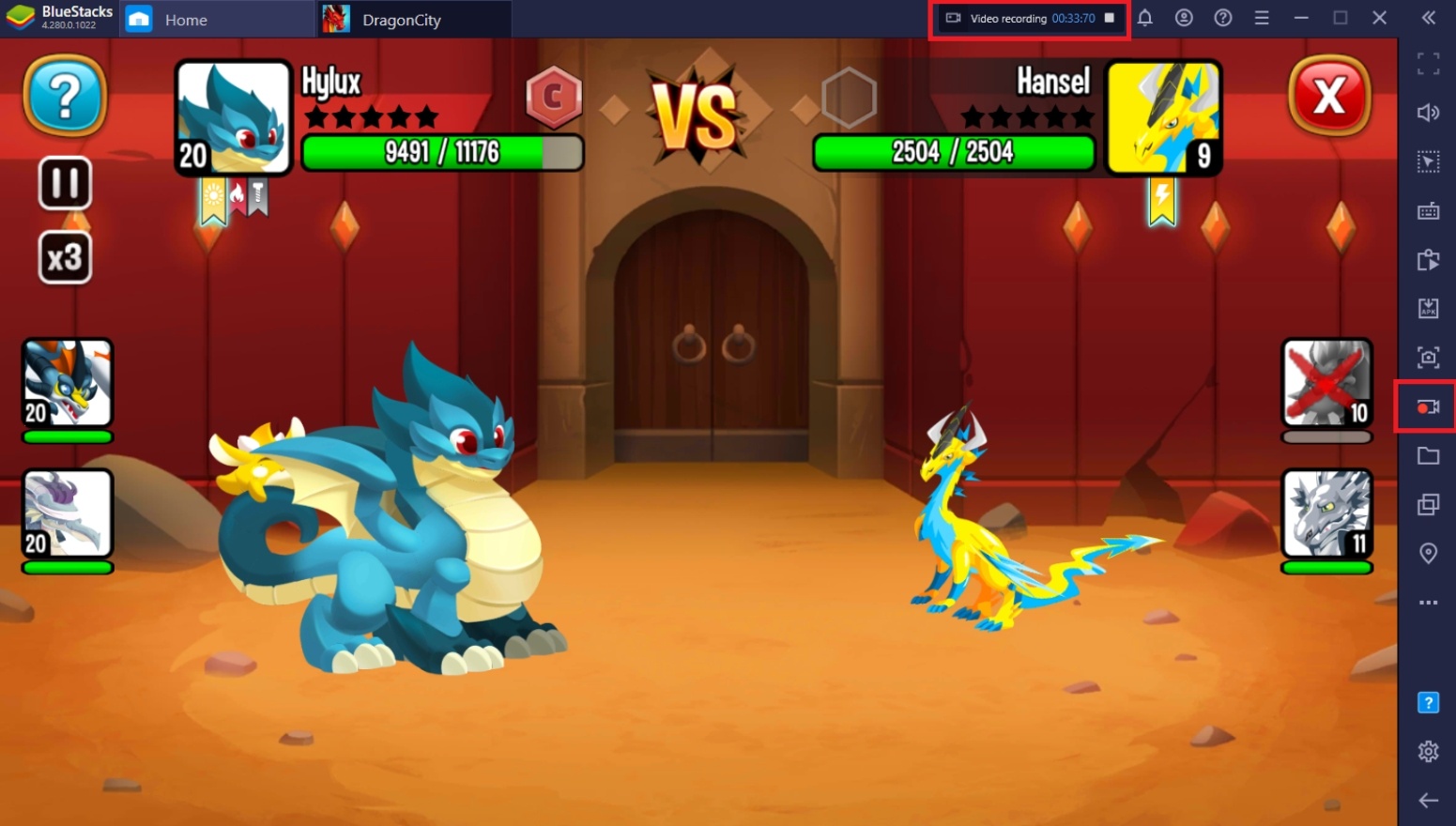 Content creators like to use BlueStacks' Screen Recorder function when recording their videos because of the superior quality. Recording videos using a smartphone can have its own problems since such devices have very limited capabilities. Screen recorders on the smartphone may cause the game itself to lag, making what you captured not optimal to share online. Because BlueStacks uses a more powerful device to record the videos, you won't have that problem ever again!
Become The Ultimate Dragon Master!
It's time to become the ultimate dragon master by creating the perfect environment where your elemental companions can thrive and grow. Dragon City is a game that doesn't just test how you would perform in battle; it also tests how you would manage a city filled with hungry overgrown lizards using very limited resources. The game offers so many exciting features that players will be able to keep themselves entertained for weeks.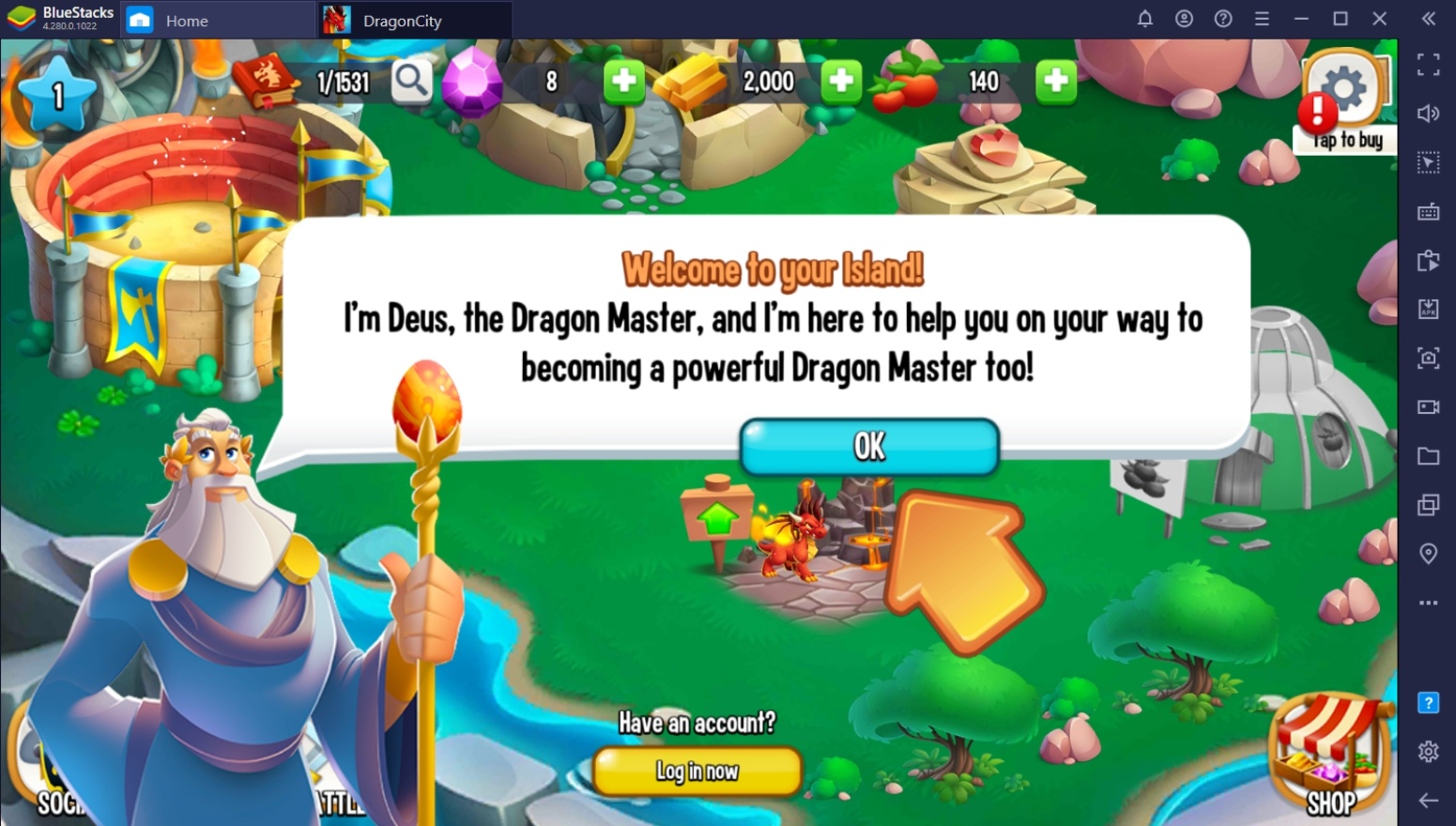 The greatest dragon masters are already out there raising the best dragons for battle. It may take a while before new players can catch up with those that are already on top, but it's definitely not impossible or unheard of. The game has a lot of surprising features that you'll surely enjoy once you give it a chance. What are you waiting for? It's time to take it to the next level and raise your very own dragon army!