Game Guides
BlueStacks Macros for Epic Seven: Expedite Your Start With These Macros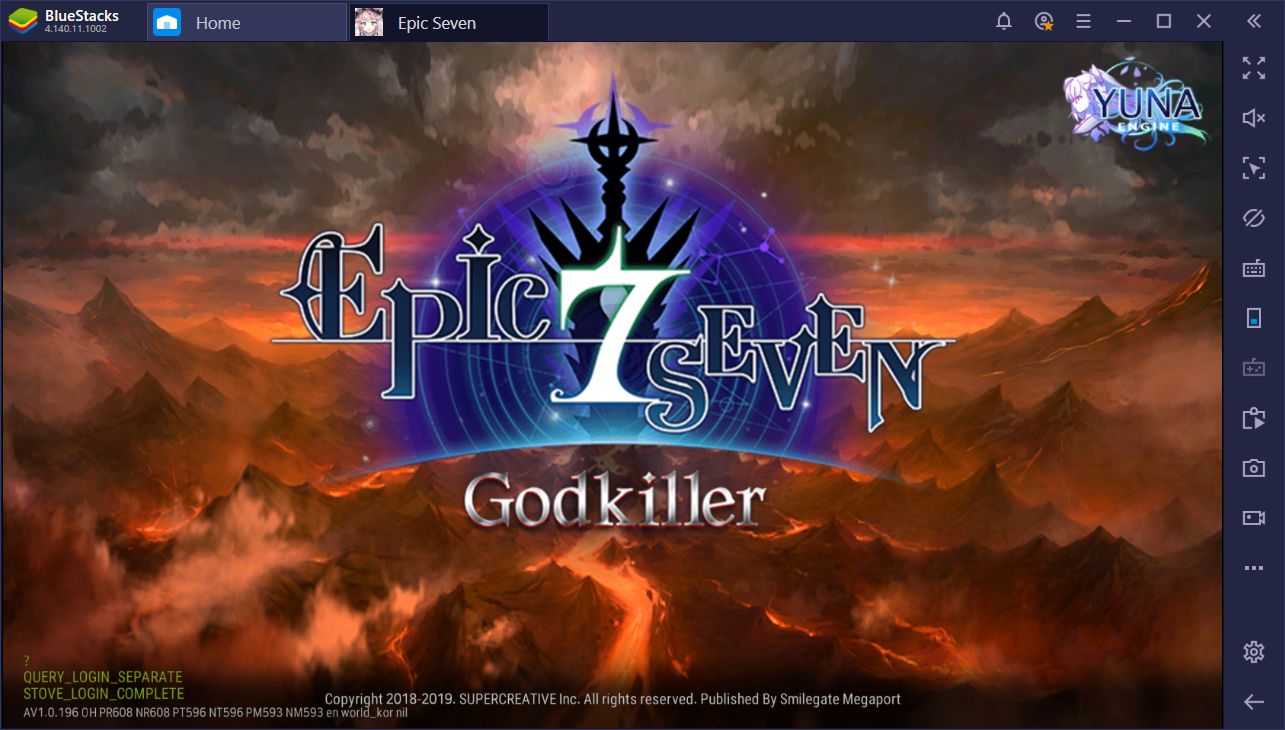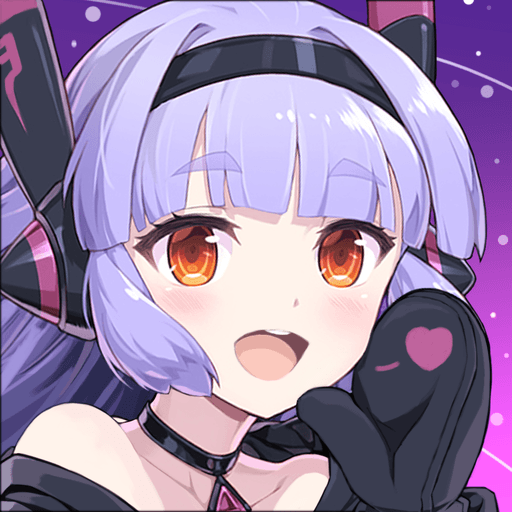 We've written on multiple occasions about Epic Seven and all it has to offers to both casual gamers and hardcore gacha fans. This RPG game combines all we love about turn-based combat systems, with the addictive summoning mechanics of a gacha game. Plus, it has a pretty darn good art style to boot. All these factors combined make for a very engaging experience regardless of whether you enjoy a good RPG game, you're a completionist and like summoning and collecting characters, or if you're just a humble waifu collector.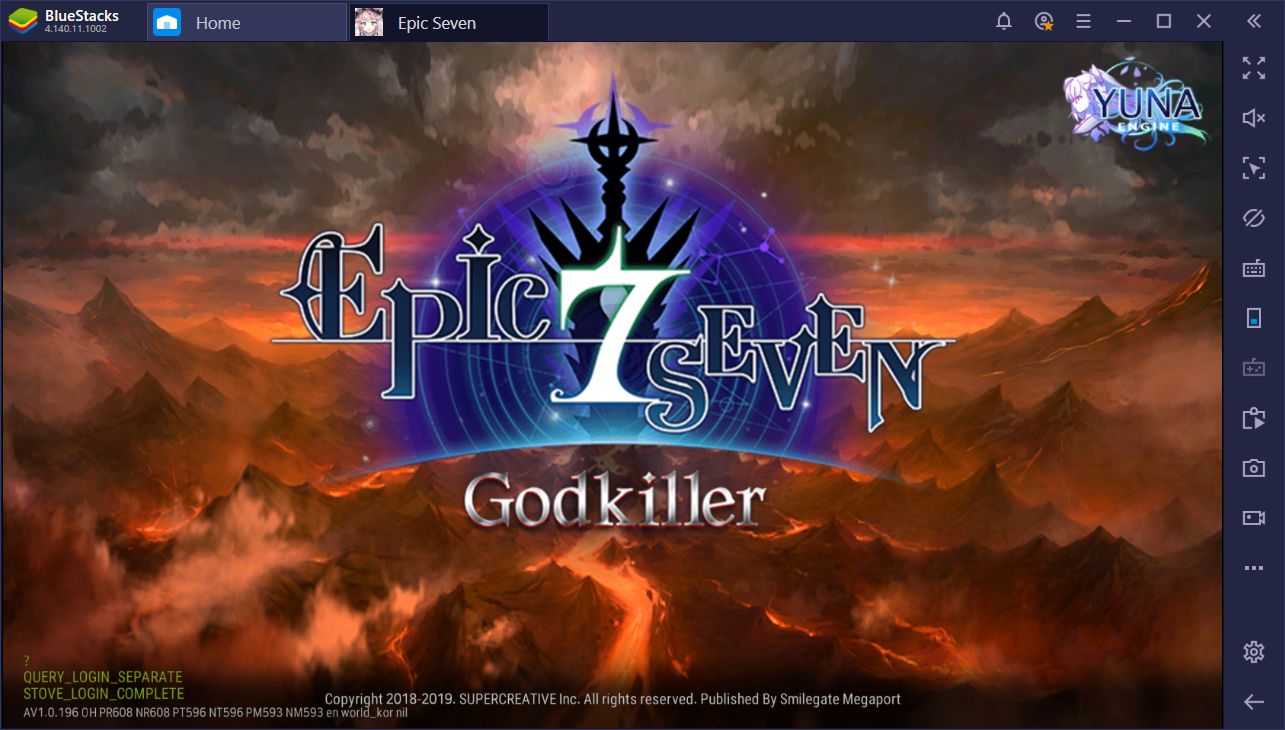 By playing Epic Seven on PC with BlueStacks, you'll automatically enjoy the game much more than by playing on your phone since you will be able to play on your large monitor, using your mouse and keyboard, and with much better performance than with even the most expensive mobile devices on the market.
Fortunately, if you're looking to get started in Epic Seven on PC with BlueStacks just now, we've recently added a couple of new guides to our blog. In these articles, you'll learn how best to use our powerful Android emulator to optimize your experience in this game and increase your enjoyment significantly. However, in this article, we want to talk about the BlueStacks Macro Recorder, specifically, and about how it can help you in Epic Seven.
In a nutshell, the proper use of our macros can help to considerably streamline the beginning of this game, which in turn will allow you to reroll much easier. Instead of having to sit through the cutscenes and sequences that slow the beginning of the game to a crawl, you can use BlueStacks to either skip them entirely, or automate the parts that can't be skipped.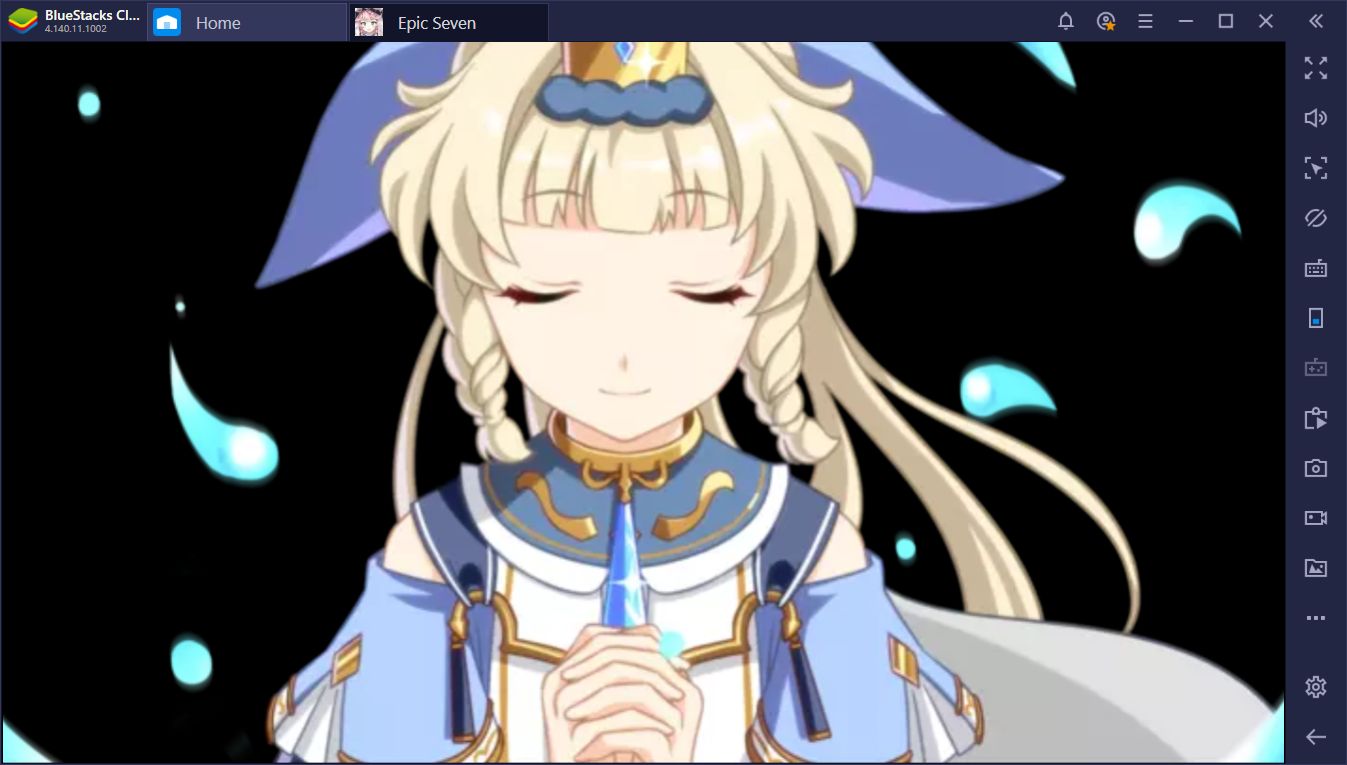 Rerolling in Epic Seven With BlueStacks
Veterans of gacha games like Epic Seven are no strangers to the reroll process. This method is used in gacha games for one specific purpose: Unlocking the most powerful characters in the game from the very beginning. A good initial summoning can help you to advance through the story much easier than with sub-par or mediocre heroes. In turn, by speeding through the main campaign, you'll unlock everything the game has to offer in record time, not to mention that you'll also have a much better team to face the increasingly difficult challenges.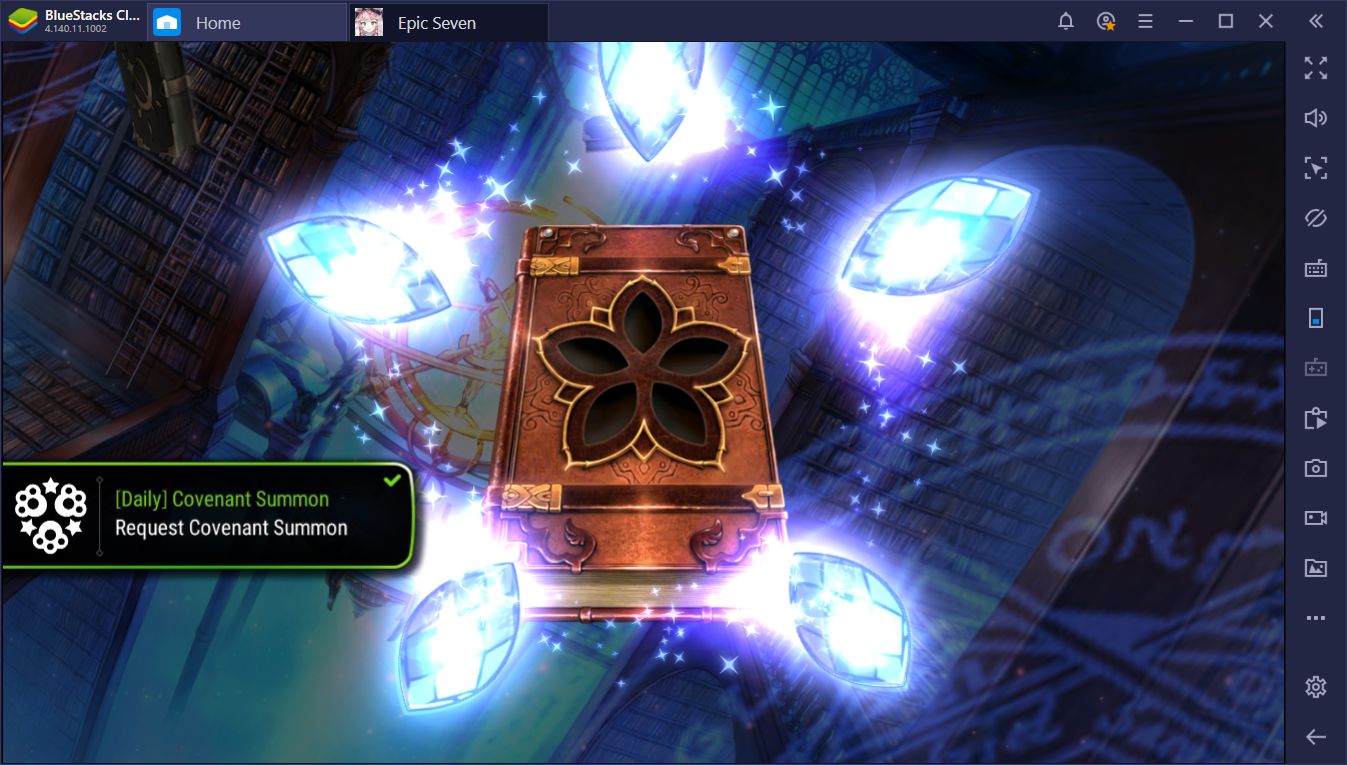 However, rerolling can take quite a bit of time, especially if you're unlucky and have to do multiples cycles. The starting sequences in Epic Seven take several minutes to complete, and even after finishing them, you'd still have a ways to go before reaching and beating stage 1-10, after which you will gain access to the Selective Summon feature.
Once you've unlocked the Selective Summon, you can perform a free 10x summoning, which you can repeat up to 30 times until you're satisfied with the results. However, every time you reset, you forfeit the characters of the previous summoning attempt. In this sense, it's possible, in theory, for you to perform 30 summonings and still not get the characters you were aiming for, which means that you'd have to reroll.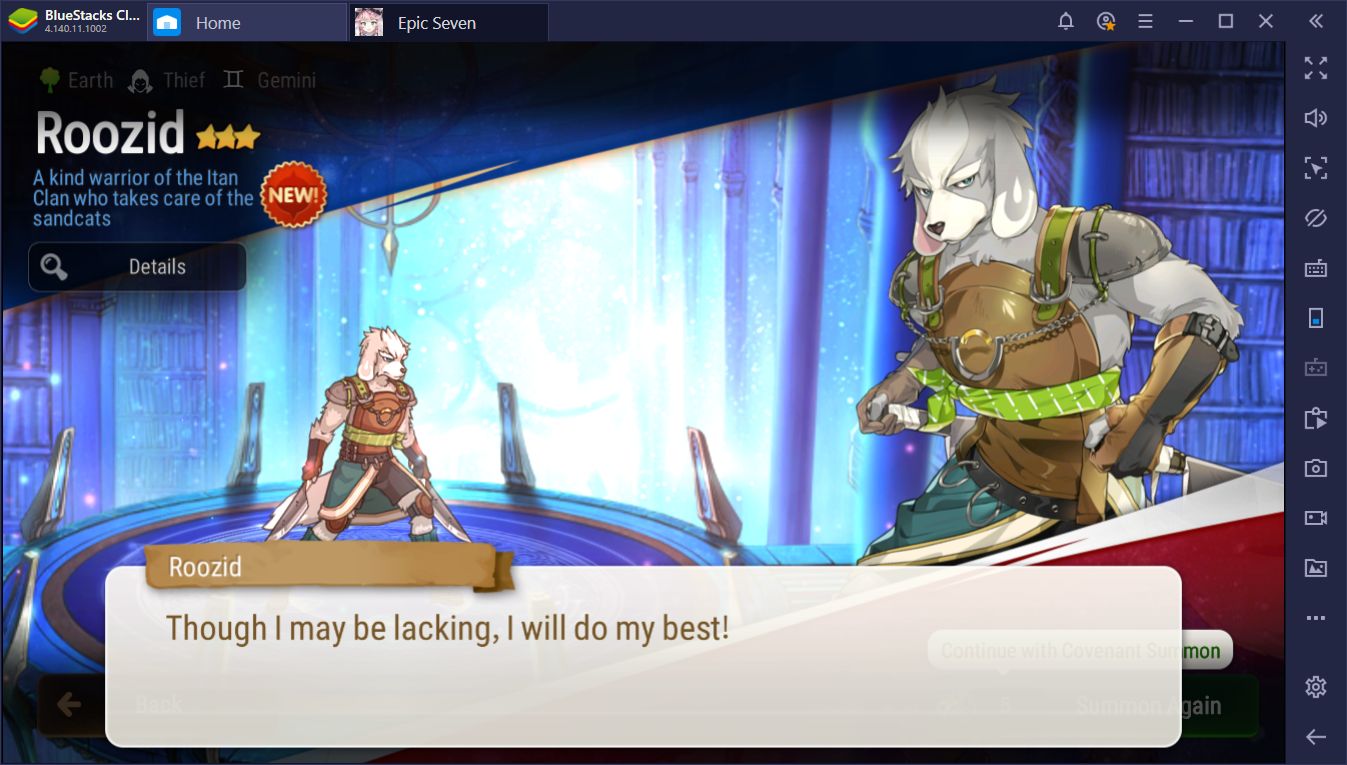 By using the BlueStacks Instance Manager along with the Multi-Instance Sync features, you can significantly improve your odds of summoning your target characters in Epic Seven as you'll be able to reroll on multiple accounts simultaneously. However, despite the benefits of playing on multiple instances, you still have to advance the story manually at least on one of your instances, which can be very boring, especially after several rounds of rerolling.
BlueStacks Macros for Epic Seven
This is where our Macros come in. By using several well-placed macros, you can effectively automate the beginning of Epic Seven, and significantly improve your experience while rerolling in this game. Not to mention that you can also automate several routine standard tasks like checking on your Sanctuary or claiming free rewards.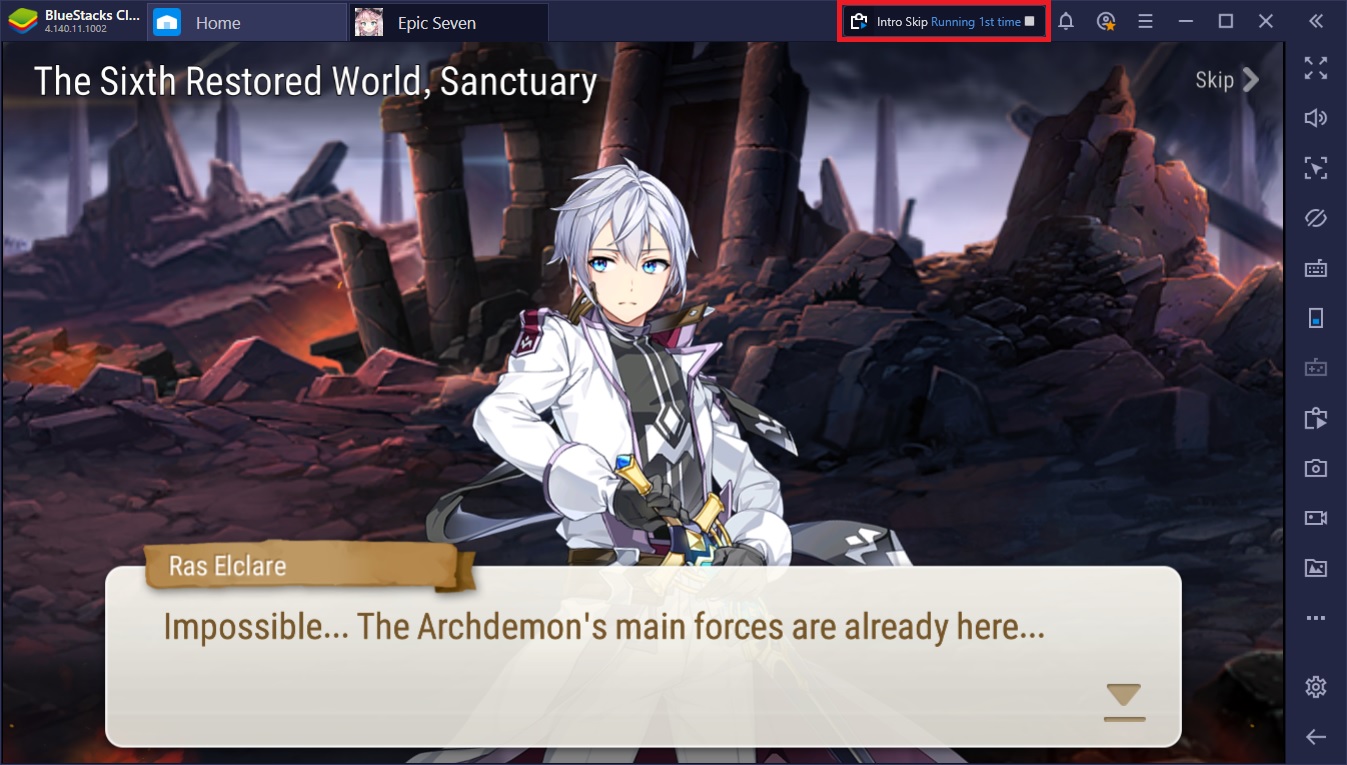 If you're interested in automating and streamlining your experience in Epic Seven on PC, then read on. In the following paragraphs, we'll show you how to use our BlueStacks Macros to your advantage in this gacha game.
Scenario 1: Automate the Introductory Cutscenes and Tutorial Levels
With this macro, you'll be able to:
Automate the long introductory battle and cutscenes.
Start the game straight from the lobby without having to press a single button.
Get a headstart on your reroll efforts.
There's no denying the fact that, out of most gacha games, Epic Seven is a title with serious production values. Everything from the character design, the combat animations, and even the cutscenes are stellar and top-notch in terms of presentation and sheer visual awe. However, the impact of these cutscenes is significantly reduced when you see them two, three, or many more times as you reset the game every time you reroll.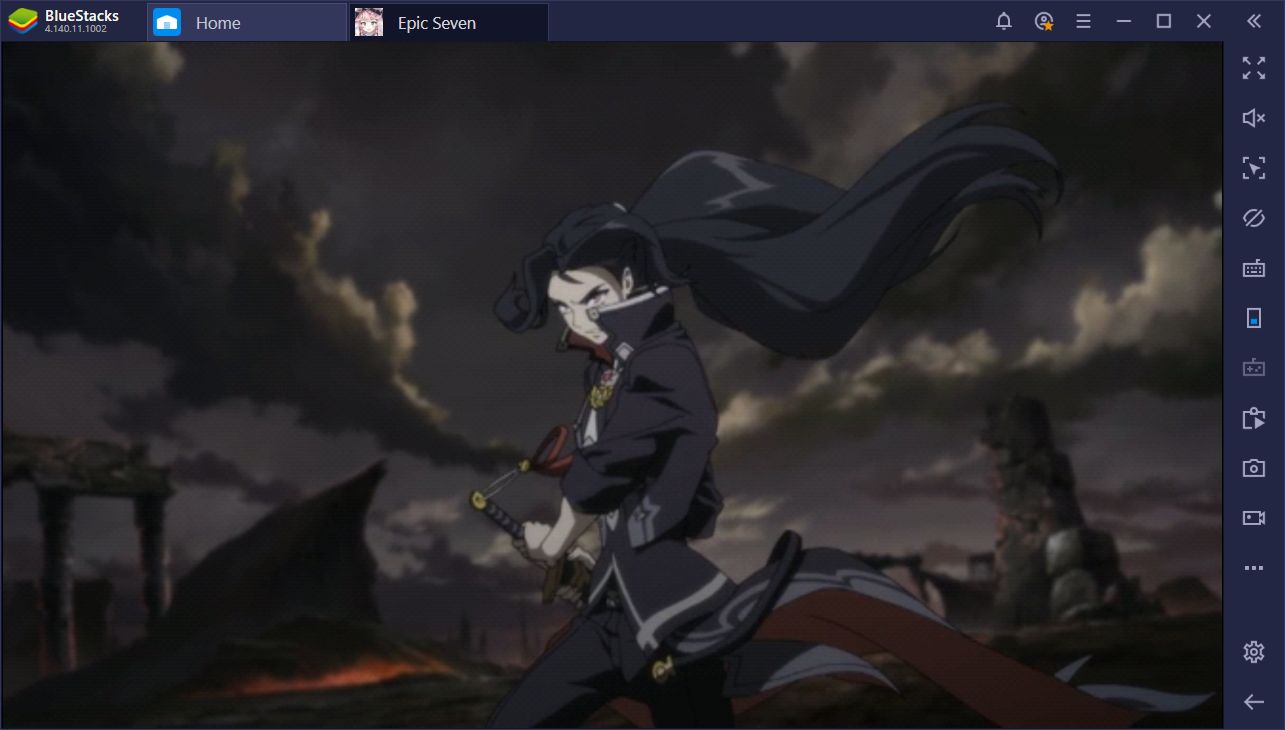 The intro sequence, including the battles, dialog, and cutscenes, is about 5 minutes long. While 5 minutes doesn't really sound like much, it quickly adds up when you do it multiple times across several instances. Luckily, you can easily use BlueStacks to create a macro to automate the intro in Epic Seven.
Here's what you need to do in order to create this macro.
Once you open the game, login with a guest account, and start the recorder in the screen where it says "Tap to Start"
With the recorder running, witness the amazing cutscenes.
Every time there's a dialog sequence, make sure to click to "skip" button to save time.
Complete every battle as you normally would.
After finishing the final tutorial battle, wait until the cutscene ends, and click on the "skip" button to skip the final dialog.
Stop the recorder once you're in the lobby. Give your macro a name and key, and yourself a pat on the back for creating a very useful macro that will save you tons of effort in the future.
This macro is a godsend for the rerollers who want to summon the best teams from the very beginning as it will allow them to reset the game as many times as they want, without having to suffer through the long intro sequences. With this macro, starting a new account on Epic Seven is just a matter of pressing a single button, and letting BlueStacks handle the rest.
Scenario 2: Automate Clearing the Boring Stage 1-5
With this macro, you'll be able to:
Automatically clear stage 1-5, which only has boring dialog and no combat.
The first chapter in Epic Seven is quite engaging as it teaches you most of what you need to know about the combat in this game. Newcomers should definitely pay attention to everything shown in these introductory levels. However, stage 1-5 has nothing of the sort; it's just a level where you need to run around talking to different people in order to advance the story and unlock the next level.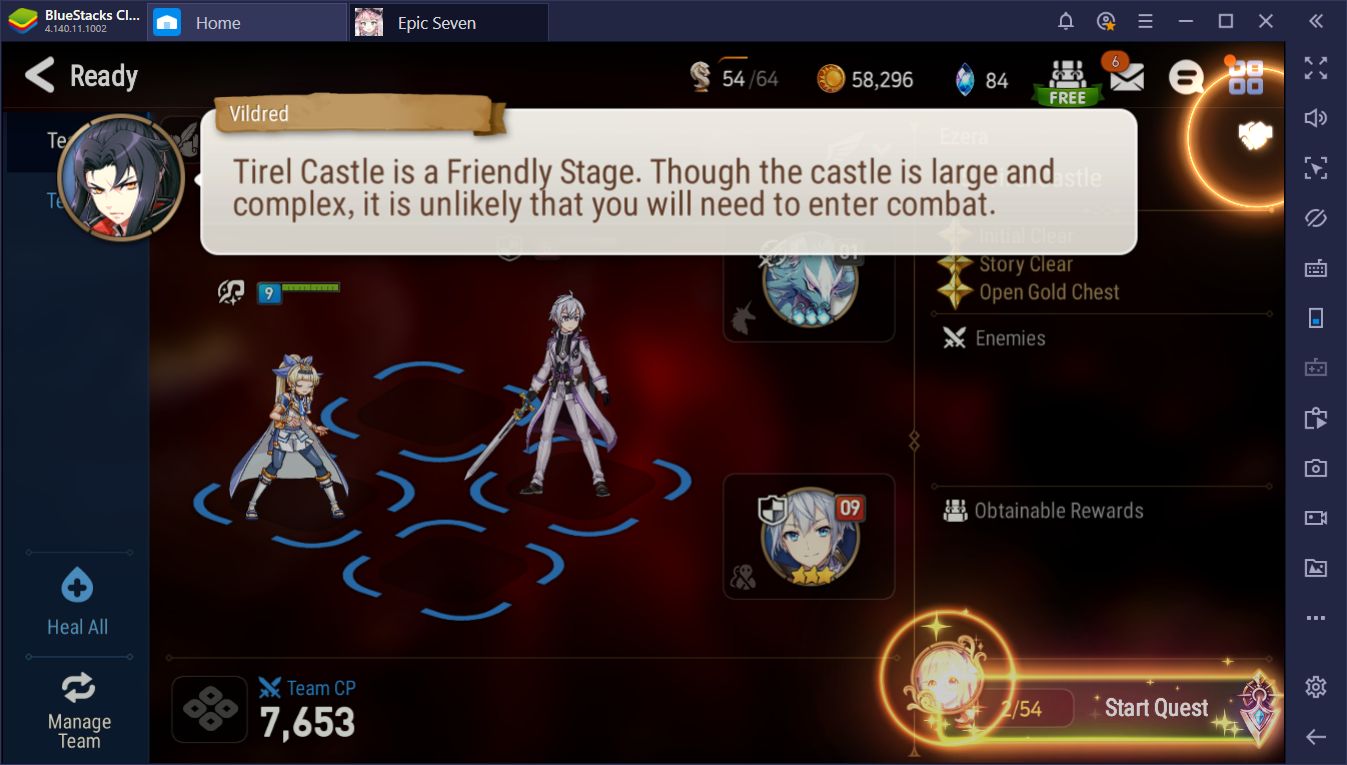 If you're new to Epic Seven and want to experience the story, you might want to pay attention to the dialog on this level. However, those who are trying to reroll have likely witnessed these events countless times and only want to get them out of the way so they can keep advancing, unlock auto-battle mode, and progress towards mission 1-10 for the initial summoning attempt.
With this macro, however, you'll be able to skip through the tedium of stage 1-5 and have BlueStacks complete it for you. All you have to do is activate it in the mission menu and watch as your characters move on their own and the dialog skips automatically. Before you know it, you'll be back in the action and ready to continue your adventure.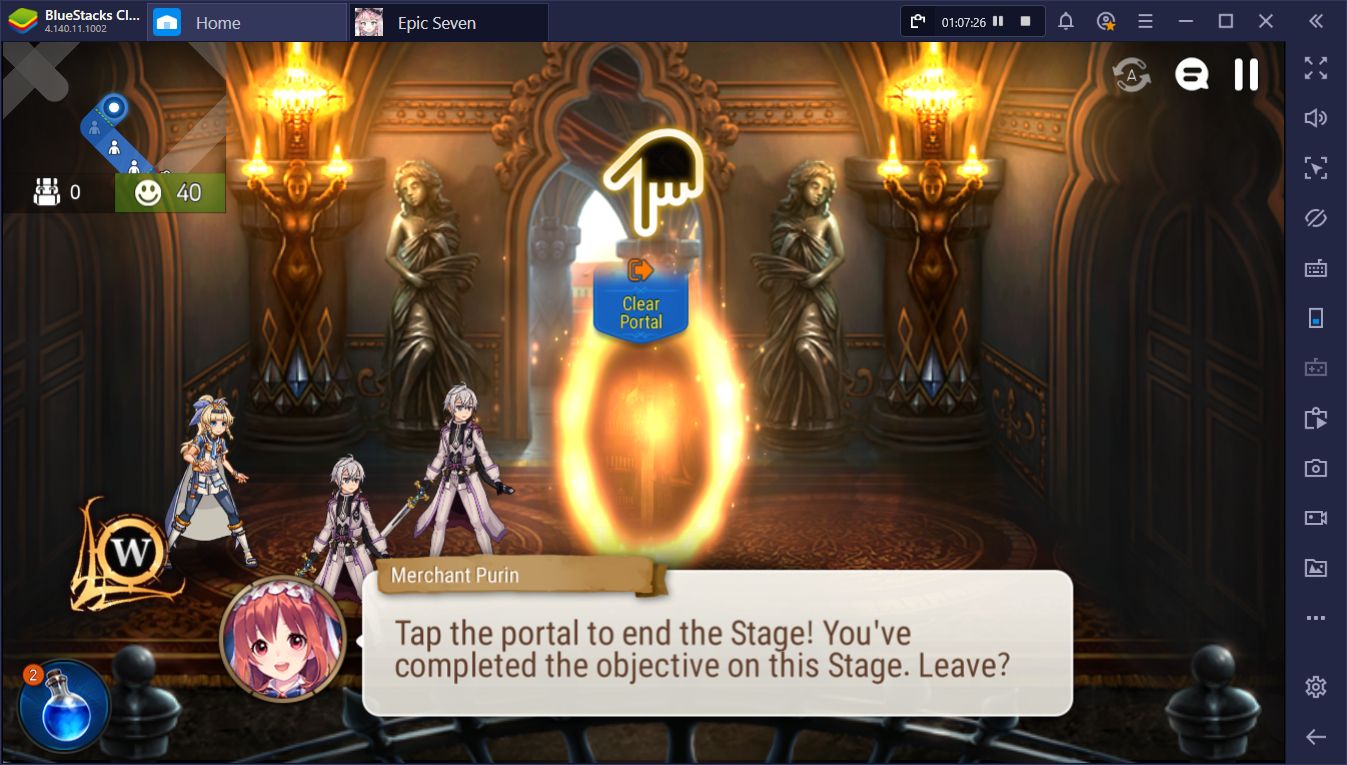 Here's a step-by-step guide on how to automate stage 1-5
Choose stage 1-5 in the adventure menu and choose a team.
Start the recorder on the screen just before entering the level; the one that says "Start."
With the recorder running, proceed as you normally would, walking through the corridors, skipping tutorials and dialog, and making your way towards the objective. Allow a few seconds of buffering before skipping dialogs and talking to NPCs to account for different loading times on every attempt.
Once you reach the final dialog, skip it and go to the last room where you'll find the exit portal.
After exiting the level, stop the recorder and give your new macro a name and a key.
Keep in mind that this macro works only for the FIRST time you complete stage 1-5 as this occasion has additional lines of dialog to listen to, as well as extra cutscenes to view compared to doing it again afterward. As such, it's only useful for rerollers as there's really no point in running this level more than once.
Scenario 3: Claim Your Heart of Orbis Rewards Automatically
With this macro, you'll be able to:
Access the sanctuary and receive your rewards from the Heart of Orbis, which cap every 4 hours.
Return to the lobby, from where you may choose to go on many adventures.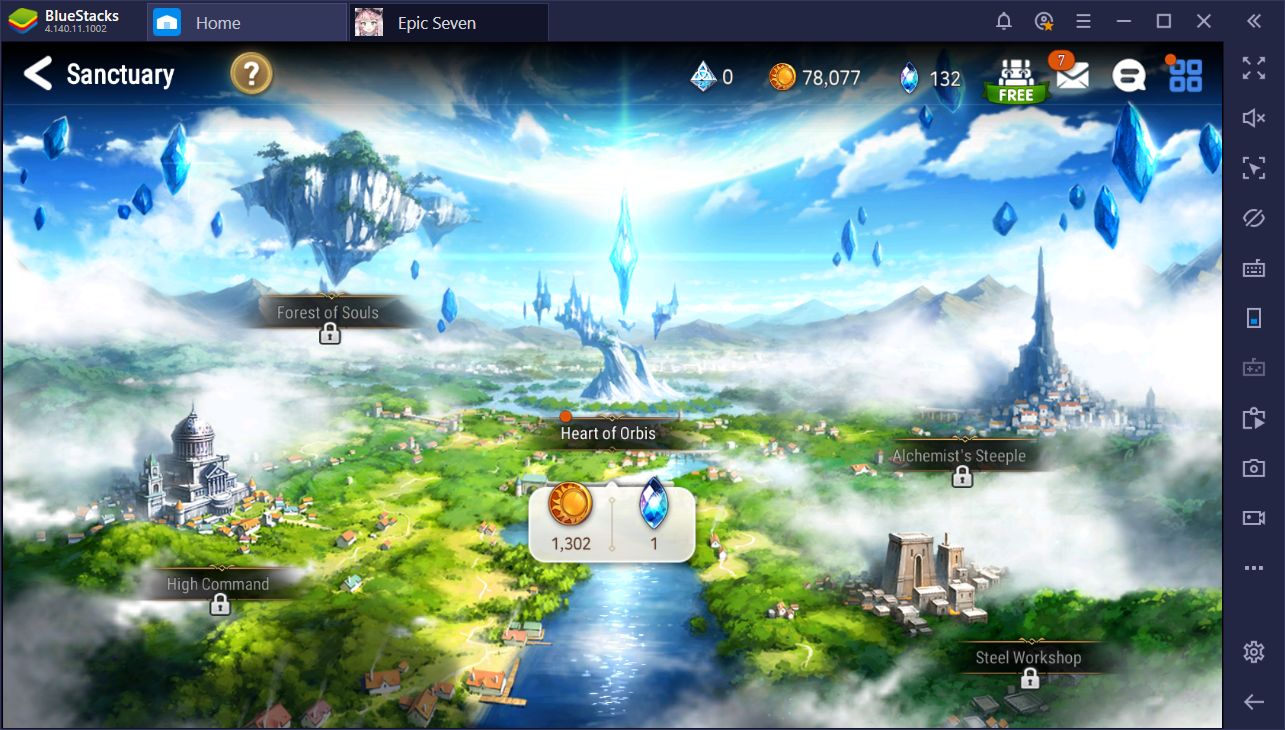 A small yet important part of your daily routine in Epic Seven is claiming the rewards from the Heart of Orbis, which is a structure in your Sanctuary that produces gold and skystones at a regular basis. These rewards cap out initially at 4 hours of production, after which it'll stop producing these resources until you claim the rewards and empty the bin. For this reason, visiting your sanctuary should be the first thing you do every time you log into Epic Seven.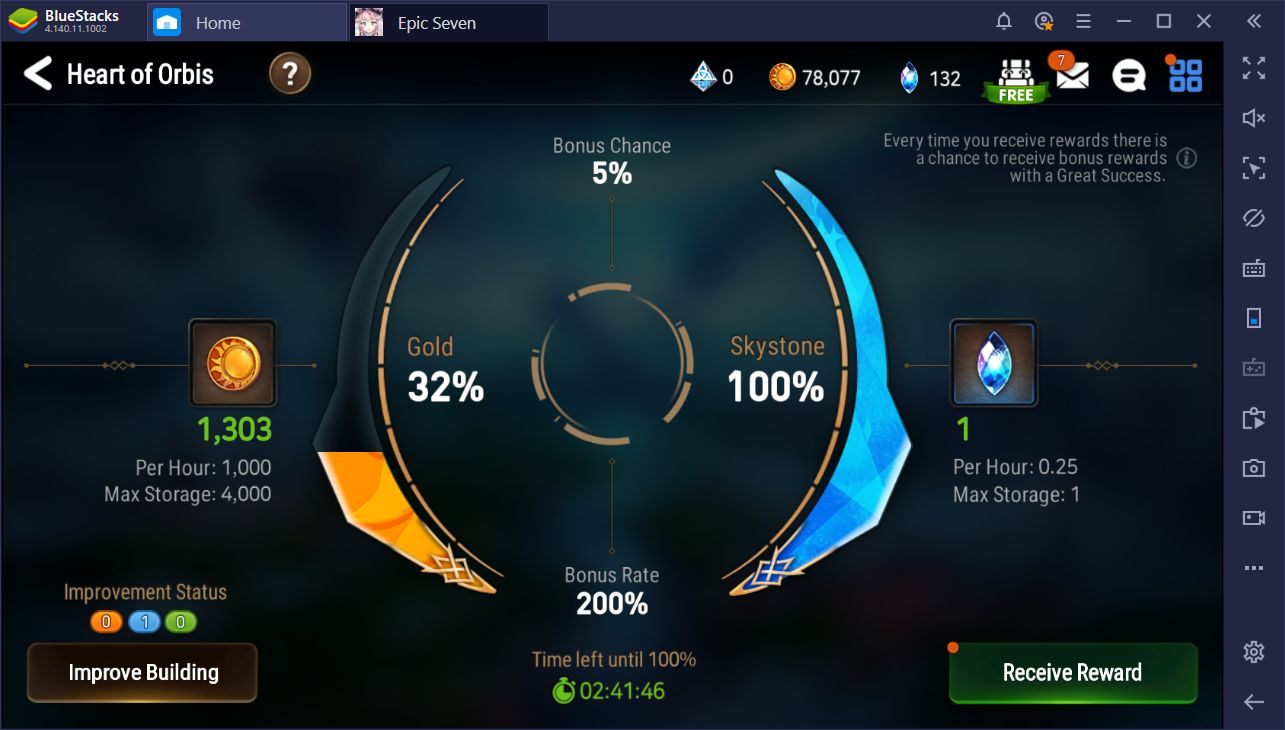 If you're forgetful (or just lazy, like us), you'll need a tool to automate this process. While it doesn't take very long to do it manually, we'd still rather do it with one click instead of several. With that being said, here's how you can easily create a macro for claiming your free rewards from the Heart of Orbis:
Go to the lobby and start recording.
With the recorder running, go to your Sanctuary, access the Heart of Orbis and claim your resources.
Once done, head back out to the lobby.
Stop the recording and give your new macro a name and a key.
This macro is great for when you're busy doing other stuff on your PC and need to grab your rewards from the Heart of Orbis. With this tool, you can simply log into the game, run the macro, and minimize BlueStacks and let it collect resources in your stead while you tend to other matters. Keep in mind that you can also create macros to automate other simple tasks in Epic Seven. Basically, if it can be done with a few clicks and the elements with which you need to interact are always on the same spot on the screen, you can automate it with a macro.
With that being said, what other macros have you created to improve your experience with Epic Seven on PC? We'd love to see the creative ways in which you use our emulator to enhance your performance!