Game Guides
Eternal Sword M on PC – Beginner's Guide for Daily Challenges and Upgrades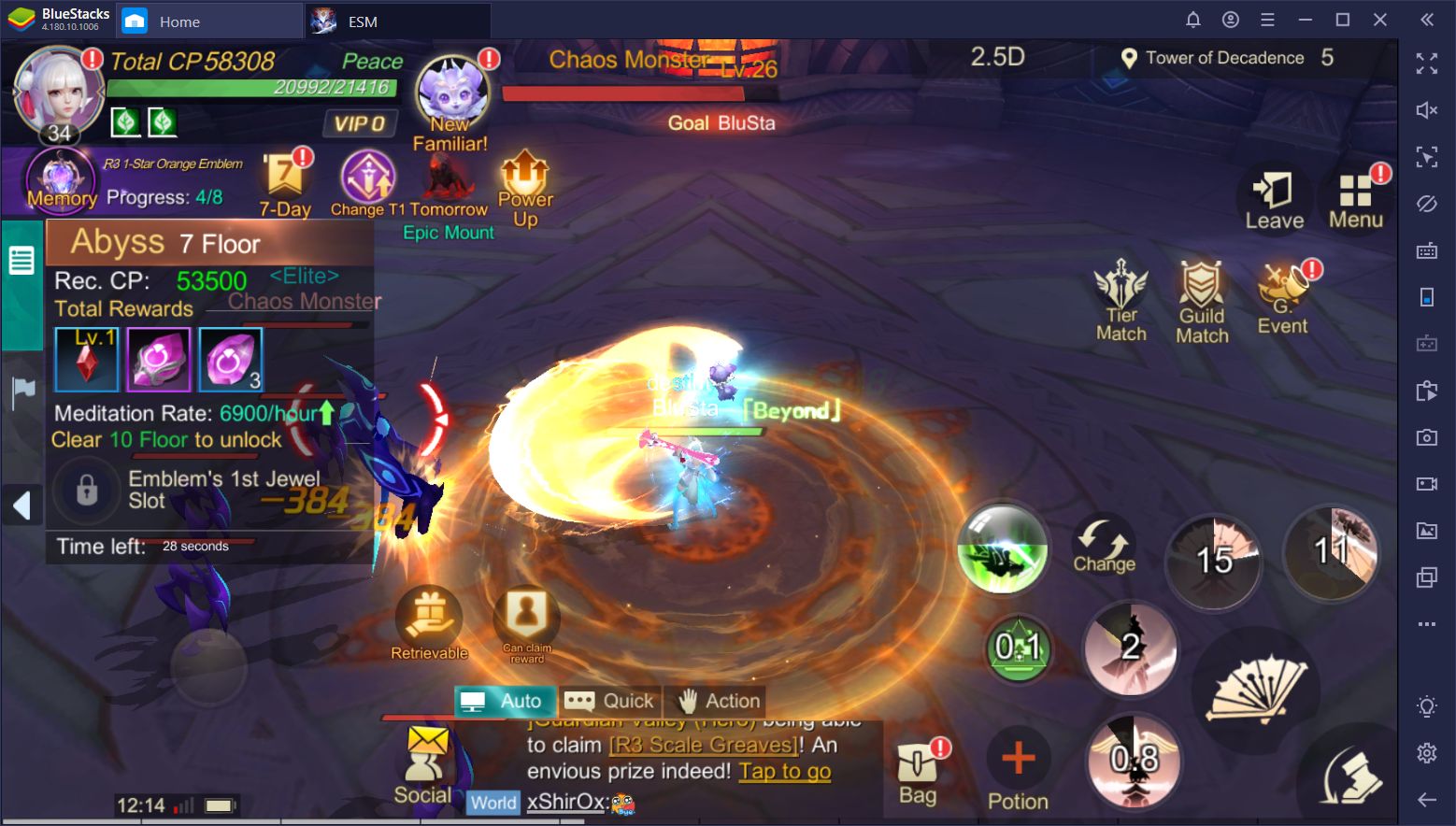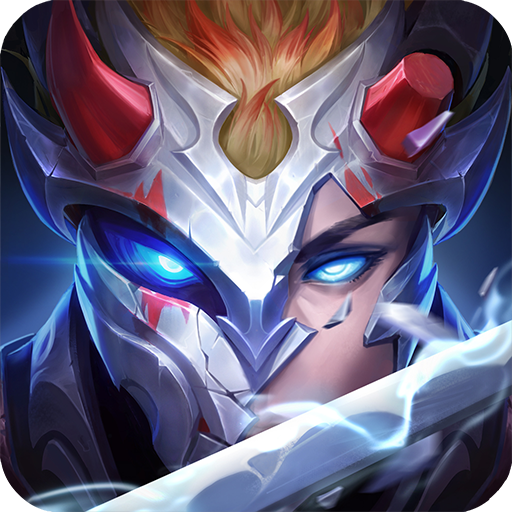 Eternal Sword M just came out a few days ago and players are already out in full force, looking to become the strongest in their respective servers in record time. In fact, it's not rare for you to be running around the world and see notifications that players have completed certain challenges for the first time in their servers.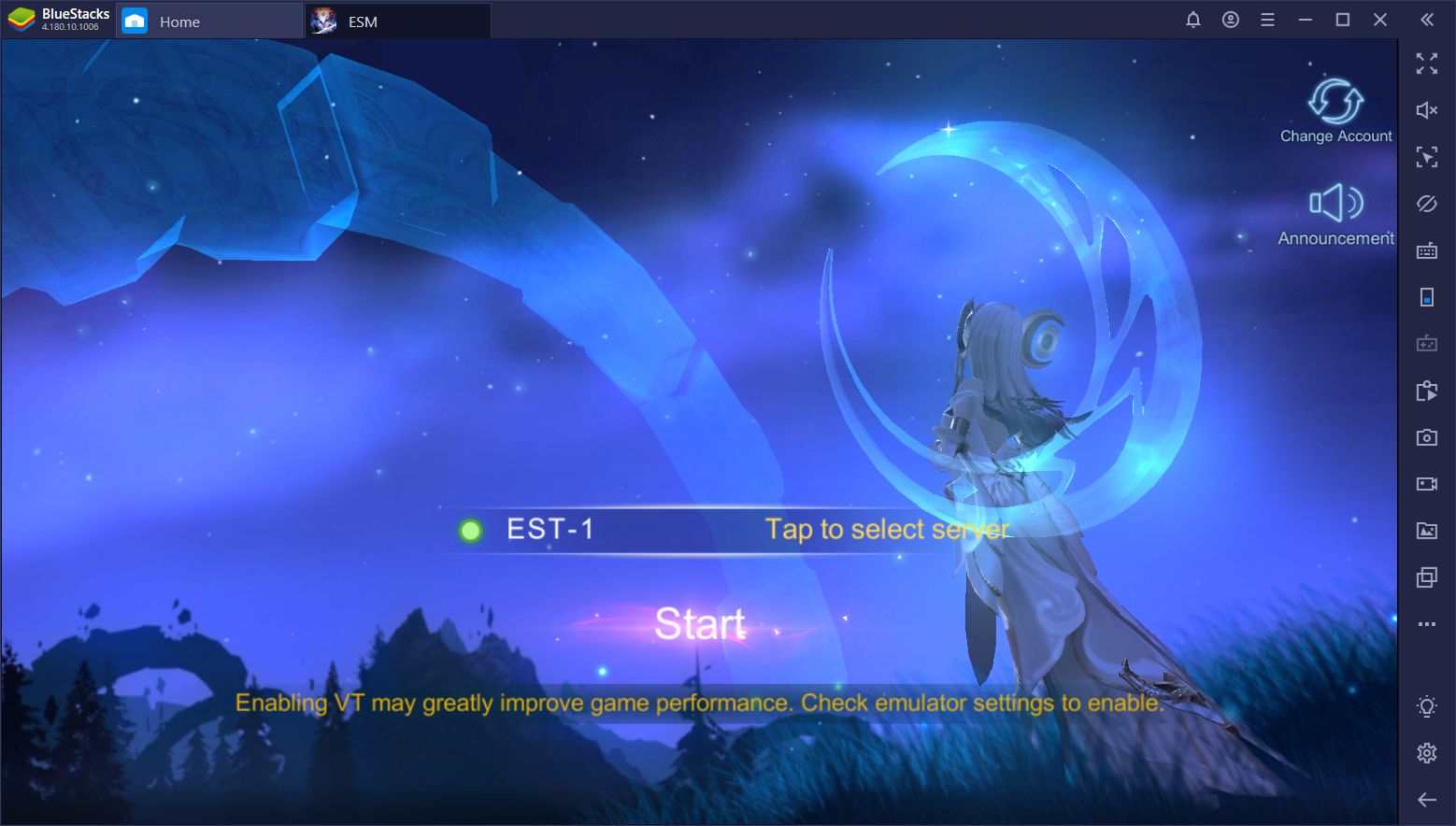 Sadly, while it may be too late for you to partake in the glory of these achievements by the time you're reading this, it doesn't mean you have to be the weakest character around. In fact, one of the main appeals of games like these is to grow your power as fast as possible so that you can unlock and participate in all the game modes. Even if you're not the first to clear a certain challenge, you still won't want to miss out, which is why we wrote this guide.
In the following paragraphs, we're going to talk about how to power up your character in Eternal Sword M. While we already covered most of the basics in our tips and tricks article, we want to focus more on the daily challenges and game modes where you can find all the necessary materials for upgrading your characters.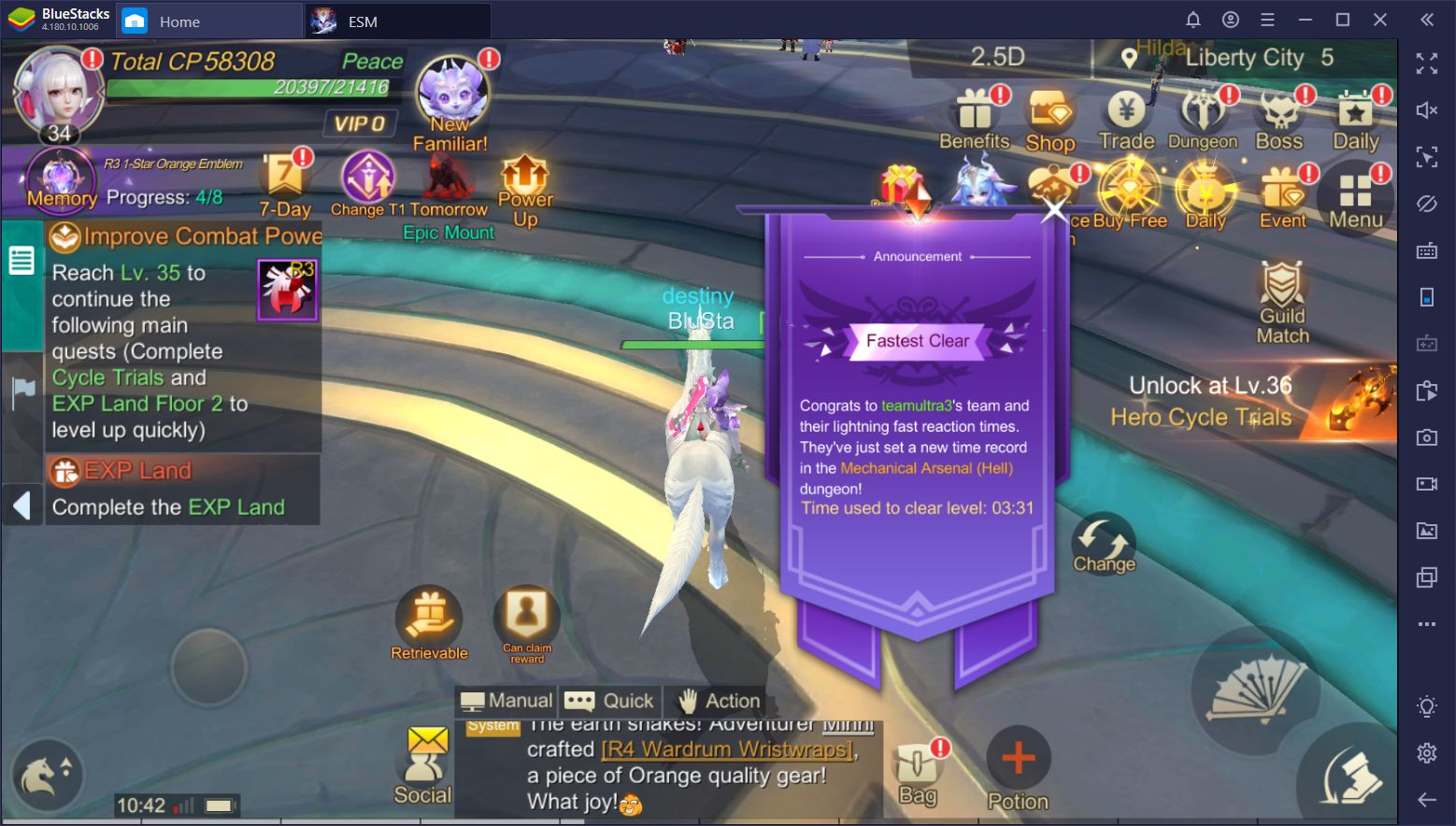 Let's get started.
The Daily Challenges
As you progress through the main story in Eternal Sword M, you'll progressively unlock more game modes, which you can complete on a daily basis in order to receive certain important upgrade materials and currencies. Suffice to say, these will be the mainstays in your daily routine as only the players who are diligent enough to consistently fulfill their daily tasks will likely have enough materials to power up at a steady pace.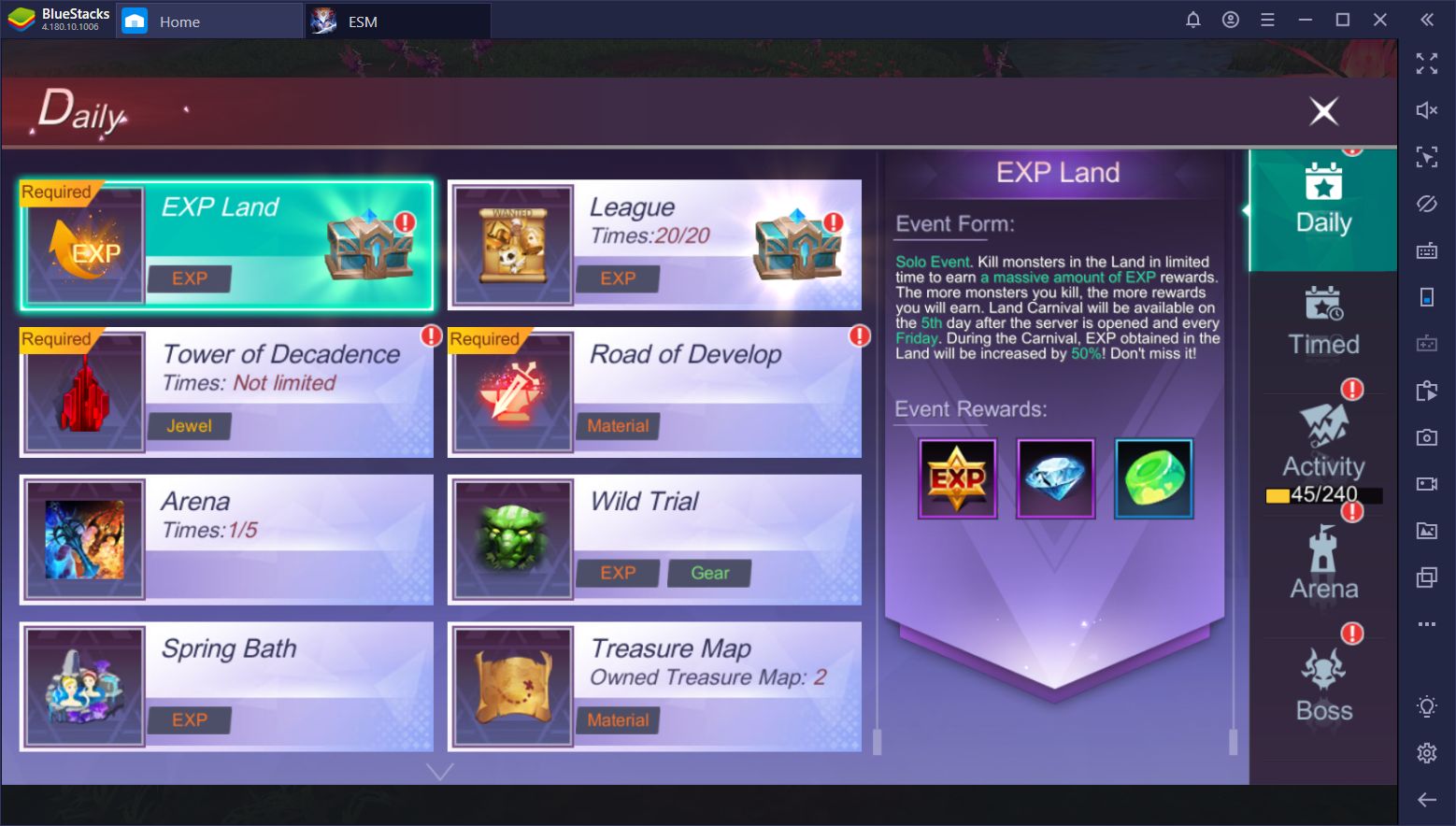 While the daily tasks are quite important, you'll also need to pay attention to the "Activity" menu. This is another set of daily tasks that, as you complete them, you'll accumulate activity points. Once you reach certain milestones of these points, you will receive important rewards including skill exp., treasure maps, diamonds, star coins, and honor medals, among others. Luckily, most of the items on this menu are tied to your daily challenges. This means that, while you're farming materials in the daily dungeons, you'll also be racking up activity points.
If you had to decide between farming daily challenges or completing the daily activities, we suggest always going for the latter as they can be completed quickly and give awesome rewards, while the former are better for actively grinding.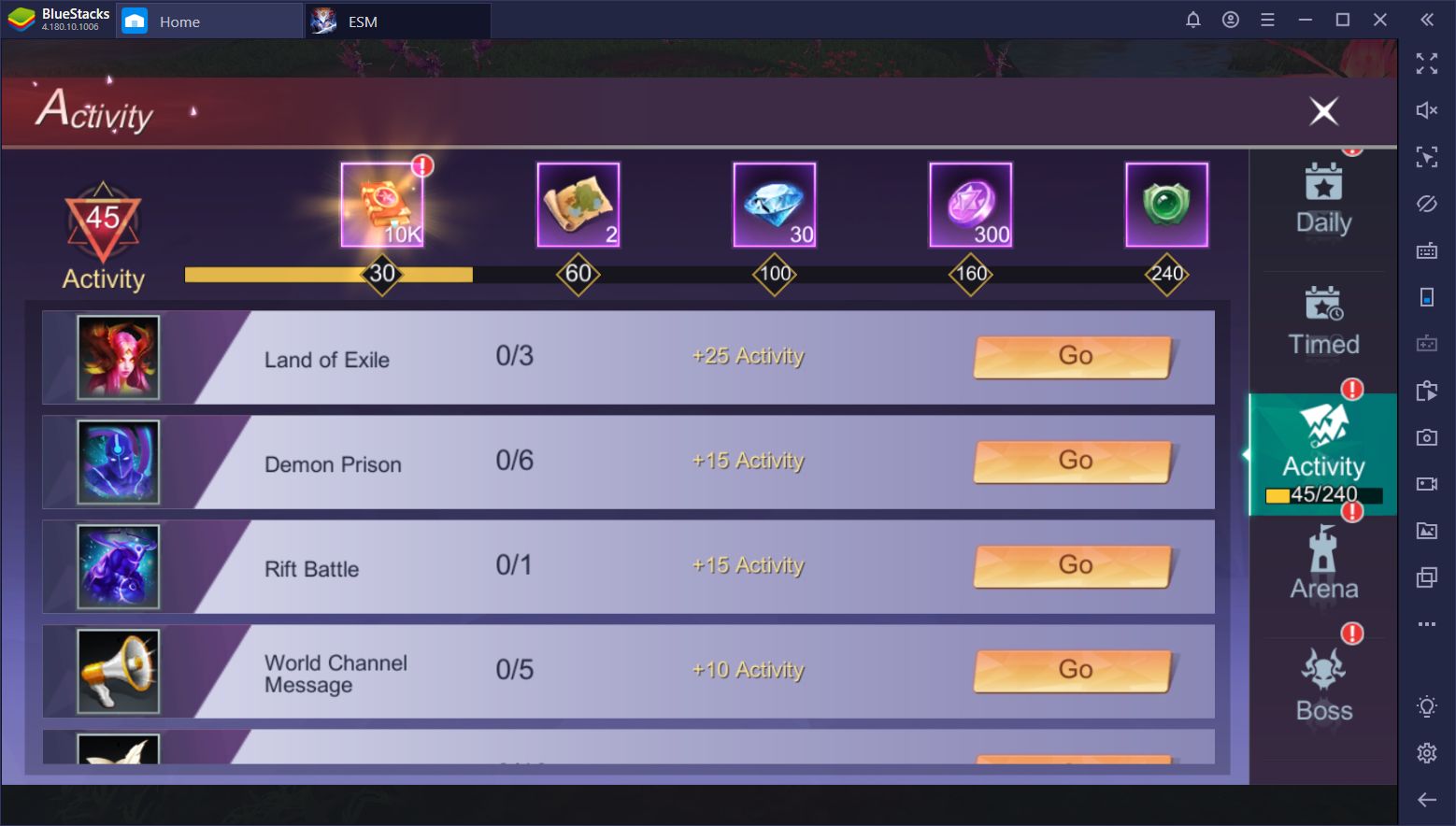 The Most Important Daily Dungeons for Beginners
If you're just starting out in Eternal Sword M, then you're probably just unlocking the additional game modes that will be the foundation for the development of your character. Here are the most important dungeons that you should keep in mind, especially at the beginning:
1. Tower of Decadence (Jewels)
This is a solo event consisting of a tower with multiple floors that you can challenge individually. For every floor you clear, you'll receive rewards in the form of jewels that you can attach to your gear. Furthermore, you can also receive a moderate amount of experience in the form of Exp. Meditation. Keep in mind, however, that there's a time limit for every floor, and even if you're able to survive the assault, you'll still fail if you can't defeat the enemies in time.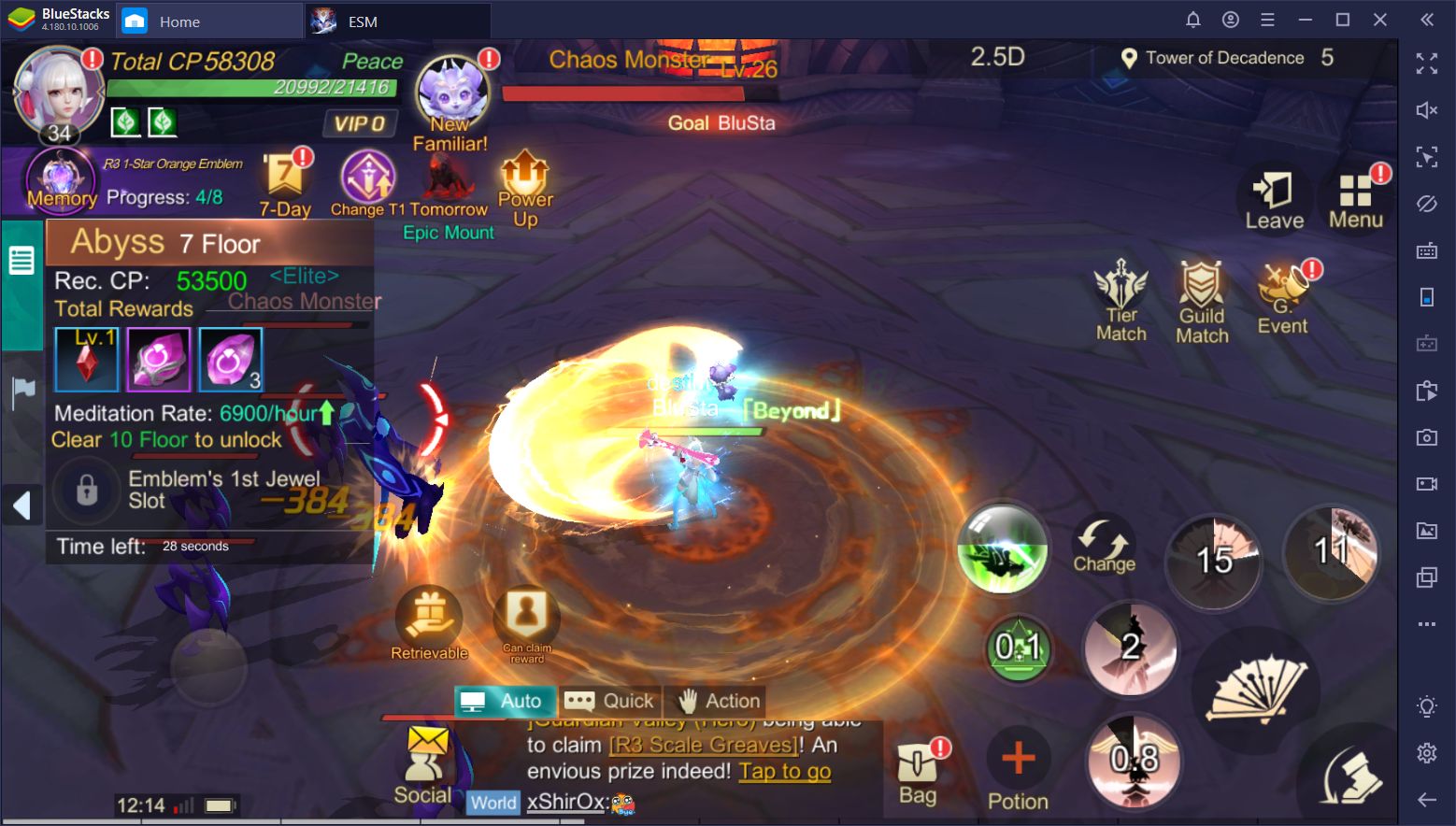 2. Exp. Land (Tons of Experience)
Another solo dungeon in which, like in the Tower of Decadence, the objective is to kill as many monsters as you can. However, the payoff here is in the form of experience points that will help your character to level up very quickly. Make sure to purchase the first five damage boosts with gold as this will allow you to easily defeat all the monsters without breaking a sweat. Sadly, you can only run Exp. Land once per day, per floor. In this sense, if you beat a floor with a 5-star rating, and unlock the next floor, you could potentially run this event more than once per day, as long as you meet the level requirement for the floor in question.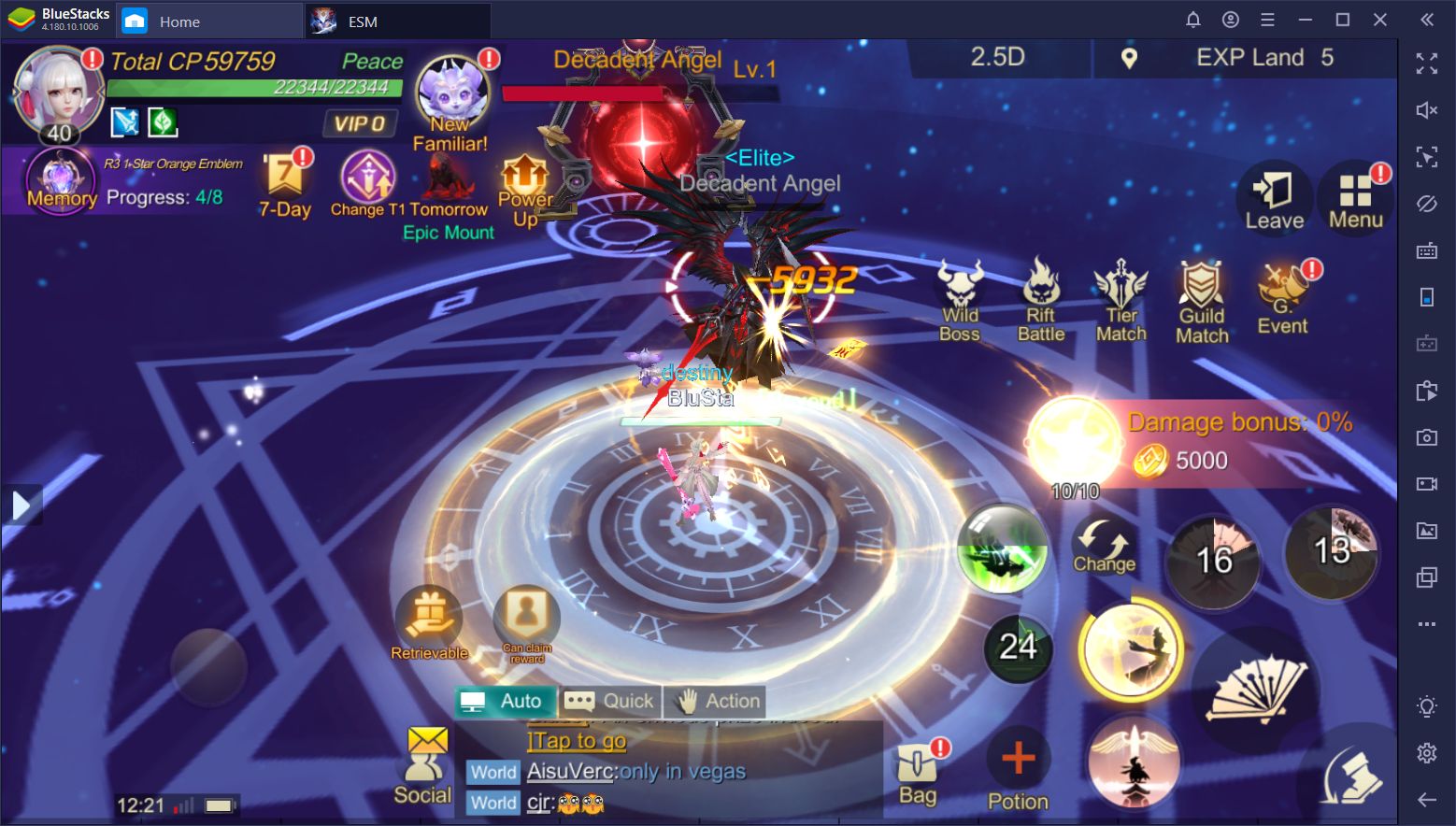 3. Road of Develop (Various Important Upgrade Materials)
Yet another solo event in which you can participate in several training sessions. However, instead of specific rewards, the Road of Develop gives a bunch of assorted upgrade materials for many aspects of your character, including Enhance Stones, Mount Essences, Familiar Candy, and Wings Essence. There are different events for each type of reward, and you can only do each of these once per day.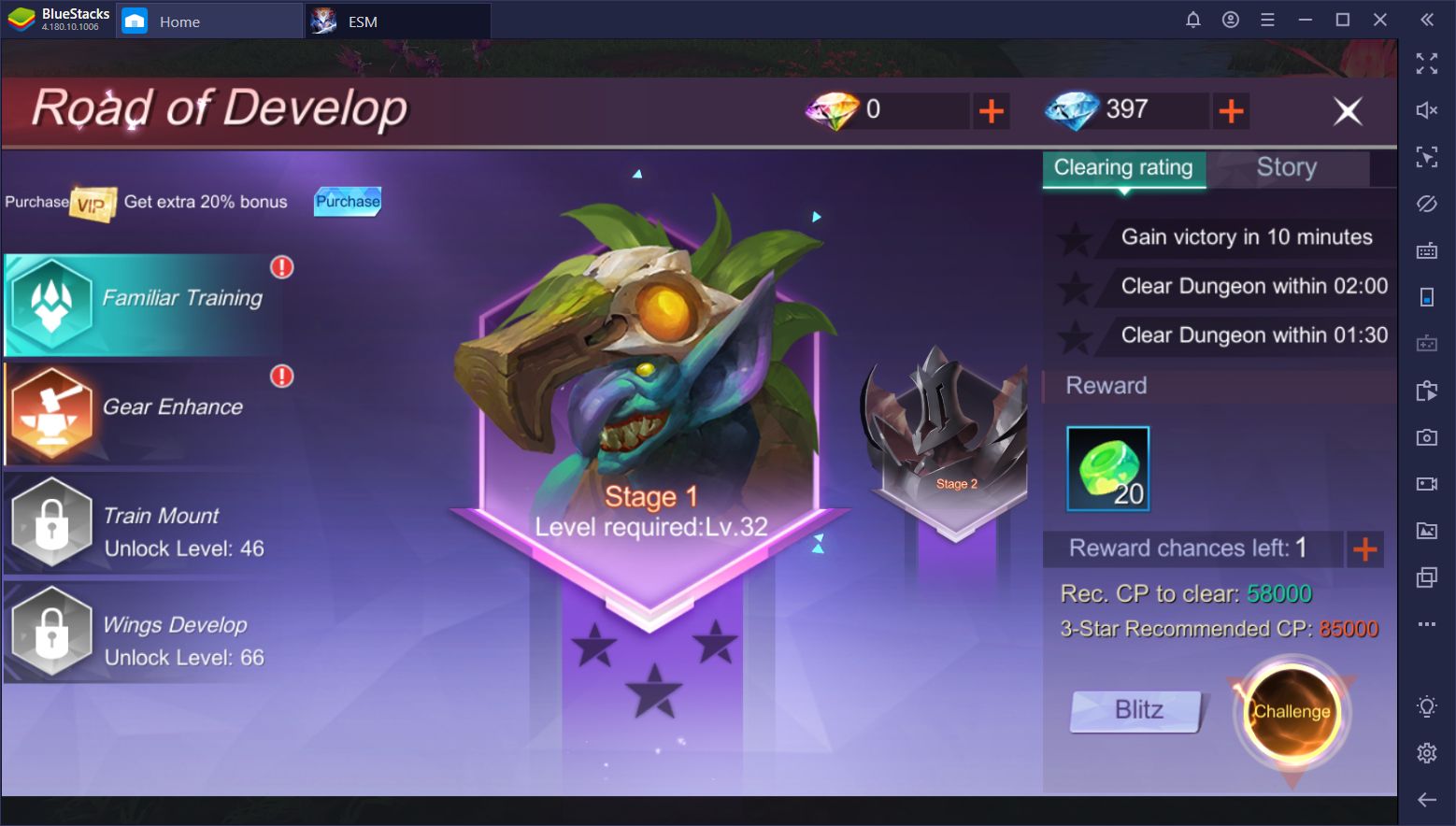 4. Arena (Various Currencies and Enhance Stones)
The main PvP mode in Eternal Sword M, through which you can primarily challenge other players in deathmatches to determine who's the strongest. While you may receive several prizes like Merit Medals and gold every time win, you will also get mailed additional rewards according to your current ranking at 10:00 PM every day. You can only participate in the arena five times per day, which you can complete in less than 10 minutes.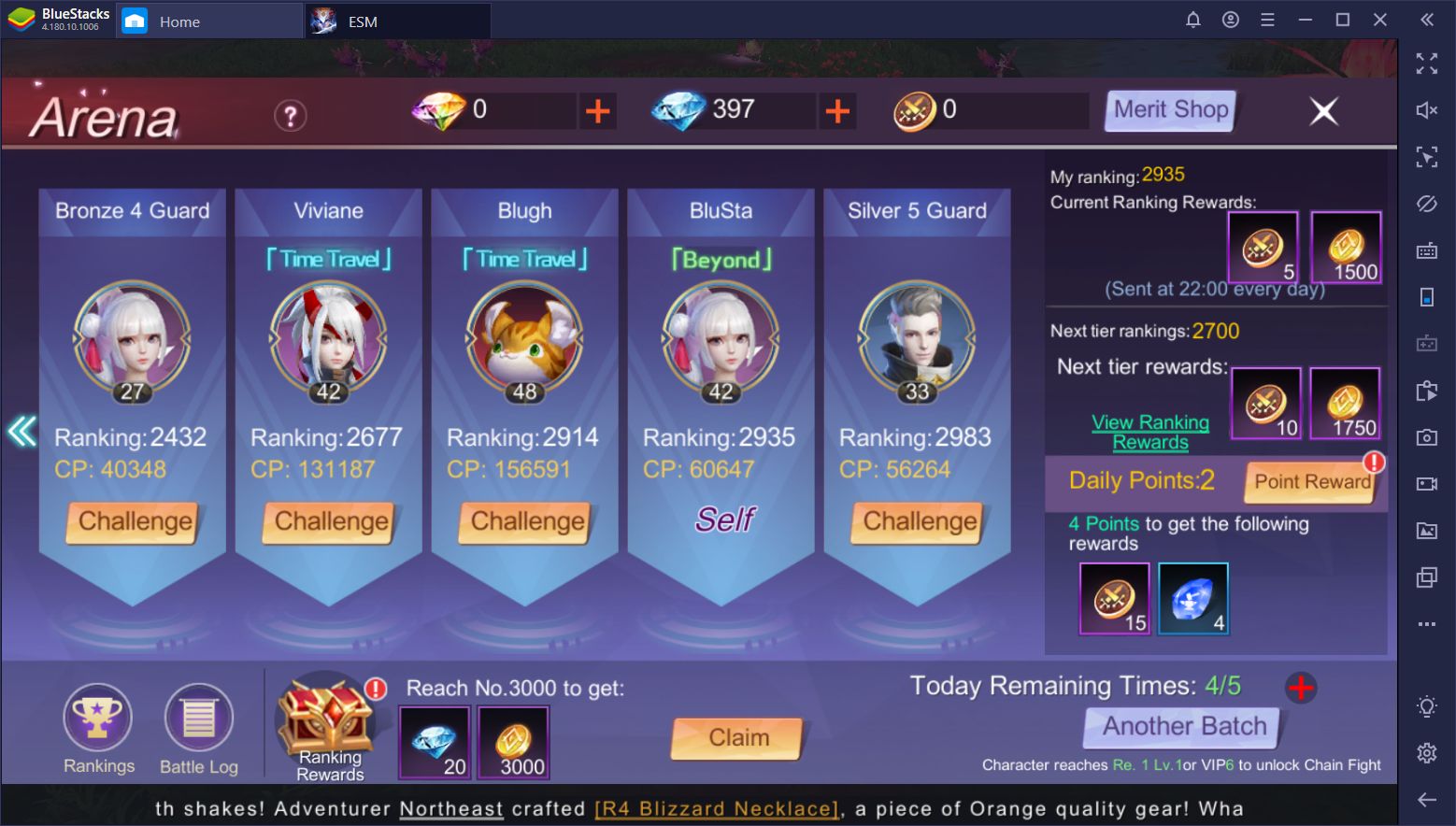 5. League (Star Coins)
Every day, you have the opportunity of running up to 20 League quests, which consist of very simple tasks—usually talking to NPCs. These quests are good opportunities to gain Star Coins, which can be used for purchasing things in the Trade Post or for trading in exchange for gold. Additionally, you will receive plenty of skill exp. for completing these League quests. Luckily, while these tasks require you to walk around the world of Eternal Sword M quite a lot, you can simply initiate them by talking to the quest giver and leave your character on auto-navigation. In this manner, your character will automatically walk and complete these quests until all 20 allowances are used up, a process that takes around 10 minutes.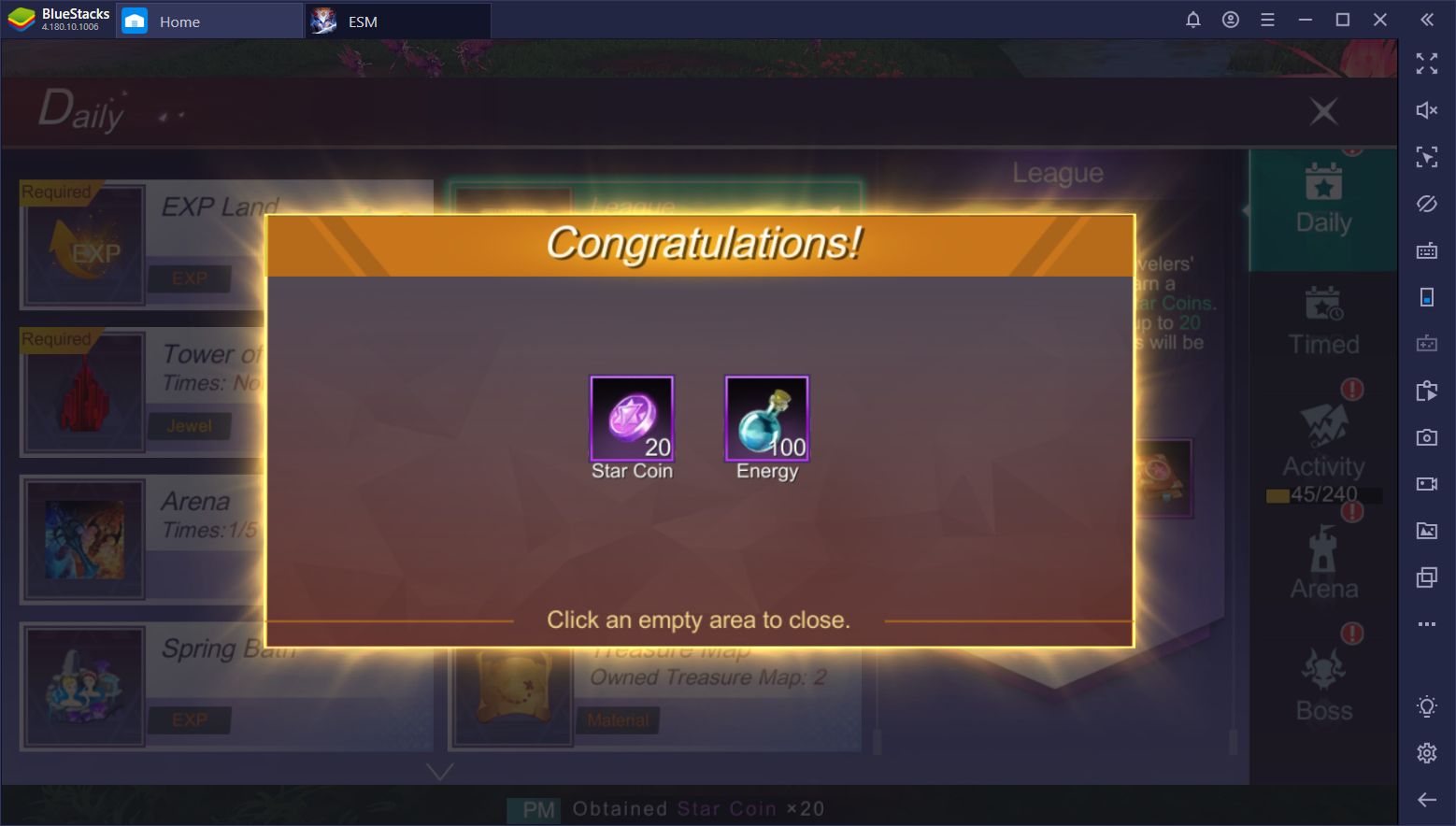 As you continue making your way through the story in Eternal Sword M, you'll unlock additional game modes, which will open the way for better, stronger gear, among other things. However, before you're able to defeat the toughest story sections, you'll sometimes need to have certain CP or be at specific levels. Luckily, you have many ways of leveling and powering up your character, including all the daily challenges and activities we mentioned in this article.