Game Guides
Final Fate TD on PC: Tips and Tricks to defeat the Void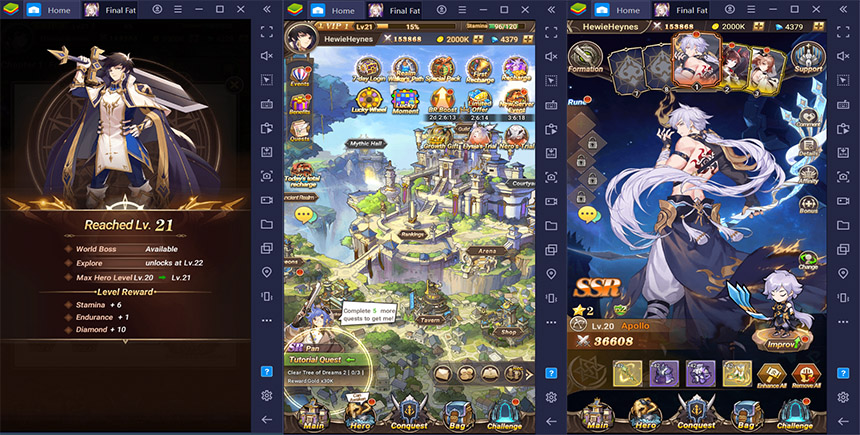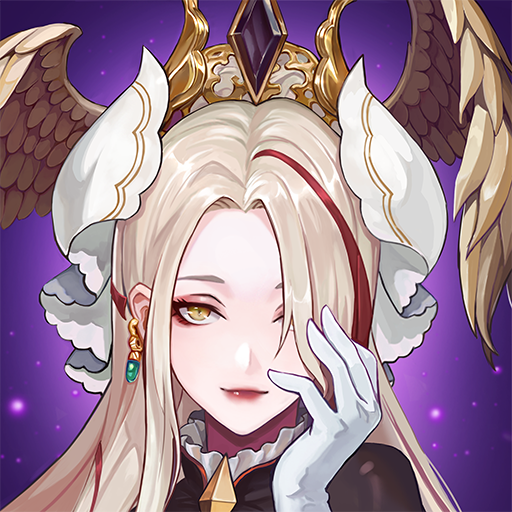 As gamers, no sooner have we learned a new game than we want to figure out the tips and tricks that will make our lives easier and our characters more successful. Such is the way of the gamer.
So, what are the tips and tricks that will get you ahead of the competition in Final Fate TD?
Let's take a look.
Take everything, forget nothing
Final Fate TD is one of those games that never has less than about a million things going on at once. There are events, challenges, promotions, giveaways… you name it, it's probably happening right now in Luna.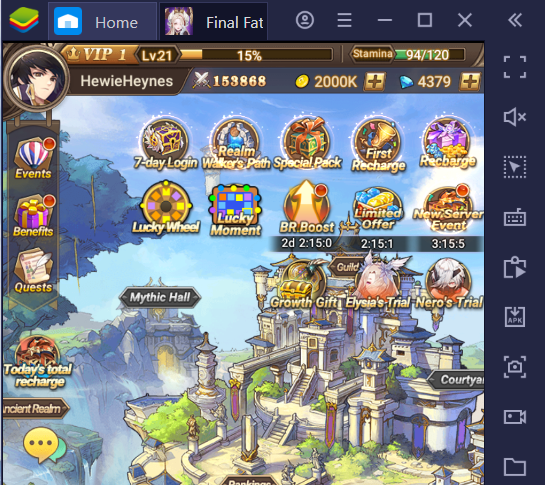 The thing is, many of these eye catching events and game areas offer free items to players just for clicking a button that says 'claim'. It's really that easy. You even get emails in your in-game inbox that are stuffed with free loot. There are valuable resources all over the place in Final Fate TD, all sitting just a few clicks away.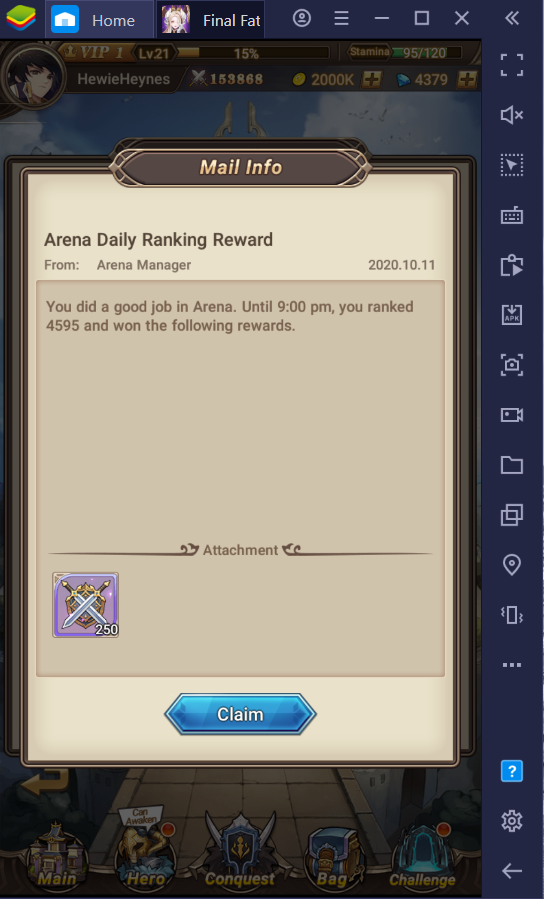 Basically, if there's a button, click it. If the button has an animation on it to draw your attention, definitely click it. There might well be a whole chest of loot behind that widget, and that could be the difference between victory and defeat in your next battle.
Connect the dots
Carrying on in a similar vein to the above tip, Final Fate TD uses a system of red dots to let you know when there's loot that needs collecting, a job that needs doing or an upgrade available. These incredibly helpful dots work pretty much the same way as notification badges on your phone, sitting at the top right of a button to indicate that something requires your attention.

Do not ignore these dots. They are most definitely your friends.
Though Final Fate TD is a deeply enjoyable game, it is not exactly what you would call simple. There are a hundred ways to pass the time in Luna, and so it can be very easy to miss an important opportunity to improve your team or grab yourself some sought after resources. The red dots are there to make sure that doesn't happen, so make the most of them.
It is worth pointing out that some things will have red dots to indicate that a purchase can be made or something similar. Your hero tab will have a red dot on it whenever there is any kind of upgrade or improvement available on any member of your team. Now, in these cases, there may be times when you have consciously decided not to commit to an upgrade or a purchase, for whatever reason. If this is the case, the red dot will just stay where it is and can be ignored going forward. But do make sure you always at least check what the dot is trying to tell you. It could well be important. Whether or not you then act on that information is totally up to you.
Upgrade, Improve, and Succeed
Final Fate TD on PC is a fast-moving game. Due to the high number of tasks and challenges, you'll find your character levelling up at a fairly rapid pace and your bag filling up with all kinds of items and resources. Before you know it, you'll be practically rolling in Will of the Void and Ether, all things you need to power up your heroes make your team that much stronger.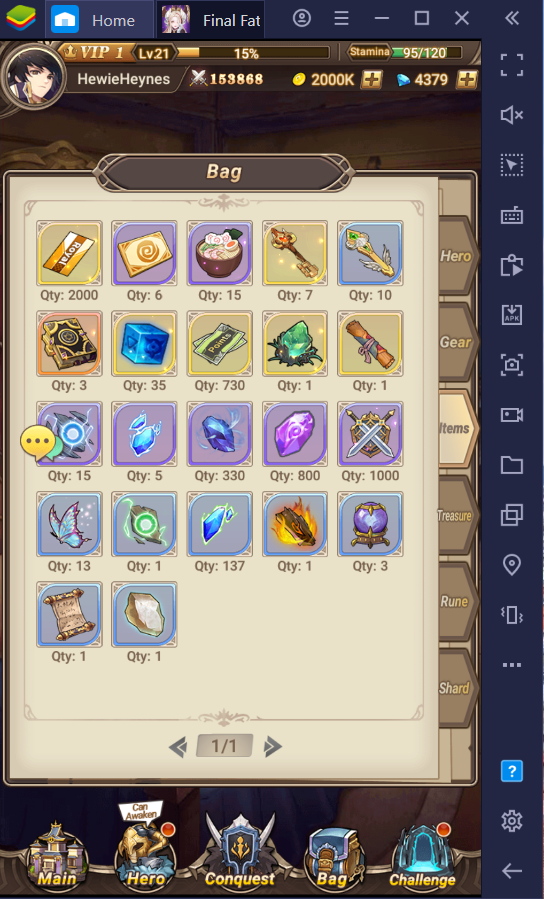 Now, here's the tip… You listening?
For pity's sake, if you've got the resources, use them!
It's all to easy to play through fight after fight, challenge after challenge, levelling up and grabbing loot along the way. The problem is, while you're busy levelling up, your heroes aren't. If you want to make sure that your team stays at the very top of their game, you need to take a break after every few battles to show them some TLC.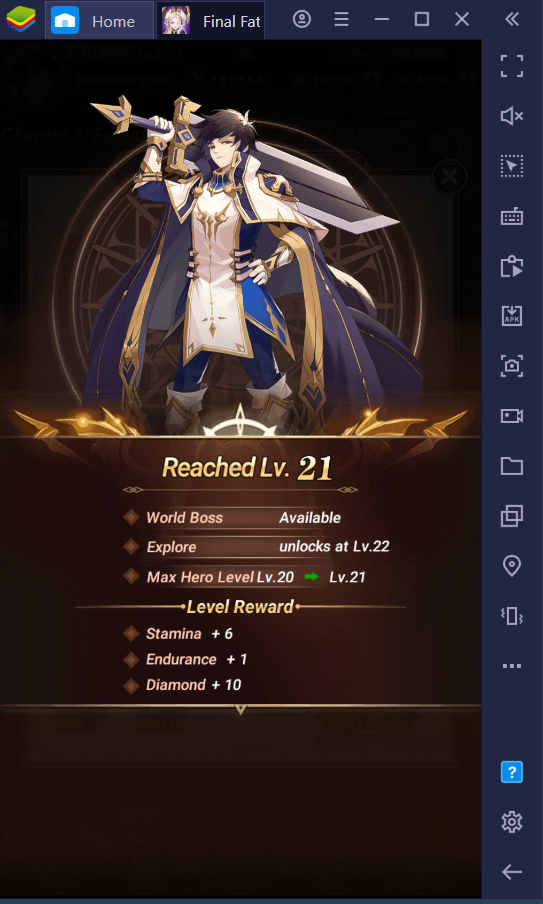 After you've gathered an armful of resources, head over to your hero tab and go through your team, promoting, upgrading, and awakening (Link to levelling up article) them as you go. Upgrading is by far the easiest and cheapest as Ether is insanely common, so keeping all of your team at their maximum level (i.e. whatever your level is at the time) shouldn't be too hard. As for the other improvements, your best bet is probably to max out your most powerful hero in every possibly way, and then spend whatever resources are left on the rest of the team. However, this is only one strategy of many, you'll have to find the one that works for you.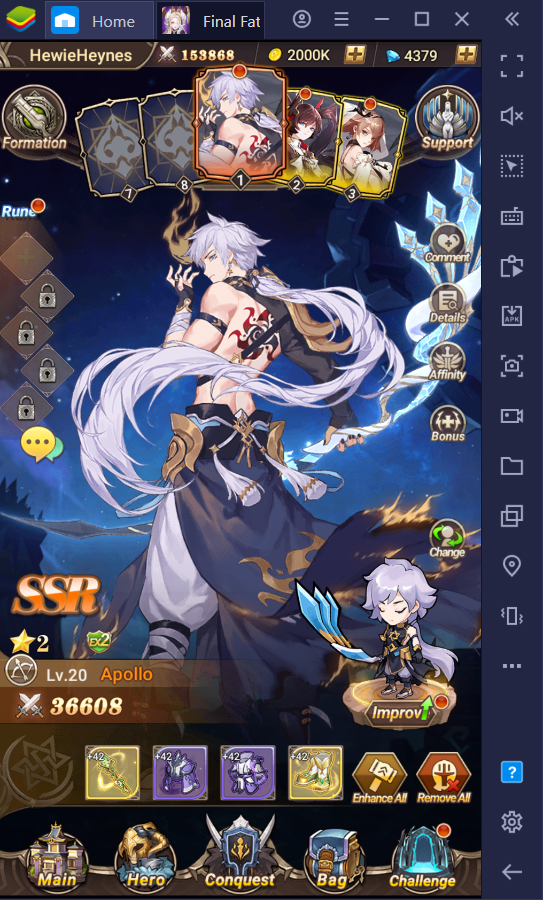 BlueStacks: More than a pretty interface
Playing Final Fate TD on PC through BlueStacks is not the same as playing the game on a phone. With BlueStacks you have much more control over your gameplay, making your playing experience as tailor made and comfortable as possible.
As mentioned earlier on, there are a lot of challenges and tasks in Final Fate TD, and some of them can get a touch repetitive. You know the sort, claiming rewards and finishing quests. It's all just a click of a button.
Well, like any good businessman, why not delegate those mundane tasks? BlueStacks has an inbuilt macro feature which allows you to pre-programme certain tasks into the software and then, with just a single keystroke, execute that very same task automatically, over and over again. Cool right?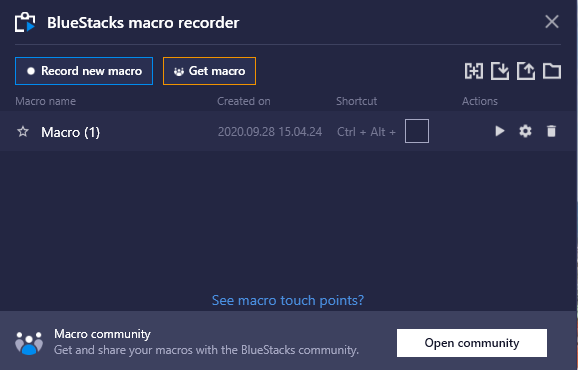 And that's not all BlueStacks has to offer. You can customise your controls, record your screen, install APKs and take screenshots all from the BlueStacks panel next to your game window.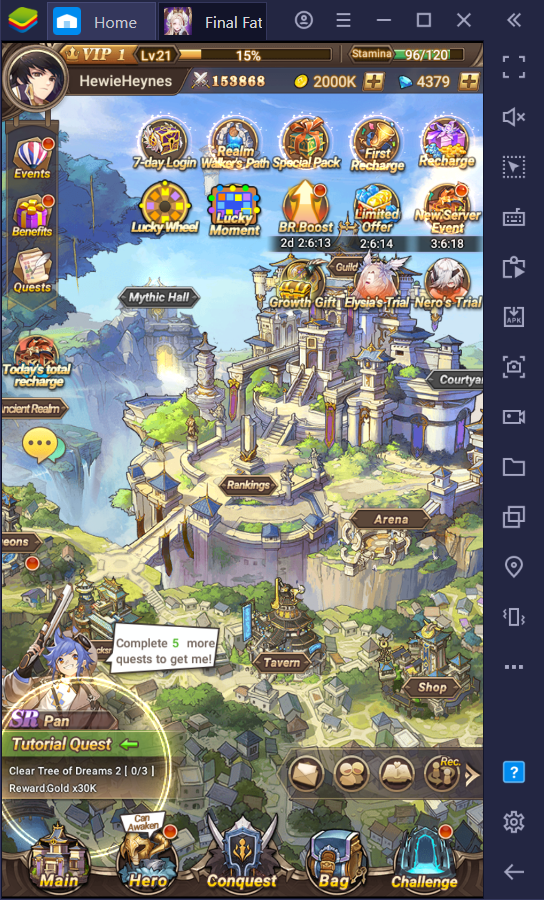 These features really do make life a lot easier when playing through a game, lessening the amount of time spent on mundane tasks and helping to ensure that your game works the way you want it to, allowing you to immerse yourself in the world and focus on the important things, like beating back the forces of darkness and bringing peace to Luna.