Game Guides
How to Play Fishing Clash on PC with BlueStacks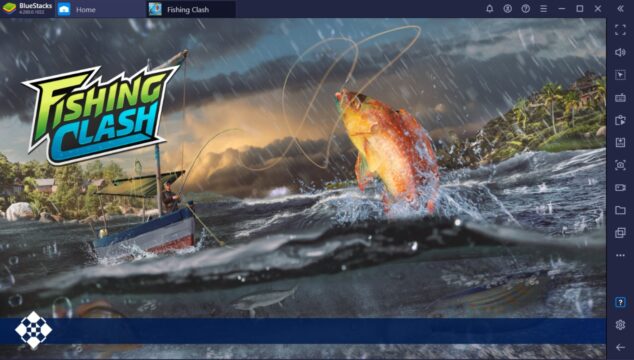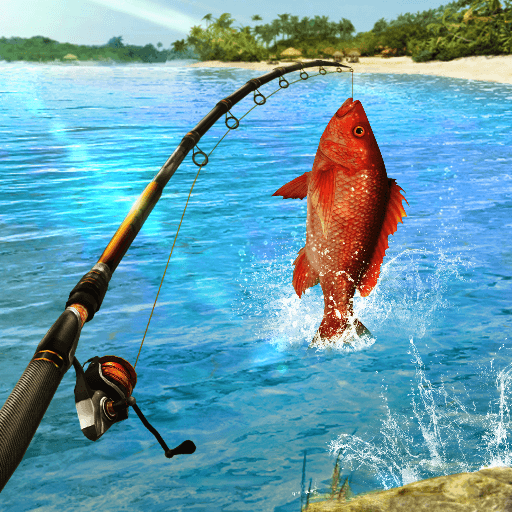 Fishing Clash is a fishing simulator game where players can compete against each other to see who can catch the highest-quality fish in the sea. The game takes the best parts about competitive fishing into the virtual world where players can collect different types of fish cards to either increase their chances of catching a better quality of the same species or start catching new species that they can add to their collection to show off to the fishing world.
It's time to reconnect with the waters by taking on the vast oceans, lakes, and rivers that hold one of the biggest secrets still unknown to man. Get your rod, line, and tackle as you prepare for the catch of a lifetime in Fishing Clash. There's no need to go out into the ocean for hours on end just to feel the thrill of getting a big catch. You can do that even when you're at home or somewhere else doing other things since everything in this world can now be enjoyed through a screen!
How To Set Up Fishing Clash on BlueStacks
Fishing Clash is an awesome game to play on your phone, but even "awesome" isn't always enough to satisfy a true gamer. It's time to take things to the next level by playing on a better platform with the help of BlueStacks to help you discover a way of playing mobile games that you never knew you needed. Play all of your favorite Android games on your computer with a ton of helpful features that will allow you to become the best player the world has ever seen.
Download and Install BlueStacks

on your PC.

Complete Google Sign-in to access the Play Store, or do it later.

Look for Fishing Clash in the search bar at the top-right corner.

Click to install Fishing Clash from the search results.

Complete Google Sign-in (if you skipped step 2) to install Fishing Clash.

Click the Fishing Clash icon on the home screen to start playing.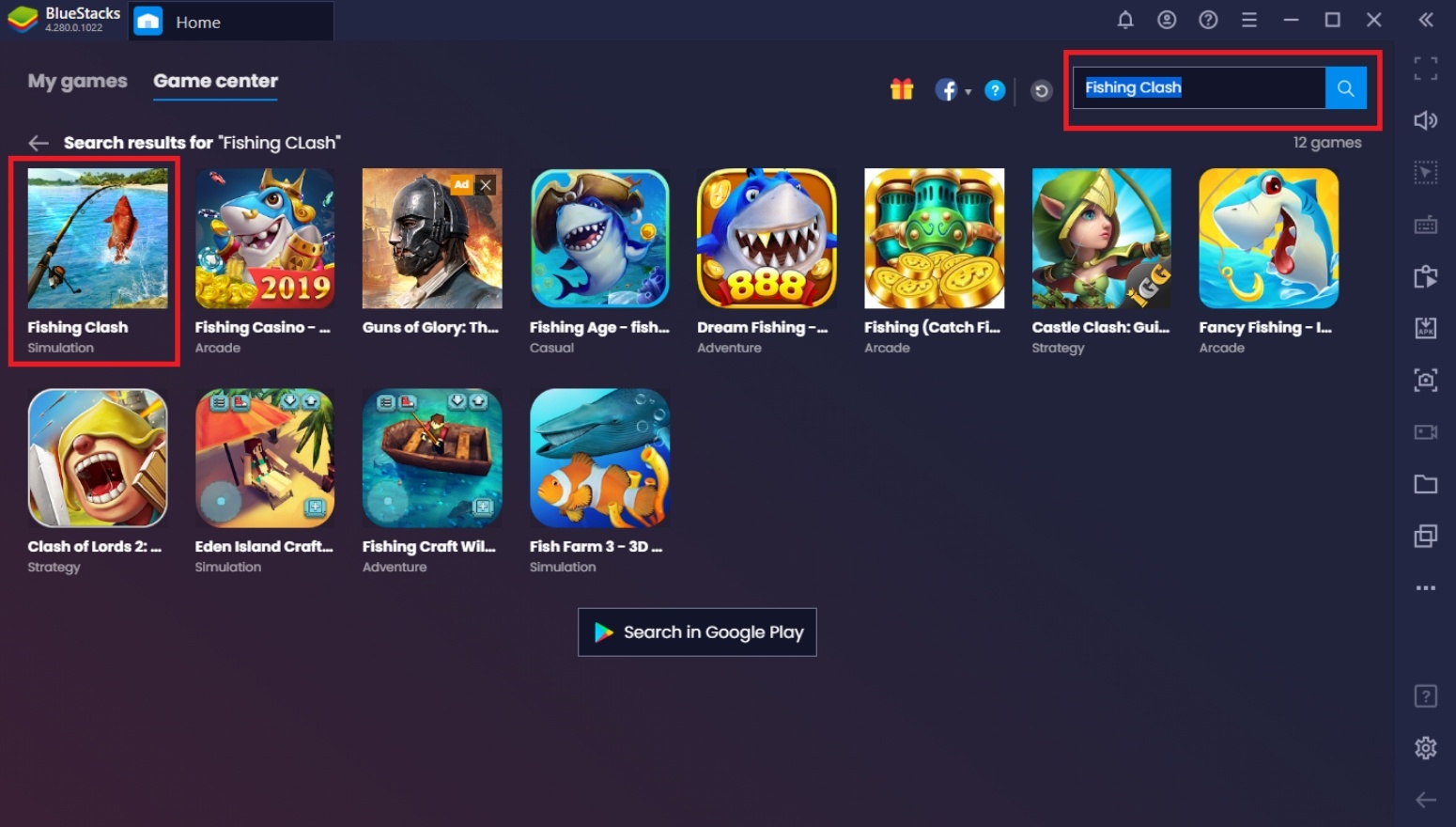 Useful Features You Can Use In BlueStacks
BlueStacks is specially developed for the mobile gaming community. Smartphones may be one of the best inventions that people can carry anywhere they want, but with a system that's so cramped, it's impossible for it to run certain things the way you want to. Take a look at the BlueStacks platform so that you can experience features that you wish your smartphone had but never could because of the limited capabilities that a handheld device has.
The Controls Editor Function allows players to make use of their keyboards to map out commands across the screen in place of the touch screen function. Fishing Clash requires the need for having quick reactions; nothing is faster than a gamer on a keyboard and mouse. By using the Controls Editor, the player allows themselves to have a better reaction time to catch fish in heated situations so that they don't miss out on epic catches.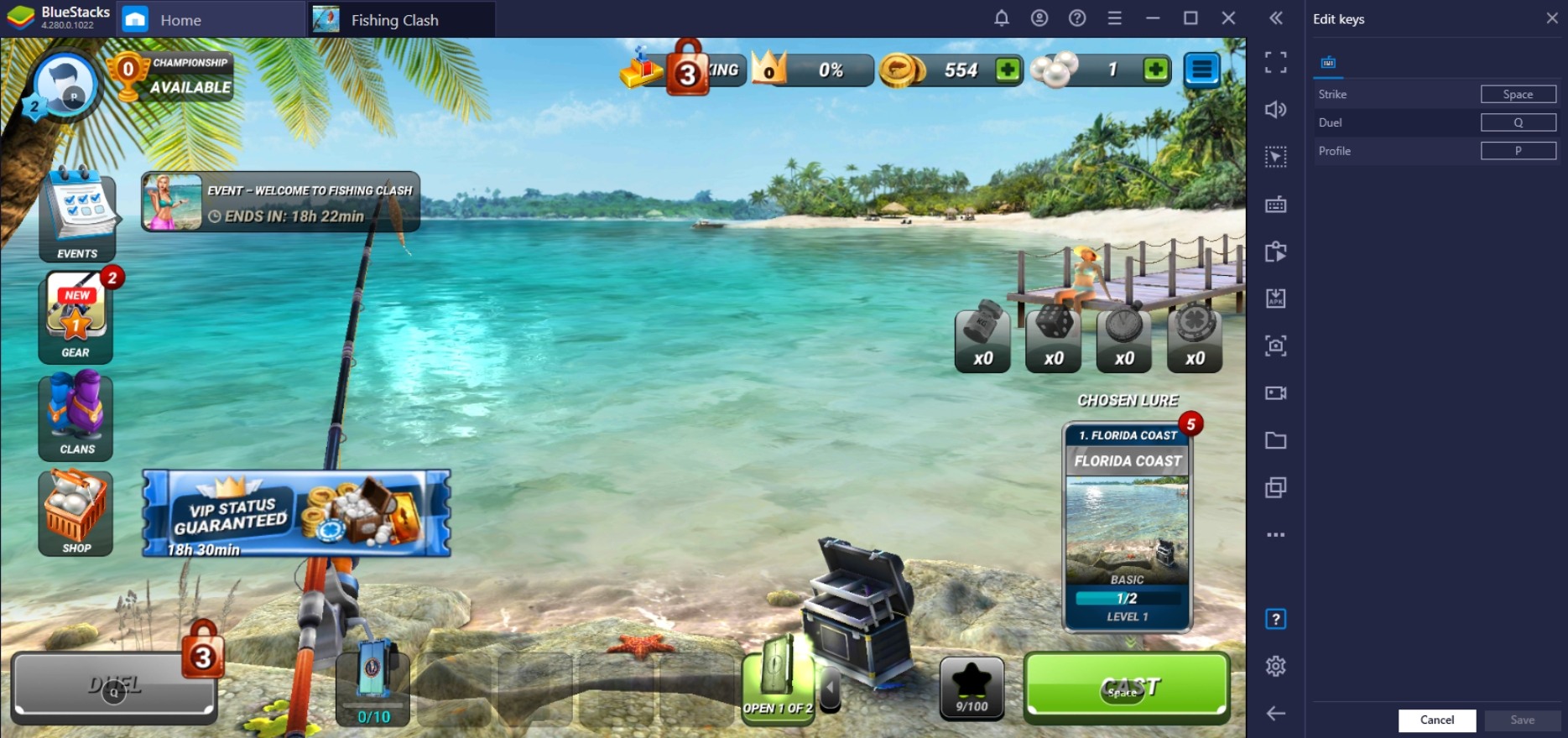 The main function of this feature is to give the player a sense of freedom on how they want to layout touch functions on the screen using any key they have on the keyboard. Of course, BlueStacks has already created a premade template that fits the current version of the game, but players may customize it any way they want to. Just click on the Controls Editor Function and go to Advanced Settings which will give you a ton of options to choose from depending on your needs or preference.
The Multi-Instance Function is another dream come true for mobile gamers. This feature allows players to open multiple devices that can play games at the same time, whether from the same Google Play or separate accounts. This feature also allows the player to clone instances so that they don't have to download the games that they already have on one BlueStacks instance. To top it all off, the Multi-Instance Manager helps the user keep track of all the instances easily.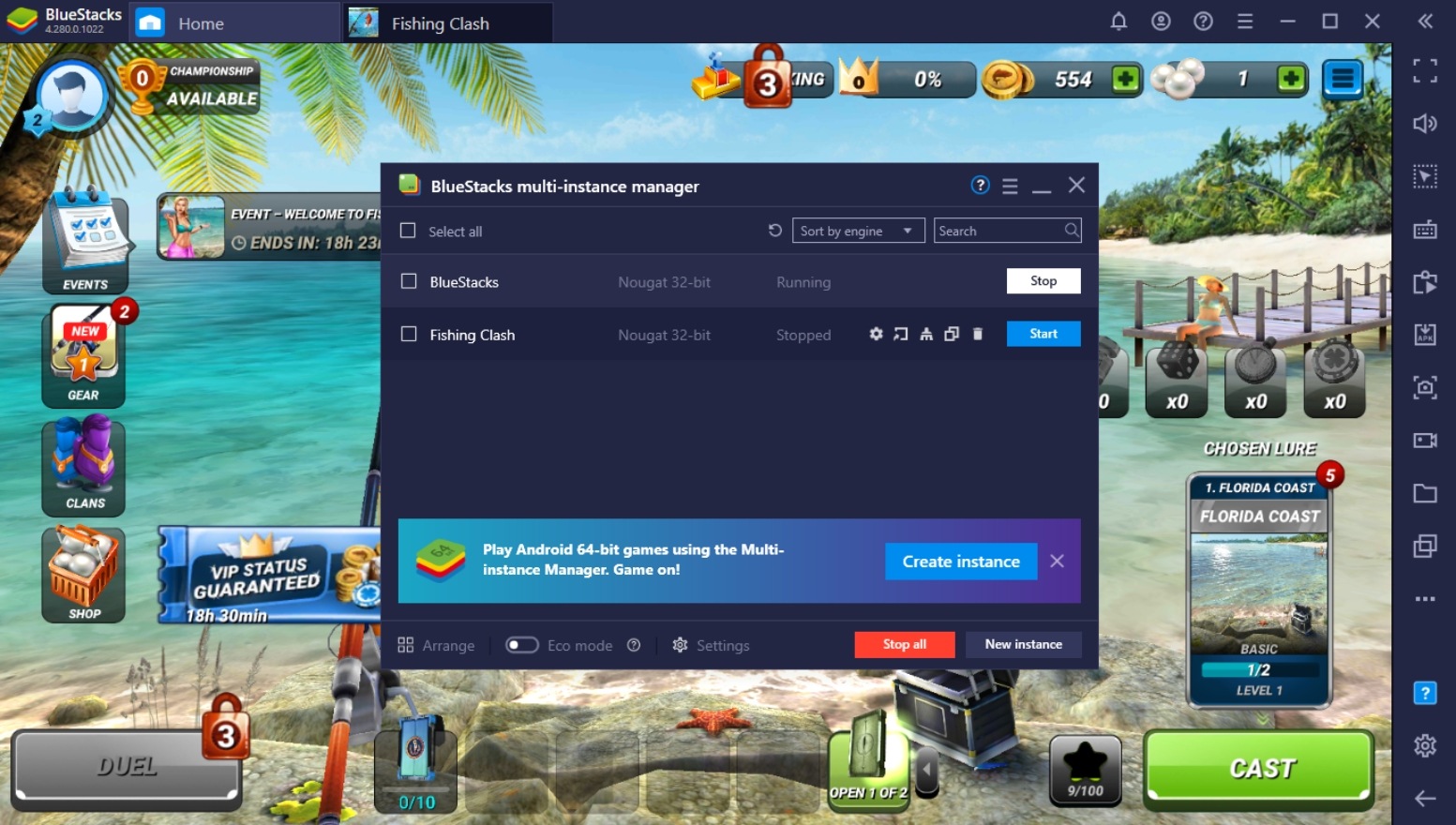 Fishing Clash is a game that's perfect for playing on the side when you're getting tired of playing some of your other games. If you're the type of player that likes to play idle games, you know that having a single instance on for hours at a time can be quite a nuisance, especially if you're itching to play another game on your smartphone. Luckily, with the BlueStacks Multi-Instance Manager, you will never again have to make the choice of which games to leave open since you can have them all.
The Screen Recorder is not your run-of-the-mill video recording feature, but instead uses the powerful processing capabilities that your computer has. Recording games on your phone can be a bit difficult, especially if your phone has a modest processing chip. Smartphones also tend to heat up very quickly if the users open multiple programs at the same time which endangers the phone's battery state.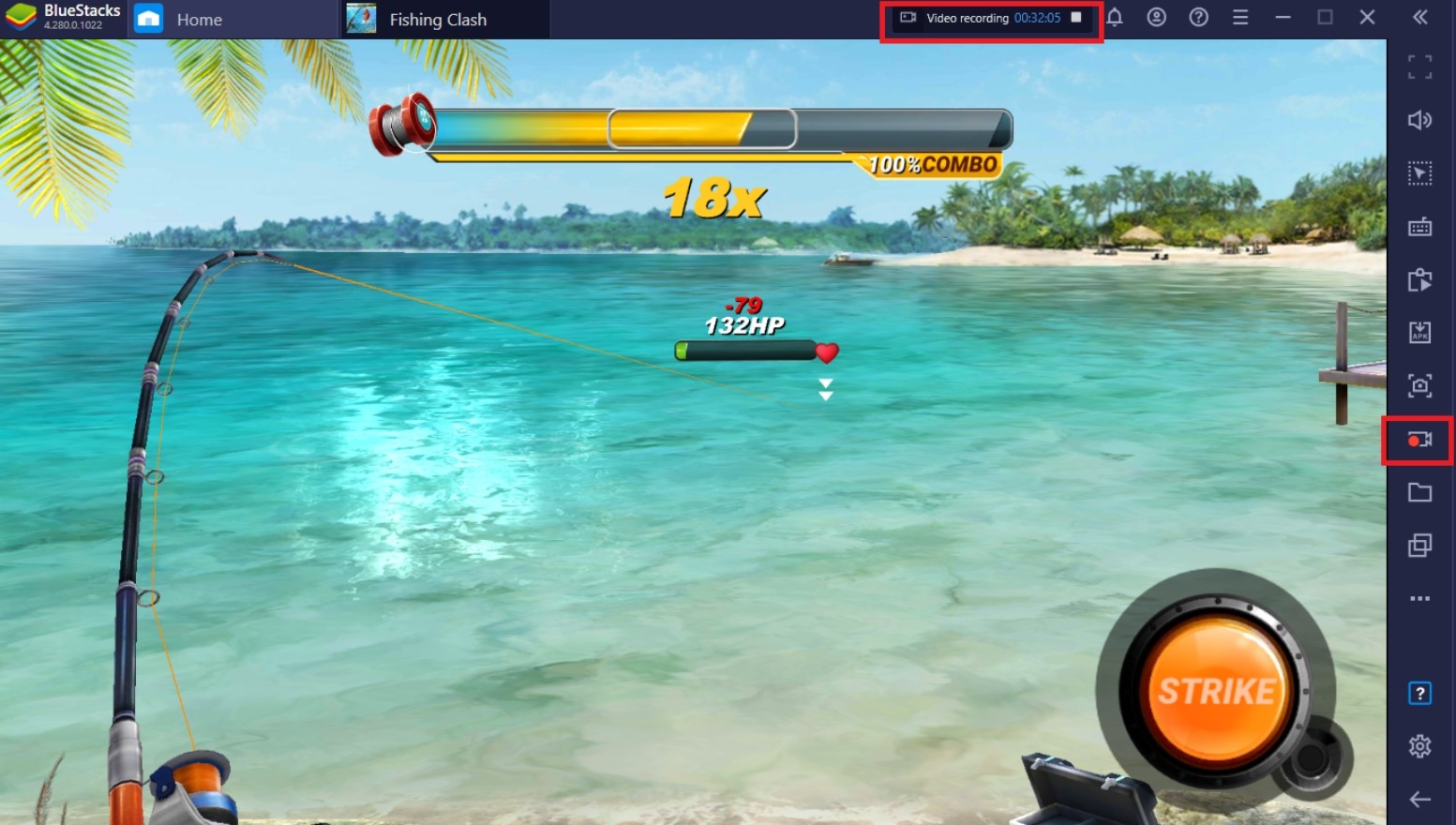 Playing Fishing Clash can be quite demanding, and you don't want the distraction of having your games lag while you're recording an epic fishing duel. Play without distractions using the highest-quality recording you can't find anywhere else other than the comfort of your own home computer. You can also try the Streaming Mode if you want to share your gameplay with a live audience.
Time To Take On The World of Fishing
Fishing Clash is a great game to take your minds off the clockwork lifestyle that most routine-based people are living in today. Add a little excitement to your life or even workplace by installing this game on BlueStacks so that you are ready to play it either on your phone or computer. The game is best enjoyed when you're at your peak performance.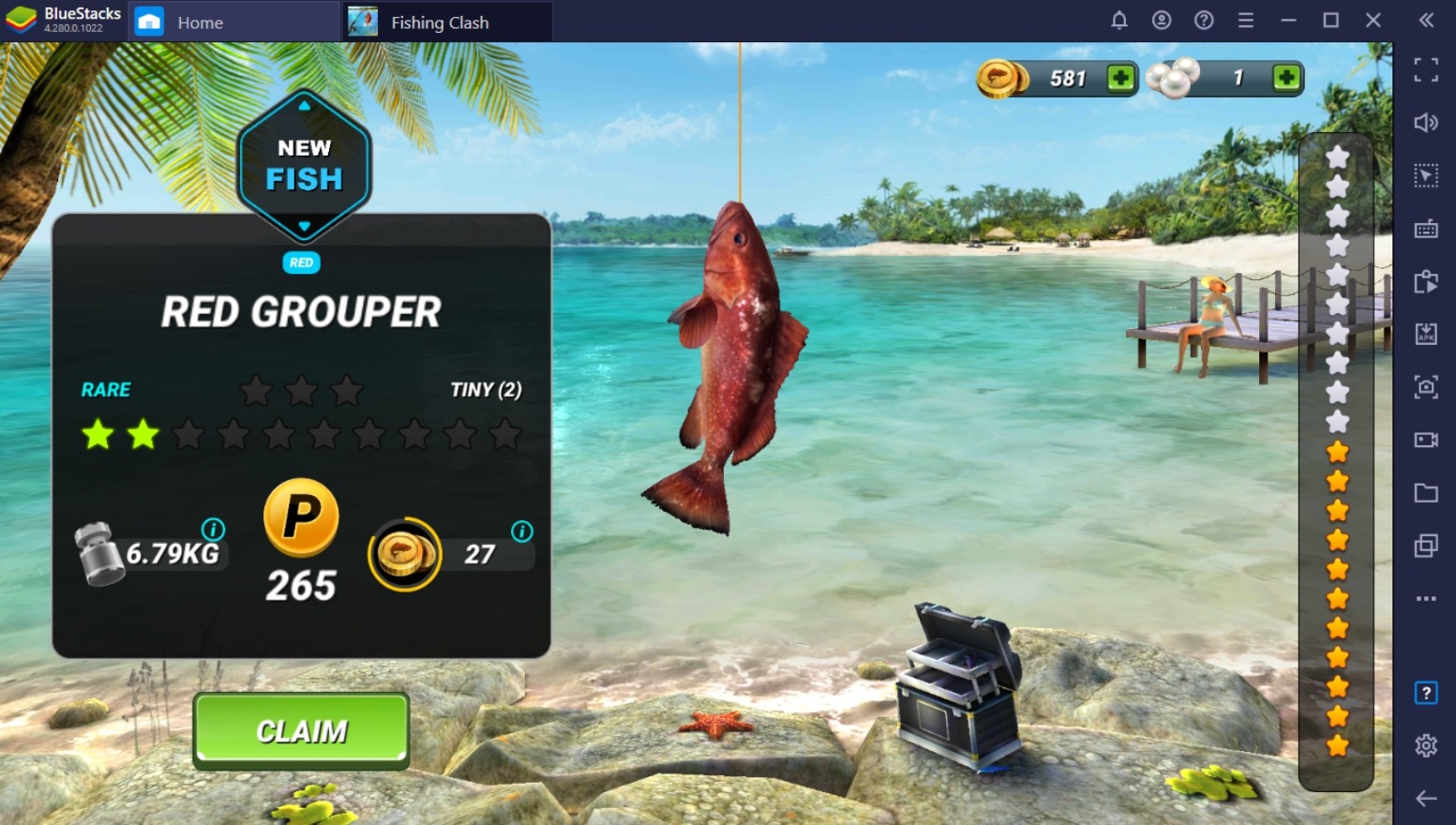 There are many fish left to catch in the vast ocean. In Fishing Clash, you'll quickly realize that you're about to embark on a long journey as you unlock countless stages and collect cards of fishes that you might not have even heard of before. What are you waiting for? Get on your boat and start reeling in a catch today!