Game Guides
Learning How To Catch Fish On BlueStacks: Say Hello To Fishing Clash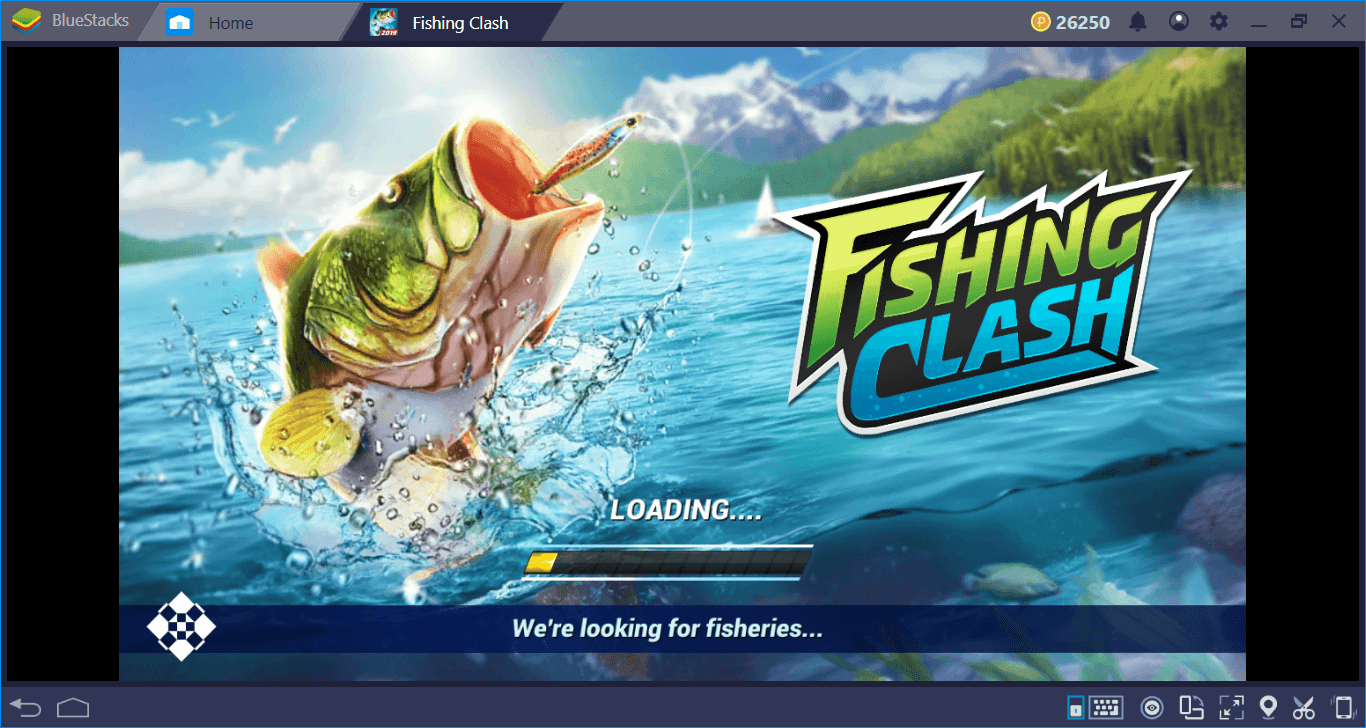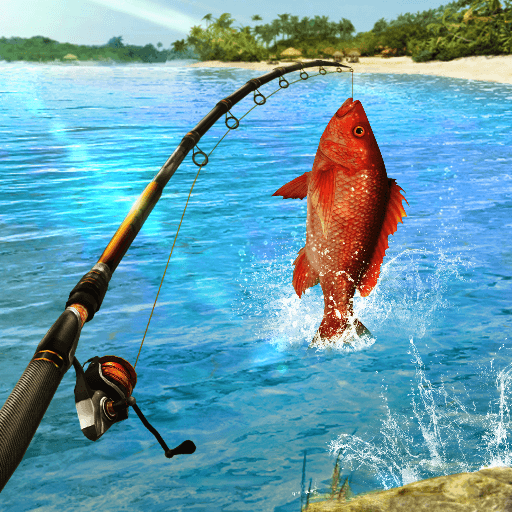 We have slain thousands of monsters, collected hundreds of gacha characters, and ruled nations as a powerful lord: Now, it is time to go fishing. Sometimes the best thing in life is to cast a lure and wait for the perfect opportunity. Well, Fishing Clash by Ten Square Games promises exactly this and that's what we are going to do today. Tomorrow, we can continue to save the world – today, we will be fishing. And as always, BlueStacks is the perfect platform to do this. Let's find out how to install, configure, and use exclusive features of BlueStacks to our advantage in Fishing Clash.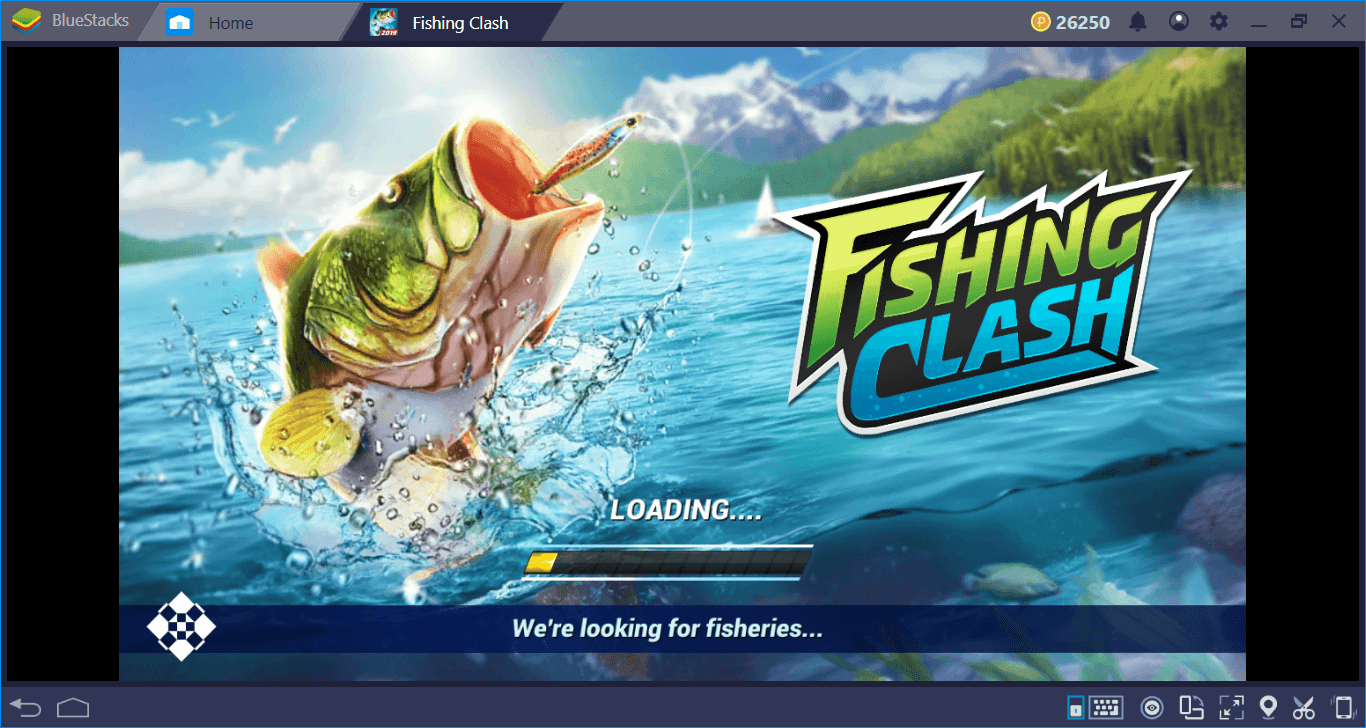 Installing The Game Will Take 10 Minutes Top
Maybe less, if you have a high-speed connection. Fishing Clash is only 100 MB big and does not download any other data after the launch. Start by searching the name of the game on BlueStacks – the App Center will display the results, as shown in the screenshot below. Click on the "install" button and you are done: BlueStacks will handle everything else. After a couple of minutes, you will be informed that Fishing Clash is ready to play. Sit back, relax, and click on the game icon to start catching fish.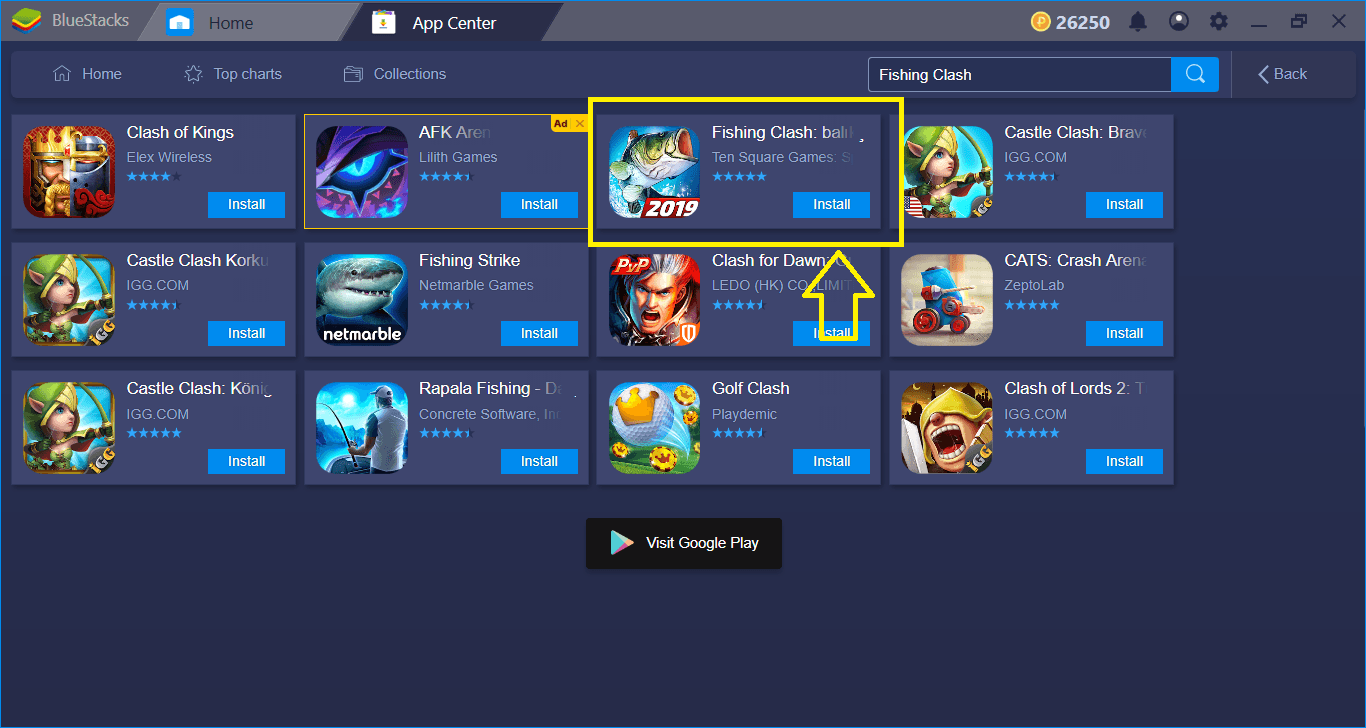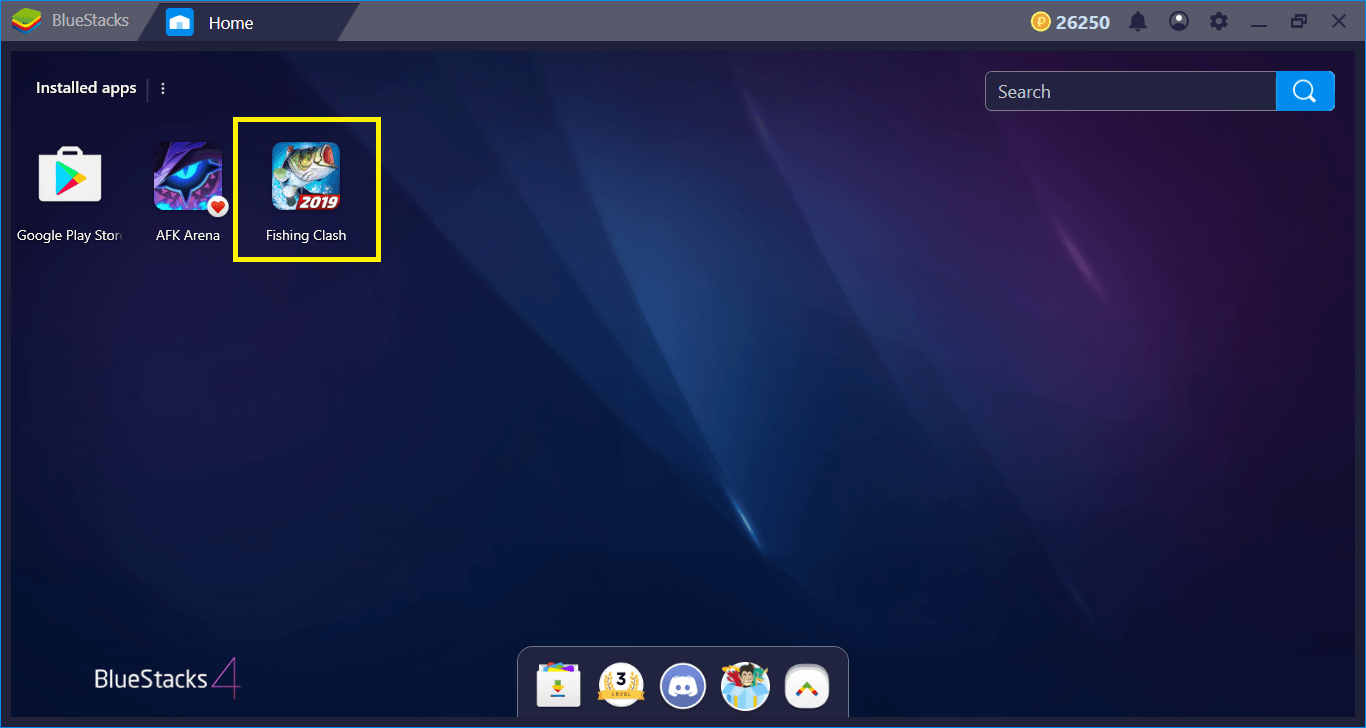 Configuring The Controls
To be honest, there is no reason to configure the controls. The default control scheme of BlueStacks is based on mouse only, and for a good reason: You don't need to use any keyboard keys to play the game. You can just click on the "cast" button to start fishing, and you won't be needing any other key to catch a fish. Fishing Clash is a game designed to be played with your mouse and the gameplay feels more natural with that device. However, you can still assign keys to the basic feature buttons on the interface, if you ever feel the need. To do so, open the "advanced keymap tool" menu by clicking on the keyboard icon at the bottom right and look for the "tap spot" feature. This is a draggable little circle which you can put on top of any button in the game. And once you assign a key to that button, you can press the same key to activate the associated feature. Take a look at the screenshot below to see how this works.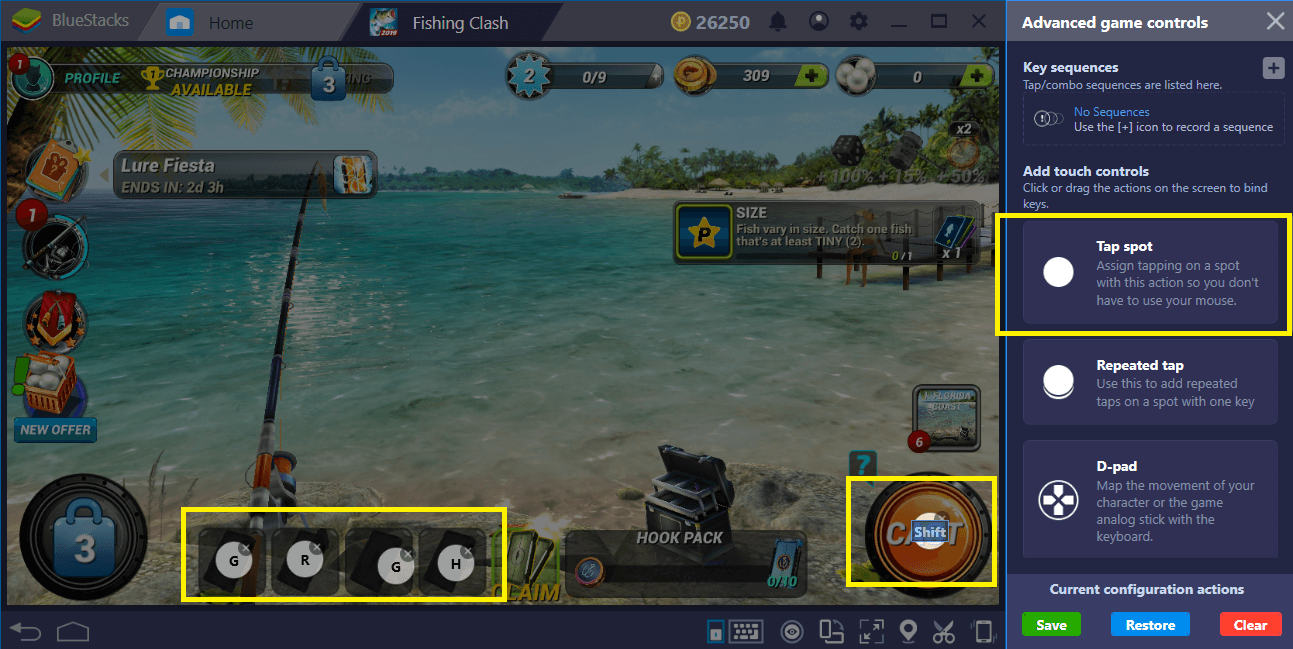 Create Instances For More Rewards
Due to its mechanics, you cannot create combos in this game: Each fish and each catch is a different challenge, and it is impossible to record a session. However, we can still use the multi-instance feature of BlueStacks for two reasons: First, right after catching your first fish, which takes 1-minute tops, you get a random reward. Second, when you start playing the first time, Fishing Clash awards a random card package. We can keep getting these rewards infinitely by using the BlueStacks multi-instance feature, until the results are satisfactory. Let's see how we can do that.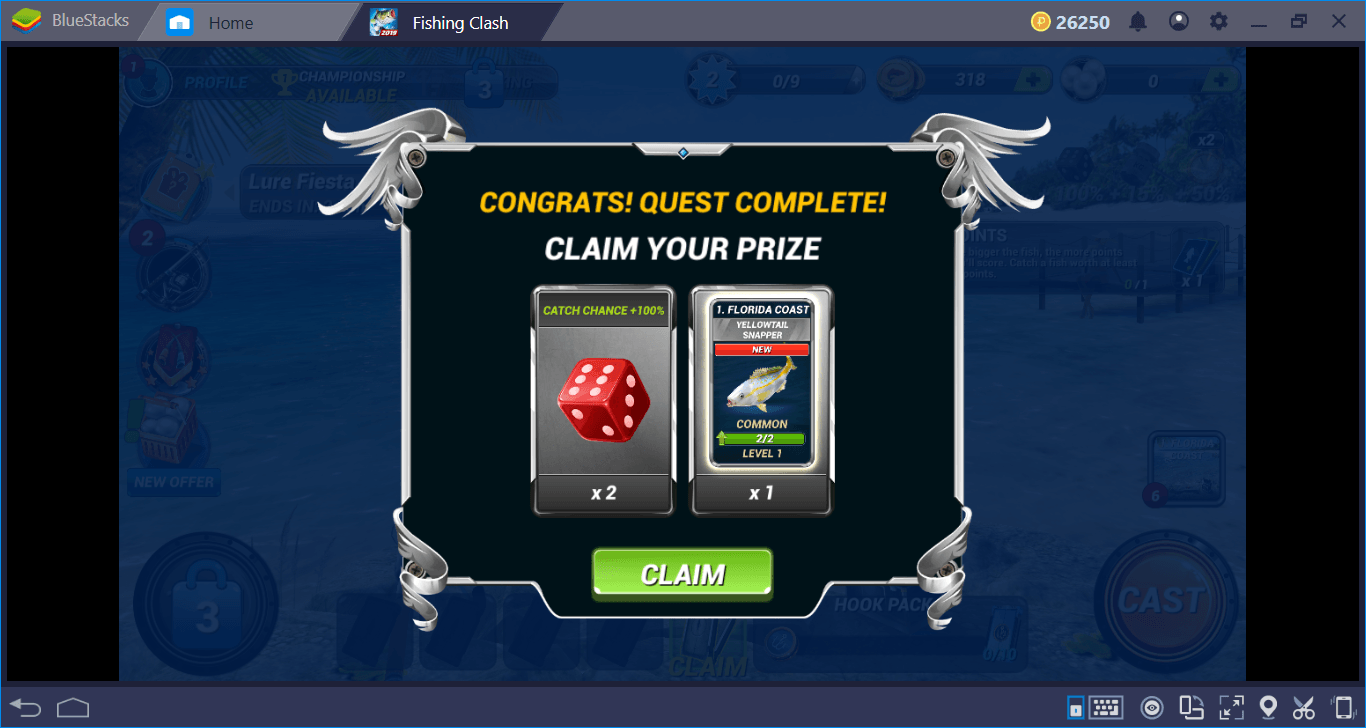 This is your first quest reward – you get a buff and a random card.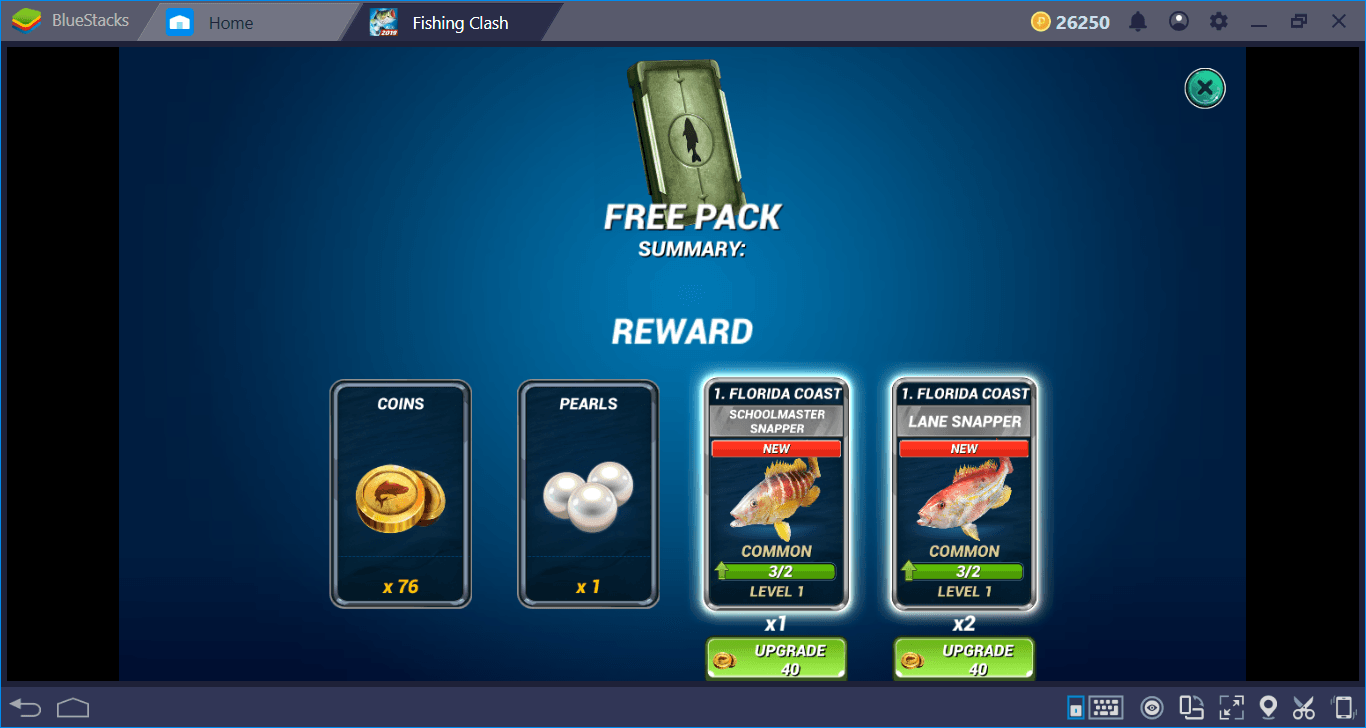 And this is your first card pack – each pack contains four items, randomly chosen.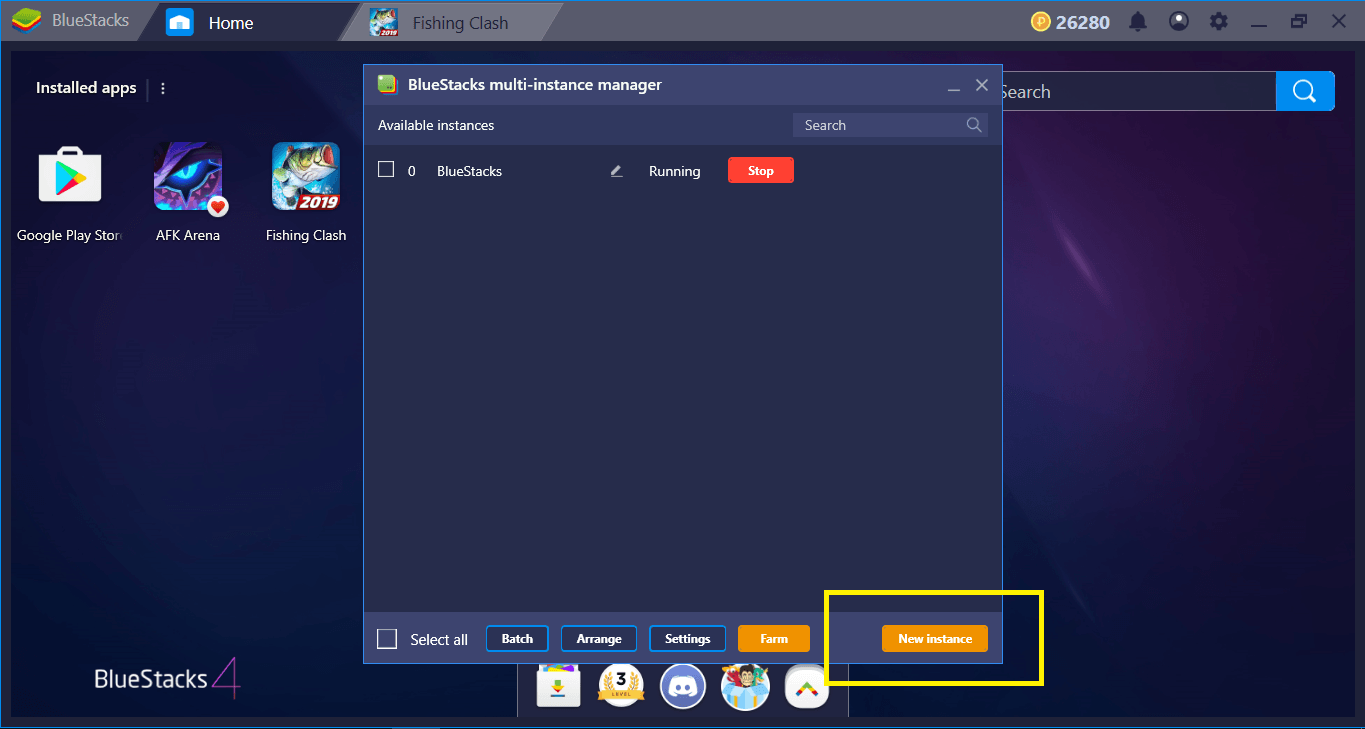 Since we did not like the results, let's try again: Create an instance, launch the game once again, and hope we will be luckier this time.
And that's it: We are ready to catch some fish. Take a look at our review to learn the basic mechanics and become a better fisherman. You don't need to save the world this time and you are not the chosen one anymore: You are just a guy with a rod and sometimes that is all you need. See you in the game, BlueStacks fishers!