Game Guides
How to Get the Best Experience In Game of Khans on PC with BlueStacks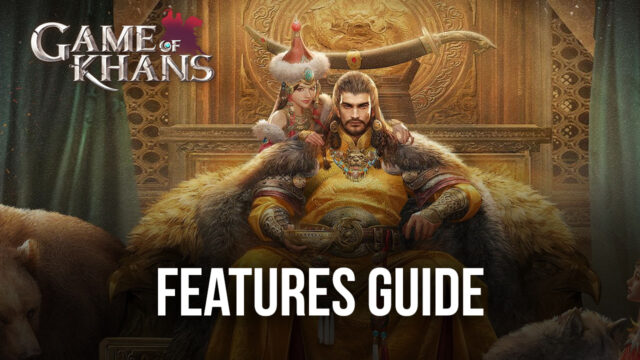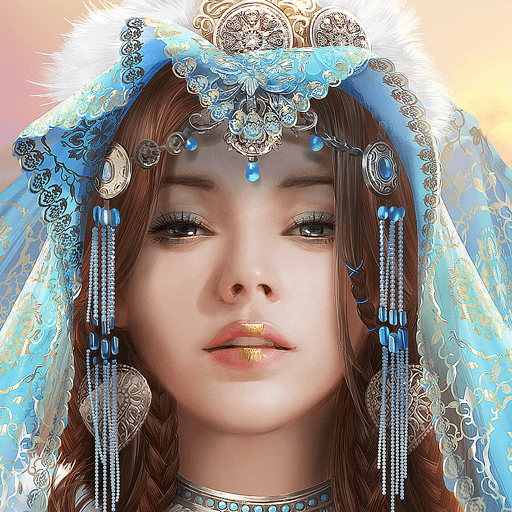 When it comes to playing mobile games on your computer, there are a few options on the market, though none of them are quite as good as BlueStacks, our Android app player that is not only faster than even the most expensive phones on the market, but also offers a variety of tools to improve your gaming experience even further. And for Game of Khans, these benefits will definitely come in handy if you're looking to build the most powerful empire and conquer all of Asia and Europe.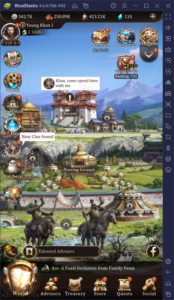 However, while downloading and installing Game of Khans on PC is quite easy and straightforward with BlueStacks, using the tools that our emulator offers effectively requires a bit of know-how, and this is precisely where this guide comes in. In the following paragraphs, we'll not only talk about the best tools that BlueStacks offers when playing Game of Khans on PC but also how to set them up and configure them accordingly.
Maximizing Your Frame Rate While In-Game
Despite looking quite good with its combination of hand-drawn portraits and character art, and 3D character models while in combat, Game of Khans also comes with its frame rate limited by default. This is to help phone users save battery life by not playing at 60 FPS right out of the box, which can also contribute to overheating and accelerating the wear and tear of your device. However, since we're not actually playing on our phones, but on a PC with a powerful Android app player, we don't really need to worry about any of these factors.
To get the best frame rate with Game of Khans, we first need to perform a few adjustments both to our emulator, as well as in-game. Here's a quick step-by-step breakdown on how to proceed: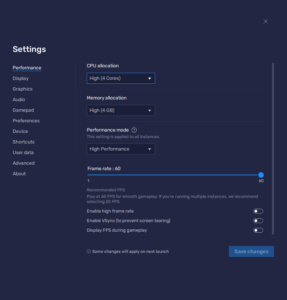 Go to your BlueStacks settings by clicking on the burger icon on the top right of your emulator window.

In the Performance section, set your emulator to have at least 2 CPU cores and 2 GB of RAM. More importantly, make sure to set the FPS slider below to at least 60 FPS. Finish by clicking on "Save changes"

Launch the game and head to the in-game settings by clicking on the gear icon in your character profile.

In the "Performance" menu, simply activate the "High Performance" option.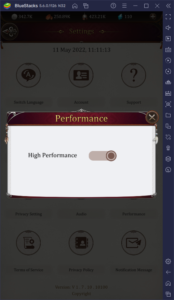 These settings will ensure that your game is running as smoothly as possible. However, if you're still encountering a few slowdowns here and there, which can happen on low-end systems, you can try setting the Performance mode on "High performance" in your BlueStacks settings. This will make your emulator consume a bit more RAM, but offer a more stable frame rate, with the caveat that other apps might run slower if your system doesn't have enough memory available. If this is the case, just make sure to close all other unimportant apps while running BlueStacks.
Automate Parts of the Game with the Macro Recorder
Though you'll mostly be performing upgrades, enacting decrees, and marching into battles manually during your time with Game of Khans, there are some tasks that are performed mostly automatically, but still require some monitoring every few hours. Your resource production is one of these tasks that is done automatically by all the villages under your command. However, their production is capped at a certain point, and you must claim your resources in order to empty their coffers and have them continue producing, since they will stop completely until you do so.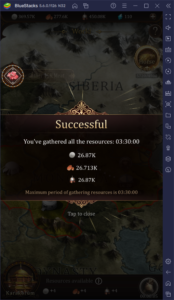 In the beginning, your resource production is capped at 3 hours and 30 minutes, which means that you need to empty your coffers fairly often in order to keep a constant production. However, instead of doing it manually and possibly forgetting about it and compromising your production, you could use the BlueStacks Macro Recorder to have our Android app player do it for you.
You can access the Macro Recorder by pressing Ctrl + Shift + 7. On this panel, you can click on the "Record new macro" to record all your clicks, swipes, and other actions. And once you're done, you can turn off the recorder, give your macro a name, and bind it to a button on your mouse or keyboard. Afterward, whenever you press the button, BlueStacks will replicate the actions you just recorded, with 100% accuracy.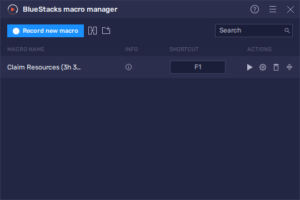 For Game of Khans, you can record yourself emptying your coffers, and set this macro to repeat every 3 and a half hours, which will effectively automate the process indefinitely. These macros work even when your emulator is minimized to the background, so you can effectively continue producing resources even while you're doing something else on your computer.
The Macro Recorder is useful for this and any other tasks that consist of repeating the same few basic steps. Your creativity is the limit to what you can achieve with this tool!
Streamline Menu Navigation With Keyboard Shortcuts
While it's easy enough to go through the game's multiple menus by clicking on them, the fact that you'll be doing this all the time can eventually make it a bit tedious. In this case, you can easily streamline the menu navigation in this game by adding a few keyboard shortcuts into the mix. In this sense, you'll be able to both click on the UI, as well as use the corresponding shortcuts, to sift through the game's many menus.
With the Keymapping Tool, you can create customizable control schemes for any game using your mouse and keyboard, including Game of Khans. Simply press Ctrl + Shift + A to bring up the Advanced Editor, and then click on the spots where you wish to add controls, followed by giving them key assignments by clicking on them. And if you need any type of specialized controls or functions, you can find them on the rightmost panel of the Advanced Editor—simply drag and drop them from there onto wherever you need them on your screen.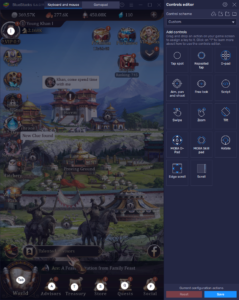 Whether you're looking to play with the best performance; optimize your productivity with our automation features, or simply make menu navigation much easier, BlueStacks has the tools to do this and much more.