Game Guides
How To Play GTA Vice City On PC With BlueStacks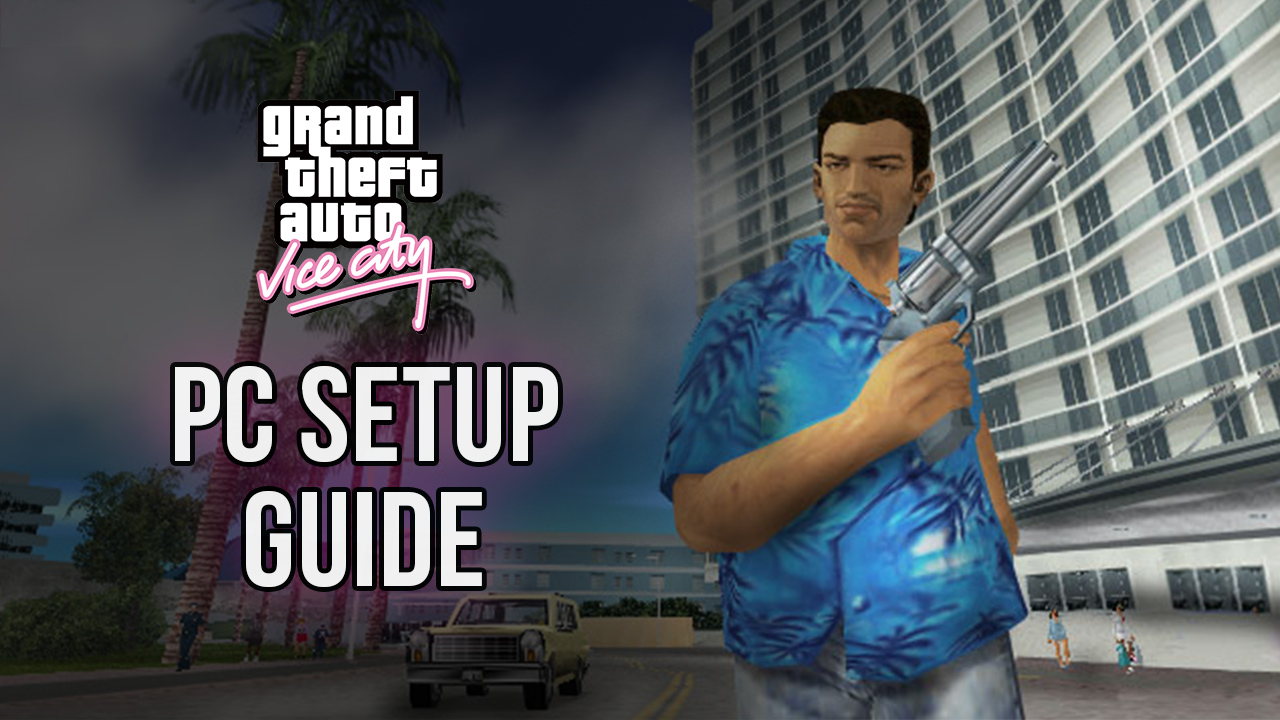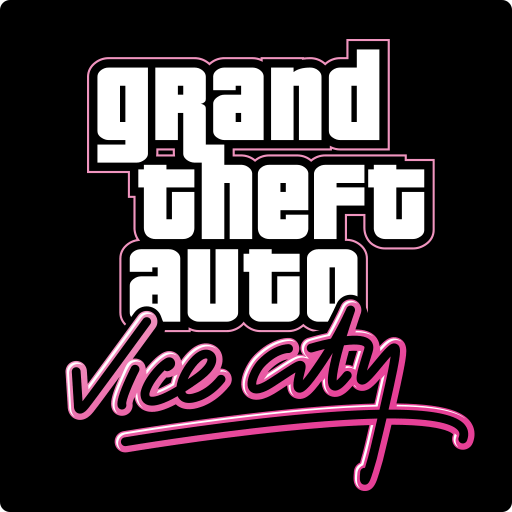 Grand Theft Auto: Vice City is, no doubt, one of the few games that are etched into the hearts of hundreds of millions of people worldwide. As Rockstar Games celebrates its 10th anniversary, they offer a wonderful surprise that is sure to tickle the nostalgia of its player base. GTA Vice City arrives on the mobile platform with the retained storyline, graphics, and gameplay to better preserve the players' memories of what they enjoyed most about the game all those years ago.
GTA Vice City is one of the very first free-roaming RPGs where the player has full freedom to explore whatever they want about the game. It was infamous and notorious for allowing its players to go on full rampages around the city; more often than not, these crimes involved killing, stealing, or committing other varied crimes. Players who haven't tried this game before might not appreciate its charms since many other games have since been released with similar themes. Nonetheless, this game cements its place as one of the unbeatable classics in video game history.
About Grand Theft Auto: Vice City
Tommy Vercetti has just been released from a 15-year prison sentence, but his boss, Sonny Forelli, sends him on an important drug deal. But when the drug deal goes south after an unexpected ambush, he is sent on a wild goose chase to recover the stolen drugs. As he tries to find out where the drugs went, he meets up with various people, which ends up making his investigation take a turn for the best. Can Tommy use the resources he has to take over the crime-ridden Vice City as his own?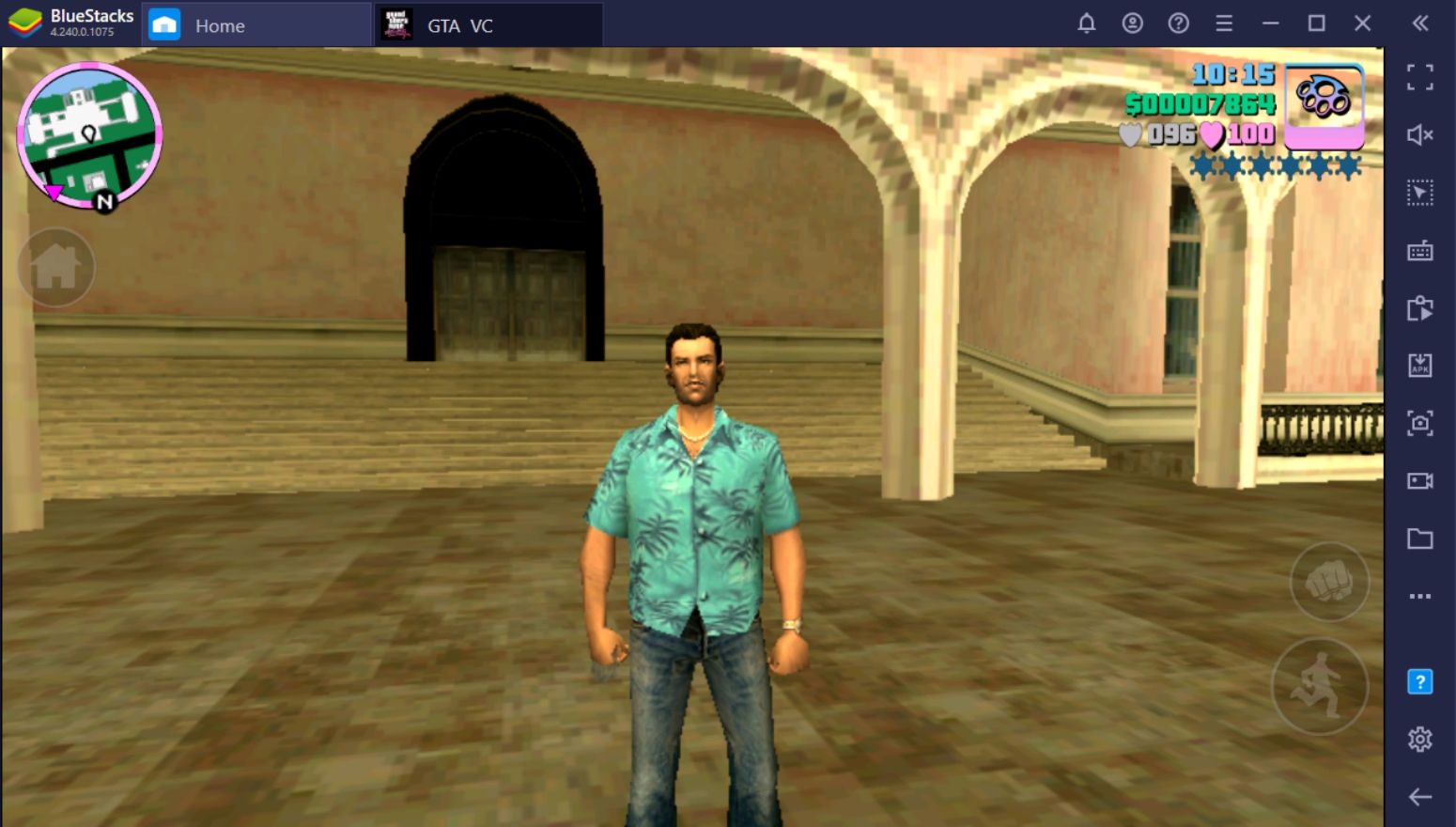 How to Set Up GTA Vice City on BlueStacks?
Want to continue your progress from Grand Theft Auto: Vice City mobile on your PC? Try playing this game on BlueStacks whenever you're off your smartphone to relive playing this game on your computer. BlueStacks is at the top of the android emulators list, and for good reason. Players can enjoy multiple features that allow its players to take the full experience of playing a mobile game, but with additional functions that would otherwise be unavailable when you're playing on a smart device.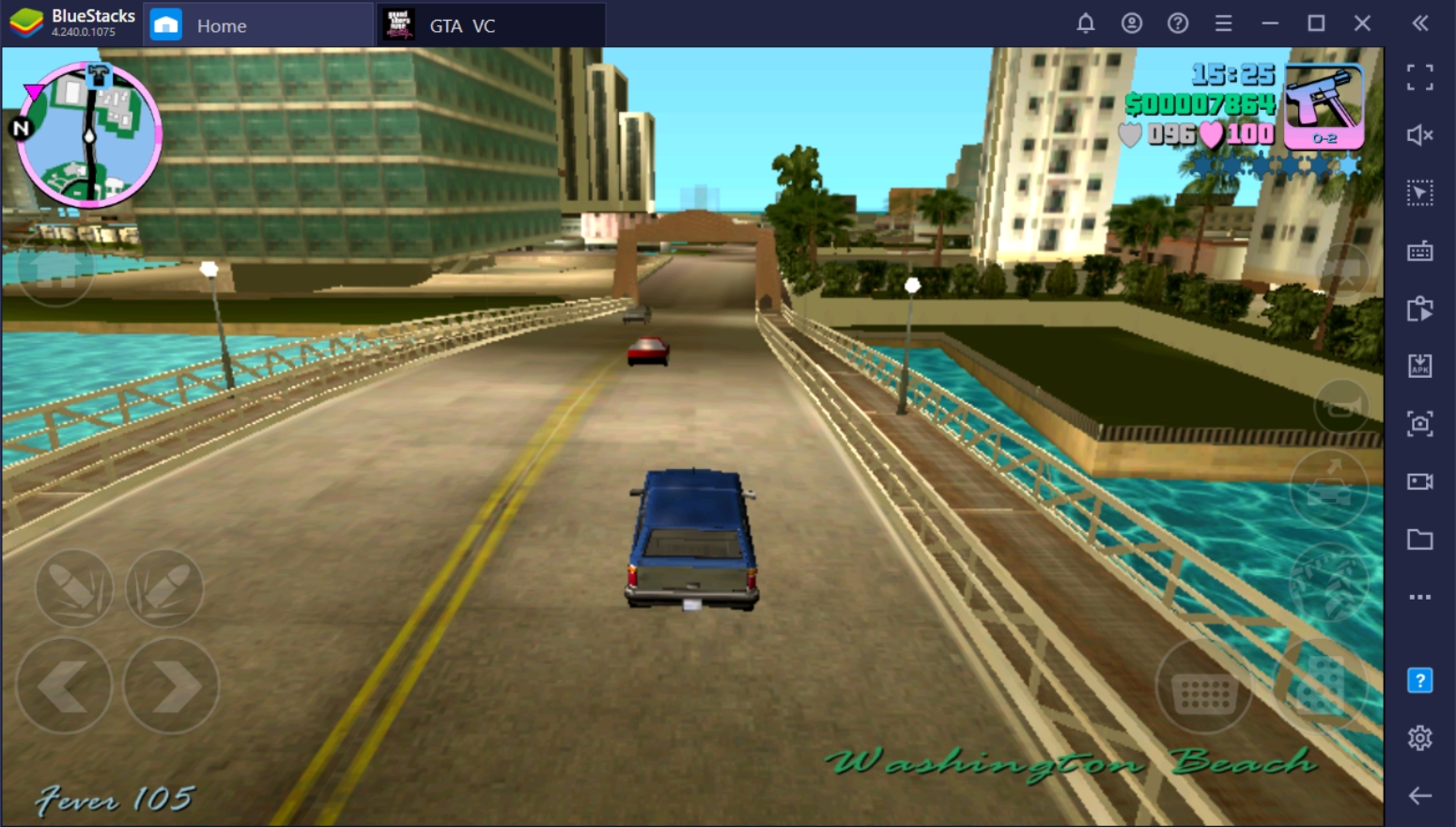 Download and install BlueStacks on your PC.
Complete Google Sign-in to access the Play Store, or do it later.
Look for Grand Theft Auto: Vice City in the search bar at the top-right corner.
Click to install GTA Vice City from the search results.
Complete Google Sign-in (if you skipped step 2) to install GTA Vice City.
Click the GTA Vice City icon on the home screen to start playing.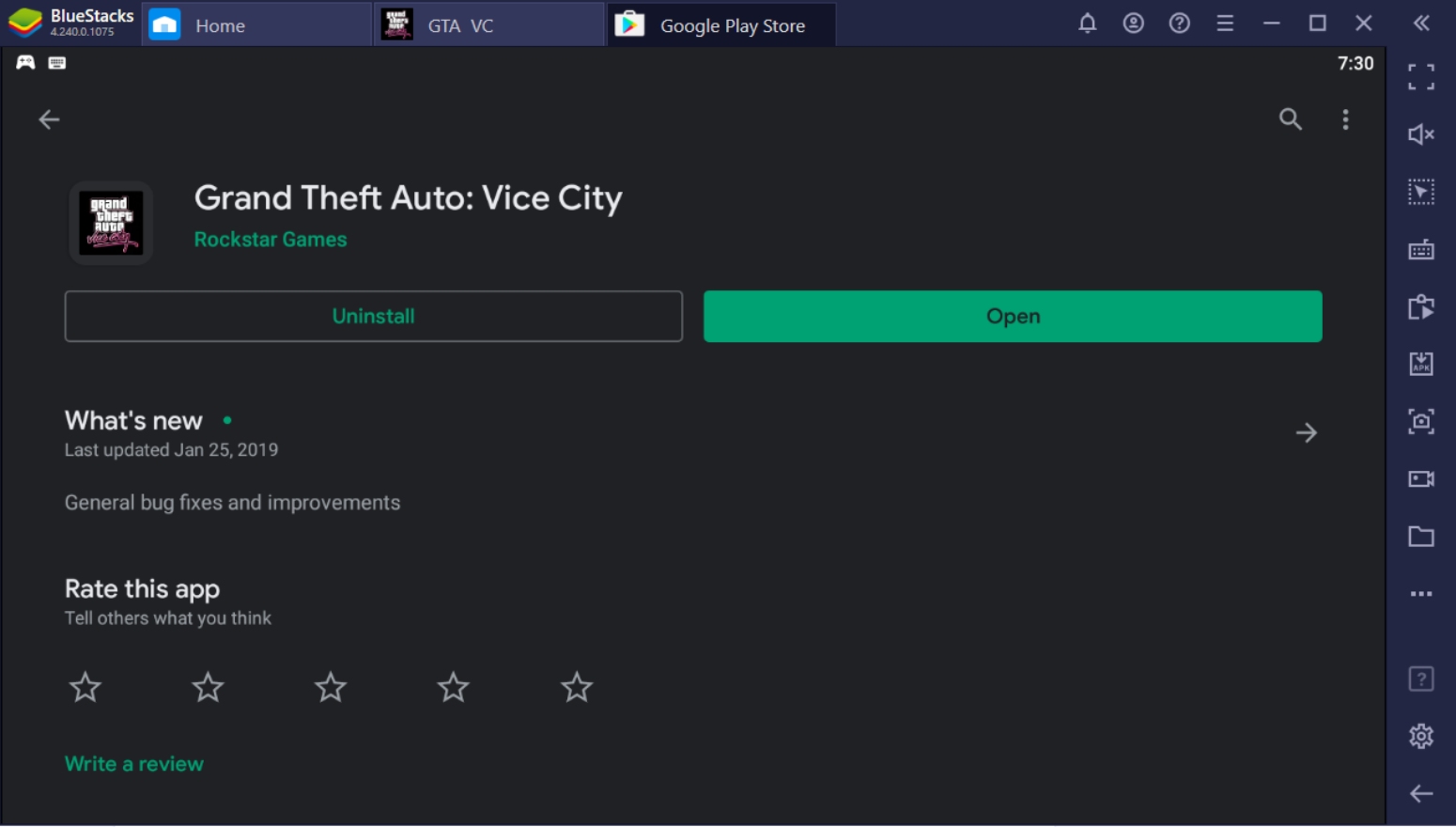 Enjoy These BlueStacks Features on GTA Vice City
Done installing GTA Vice City on your BlueStacks client? Before you start the game, learn about some features that'll boost your experience playing the game on the client. Make your life easier when playing the game so that you'll be able to fully replicate on your computer how the game runs on your smart device. BlueStacks has a ton of extra functions that a regular smartphone is unable to run because of a small device's restrictions. Learn all about the different features you can abuse right here!
Controls Editor Function
The Controls Editor Function allows players to map out keyboard buttons on areas of the screen to emulate PC controls. Key functions such as the WASD movement control gives players a more familiar feel when playing the game. You can also fully customize your screen to make use of key bindings that you used when you played the game before. If you're feeling too lazy to customize the buttons, you don't have to worry; the game offers a default keymap for you.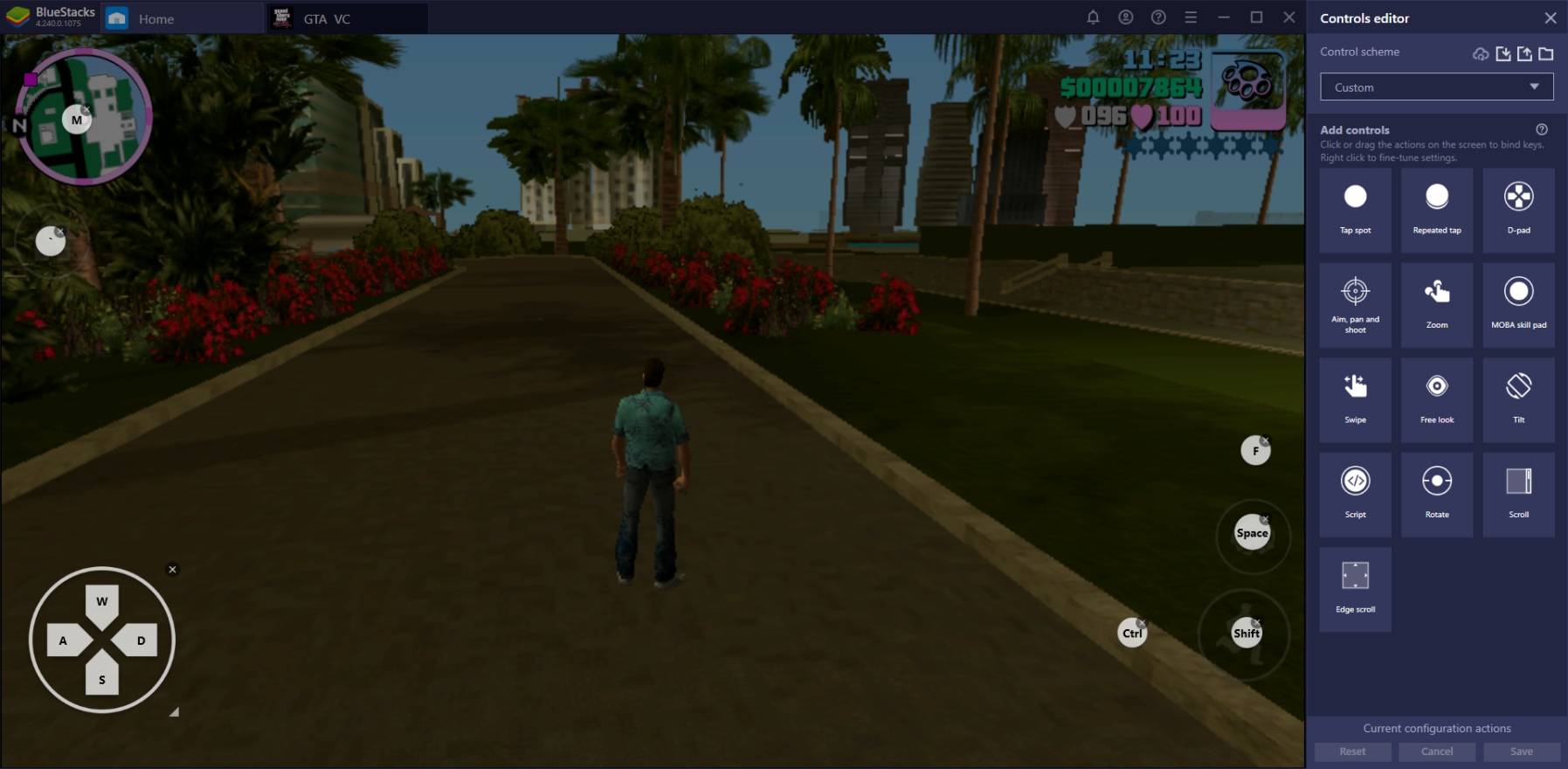 The ability to use a keyboard is also very important, specifically for Grand Theft Auto: Vice City. Since most players like to use cheat codes, the ability to use your keyboard to input commands swiftly will be crucial for heated moments. Using the on-screen keyboard on your smartphone just honestly feels iffy and slow compared to how smoothly and naturally you can do it on your computer.
Macro Function
Speaking of using cheat codes, why not make the whole process of using cheats even faster? With the BlueStacks Macro Function, you can skip the typing process altogether. The Macro Function allows you to save a series of actions you carry out within a certain time frame to add to your Macro Quickbar. For example, instead of typing ASPIRINE each time, you can simply press CTRL + ALT + 1 to execute the function automatically without the need for you to type it on your screen constantly.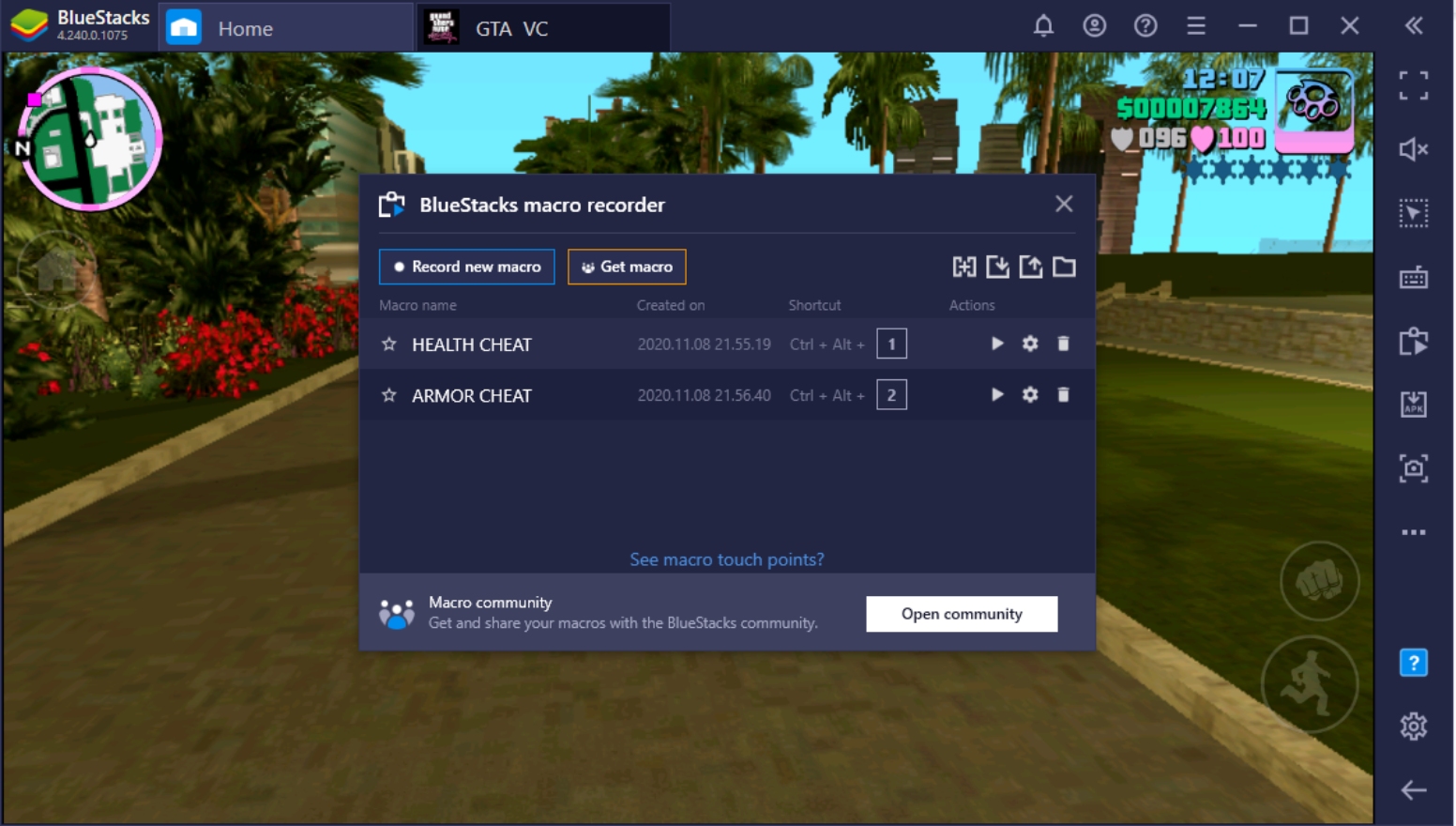 Multi-Instance Function
The Multi-Instance Function allows players to open multiple BlueStacks instances at once without having to shuffle between game tabs. This means that if you're playing another game that doesn't require too much focus, you can play Grand Theft Auto: Vice City while you leave that game to play on its own in the background. The number of different instances you can open (without the game lagging) depends on how powerful your PC's processing ability is.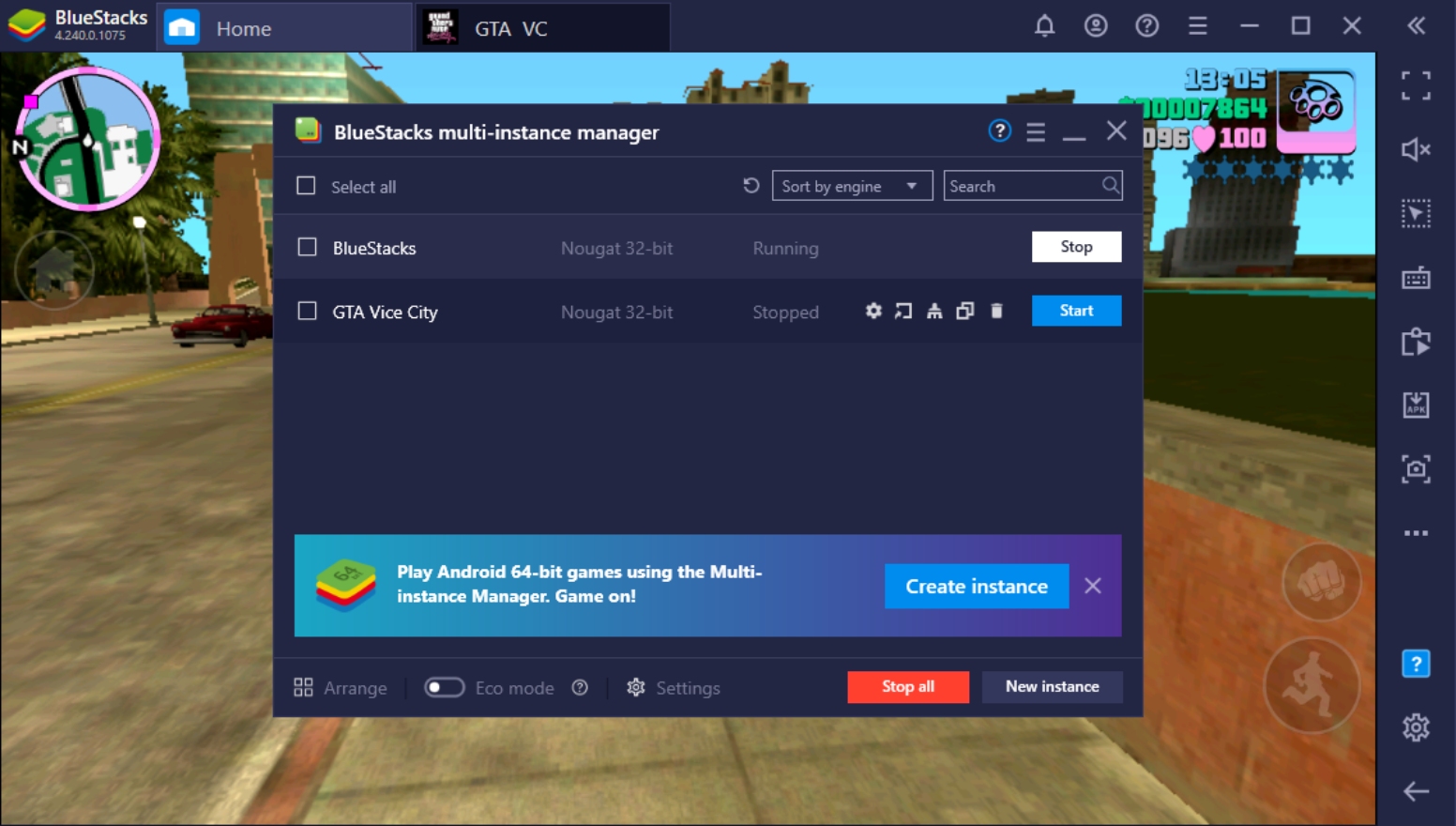 Screen Recorder
The Screen Recorder function lets players record the game offline to share later on social media platforms or on streaming websites. Grand Theft Auto has always been one of the more popular games streamed online because of the wide range of freedom in the game for you to carry out some silly or amazing stuff. By combining this feature with the Streaming Mode option, you can share your gameplay live to the people that follow you; who knows, it might put you on the path to becoming a famous gaming streamer!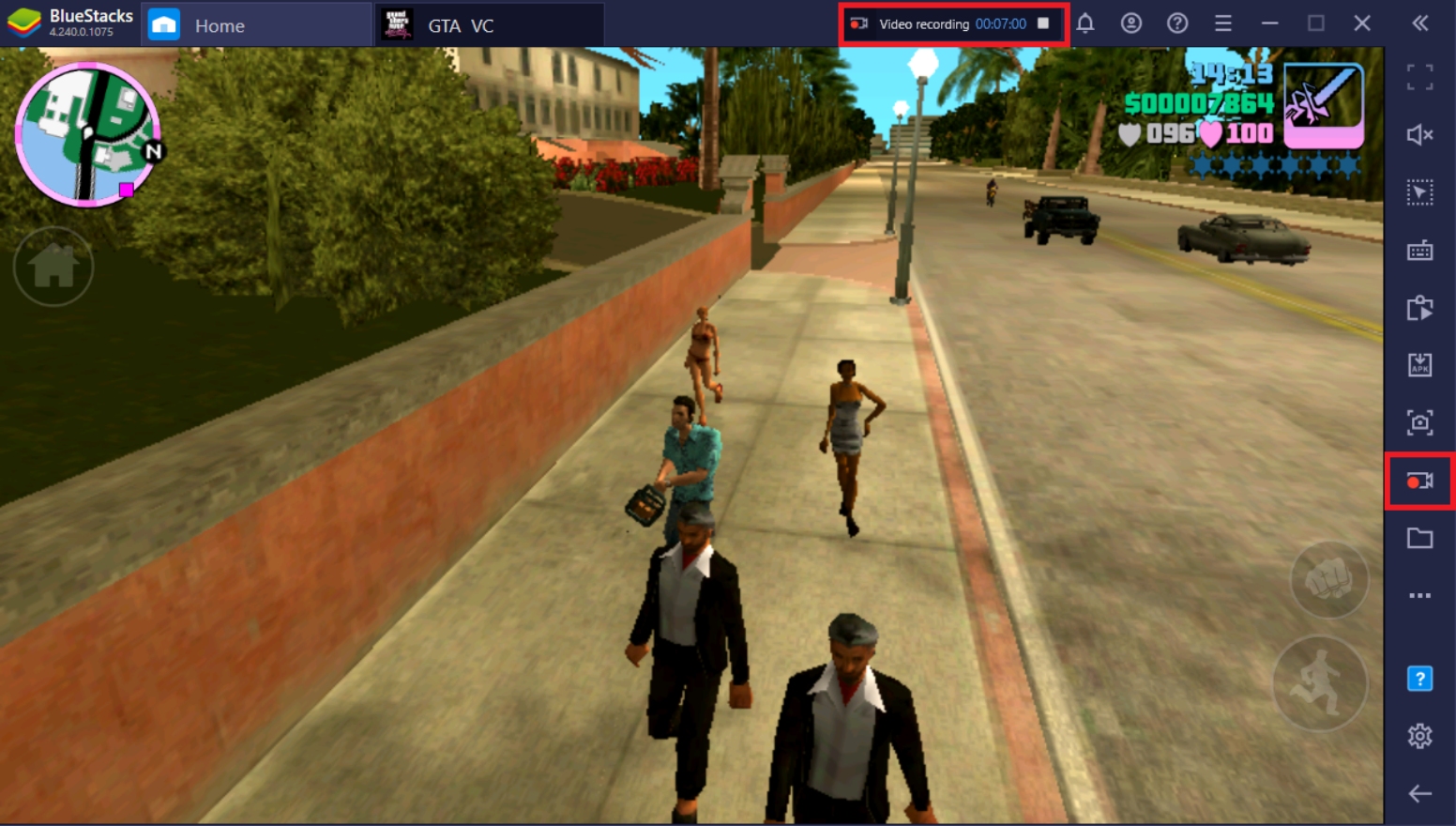 Return to the Gaming Classics!
With smartphones becoming more capable of running performance-heavy games, a lot of nostalgic titles are being ported into the Android and iOS platforms. This advancement makes games like these easier and more accessible to play on the go. GTA Vice City is definitely a game worth going back to if you want to take a little detour from modern gaming and remember why you fell in love with games in the first place. Time to relive these childhood memories on the BlueStacks platform for an upgraded gaming experience!