Game Guides
Beginner Tips and Tricks for Guardians of Cloudia – Start Your Journey on the Right Track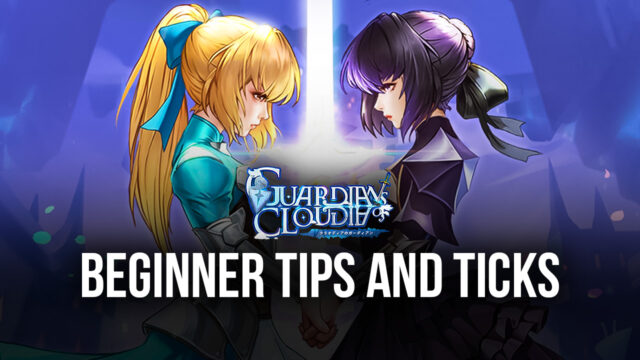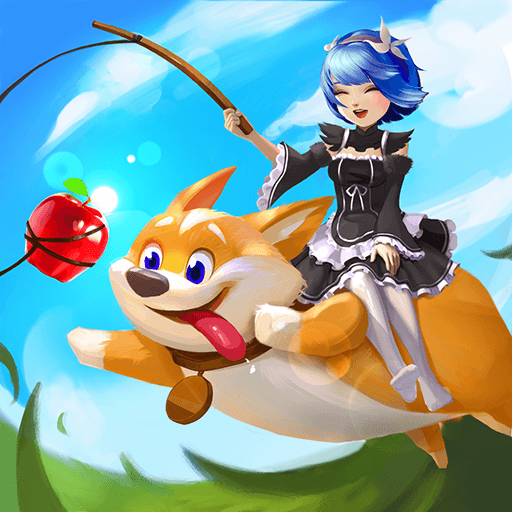 Guardians of Cloudia recently launched its open beta test, allowing everyone from around the world to download and start playing it, and exploring everything that it has to offer. Among these things we can find a variety of playable classes—from the powerful and swift rogues, sturdy and resilient swordsmen, and the deadly archers, among others—, a vast open world, and many different and exciting quests and challenges to complete. And just like many other mobile MMORPGs in the market, there's a bit of a learning curve when it comes to this game in particular.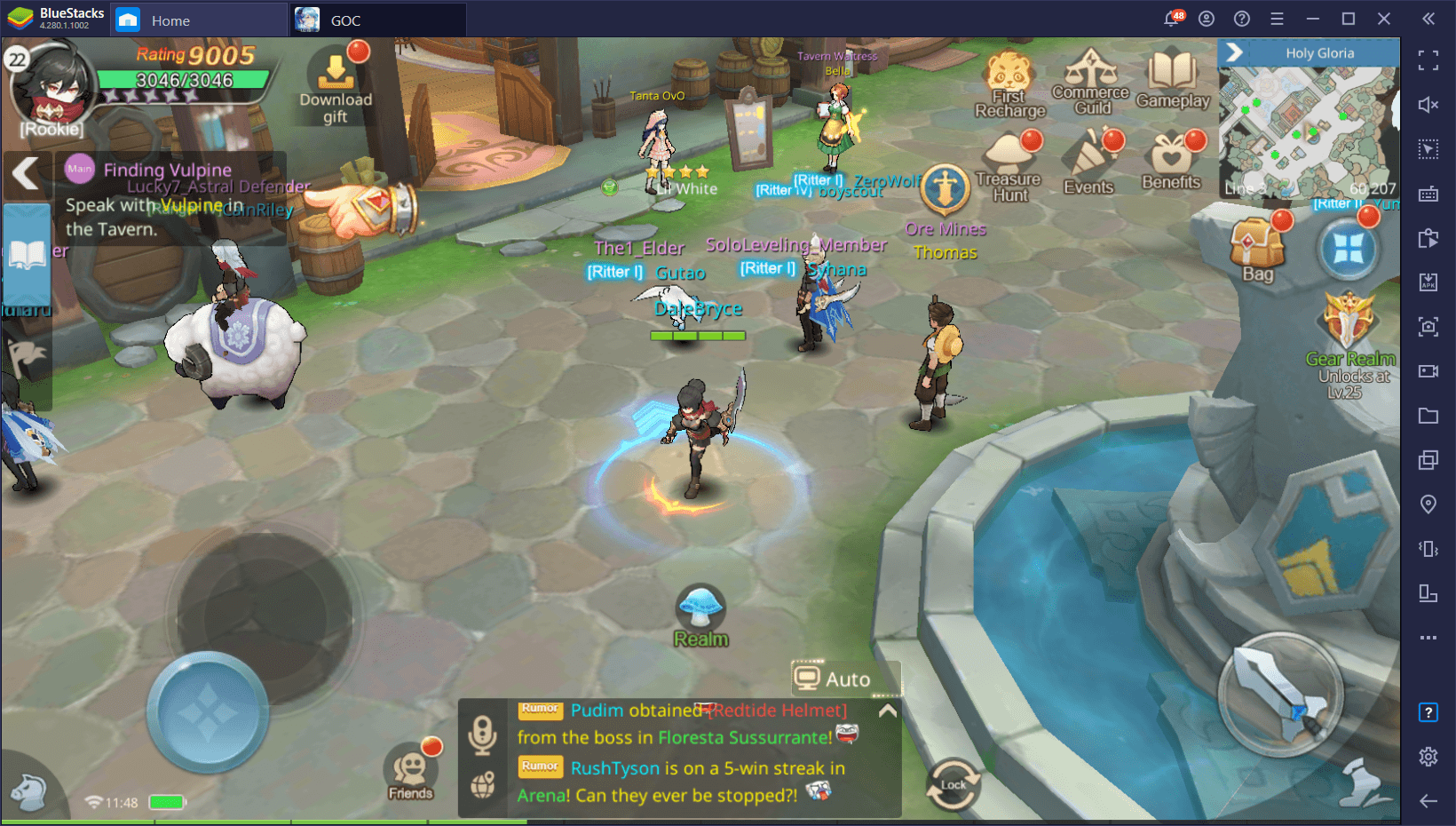 As we've mentioned on previous occasions, Guardians of Cloudia is quite par for the course when it comes to features, as it does little to innovate on the established formula of the genre. Regardless, the game offers us a big open world, different game modes, several unique classes, and other aspects that could make it a little difficult to approach, especially if you're new to MMORPGs and mobile games, in general.
With that being said, we're going to share some of the best beginner tips and tricks that you can use in order to start on the right foot in Guardians of Cloudia. If you're just beginning your adventure in this vast MMORPG, then keep these tips in mind:
Enhance Your Experience With BlueStacks
One of the most important aspects about any game is the playability. In other words, the difficulty and complexity of a game might not always come from the in-game challenges themselves, but from how difficult the game is to play. This fact is more evident in mobile games, considering how they can be quite awkward to play at times, since you'll be struggling with touchscreen controls and, if your phone is not very good, you might encounter performance and framerate issues that can detract from your experience.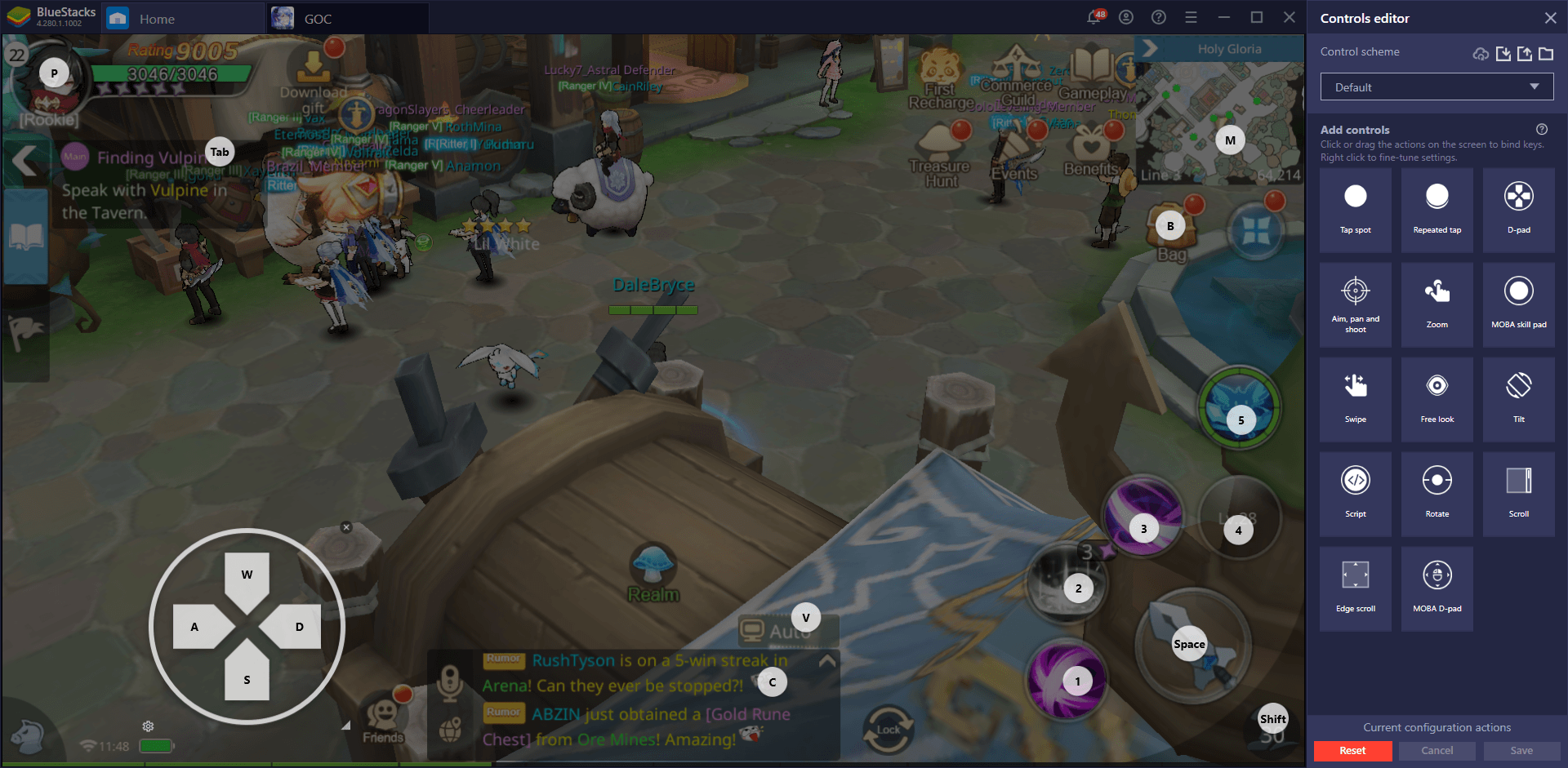 The Keymapping Tool will help to significantly streamline your controls using your mouse and keyboard.
In order to get the best experience with any mobile game, we recommend playing them on BlueStacks. With our Android emulator, you'll be able to enjoy Guardians of Cloudia on PC, and with access to a variety of features to improve your experience, including keyboard and mouse controls, and the ability to run multiple instances to play several different classes simultaneously, among others.
Check out our BlueStacks tools guide to learn how you can use our tools to your advantage in Guardians of Cloudia, as well as to play the game with the best performance and graphical settings, without any of the issues that stem from playing on your phone.
Choose the Right Class
There are currently five playable classes in Guardians of Cloudia, each with its own sets of skills and passives, which make them suited for different play styles. In other words, while the rogue, mage, and archer classes can fulfill essentially the same role (DPS), they do so in vastly different ways and with varying degrees of complexity and effectiveness. Depending on your play style, you can choose any of the three, and fine-tune your experience with the game to suit your preferences.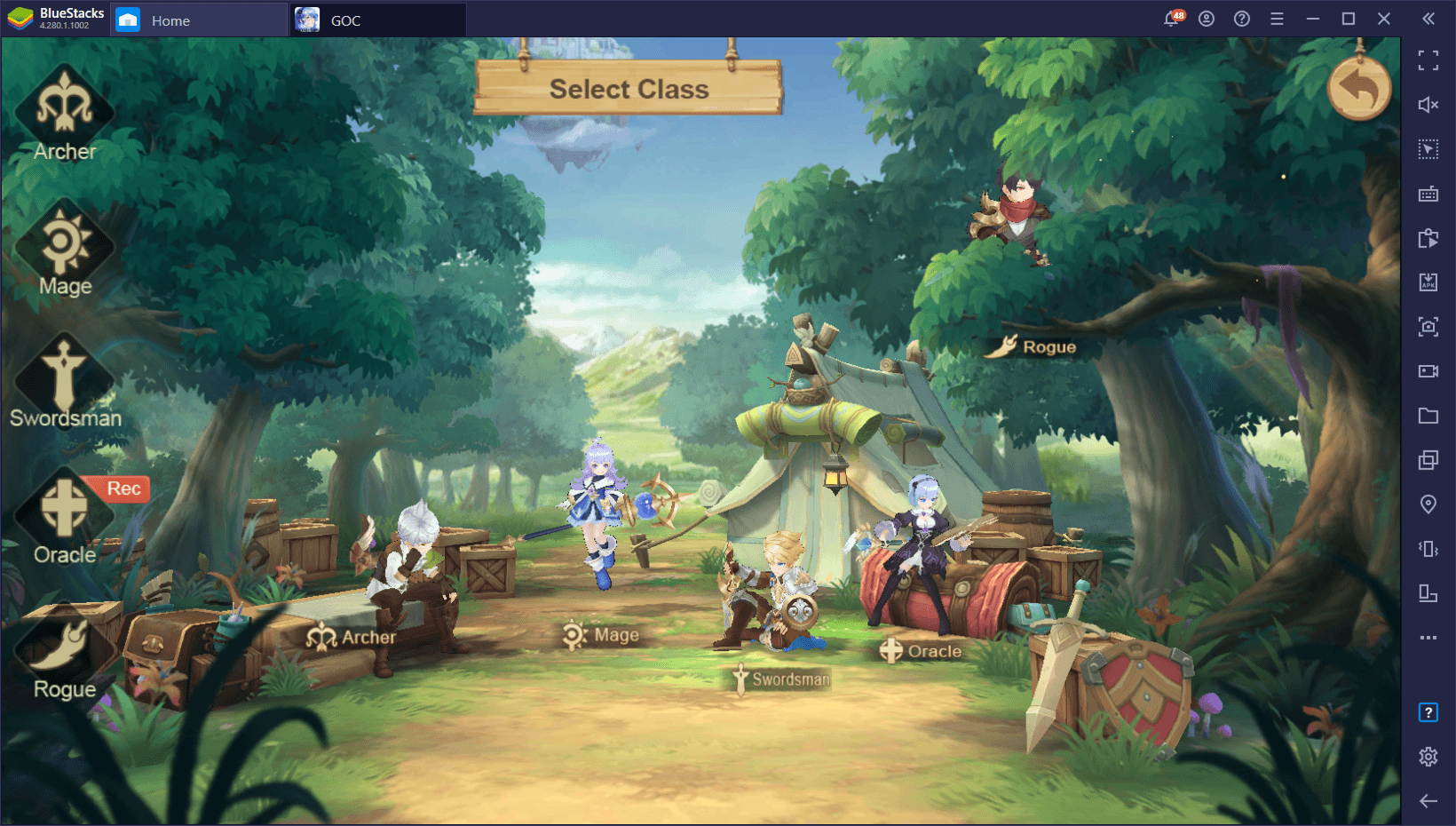 With that being said, even though this game allows you to have multiple characters on the same account, it doesn't actually let you switch between them while in-game. Consequently, whenever you want to swap, you need to manually close the game, relaunch it, and start anew with the desired character. This makes it quite clunky when it comes to managing multiple toons on the same account.
Alternatively, if you play on BlueStacks, you can use the Instance Manager to access Guardians of Cloudia on several accounts simultaneously, and swap between your different characters quickly and easily. You can even play with all of them at the same time by using the game's auto-combat and auto-questing features.
Follow the Main Quest
Now that you've selected a class and jumped into the game, you still need to strap in and start grinding fiercely to unlock everything Guardians of Cloudia offers. Most of the content in this game is locked behind a level requirement, which means that you must level up in order to access more features. Luckily, the main campaign is a great way to go about this at the beginning, as completing these missions grants tons of experience and will bump you up several levels.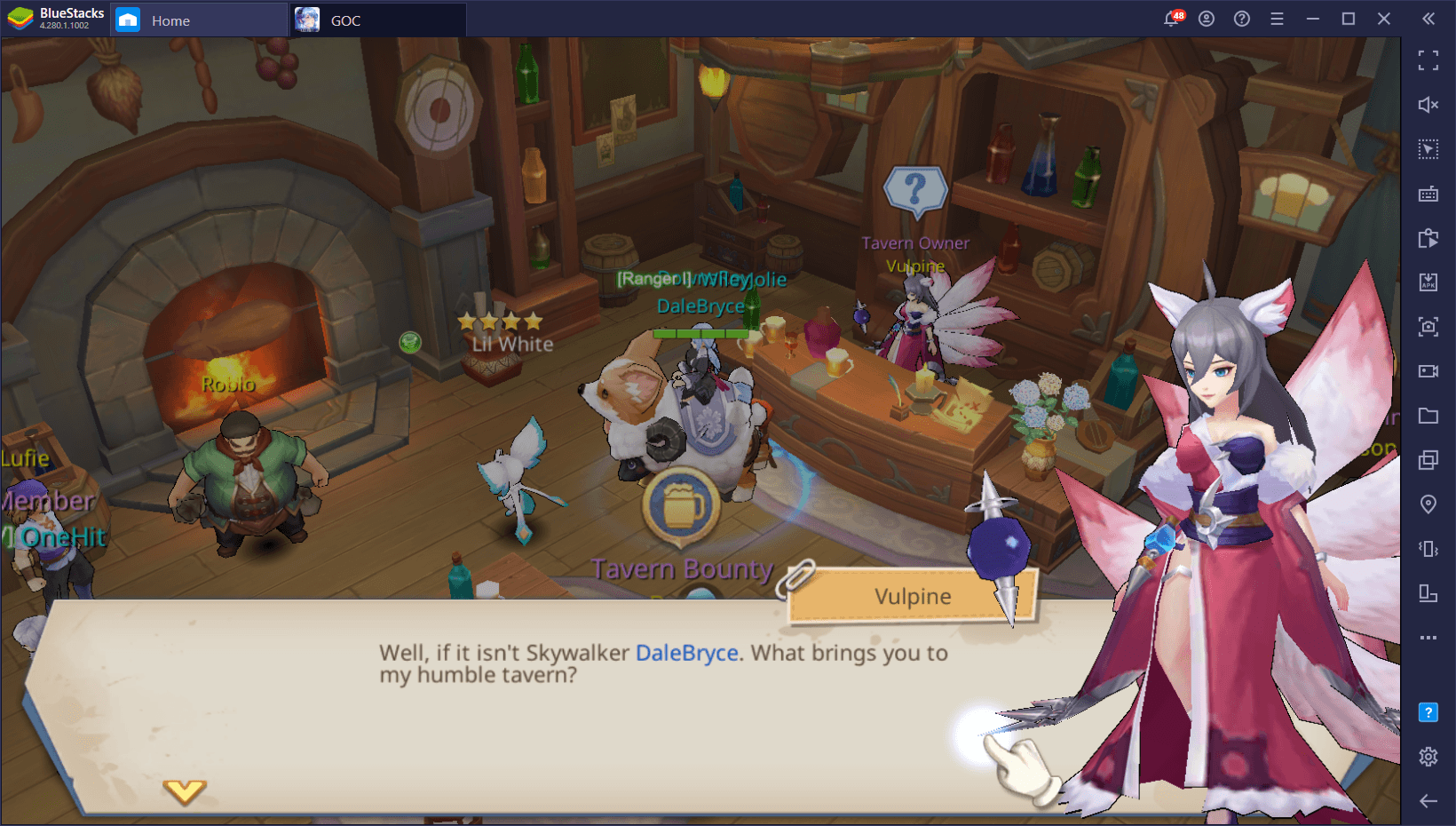 Additionally, by following these quest chains, you will also get tutorials on how the different aspects of the game function, including how to equip, summon, and upgrade pets, how to upgrade your skills and increase your power, and a whole host of other features to enhance the performance of your character.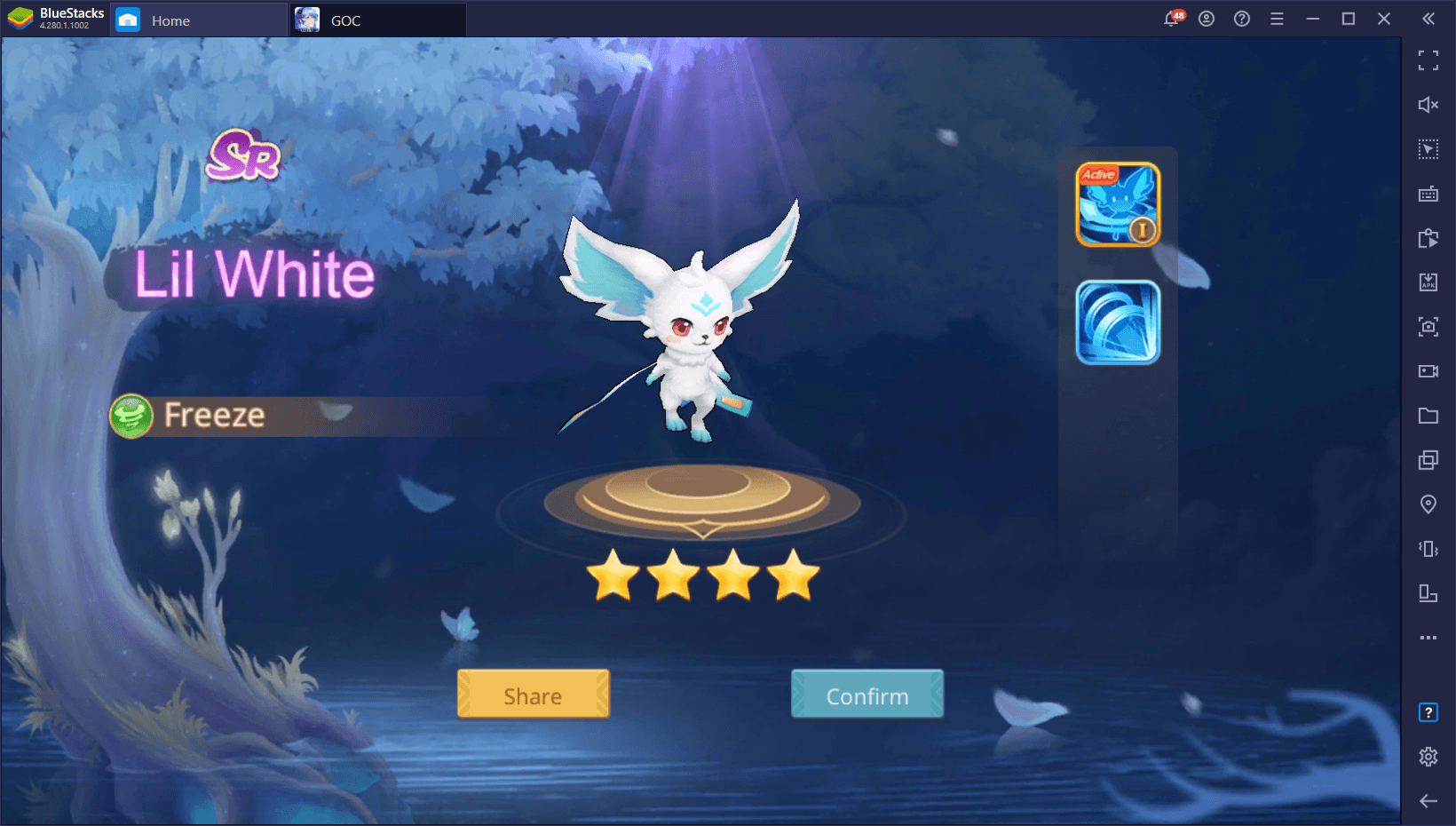 Whenever you're lost and don't know what to do, simply click on the main quest in your missions list on the top left of the screen. This will make your character auto-navigate to the next quest objective, and if possible, complete it automatically. You can even do this while the game is minimized to the background, which allows you to do virtually anything else on your PC while your character farms and levels up automatically.
Use Promo Codes to Get a Head Start
While not technically a gameplay tip, this is something that can help you get a leg up when you're starting out in Guardians of Cloudia.
In commemoration of the game's open beta test, the folks at Neocraft are giving out promo codes that players can redeem in-game codes to get a variety of materials that will help them to power up their characters. In order to redeem these codes, follow these simple steps:
Launch the game and login with the desired character.

Once in-game, click on the "Benefits" button on the top right corner of the UI.

In the "Redeem" tab, enter the promo code in the text field, and then click on "Exchange" to receive your rewards.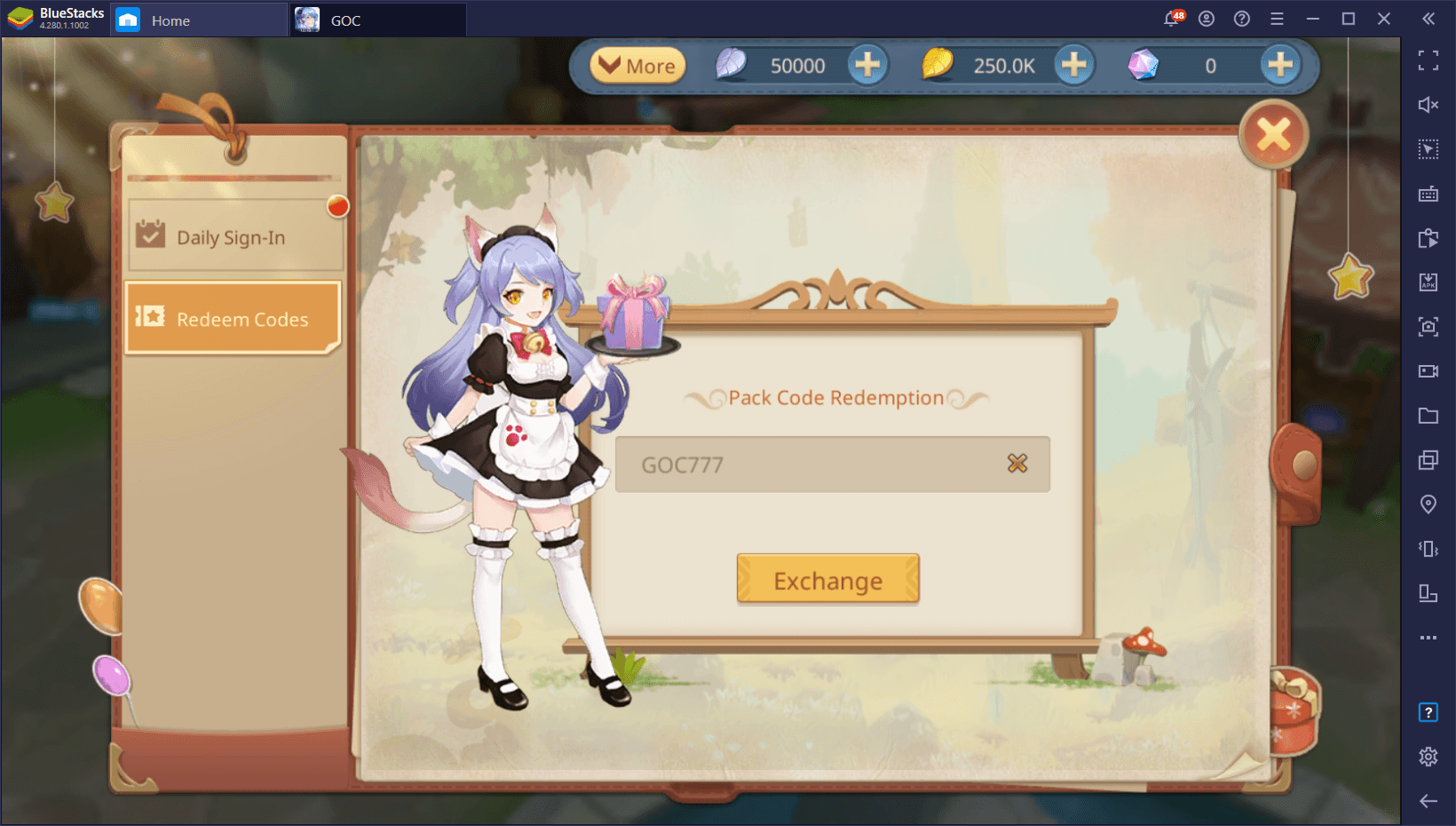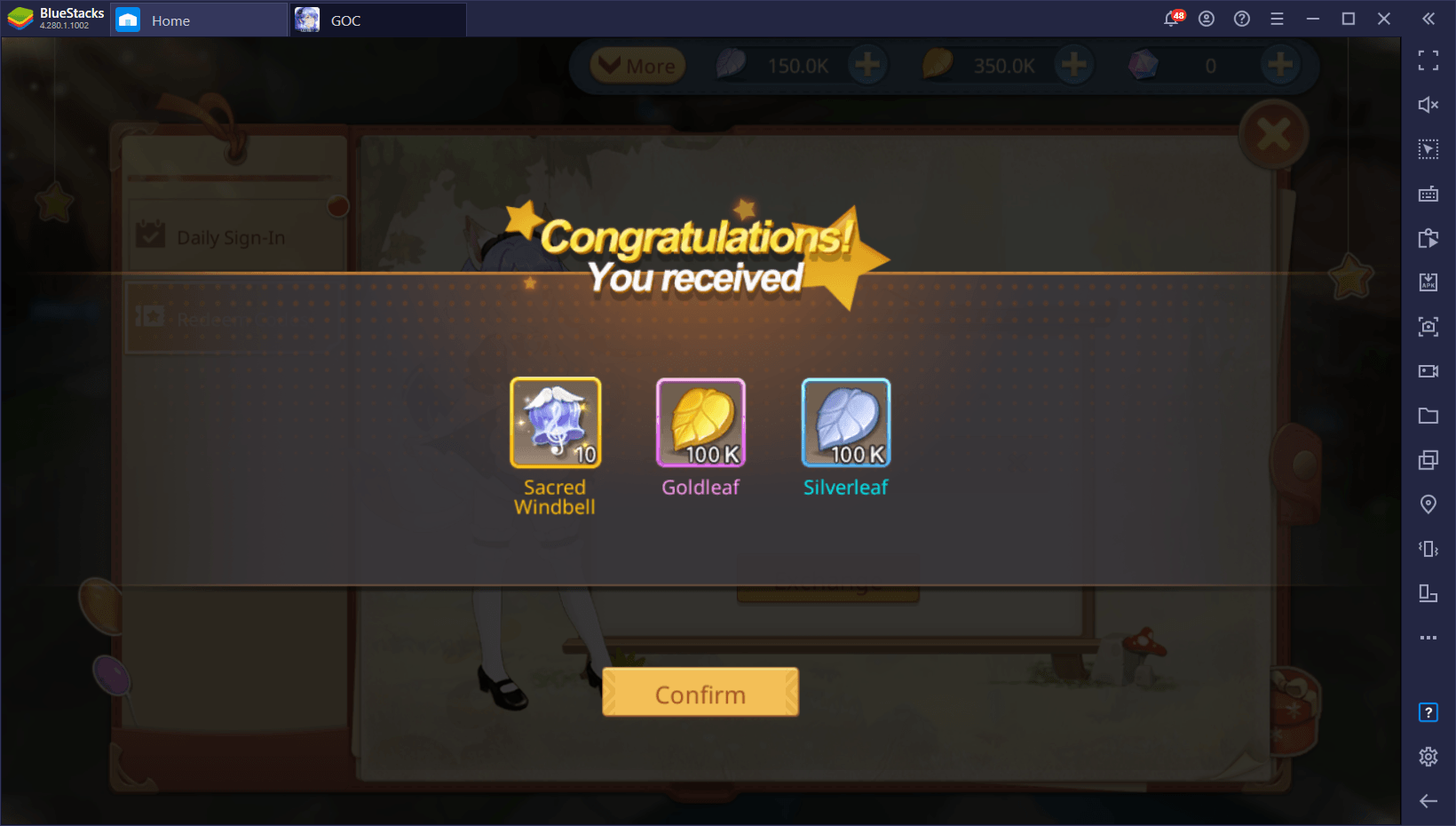 Here are a coupleof promo codes to get you started:
GOCTREASURE:

1x Sacred Windbell, 50,000 Goldleaf, 50,000 Silverleaf.
GOC777:

10x Sacred Windbell, 100,000 Goldleaf, 100,000 Silverleaf.
Make sure to follow the game's page on Facebook, as well as check their official website often to find any new promo codes as the team posts them online, alongside any news about upcoming events and promos that you won't want to miss.
Guardians of Cloudia is a pretty straightforward game, perfect for the casual mobile RPG gamer that doesn't want to overcomplicate themselves with strategies, efficient grinding procedures, and other things that might require a more committed approach to gaming. Regardless, with the tips in this guide, you're now ready to start your journey on the right foot, especially if you enjoy this mobile MMORPG on your PC with BlueStacks!