Game Guides
Gunship Battle Crypto Conflict on PC - How to Optimize Your BlueStacks to Streamline Your Progress in This Mobile Blockchain Game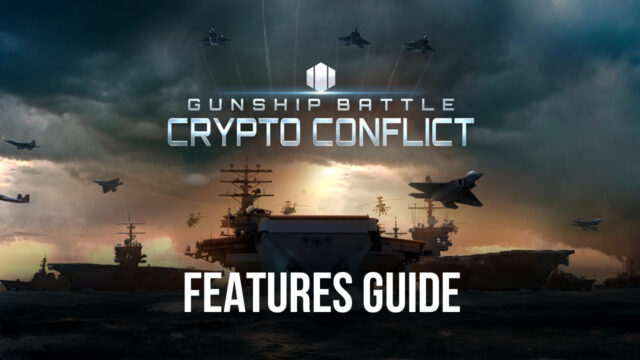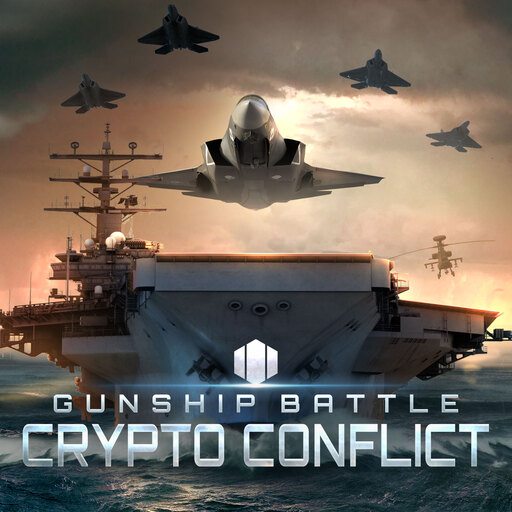 Note: This game is currently incompatible with BlueStacks as it does not support app players.
There has been an influx of blockchain titles as of late, offering players exciting gameplay elements, as well as a variety of things to see and unlock, in a Play2Earn model, and Gunship Battle: Crypto Conflict just so happens to be among this new wave of mobile games.
True to its name, Gunship Battle: Crypto Conflict is both a game that revolves around constant battling and warfare on the ground, air, and sea, with the objective of growing your power and reigning supreme among your peers. However, it's also a game with a highly competitive economy, where players also must scavenge for a variety of resources in order to build and develop their bases, as well as to grow their fleets.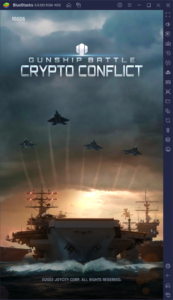 Aside from the regular materials like iron, food, and oil, players must also gather Titanium, one of the most valuable resources in the game which can be used for purchasing the best technologies and units in order to further ramp production or increase the player's power. However, this precious metal can also be traded for MILICO, the cryptocurrency in Crypto Conflict that can be added to your wallet, and then traded or even sold for real money.
With a Play2Earn model as enticing as this one, with players actually being able to see real earnings, it's no wonder that Crypto Conflict is seeing a good surge of players. And if you also want to join in on the fun and start building your base, then we strongly recommend playing Gunship Battle: Crypto Conflict on PC with BlueStacks, as our Android app player can give you the best graphics and performance, as well as access to numerous tools that can help streamline and even automate some of the most tedious aspects of this game.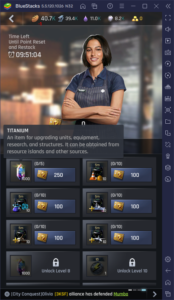 With that being said, read on to learn how to configure your BlueStacks to improve your gameplay in Crypto Conflict.
How to Achieve the Best Graphics and Performance
While in strategy games like Crypto Conflict the graphics and visual fidelity isn't as important to actually win fights, unlike in other games, we always enjoy getting the best graphics and performance in any game—it's just something that improves our overall experience, personally speaking.
However, to get the best experience with this game on mobile, you'd need to invest in getting a good phone that not only has a nice, big screen, but that can also support the coveted 60 FPS standard for as long as you're playing. Unfortunately for mobile gamers, even with a good phone, you'll still encounter certain inherent problems like the device overheating, or the battery draining at an accelerated rate.
But why settle for playing on mobile when you could play Gunship Battle on PC with BlueStacks, and enjoy the best graphics and frame rate, without having to spend a penny on an expensive phone? Our Android emulator is fast, light, and can run on virtually any PC. And when it comes to providing the best experience with this blockchain mobile game, you only need to adjust a few settings.
With that being said, here's a quick breakdown on how to optimize your BlueStacks for Gunship Battle: Crypto Conflict: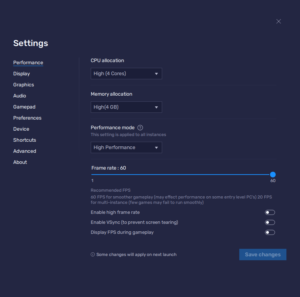 Go to the BlueStacks settings menu and head to the "Performance" section.

Assign 4 CPU cores and 4 GB of RAM to the emulator, followed by setting "Performance Mode" to "High Performance". Finish by setting the FPS slider to 60 FPS, and clicking on "Save changes".

Launch the game and go to the settings menu, which you can access by clicking on your character avatar on the top left of the main screen.

In the "Graphic Quality" section, activate the "60 FPS" option, and exit the menu.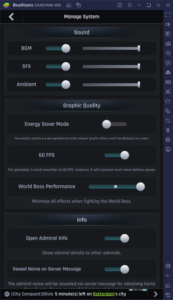 With these settings, you're not only ensuring that you're getting the best visuals in this game, but also that you're enjoying a silky smooth 60 FPS at all times; and you didn't even have to spend a cent on upgrading your phone.
Multiply Earnings by Playing on Multiple Accounts
One of the ways that Gunship Battle keeps players in check is by limiting the amount of Titanium that they could possibly obtain on a daily basis. This keeps the economy healthy by preventing single players from hoarding precious resources and becoming too powerful over a short period. However, it also means that you'll need to play for longer in order to accumulate your wealth.
Luckily, if you're playing Crypto Conflict on PC with BlueStacks, you can use the Instance Manager to create more instances of our emulator and run them all at the same time. Moreover, by linking unique Google accounts to each instance, and installing Gunship Battle on each of these, you can also access the game on several accounts simultaneously. By doing so, you can effectively multiply your earnings by the number of instances that you're currently running.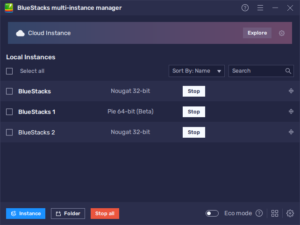 To open the Instance Manager, you just need to press Ctrl + Shift + 8 at any time. In this panel, you can click on "+ Instance", and follow the instructions that appear on screen, to create any number of new instances. Once all your new instances are up and running, just repeat the process for installing Gunship Battle on PC with BlueStacks on each of them, and you'll be set to start playing on multiple accounts at the same time.
Synchronize Your Actions on Multiple Instances
The only problem with playing on multiple instances is that this will effectively force you to repeat the same actions on each and every window in order to advance and develop your different bases. For obvious reasons, this can rapidly wear you down and possibly eat away at your sanity. Fortunately, BlueStacks also has your back in this aspect since you can also use the Multi-Instance Sync tool to significantly streamline the process of playing on multiple instances.
Using the Sync tool is easy: When you're running multiple instances, you can press Ctrl + Shift + 9 to bring up the Sync panel, in which all your active instances should be listed. By checking the boxes of all your additional instances, and then clicking on "Start sync", all the actions that you perform on your main window will be replicated across all the other instances. This effectively lets you progress on multiple accounts, simply by playing on your main account, without the added hassle of having to play on each one individually.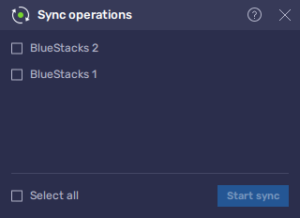 Between letting you play on multiple accounts, streamlining your progress on each of these accounts, and also giving you the best performance throughout all your gaming sessions, it's immediately apparent that playing Gunship Battle: Crypto Conflict on PC with BlueStacks is the optimal way to enjoy this strategy mobile game.