Game Guides
Heroes War: Counterattack – How to Reroll and Other Useful Tips and Tricks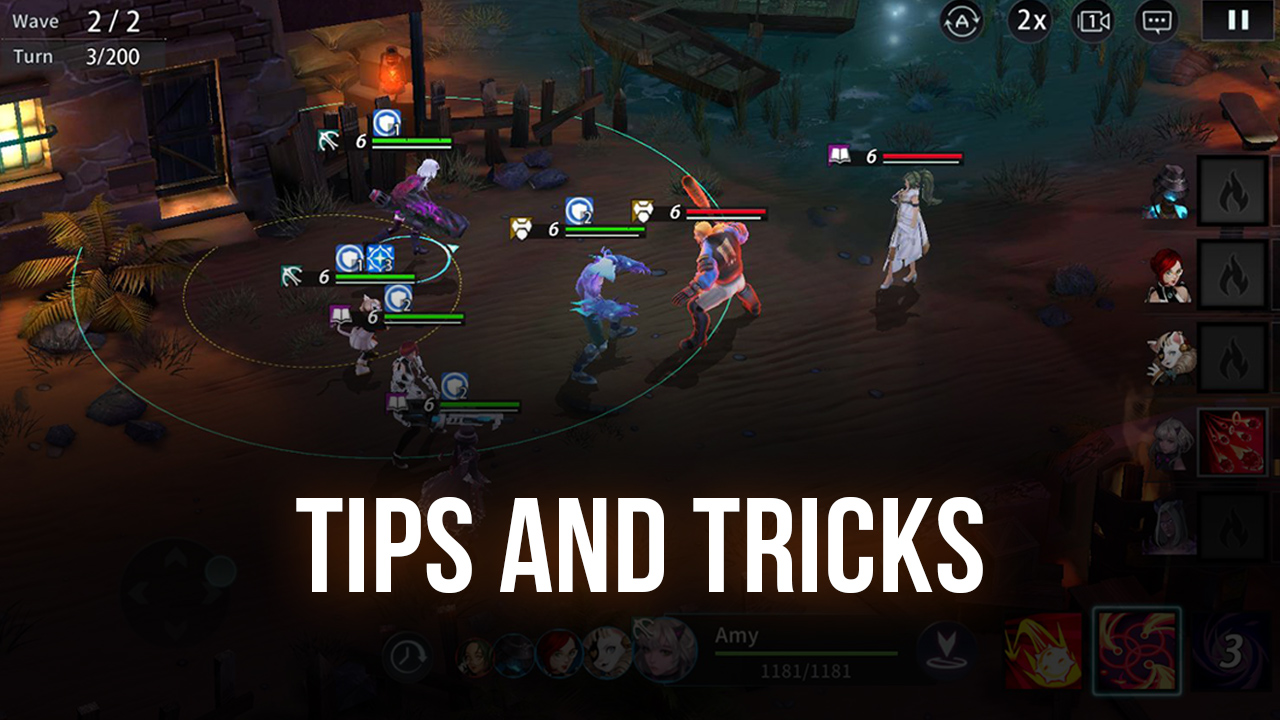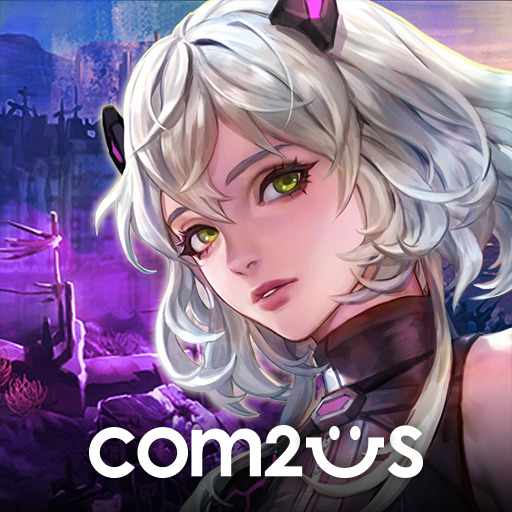 The much anticipated Heroes War: Counterattack finally released last week, allowing players to dive into its post-apocalyptic setting and enjoy countless turn-based battles to unlock new characters and powerful skill cards. While at a glance this game may look like a direct copy of Summoners War (which is understandable, considering it's from the same devs), it actually features a handful of notable differences, particularly in the way you obtain new characters, as well as the movement mechanics in combat.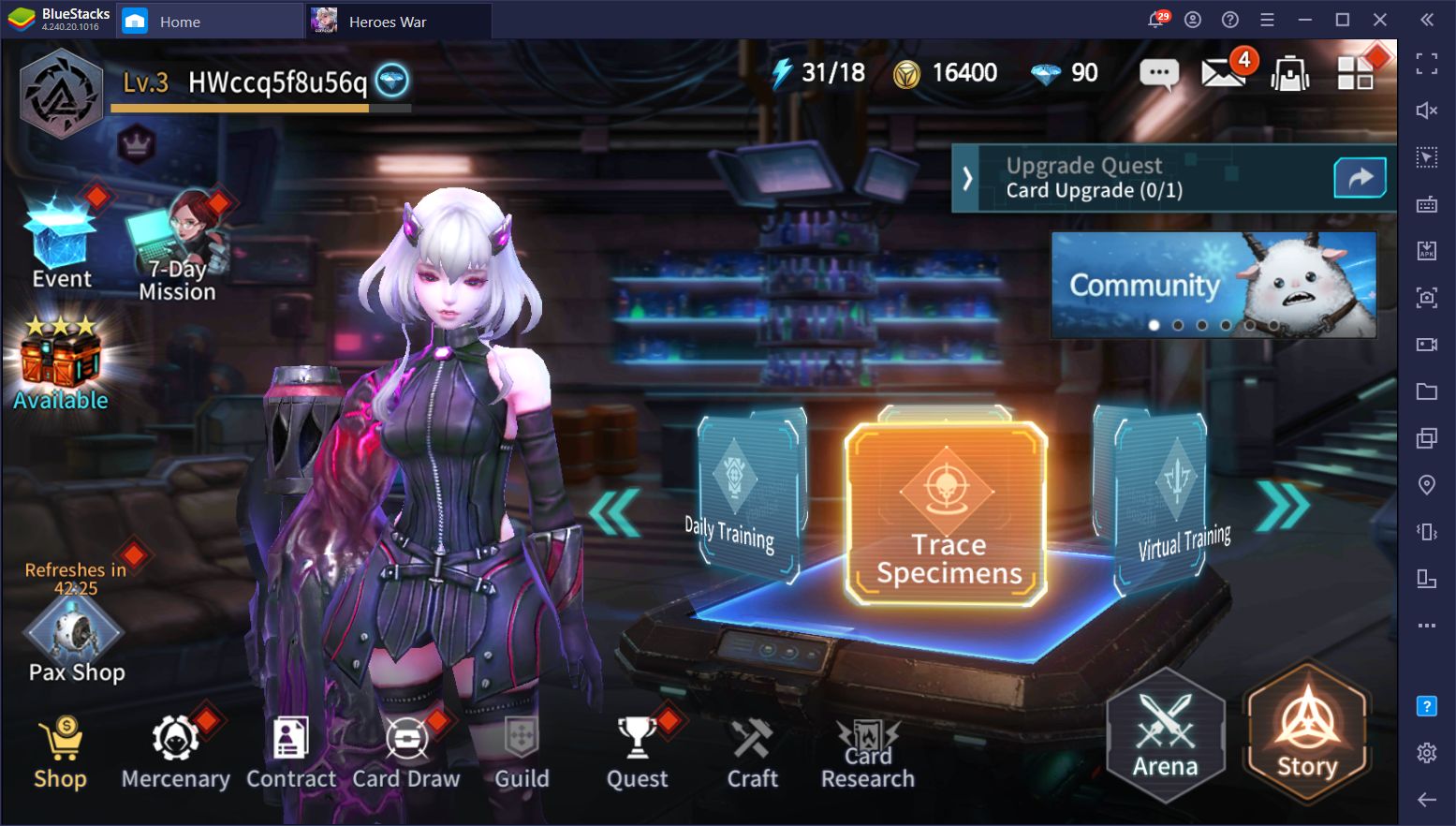 It's these main differences that make Heroes War: Counterattack stands out among the rest. However, they might also make it more difficult to get started. Because of this, we've decided to create a guide where you can find some useful tips and tricks for beginners.
If you're just starting out, keep the following pointers in mind:
Using Skill and Rage Cards
Heroes War: Counterattack features a very different system when it comes to unlocking new characters. Specifically, instead of having a gacha system for obtaining new heroes for your roster, you can roll to unlock two different types of cards: Skill and Rage Cards. Meanwhile, the heroes are unlocked by fulfilling certain conditions in game, which is something we'll talk about later.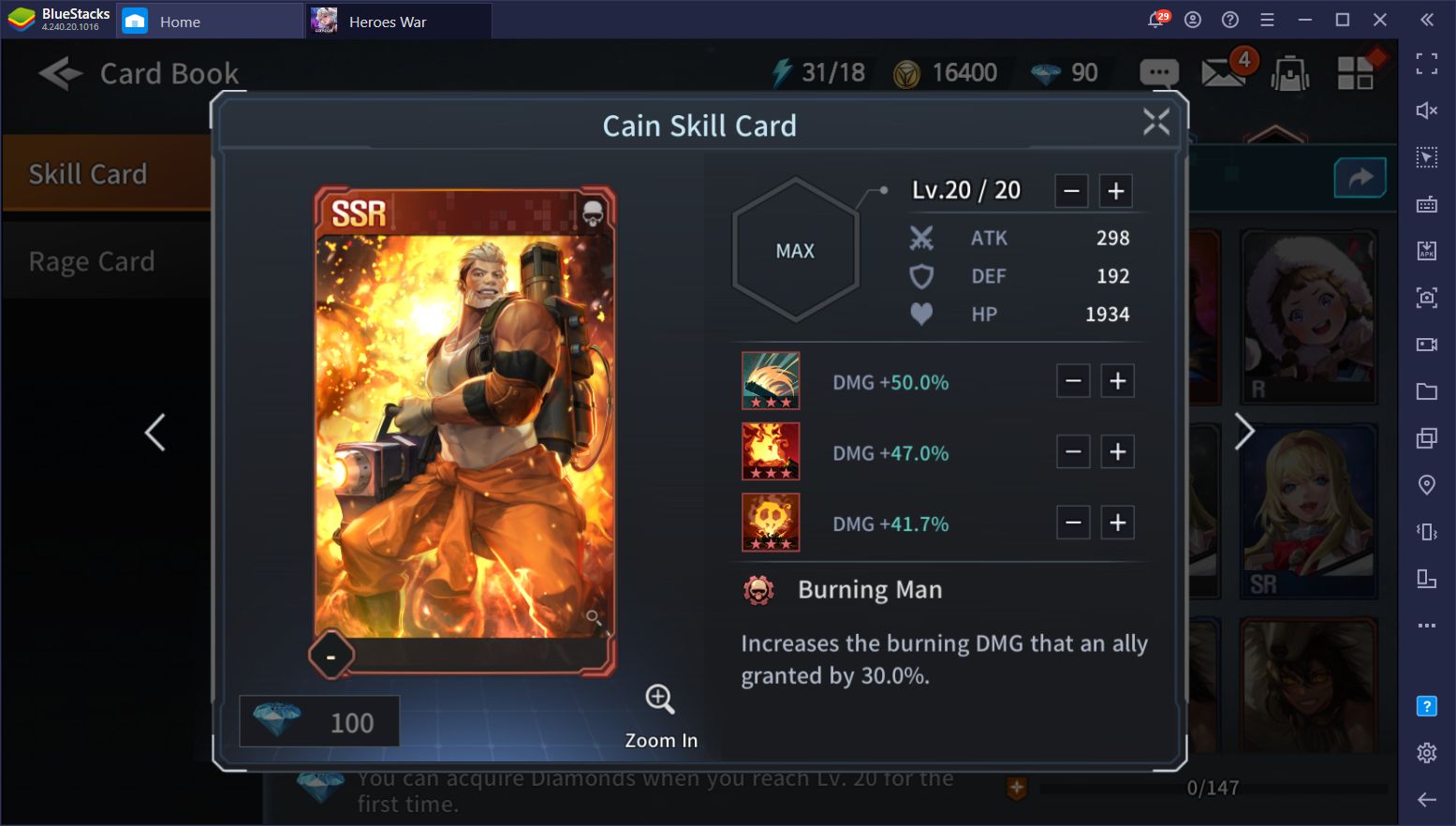 The cards in this game are the main way of powering up and upgrading your character as, when equipped, they can bestow large stat boosts, or even activate passive bonuses that can significantly improve their performance. The usage of these cards vary per type:
Skill Cards: Equippable only by their respective characters. These always give stats boosts ranging from moderate to significant, as well as passive bonuses sometimes. The latter happens particularly in cards of higher ranks.
Rage Cards: These cards can be equipped by anyone and don't give stats boosts. Instead, they grant passive effects on those who carry them, which can often be powerful enough to make even the weakest characters viable if you use the right Rage Cards.
Equipping cards is pretty simple; just go to your Mercenary menu, click on the character you want to customize, and equip the desired cards by clicking on the slots to the right of the character info screen. It goes without saying that you should ALWAYS equip Skill Cards if you have them. The Rage Cards, on the other hand, require a bit of planning to equip them on the characters that would benefit the most from their effects. Still, as a general rule of thumb, it's better to equip any Rage Card on all your characters—any effect, no matter how mismatched, is always better than having no effect at all.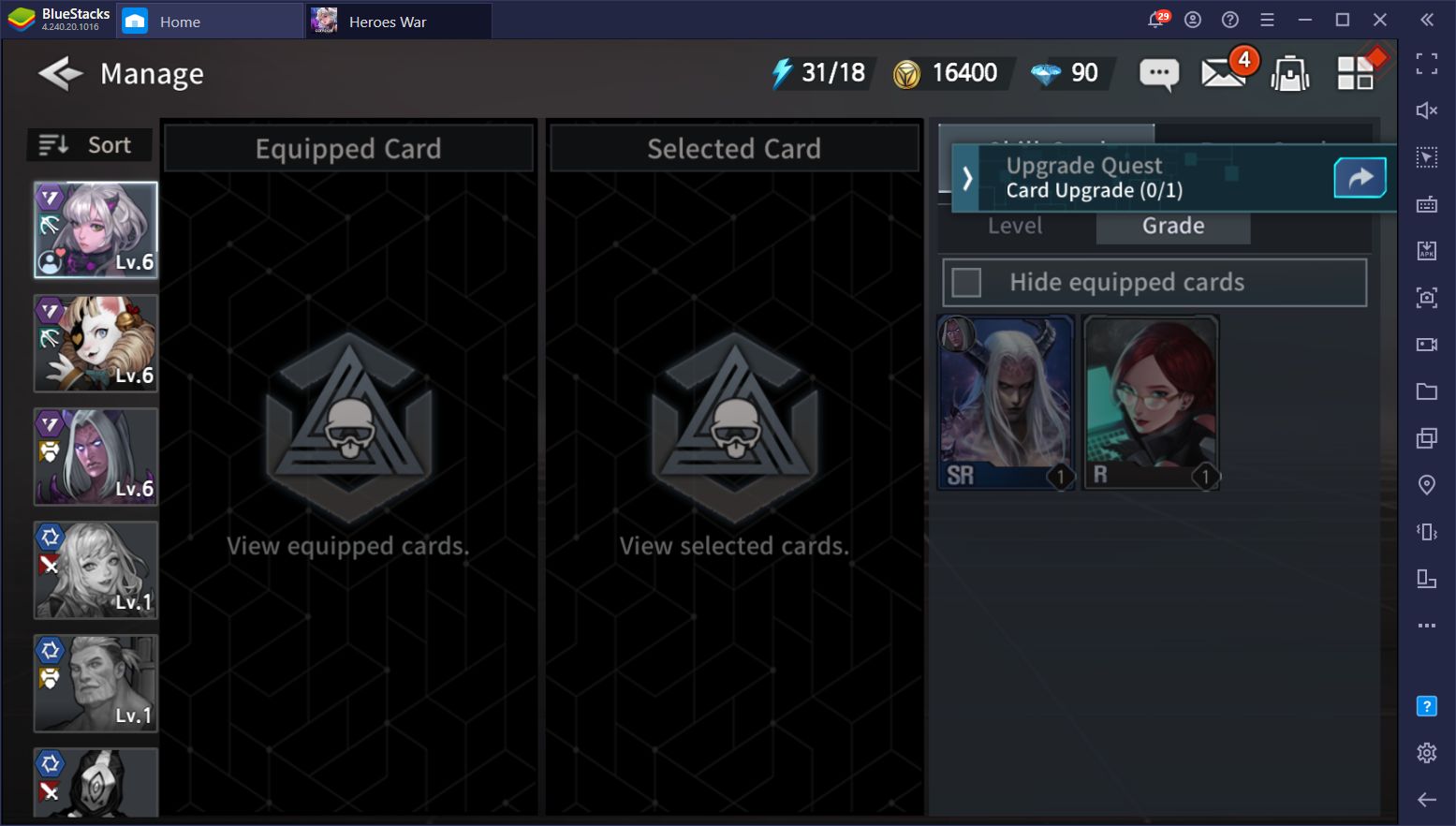 Skill Cards can be equipped by specific characters, while Rage Cards can be equipped by anyone. Once equipped, these cards will improve one or several aspects of a character's kit.
Reroll to Unlock the Best Cards From the Beginning
And speaking of cards, one of the best things you can do as a beginner in Heroes War: Counterattack, is to unlock a few good cards from the start. As we mentioned above, you can unlock all characters by fulfilling certain conditions. Meanwhile, the cards are only obtained by rolling for them in the Card Draw feature, which is this game's version of a gacha system.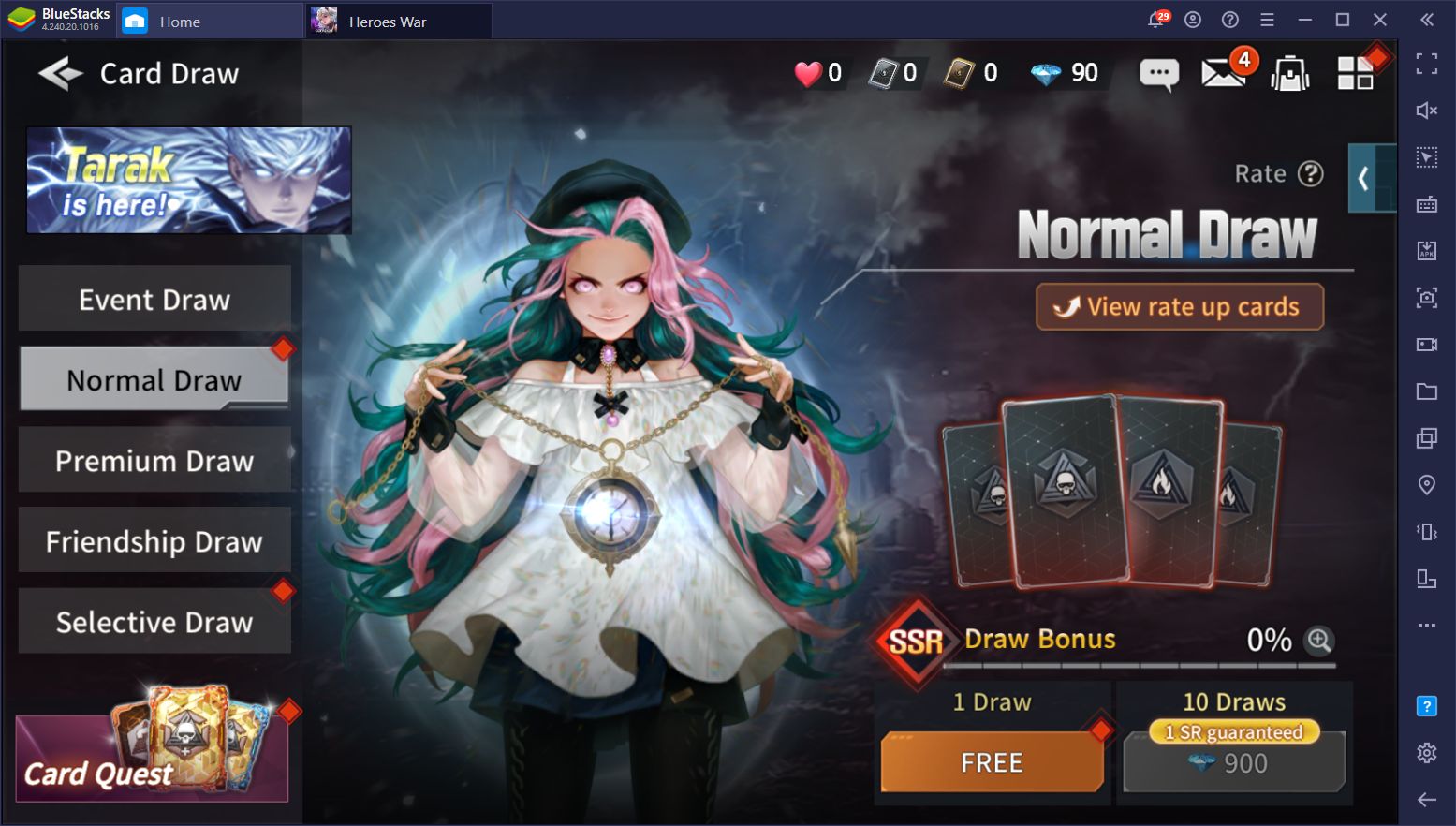 However, just like in other games, the best cards in Heroes War: Counterattack are locked behind the gacha system, and the odds of getting them are very low, at least compared to the more common variants. Luckily, rerolling in this game is quite simple and allows you to score some great cards from the get go.
To reroll in Heroes War: Counterattack, follow these easy steps:
Boot up the game and sign in as a guest.
Progress in the main story until you complete level 1-5 and unlock the Card Draw feature.
From this point, you can perform a free summoning, as well as the selective 30x summoning.
If you're not happy with the results from the free summoning, you can reset your progress via the Android apps menu where you can delete the game's data. If this didn't work, you can manually reset your progress via the in-game settings menu, by clicking on the red circle button.
Repeat steps 1-4 until you get the desired cards. Once done, remember to link your account to Google Play to save your progress.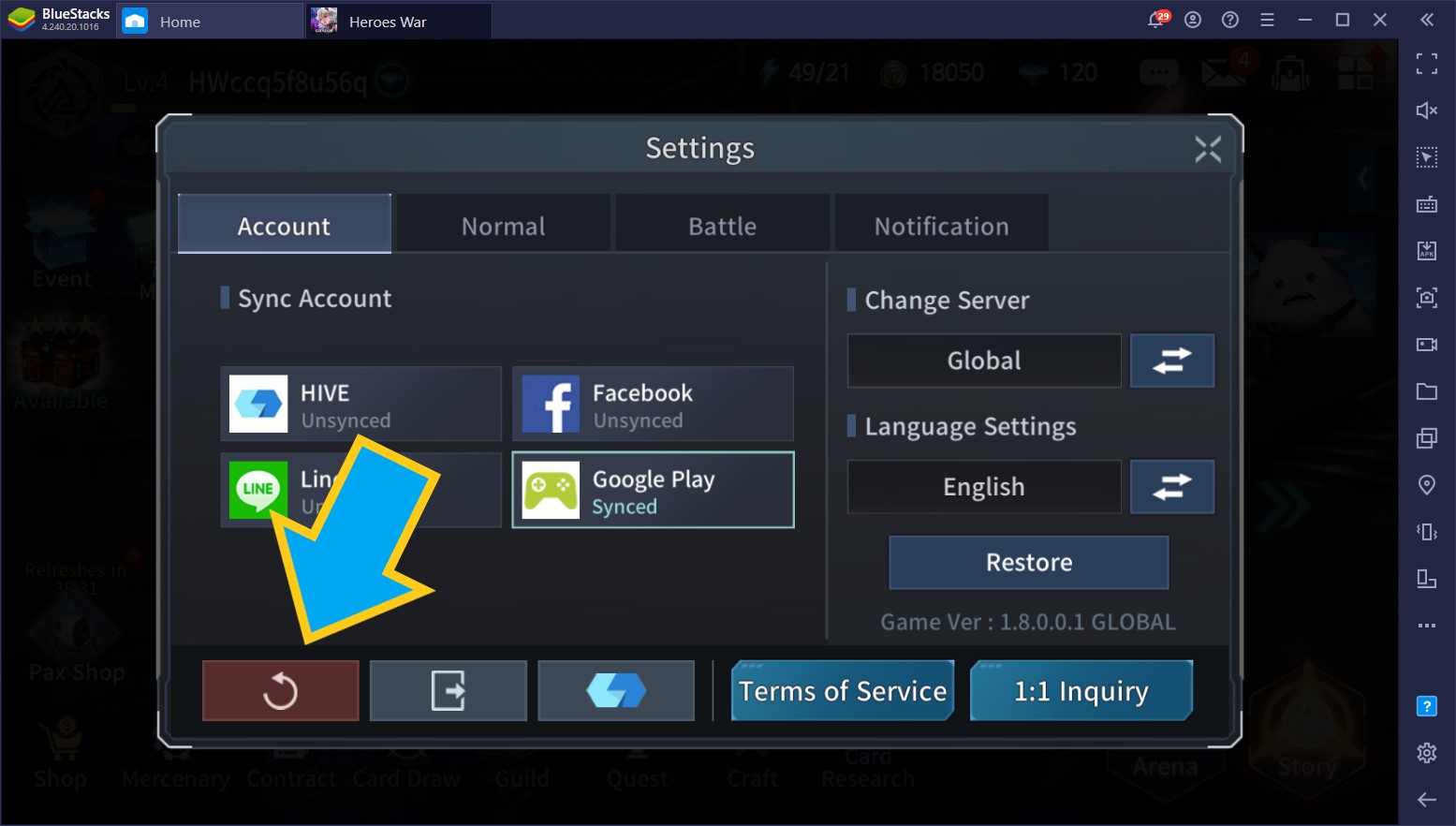 Rerolling in Heroes War: Counterattack is very easy by design since resetting is very simple. With enough persistence, you can unlock several good cards from the start, which will give you a nice boost early on in your game.
You can expedite this process even more by playing Heroes War: Counterattack on PC with BlueStacks. Our Android emulator gives you access to the Instance Manager, a tool that lets you create several BlueStacks instances and access the same game with different accounts. In this sense, you can reroll with several accounts at the same time and unlock the best cards in the game in record time.
Check out our BlueStacks installation guide to learn how to download and play Heroes War: Counterattack on your PC.
Check Your Positioning
While this game features turn-based mechanics similar to others in the genre, it spices up the gameplay by adding movement to the mix. In this sense, you can not only attack the enemy, but you can also reposition your characters whenever their turns come up.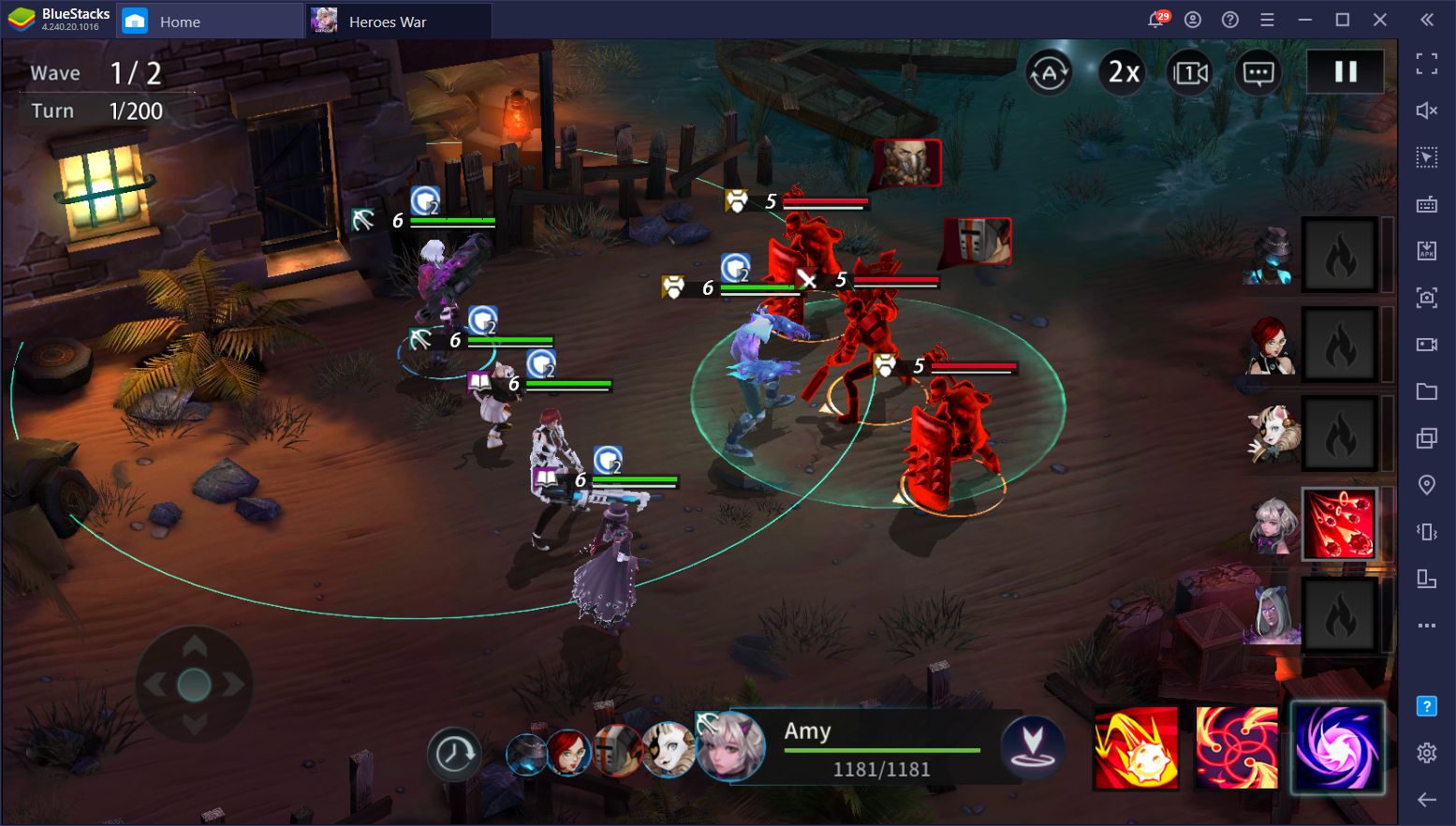 Positioning in this game is crucial mostly because your attacks have a limited range, and you'll always have to move closer if you want to hurt the enemy. However, checking your positioning is crucial also for keeping your characters out of trouble as lots of enemies can often hit several of your heroes with their AoE attacks. In this sense, while it's sometimes unavoidable, you should always refrain from keeping your heroes grouped together since this gives the enemy an easy way of hurting them all with a well-placed AoE skill.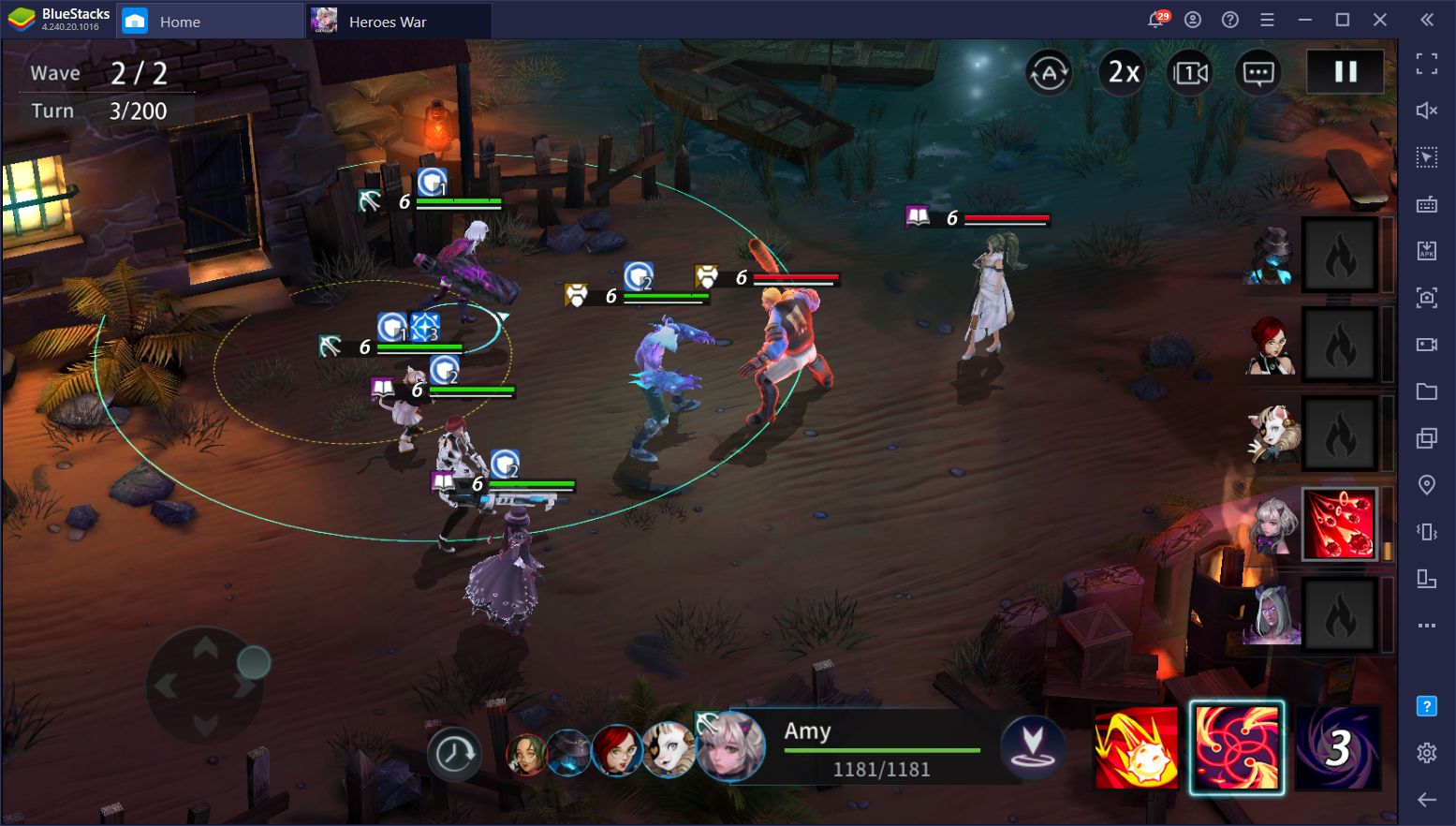 Study Your Skills For Their Effects and AoEs
In the same vein as the above, it's important to learn the attacks and abilities of all your characters in order to get the most out of every turn. While you can easily target stragglers and deal damage to one target at a time, it's almost always better to use AoEs for dealing damage to multiple enemies at the same time. In fact, some skills can even pull enemies together to make them easier targets for AoE attacks.
We recommend taking a few minutes to study the moves of the characters you unlock before deploying them in combat in order to get an idea of how to use their skills for maximum effect.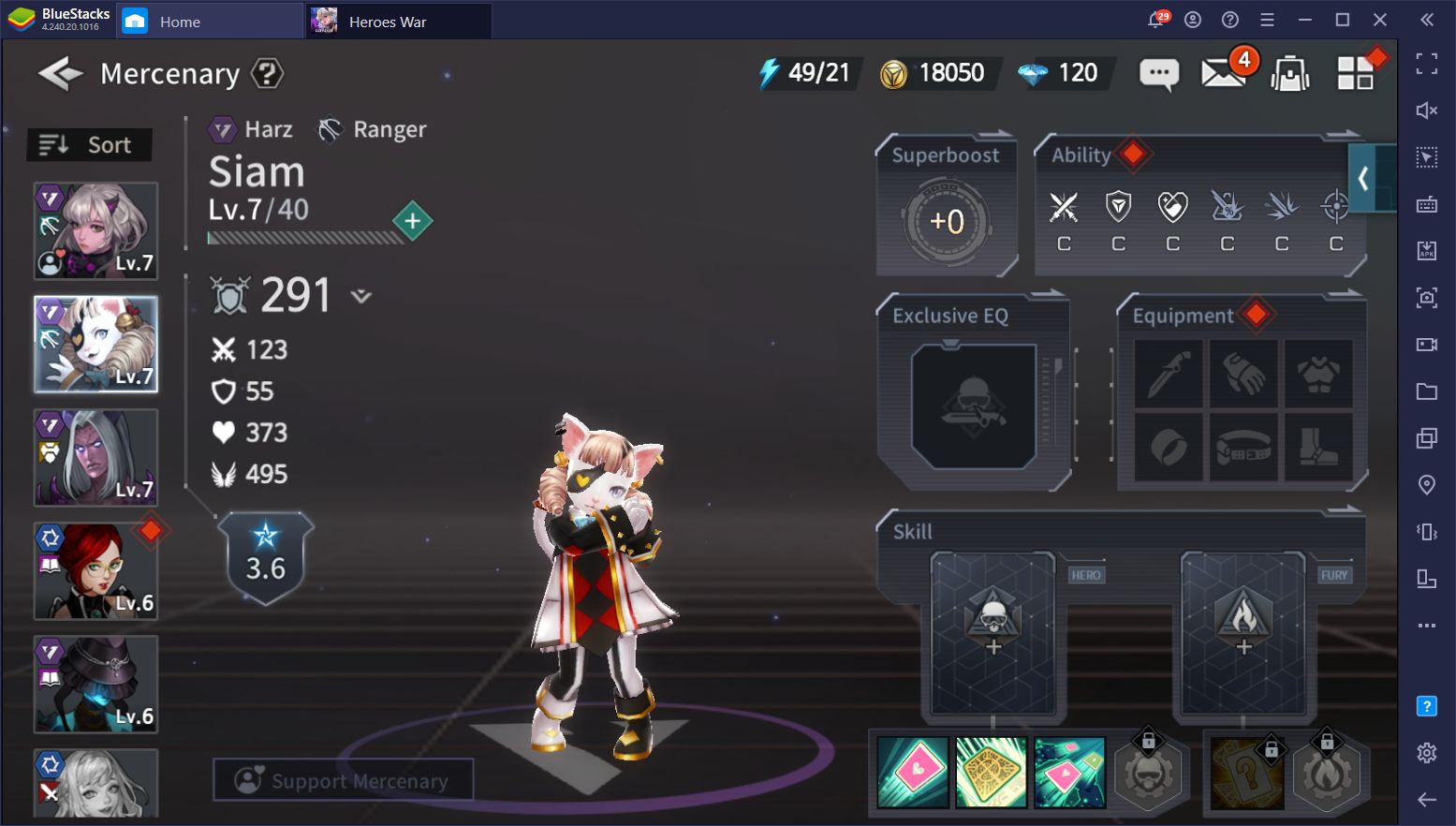 Check Out The Contracts for Unlocking New Characters
As we mentioned above, the only method for unlocking new characters in Heroes War: Counterattack, is by fulfilling certain conditions, after which you'll be able to summon them for free by signing their contracts in the "Contract" menu. Alternatively, you can also check out this very menu to learn how to unlock specific characters.
Some characters require completing certain tasks such as clearing certain stages, reaching certain scores in the arena, or completing specific quests, while others are simply unlocked by purchasing them with Neostones or Diamonds. Whatever the case, we suggest checking out the Contracts menu frequently to stay on top of the conditions for unlocking the characters needed for completing your composition.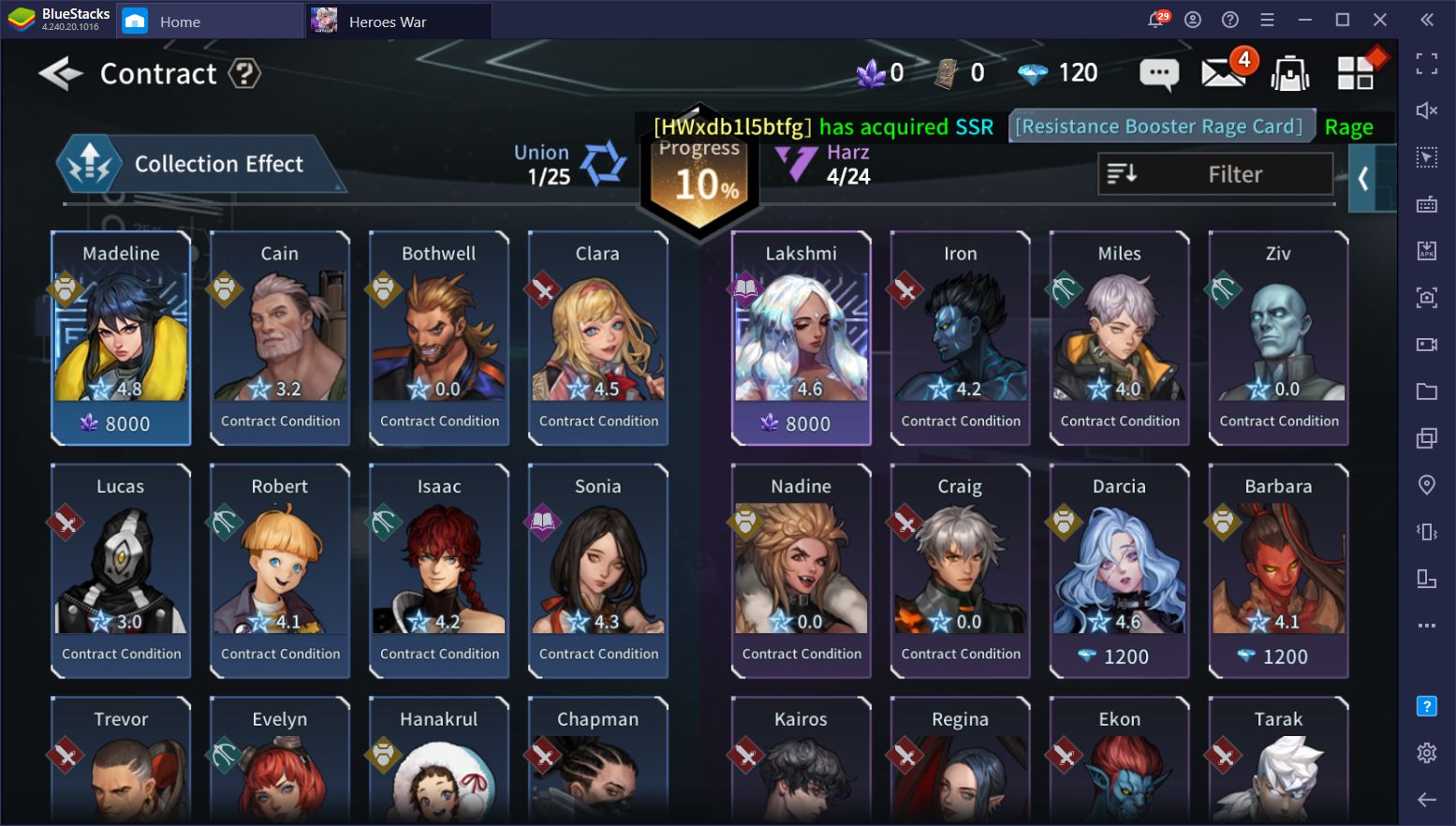 And that's it for our beginner's tips for Heroes War: Counterattacks. Do you have any other useful bits of information you'd like to share? Feel free to leave them in the comments below!