Game Guides
How To Play Idle Heroes of Light on PC with BlueStacks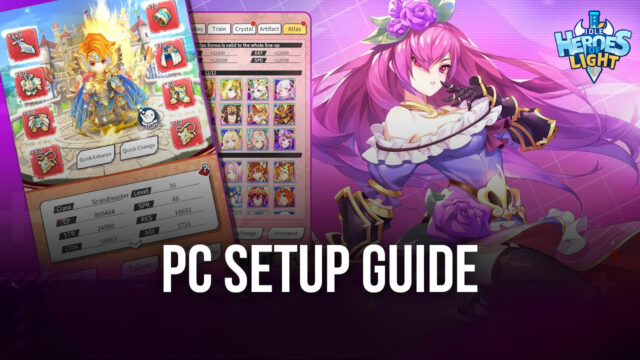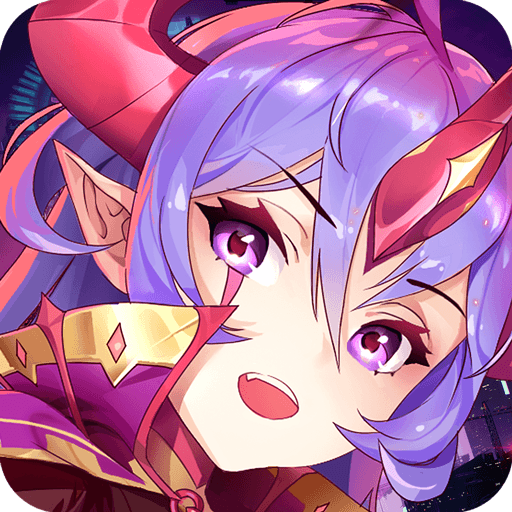 Idle Heroes of Light is a fun idle RPG that features isometric gameplay where players can run through hundreds of dungeons to defeat monsters and live through a grand story of adventure. Collect over 60 heroes that you can use to build the ultimate team to either beat the most difficult bosses in the PvE modes or defeat the strongest players in the PvP arena. No matter which path you take in this game, you'll surely find yourself immersed in the fun that it has to offer.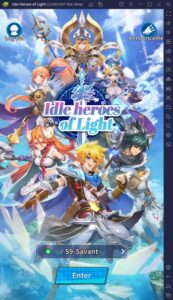 The game uses traditional idle RPG mechanics that players who have played multiple games in this genre are familiar with. The difference between this game and other idle RPGs is that it gives the player a more hands-on feel with the gameplay style that it uses. Even though the game doesn't let the player control how their team performs in combat, there are a lot of ways the player can influence the outcome of a fight by using strategic thinking to help them overcome the various challenges along the way.
How To Set Up Idle Heroes of Light on BlueStacks
Idle RPGs might have been popularized by the smartphone, but every gamer knows that it feels most at home when played on a PC. In fact, a lot of Android games work best when utilizing powerful features that can only come to life by a less limited device such as a computer. It's time to make the switch by playing Idle Heroes of Light on your PC by installing it on the BlueStacks platform alongside all your other games for the best experience!
Download and Install BlueStacks

on your PC.

Complete Google Sign-in to access the Play Store, or do it later.

Look for Idle Heroes of Light in the search bar at the top-right corner of the Game Center or at the Google Playstore.

Click to install Idle Heroes of Light from the search results.

Complete Google Sign-in (if you skipped step 2) to install Idle Heroes of Light.

Click the Idle Heroes of Light icon on the home screen to start playing.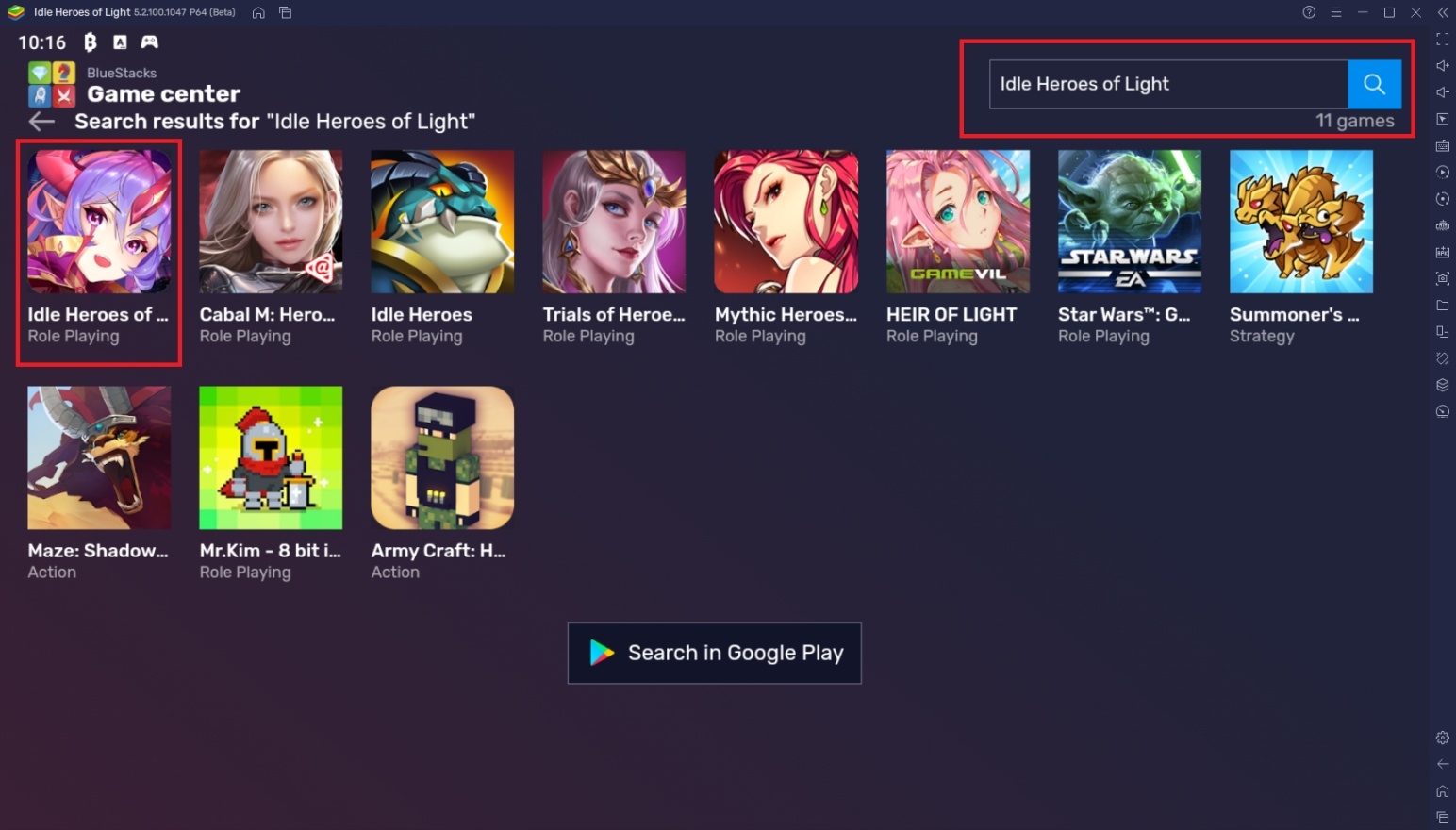 Useful Features When Playing Idle Heroes of Light
There are a lot of Android emulators on the market, but if you want to enjoy playing Idle Heroes of Light to its fullest, BlueStacks is your best choice. Compared to other available emulators, BlueStacks has developed a set of unique features that are designed to enhance the user's capabilities when playing a game. These features allow users to play a game in a way that they never thought was possible. Here are a few examples of how you can enjoy using this platform when playing your games:
The Multi-Instance Function is a way for players to open multiple games at once without the need to close or minimize a tab. With this feature, players can play two or more different games at the same time or open multiple instances of the same game to play multiple accounts. The Multi-Instance Manager allows players to manage all of the tabs they open so that the user doesn't get confused and has an easier time tracking their progress on the available devices.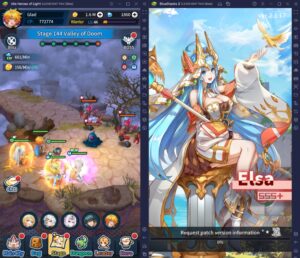 Idle RPGs such as Idle Heroes of Light don't require the player to focus much of their attention on the game, but it is best left open so that they can progress through the main story. Leaving a game open but not actively doing anything can be such a drag, especially if you're running it on your phone when you could be doing something more entertaining. By using the BlueStacks client, you can turn the game on and let it play by itself while you do whatever it is you planned to do without worrying too much.
The Macro Feature is a feature that improves some quality of life functions in the game. Basically, this feature allows the user to create macros, which are an automatic series of commands that essentially allows players to have additional auto-play functions that are not originally part of the game. The way it works is that the macro feature records the commands that a player does and allows for those actions to be replayed at a later date. It's very easy to understand, which adds to the charm of using it.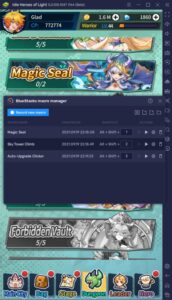 Idle Heroes of Light already has an auto-combat and auto-progression system but that might not be why players might want to use the macro feature for this game. Some functions in the game are not automatic, especially in most game modes in the Dungeons. Since these are daily activities, it can be quite tedious doing them manually every day, even though you keep doing the same things over and over. By using the macro feature, you don't have to keep doing it as long as you record it once.
Eco Mode is a way for players not only to conserve energy but also to help their PC run more smoothly. The function is purely utility and is another quality of life upgrade that you can enjoy on this platform. Such a function is usually unavailable on a smartphone, unless you download those suspicious apps that claim to do the same.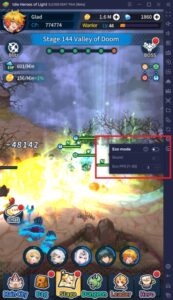 Since Idle Heroes of Light is an idle game, you don't need to do much. Having the instance in eco mode will make all the difference, especially if you're busy doing something else on your computer or you're trying to save a few bucks on your electric bill. Even if you have no need of it, it's still a good idea to leave it on just to help the planet a little bit.
Another Adventure Awaits You In This Game!
The hero of light is on an adventure to get stronger until they have the power to save the world from an impending calamity. It's your duty to guide the hero by helping them become the best version of themselves and leading them in the direction of reliable allies that will make their journey an epic that the world will not soon forget.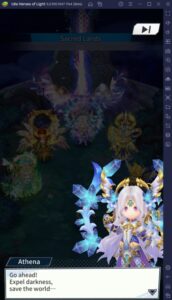 Idle RPGs may seem like one of the most boring game genres out there, but Idle Heroes of Light does a great job at crushing that stereotype. Once you start playing the game, you'll only find yourself wanting to play more. What better way to enjoy a new game than by playing it on the BlueStacks platform? Go forth and have fun on this new adventure!