Game Guides
Incursion Defense on PC - How our BlueStacks Tools Can Improve Your Game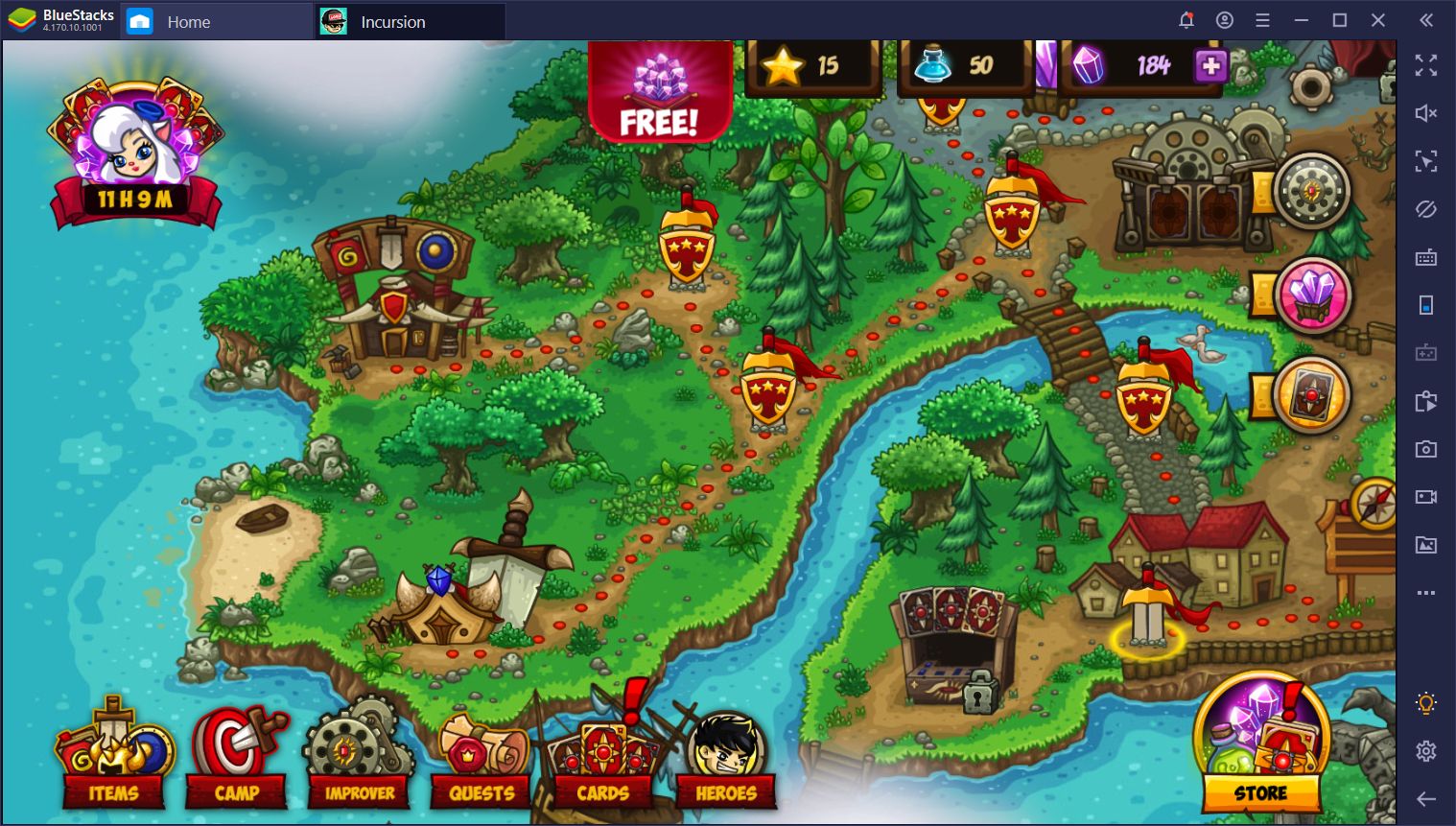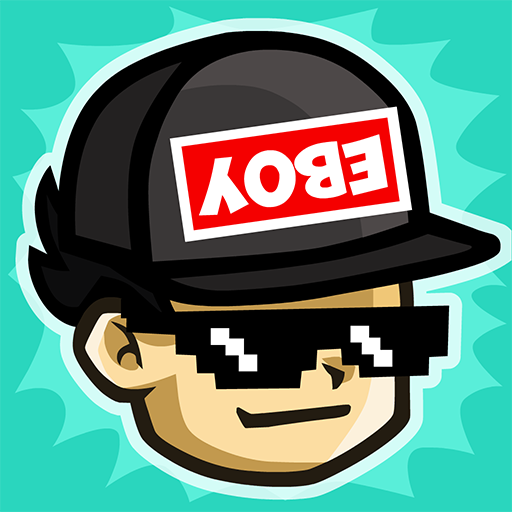 Regardless of the mobile game that you're playing, there are quite a few benefits to playing them on your PC with BlueStacks, one of the most important of which being just that; playing mobile games on your computer. The fact that you're enjoying these titles on a much larger screen than the one on your phone, as well as with the use of your mouse instead of your fingertips and touchscreen controls makes for a significantly better experience than the original, in most cases.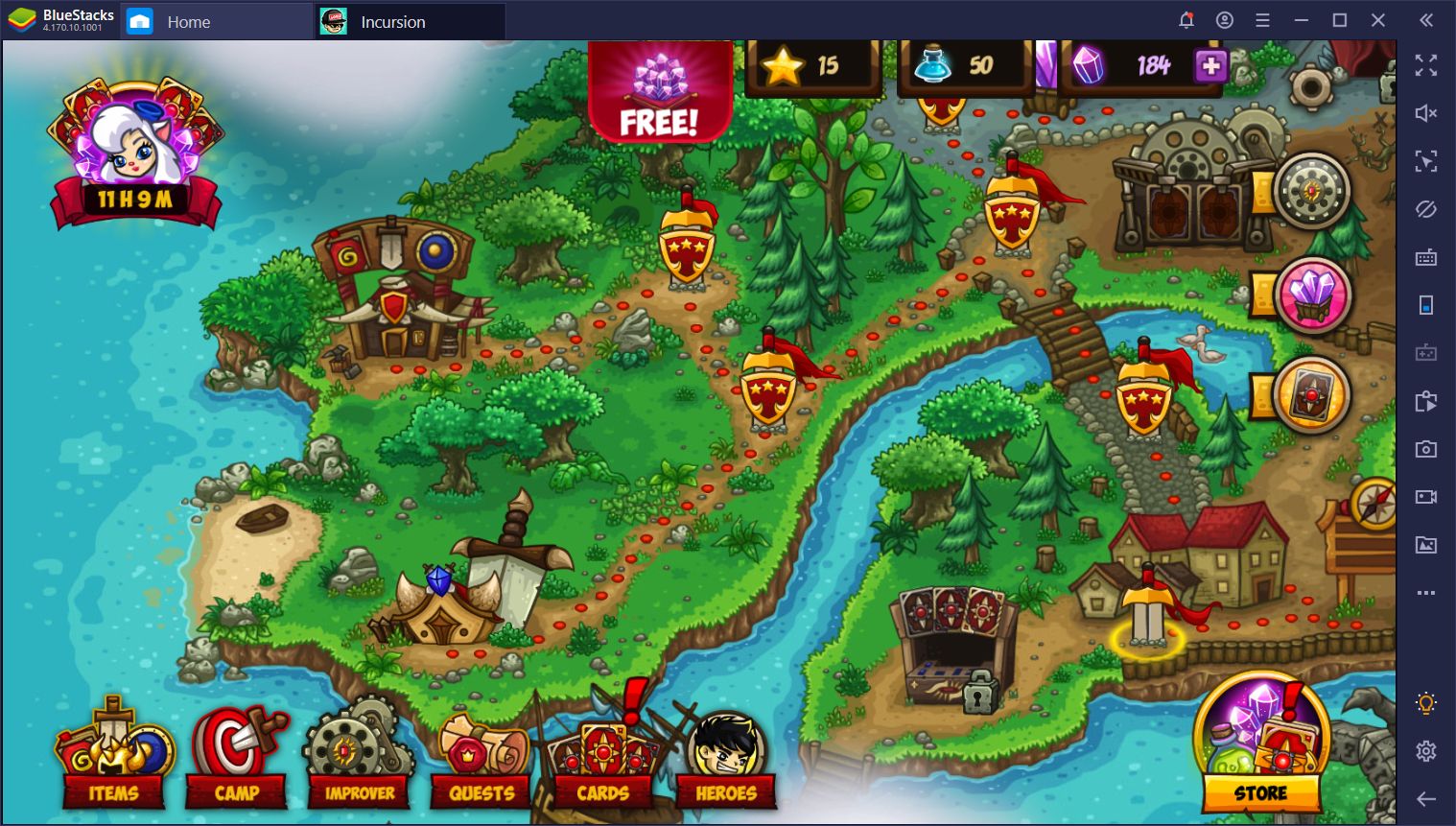 In the case of Incursion Defense, the same applies. By playing this tower defense game on your PC with BlueStacks, you will never be hindered by sketchy touchscreen controls and will also never struggle to make out what's happening on screen at any moment. In other words, for many reasons, it's much better to play your favorite mobile games on PC than it playing them on your phone.
However, better peripherals and gaming experience, in general, isn't the only thing that BlueStacks is useful for. Our Android emulator is also equipped with an ever-increasing repertoire of tools that can significantly improve your performance in many mobile games, including tower defense titles like Incursion Defense. That's why, in this article, we're going to discuss how to use our BlueStacks tools to succeed in this game.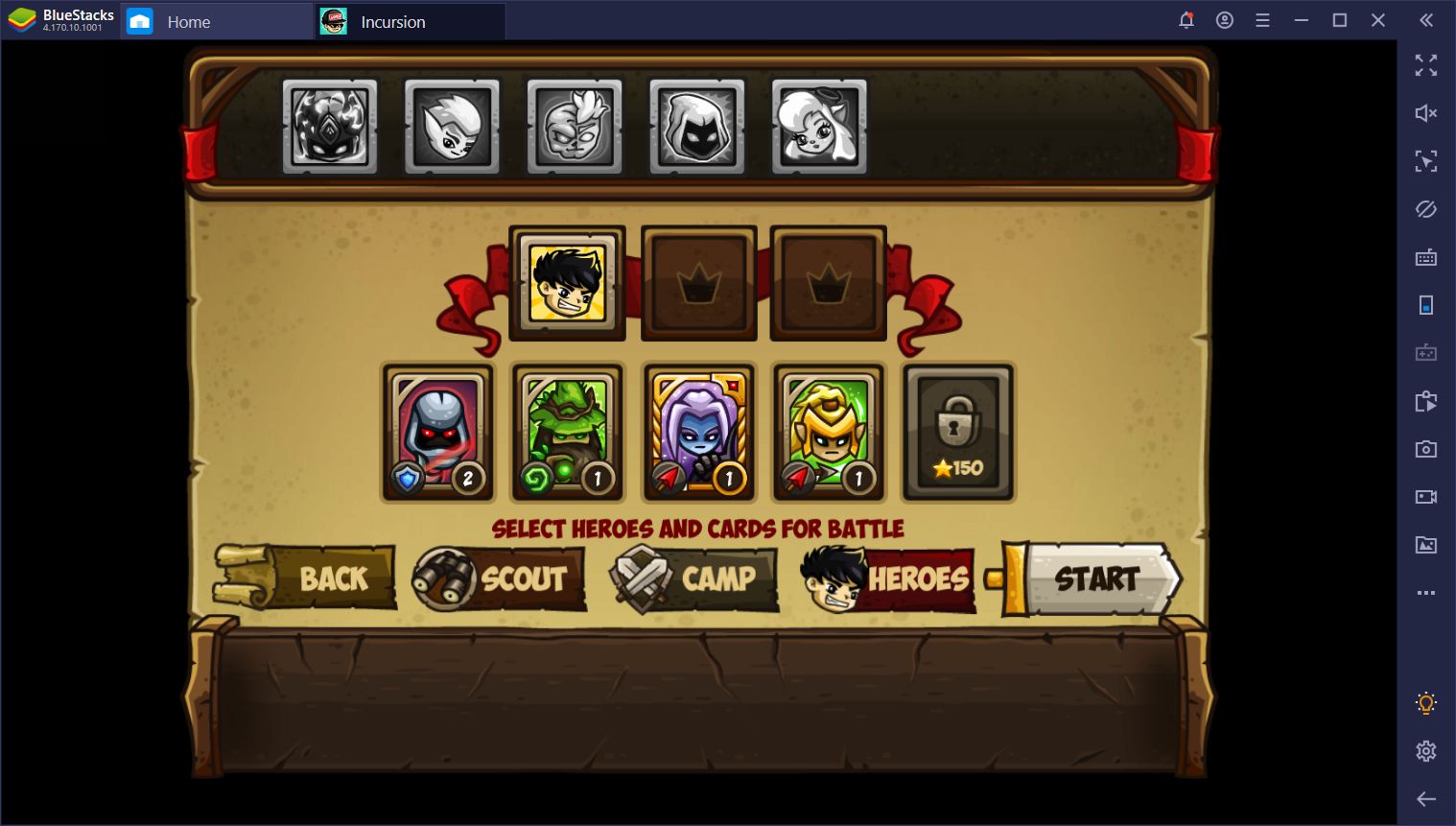 Better Controls Using Your Mouse and Keyboard
As we mentioned just a few seconds ago, one of the most straightforward advantages of playing with BlueStacks is the fact that you can enjoy Incursion Defense using your mouse as a pointer instead of your fingertips. Not only does this mean that you'll be more precise—especially when clicking on smaller buttons—but you'll also be much faster and enjoy better reaction times. This is a godsent especially for games like Free Fire and PUBG Mobile where a split second makes the difference between getting a kill or being eliminated yourself.
However, while using your mouse for playing mobile games is definitely a treat, everything comes together when adding your keyboard to the mix, and this is exactly what the BlueStacks Keymapping Tool is about. This powerful feature is one of the best aspects of playing on our emulator as it allows you to create intuitive control schemes for any game by placing a variety of different shortcuts on your screen and binding them to your mouse and keyboard.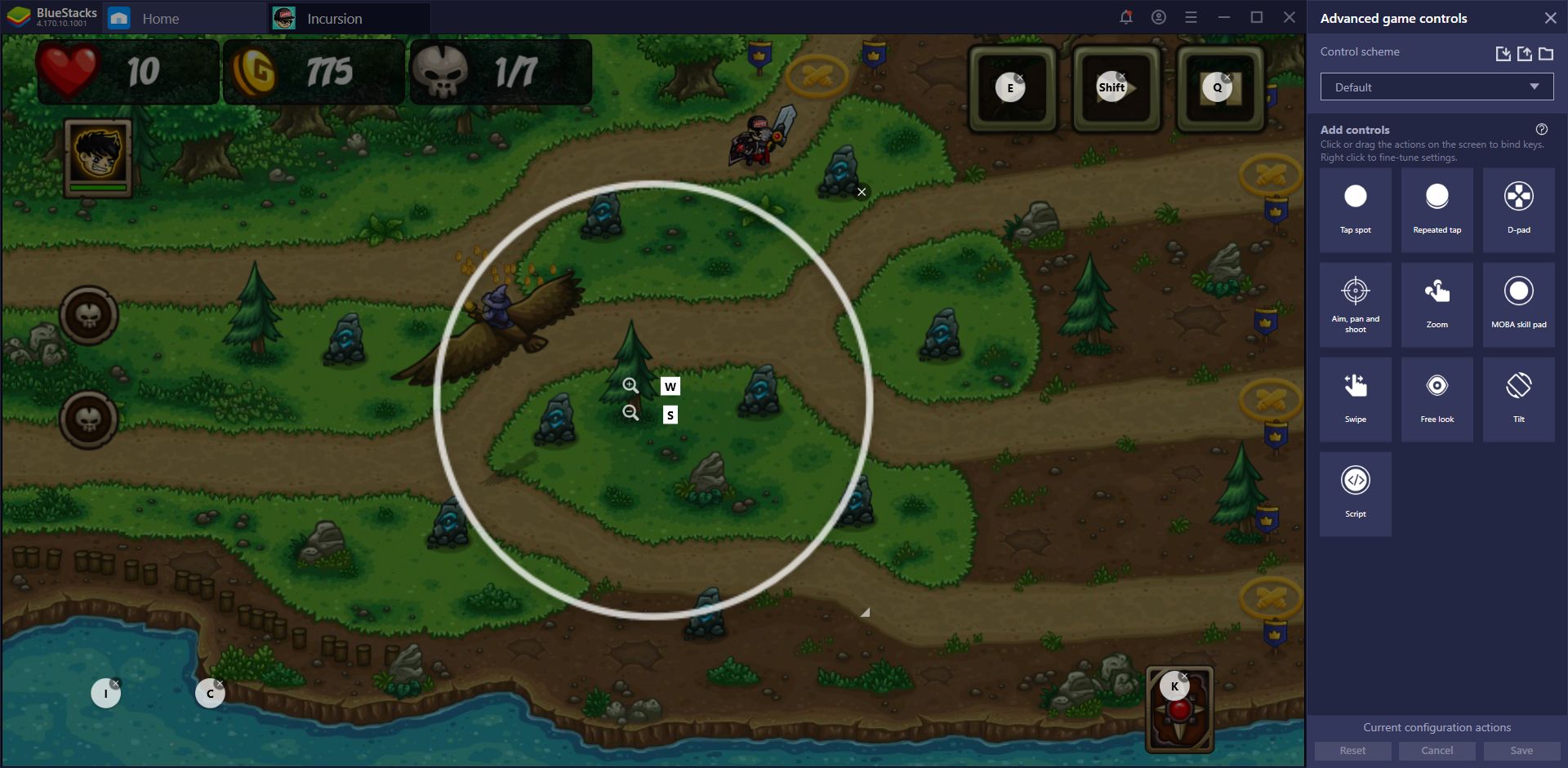 Through the Keymapping Tool, instead of playing with your mouse and manually clicking on every button on the screen, you can create control schemes that will grant you access to virtually any function with your keyboard. Instead of having to click on the buttons in the map screen on Incursion Defense, you can access virtually any menu and screen with your keyboard, greatly increasing your comfort—it's almost like playing an actual PC game, but with a mobile game.
Automate Certain Tasks with BlueStacks Macros
Even though it's a tower defense game where most of the fighting is done automatically by your loyal defenders, Incursion Defense is a very hands-on type of game. Tougher than other games of the genres that we've tried in the past, you'll be constantly moving your units around and adjusting your strategies to face the situation at hand. Despite all of this, however, it's still a mobile game. And as a mobile game, you can expect to find repetitiveness in certain parts, as well as grinding.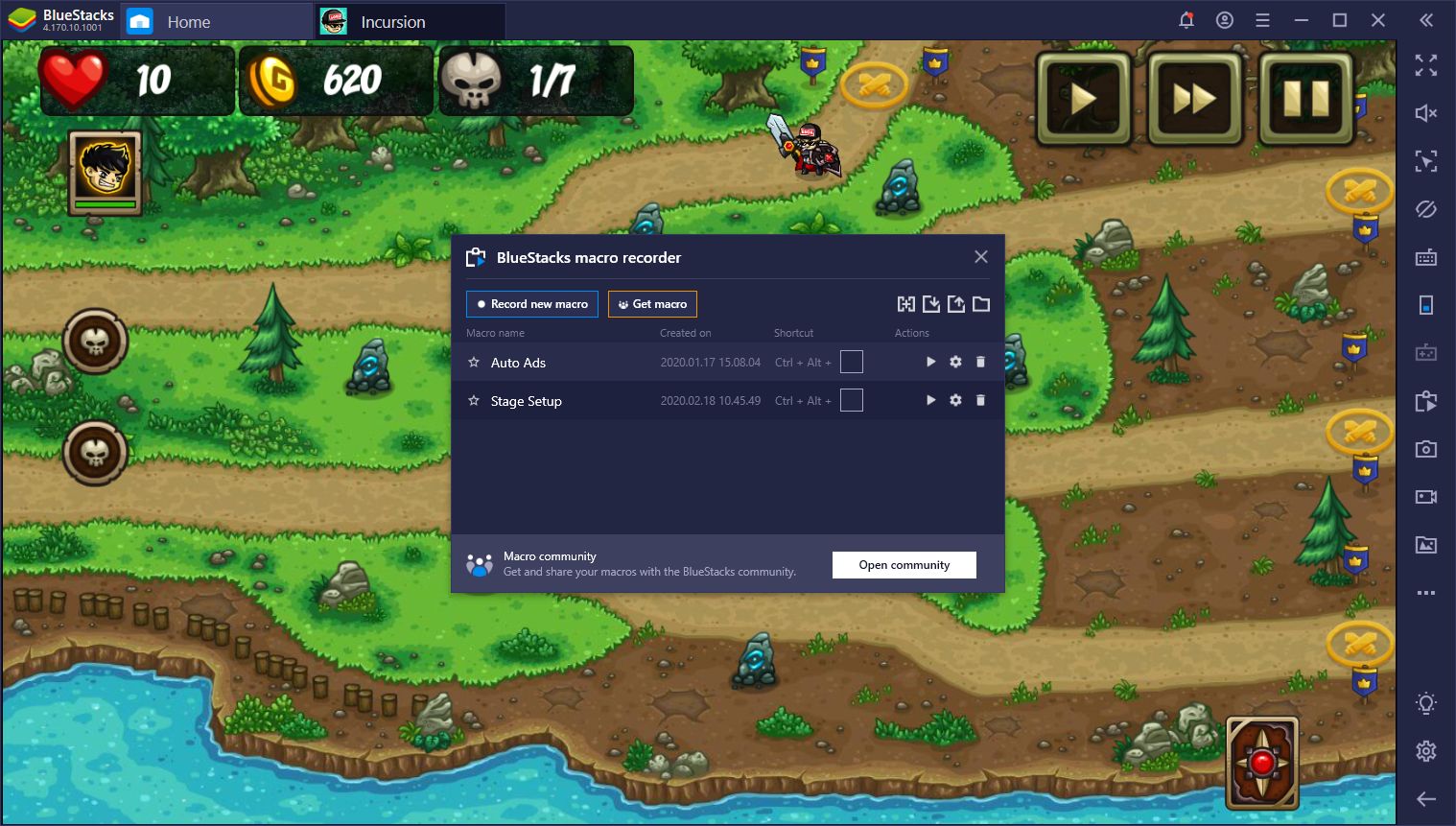 Luckily, the Macro Recorder has you covered in this aspect.
While the levels in Incursion Defense are quite tough and require careful strategizing in order to beat them, once you've got that down, you can easily beat them every single time without thinking. Repeating certain levels is important in many cases since you can do it to complete certain daily challenges. Fortunately, with our BlueStacks Macros, you can simply record yourself completing a level the first time with your awesome strategies, and then use this recording to automate the act in every subsequent attempt.
Of course, automating a level in Incursion Defense is quite difficult, even with our Macros, considering that monsters might sometimes take slightly different routes and could circumvent your defenses because of it. Nevertheless, at the very least, these Macros can help automate the initial setup of your towers in any level and save yourself many clicks.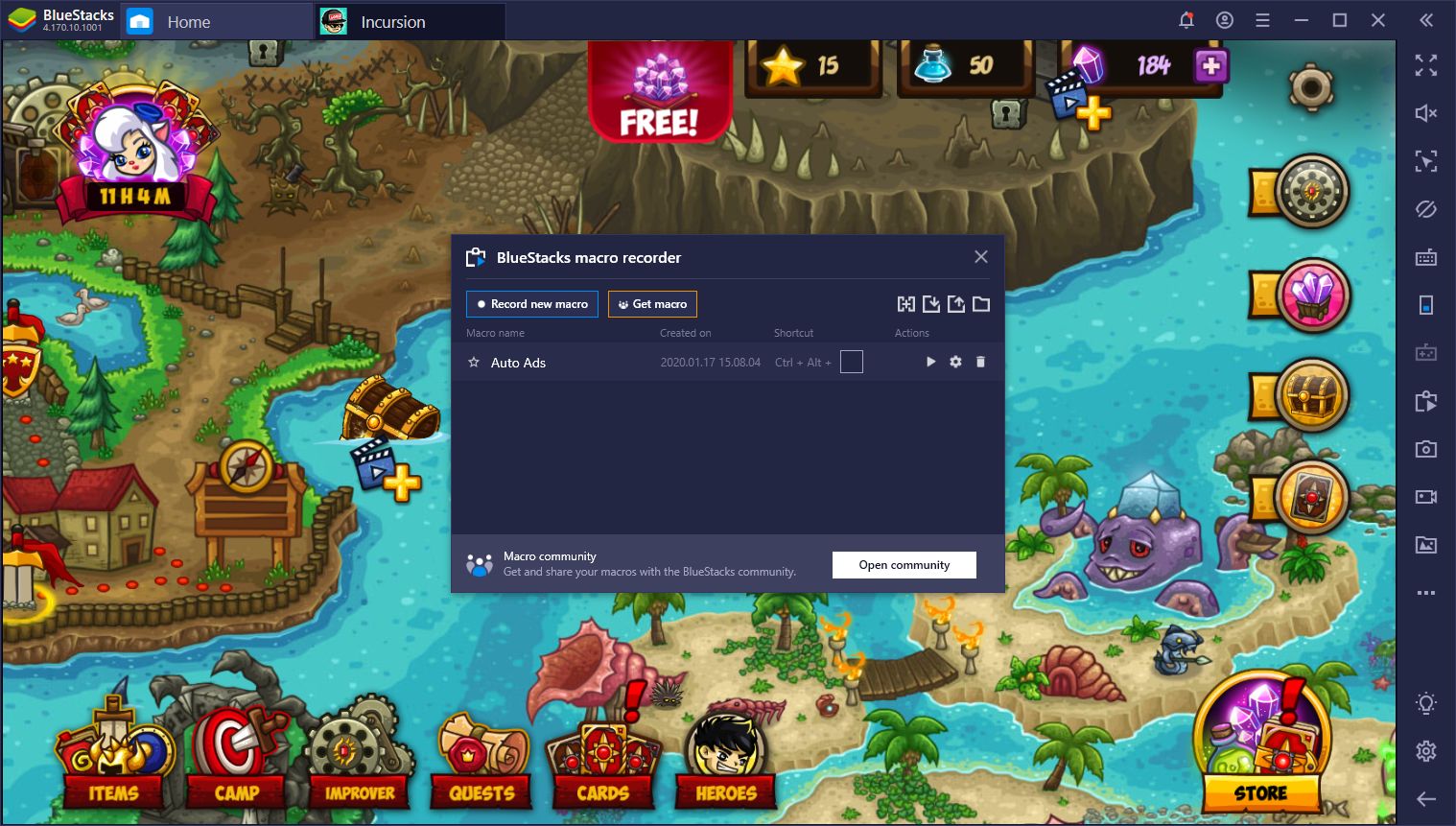 One last use that we've found for the Macros in Incursion Defense is for automating the video ads to receive awesome rewards. Every 24 hours, you can view a total of 5 ads back to back and receive prizes for each one that you watch. Luckily, unlike other games, there's no cooldown period between each ad, so you can just simply watch them all in one sitting. With a well-placed Macro, however, you don't have to do even that as BlueStacks can simply do it for you automatically. Just record yourself doing it once, and automate it from that point onwards.
Share Your Best Strategies Online
As we said above, Incursion Defense is really tough. It takes a good strategy to beat every level on the first try with the best rank and not everyone, us included, is blessed with such cunning. For those who struggle to beat levels in this tower defense, we need to turn to the pros to discover the best strategies. Luckily, this is another thing that can be done through BlueStacks.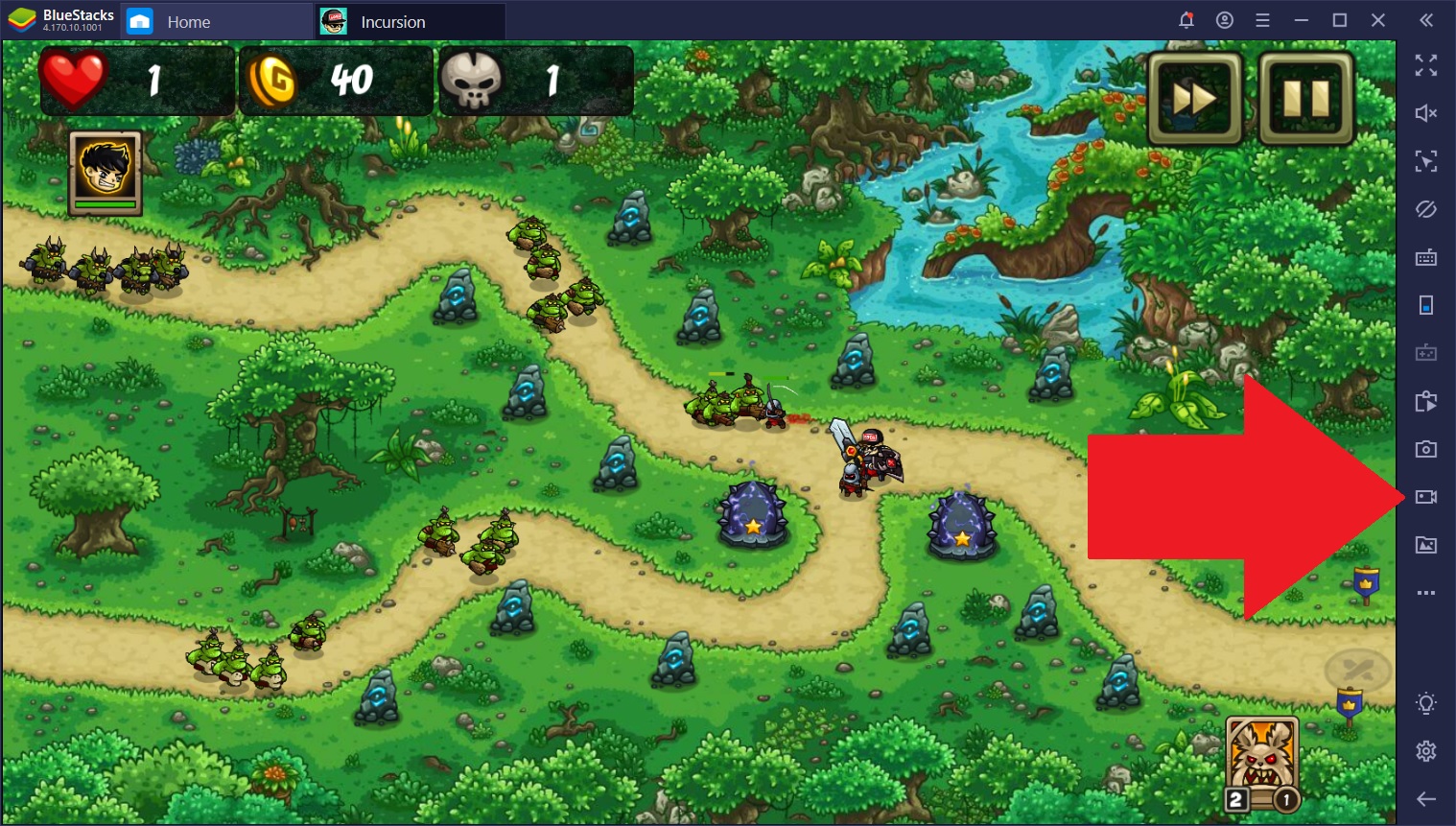 Using our BlueStacks Recorder, you can record any part of your gameplay and save it conveniently as a .mp4 file. Just finished a level you've been struggling with for days? Record it! Afterward, you can use the recording to either improve your performance or show it to your friends to give them an idea of how to beat it themselves.
With BlueStacks, you can enjoy playing any Android game not only with a larger screen and mouse and keyboard but also with all the tools and utilities that our powerful emulator offers. What's your favorite part about playing Incursion Defense on PC with BlueStacks? We'd love to hear your thoughts and opinions!