Game Guides
Into the Dead 2 Companions – Full Overview and Guide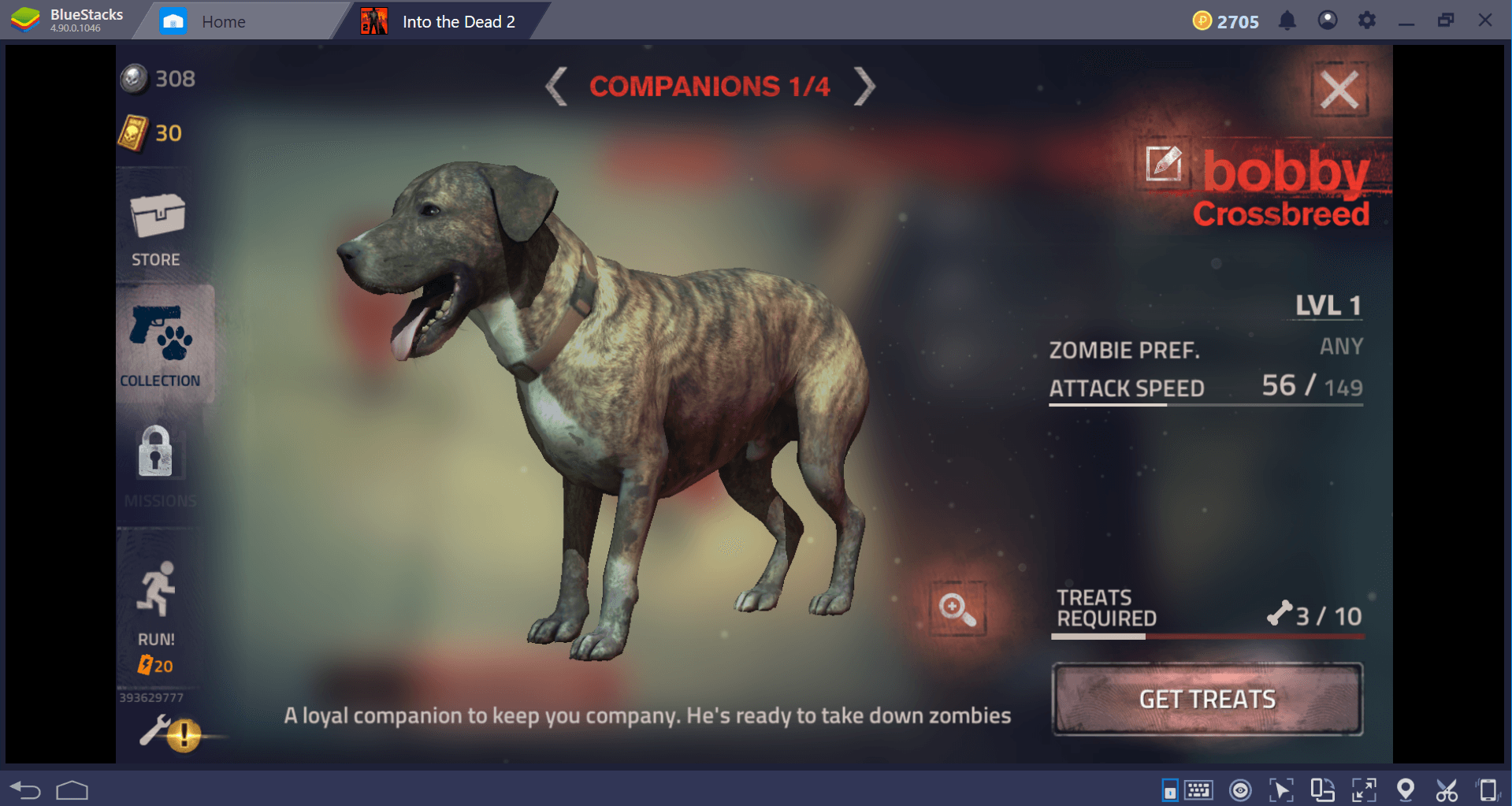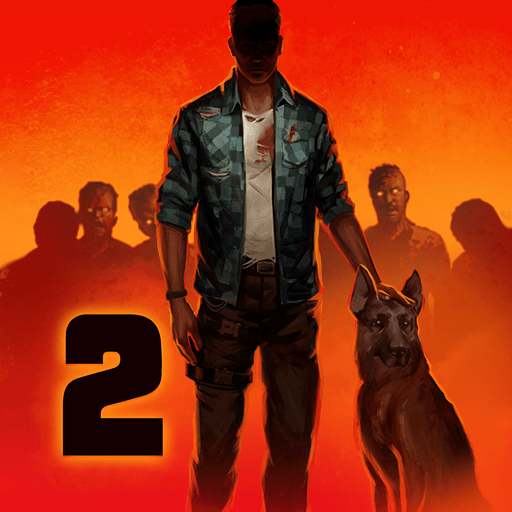 Into the Dead 2 now has companions. From a range of dogs to a variety of event animals, companions can be unlocked and provide bonuses and protection during gameplay. We have provided a full overview of all of the companions in this guide and we've included details on which companions are the best.
Hopefully this guide will give you the information you need to know for picking out which companion to use your treats on.
All Into the Dead 2 Companions Compared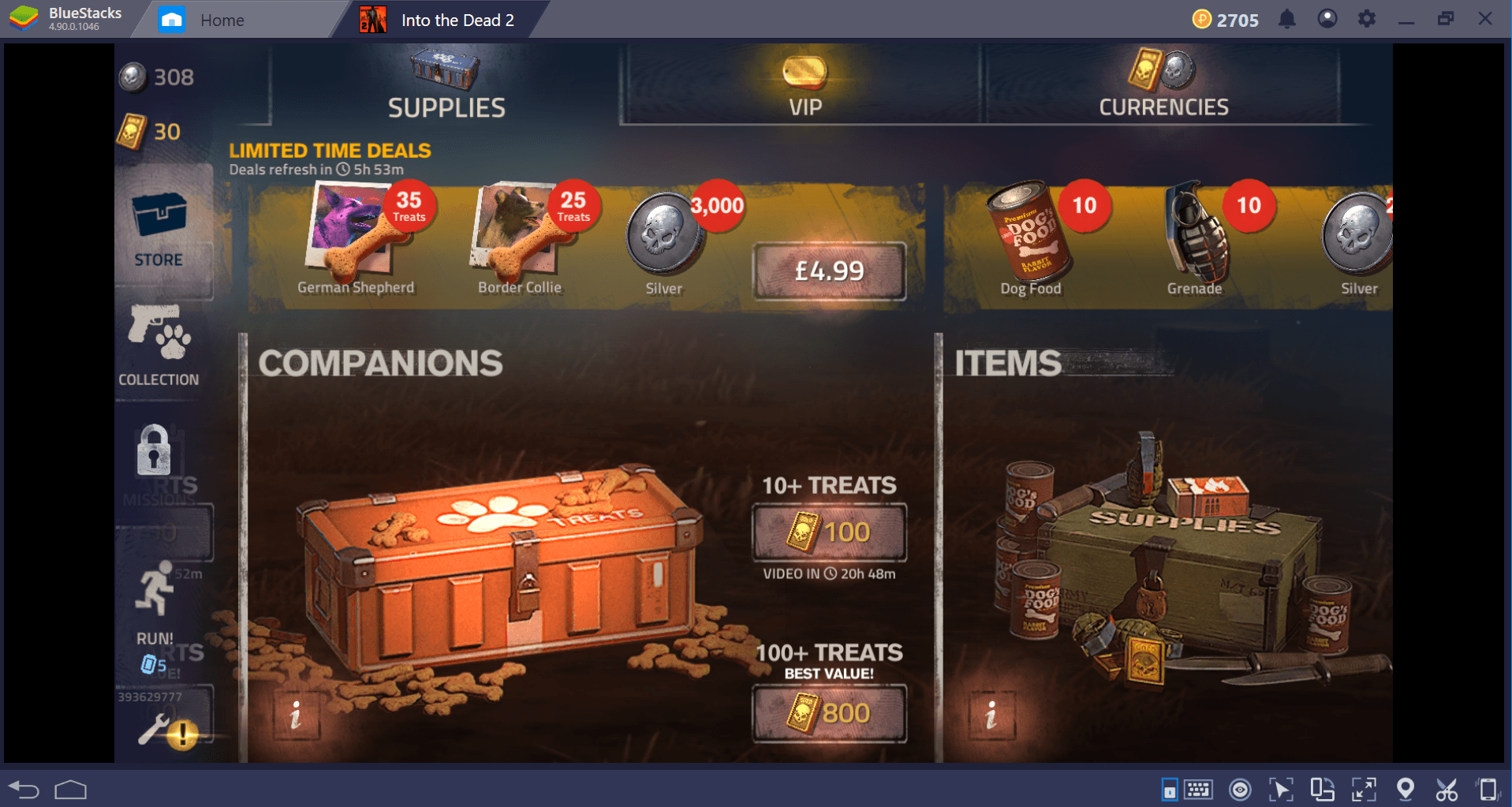 In Into the Dead 2, companions can be adopted by collecting treats. You can get treats from loot at the end of each campaign level, as well as a few other loot rewards throughout into the Dead 2.
Because each companion can be adopted with 20 treats, it makes sense to think carefully about which companion to adopt and spend your treats on. Once you have a companion, you can also increase their stats by using more treats.
There are also limited time event companions that have their own unique stats and features, too, but most of these are now no longer unlockable. Make sure to look out for future events to unlock new limited time companions.
We will take a look at the main non-event companions below and we'll provide some information on which one is best to adopt and train.
Crossbreed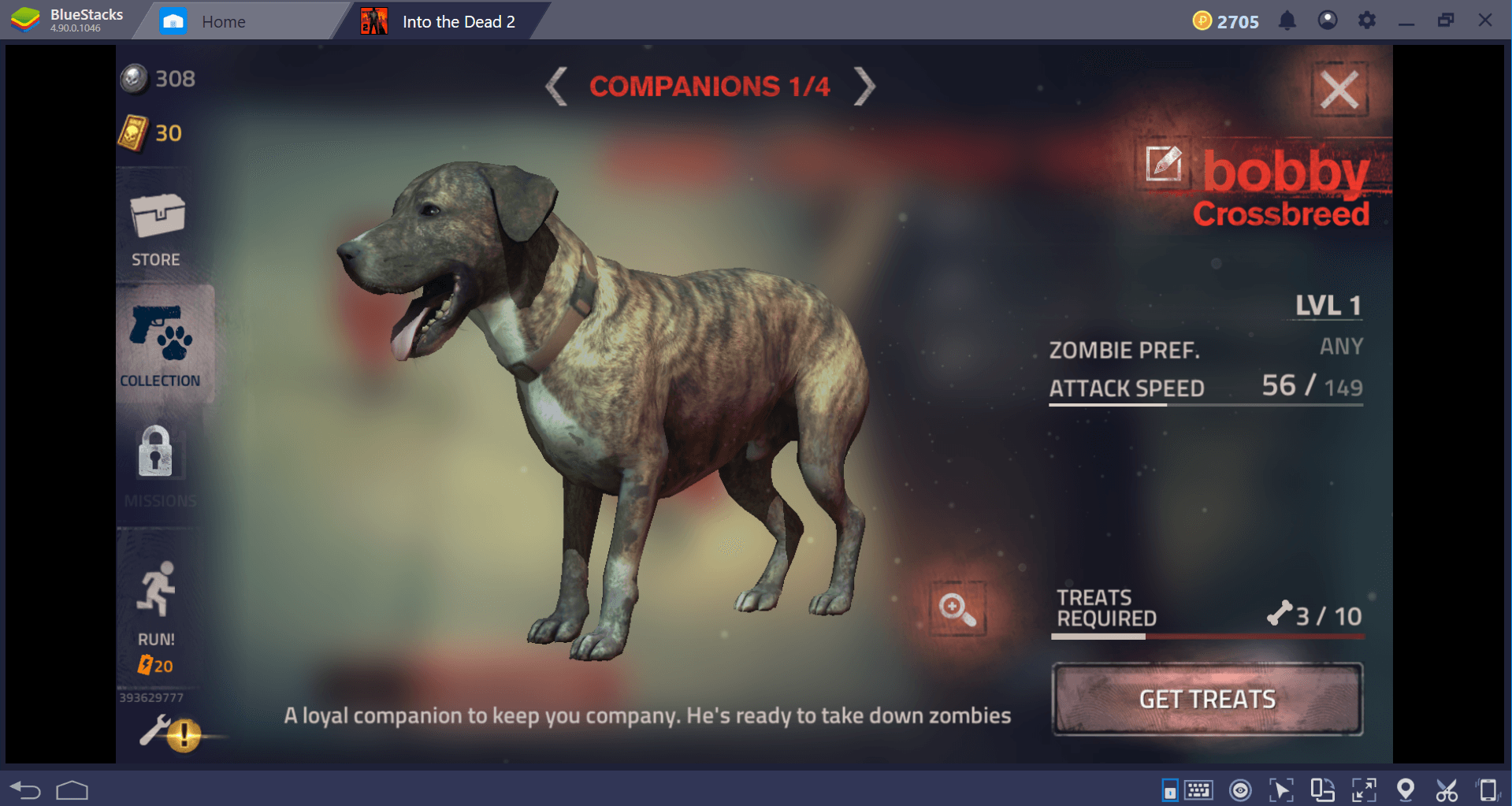 The crossbreed is the first companion you get in Into the Dead 2 and you are given it for free. This means this will be the companion you are stuck with until you can gather enough treats to adopt a better one.
The crossbreed will attack zombies for you periodically throughout the campaign level once you take it along with you, and it can do a maximum of 149 attack speed if fully upgraded. Attack speed determines how often a companion can attack zombies.
Besides this, the crossbreed doesn't have any special abilities. It makes sense not to spend any treats on training the crossbreed. Instead, you should save up your treats and spend them on one of the companions mentioned below, which offer better base stats and unique abilities.
One thing to note about the crossbreed, though, is that it will attack all zombies without any particular bias. The other companions often prioritize certain zombies first. This can be beneficial, but on the earlier levels, the crossbreed does a good enough job to take down smaller waves of zombies.
Border Collie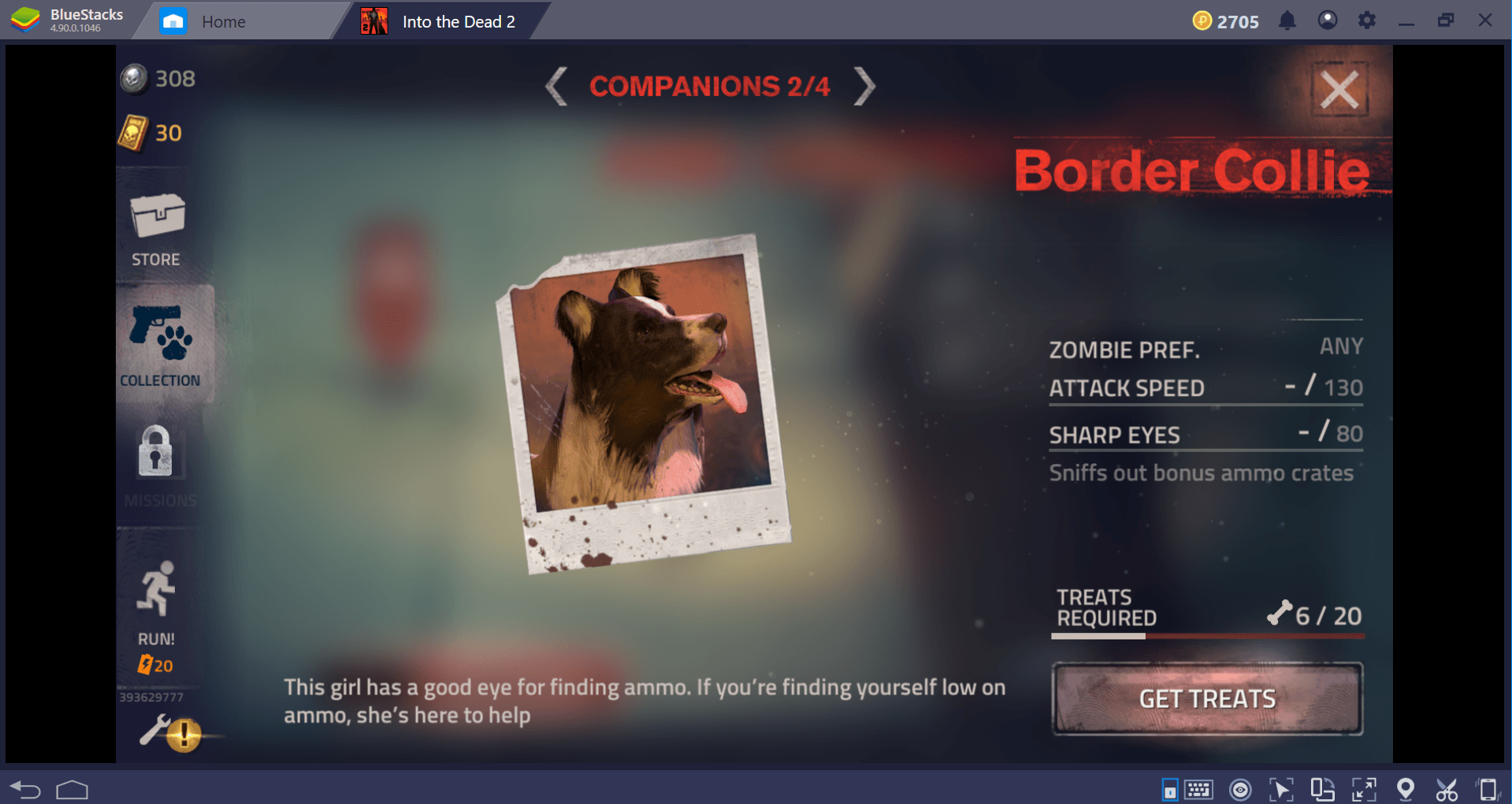 The border collie is a worthwhile step up from the crossbreed, but it's still not the best puppy around. We will go over its stats now, but keep in mind that the other two options below are much more worth investing your treats into.
The border collie has a unique ability that allows her to find more ammo crates. Sure, that may be useful for when you need to mow down tons of zombies for kill challenges, but ultimately, it's easy enough to find ammo for yourself anyway and the bonus that the other dogs give is better in comparison.
The border collie can have an attack speed of 130, which is actually worse than the crossbreed, too. Ultimately, there's not much point investing treats into this companion.
German Shepherd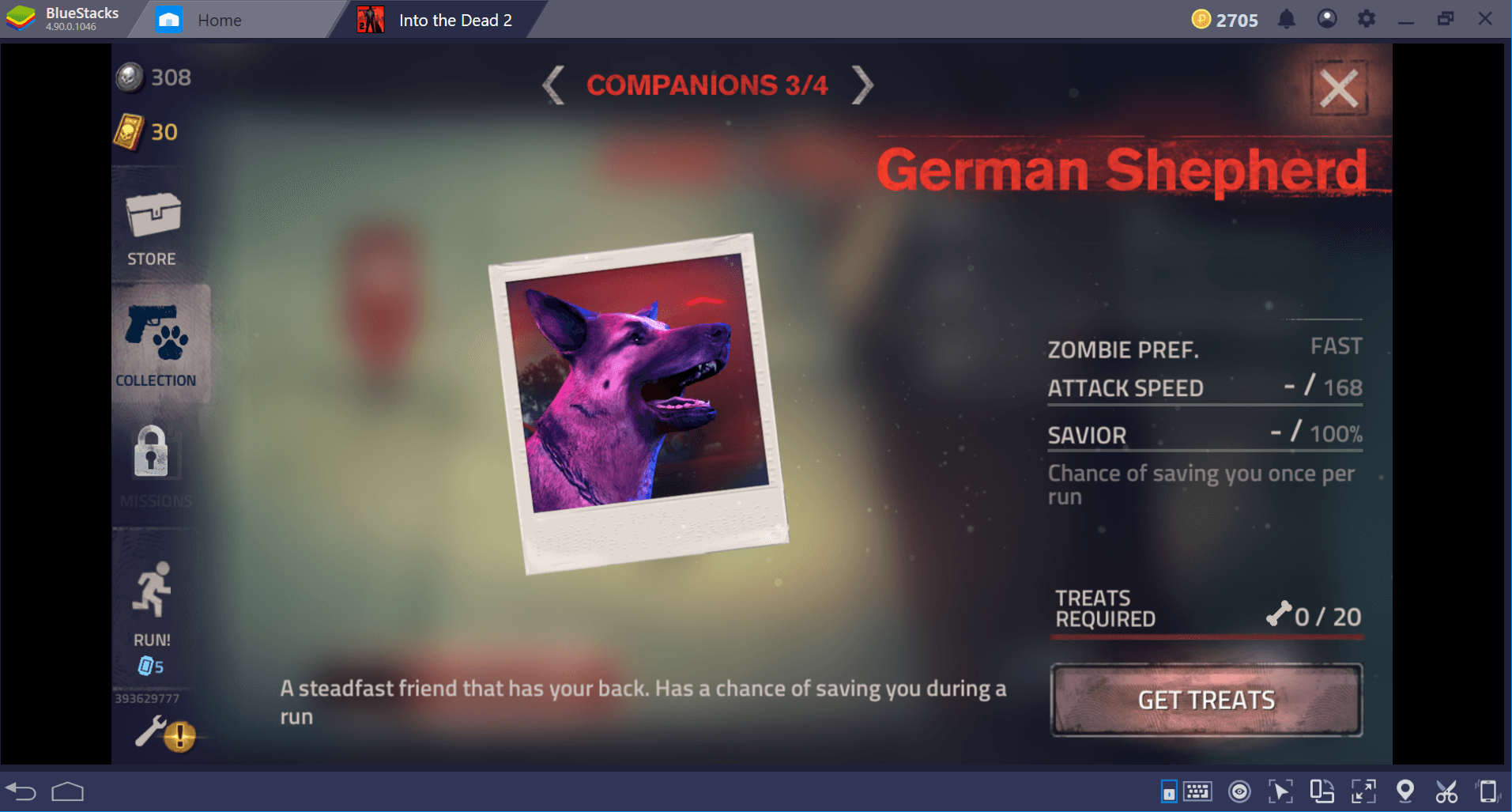 Up next, we have the german shepherd, which is undoubtedly one of the best companions in Into the Dead 2. The german shepherd's ability allows it to give you a chance of saving your life once per run. This is huge and means you don't need to worry about spending money or time on building up a bunch of knives.
It's not a 100% chance to get a revive to begin with, but with enough upgrades, the german shepherd can give you a 100% chance to save you once per game. We think the german shepherd is the go-to as soon as you can afford to adopt it because the savior feature is so strong. On top of this, the german shepherd can have its attack speed upgraded to 168. Keep in mind, this companion will almost only go for fast zombies, so sometimes it misses the slower ones.
Bulmastiff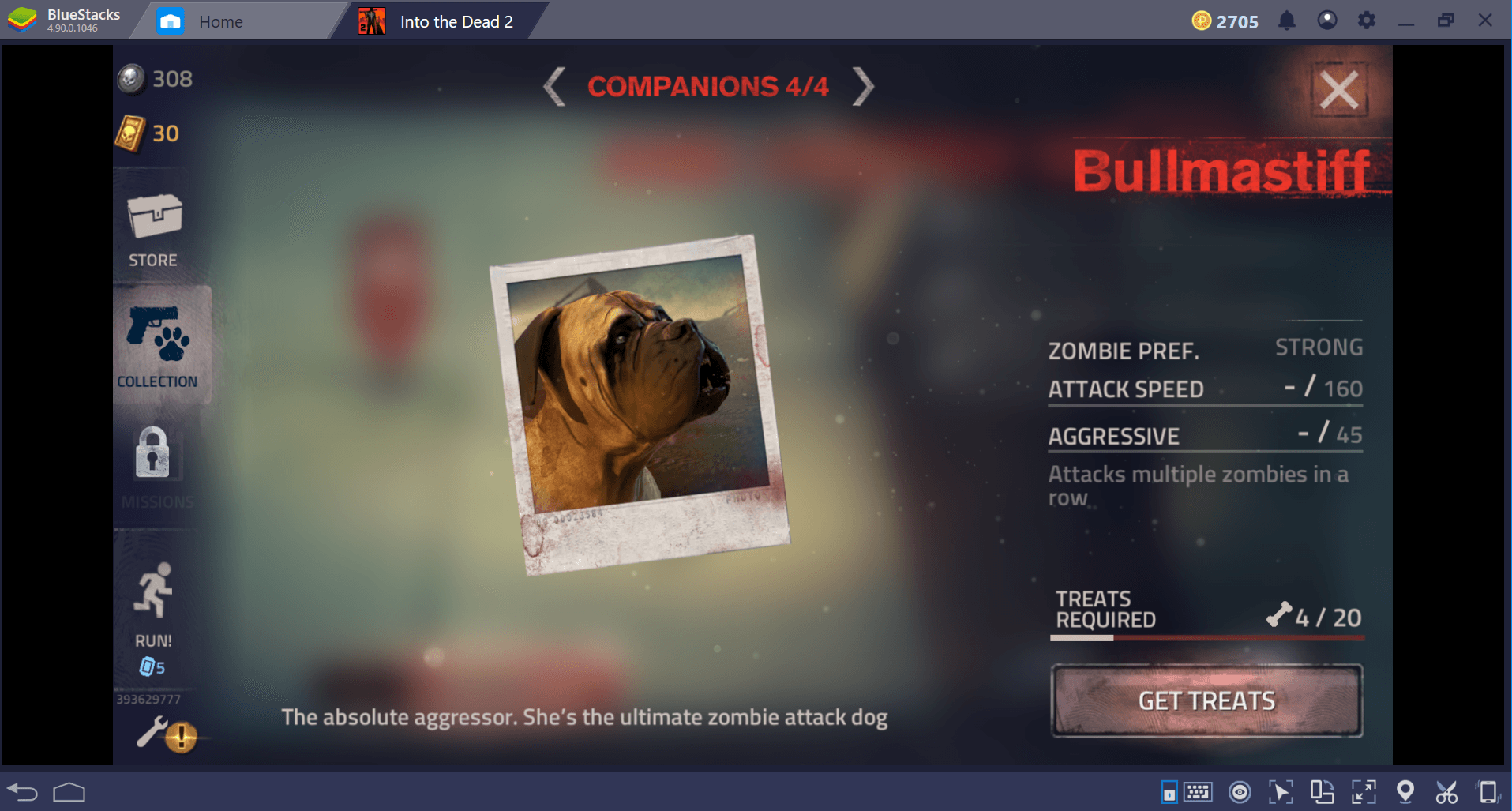 The bullmastiff is also a very good companion, but we'd say it falls just under the german shepherd in terms of usefulness. The bullmastiff has an ability that will attack multiple zombies at once. You can upgrade how often the bullmastiff will pull off this trait.
The bullmastiff also has a 160 total upgraded attack speed, making it the fastest companion out of the four mentioned. So, if you need to get kill challenges completed, the bullmastiff is the best option. It's the most aggressive dog and will rack up the most zombie kills. One thing to note is that the bullmastiff most often goes for the stronger zombies, which means you save your ammo on weaker one-hit zombies.
In summary, we would suggest adopting and training the german shepherd to max first. That will give you the most survivability as you fight through the campaign levels. Once you get enough treats, you can then spend them on the bullmastiff to build a good build for completing any zombie kill challenges you may have missed the first time around.
Event Companions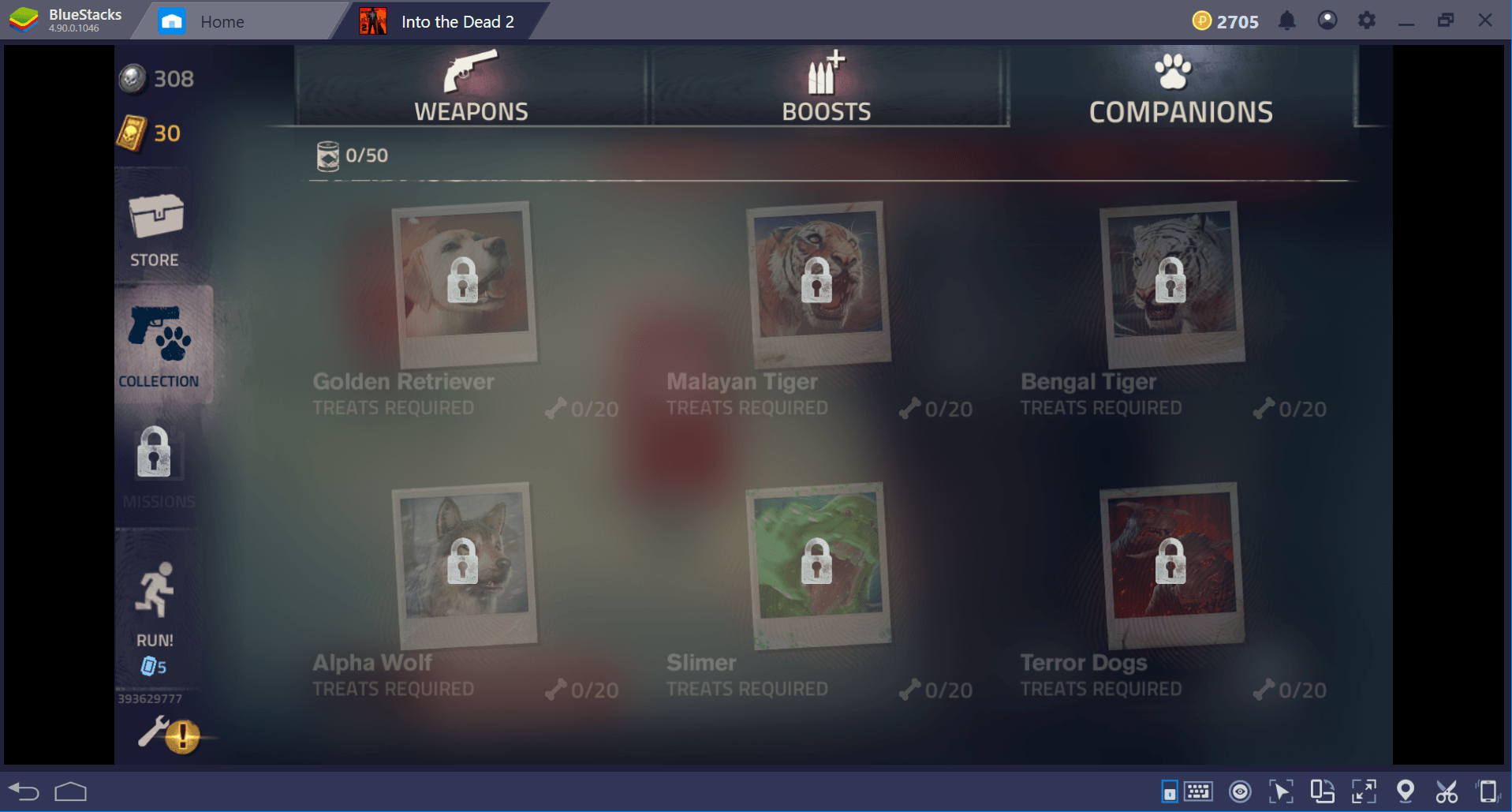 Like mentioned earlier, Into the Dead 2 is constantly getting new event companions. You'll need to look at the current event to see what is on offer. These event companions offer unique abilities or have some kind of unique strengths. For example, the alpha wolf can call in a pack of wolves to attack zombies. It's sort of like a more powerful bull mastiff ability.
In most cases, the event companions are worth unlocking, but training them depends on their skills and your personal preferences. Ultimately, as you play more, you'll unlock enough treats to pick and choose which companions to adopt and train as you please.
Summary
That summarizes our guide to Into the Dead 2 companions. For now the bull mastiff and german shepherd are the strongest base companions, and you should make sure to look out for any potential event companions worth spending treats on.