Game Guides
Iron Saga – Battle Mecha on PC: Suit Up and Destroy Your Foes With BlueStacks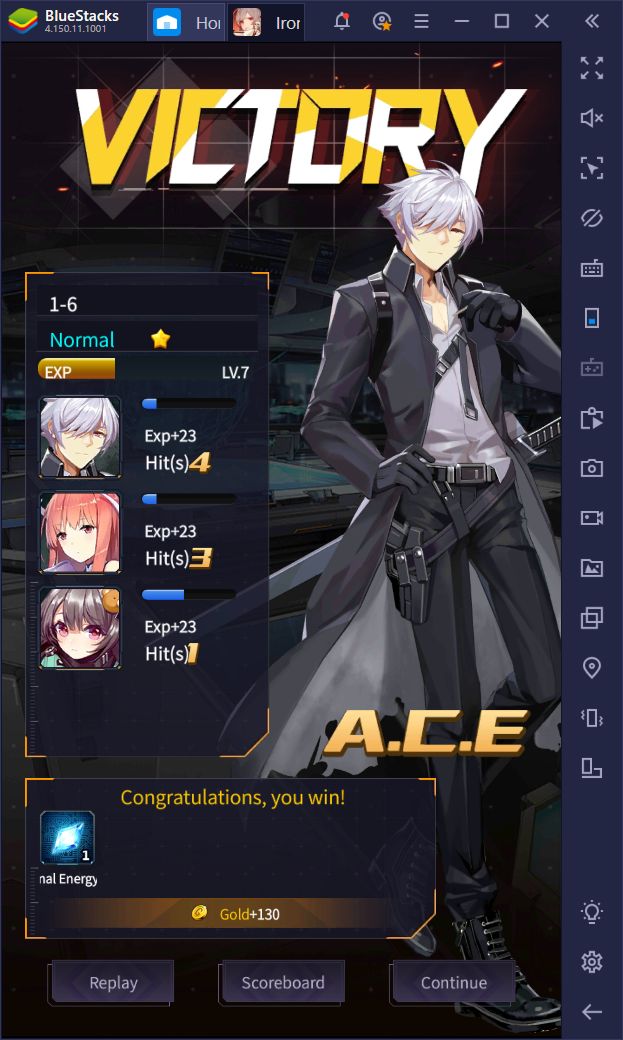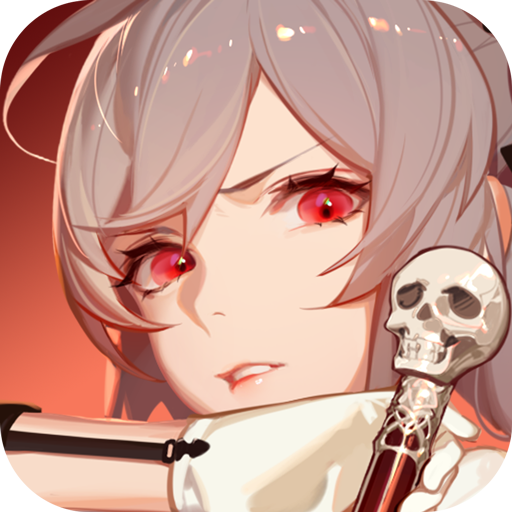 It's not every day that we get to try and enjoy an awesome mech battle game on BlueStacks. This setting is sorely left unexplored in many platforms, not just the mobile medium, as mech games are quite uncommon, and the good ones are even rarer still. Today, we've come to talk about a curious title called Iron Saga – Battle Mecha which, as its name implies, is all about using giant robots to battle your nation's enemy. Furthermore, the game heavily utilizes anime aesthetics, which means that fans of this Japanese art style will definitely have a great time with Iron Saga.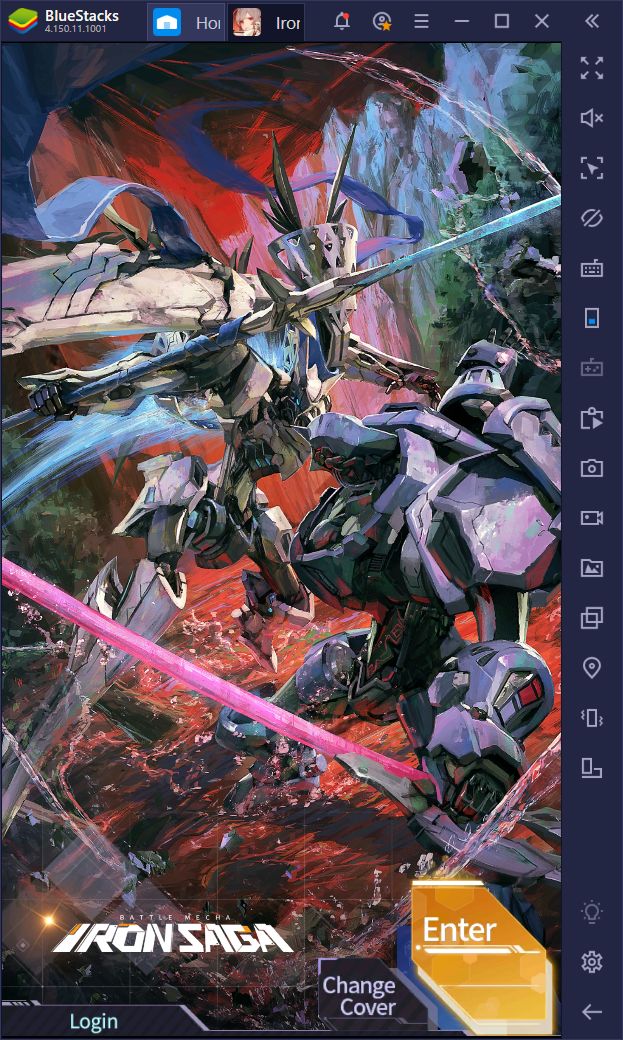 The game itself is simple and straightforward; you take your big mechas into battle and defeat the enemy. In the battlefield, your units maneuver and attack automatically, though the CPU does a poor job of dodging projectiles and positioning your units so that they can safely attack the enemy. Moreover, as the battle progresses and your troops exchange blows with the foe, their SP bar will slowly fill up. Once the bar is full, you can click on your character's portraits to unleash their active skills which, in good hands, can change the flow of battle, or even turn an easy win into a crushing victory.
Furthermore, in true gacha design, there are many different pilots and mechas to unlock, all with their own unique abilities and attributes, as well as with their unique appearances to set them apart from the rest. However, it takes a bit of know-how and good decision-making skills in order to succeed in Iron Saga, something that is considerably simplified if you play on a good platform such as BlueStacks. In this guide, we're going to explain how to use our Android emulator to greatly improve your performance in this mecha game.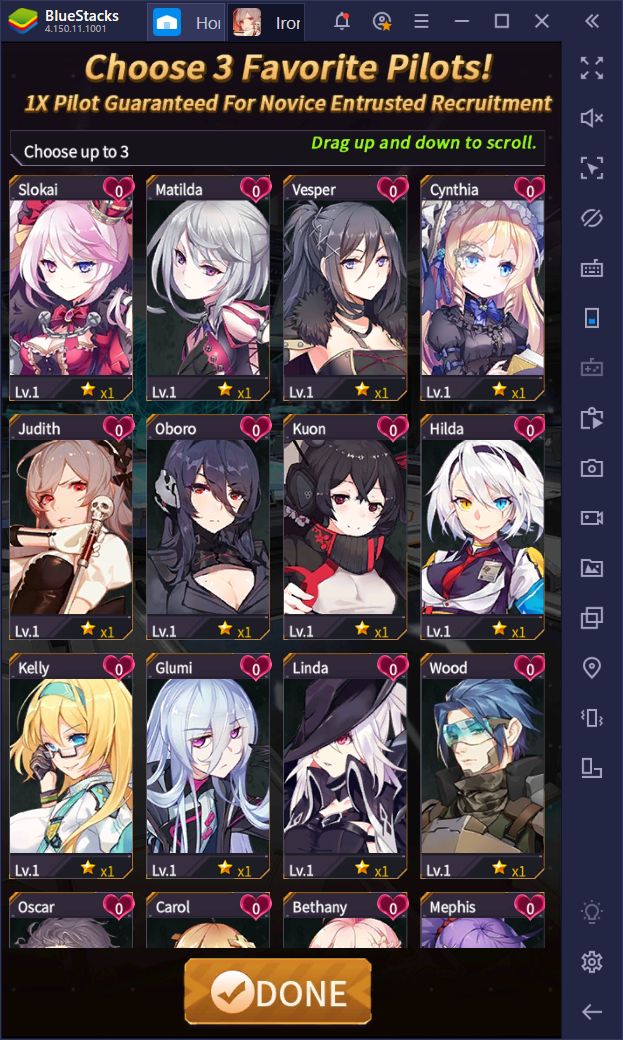 Why Play on BlueStacks?
Battles in Iron Saga are fast and hectic, and the top-down perspective only serves to add to the confusion. It's not uncommon for you to be completely lost in the first few encounters as telling your mechs apart from the enemy is difficult, and everything moves so fast so it's hard to keep up. Luckily, before long, you'll learn to read the battlefield and will be able to assume your role as the commander.
As we mentioned above, your troops in this game move and attack the enemy automatically, without any type of player input. However, the CPU is quite lackluster in terms of intelligence and usually does the bare minimum when fighting the enemy.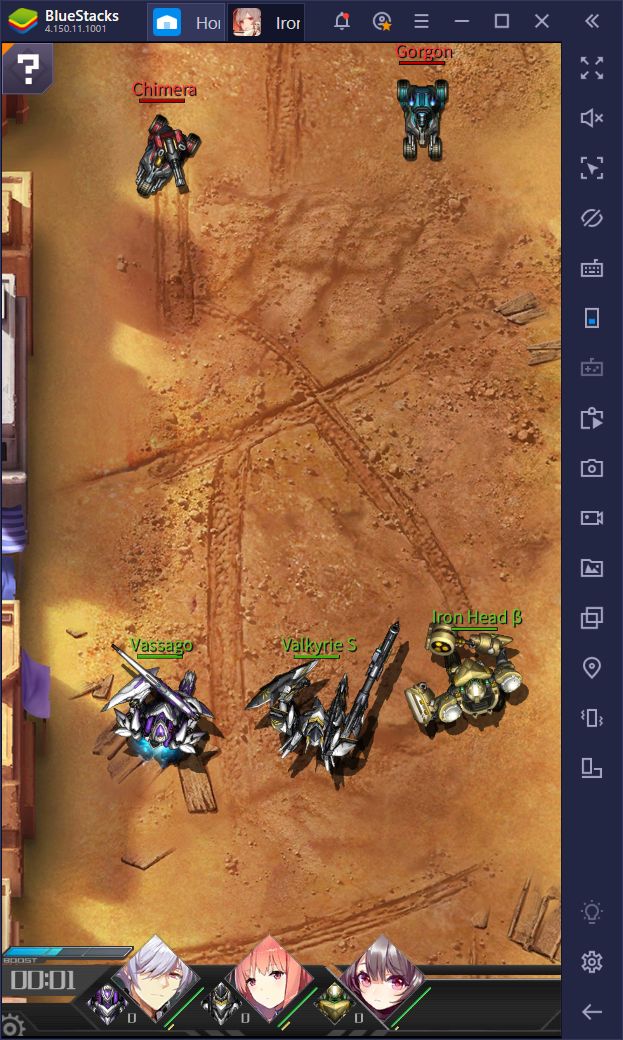 You can manually control your units via specific gestures and commands such as tapping on an enemy, or sliding your cursor across the screen to force your characters to reposition them, among others. However, since this game is played exclusively in portrait orientation, controlling your units with accuracy will quickly become an uphill battle when playing on your phone. Luckily, this is not the case with BlueStacks.
Playing Iron Saga on your phone is particularly difficult due to the device's small screen, which can make it difficult to move your units on command. BlueStacks, on the other hand, allows you to play on your PC, with your large monitor and using your mouse instead of your fingertips. This combination of features allows for a considerably better experience than on any mobile device and will be instrumental in your success in even the toughest stages of the game.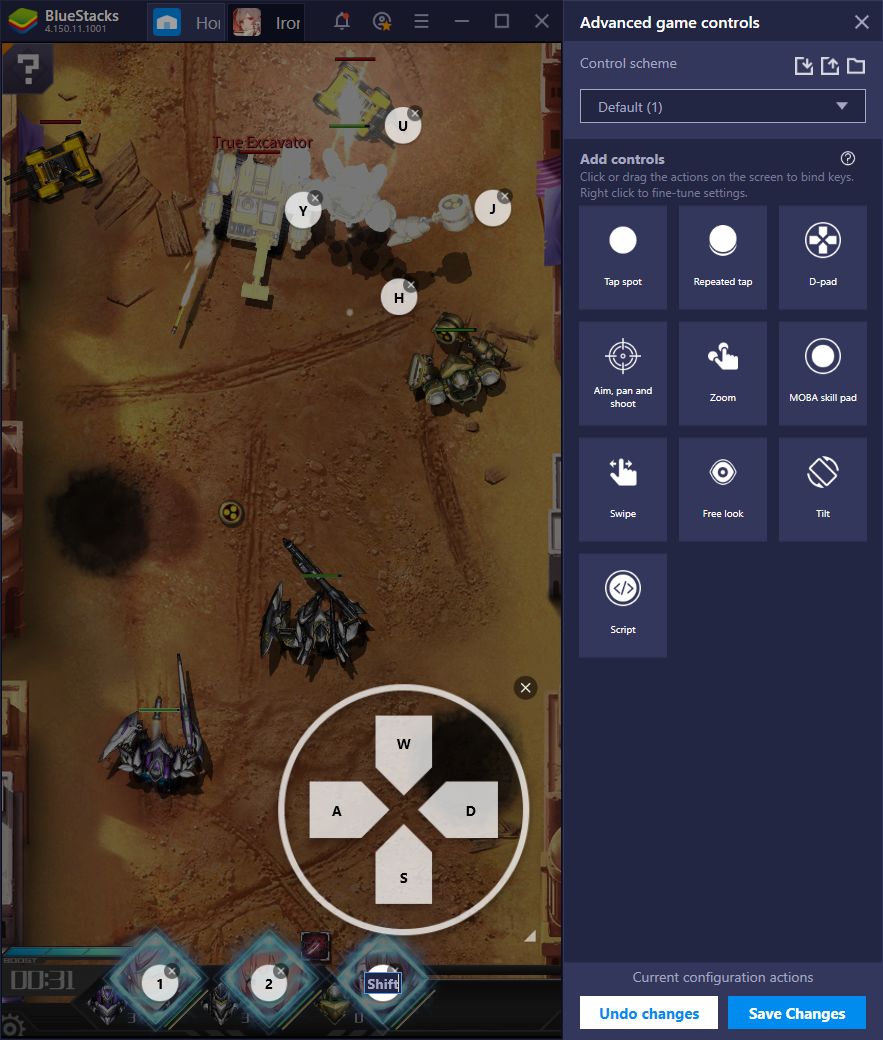 Aside from having access to much better hardware, BlueStacks also offers plenty of tools to help improve your experience with Iron Saga, one of the most powerful of these being the Keymapping Tool.
While most of the gameplay in this mech game is performed through gestures such as dragging your mouse to control your units' movements or to make them attack a specific target, you'll also need to manually click on your characters' portraits to unleash their active skills. This constant back and forth between the battlefield and your portraits can eventually lead to making mistakes that might cost you the victory. However, with the Keymapping Tool, you can add shortcuts to your characters' portraits and use their skills via your keyboard, while keeping your mouse trained on the battlefield and ready to make split-second decisions at all times.
This tool is particularly useful in the Combat Simulation Mode, where you have to manually control your mecha on the field to destroy your foes. Instead of having to use your fingertips on the virtual controls, however, you can bind your mech's actions to the WASD keys and enjoy enhanced maneuverability.
Outside of battle, the Keymapping Tool can also help to streamline navigating through all the menus in the game as you can simply press a button on your keyboard to access certain screens instead of having to click on the icons manually.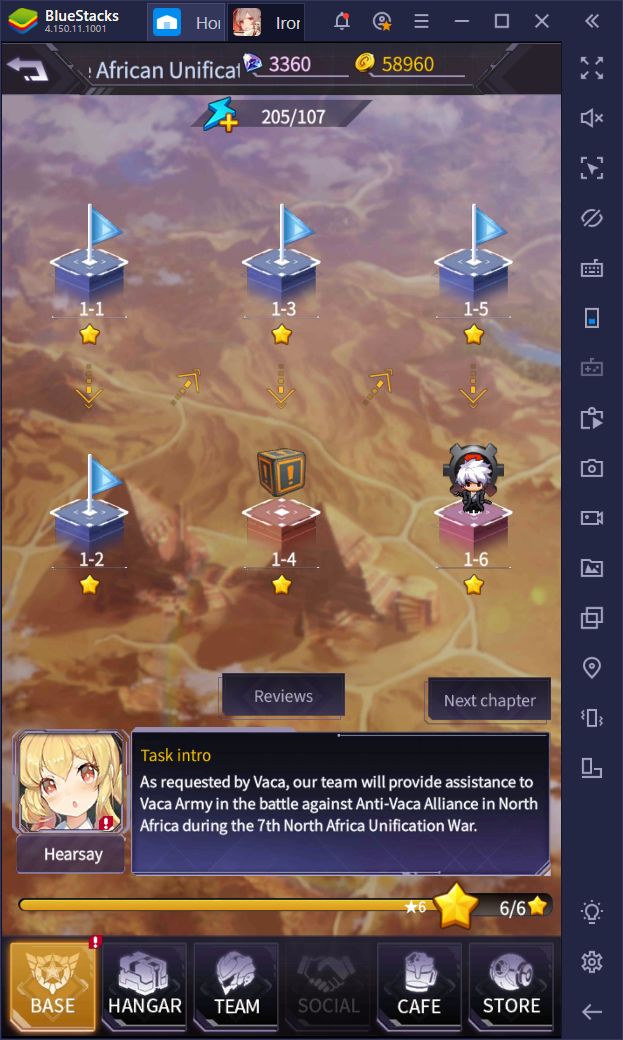 As a gacha game, it'll take quite a bit of grinding to unlock all the features as well as the strongest characters in Iron Saga. However, this grinding is significantly improved through the use of macros to automate certain features. For instance, instead of manually grinding certain stages to farm specific drops, you can create a macro that automates entering the stage, receiving your rewards after clearing it, and re-entering the stage as many times as you wish. The Macro Recorder allows automating this aspect, as well as any others that entail monotonous and repetitive.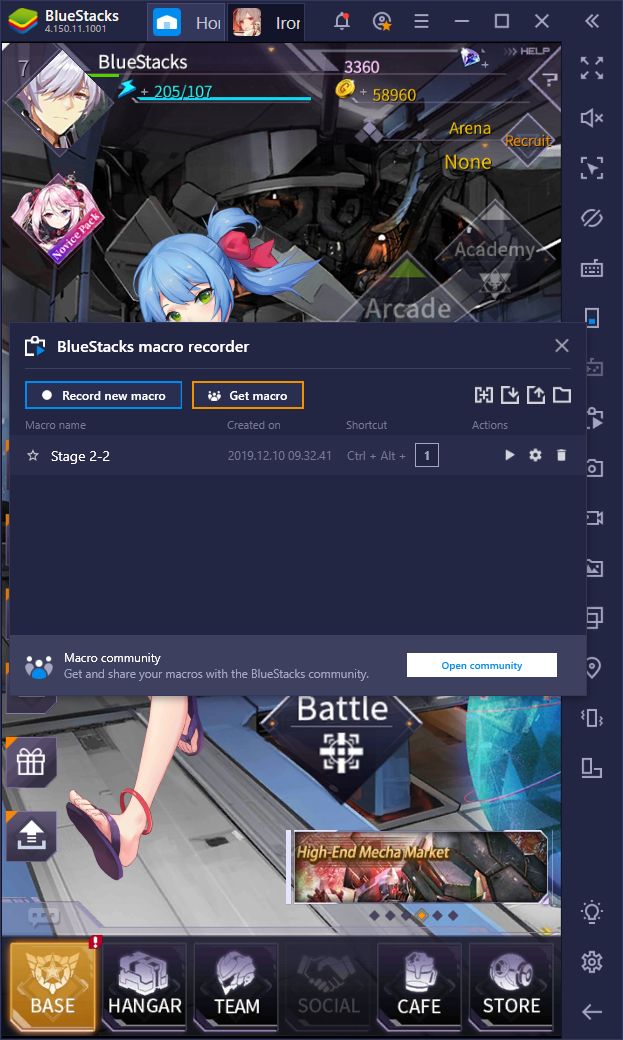 Destroy Your Enemies With BlueStacks
Either by using the Keymapping Tool to enjoy improved controls in combat, or the Macro Recorder to automate the grinding, BlueStacks certainly has many tools to enhance your experience in Iron Saga. The examples we shared in this guide are just a couple of ways in which our Android emulator can help you in this game, at least when compared to gaming on your phone.
Has BlueStacks helped you in any way to improve your results in Iron Saga, or any other mobile game? We'd love to hear your opinions so leave us a comment in the section below!