Game Guides
Claiming The Iron Throne With BlueStacks: The Installation And Setup Guide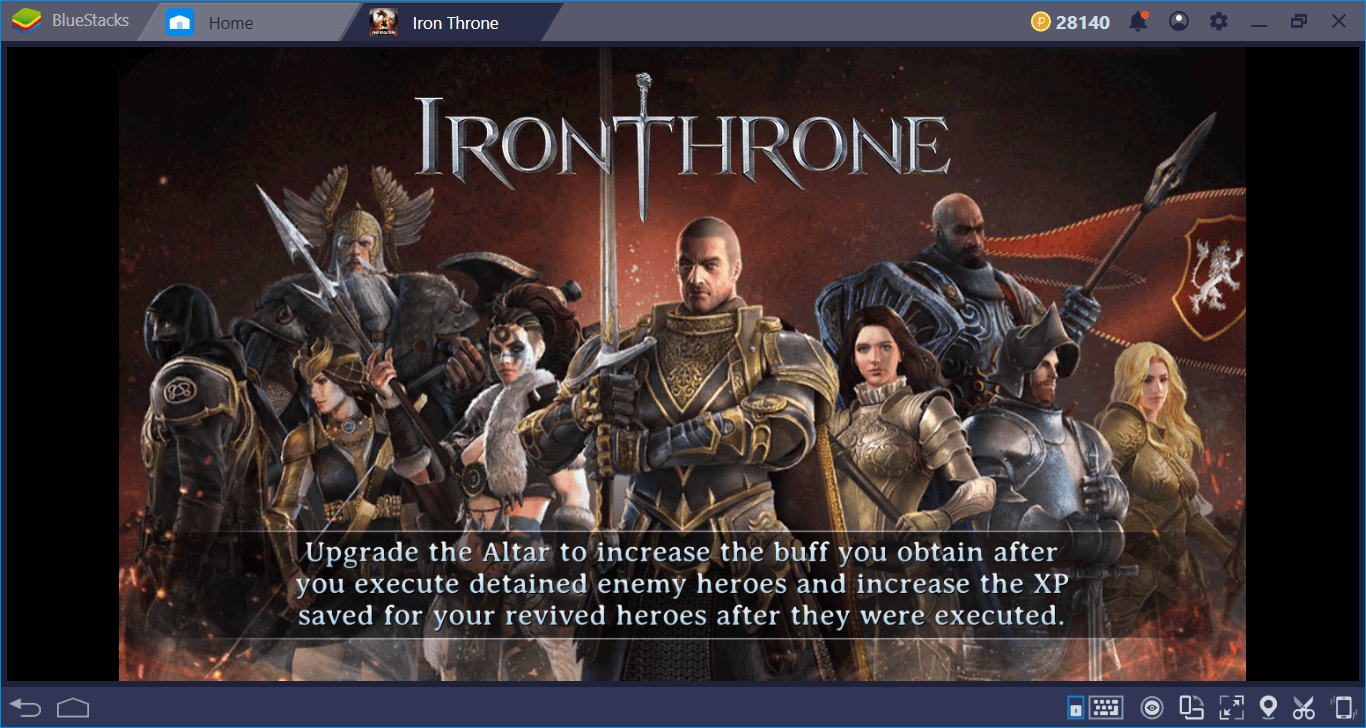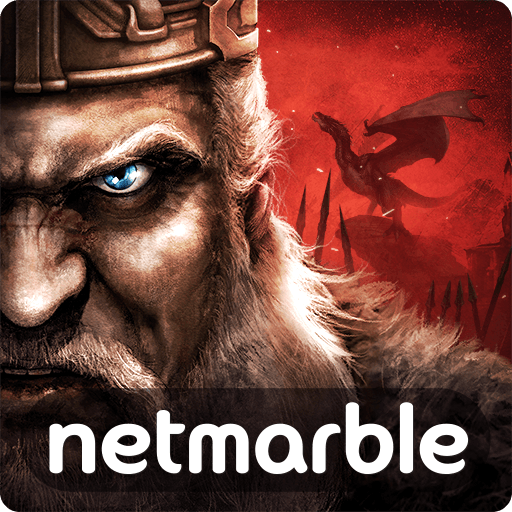 Big dragons, bigger kingdoms, and a throne everybody wants to sit on: No, this is not Game of Thrones, it is just Netmarble's one-year-old conquest game, Iron Throne. It offers everything you are used to seeing in mobile conquest games and more: monster hunts, PvP battles, city management, troop training, hero recruitment, and to top all of those, beautiful graphics. In order to start enjoying all of these, we must install and configure the game first. And we should also use exclusive features of BlueStacks, as they will help us to conquer these lands faster. In this article, you can learn how to do both.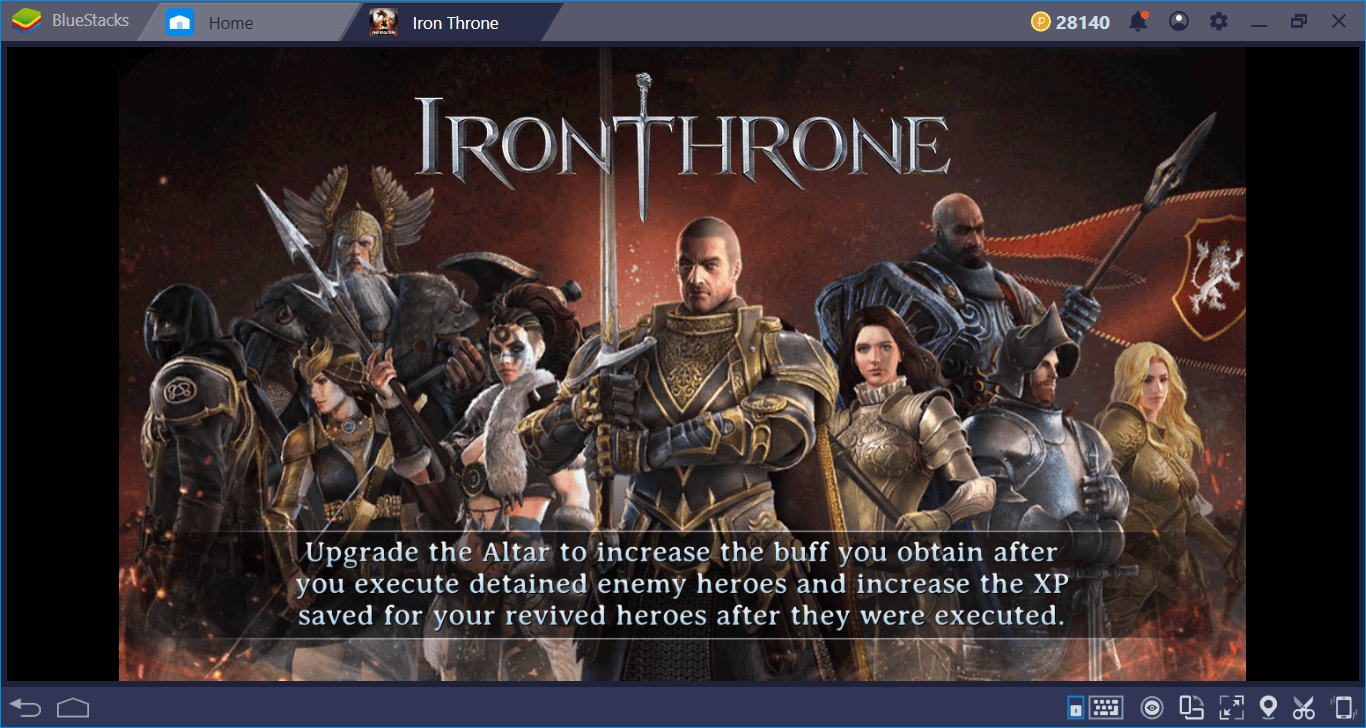 Installing The Iron Throne
As always, we start by searching the name of the game in BlueStacks App Center. Once we find it, the only thing we need to do is click on the "install" button. The rest will be handled by BlueStacks and we will get a notification once Iron Throne is ready to play.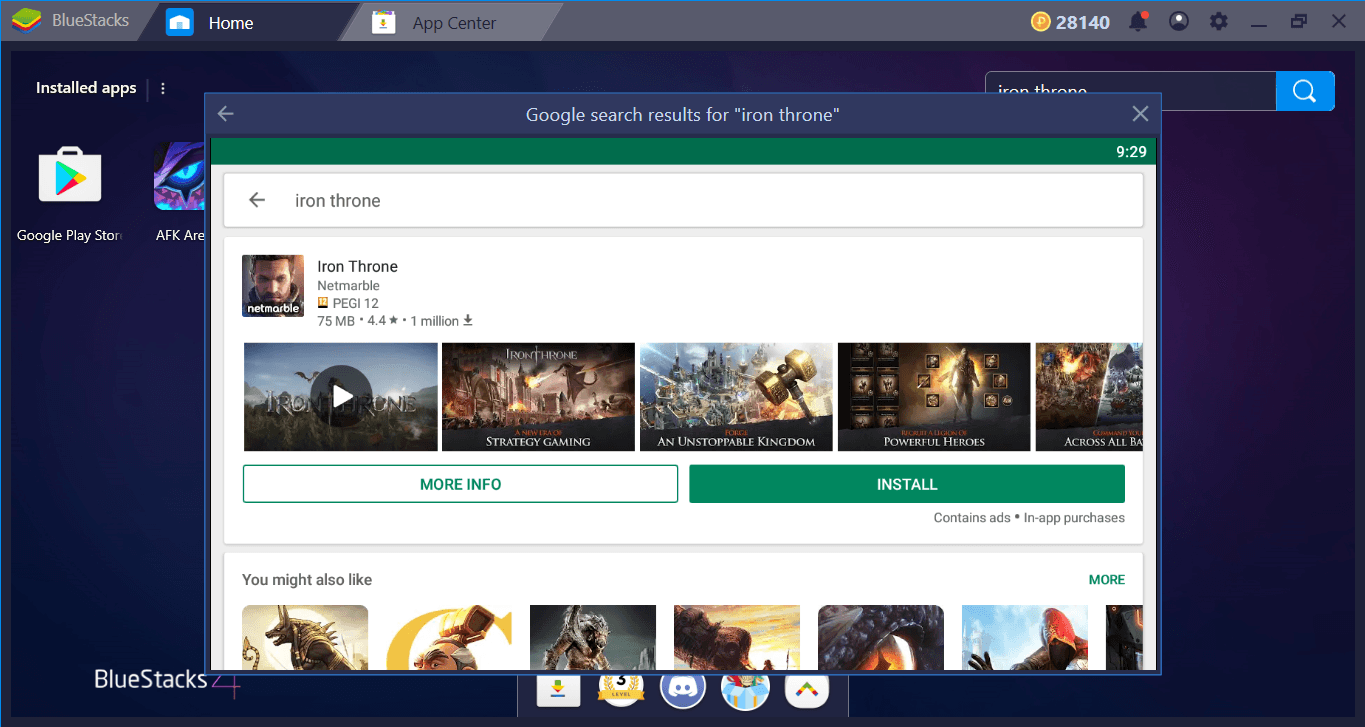 Click on install. This will be a short download, the APK file is only 75 MB big.

And here is the notification – Iron Throne is ready to play.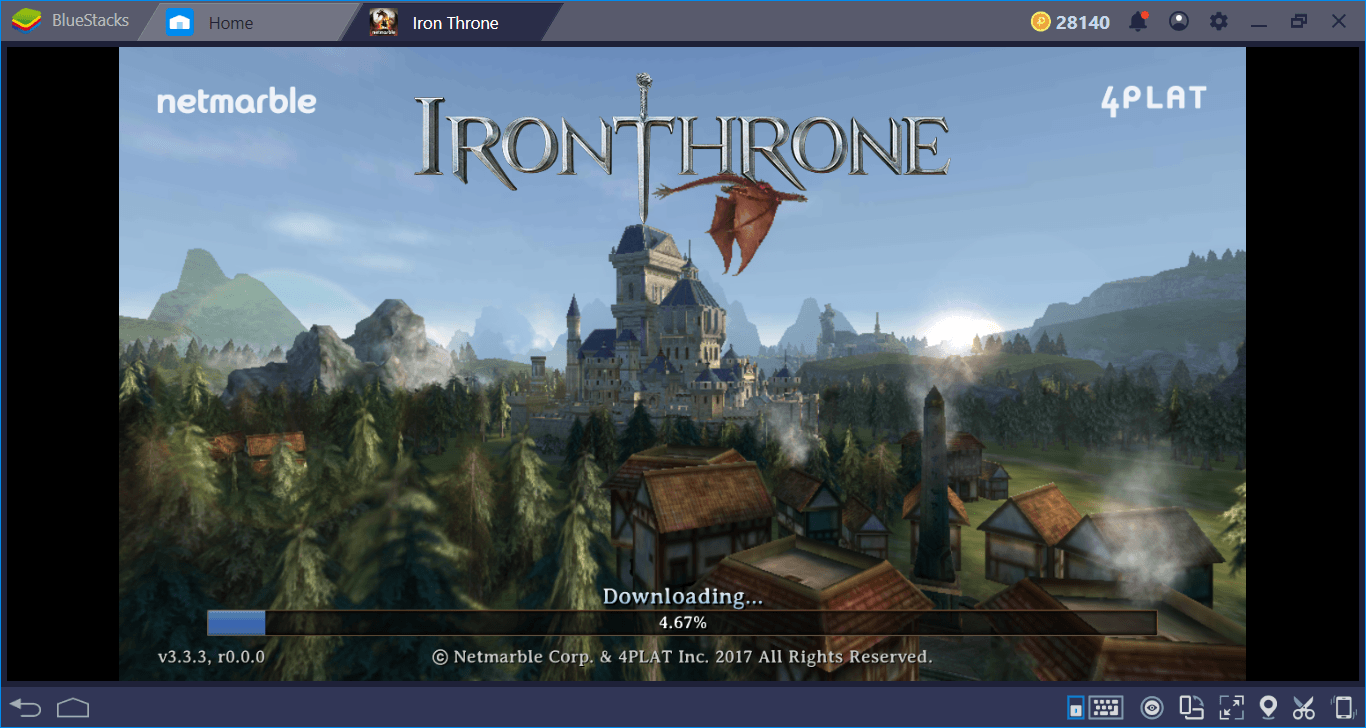 After launching the game, it will make an additional download, which is around 650 MB. Once it is done, we can start our adventure.
Configuring The Iron Throne Controls
By default, BlueStacks only offers keyboard keys for controlling the "zoom in/out" function. There is a very simple reason for that: You don't need to use any other keyboard buttons. Iron Throne, like any other mobile conquest game, can be played with your mouse from start to finish. There is no need to use the keyboard at all. However, you can still assign some keys to basic buttons on the interface, if needed. To do so, open the Advanced Keymap Tool, and drag some tap spots on top of menu buttons.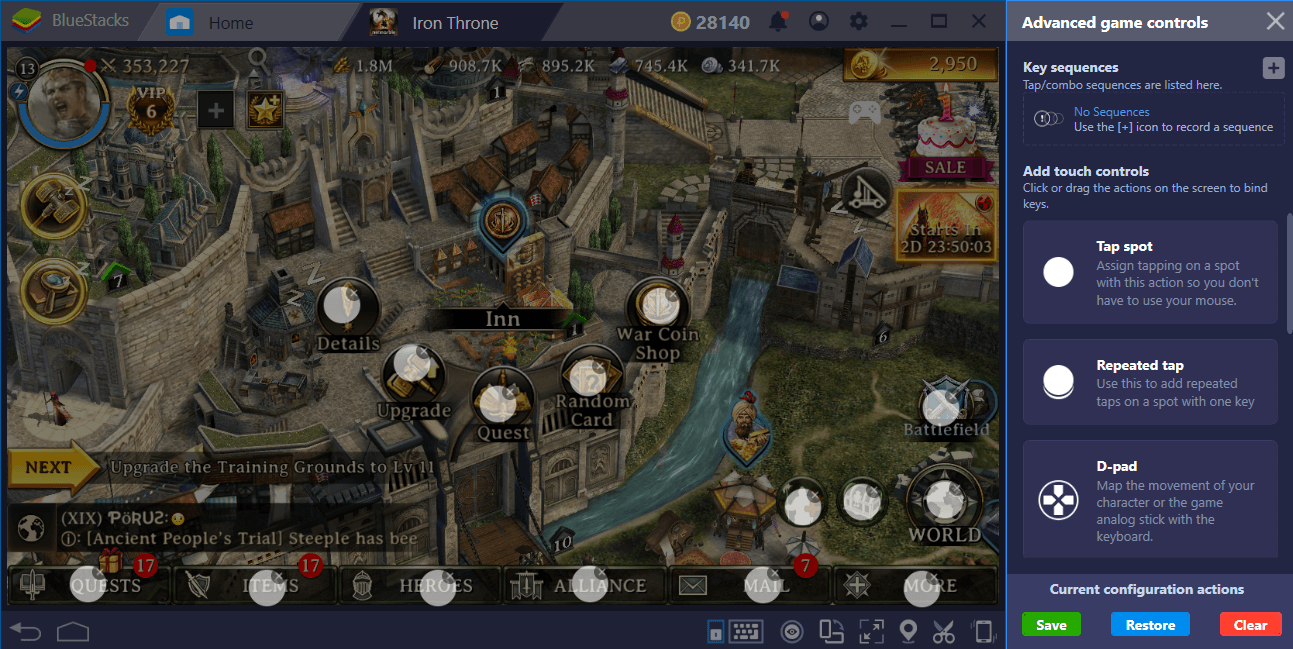 You can see the tap spots in this screenshot. You can assign a key to each tap spot and press that key to activate the associated feature, if needed. However, playing the game with your mouse is much more practical, if you ask us.
Creating A Combo Key For Monster Hunt
Iron Throne is filled with features you can automatize, and Monster Hunt is the best example of that. As you already know from our other Iron Throne guides, the world map is filled with monsters – you can attack them more than once and get awarded each time. These monsters always spawn at the same point (until they die for good) and the things you do for attacking them are always the same: So, why don't we create a Combo Key for it? By doing so, we can save ourselves dozens of clicks and use this feature multiple times, each time with a single keystroke. Let's see how we can do that.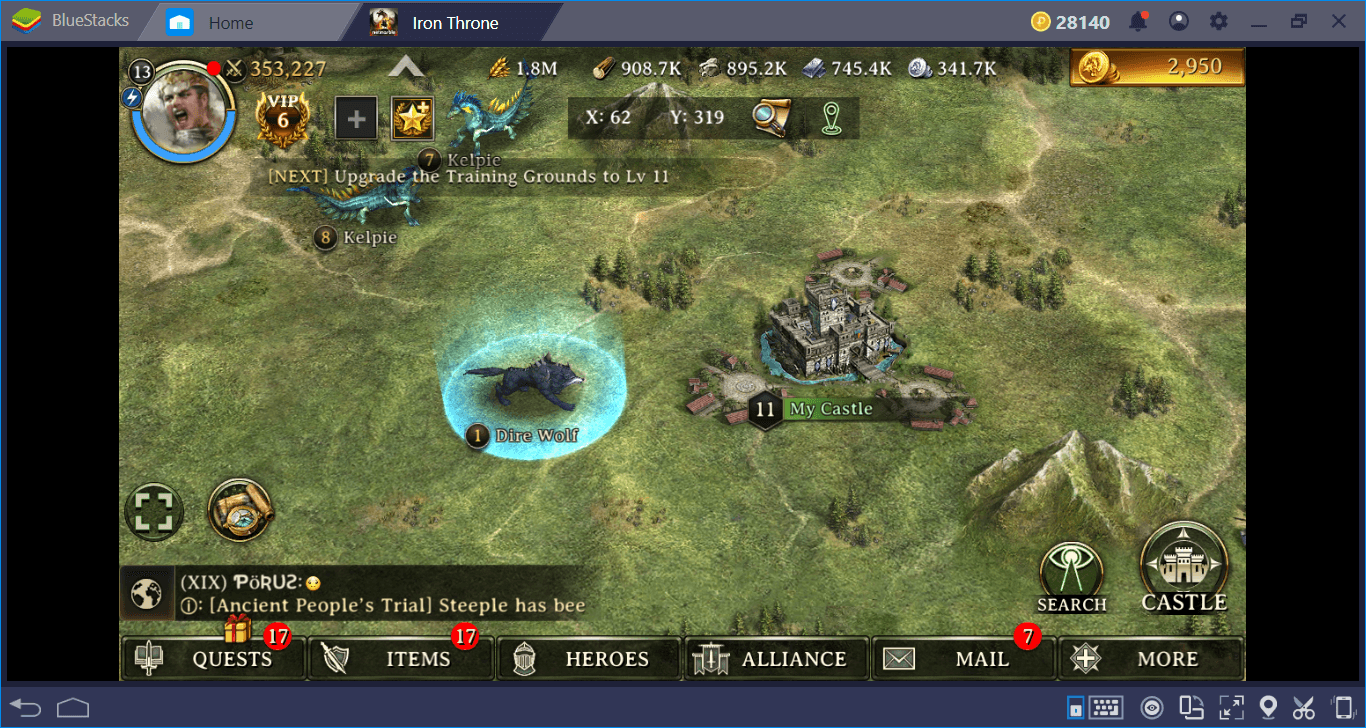 Here is the monster – we will be attacking a Dire Wolf this time.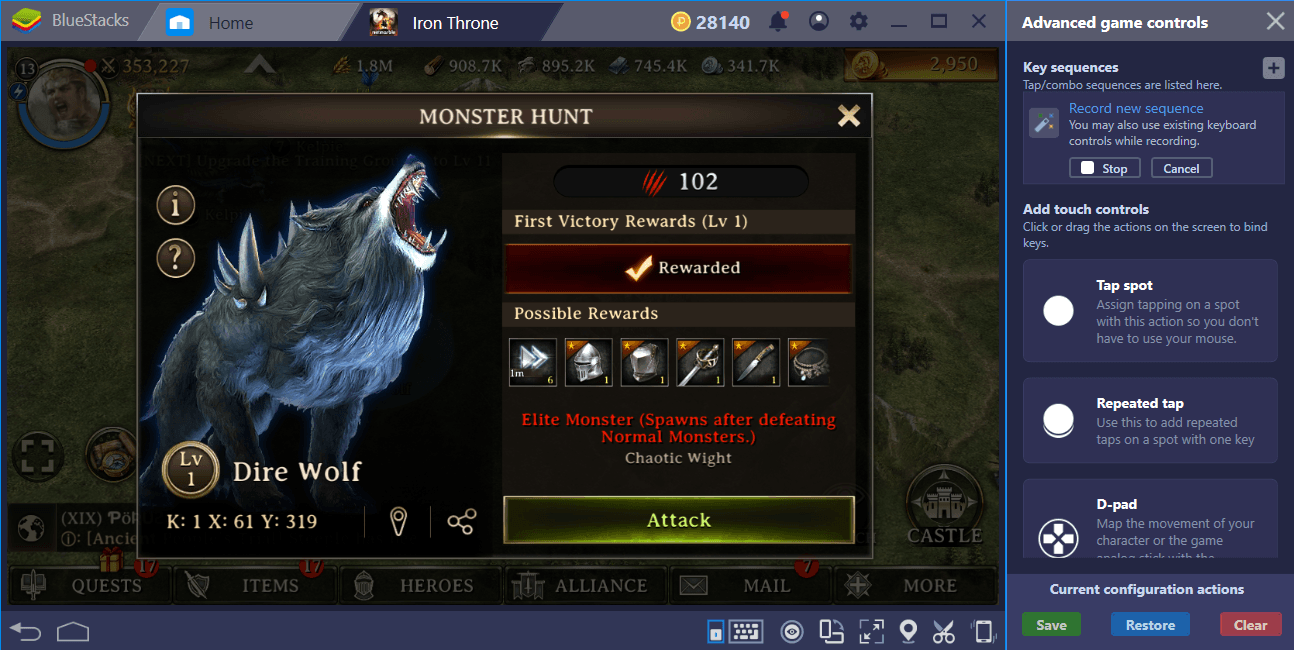 Start the recording, and start the attack.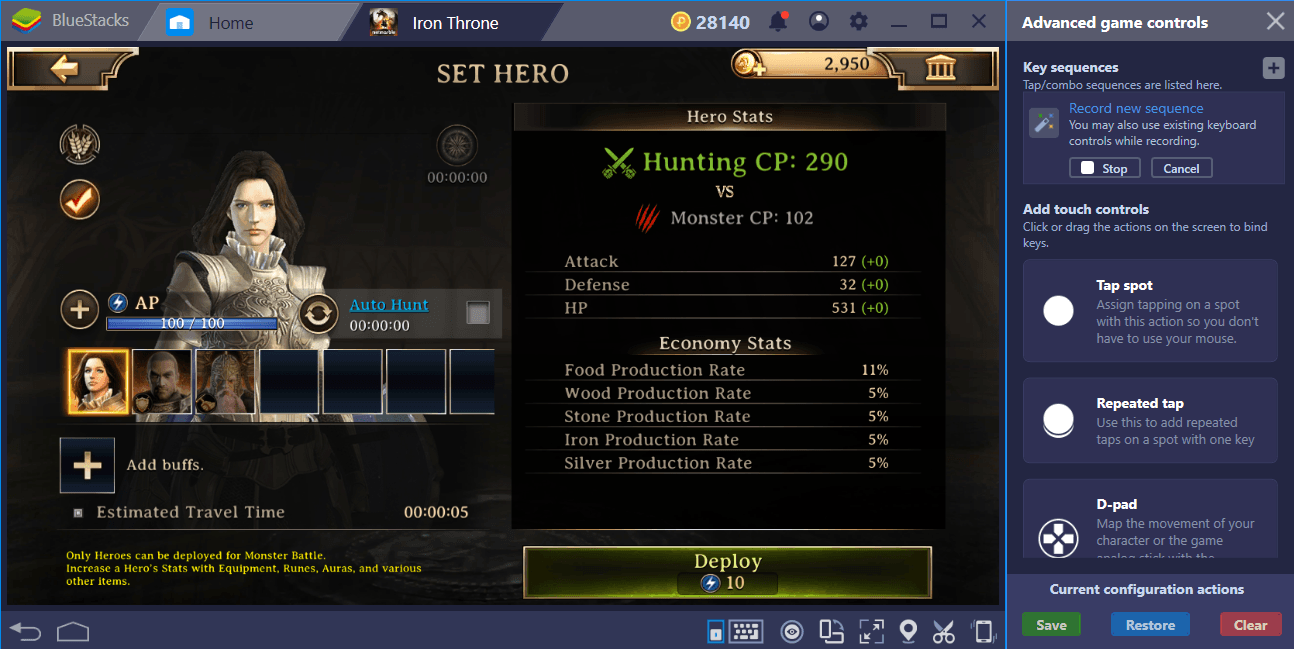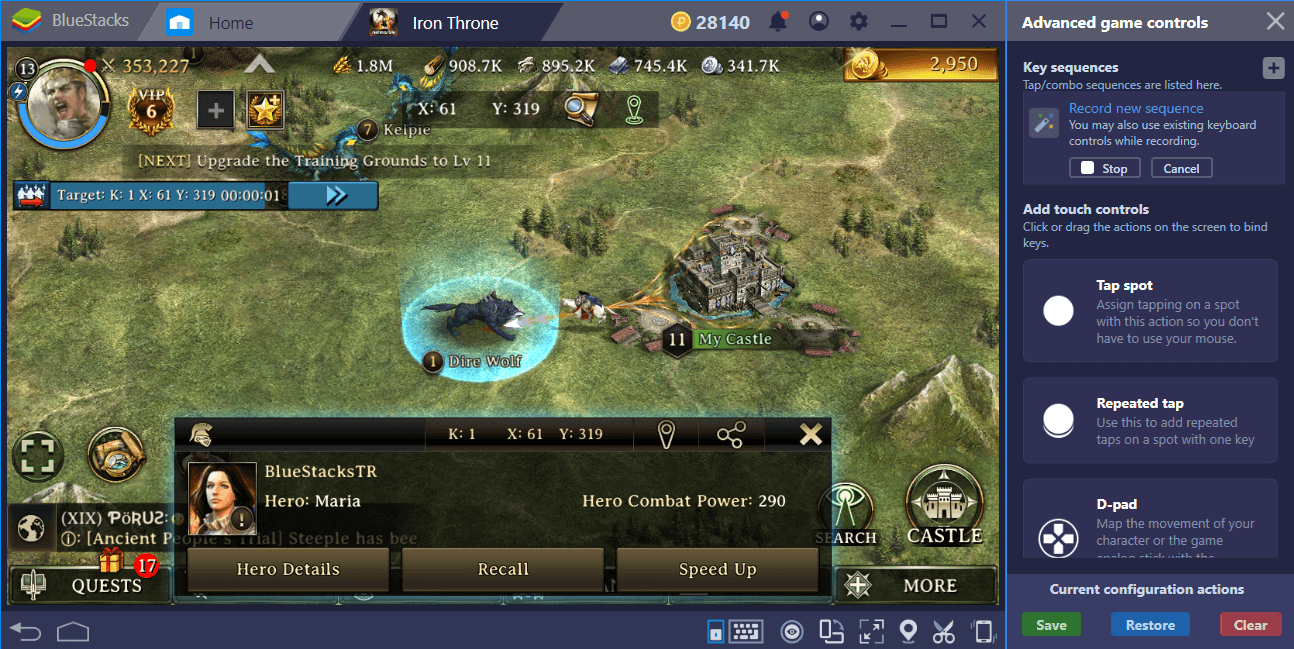 Selecting a hero, adding buffs, deploying your army – all are part of our recording and we need to do them only once.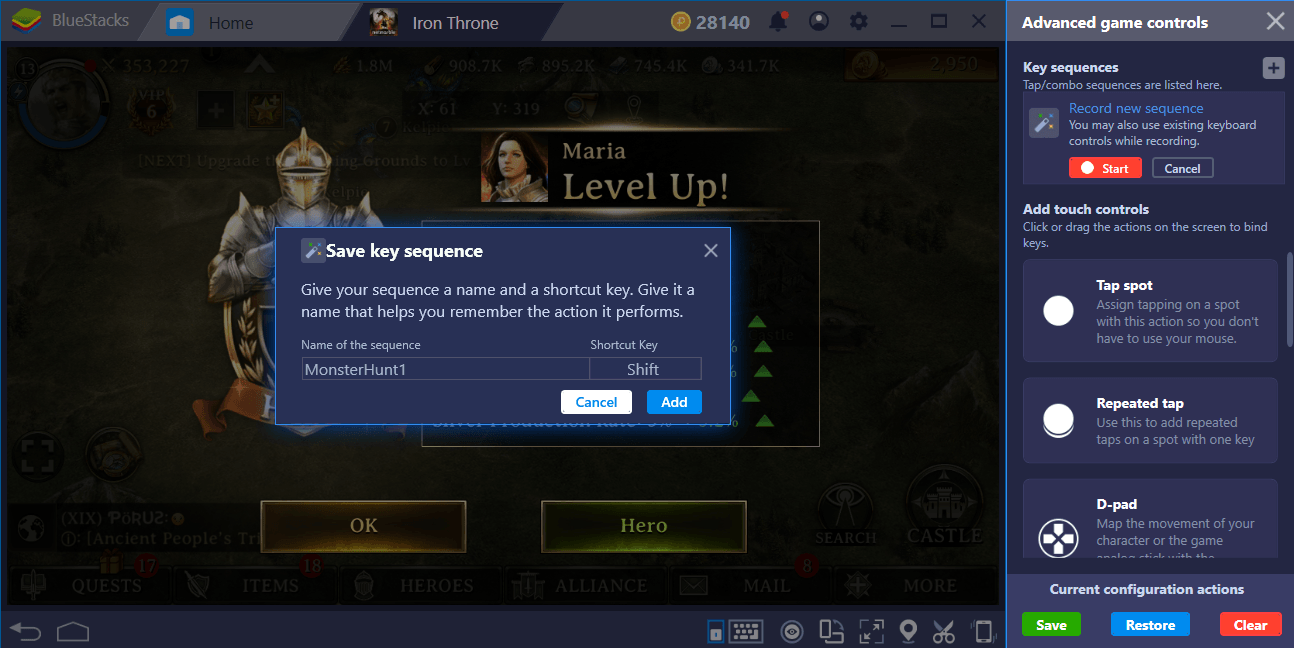 And here is the result: Our hero leveled up and ready to repeat this fight as much as necessary. Assign a shortcut to this recording to repeat it in the future.
Becoming A One Man Army With The Farm Mode
Alliances are very important in the Iron Throne, as they offer you multiple buffs and bonuses that will reduce the construction time and increase the size of your army. You even get to use a special store and do exclusive research when you join an Alliance.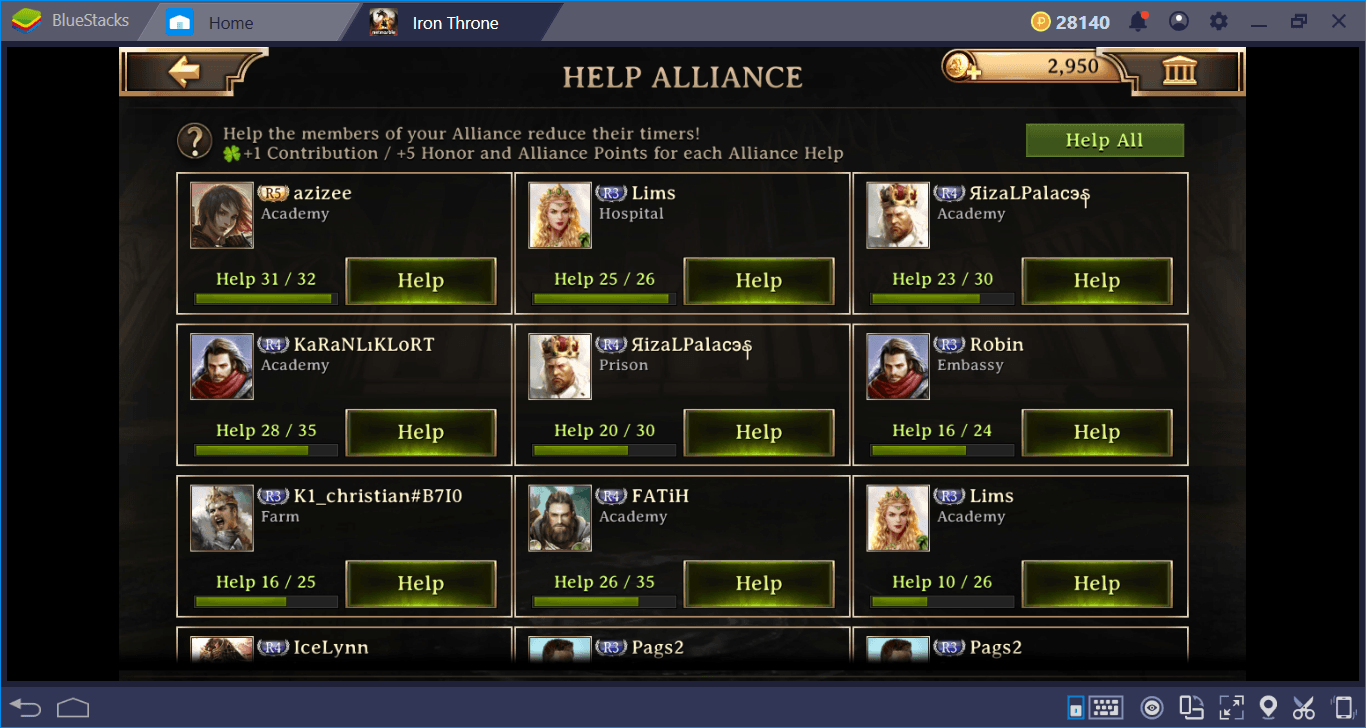 You can reduce the construction time of other Alliance members and ask for the same thing.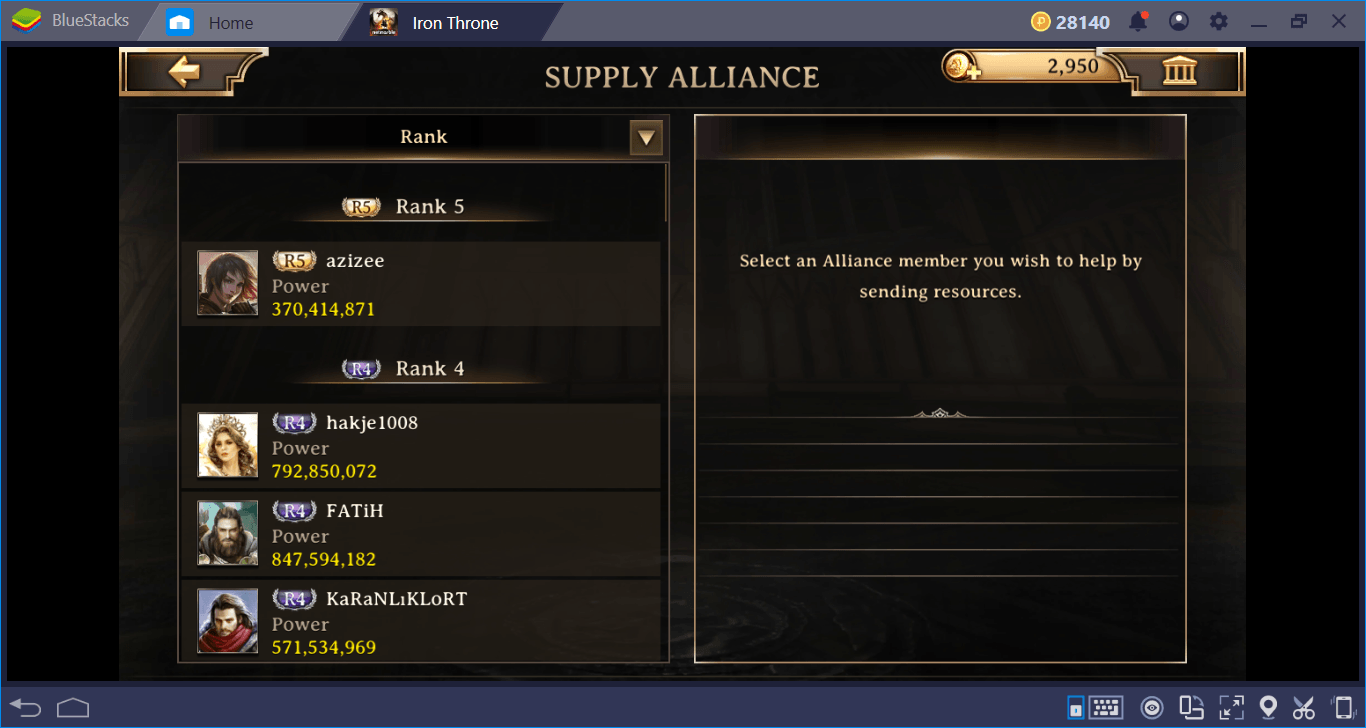 And Alliance members can exchange resources between each other.
With the Farm Mode of BlueStacks, you don't need "real people" in order to do all of these: You can create your own Alliance, fill it with your other accounts, and become a one-man army, literally. Use one of your accounts only for resource production and another just for troop training. And exchange these resources with your main account, any time you want.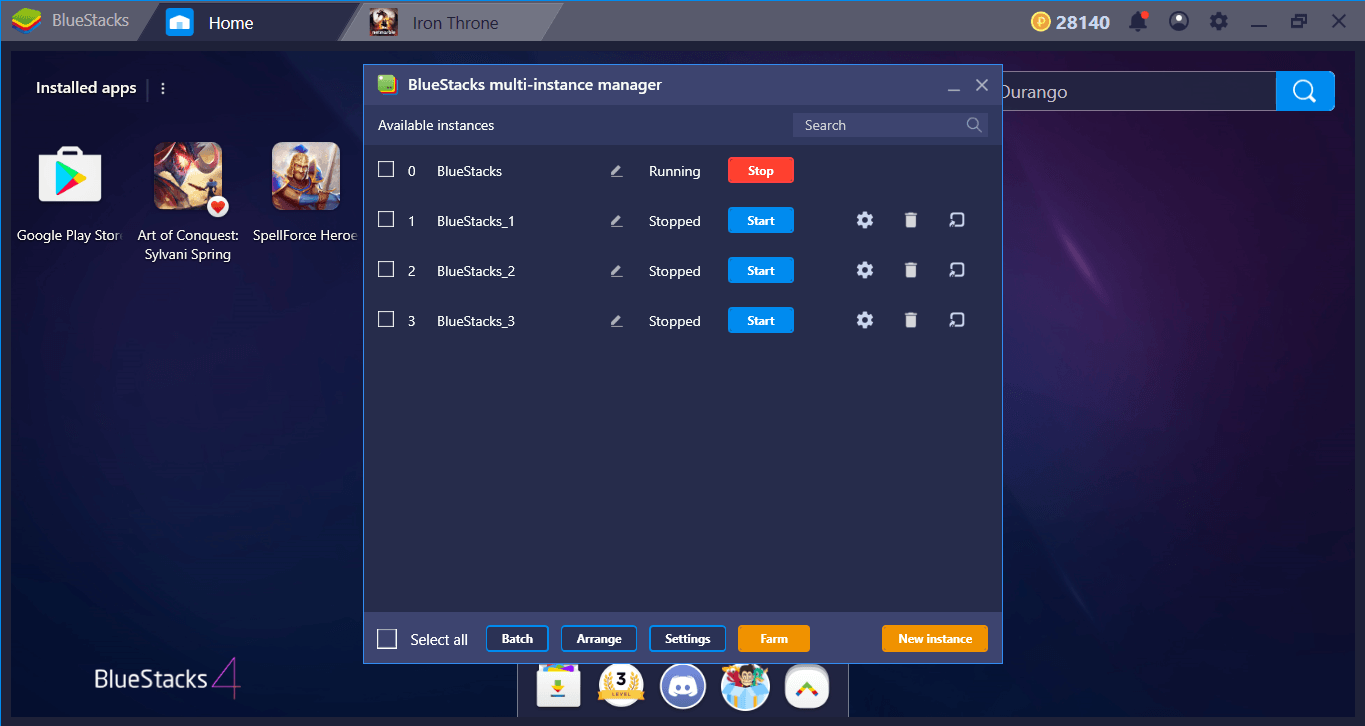 You can create as many Farm instances as necessary. This feature uses very little computer resources, so it is even possible to create dozens of accounts. Read our Farm Mode articles to learn more about this feature.
And now, you are ready to start playing Iron Throne and celebrate its 1-year anniversary. Read our article about the 1-year events to get a head start and take a look at our other Iron Throne guides to learn more about the game: May you be victorious in these wild lands, my lord!