Game Guides
How to Play Magnum Quest on PC with BlueStacks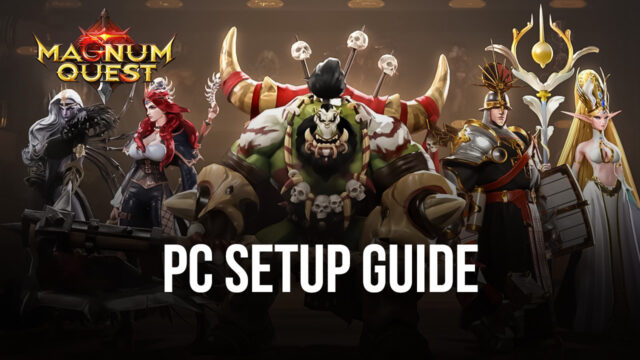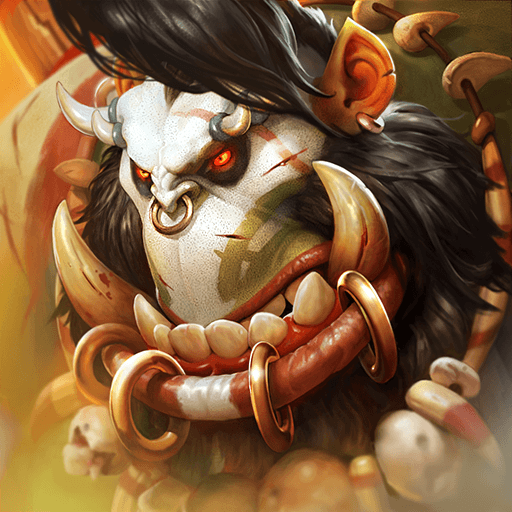 Magnum Quest is a great idle RPG title that has a vast collection of beautiful characters, intensive story, and mind-blowing animation that will leave you immersed in its gameplay for hours. Despite being an Idle RPG, this game may even entice you to play the game actively indefinitely until you either run out of juice or all of the game modes become too overleveled for your character. It offers so much, considering its simplicity; a common characteristic in this genre.
The main selling point of Magnum Quest is how beautiful the game looks and runs. Unlike a lot of other idle RPGs that look like they put minimum effort into designing the game, Magnum Quest has an intricate gameplay design that blows away the competition. Players that are fans of other idle games will surely appreciate the amount of time and effort that the company took to deliver something unique from one of the most common genres in the industry.
How To Set Up Magnum Quest on BlueStacks
Idle RPGs like Magnum Quest waste a lot of potential when played on the mobile platform because of all the limitations that such a humble device comes with. If you want to enjoy Magnum Quest to the fullest and potentially compete with the more serious players, you might find yourself wanting a place that has everything you need. That place is BlueStacks, the best Android emulator on the market made specifically for games like these!
Download and install BlueStacks

on your PC.

Complete Google Sign-in to access the Play Store, or do it later.

Look for Magnum Quest in the search bar at the top-right corner of the Game Center or at the Google Playstore.

Click to install Magnum Quest from the search results.

Complete Google Sign-in (if you skipped step 2) to install Magnum Quest.

Click the Magnum Quest icon on the home screen to start playing.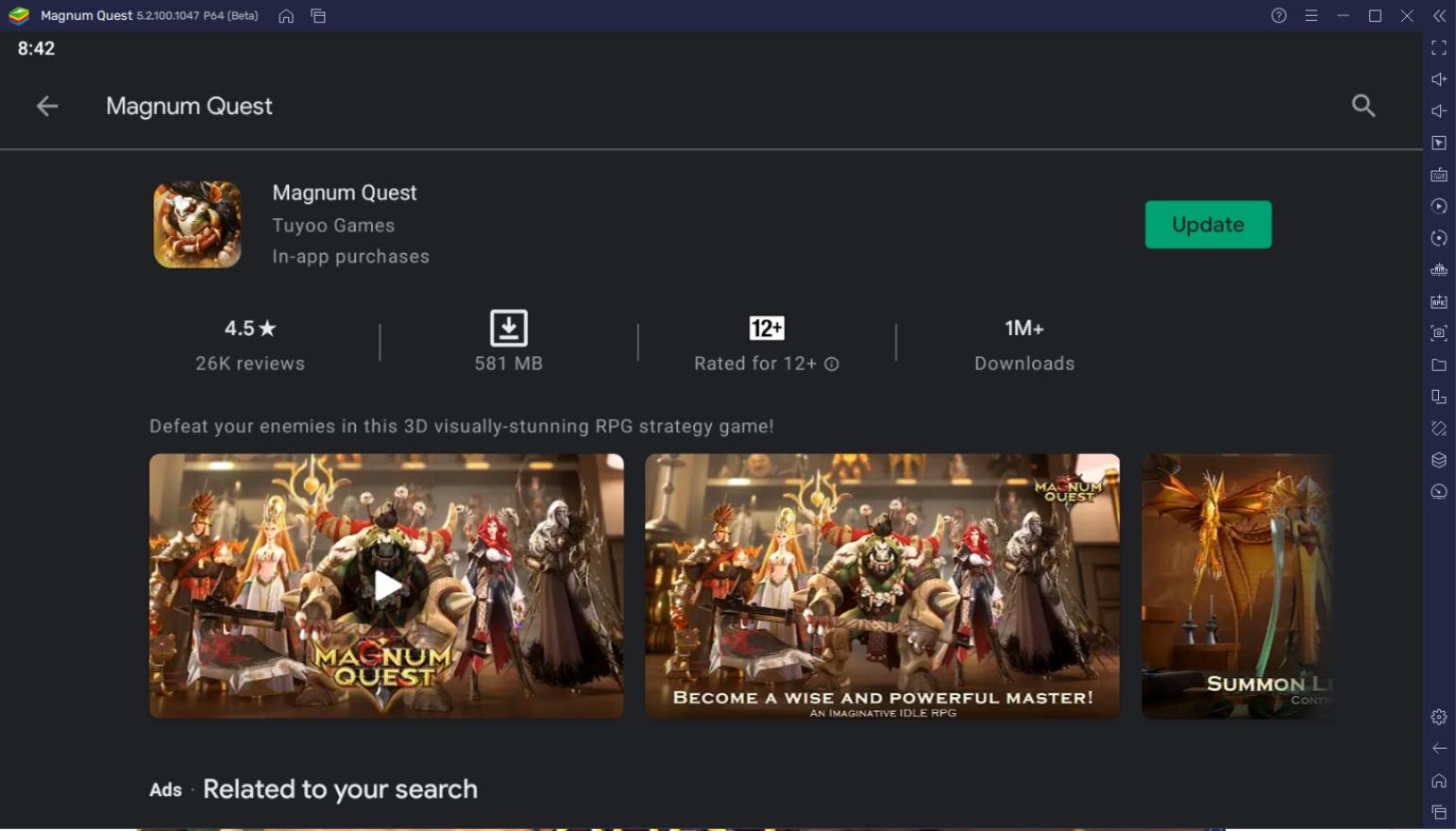 Useful Features When Playing Magnum Quest
BlueStacks was created for the sole purpose of giving players a better gameplay experience when playing their favorite Android games. It is for this exact purpose that the platform has a ton of useful features that aren't available on any Android device, utilizing the power of your computer to make sure that you have everything you need to stay ahead of the competition. Here are some of the features that you might enjoy when playing Magnum Quest on BlueStacks:
The Multi-Instance Function is a feature that players like to take advantage of because of its versatility. This function allows players to open two or more BlueStacks platforms at the same time so that they can play multiple Android games at once. Having multiple platforms open is quite useful in most games – especially if you are looking to grind the game hardcore – by creating multiple accounts on a single game without needing to buy multiple smartphones.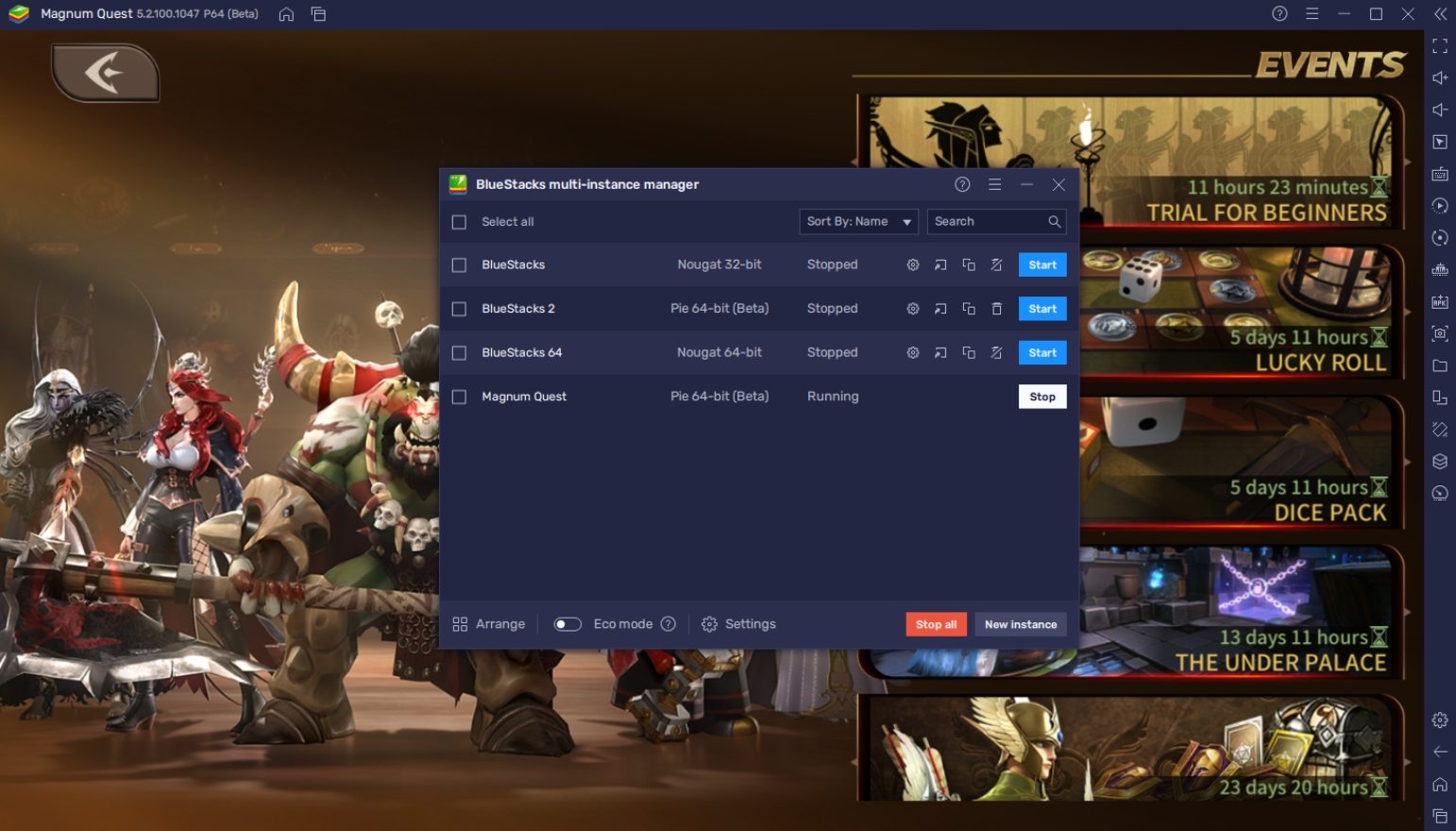 Magnum Quest is an idle game, so there isn't a lot a player can do while the game is running by itself most of the time. With this function on hand, the player can play other games aside from Magnum Quest on the side so that they're not left watching idle animation, rather, they can play another action-packed game on the side. Another great way to use this function is by using it for Multi-Instance Rerolling so that players can start the game with the best possible units at their side.
The Macro Feature is the platform's way to create a customized auto-play function that most mobile players have been longing for. Magnum Quest may have an auto-combat system, but that still leaves the player with a lot of other manual tasks that eventually prove to be tedious. That's why being able to create your own commands can be a real life-saver and improve a player's overall experience when playing the game without getting burnt out from the grind.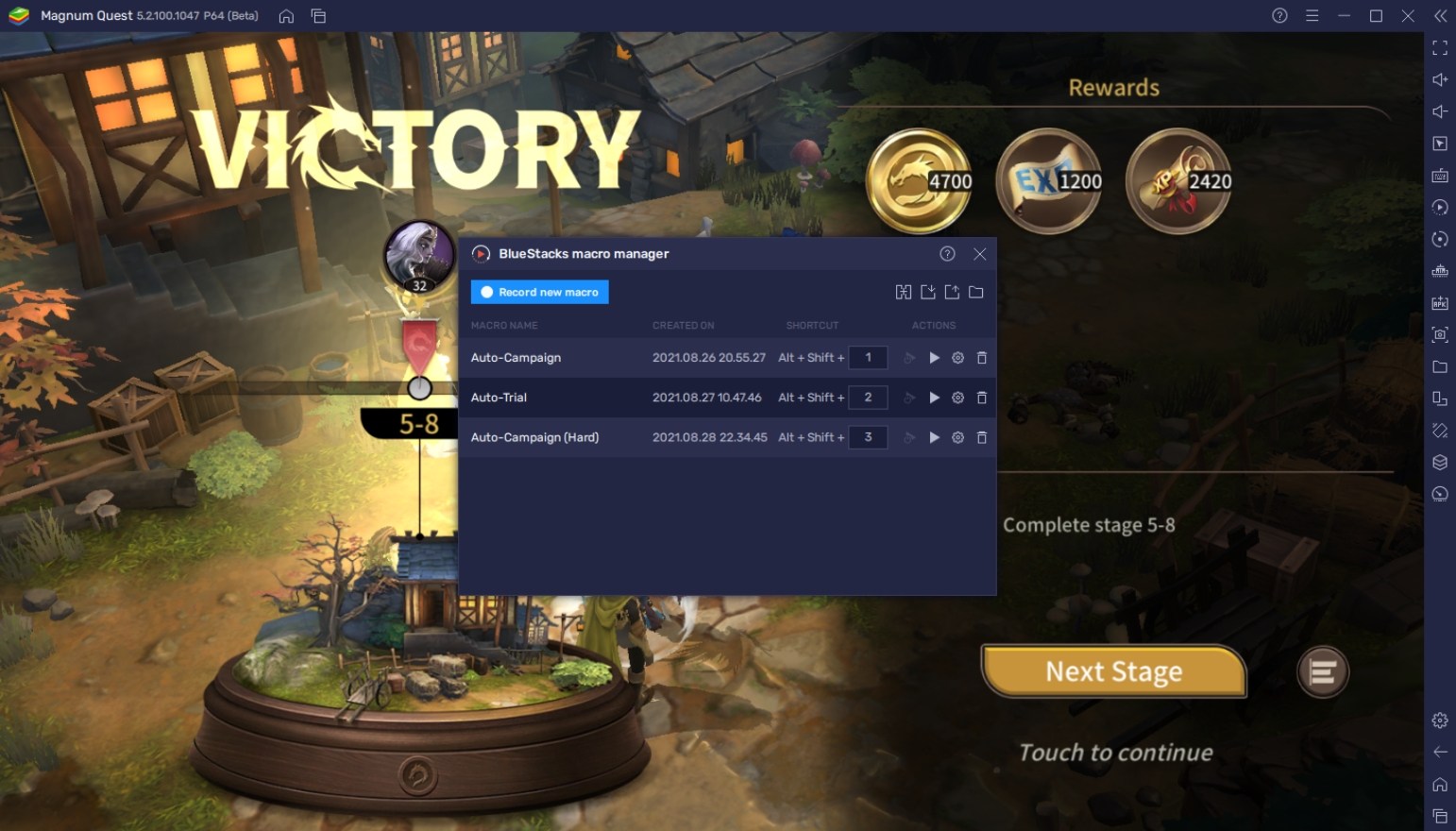 Magnum Quest has a lot of features that will benefit greatly from the Macro Feature. For example, having an auto-collect macro ensures that the player never misses out on collecting idle rewards in this game. Being able to click next automatically during the campaign also makes it so that you can still play a major part of the game without being distracted from whatever you're doing in real life.
The Eco Mode is the perfect combination for both the Macro and Multi-Instance Features. Every computer has its limits, with mid to lower tier PCs having a lower overall performance capacity. When that happens, you shouldn't lose hope because this function allows you to cut down processing from your games in BlueStacks when not in use. This way, you can accomplish more as you play.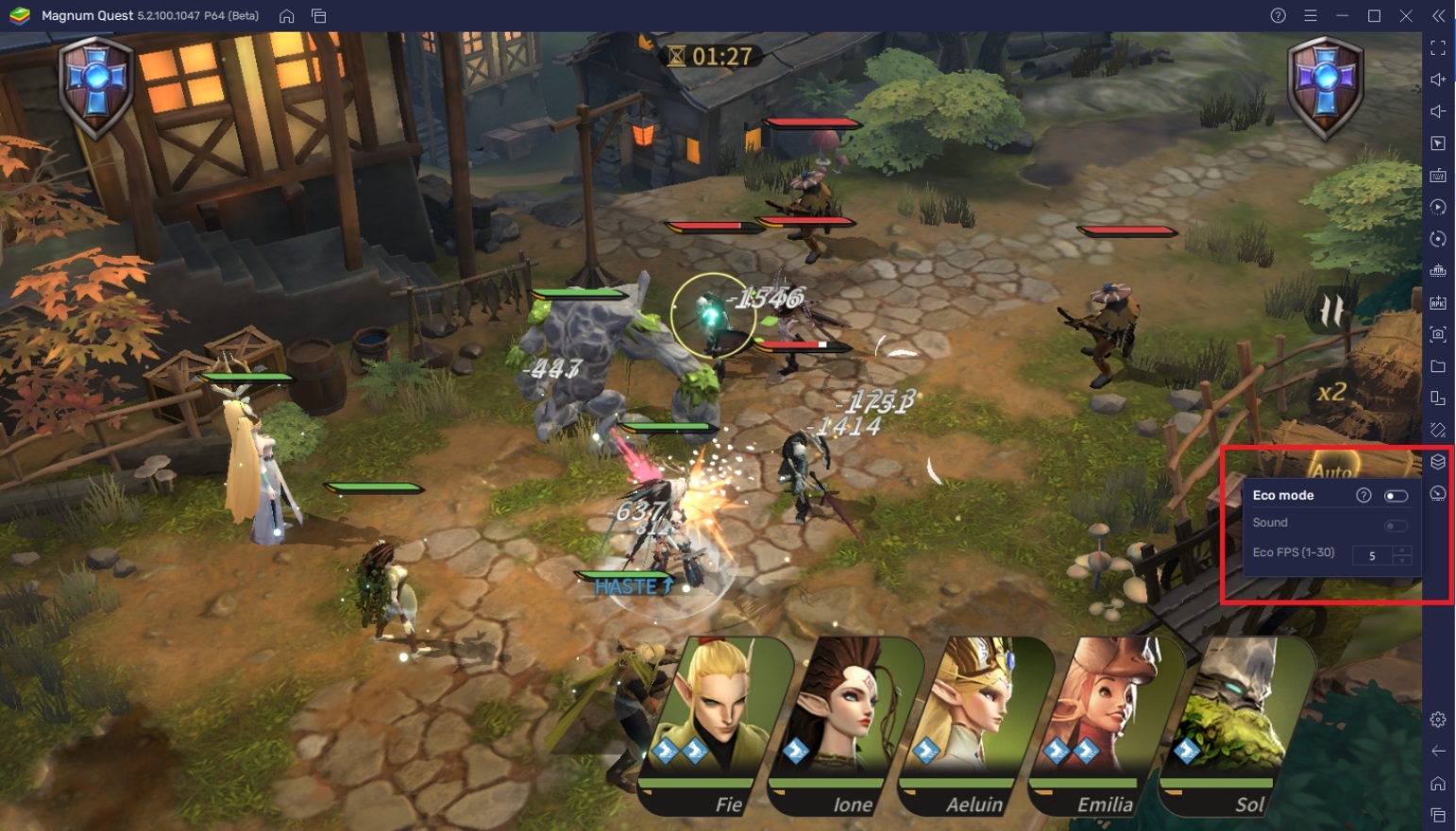 Magnum Quest is entirely an idle game, so the player is not required to give their full attention when playing. However, it does promote that the player stays online for a prolonged period of time so that they can earn rewards. This is where the Eco Mode benefits the player without having to consume too much energy. The planet might even thank you for using this function as often as you can.
Begin Your Grand Adventure in Magnum Quest
Magnum Quest is one of those games that you fall in love with the moment you spend at least five minutes playing it. There are so many things that players can do once they begin their adventure, so we're not kidding when we tell you that you'll be playing this game for hours on end. Players might expect a bit of a learning curve when starting the game, so follow us here at BlueStacks for everything there is to know about the game.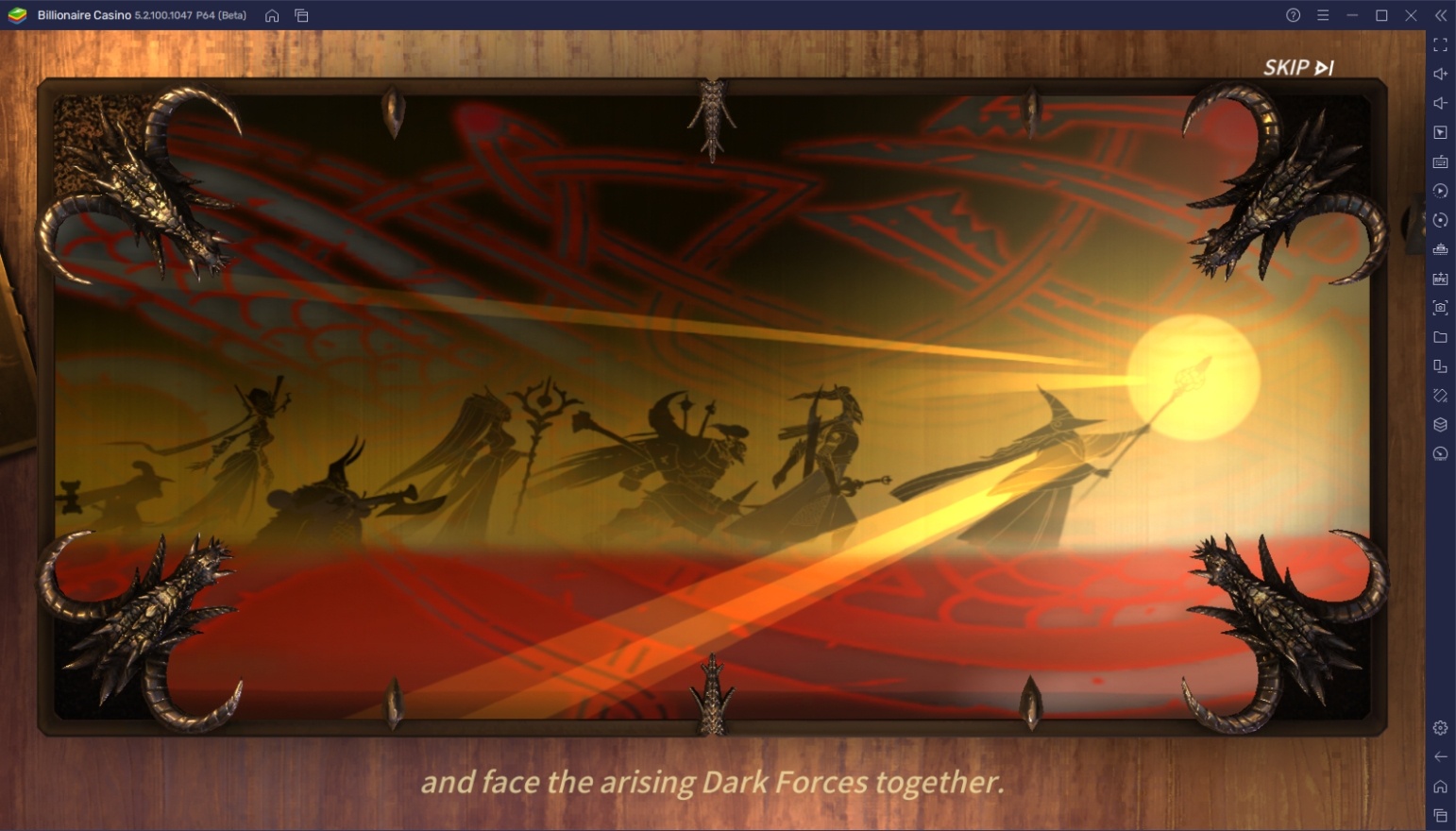 Idle RPGs are often seen as the most boring game genre, but Magnum Quest has revolutionized the way they are played. If you used to dislike the idea of playing idle RPGs, this is definitely a good game for you to try. Who knows, it might change your mind about them for the rest of your life!