Game Guides
Beginner's Guide For Princess Connect! Re:Dive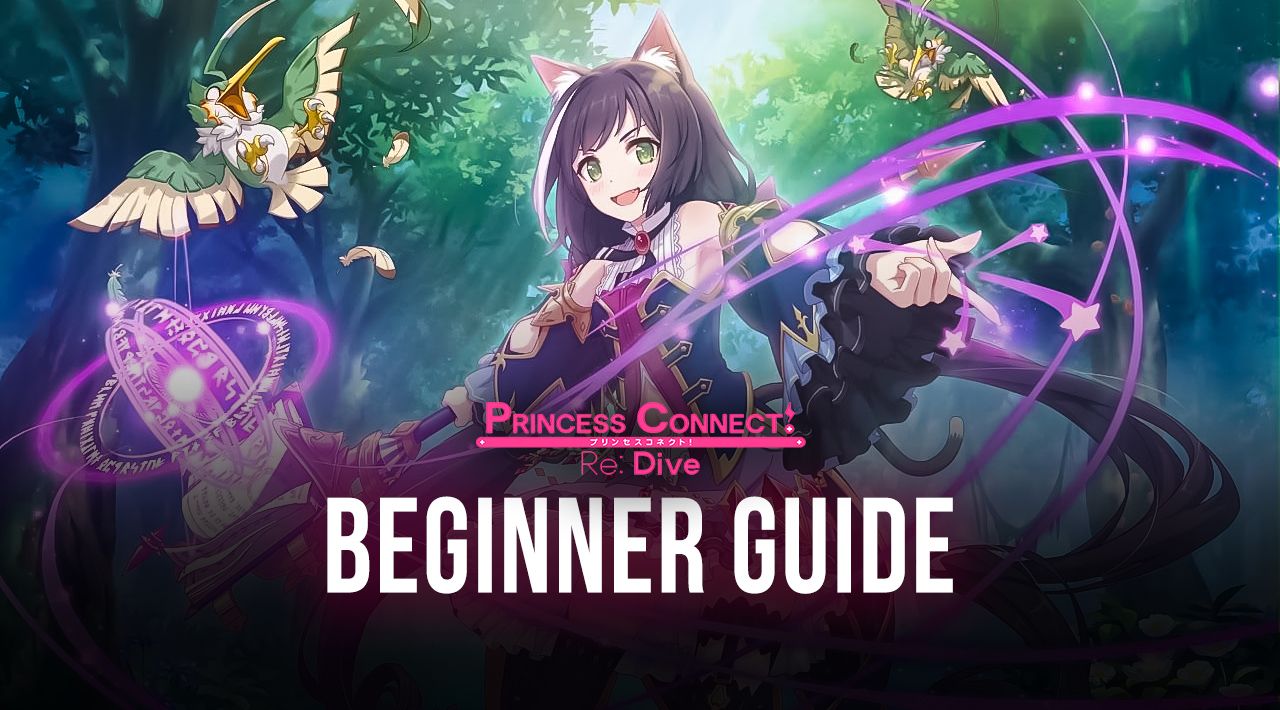 Princess Connect! Re:Dive is live on the Global servers, and we'll bet you want to make the most out of its release by trying to get ahead of the competition. The game uses the most traditional concepts that most gacha games use, but for players that aren't too familiar with how these games work, it might seem like a lot of complicated things that need to be learned. Luckily, there are only a few essential things that new players need to keep in mind, which will be mentioned in this beginner's guide.
Gacha games have become one of the most popular game genres on the mobile platform since they give players the thrill of getting rare units. Even though the entire concept of gacha games might seem unfair to players that aren't willing to spend real money, Priconne offers all of its players the chance to be competitive, regardless of how much they spent. All you need to do is learn about the basic factors of the game that will prove useful in overtaking your competitors.
Spend Your Energy
On the early levels of Priconne, players might wonder why the maximum energy pool looks really low. Don't worry too much about your max energy since it scales quite quickly as your account levels up. As a beginner, the game will shower you with energy overflow that will last you at least a few hours of continuous gameplay, so don't be afraid to spend your energy by farming all the equipment you need to rank up your characters.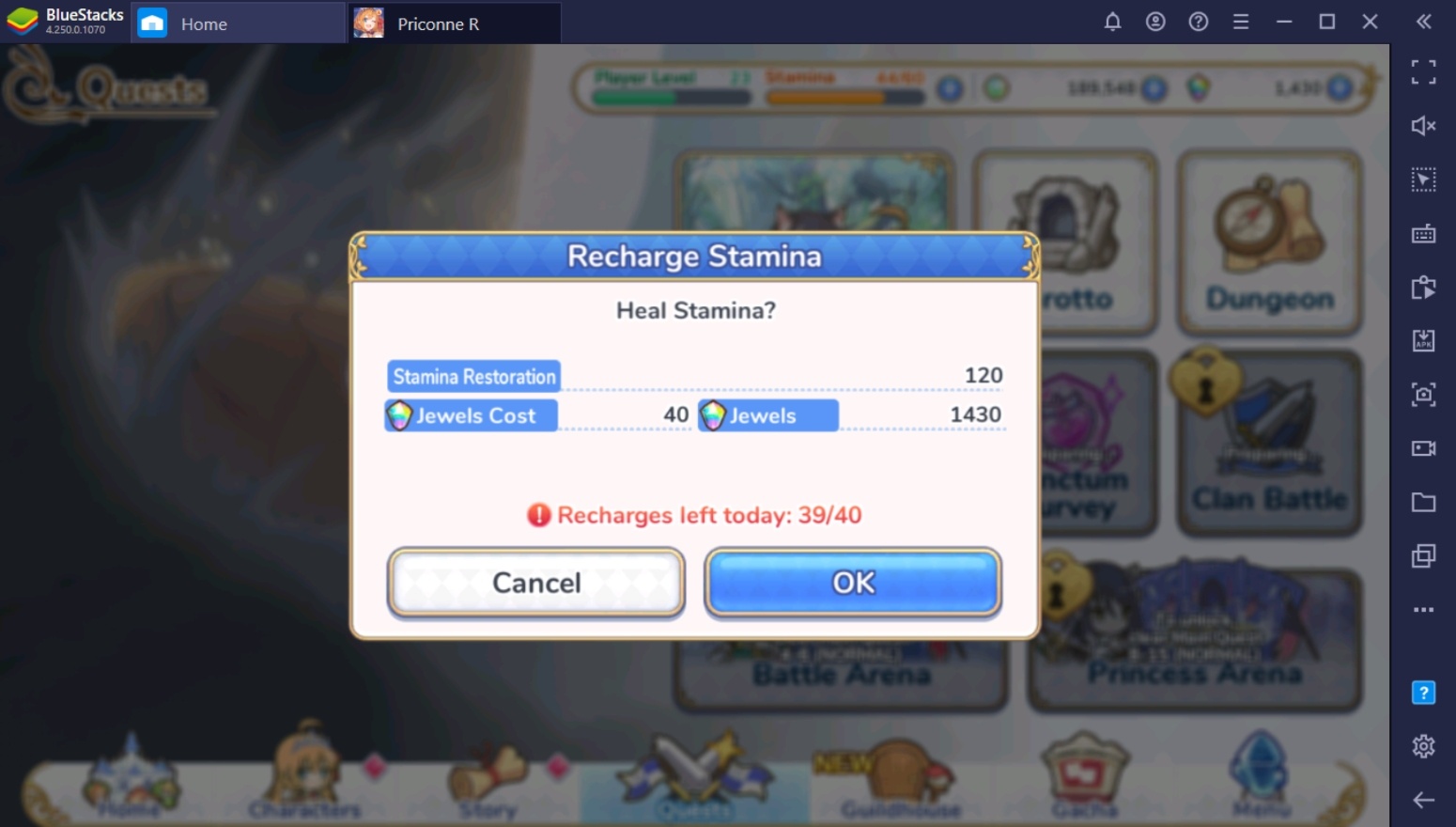 Players will experience an almost endless overflow of energy initially, but that'll slow down eventually. That's actually a good thing because if you drain your energy below the maximum capacity, you can start earning energy again through the refill system. Each moment you spend with overflowed energy is wasteful since you're not allowing your account to refill its energy. As long as you spend the overflow energy on useful stuff like Grottos or farming your gear, you don't have to be afraid of reaching 0 energy.
Upgrade All Of Your Characters
A misconception that players often have is that they shouldn't rank up a character since those characters aren't part of their final team yet. To progress through the story and earn gems that'll be used to recruit the characters you need, you'll want a strong team. A lot of your starting units are rated S-tier and above, so don't worry about using your EXP Potions or Gear on those units.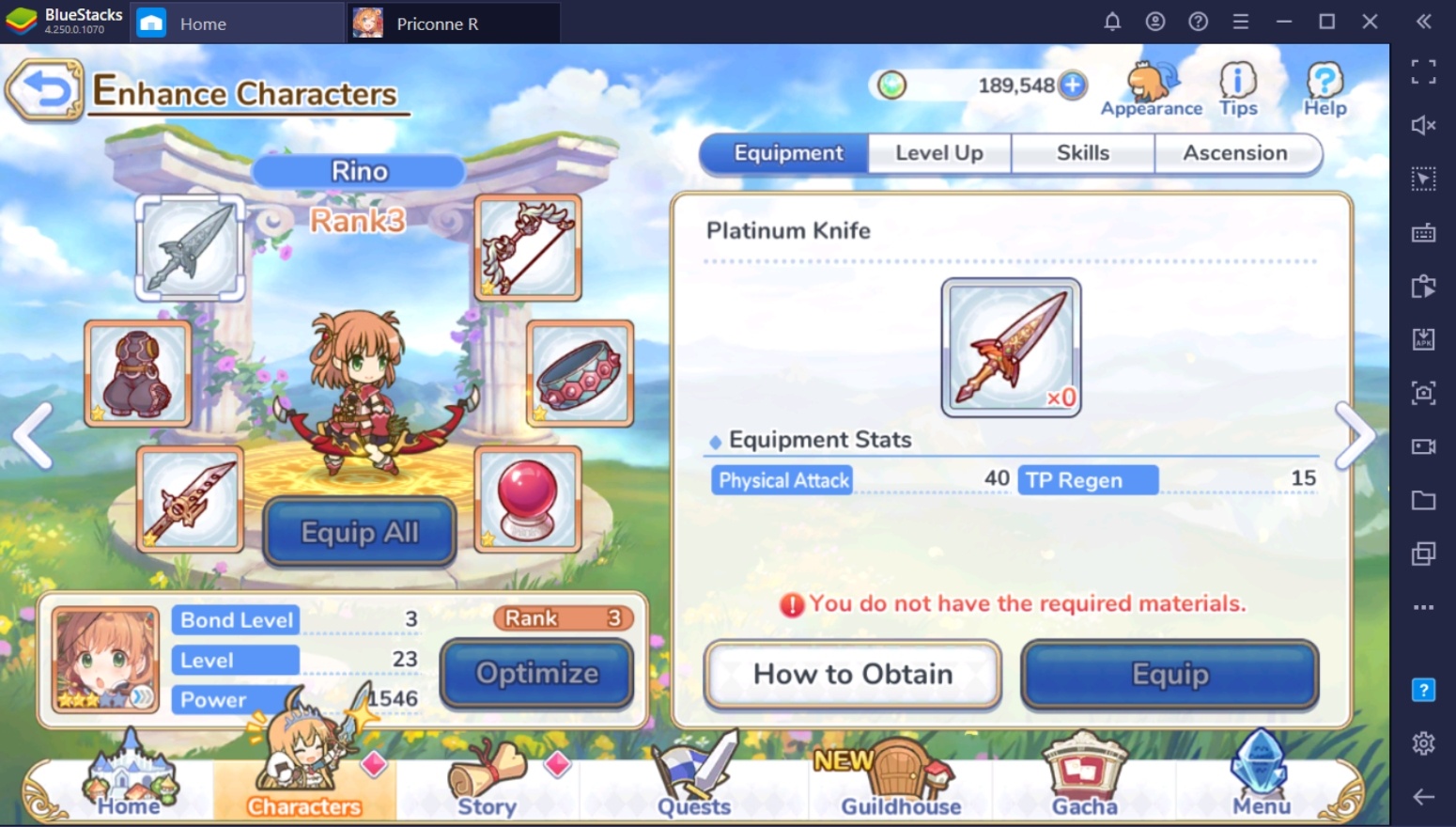 Ranking Up secondary characters that aren't part of your main team also has its benefits. The Dungeon is a game mode that makes use of ALL your characters and not just your main team. This means that you'll really need to upgrade at least 10 of your characters to get some decent rewards in this mode and maximize your overall account strength. It's also a good idea to play around your team composition when you're having difficulty on a Stage or PvP opponent.
Save Your Gems & Spend Your Gems
Save your gems by not blindly pulling one at a time in the Gacha Banner. Wait until you have 1500 gems and go for the 10-summon to get a guaranteed 2-star or above character. It can feel like forever when you're saving up gems, but we assure you it's gonna be worth the wait. Some people report that they have better luck when pulling one at a time, but if you're not the superstitious type, it's best you stick to what's been guaranteed.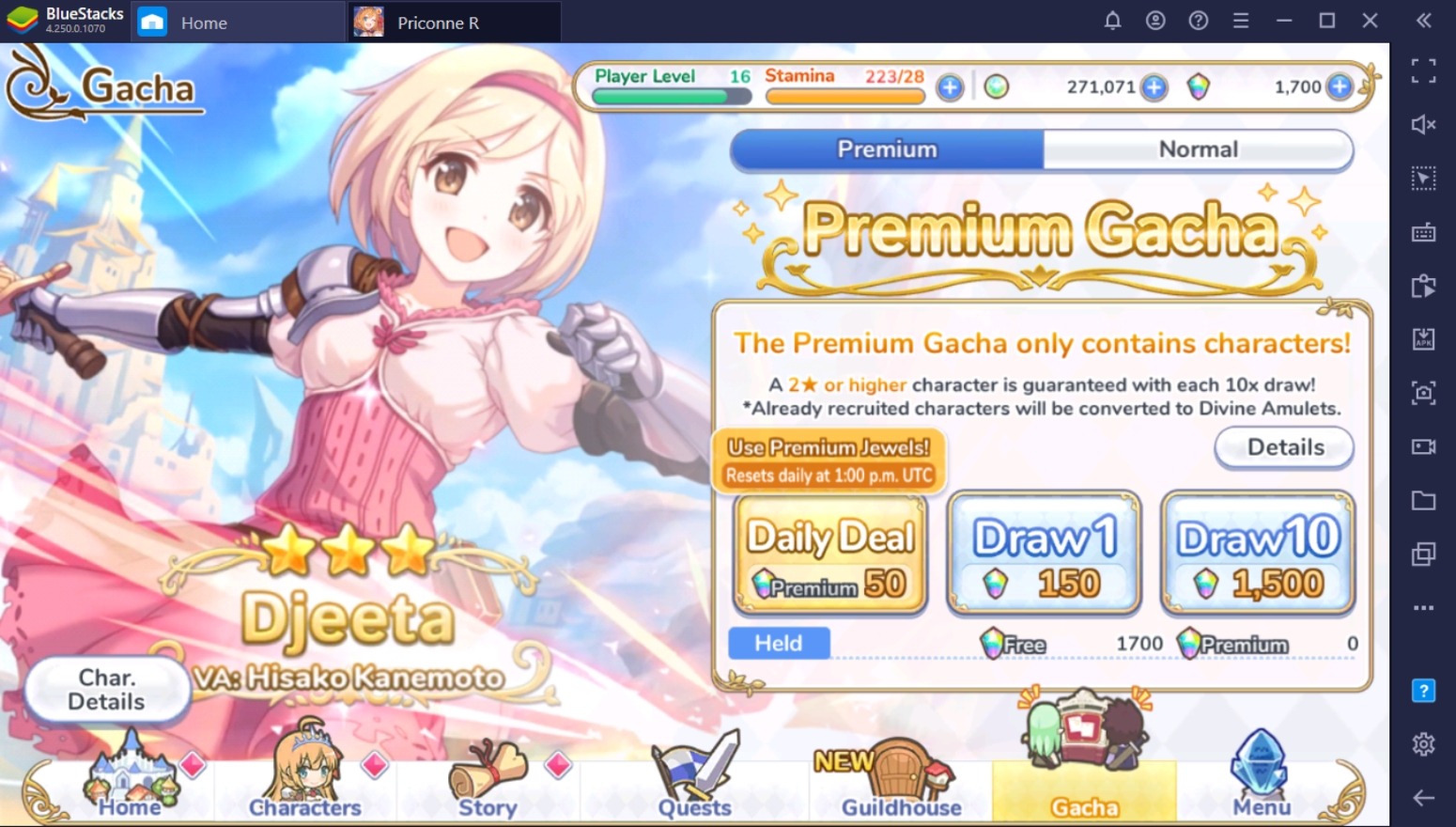 Next up – SPEND YOUR GEMS. There are people that like to hold on to their gems as if hanging on to dear life, saying that they're waiting for the next banner. Before you save up for a future banner, make sure you have a strong team available first. Go summon some decent characters so that you can play the game like how you're supposed to. Furthermore, spend your gems on other stuff like buying more Energy. It'll help you a lot, trust us.
Push Through The Quests
As mentioned before, spend your energy as soon as possible. Completing Quest Stages unlock different features in the game like the Grotto, Guildhouse, Clans, PvP Arenas, and more. Of course, it isn't easy as it sounds since the enemies get real strong before you know it, and there will be a point where it's almost impossible to proceed.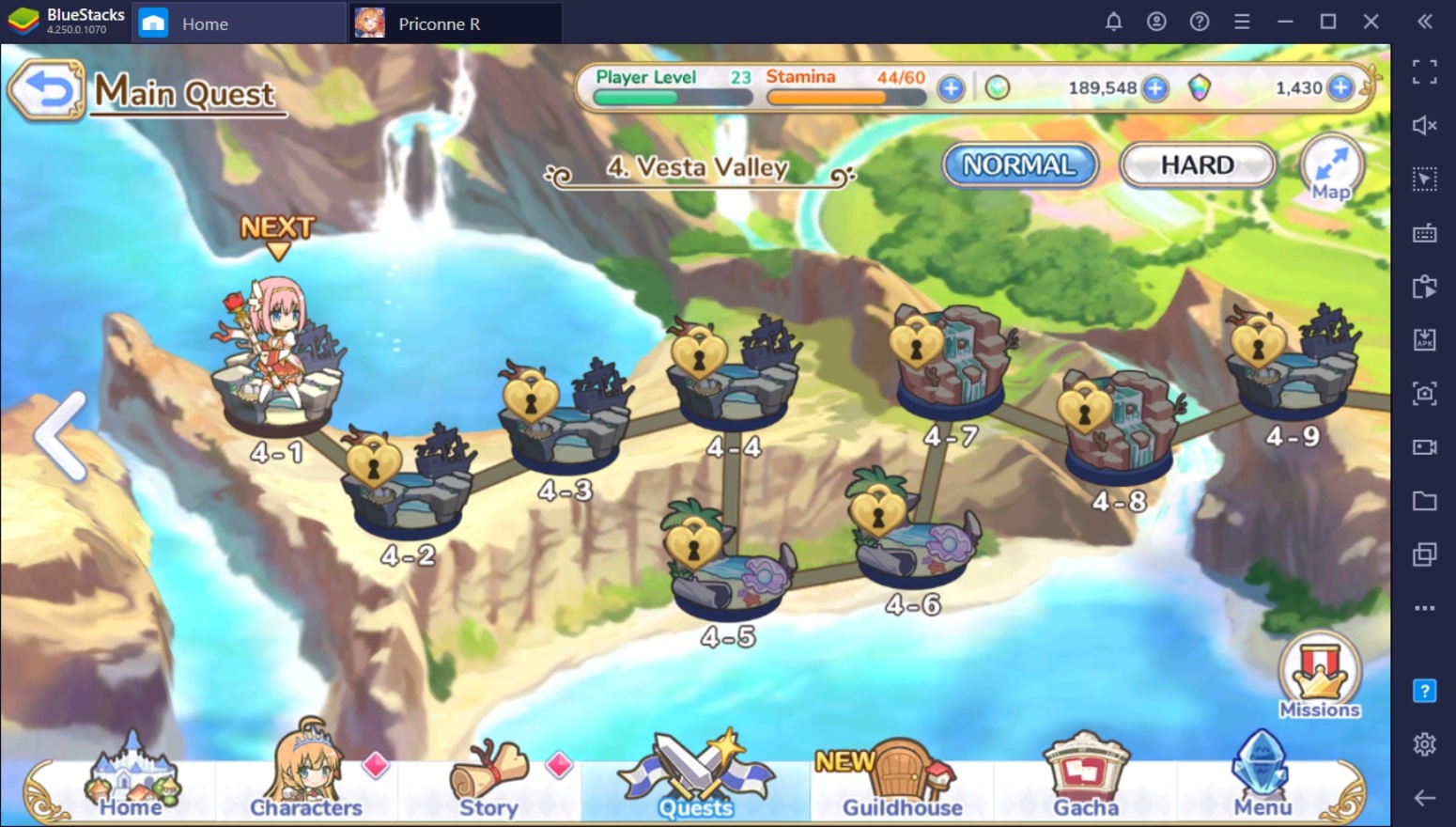 As long as you level up, upgrade your gear, and experiment on your team composition, you'll eventually clear your quests at 3-stars. Failing a Quest Stage doesn't cost you any energy, so don't be afraid to try. Once you reach a Stage that you can't clear no matter what you do, it's time to farm lower levels so that you can get an account level up to increase the max level for your team.
Join a Clan
Clans offer some benefits to players by offering the option to borrow other Guild Members' units for yourself. As a beginner with low-level units, you'll want to borrow some of the other members' high-level characters to carry you through those impossible dungeons that you just can't seem to clear.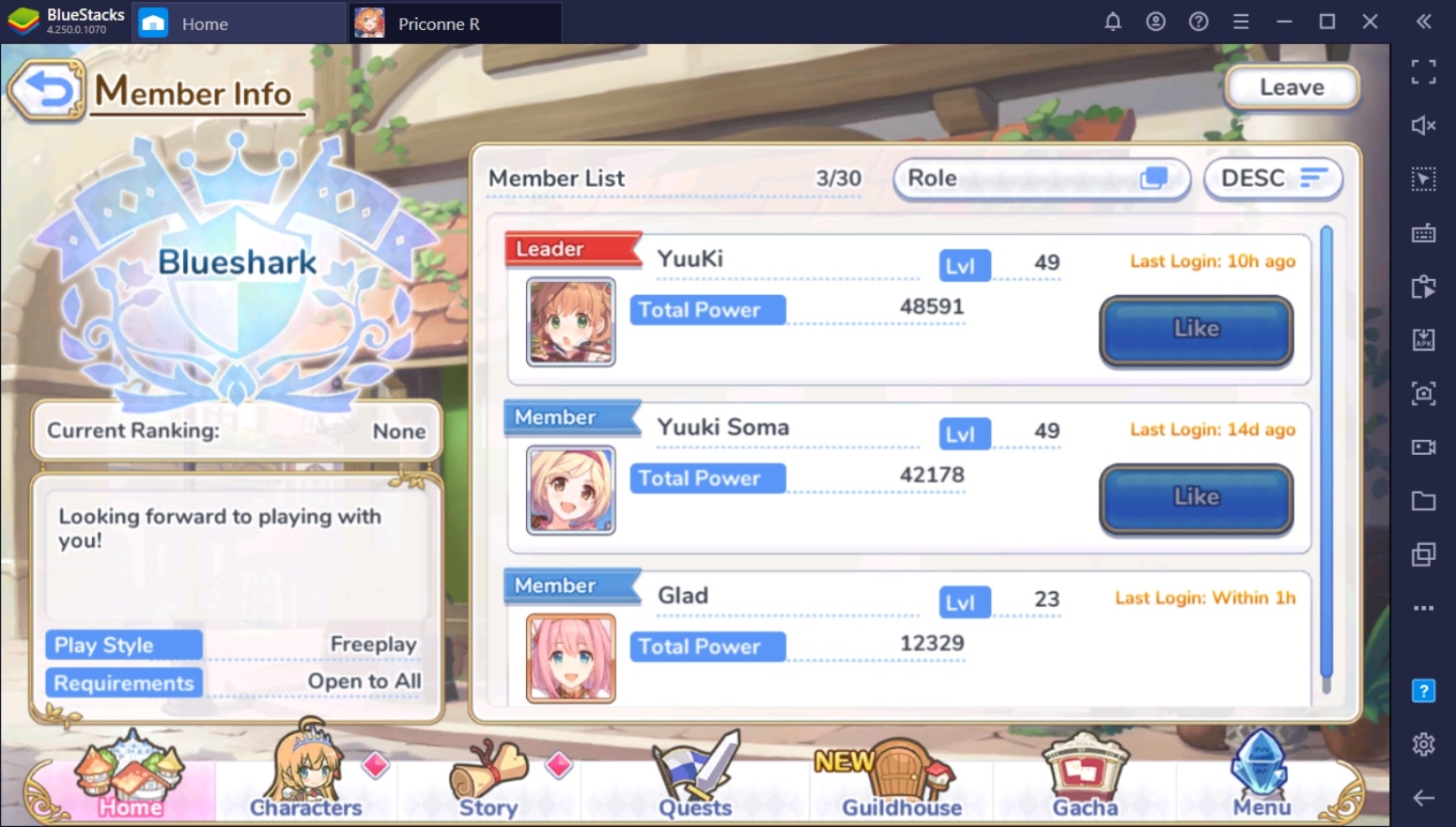 There's also the option for players to request gear from Guild Members. Players that don't have any more energy to farm for gear or don't have the luck to loot it naturally might want to try this method to upgrade their characters. Just make sure to contribute to your guild no matter how small the contribution is.
Rerolling For Characters
A common thing that veteran players do before they commit to an account is Rerolling. Rerolling is essentially the act of restarting your progress in the game without linking your account to earn gems for the Gacha banner easily. This is an extremely difficult and frustrating method of getting the character you need, but it'll guarantee that you get the best chances of doing so.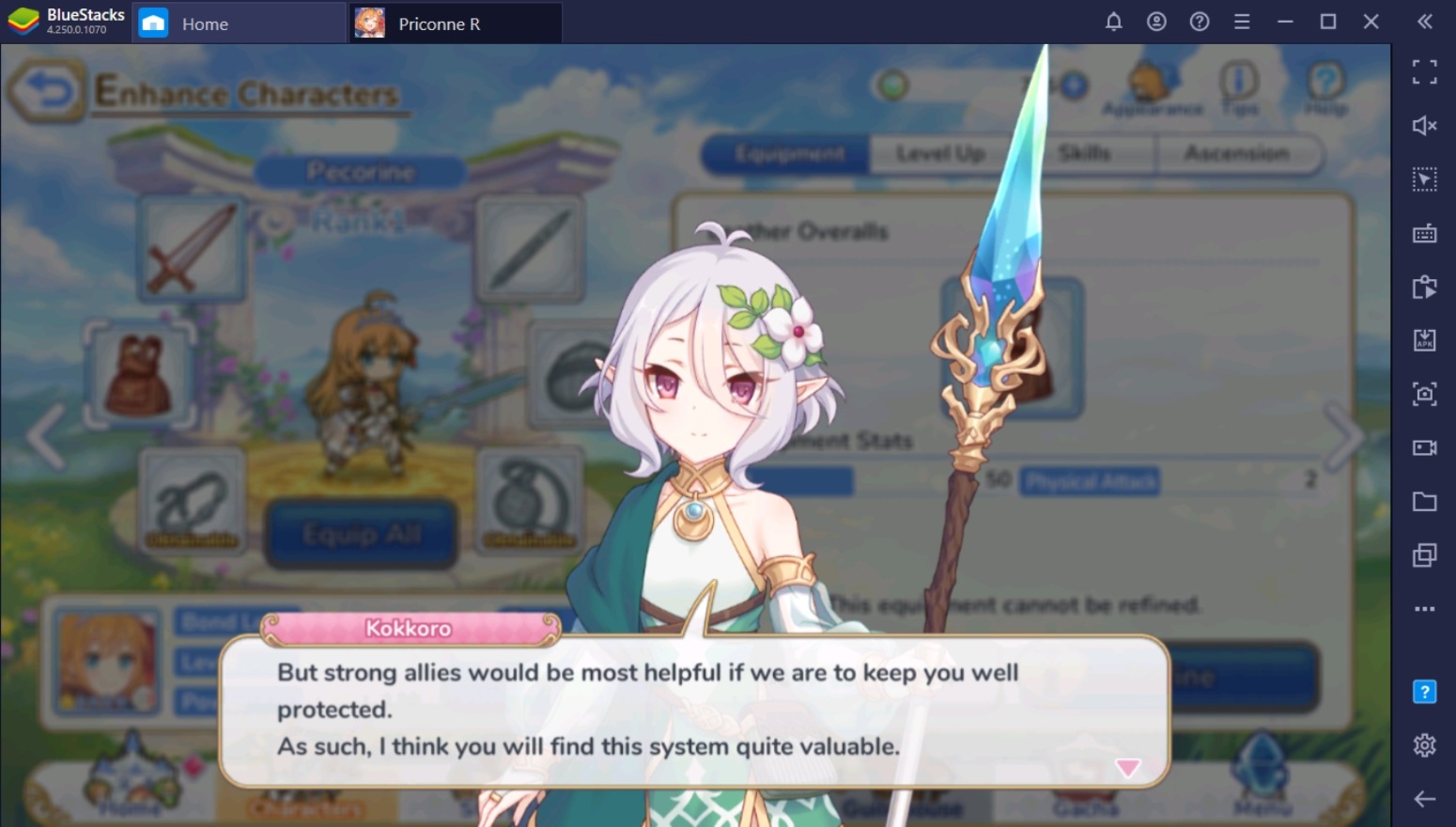 Rerolling isn't commonly done on a mobile phone because of its limited features. Try playing Princess Connect! Re:Dive on your computer with BlueStacks to access the Multi-Instance Function. If you do, it will make rerolling significantly faster compared to how you would reroll on your phone.