Game Guides
Princess Connect! Re: Dive Rerolling Guide on BlueStacks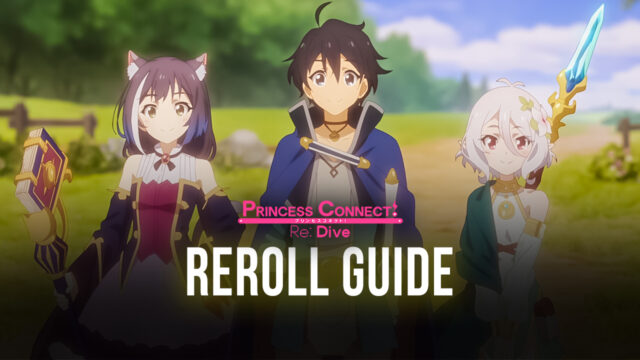 Rerolling is a common activity in most Gacha games like Princess Connect! Re: Dive since it gives both F2P and Premium players a decent starting point regarding how they want to start the game. Before you start rerolling, there are certain parts of the game that you need to know before you even think about throwing away the units that you currently have. Time to learn everything there is to know about rerolling so that you can get started on your adventure right away!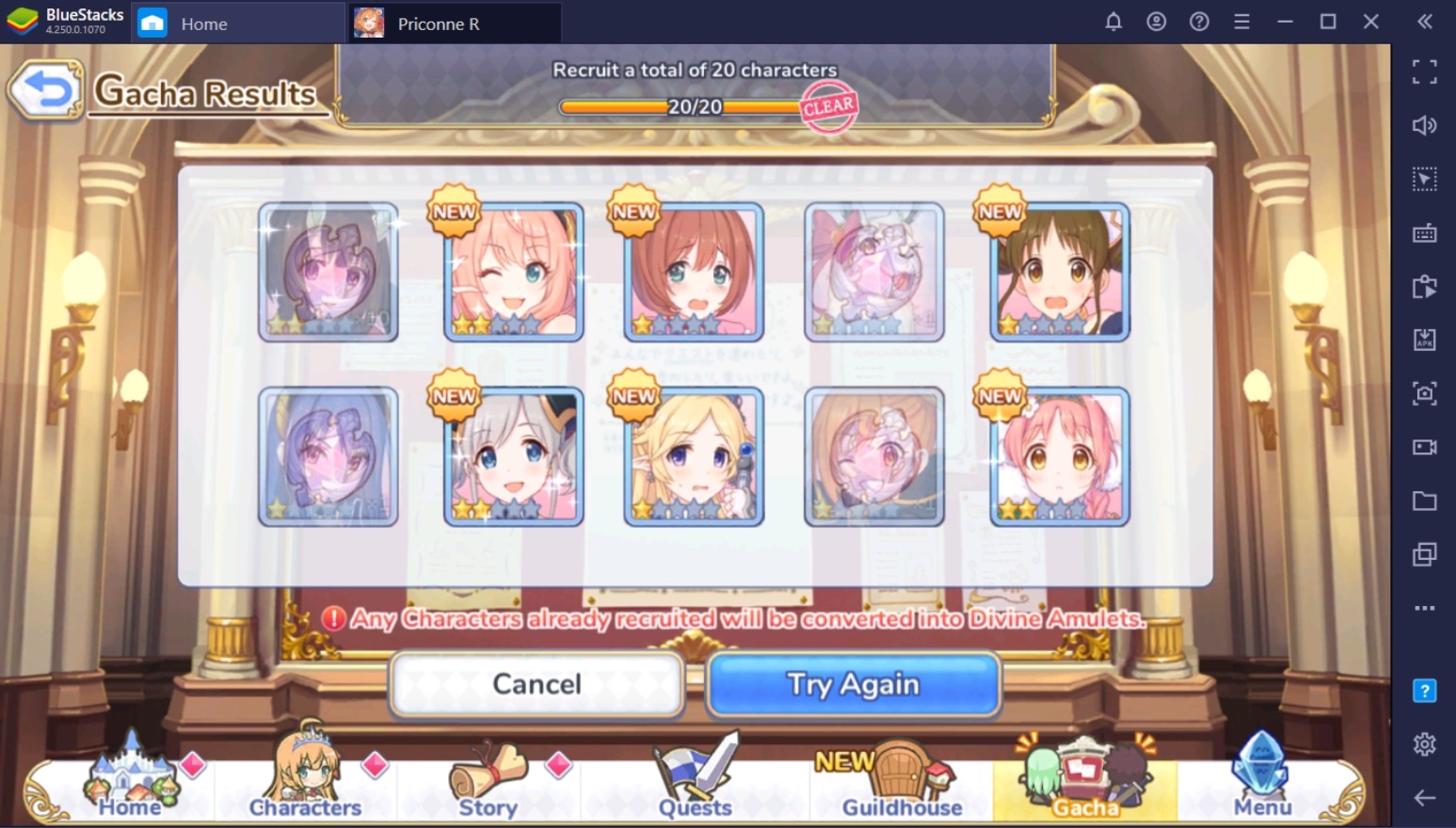 Rerolling on mobile devices isn't the most productive activity because of the limited features that a smartphone can provide. BlueStacks has created features tailored to fit the needs that most mobile gamers have – rerolling included! With BlueStacks, you'll speed up the time that you can find the perfect team drastically. That means that the days or weeks you would otherwise spend on your phone can be completed within a few hours with the right know-how.
Characters You Should Be Rerolling For
There are certain characters in the game that you should definitely have when you start playing. These characters are the reason why you'd want to be rerolling in the first place. Whether you're F2P or Premium, you want to have these characters as early as possible in your team. Otherwise, you'll lose out on the chance to potentially upgrade them to their full powers early on.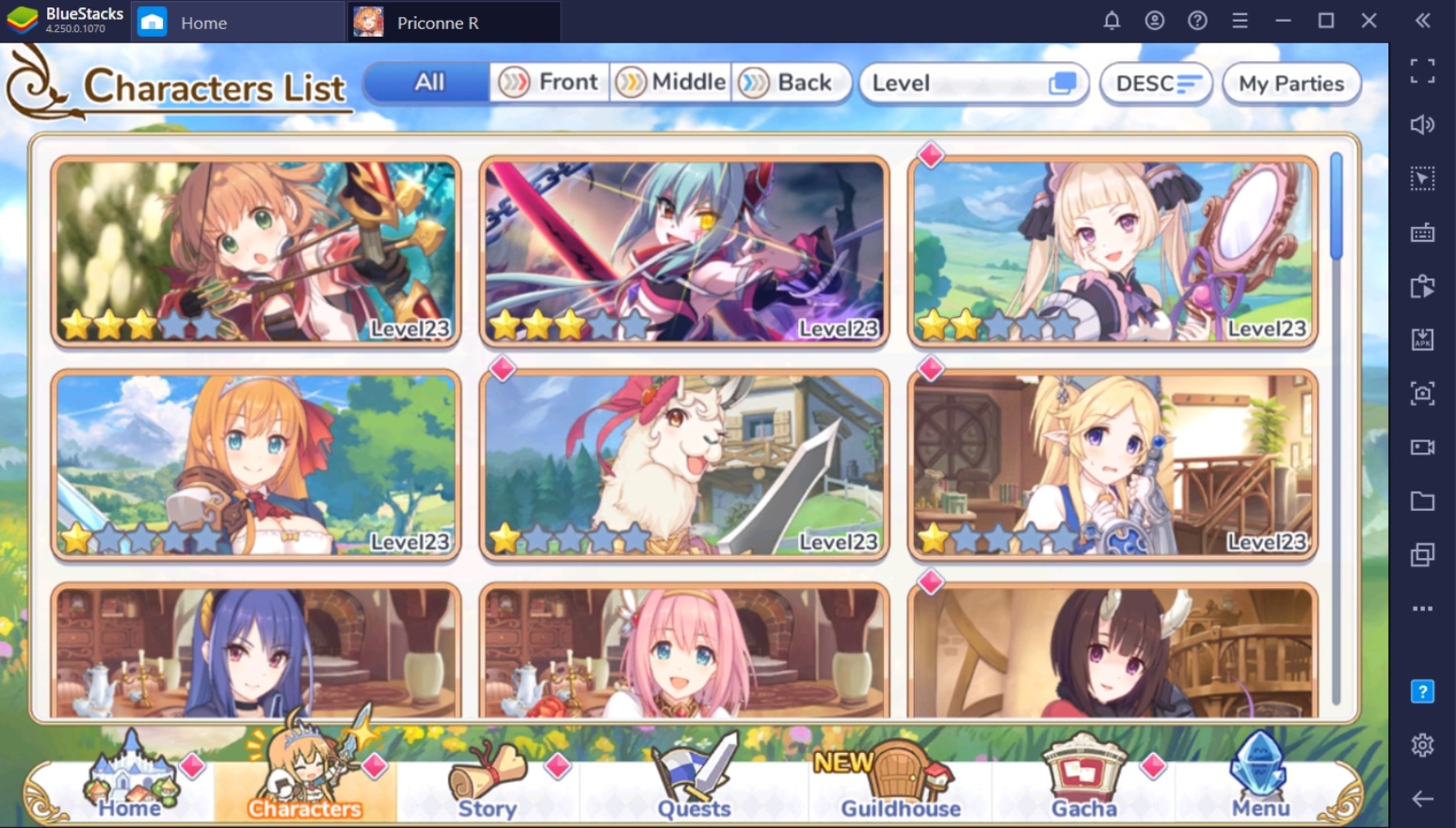 As of the early release on the Global Servers, there are 42 characters on Princess Connect Re: Dive. There are 13 3-Star Characters, but only a few of them are really worth your gems, so let's take a look at some of those.
Makoto is the best F2P 3-star that players can wish for, simply because she doesn't need to reach 6-stars to reach her ultimate power spike. Makoto, as a 3-star, deals a ton of damage on PvE and will carry you to the far reaches of the Main Quest. She has yet to receive her 6-star form but is certainly a character worth keeping.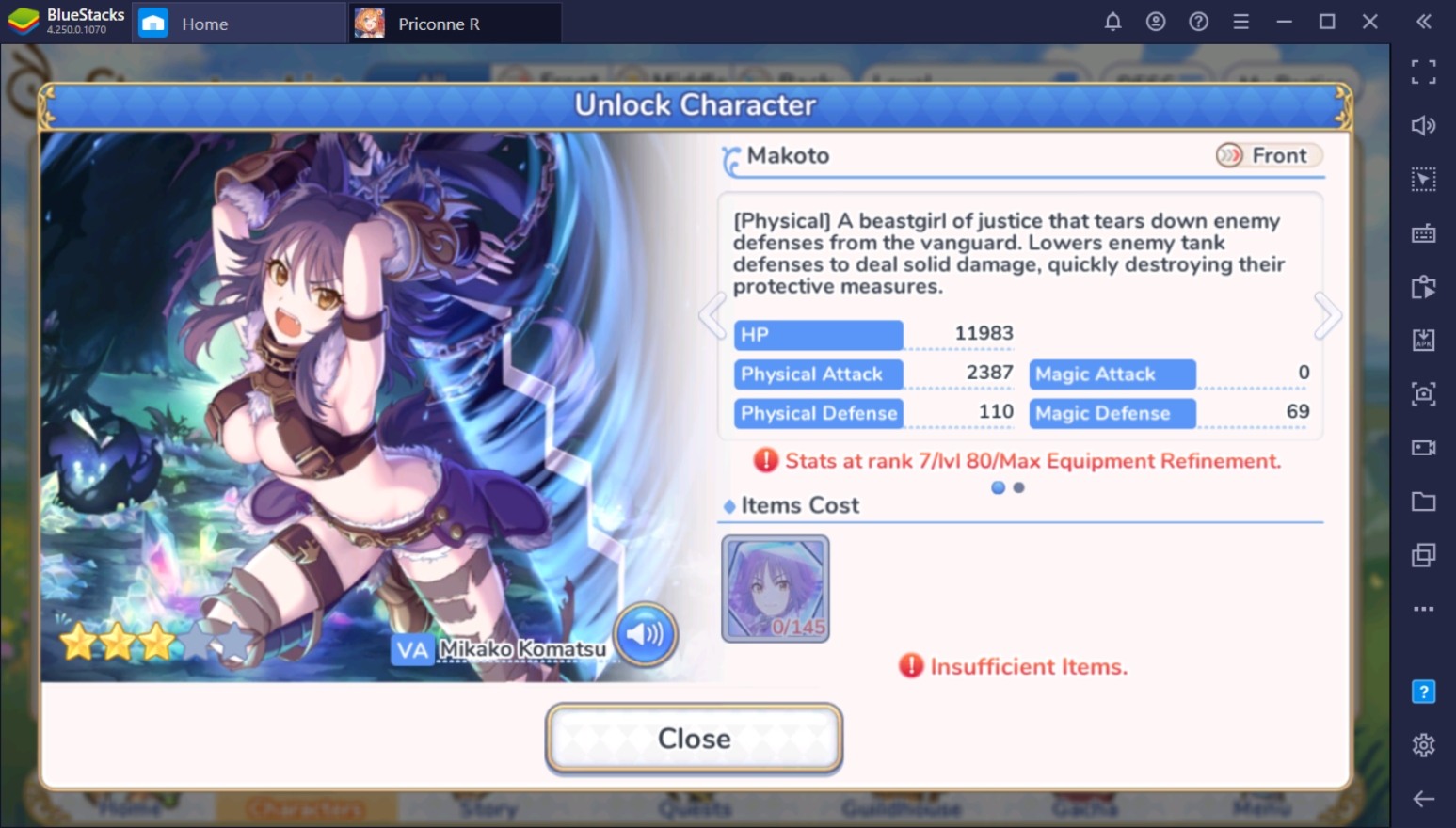 Makoto excels in PvE but is too fragile when it comes to PvP content. If you're planning to build for arena mode, getting Makoto as your first choice isn't ideal compared to the other choices on this list.
Saren is the best support unit in the game and is one of the very few characters that are considered a staple in every team composition. She's a 3-star support unit that gives your allies a tremendous power boost from her 6-star skills. She's also a relatively tanky support unit that has great AoE damage when she's low on HP.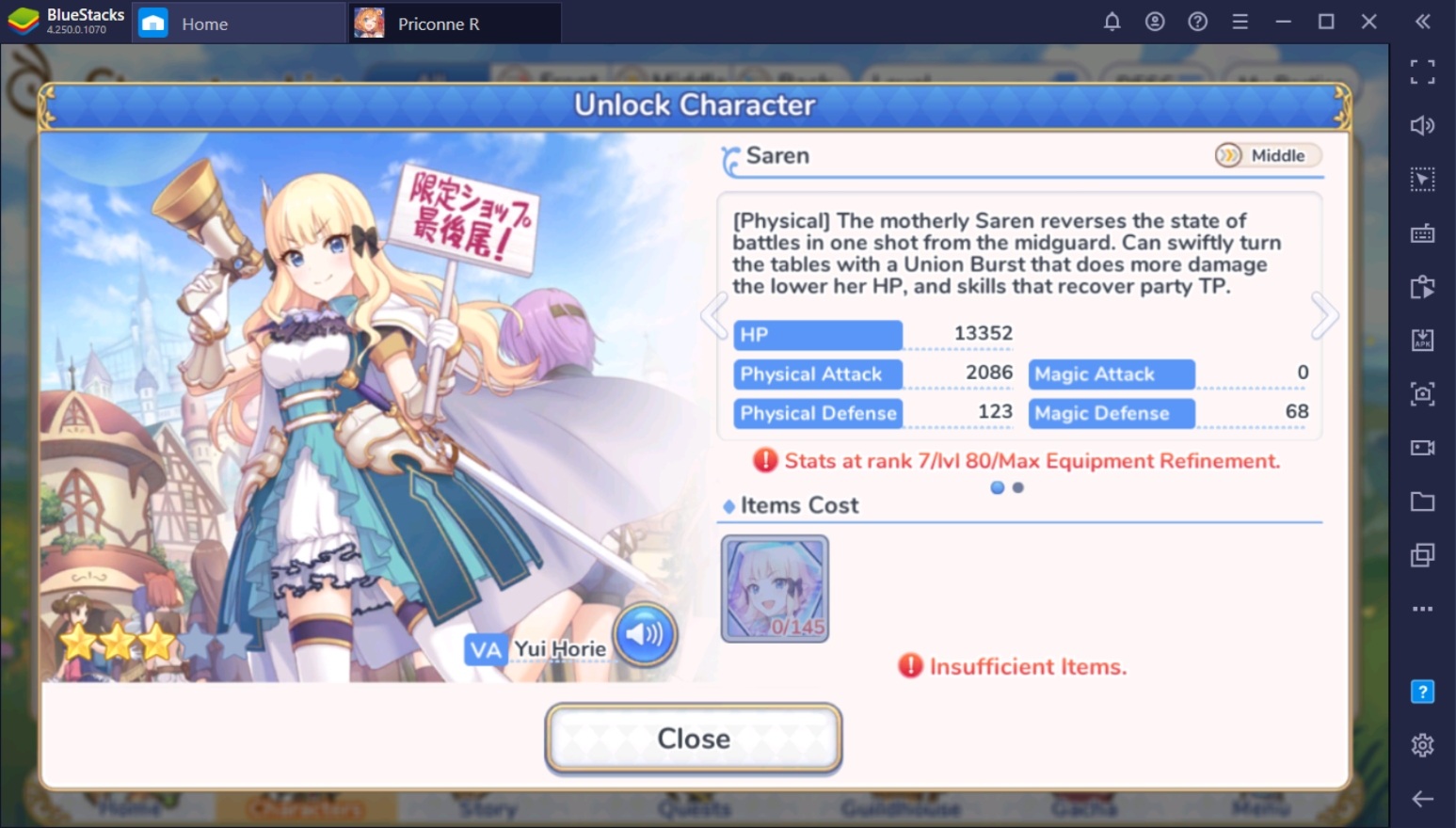 The biggest downside that Saren has is that she needs to be at 6-stars to become a complete powerhouse on your team. Premium players have a huge advantage when trying to Ascend her to that stage, so you should best get her early on.
Maho is the best early-game healer in the game. Unlike Yui, she doesn't need to reach a certain rank before she's able to heal her allies effectively. Maho's Union Burst also gives her allies a significant defense buff and powers up your team's magic damage output. Whether you're F2P or Premium, Maho is definitely someone you should have as soon as possible.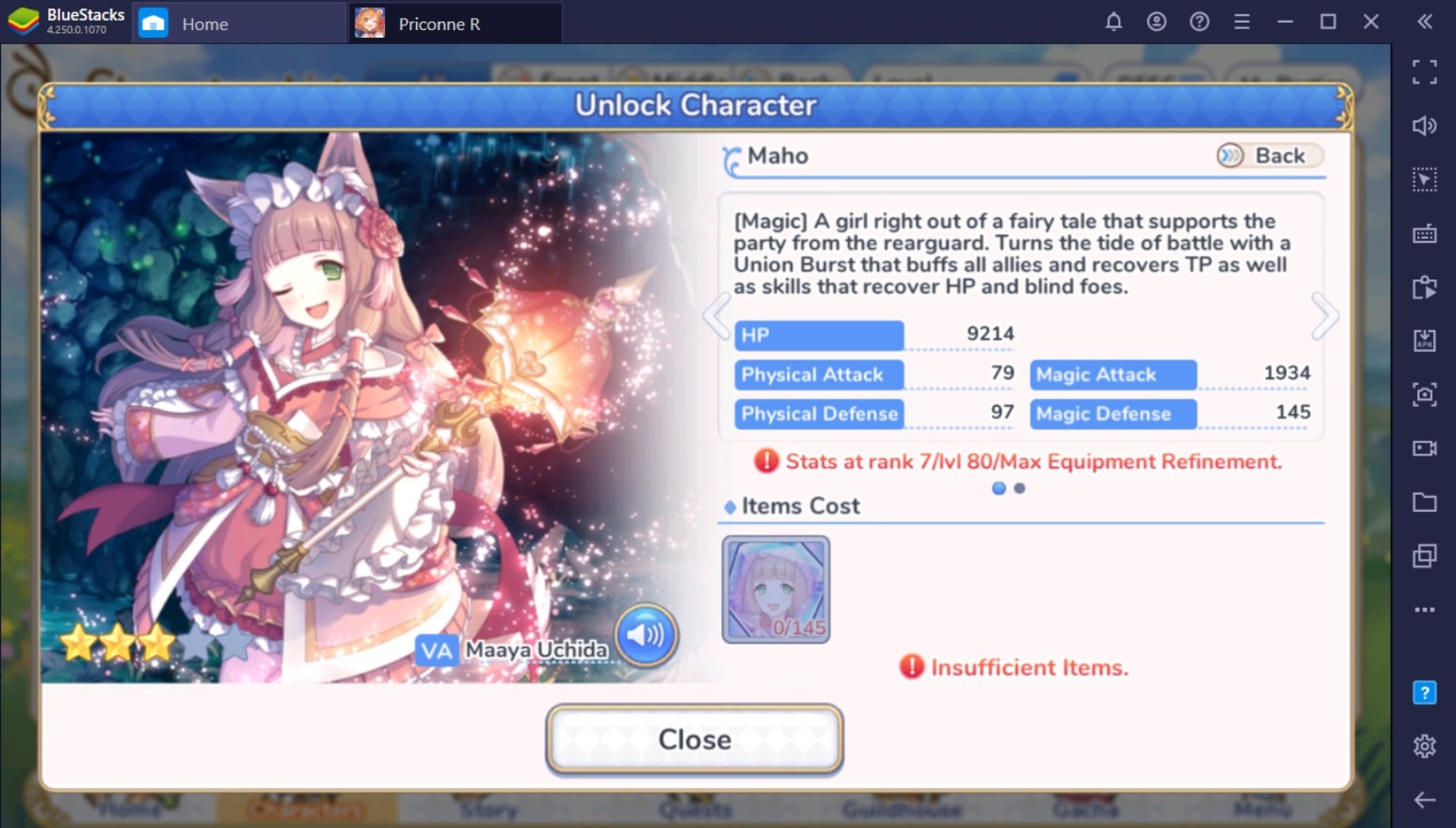 Maho doesn't have a reliable way of damaging enemies. If you're planning to run Maho, you should have a team with reliable damage sources to maximize her presence on the team. It's also somewhat required that a good portion of your team are magic damage dealers.
Secondary Characters You Want On Your Team
How To Reroll On BlueStacks
The main functions that players want to use on BlueStacks are its Multi-Instance Function, Macro Function, and Eco Mode. Click on the hyperlinks to learn more about how they work. These three functions allow players to easily reroll accounts to pull the perfect team and simultaneously reduce the time it takes to do so by tremendous margins.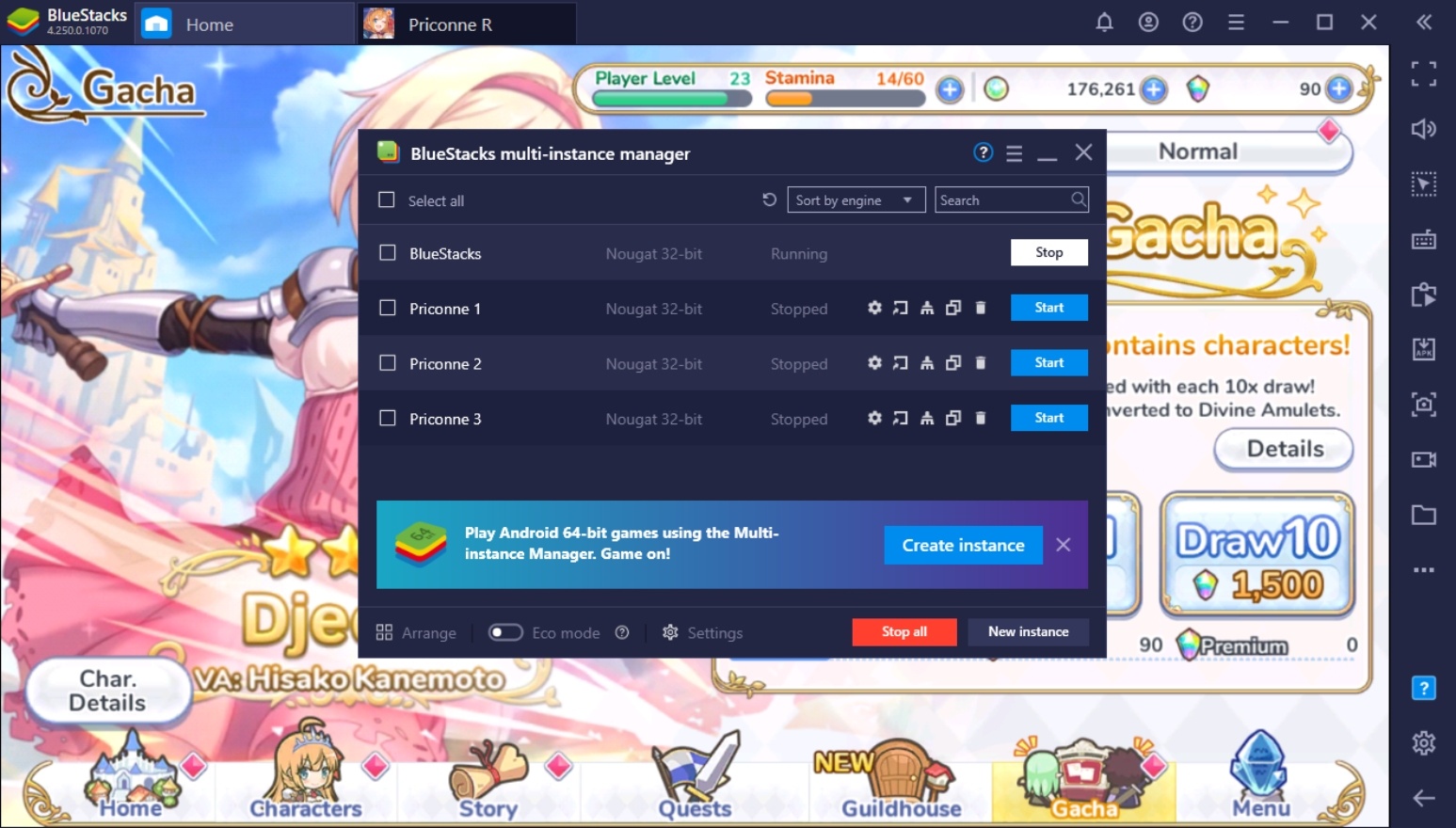 Step 1: Download Princess Connect on BlueStacks PC.
Step 2: Download the in-game content and confirm which email you're going to use (it doesn't bind it).
Step 3: Once the content has been downloaded, exit the entire instance before proceeding to the main story.
Step 4: Clone the instance as many times as you want on the Multi-Instance Manager by clicking "New Instance."
Step 5: Run all of those instances simultaneously and enable Multi-Instance Synchronization to play all of those instances at the same time.
Rinse and repeat until you've found the perfect account that has all of the characters you need. Note that you might have to play a little bit through the story to earn your first 1500 gems for the first 10-summon. You can try recording your first run-through using the Macro Feature so that you don't have to experience that again if the first batch of instances all fail to get you what you want.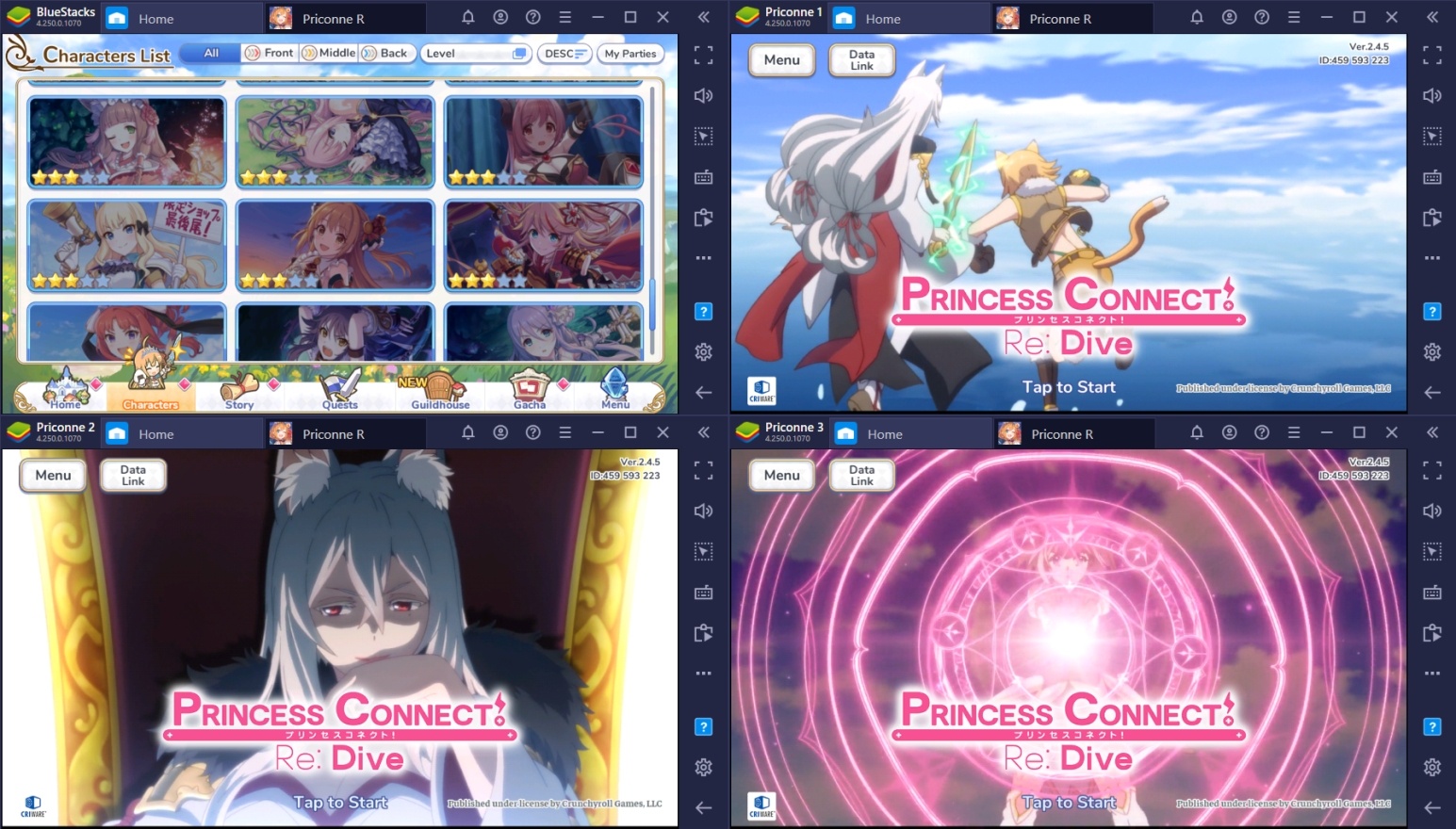 When using the Multi-Instance Synchronization and Macro Recorder, try to delay your commands by about 1.5 seconds in between to leave room for some margin of error. This is because not all of the instances run at exactly the same time, so others might lag behind. If you move too quickly, you'll end up confusing the other instances that are trying to synchronize with you and so will end up clicking random buttons on the screen.
Initial 3-star Rerolling Vs. Full Summon Rerolling
There are two types of rerolling in Princess Connect. The first one is the Initial 3-Star Reroll, which refers to getting the free single summon during the tutorial phase of the game. This is much faster since it's a guaranteed 3-star summon from the 13 3-star characters available. Meanwhile, the Full Summon Reroll refers to a player playing through a portion of the story to earn 1500 gems for a full summon. This can be a more complicated route since the story playthrough can be different in each instance in terms of loot drops and stage clears.