Game Guides
How to Play Princess Connect! Re: Dive on PC with BlueStacks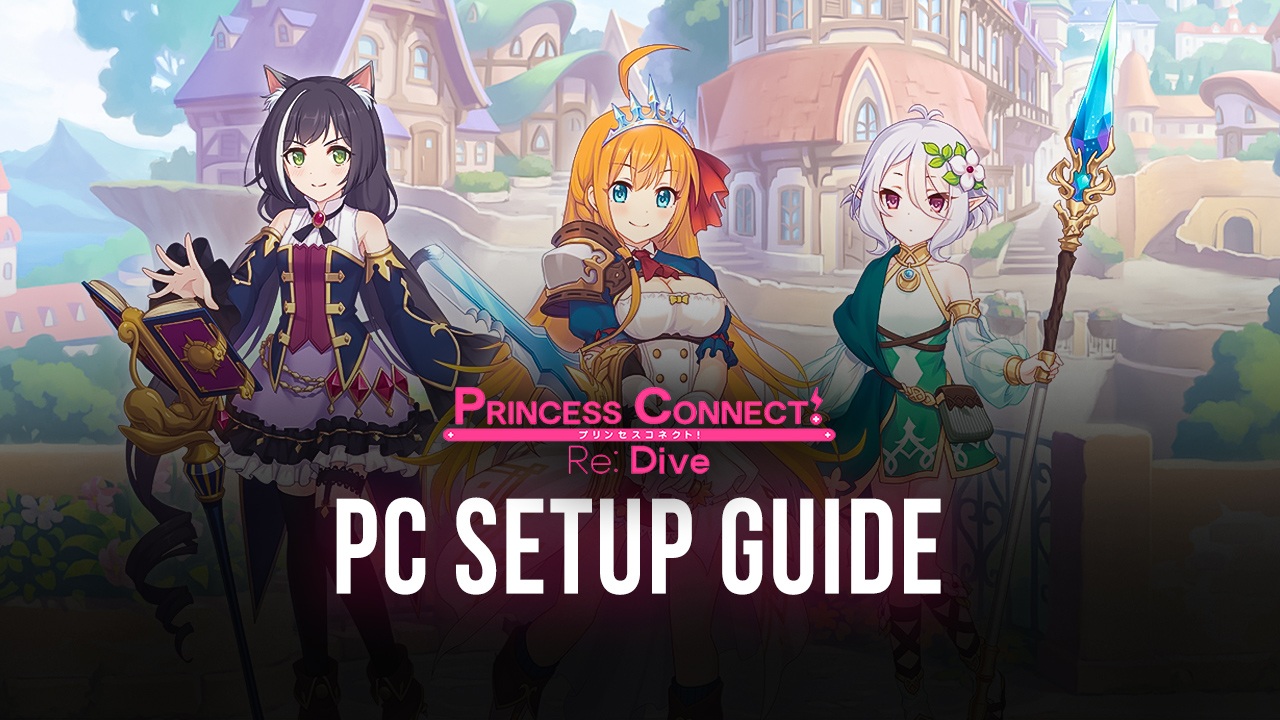 Princess Connect! Re:Dive is one of the most anticipated games that was released earlier for Asian countries. The global release of Crunchyroll's Princess Connect, or more popularly known as Priconne, became an instant sensation. Time to take Princess Connect to the next level by moving your gaming experience to the PC platform with BlueStacks. Overtake all those other players by using BlueStacks' multiple features to help you get the advantage in playing the game.
The anime-inspired game takes playing JRPG's to the next level by introducing fully-animated cutscenes complete with an all-star lineup of VAs. Enjoy an almost endless list of cutscenes, complete with voice lines and animated scenes that would most certainly entertain you for hours on end whenever you run out of energy. With Cygames being the lead developer for this gacha game, you can rest assured that you won't feel like you're being cheated out of getting gems; Cygames' generosity knows almost no bounds.
How To Set Up Princess Connect on BlueStacks
Every gacha gamer knows that the best way to play any Gacha Game is through an Android Emulator. There are different reasons why players prefer this, and we'll talk about that a bit later. Princess Connect allows players to link their accounts on more than one device, so don't worry too much about which platform you want to play the game on since you can essentially switch whenever you feel like lying down on the bed or sitting down to use your PC.
Download and install BlueStacks

on your PC.

Complete Google Sign-in to access the Play Store, or do it later.

Look for Princess Connect in the search bar at the top-right corner.

Click to install Princess Connect from the search results.

Complete Google Sign-in (if you skipped step 2) to install Princess Connect.

Click the Princess Connect icon on the home screen to start playing.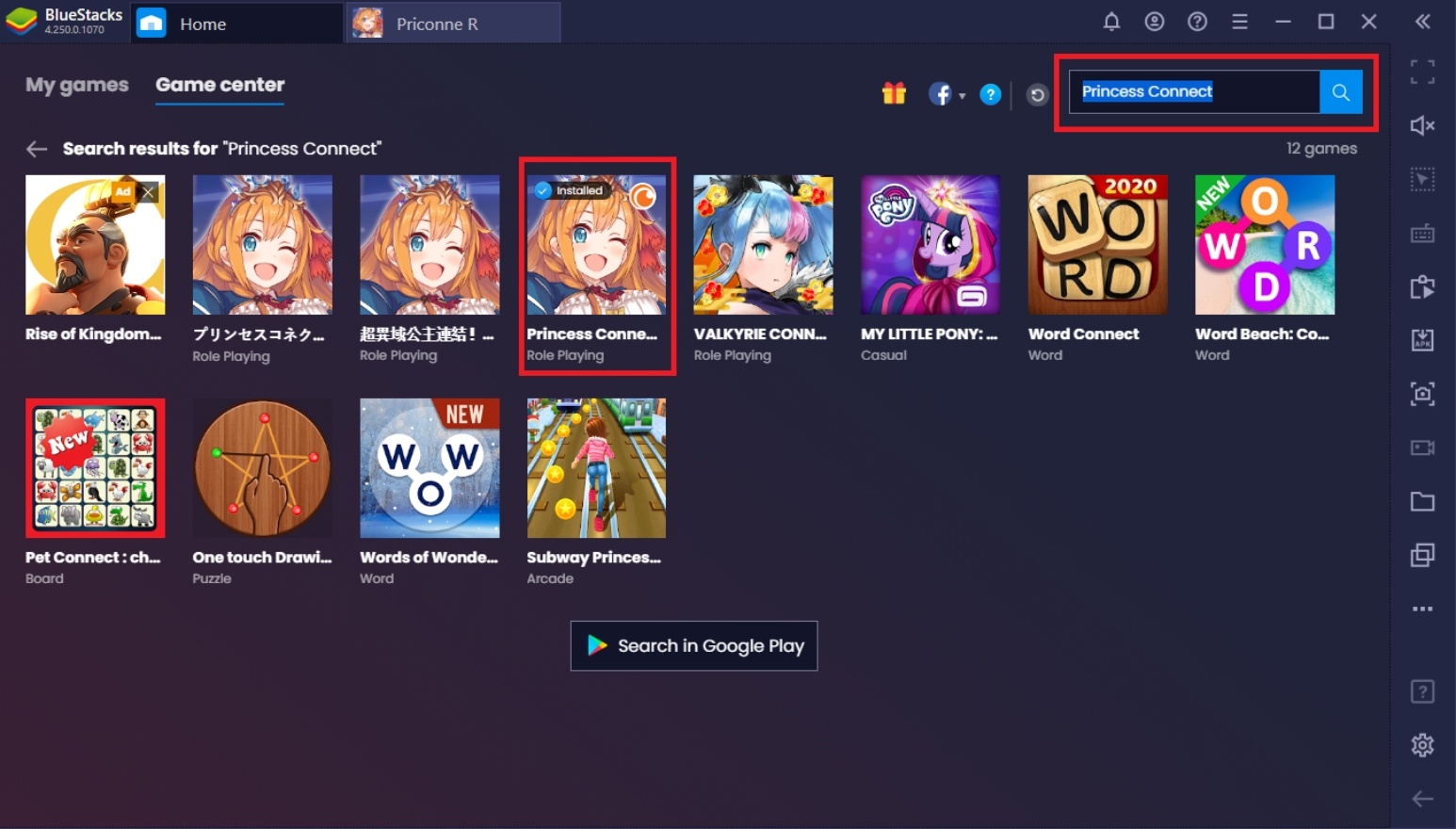 Useful Features When Playing Princess Connect! Re:Dive
The Multi-Instance Feature is probably the most important feature that you'll need when playing Princess Connect! Re:Dive. The Multi-Instance feature basically allows players to open multiple fresh instances that remain active even if you open another BlueStacks instance. You can control each instance individually or use the Multi-Instance Synchronization feature to control all of them at once.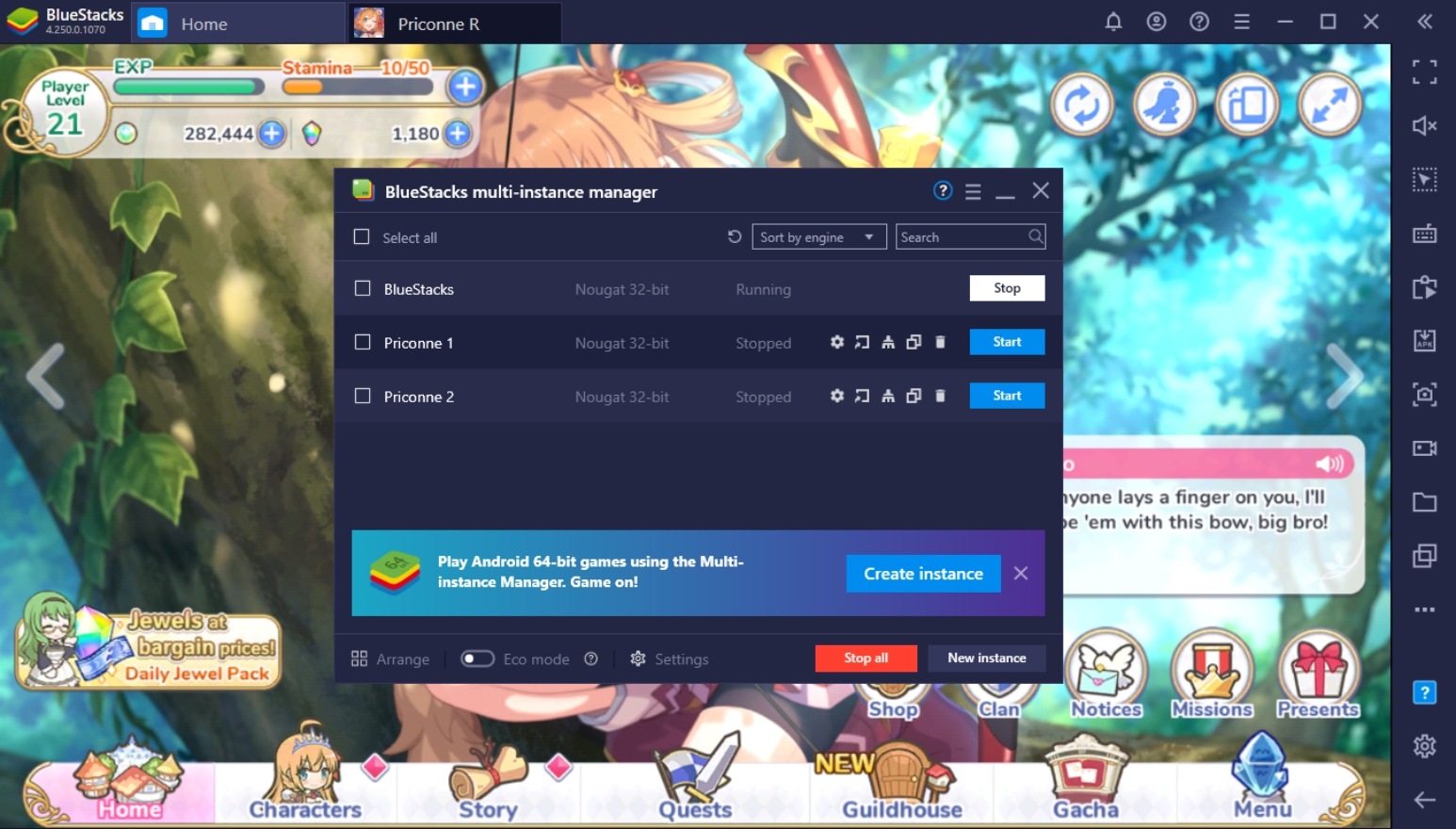 Multi-Instance Rerolling is a term used by players that aim to get the perfect set of characters to their collection to start out the game. This is achieved by opening a ton of instances using the Multi-Instance Manager. Once this is completed, they start the game over again to quickly accumulate the free gems given to new players. These gems are extremely important for rolling the gacha feature for their first 10-summon. Once you've found the perfect account with all the characters you need, you can save that account by linking it to an email.
The Macro Feature is another useful function on BlueStacks that improves the quality of life on Priconne. Despite having an auto-battle feature and Skip Tickets that offer benefits, some players want to take AFK gaming even further. This feature grants that wish by giving players the option to record a set of commands in the game, which can be replayed unlimitedly. While you won't get bonus rewards as you would with Skip Tickets, it will most certainly help ease the grind a bit.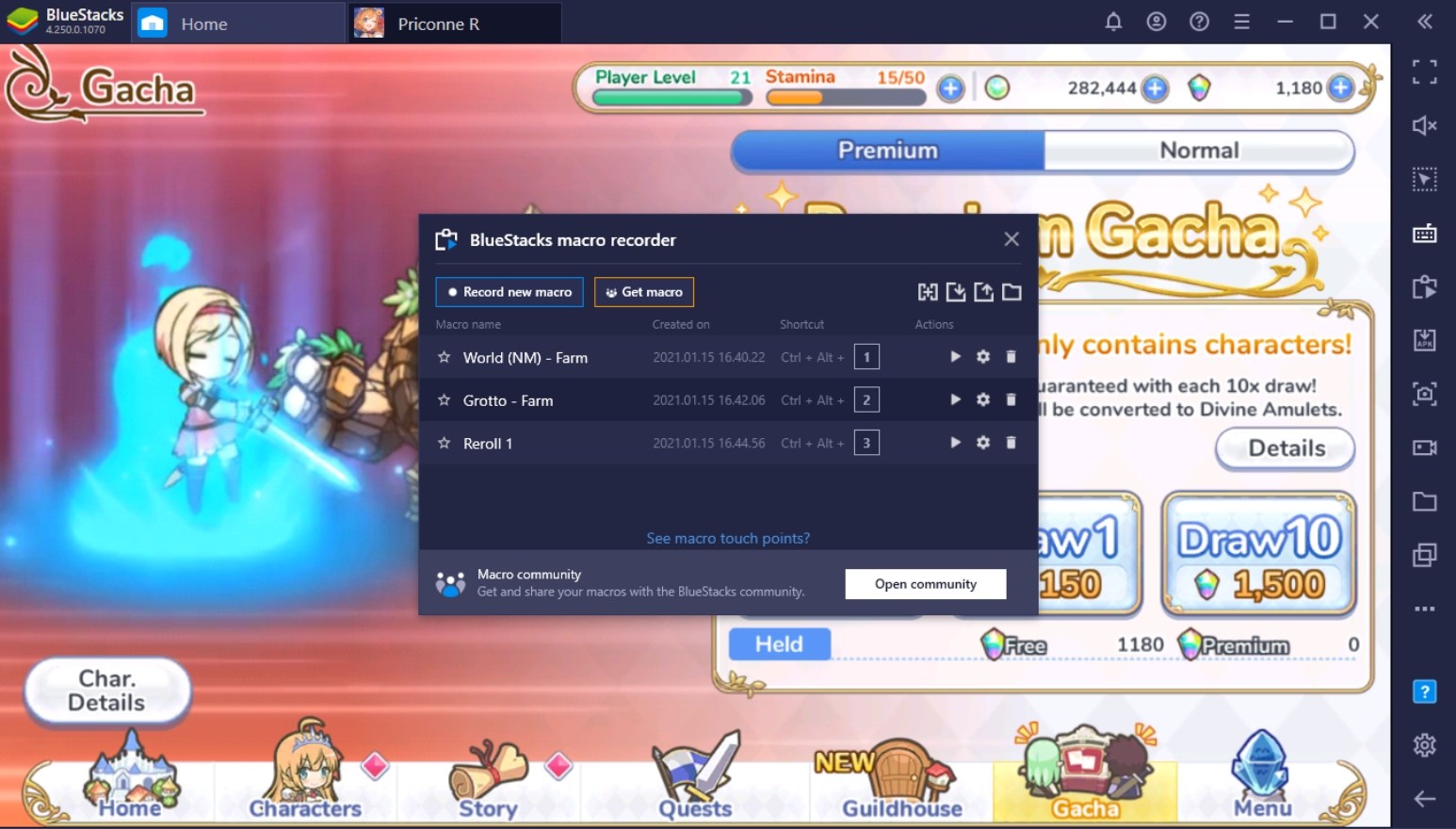 The Macro Feature is easy to use since you'll only need to hit record, do the actions you want to repeat, and save it to be replayed later. No in-depth knowledge of programming is needed for you to be able to enjoy this feature. You can also use this feature while Multi-Instance Rerolling to make it a lot less stressful to find that perfect team.
The Eco Mode basically reduces the processing on each of your instances that has this feature active. This is especially useful when Priconne is being auto-played using the Macro Feature since you don't need to actively engage with that instance. This feature is extremely useful if you're the type who likes to multitask on your computer.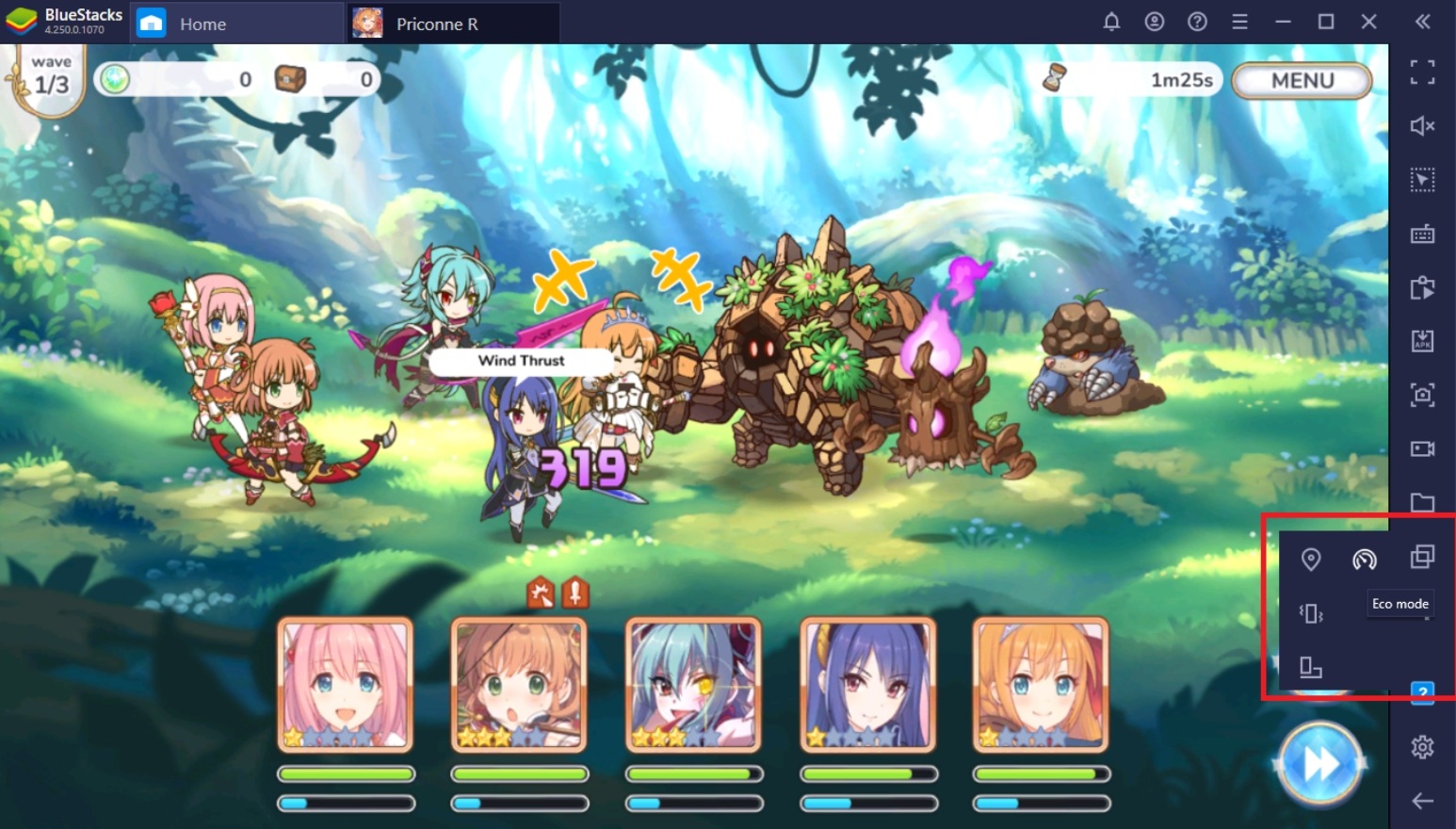 The Eco Mode completes the three features necessary for Multi-Instance rerolling. By activating the Eco Mode on your instances that are used for Multi-Instance Rerolling, you increase the number of instances that you can have open at the same time, dramatically increasing the chances for you to pull the perfect team.
The Controls Editor Function is a feature that may or may not be necessary when you play but is nice to have as an option regardless. This feature basically allows players to set key bindings on specific points of their screen. This converts your experience from simply clicking with your mouse to interacting with the game using your keyboard.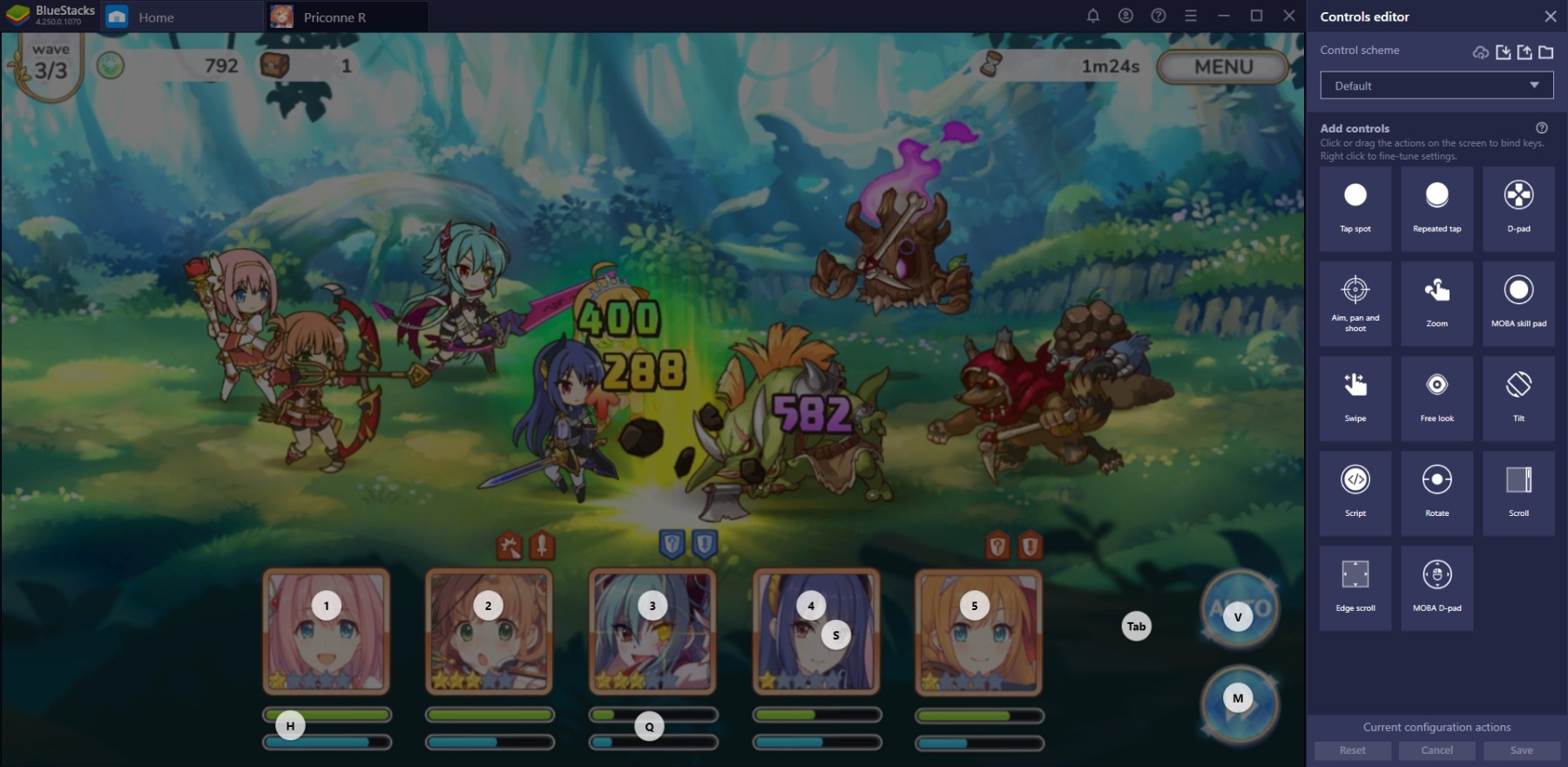 Players that don't fully rely on the auto-battle feature might want to check this feature out so that they can quickly reach their Union Bursts without having too much of a time lag in between. You can set your Screen Controls by increasing the opacity or removing it completely when you've finished memorizing the key bindings.
Build The Ultimate Team In Priconne!
The most difficult task in Priconne is assembling the perfect team for the different game modes. With so many characters made available for you to connect, it shouldn't be a problem even for F2P players to eventually collect most of the characters they need. Premium players will still have the edge when playing the game, of course, since they'll have the advantage of accessing character Ascensions first, but that shouldn't discourage you from competing.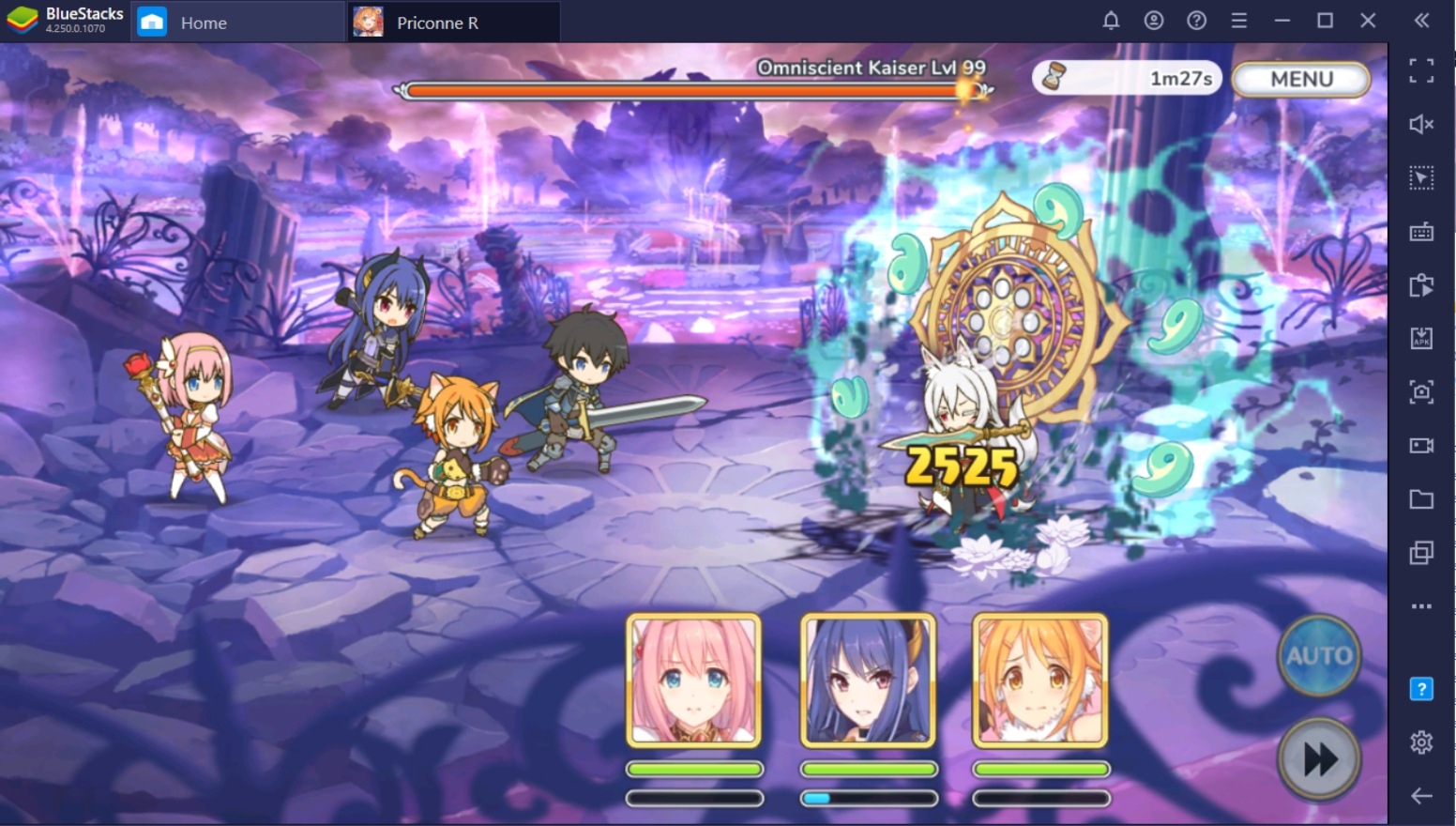 BlueStacks helps both Premium and F2P players unlock their full potential in playing this game by giving them alternative methods for tedious tasks like farming. If you're planning to catch up with players who have been around since the official release, you'll want to try using the features made available to you by the #1 Android Emulator on the market. Time to build the ultimate team that'll make any non-Bluestacks user jealous of you!