Game Guides
How To Get More Gems in Princess Connect! Re:Dive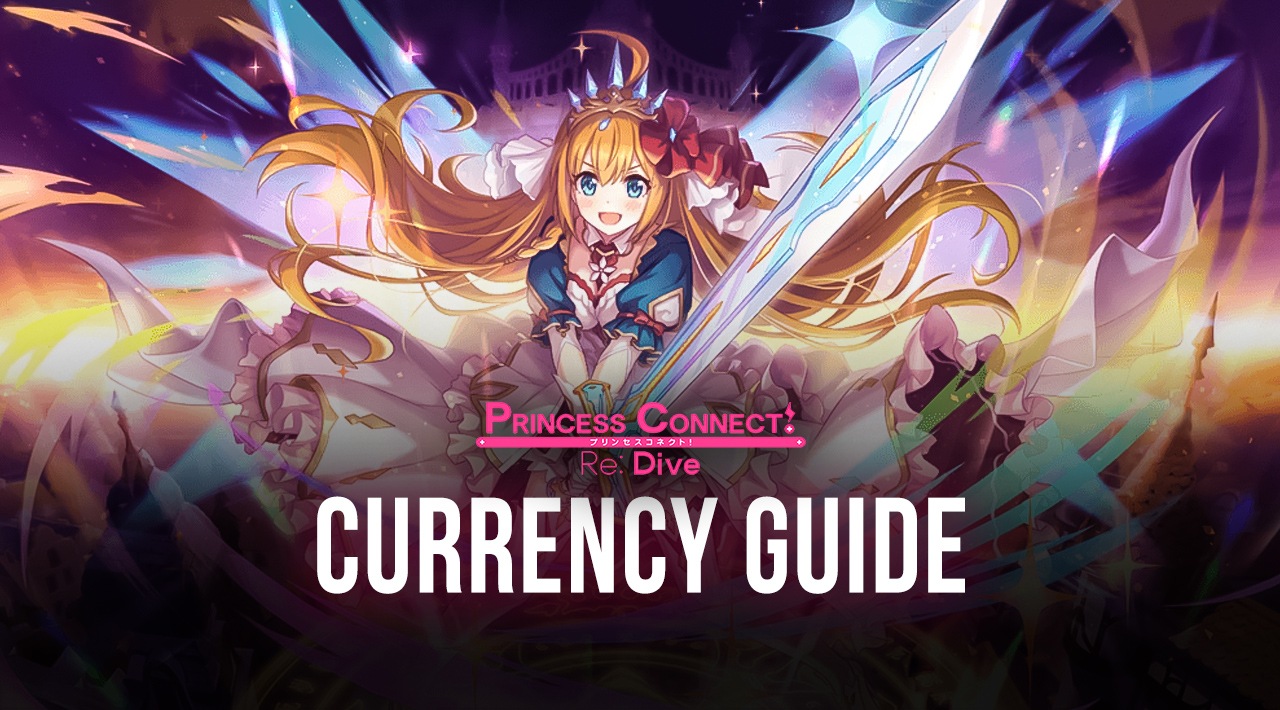 Gems are the primary resource in most gacha games. Princess Connect! Re:Dive uses gems (referred to as Jewels) for a variety of things, but the most important use of gems is for pulling characters on the gacha banner. Gems can be exhausted before you know it, especially if you're the type of player that likes to pull a new character whenever you get 150 gems. Luckily, Cygames is known for its generosity with its premium currency and rewards with players a ton of gems simply for playing the game regularly.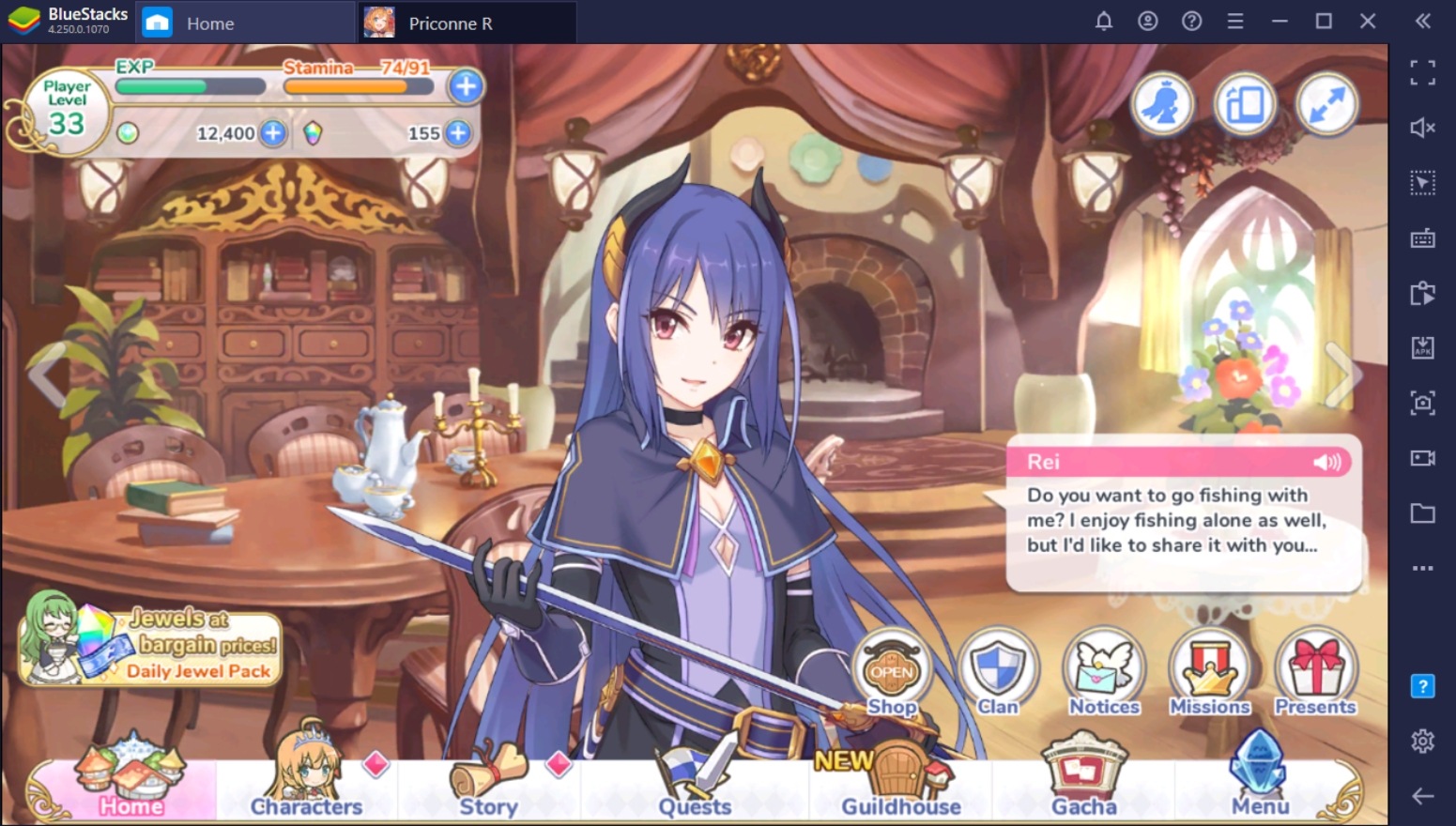 There are different ways players can earn gems, but some need a bit more exploration than others. If you're looking for "other" ways of getting a ton of gems in Princess Connect, you'll be disappointed since we'll only be introducing legal sources that are available in the game. This guide focuses more on the free-to-play (F2P) audiences, but Premium players might also benefit from getting those additional gems by saving a couple of bucks on their next summoning spree.
Main Quests
The most reliable source of gems is from completing Main Quests. A 3-star completion of these main quests yields an easy 30 gems. Furthermore, every time you complete a new stage on the Main Quest, the mission rewards will provide you with an additional 30 gems. That means that every time you complete a stage, you earn 60 gems.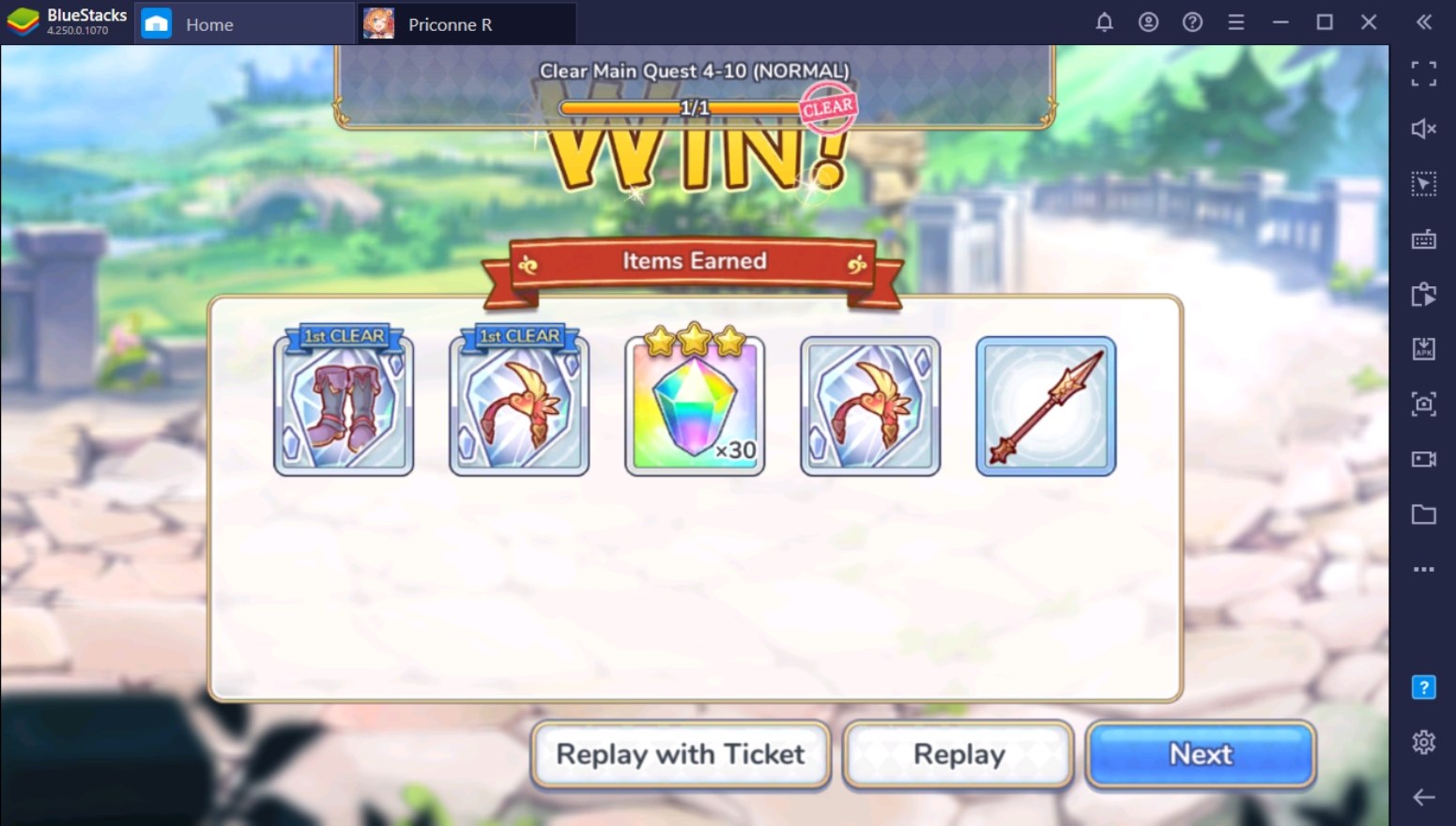 The biggest problem that main quests have is that you will eventually reach a stage that's too difficult for your current team to clear. Once you reach this point, you might want to upgrade your current team instead of trying to collect the "stronger" characters. Even the most powerful units might not perform as well if they're not upgraded properly.
Battle Arena
The Battle Arena is unlocked after completing Stage 4-6 of the Main Quest on Normal mode. Winning in this mode is significantly more difficult than proceeding on the Main Quest, but the Gem Rewards are ridiculously high. Each unique rank up will reward you with gems depending on the difference in rank you moved up.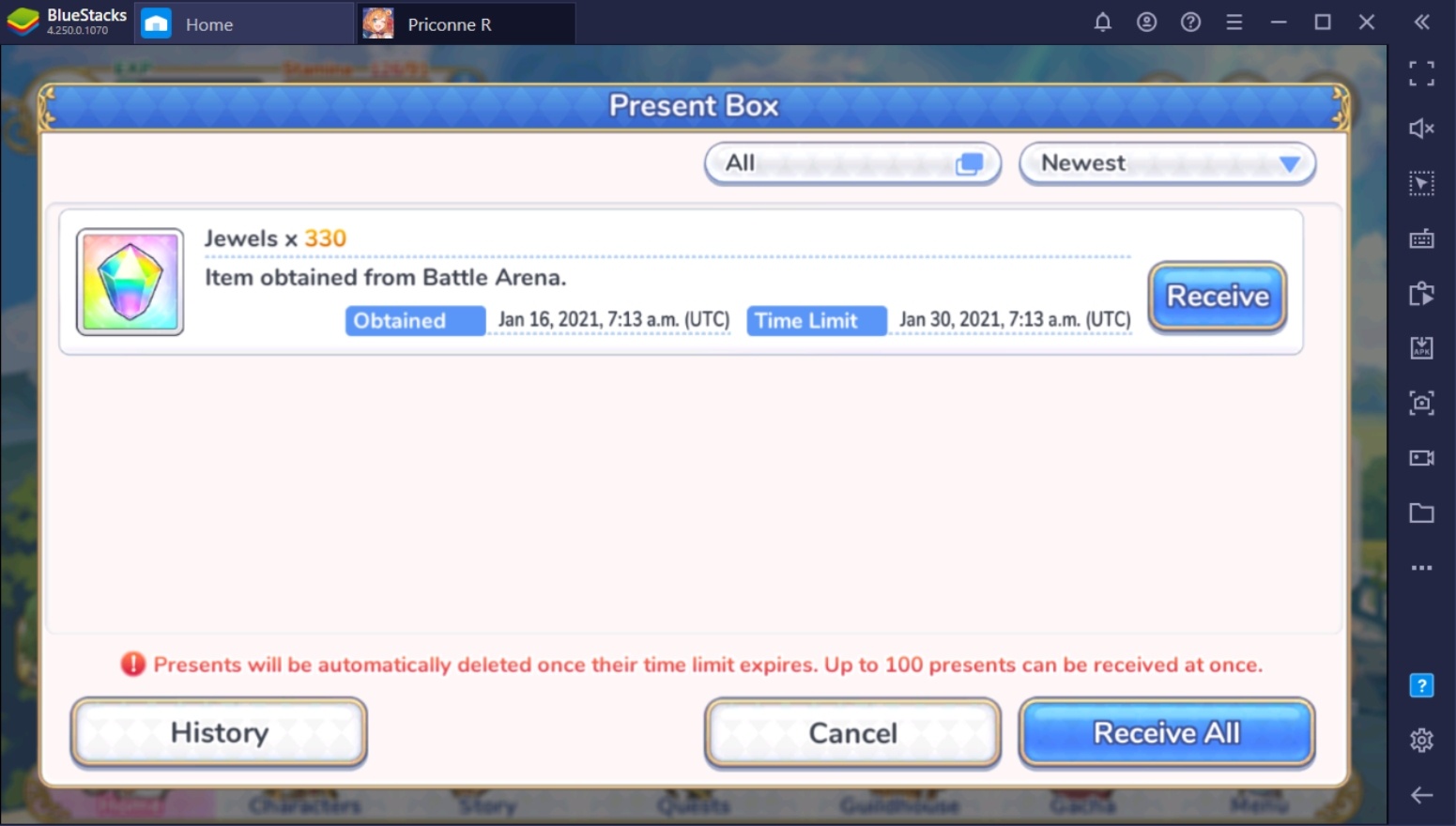 This system only counts the highest rank you've climbed, so don't even think about dropping down a few ranks on purpose. Ranked rewards will reset only when the Battle Arena season resets as well. This means that, once you've climbed to the highest ranks, you won't be able to get more gems for a certain period of time.
Stories
A lot of players avoid the story simply because they're only interested in the competitive aspect of the game. Whether you're speedrunning the game or you like to immerse yourself in the in-game lore, you should check out the stories. The Main Story and Character Stories give players 20 gems after completion, whereas Guild Stories give 50 gems.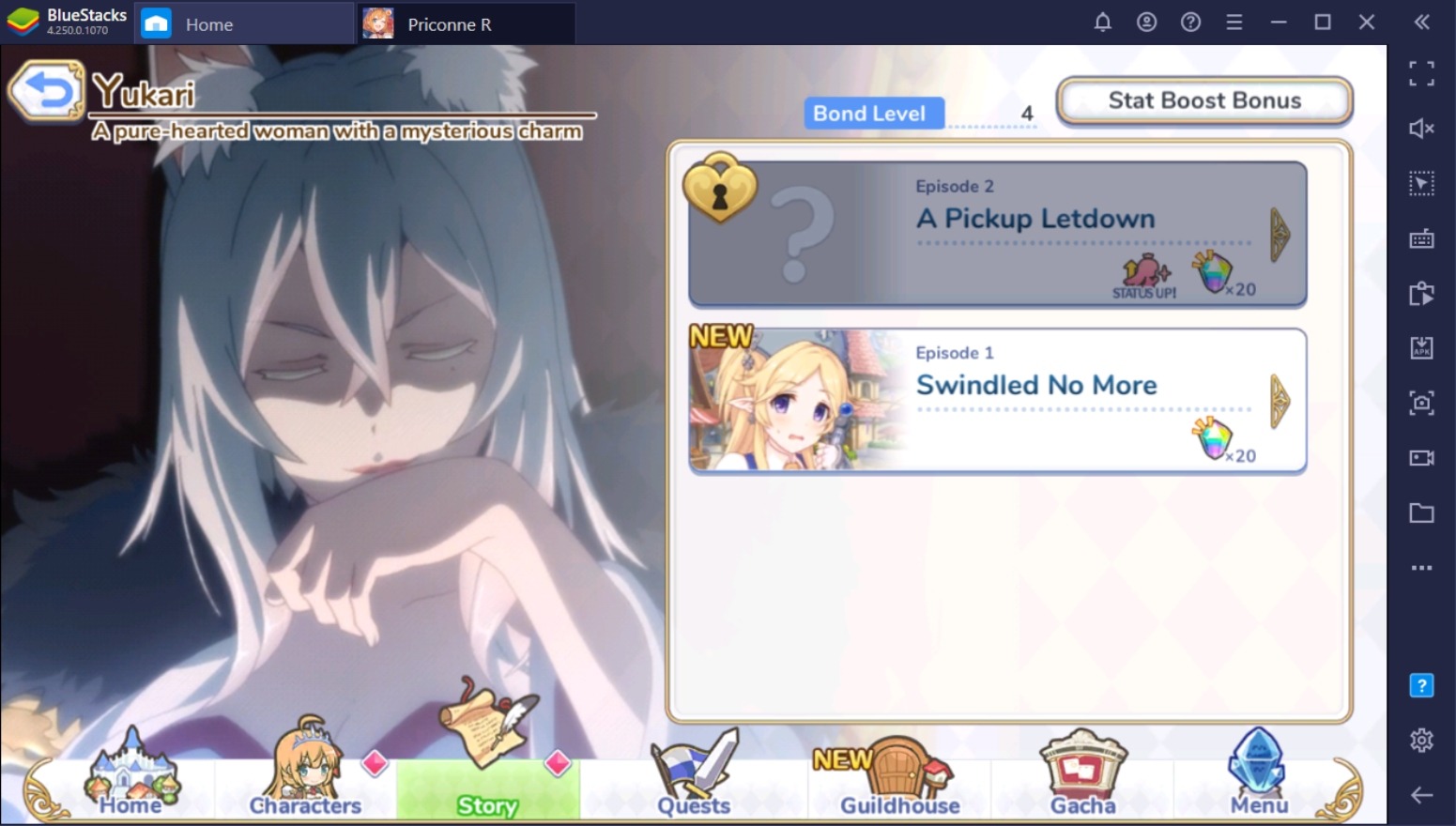 If you want to get even more gems, you might want to use all of your current characters on missions to increase their Bond Level. Each time you increase your bond with a character, a new chapter on their character story becomes unlocked. 20 gems might not seem like much, but if you count your characters and multiply that number by 4 (the average bond level on most characters), you'll realize that you're already sitting on a gold mine of uncollected gems.
Missions
Missions are another common way to get gems. Most of the Normal Missions are an absolute pain to get. Daily Missions only give 20 gems in total, so it's not the best way to get the currency you need, but it sure is better than nothing. If you're planning to speedrun the game, try completing Main Quests since they're the easiest ways to get gems via the Mission Tab.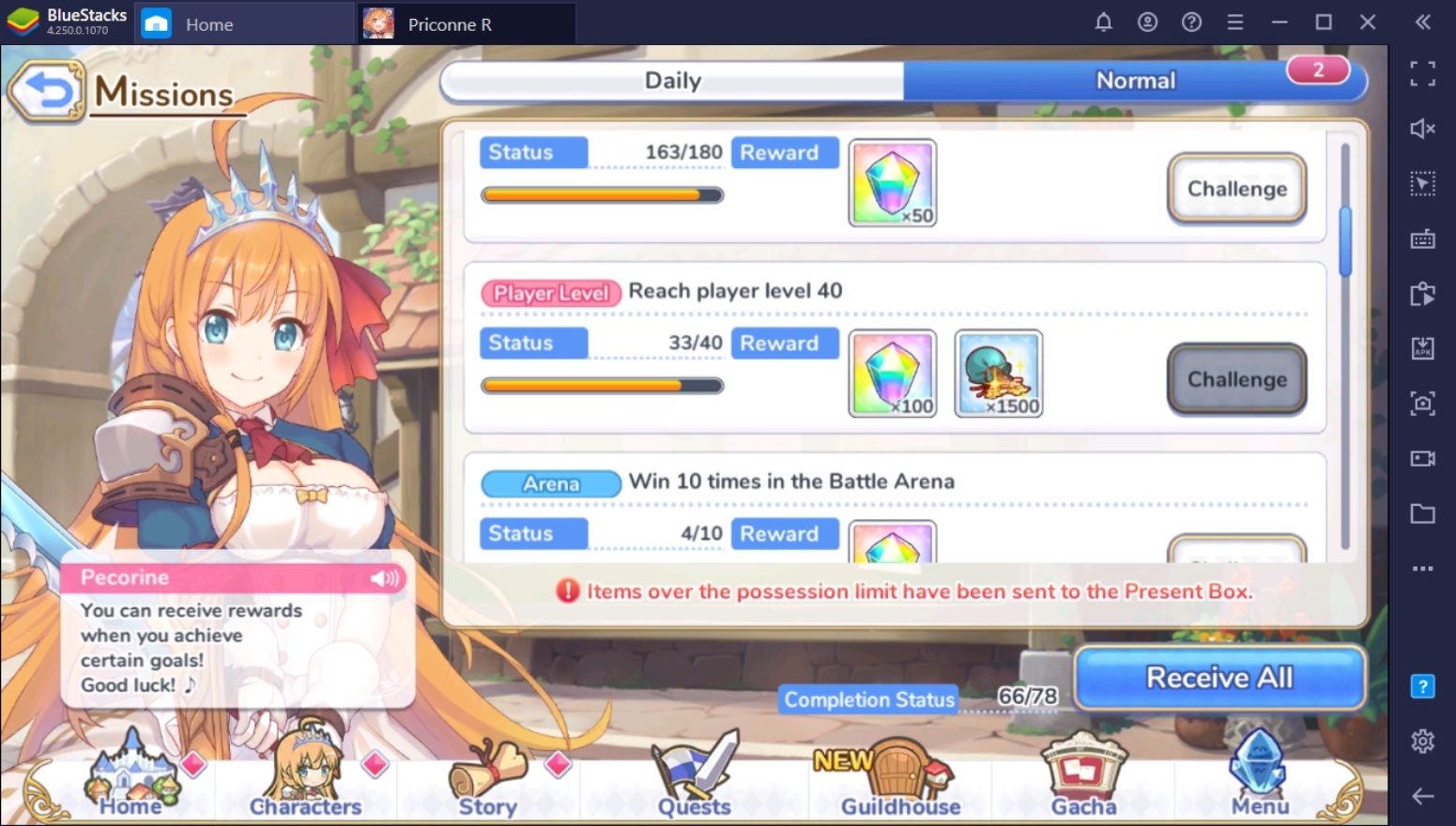 There are missions for every game mode available in the game. Every unique thing you do will almost always count towards a mission requirement, so as long as you remain active in the game, you'll certainly get a mission reward. Even the most generous companies don't throw out gems as much as they care about earning their revenue. Patience will eventually pay off… unless you consistently get bad summons, that is.
Events
When game companies hold events in the game, they usually give out gems to their players as a gift. Depending on how generous the company is, the gems given to you might be enough for a couple of summons. Unfortunately, this isn't always the case. In fact, the company might not even give out gems in the first place. Luckily, the Asian version of Princess Connect! Re:Dive does.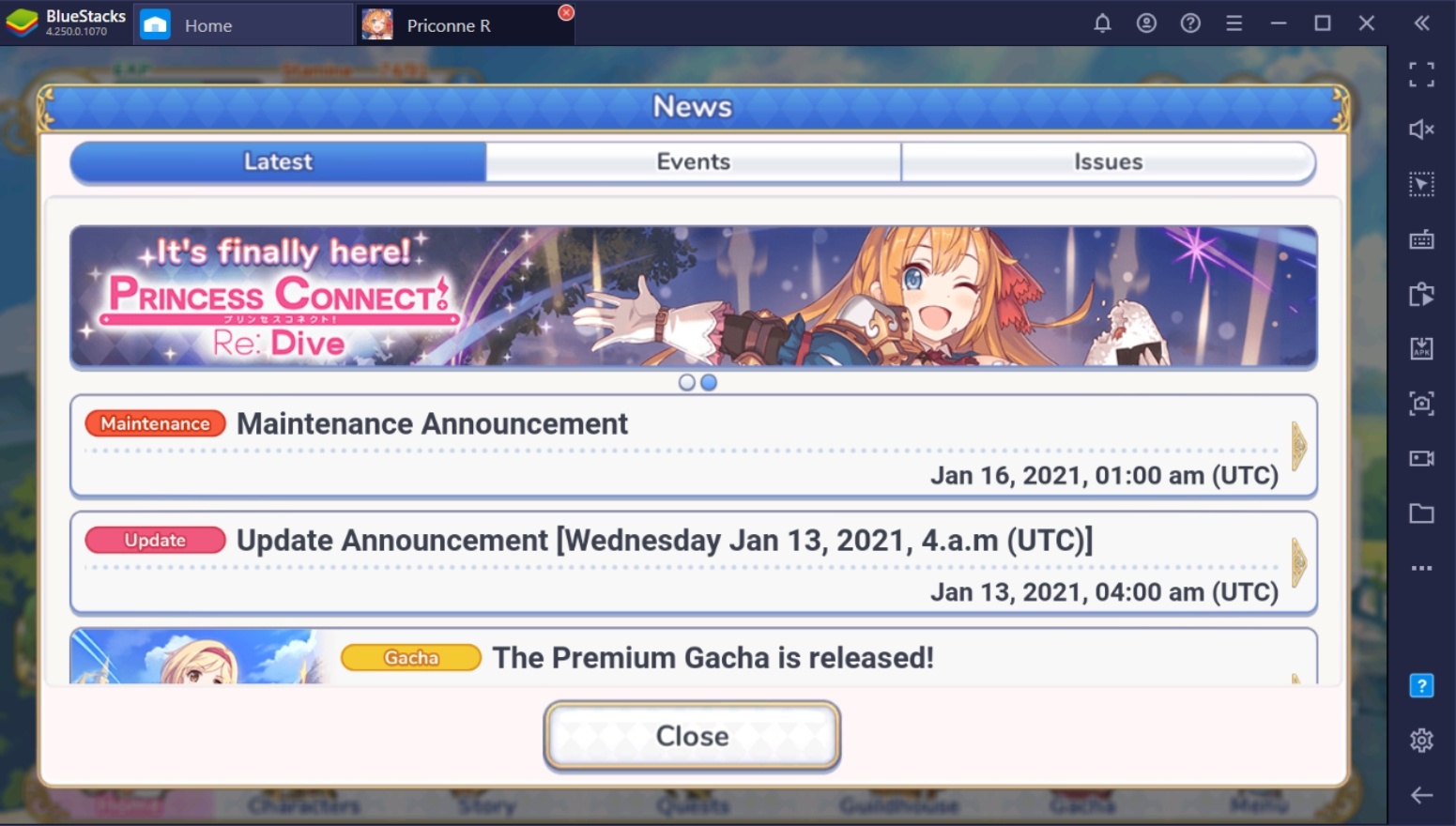 Some game events feature limited-time game modes, which are the company's way of adding some spice to the game so that players aren't stuck on an endless grind. These game modes often also feature gems as rewards in the form of Even Missions. Look out for the next event coming to the game so that you know when you need to allot some time playing the game for an extended period of time. Redeem all the gems during these events!
Best Deal For Princess Connect! Re:Dive
If you're willing to spend a bit of cash but don't know what to buy, you might want to take a look at the Daily Jewel Pack. It costs somewhere around $8 depending on your country's conversion. For $8, you will be given 500 gems right off the bat and 50 gems each day for 30 days. In addition, you'll be given 10 Skip Tickets daily as well as double the loot rewards you get from all the Dungeons. Spending $8 every month shouldn't hurt your wallet too much and is quite a wise investment in the game.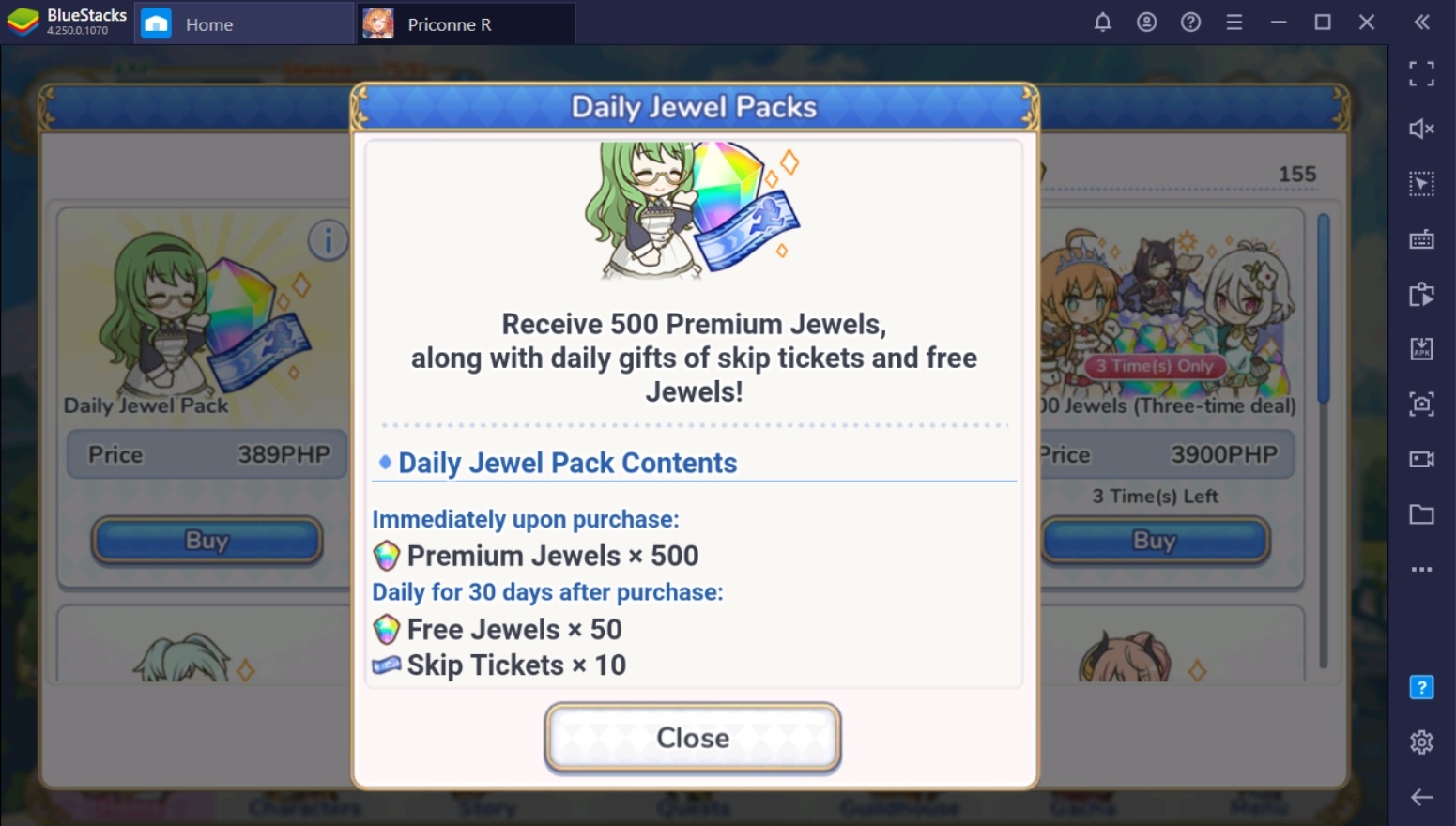 Players that want to spend some big bucks but want to do so smartly will want to buy the Beginner's Jewel Bundle. In this bundle, players can buy 7500 gems for $80, limited only on the first three purchases. The usual $80 bundle only gives 5500 gems, so that's an extra 2000 gems you get for free!