Game Guides
List of Elite and Advanced Commanders in Rise of Kingdoms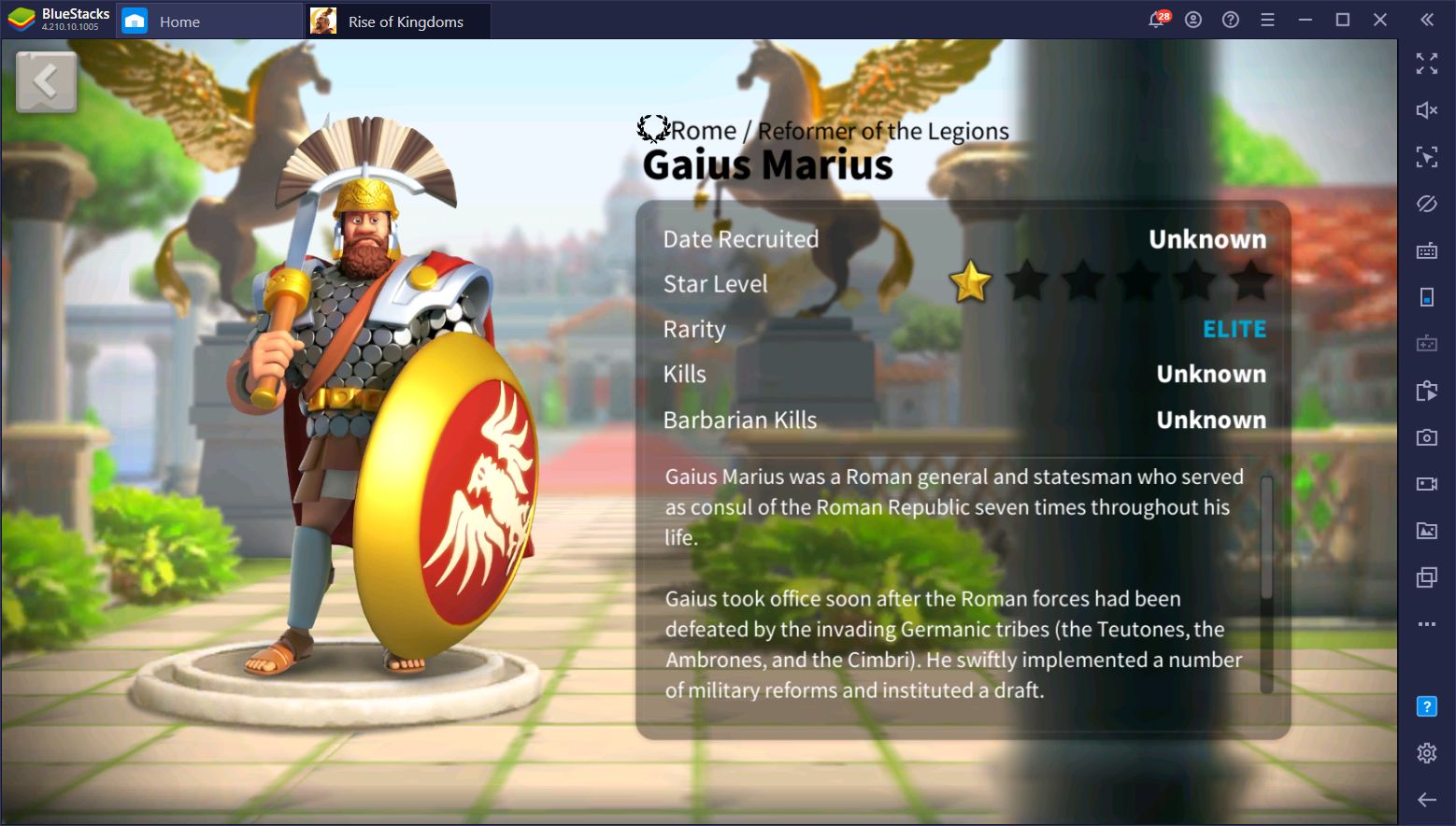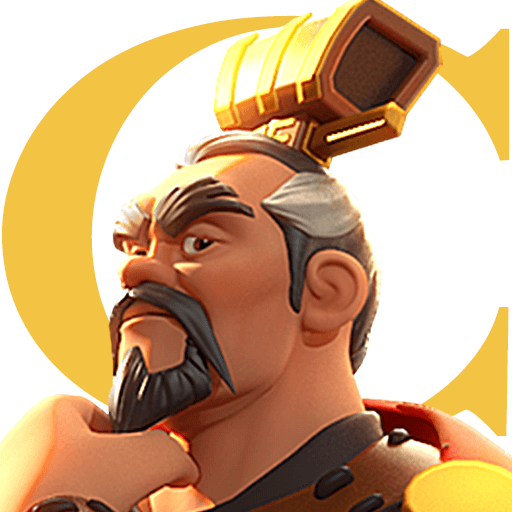 Navigation
RoK Commander Tier List
List of Legendary Commanders
List of Epic Commanders
Last, but not least, the Elite and Advanced commanders in Rise of Kingdoms. These will be quite common in the start, and will likely be the ones you'll unlock first. However, some of them can be quite strong in the right conditions. Regardless, you might want to replace them for better commanders as soon as you get the chance.
TIP: If you're looking for a specific hero, we recommend using the search (Ctrl + F) function in your browser.
Gaius Marius
A basic gathering hero, with lots of buffs to increase his efficiency at collecting resources from nodes in the world map.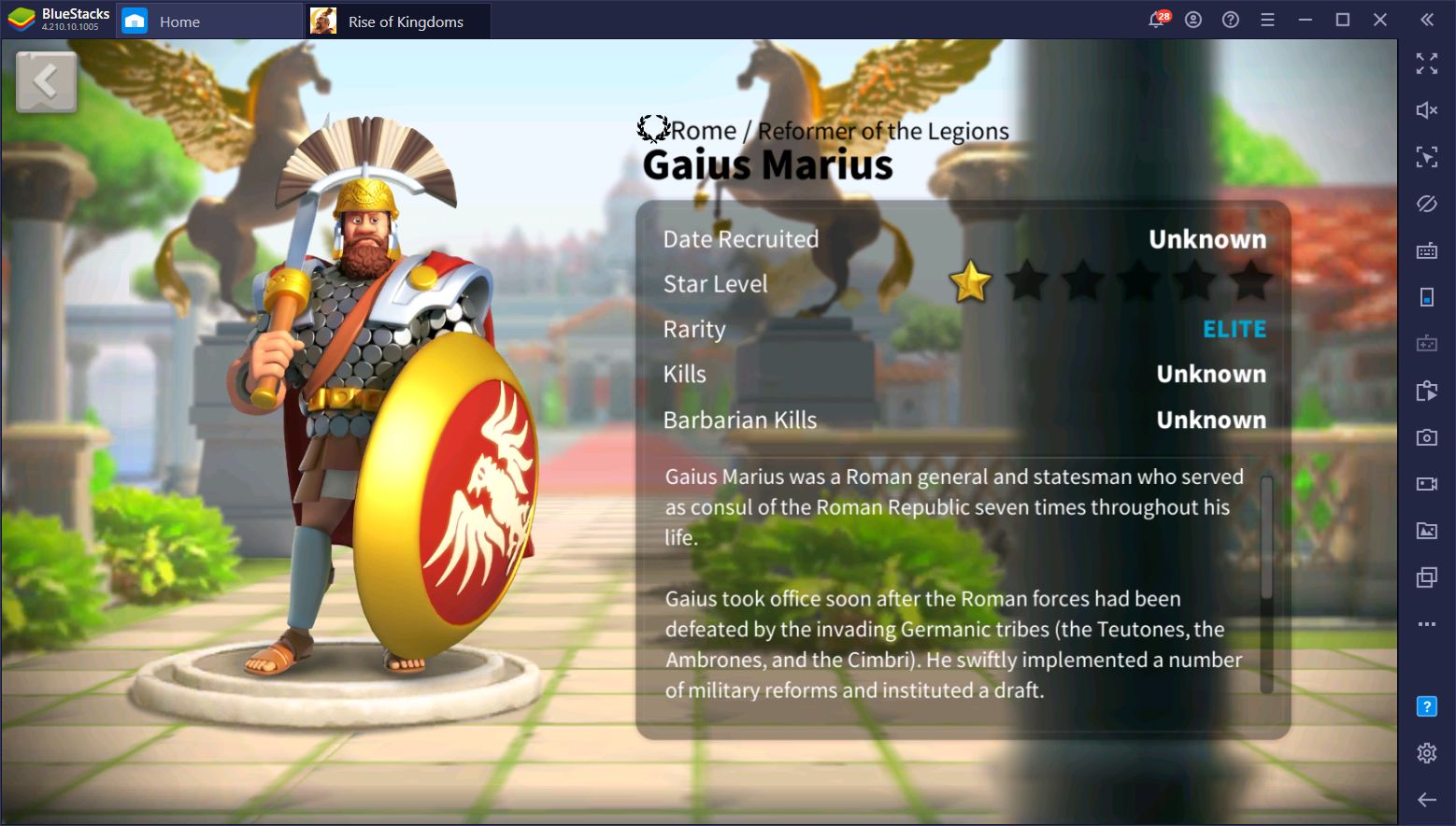 Skills
Savior of Italy: Deals slight damage to the enemy while healing wounded troops. Significant decreases the enemy's march speed.
Founder of Empire: Increases the rate at which units gather wood, food, and stone.
Marius' Reform: Increase the troops' load capacity.
Conqueror of Nemidia: Boosts the march speed of siege units, while also increasing the ratio of wounded-to-casualties, resulting in fewer units killed in battle.
Recommended for: Gaius is a standard gathering commander and should be treated as such. Don't try to take him to battle because he will fail you unless he's escorted by a stronger character… But why would you want to do that, anyway?
Tomoe Gozen
A very decent choice for secondary commander since she can increase the skill damage of the entire team when assigned to this role. She can also boost the frequency of your active skills thanks to her increased rage generation.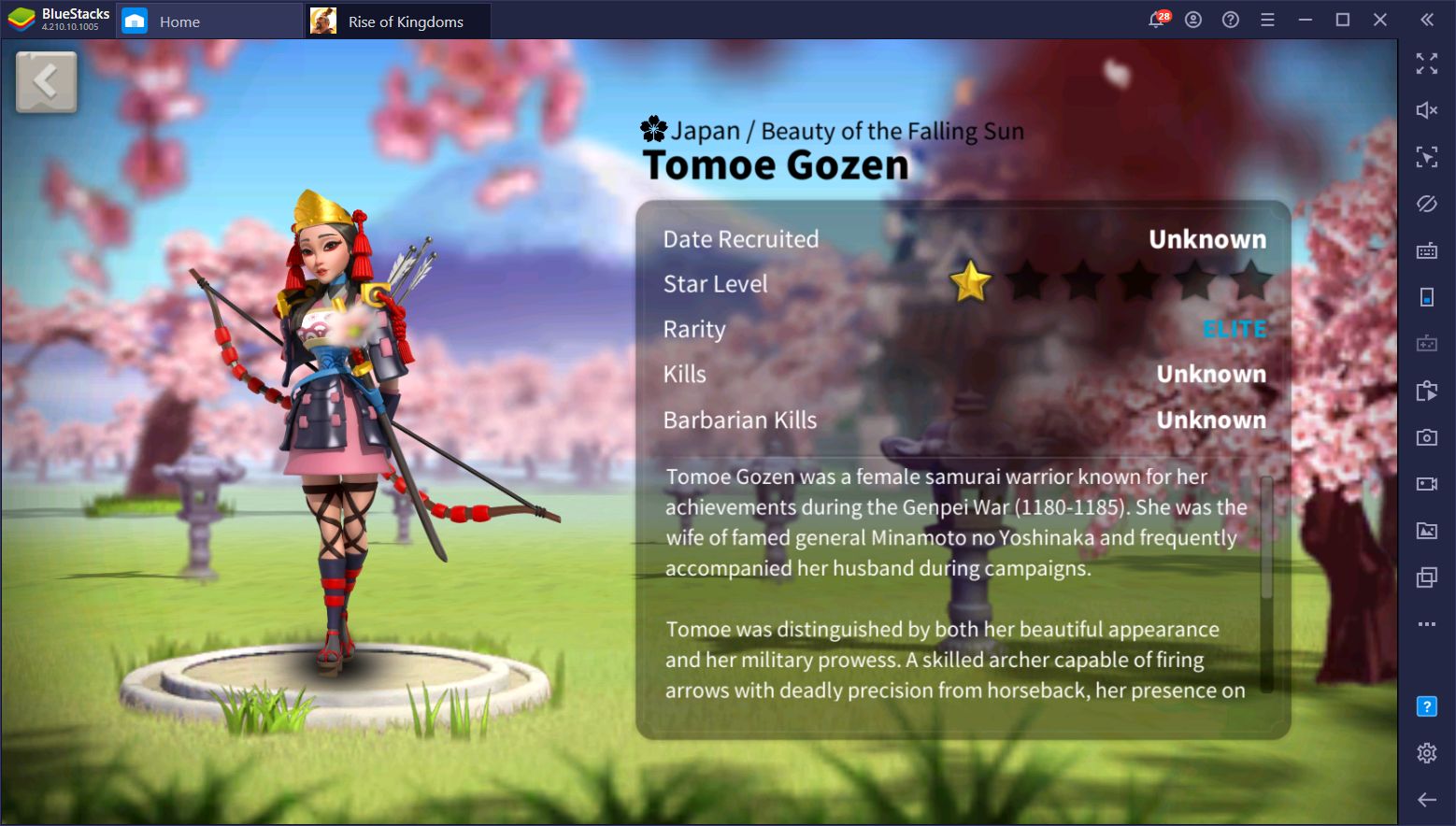 Skills
Blood Sakura: Boosts the damage of all units for a short period.
Divine Bow: Increase the damage and march speed of archer troops.
Beauty in Chaos: Generates more rage when attacking the enemy, while also boosting skill damage when assigned as a secondary commander.
Eternal Love: Significantly reduces the enemy's damage whenever she uses an active skill.
Recommended for: Tomoe is a very formidable choice for a secondary commander. Not only is she a great supporting character, but she also goes well with commanders that rely on their active skills thanks to her increased rage generation.
Lancelot
This Elite commander combines a good defense with a surprisingly potent nuke. He's definitely nothing to scoff at early on.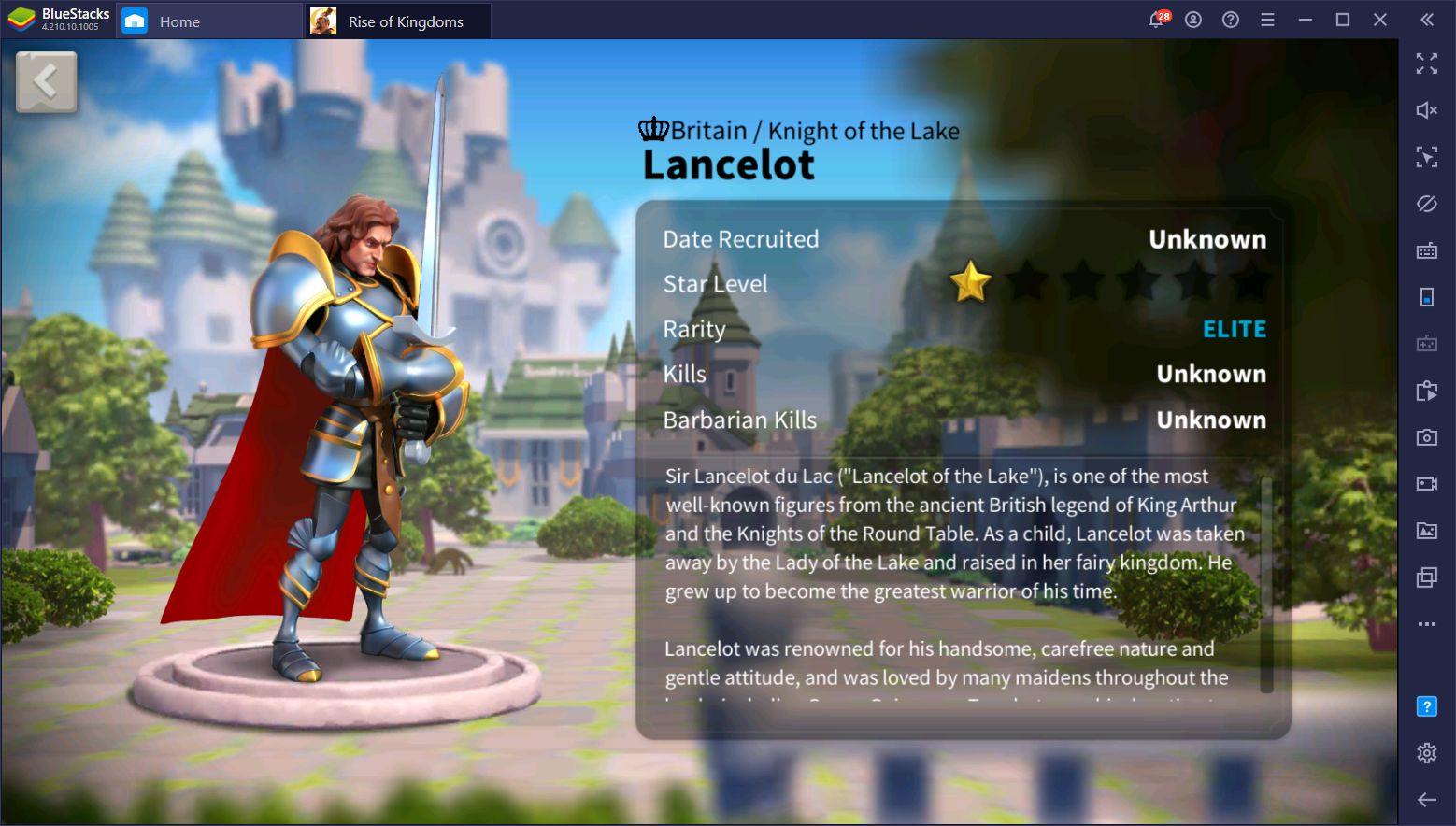 Skills
Quarrel: Deals significant damage to an enemy.
Knight of the Round Table: Increases the march speed and damage of cavalry troops.
Forbidden Love: Has a slight chance on taking damage to reduce all damage taken on the next turn.
Battle of Sorrow: Considerably increases march speed and damage whenever troops fall under 50%.
Recommended for: Lancelot is surprisingly powerful for a commander in this category. He magnifies the inherent strengths of cavalry units through his passive skills, while also dishing out considerable damage with his active nuke.
Sárka
This is another gathering commander that's actually one of the best in this category. She's one of the popular commanders that players use for all their gathering needs.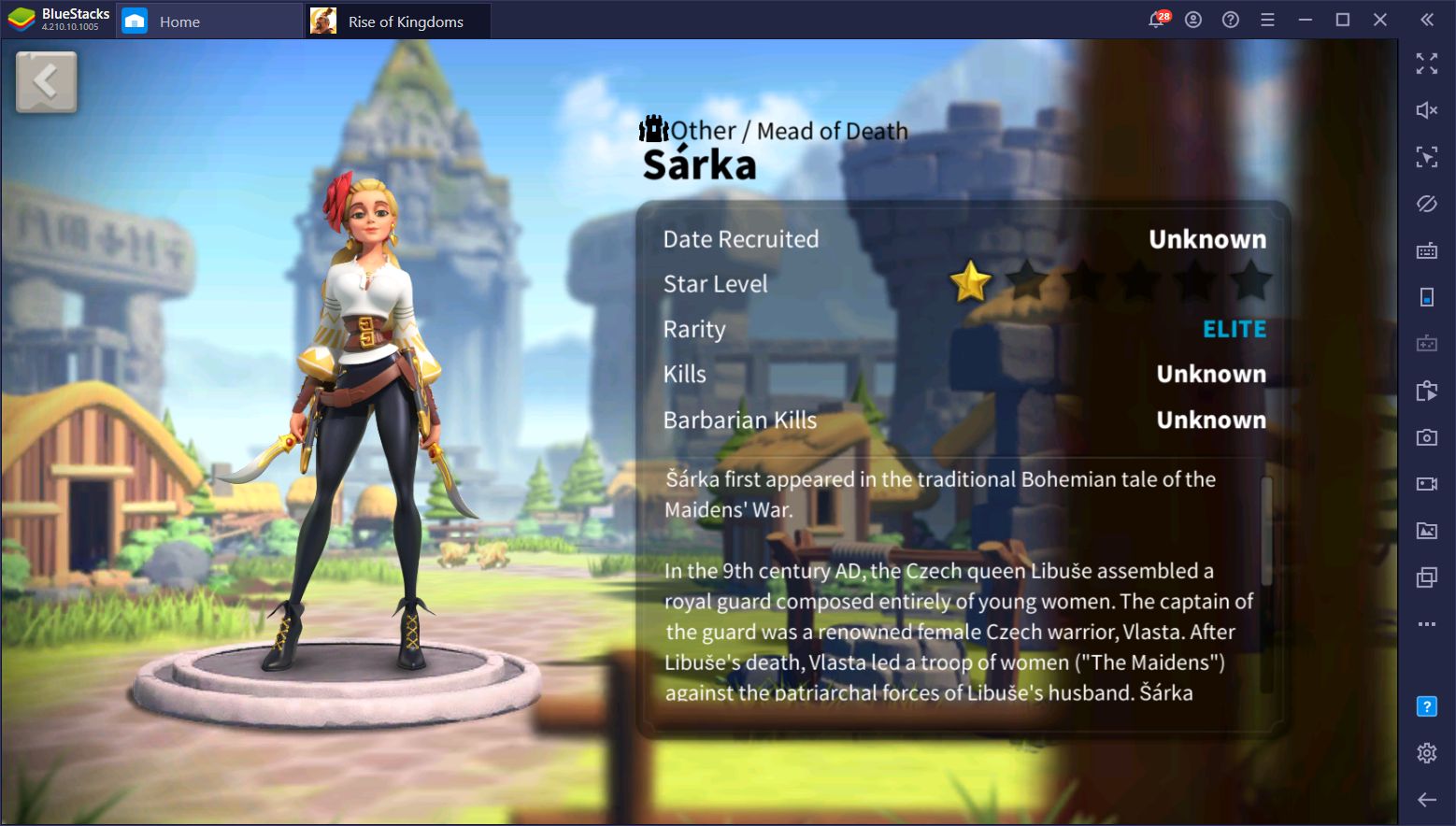 Skills
Enchantment: Deals light damage to the enemy while decreasing their march speed considerably for a short period.
The Maidens' War: Significantly increases gathering speed for all resources.
Lost Treasure: Passively boosts troop load.
Short-lived Heroine: Increases troop capacity at the cost of their attack.
Recommended for: Without a doubt, Sárka is one of the best gatherers in the game, and she should only be used for this purpose. She pairs well with Joan of Arc for this task.
Constance
If Sárka was good at gathering, Constance is even better, particularly when gathering wood. Her passive skills grant her bonus resources upon returning to town, which significantly increases yield per trip, especially later on when you have big armies.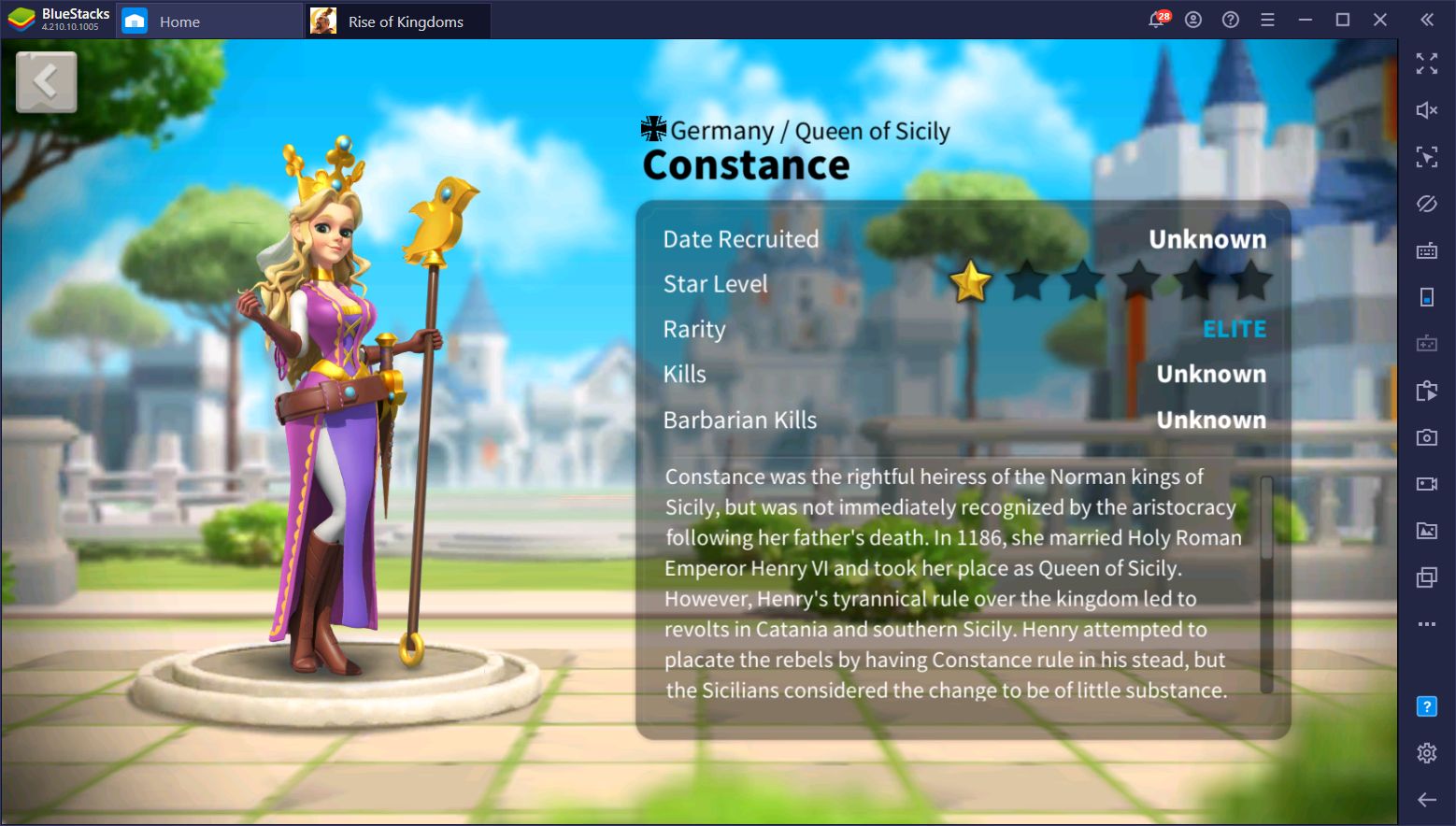 Skills
Struggling Poison: Deals slight damage to the enemy and places a DoT for 3 seconds.
The Regent: Increase resource gathering speed considerably. This boost is increased further when gathering wood.
Loving Mother: Increases troop load.
Queen of Sicily: Provides bonus resources upon completing a gathering trip, equal to a set percentage of total resources collected.
Recommended for: Gathering, definitely. Paired with Joan of Arc, this team will be your go-to for your gathering trips. Seriously, you won't need anything else after you unlock these two.
City Keeper
As an Advanced unit, City Keeper does a pretty decent job of keeping your city safe. He has plenty of skills to improve health, attack, and defense, particularly of infantry troops.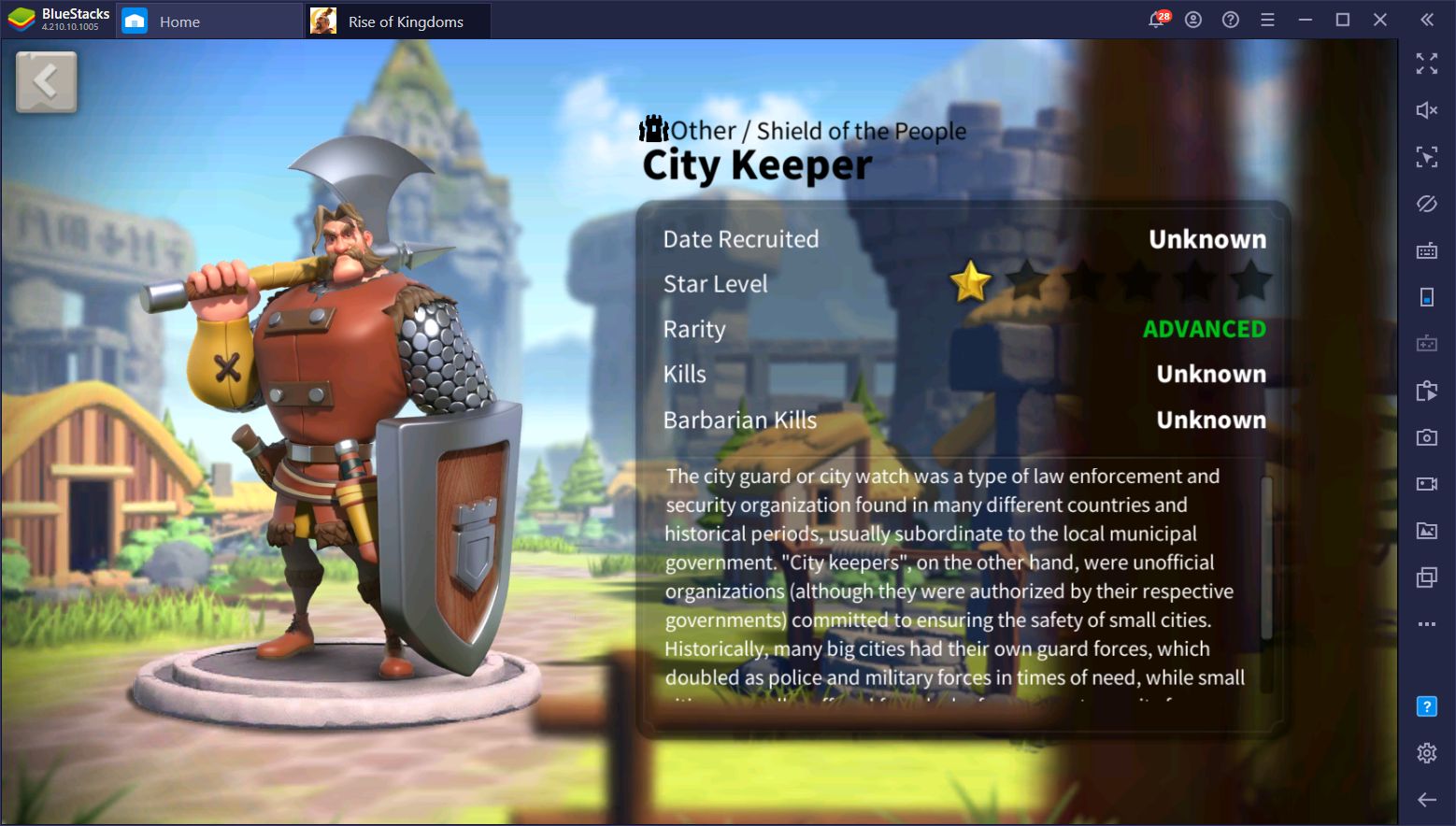 Skills
Hard Shield: Boosts troops' defense for a brief period.
Vitality: Slightly increases infantry's HP.
Sharp Blade: Slightly increases infantry's attack.
Rapidity: Slightly increases infantry's defense.
Recommended for: As you can see from his skills, most of the bonuses that this commander provides are "slight," meaning that you should replace him as soon as you can.
Centurion
Like most Advanced commanders, the bonuses that this unit provides are vestigial, at best. However, if you don't have anyone else, Centurion is better suited for gathering trips thanks to his passive skills.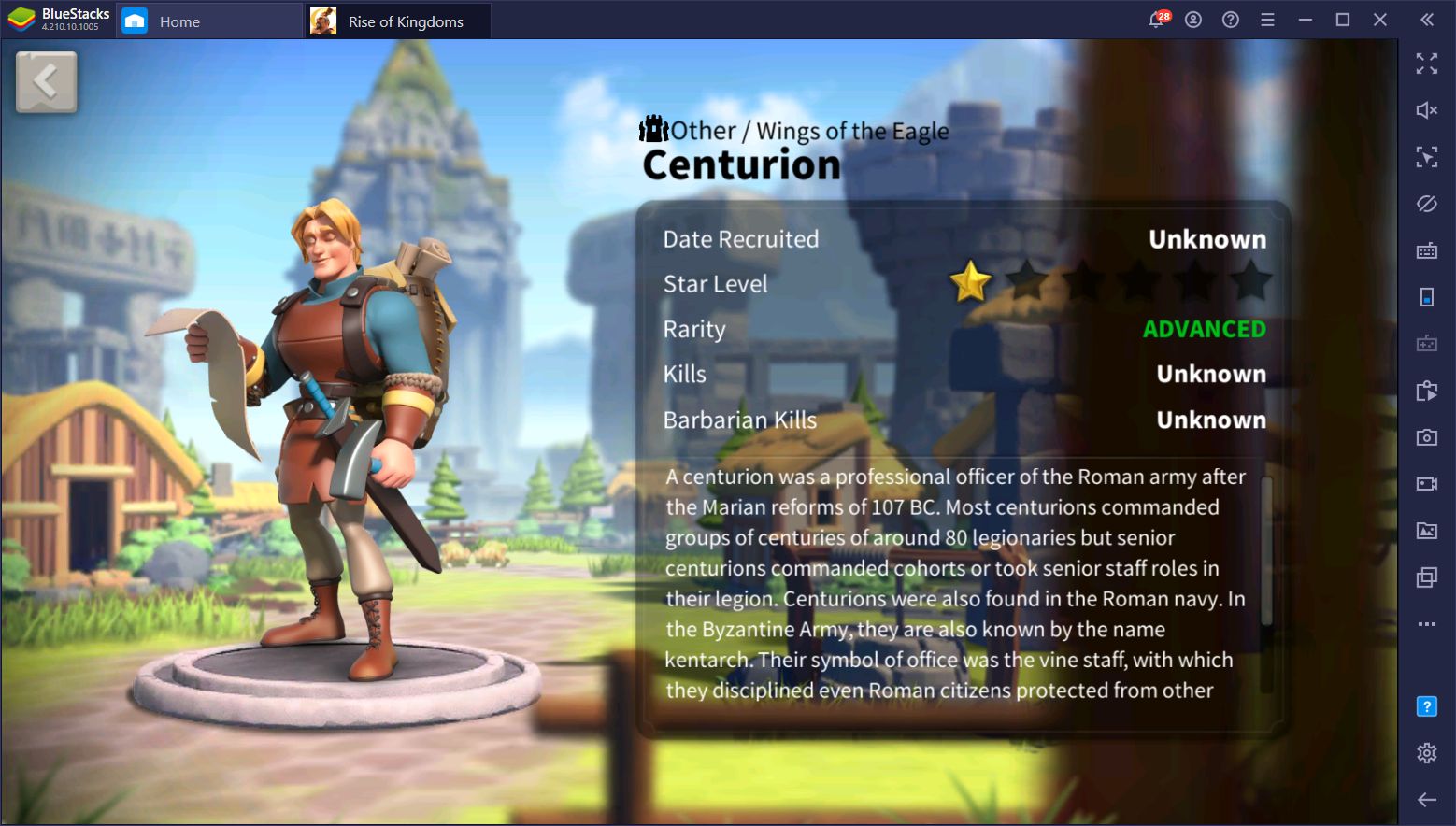 Skills
Bloody Battle: Deals moderate direct damage to a single target.
Excitement: Passively boosts troop defense slightly.
Army Management: Increases both gathering speed and troop load.
Courageous Fighter: Increase maximum troop capacity.
Recommended for: As far as this category of character goes, you can do much worse than Centurion. His damage is meager, but his gathering passives are decent. Take him on your gathering trips. Or better yet, just use Joan or Constance!
Dragon Lancer
This hero is, perhaps, one of the best offensive commanders in this category for world PvP, particularly because his skills favor cavalry troops, which is a popular choice for this activity.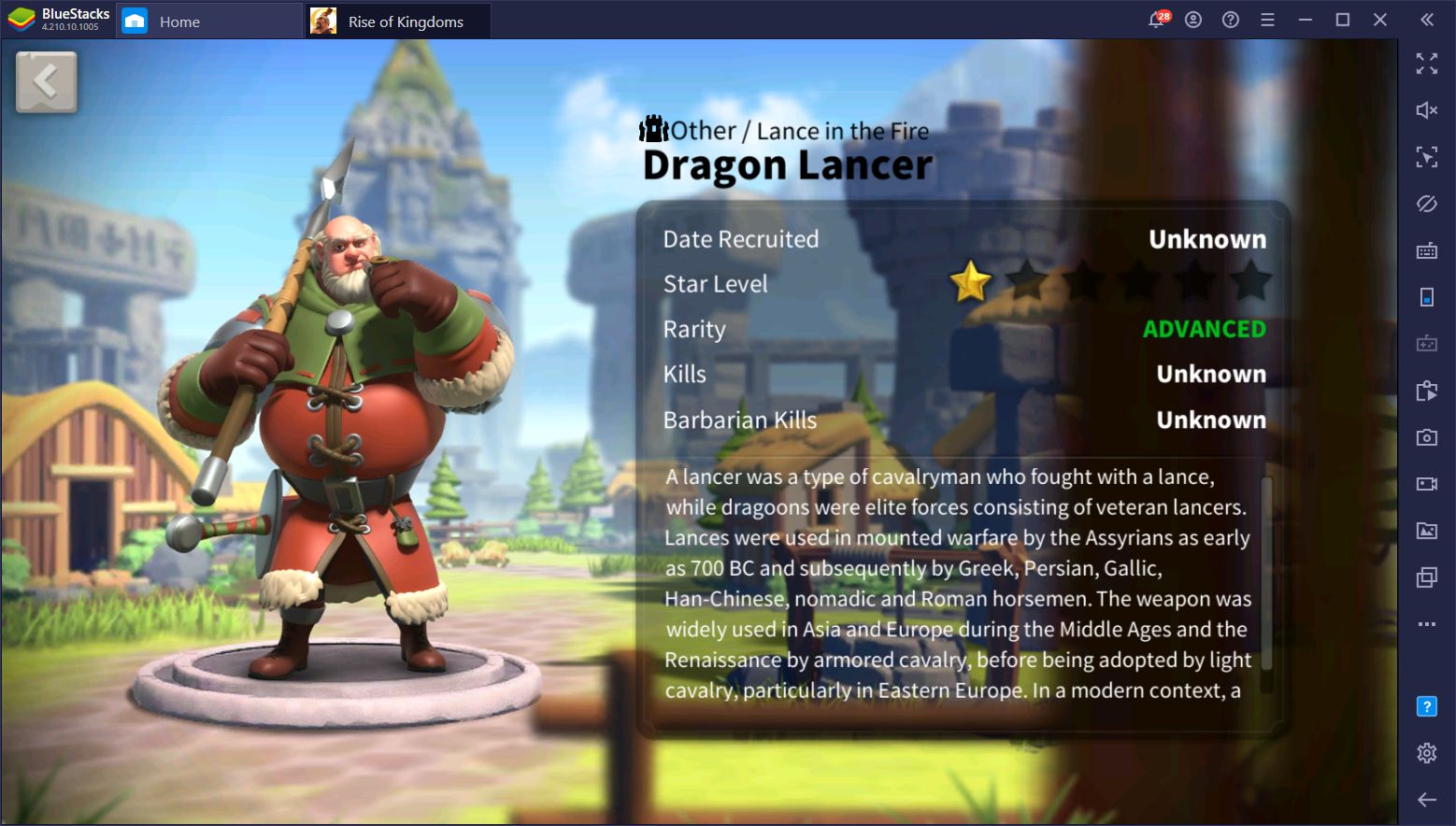 Skills
Deterrent: Causes direct damage to the enemy and places a DoT for 2 seconds.
Fine Horse: Boosts the march speed of cavalry troops.
Lance of Freedom: Increases the attack of cavalry troops.
Metal Armor: Boosts cavalry's defense.
Recommended for: He's decent for combat using cavalry troops. You'd be better off using him for hunting barbarians instead of other players, though.
Markswoman
This is the character you get for free in the tutorial. As such, you'll find that she's nothing special. However, she has one of the strongest nukes out of all other heroes in this category.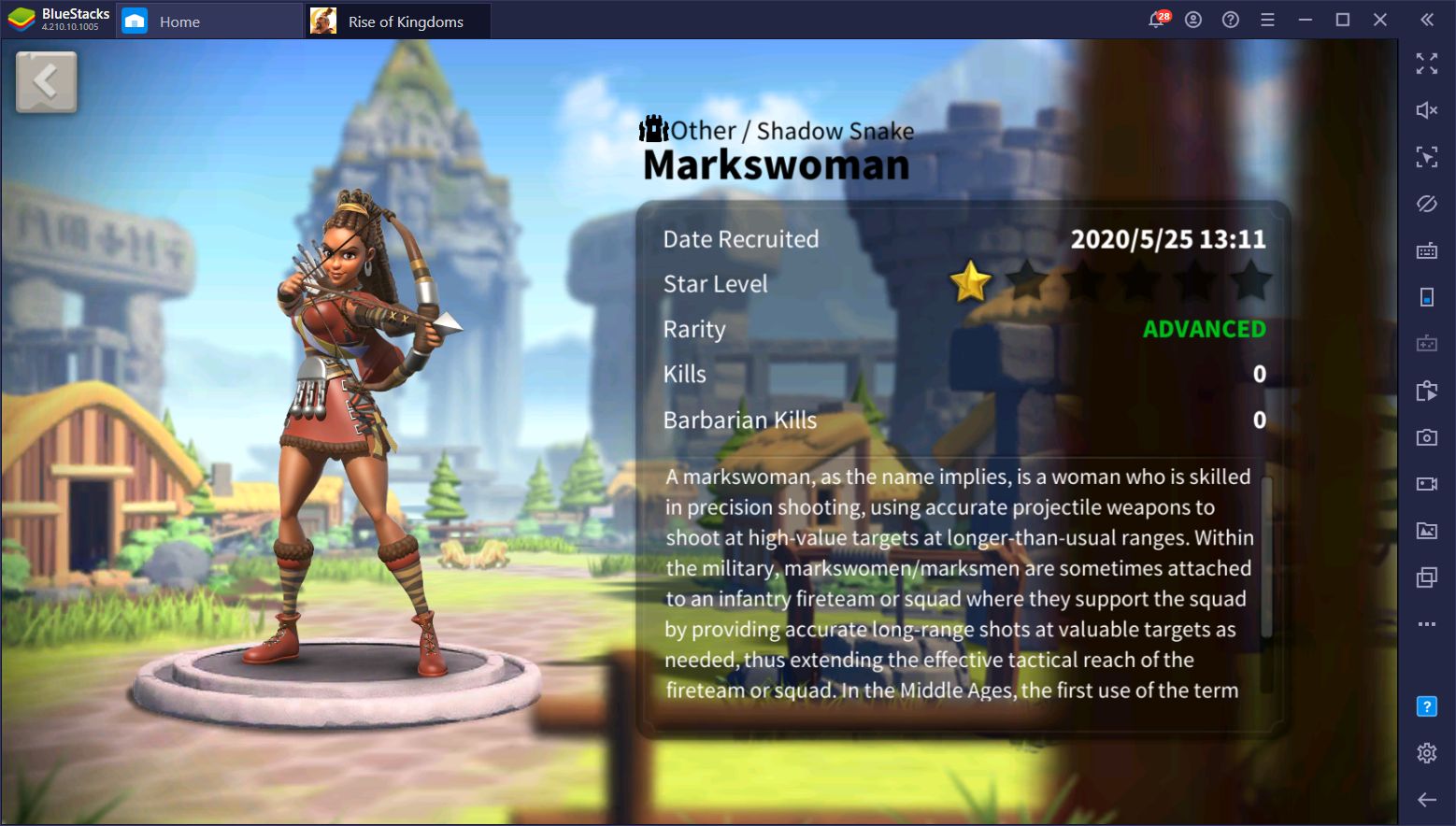 Skills
Raid: Deals a powerful blow to a single enemy.
Poison Arrow: Boosts damage deal to barbarian enemies.
Accuracy: Boosts the attack of archers.
Agility: Boosts the defense of archers.
Recommended for: The aptly-named Markswoman is ideal for hunting barbarians, especially when commanding an army of archers.
And with that last entry, we've listed all the different commanders in Rise of Kingdoms. Which are your favorite character pairings in this game? Let us know your best strategies and combat tips in the section below!