Game Guides
Benefits of Playing Rise of Kingdoms on BlueStacks – Develop Your Town with just a Few Clicks, Make Multitasking Easier, and More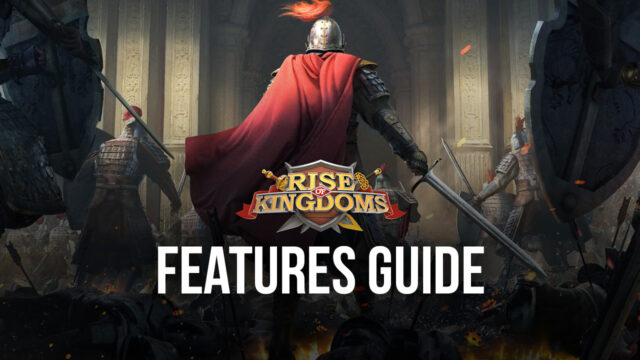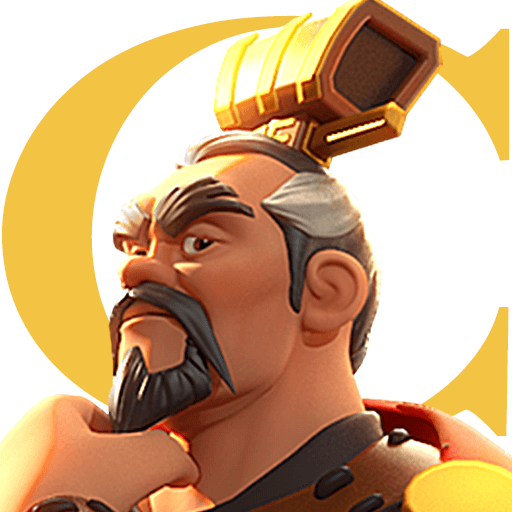 Rise of Kingdoms is, by far, one of the most popular strategy games on the mobile platform. This is mostly due to its simplistic take on conquest gameplay, letting players develop their towns and build their armies and defenses, but while also offering intricate combat systems when it comes to waging war and engaging in alliances and conflicts with other users.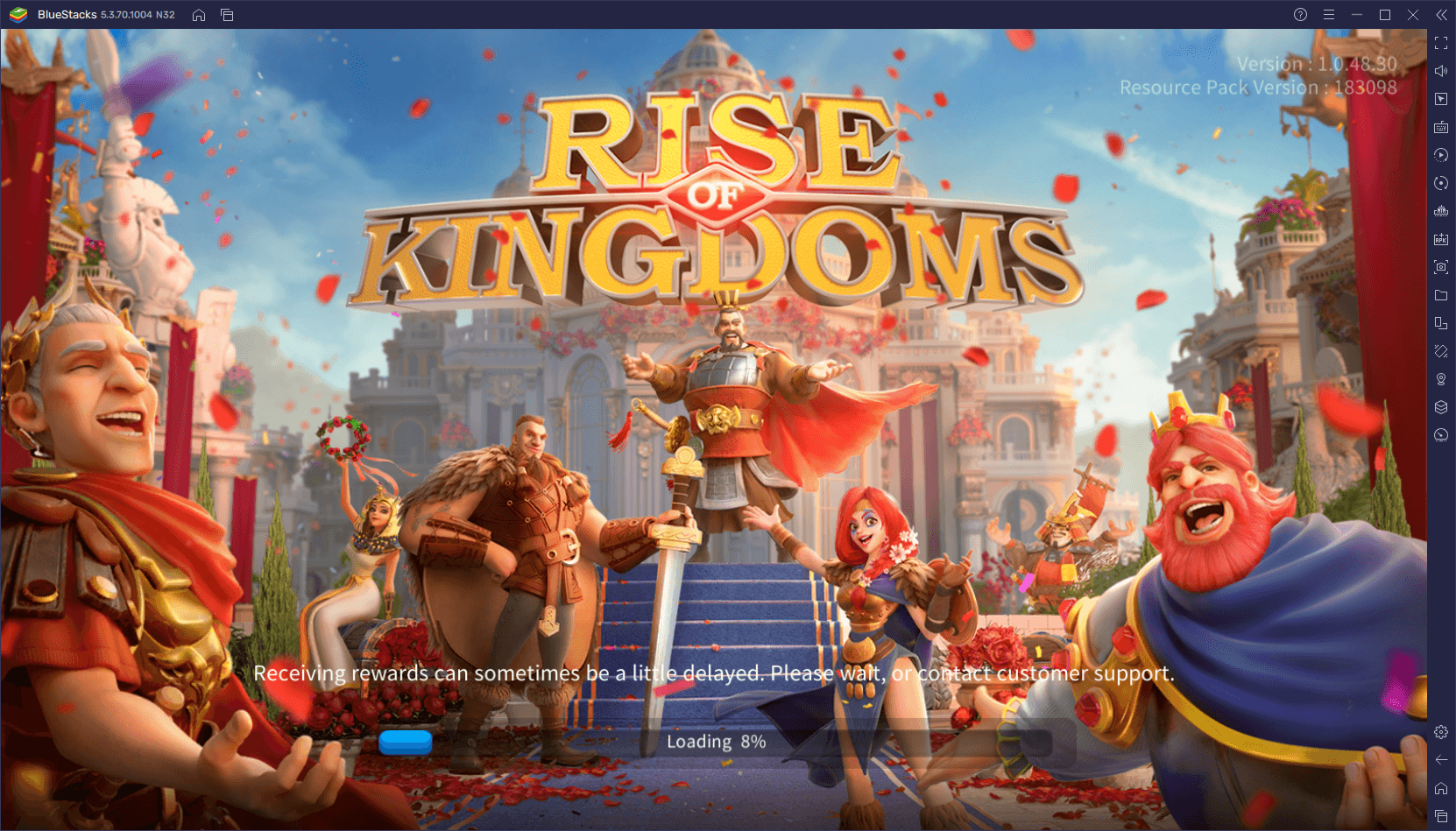 In other words, this game has a lot going for it. And whether you enjoy the PvP aspects of these games, or merely like to build cities and focus on production and research, it's likely that you'll find something to do in Rise of Kingdoms.
One of the most notable drawbacks of this game, however, is that it can only be played on phones, which means that users would need to suffer through gaming on a small phone screen, while also relying on clunky touchscreen controls to issue orders, command armies, and develop their towns. Fortunately, players can play Rise of Kingdoms on PC with BlueStacks, our Android app player, and play this game on a much larger screen, with the best performance, and without any of the issues that stem from gaming on smartphones.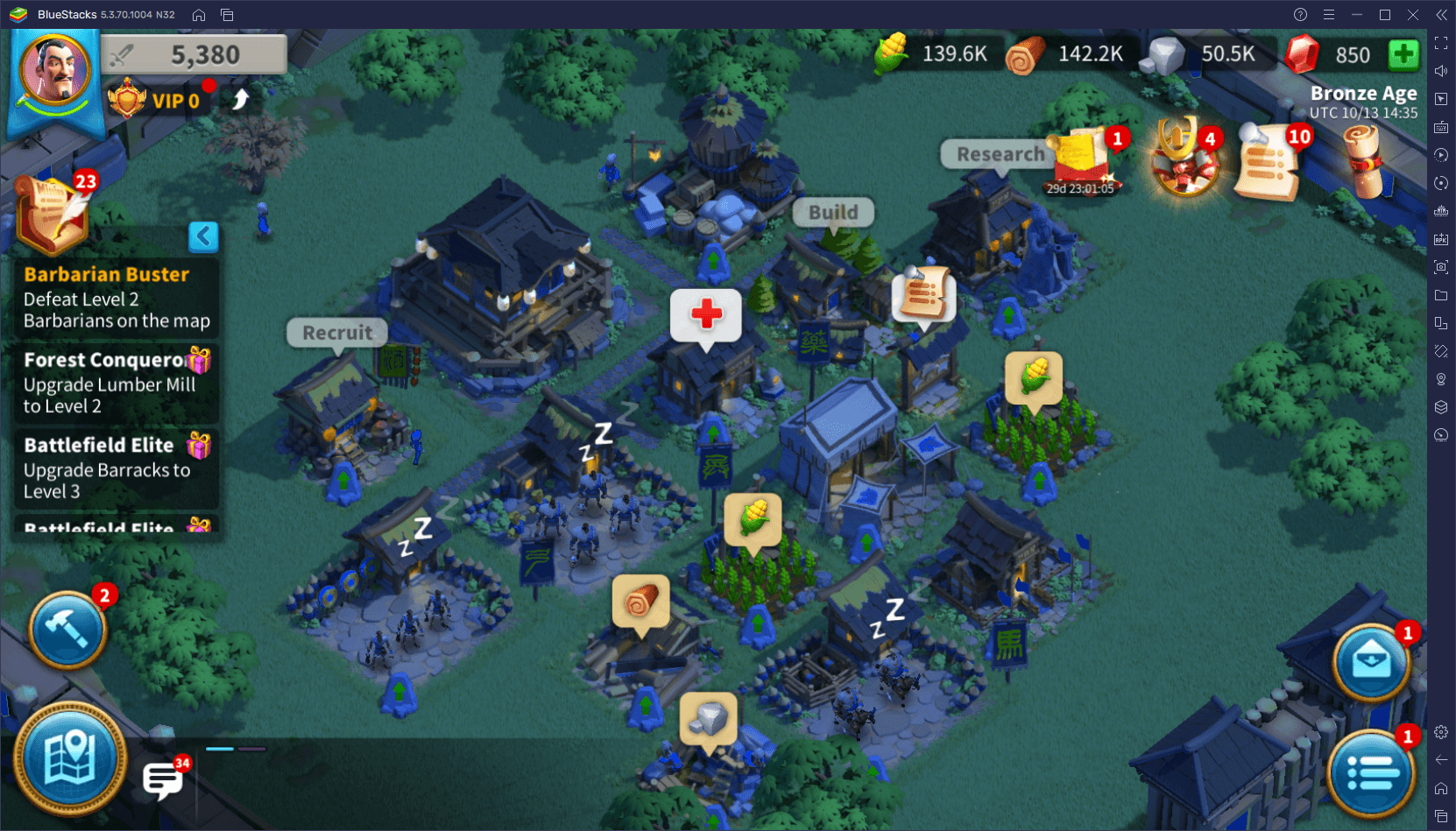 However, aside from the inherent benefits of playing on PC, BlueStacks also has many different tools that can significantly enhance the user's experience when playing Rise of Kingdoms. And in this article, we're going to explain precisely how to configure and use these tools so you can get the most out of them.
Simplify Menu Navigation With the Keymapping Tool
One of the particularities of Rise of Kingdoms is that, like with most strategy conquest games, most of its gameplay takes place through different menu screens. And while this style of gameplay makes it quite intuitive to play even on your phone, it doesn't take away from the fact that you'll still need to be tapping back and forth across your screen to navigate through the different aspects of the game, which is something that can get quite tedious fairly quickly.
However, if you play on PC with BlueStacks, you can use the Keymapping Tool to create intuitive control schemes using your mouse and keyboard, which in turn would let you control the action with your PC peripherals. In this sense, instead of having to click manually on everything, you can use keyboard shortcuts to open menus, issue projects, and even to control your armies with ease in combat, which in turn will significantly enhance your effectiveness in battle.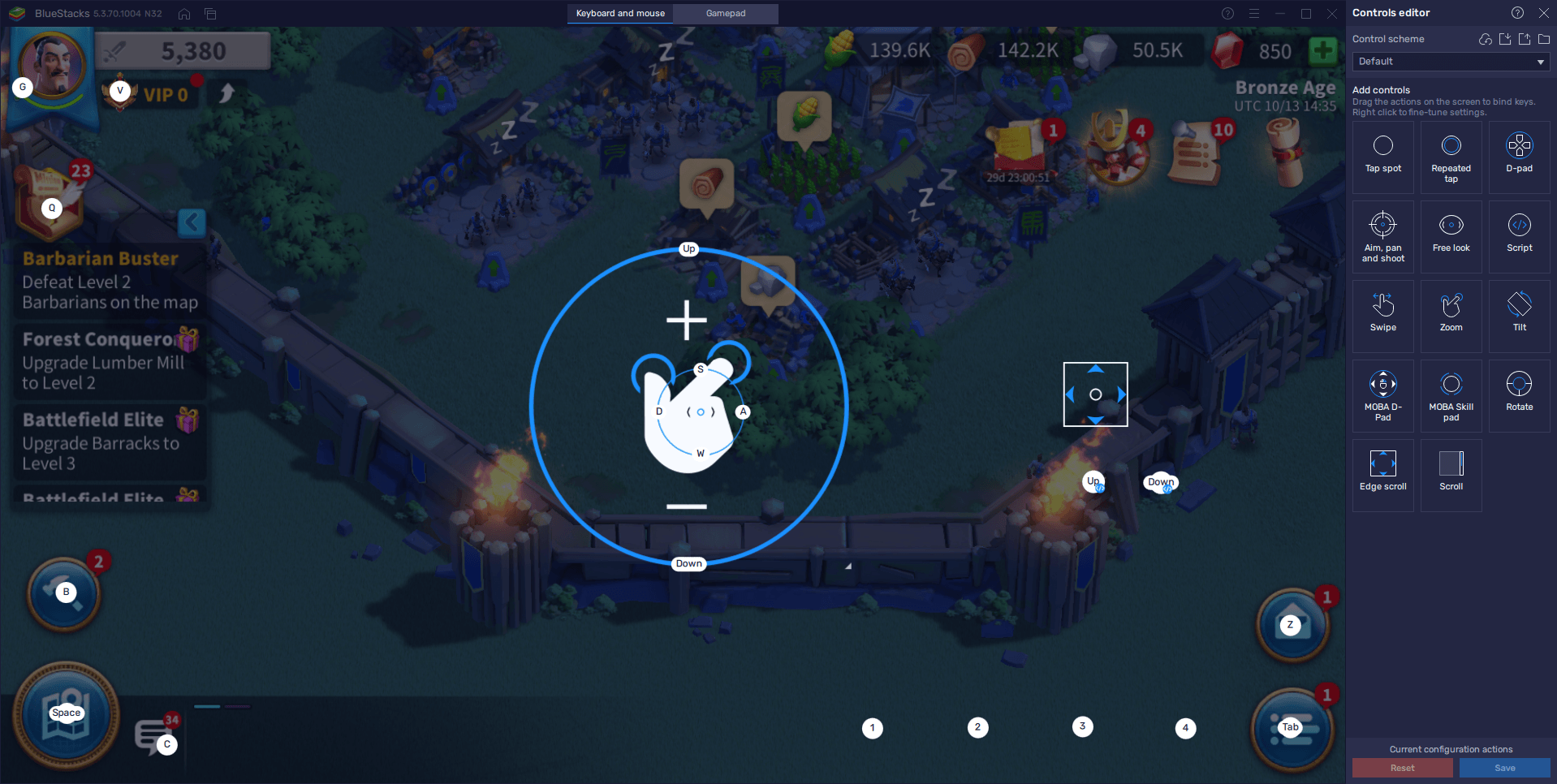 You can access the Keymapping Tool at any moment by pressing Ctrl + Shift + A while in-game. In this screen, you can check your current bindings, change them for new keys, and even add new functions by dragging and dropping them from the panel on the right.
Scroll the Map Like a PC RTS With the Edge Scroll Utility
Another important feature of the Keymapping Tool, which we feel deserves its own section, is the Edge Scroll aspect.
This simple element is a part of the Keymapping Tool, and you can add it at any moment to your game by dragging and dropping it anywhere on the screen. Once active, this feature lets you scroll your camera in Rise of Kingdoms simply by placing your mouse cursor on the edges of the screen, like in a PC RTS game. This will significantly help you to navigate through the many different screens in the game, without the need for manually dragging the camera at all times.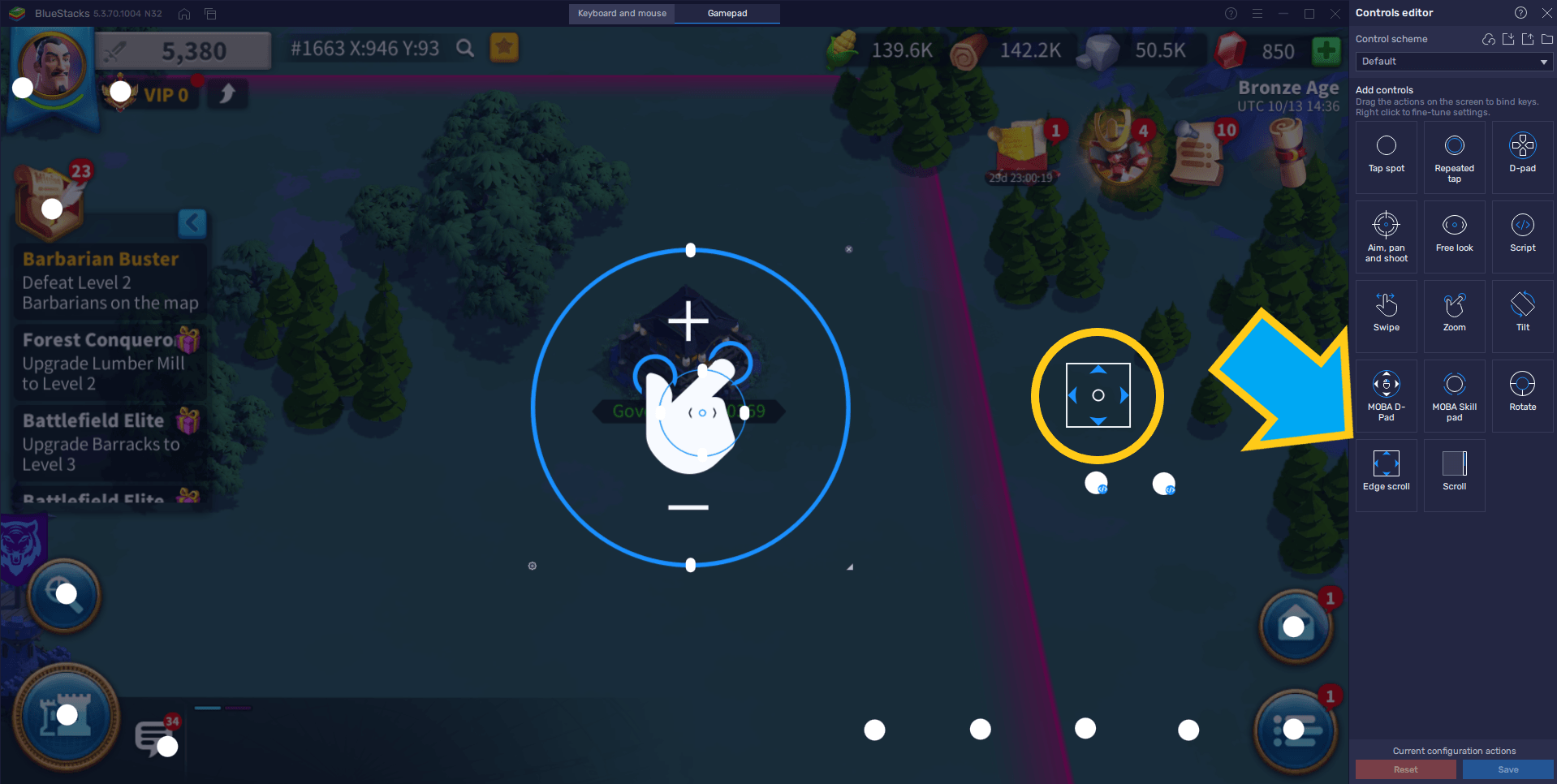 Keep in mind, however, that in order for the Edge Scroll feature to work, you must either play in fullscreen by pressing F11, or lock the mouse cursor to your BlueStacks window, which can be toggled by pressing Ctrl + Shift + F8 at any time.
Automate Production and Grinding With the Macro Recorder
One other aspect inherent to most strategy conquest games like Rise of Kingdoms is the fact that, in order to properly develop your town, you will need to perform many repetitive tasks, such as constructing many copies of the same building, upgrading many buildings back to back, sending your troops to gather resources from the world map, and many more. These tasks can quickly become tedious as they're virtually the same and can be done in a few clicks. However, since everything in these games takes a lot of time to complete, you'll need to always be on top of your timers in order to progress quickly and efficiently.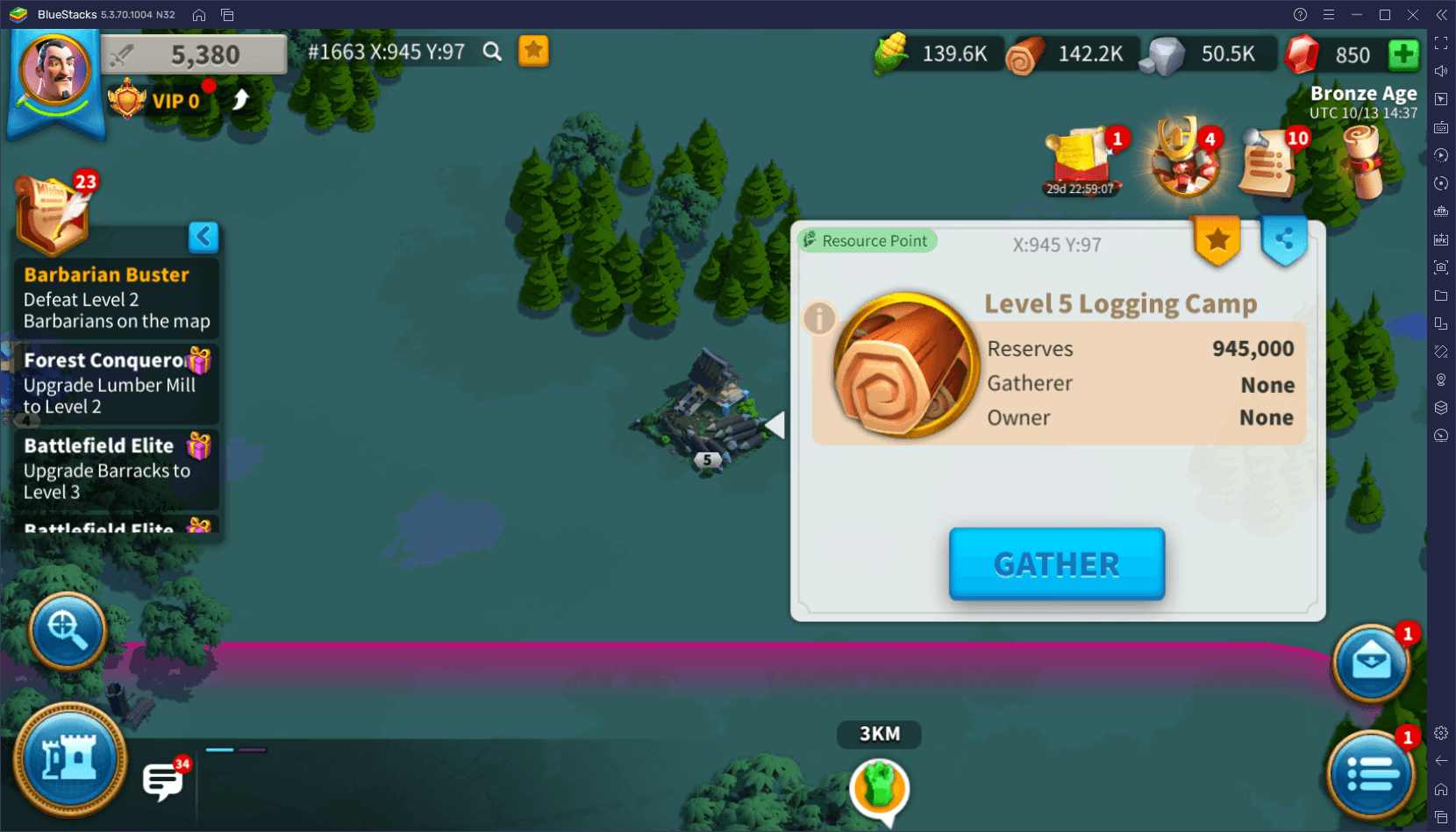 If you're like us and like to play smart and not hard, then you'll definitely benefit from the BlueStacks Macro Recorder. This feature essentially lets you create macros for any game by recording yourself playing, and then use them to automate the same actions in subsequent occasions. For instance, you can record yourself sending your troops to gather food from the map, and then use the resulting macro to automate this action with a single button. You can even customize your macros so that they repeat after a certain period, which essentially automates certain processes so that you can continue grinding even while AFK.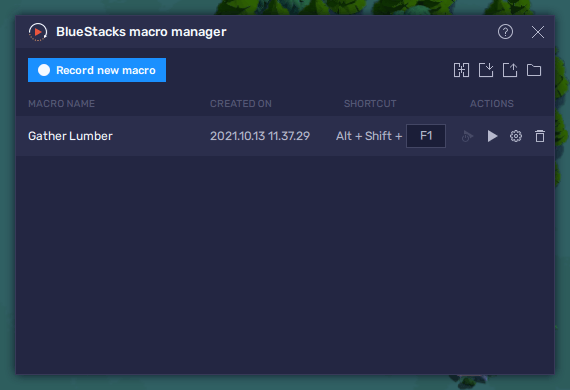 And one of the best parts of these macros is that you don't even need BlueStacks on the foreground for them to work. You can set a macro to repeat, minimize BlueStacks, and the game will basically play itself.
Develop Multiple Farm Cities Simultaneously With the Instance Manager
Last but not least, a good way to progress in Rise of Kingdoms is by having multiple cities—one main town which you will be developing as your primary account, and several other "farm" towns that only serve to funnel resources into your main account. With several farm accounts under your belt, you can significantly expedite your progress in this game.
With the Instance Manager, you can easily create and manage multiple accounts, and even have them all open on your screen simultaneously. Simply open the manager by pressing Ctrl + Shift + 8, create as many instances as you need, and then install Rise of Kingdoms on each one. Afterward, you can bind a unique Google account to each instance so that you can access the game with multiple accounts at the same time.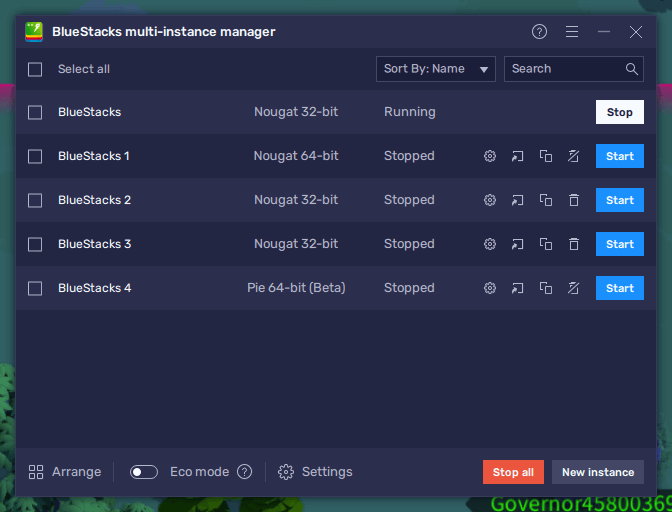 Between giving you the best controls using your mouse and keyboard, letting you automate the grind, and letting you access the game with several accounts at the same time, BlueStacks gives you the very best way to enjoy Rise of Kingdoms on PC.