Game Guides
A Beginner's Guide to Building Your Own Esports Team in RIVALS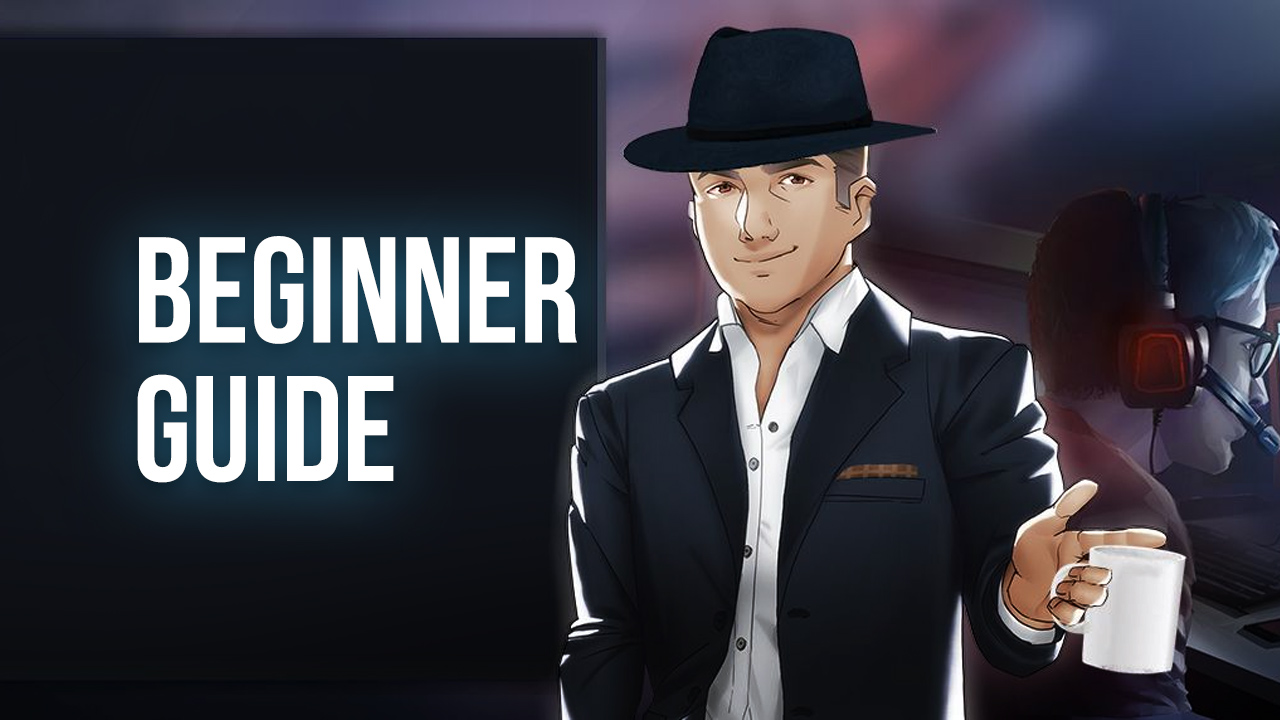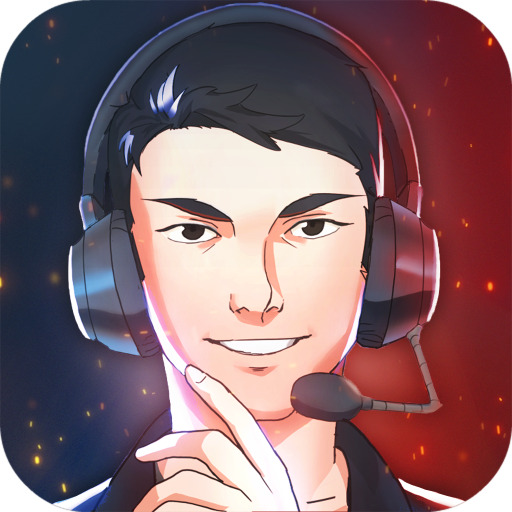 In RIVALS Esports MOBA Manager , you become the manager of your very own Esports team and it's your duty to make them the best team in the world. Placing your team to the top of the leaderboards is going to take a lot of time, money, and even mistakes. However, we're here to ensure that your career as a manager goes smoothly through this beginner's guide.
In this article, we'll discuss all the managerial things you need to know and do such as training your team, participating in matches, selecting strategies, and the like. First, let's set up your team.
Basics of an Esports Team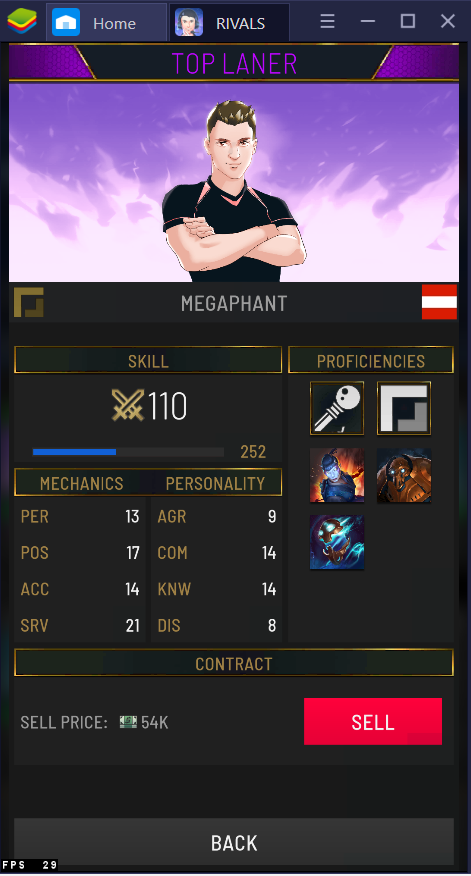 The very foundation of your Esports team is the players, specifically five players. Each player in your roster has their own role, which indicates what their job is during matches. Moreover, they also have varying stats such as Mechanics and Personality (more on those later) as well as a specific list of heroes that they are good at playing. The overall skill of a player is quantified by Player Skill and you can keep increasing this until it eventually reaches its limit.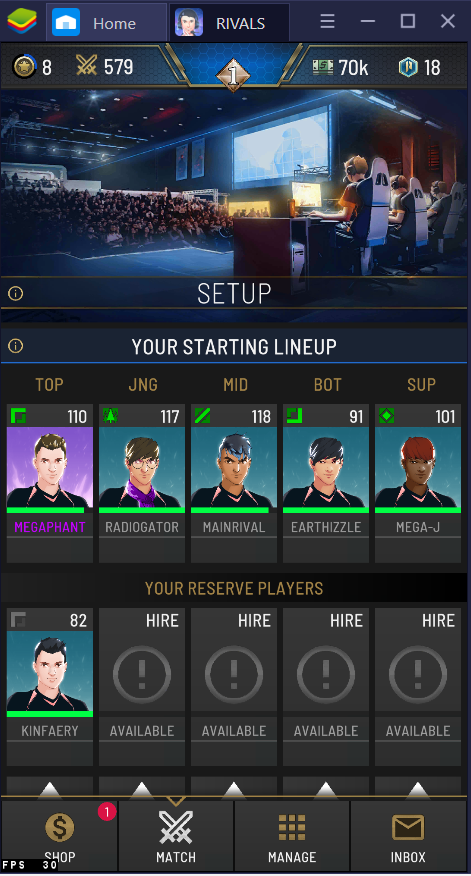 As mentioned, there are five player roles in each team. You may be very familiar with these terms if you've played MOBAs but if you've not played MOBAs before, then these are what the five roles generally do:
Top-laner (TOP) – engages towers, enemies, and objectives on the top lane of the map
Mid-laner (MID) – ensures that the top-laner and bottom-laner are successful in their push and also helps the jungler
Bottom-laner (BOT) – engages towers, enemies, and objectives on the bottom lane of the map
Jungler (JNG) – kills neutral creatures (which will give the team benefits upon doing so) in the jungle (areas that separate the top and bottom lane from the mid lane) and farms resources for the team
Support (SUP) – offers assistance to any role that is in need of it and also acts as an intelligence provider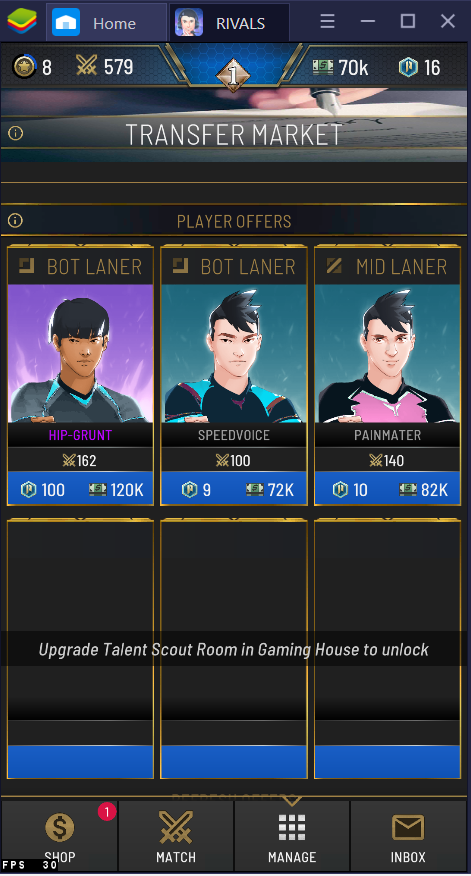 Your players can only become good up to a certain degree. They will eventually reach their Player Skill limit after numerous trainings and you'll need to replace them with new players that not only have better stats but also higher limits. In the Transfer Market, you can hire new players but make sure that you have the enough money.
Training and Recreation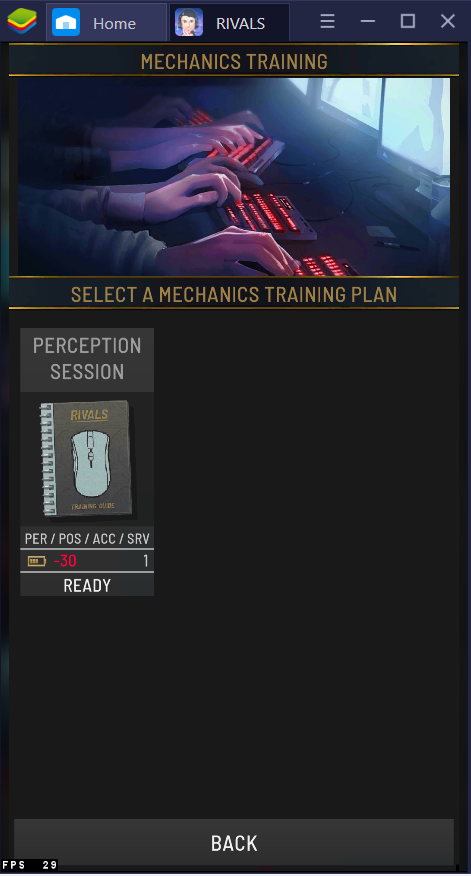 Part and parcel of becoming a better at a game is through constant training. It is your job as a manager to set up training plans for your team. You gain training plans by either hiring coaches (they generate training plans after a certain amount of time) or by winning them through Scrim Matches. As mentioned before, your players' stats are categorized into Mechanics and Personality and upgrading these will:
MECHANICS

Name

Benefit

Especially Important For

Perception

Improves reactions to enemy actions

SUP

Positioning

Improves team performance during Ganks (gang kill) and group fights

JNG

Accuracy

Increases the chance of killing an enemy

MID

Survival

Increases chances of survival when fighting an enemy

TOP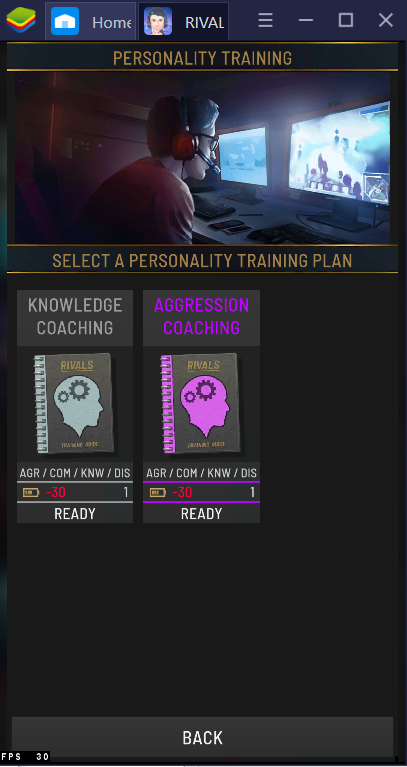 PERSONALITY

Name

Benefit

Especially Important For

Aggression

Gives bonuses during the early-phase

PUSH, GANK, INVADE, TEAM-UP, HUNT

Communication

Gives bonuses during all phases

All Tactics

Knowledge

Gives bonuses during the mid-phase

FARMING, RAMP-UP,SPLIT-PUSH,ROTATE,OBJECTIVE

Discipline

Gives bonuses during the late-phase

CAUTION, FREEZE, TURTLE, FORCE ,SIEGE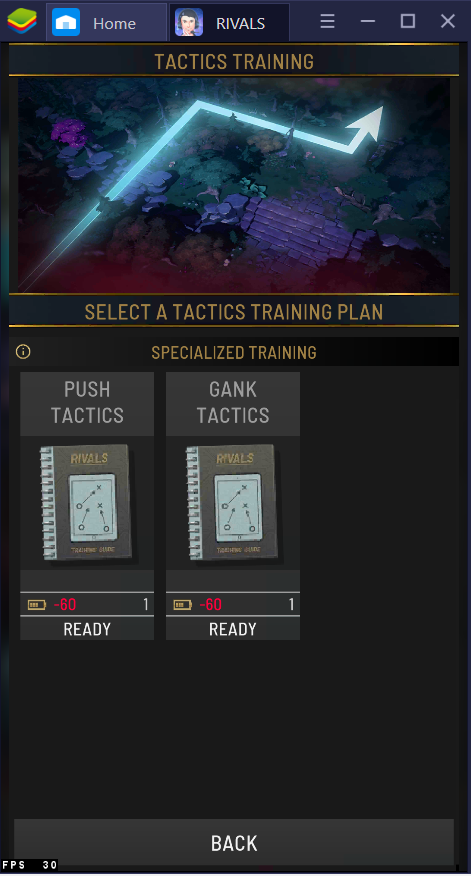 Aside from Mechanics and Personality training, you can also train your team's Tactics. Tactics training sessions will improve the execution of a particular strategy. This goes hand in hand with the benefits of well-upgraded Mechanics and Personality.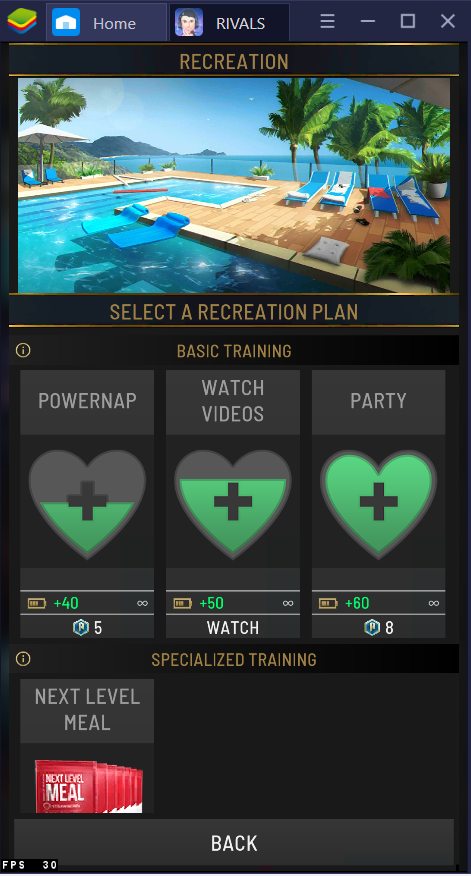 Training your players will cost them their energy. Before training them any further and especially before sending them to a match, you need to replete their energy. You can do this with Recreation wherein you can give your players some recreational activities like partying to bring back a certain amount of their energy. Alternatively, you can wait
Participating in Matches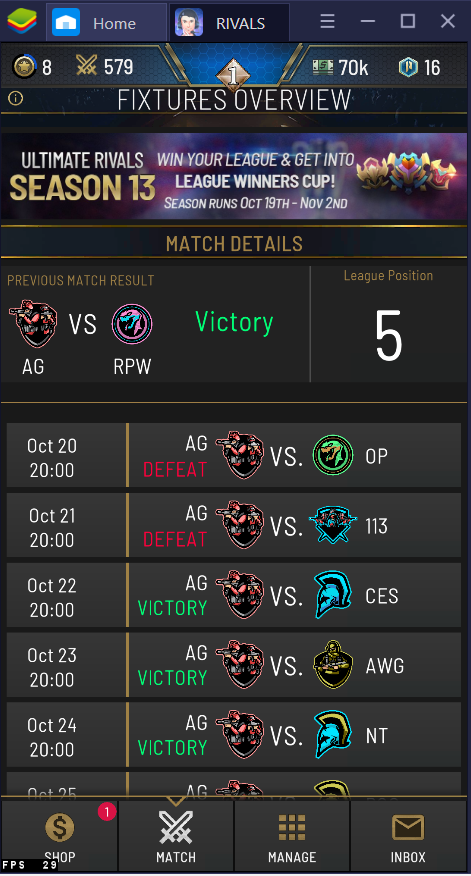 Competing with other teams is the climax of an Esports team. In RIVALS, your team participates in league matches where they fight other teams to climb up the leaderboards. League matches occur within League season which last exactly two weeks. Within those two weeks, one match takes place every 8pm and whether or not your team's wins will determine what their league ranking is.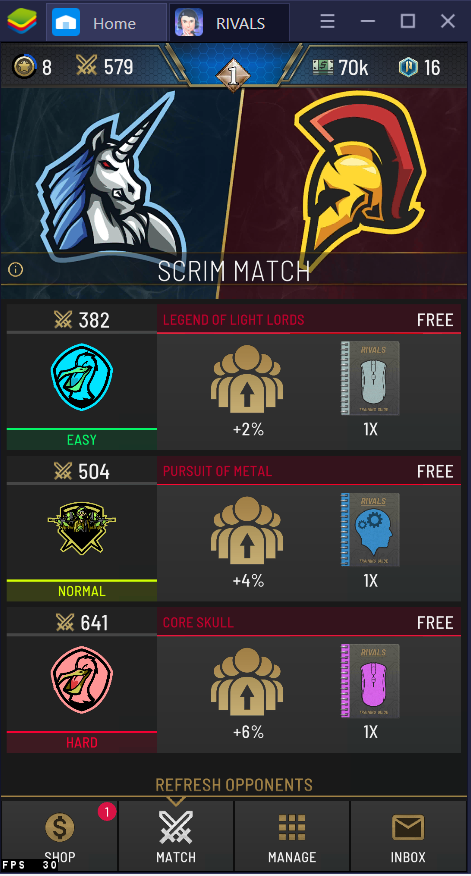 Alternatively, your team can also voluntarily participate in friendly matches called Scrim Matches against opponents with different levels of difficulty. Winning Scrim Matches will reward you with prizes such as money and also training plans. The harder the opponent, the better the rewards so make sure your team is well-trained.
With the exception of Scrim Matches, your team will always compete regardless if you're online or not. If you are online however, you can actually "join" the match and dictate what strategies your team should take during matches.
Picking the Right Strategies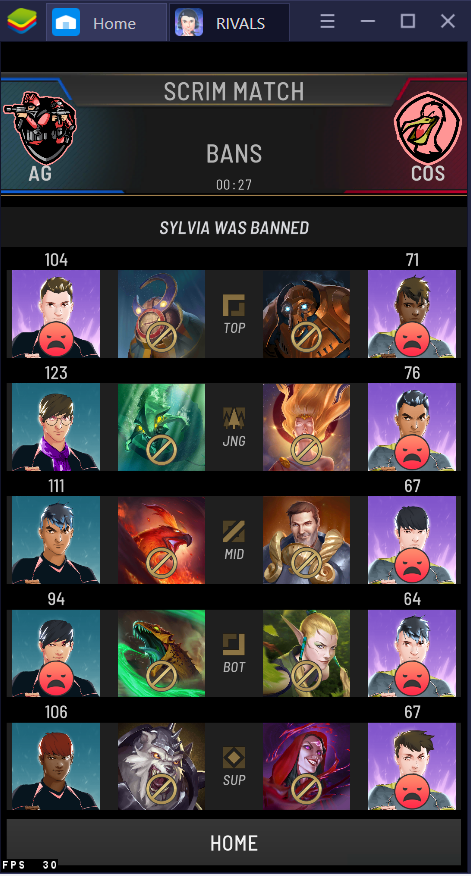 Before a match, certain in-game heroes will be banned from the match and this may affect your players' performance throughout the match. If one of your player's preferred hero gets banned then that will affect his performance. With this, it is best to invest in better players since they have mastered more heroes.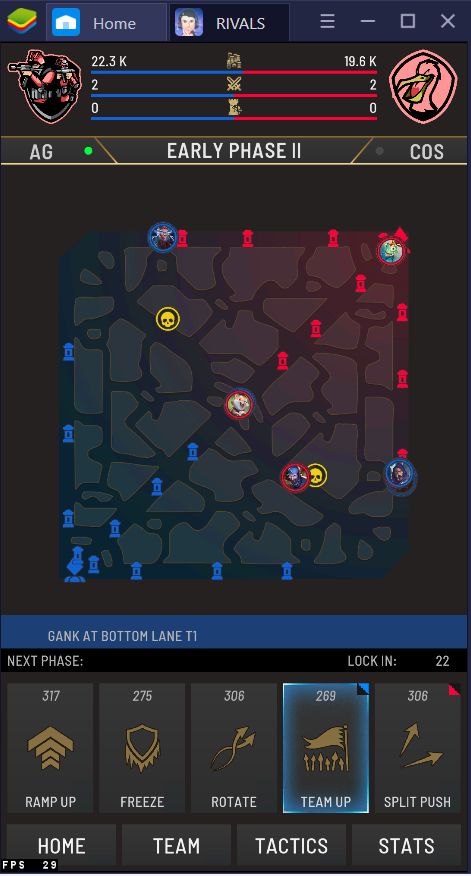 The main goal of each match is to destroy the "core" of the enemy team's base. The core is guarded by numerous towers which each team needs to destroy to get through and also defended by the team themselves. With this, it is important to select a good strategy for each phase of the match. Phases are split up into early, mid, and late phases with each having different choices of strategies to choose from.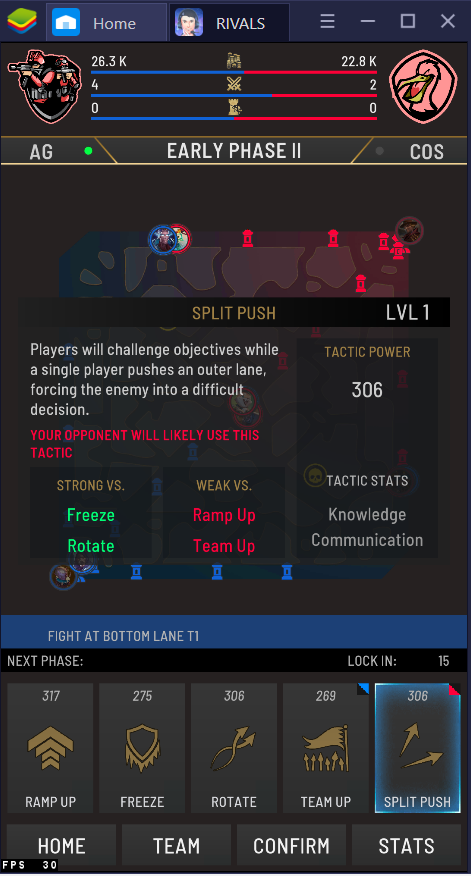 RIVALS actually helps you pick your strategy/strat by marking the strat that the enemy is likely to use. Each strat will have its pros and cons. For instance, the Split-Push strat gets countered by Ramp-up and Team-up while it dominates over Freeze and Rotate. The game will provide a brief description for every strat so we suggest reading these to make a better decision. Do it fast though since you have less than a minute to confirm a strat.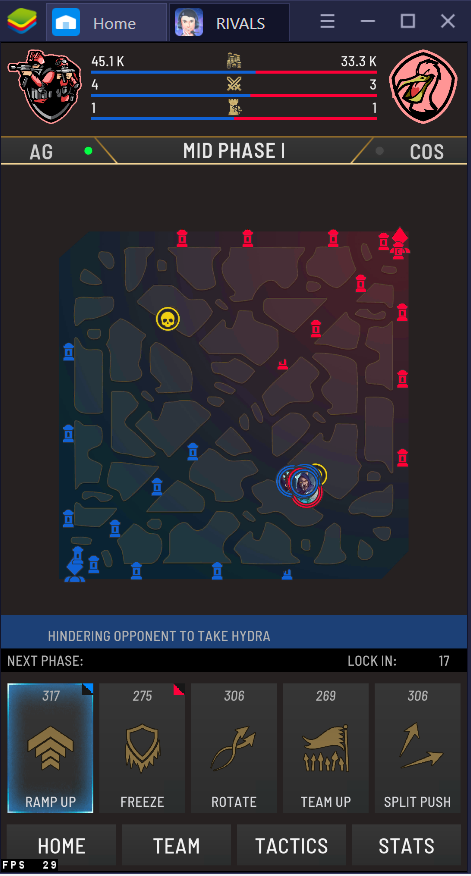 It is easy to just select the strat that the game says is strong against whatever the enemy's next strat will likely be in the next phase. However, note that it is still "likely" and this means that you still need to base your decisions on what's actually happening in the match. For instance, if most of your towers are destroyed, then consider taking defensive strats even if the game suggests you take an offensive one.
The Corporation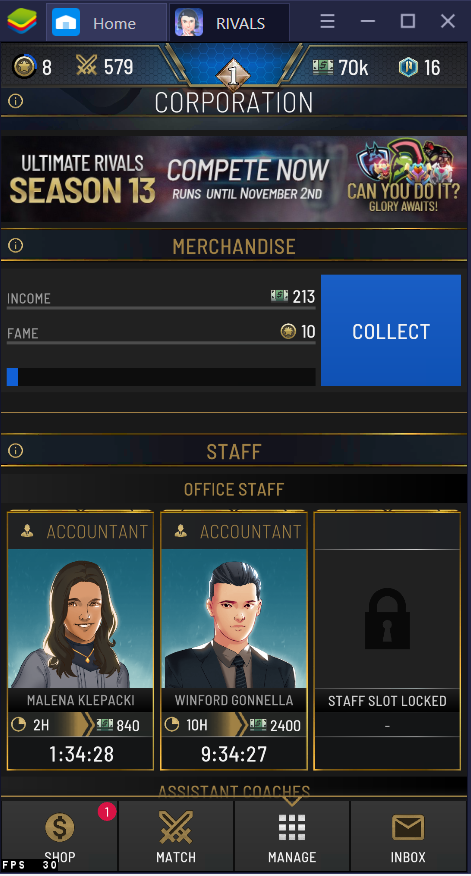 Your Esports team is more than just a group of really good MOBA players. Eventually, your team will gain Fame (earned by completing matches and through other tasks) and this entails a need for proper marketing and finances.
In RIVALS, the Corporation menu allows you to collect money and Fame made through selling merchandise. This is also where you place accountants (who can give you cash bonuses over time) after hiring them in the Transfer market.
You can increase revenue from the Corporation by upgrading certain facilities of your team's Gaming House.
Gaming House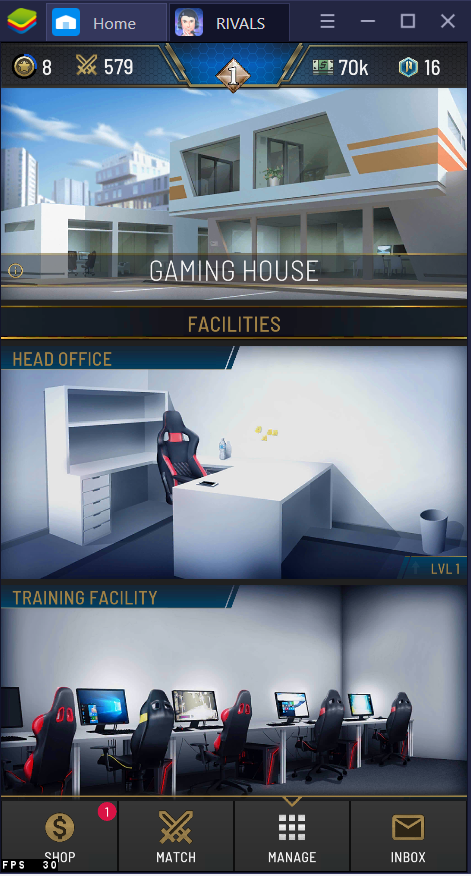 The Gaming House serves as the main headquarters of your team. You can spend money on improving its facilities. For instance, improving the head office will directly increase merchandise revenue, improving the training room will allow for more than one coach for the ream, and the like. Upgrade your Gaming House from time to time in order to hasten your team's development not only on the competitive side but also on the business side.
Make Your Esports Manager Career Better with BlueStacks
Start your managerial career now by playing RIVALS on your PC or Mac with BlueStacks. Not only can you manage the affairs of your Esports team from the comfort of your own PC or Mac but you can also take advantage of BlueStacks' extra features to aid you in your career.
For instance, you can use the BlueStacks Macro Tool to bind certain keys to certain actions. In the case of RIVALS, you can assign five keys and pressing either of them will select a strat for you. Moreover, you can even be a manager of two teams at the same time with Multi-instance, which allows you to reinstall and replay RIVALS on a separate virtual Android engine.
Build your Esports team now and rise to the top of the leaderboards with them now with BlueStacks.