Game Guides
Win Every Game – Tips and Tricks for RIVALS Esports MOBA Manager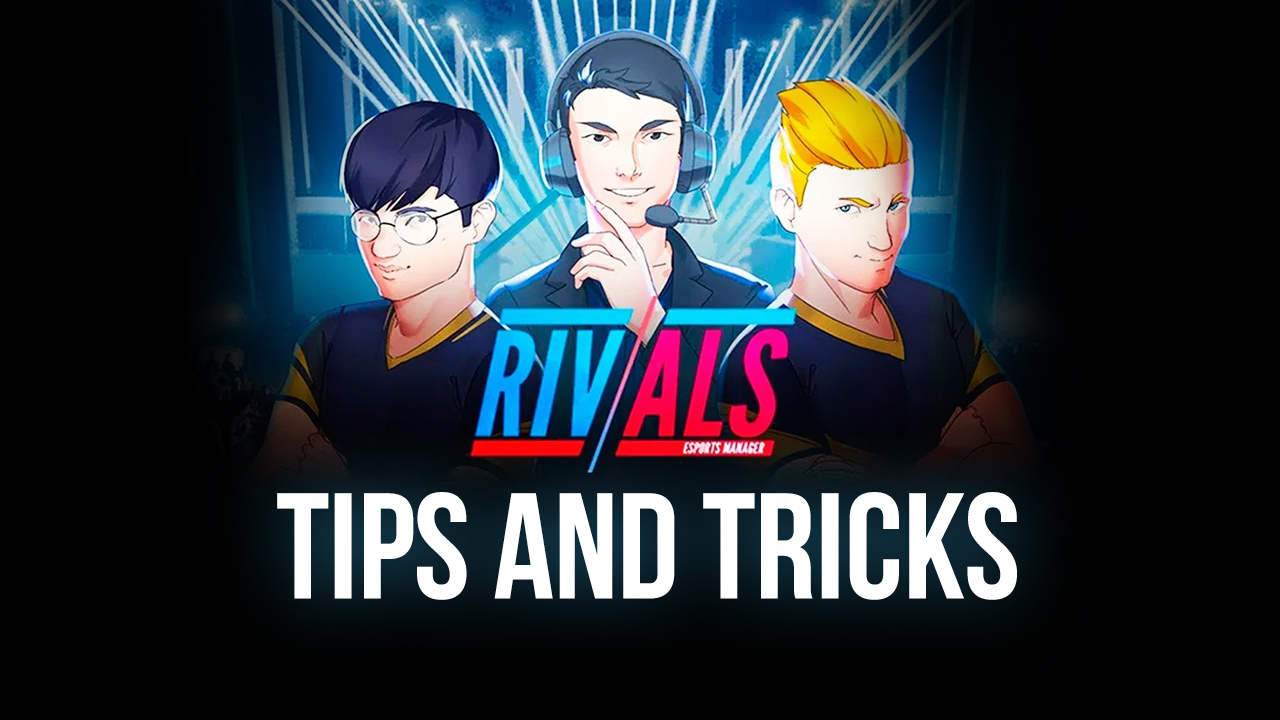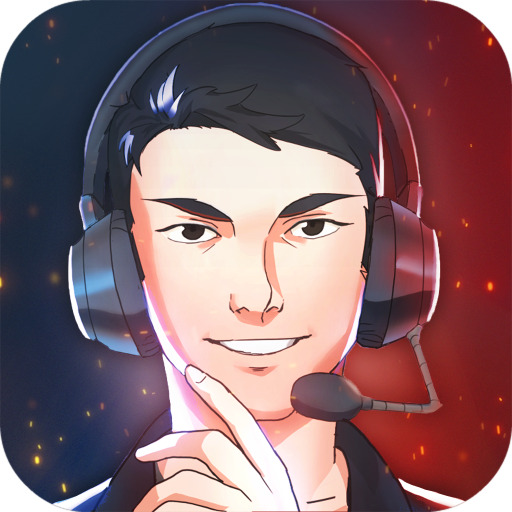 Being the manager of your own Esports team in RIVALS Esports MOBA Manager is extremely fun but you need to remember that there is fierce competition out there. Your team will have to go against hundreds of other Esports teams from all around the globe and you're going to need to work hard to ensure that they get to the top of the leaderboards.
In this article, we'll show you some tips and tricks that will help ensure your Esports team becomes powerful enough to dominate the global rankings. First, let's focus on the foundation of winning a game – the preparation.
Ban the Enemy's Champions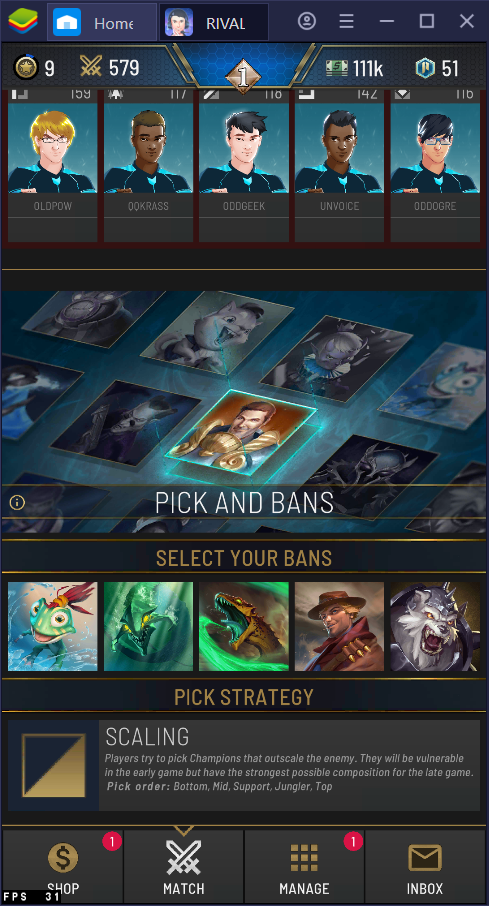 Your team participates Fixtures wherein they fight against other teams in their current league to advance to the next one. Interestingly, you can actually customize your team's game plans for the next match and of these is banning enemies from using their preferred champions, which in turn will negatively affect their performance in the game.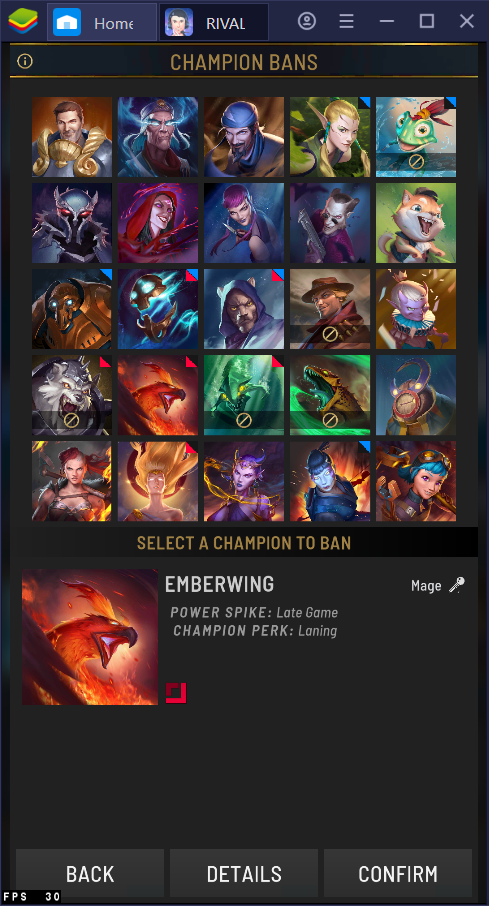 In the Setup menu, scroll down and you'll see an option to select bans. The champions that are favored by the opponents will be marked with red. Make sure to ban these champions by clicking "Confirm" to instantly grant your team an advantage. Be careful though since sometimes, your player and the opponent player may have the same preferred champion. With that, you need to think twice about banning said champion or not.
Prepare a Strategy for the Next Game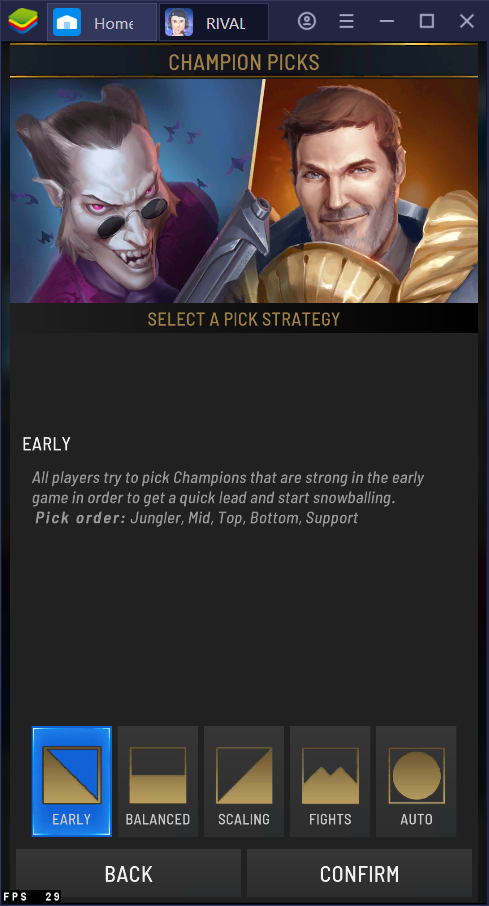 While you can ban specific heroes from being used during matches, you unfortunately cannot force your team to pick specific heroes. However, you can set the priority of their picking. Below the hero ban tab, there is an option that will let you tweak your pick strategy by choosing either of five priorities:
Early –

your team will pick champions that are strongly used for early phases in an effort to take a huge lead early on in the game.

Balanced –

your team picks will be split into defensive and offensive champions.

Scaling –

your team will pick attack-heavy champions which may compromise defense but will be able to outnumber enemies, especially useful in late phases.

Fights –

your team will take a tank-heavy approach to win mid-game battles.

Auto –

your players will automatically select their favorite champions, assuming they're not banned.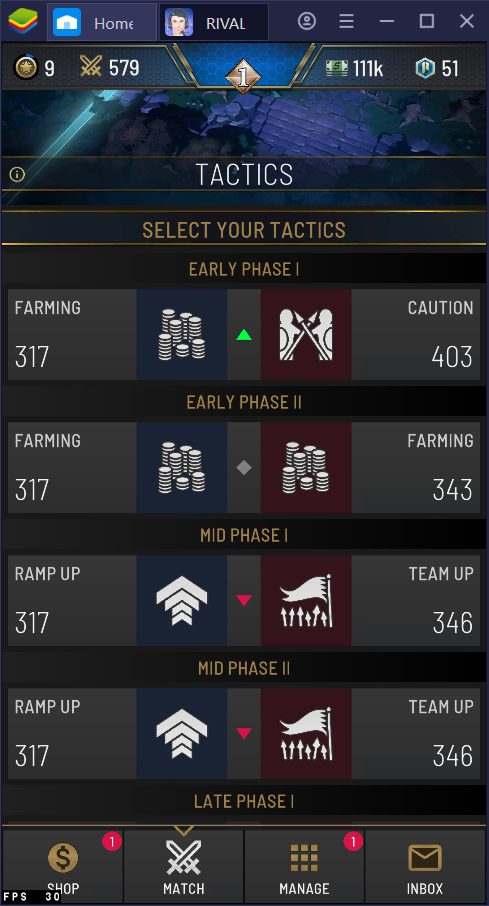 When selecting your team's picking strategies, you need to ensure that it goes hand in hand with the actual strategies that will be executed during the game. Fortunately, you can customize the order of strategies. Directly below the menu for pick strategy is a long menu where you can tweak your game plan.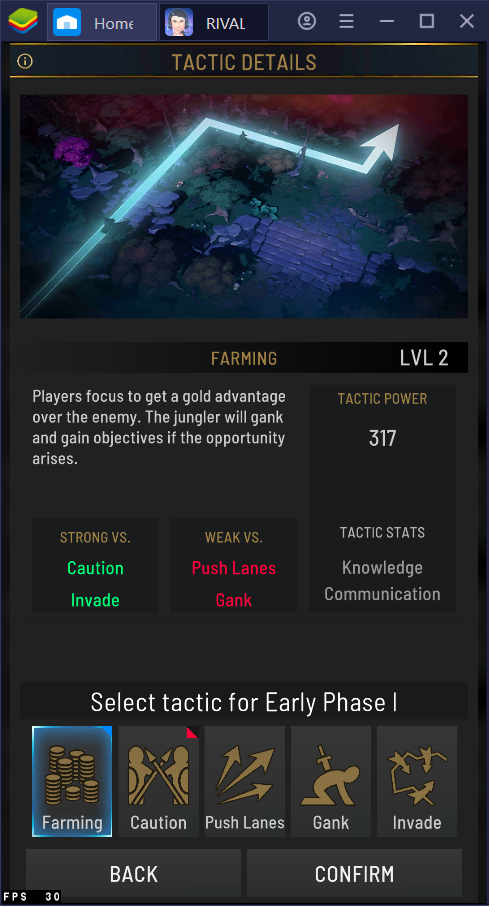 If your pick strategy is Early, then it's best to prioritize Farming in the early phases since this will help your team in harvesting resources that they will need to become stronger during the later phases. On the other hand, the Scaling pick strategy may be more compatible with early aggressive strategies such as Push Lanes, Gank and Invade.
Every team is undoubtedly different. With that, feel free to experiment with different strategies to find which one suits your team the most and will always bring your team to victory.
Complete Daily and Weekly Tasks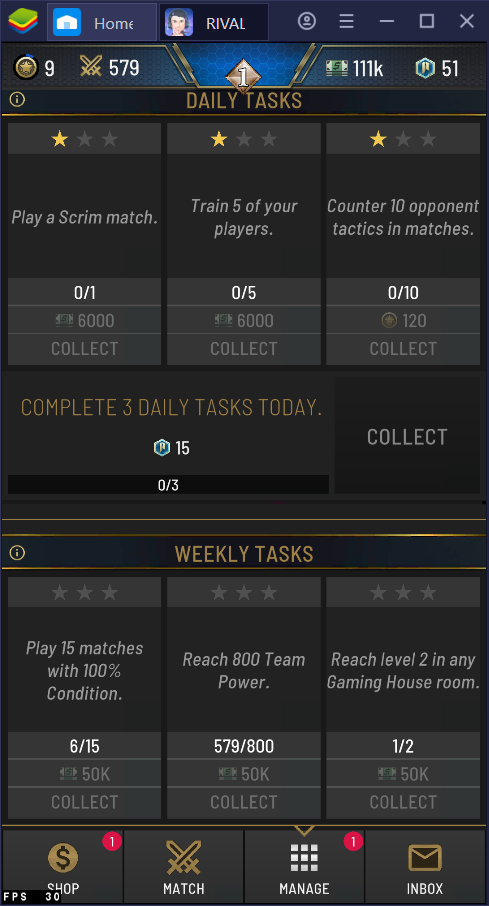 In order to develop your Esports team, you're going to need plenty of money as well as Fame and Rivals Tokens – the game's special currency. One way of earning these resources quickly is by doing daily and weekly challenges which are always posted on the Manage tab.
Completing daily tasks will reward you with about 6000 cash or even a fair amount of Fame, depending on the difficulty of the challenge. After accomplishing three daily tasks, the game will reward you with 15 Rivals Tokens. Additionally, it will reward you even more after doing five more daily tasks.
Weekly tasks offer huge rewards like 50,000 cash so make sure you don't forget to do weekly tasks. Moreover, completing three weekly tasks will reward you with 100 Rivals Tokens, which – combined with the money earned by accomplishing said tasks – is enough to buy a new and very skilled player to add to your roster.
Play Scrim Matches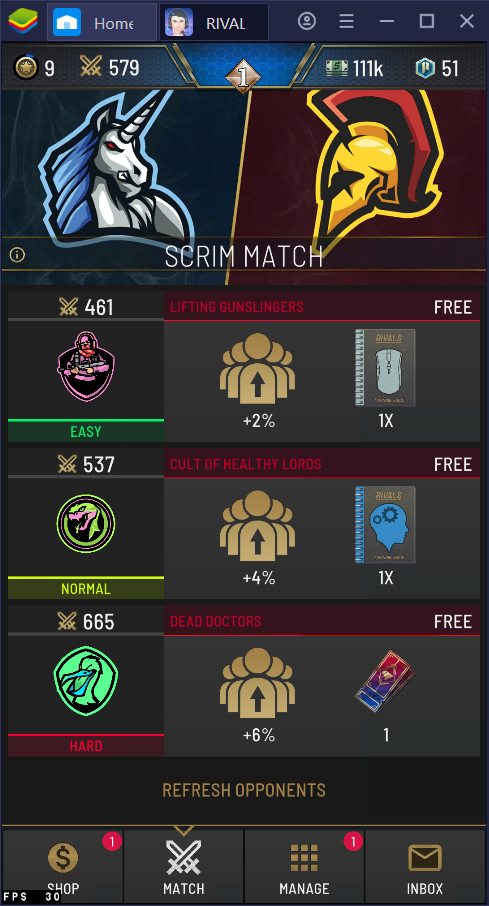 The Esports world is not just limited to seriously playing in the big leagues. Playing practice matches against other teams is also part of the field. In RIVALS, your team can compete in these friendly matches – which are formally called Scrim Matches – wherein they play against either of three teams with varying levels of difficulty.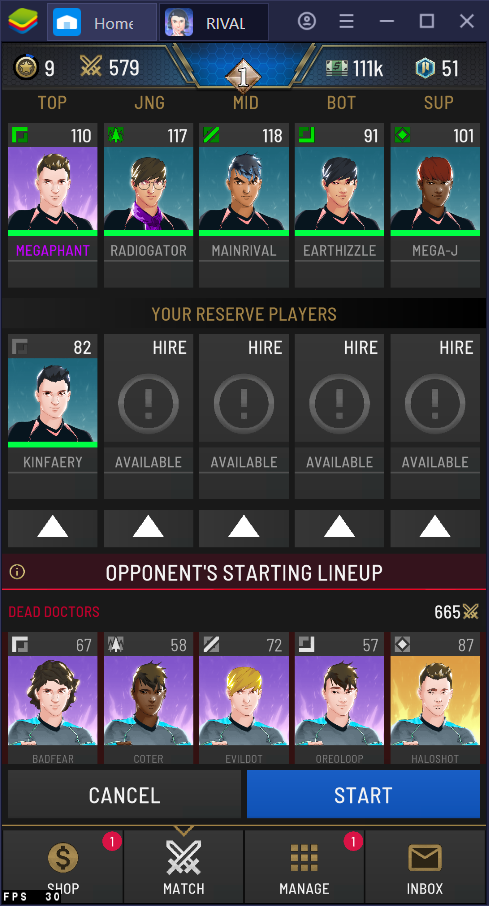 There is an easy, normal, and hard difficulty but we suggest always playing against normal-level and or hard-level teams since beating them will yield better rewards such as training plans. Moreover, defeating teams will subsequently increase your players' overall skill and beating stronger ones will increase this further.
Don't Forget to Rest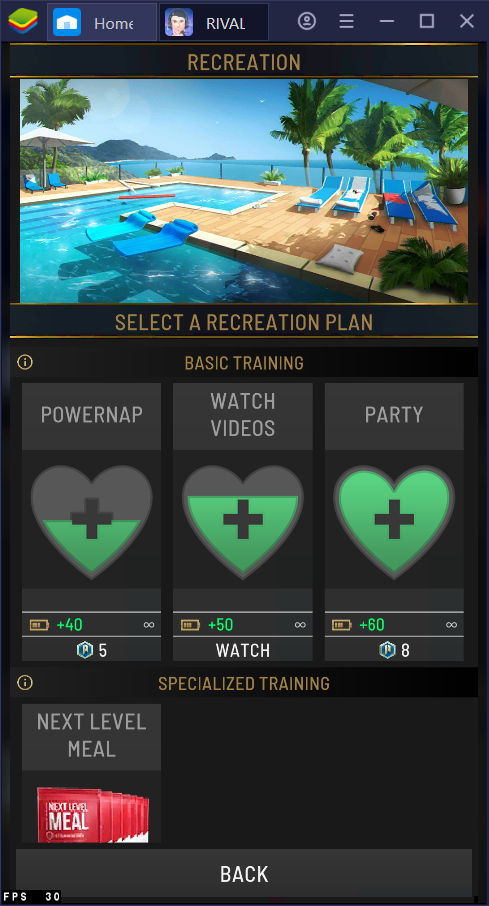 Before competing in league games, ensure that your team is sufficiently energized so that they will be able to maximize their performance. The worst thing that you can do is to send off your team to a league game after completely draining their energy from training sessions prior to the match. Furthermore, some daily tasks require your team to play in 100% condition so don't forget to give them some rest.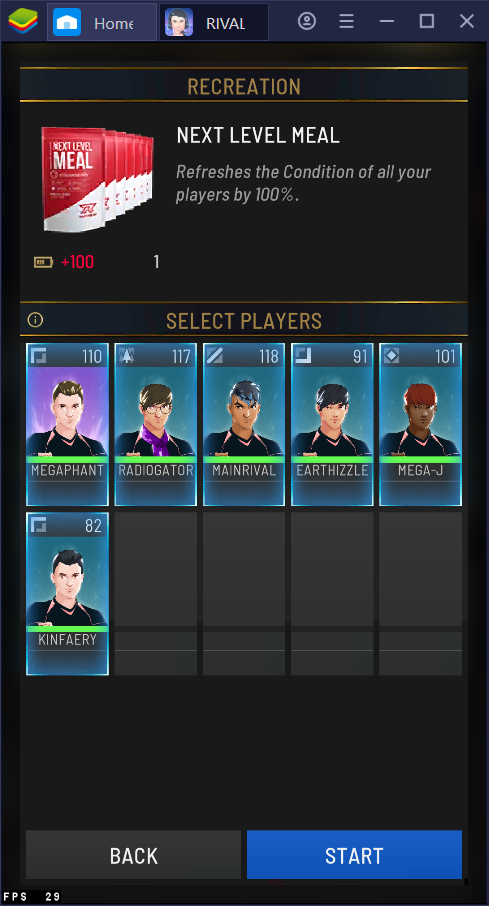 The Recreation menu has all you need to refuel your team. You can spend Rivals Tokens to refill either 40% or 60% of their energy or you can watch a short ad to refill 50%. Alternatively, you can instantly replenish it to 100% if they consume Condition Boosters, which can only be garnered through daily login rewards, winning Scrim Matches, or special in-game events.
Dominate the Esports World
Manage your own Esports team now and apply all the tips and tricks shared n this article by playing RIVALS Esports MOBA Manager on your PC or Mac with BlueStacks. With BlueStacks, you have access to features that will make your manager career more convenient such as the BlueStacks Macro Tool. Moreover, you can even be a manager of two or more teams at the same time with Multi-instance, which allows you to install and play another "instance" of RIVALS on a separate Android engine.