Game Guides
Runes of Dragon on PC: Top 10 Tips and Tricks for Beginners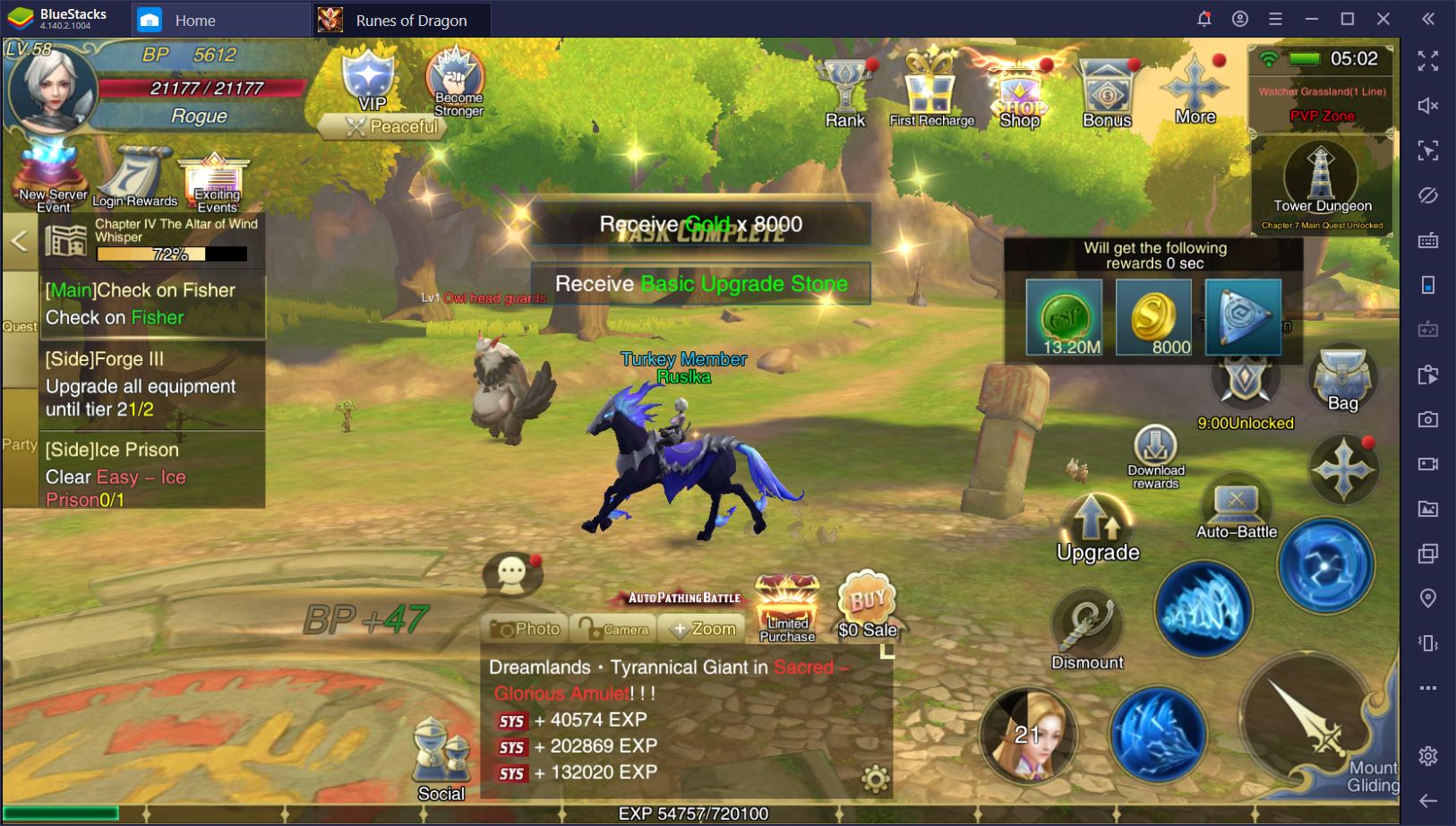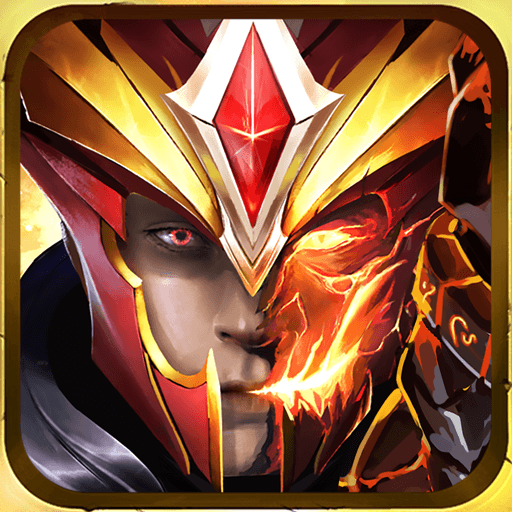 Runes of Dragon may be a newly published MMORPG, but many of its game mechanics follow the same old recipe for success. Much of the game relies on Autoplay, which might put off some players, but, if you stick through the first few hours, you can unlock new modes that actually require you to take control of your character in order to successfully complete an activity.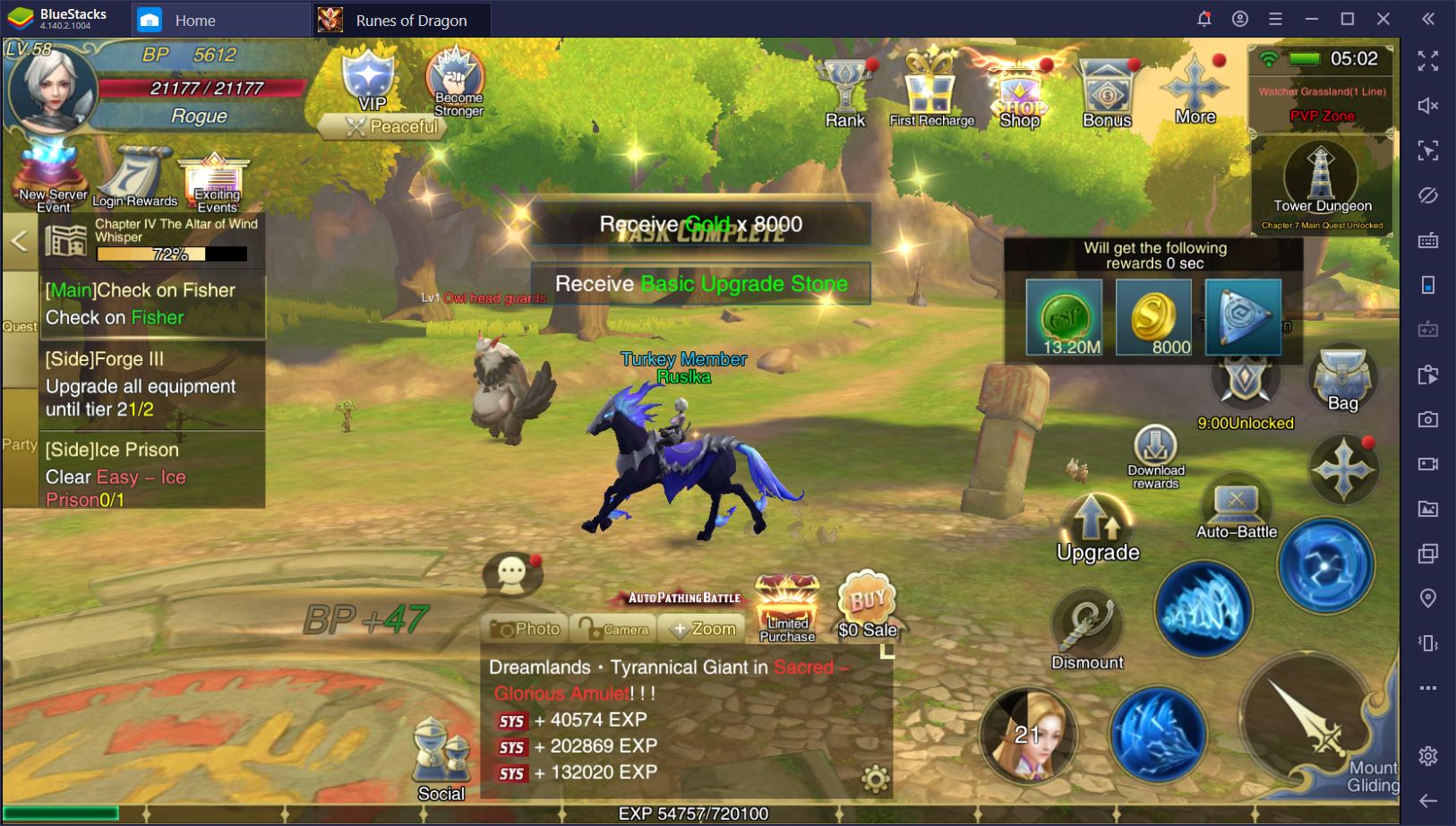 If you're already familiar with this type of game, you might find more useful tips in our upcoming list of must-do daily activities. Otherwise, there are a few things that Runes of Dragon won't tell you, but that can make a significant difference early on. You'll find everything you need to know as a new player in the 10 tips and tricks described below.
1. Auto-Mode Is Your Best Friend
Some MMORPGs ask you to take control right away, while others let you sit back and relax while your character does most of the work. In many cases, game developers use a rather annoying mix of the two so that you are forced to input a command once every few minutes in order to keep your character moving.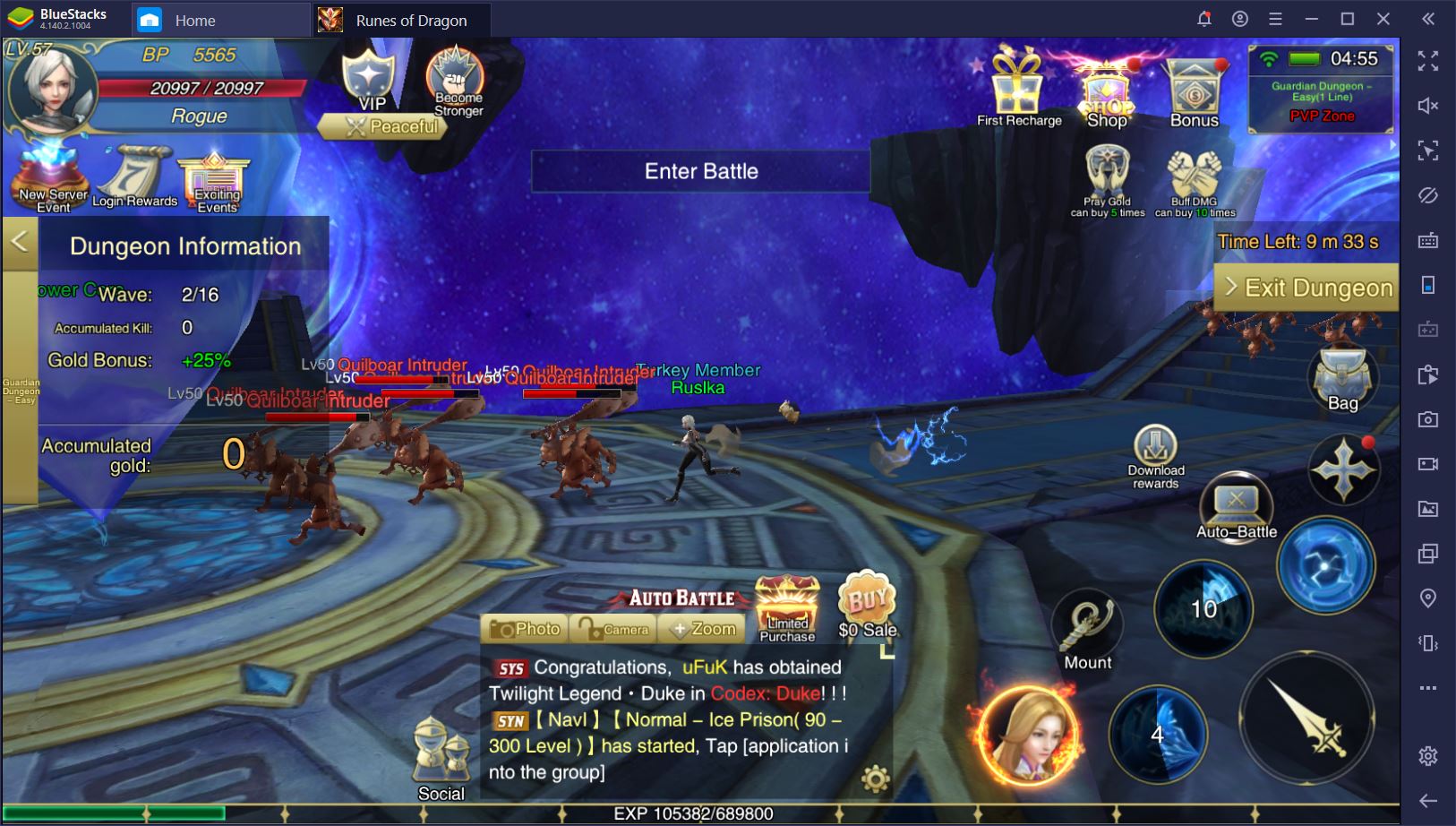 Fortunately, that's not the case in Runes of Dragon. For the better part of the early-game, everything can be completed on Auto, while your character will move from one quest to another on their own. Take advantage of this and let the game take you through the boring tutorial.
2. Focus on EXP Gain
In Runes of Dragon, the real fun starts when your level is fairly high. As such, you should focus on maximizing your EXP gain for the better part of the early- and mid-game. To begin with, this will mean completing as many quests in the main storyline as possible. Your character can handle most of these quests on auto, so you just have to let the game run in the background.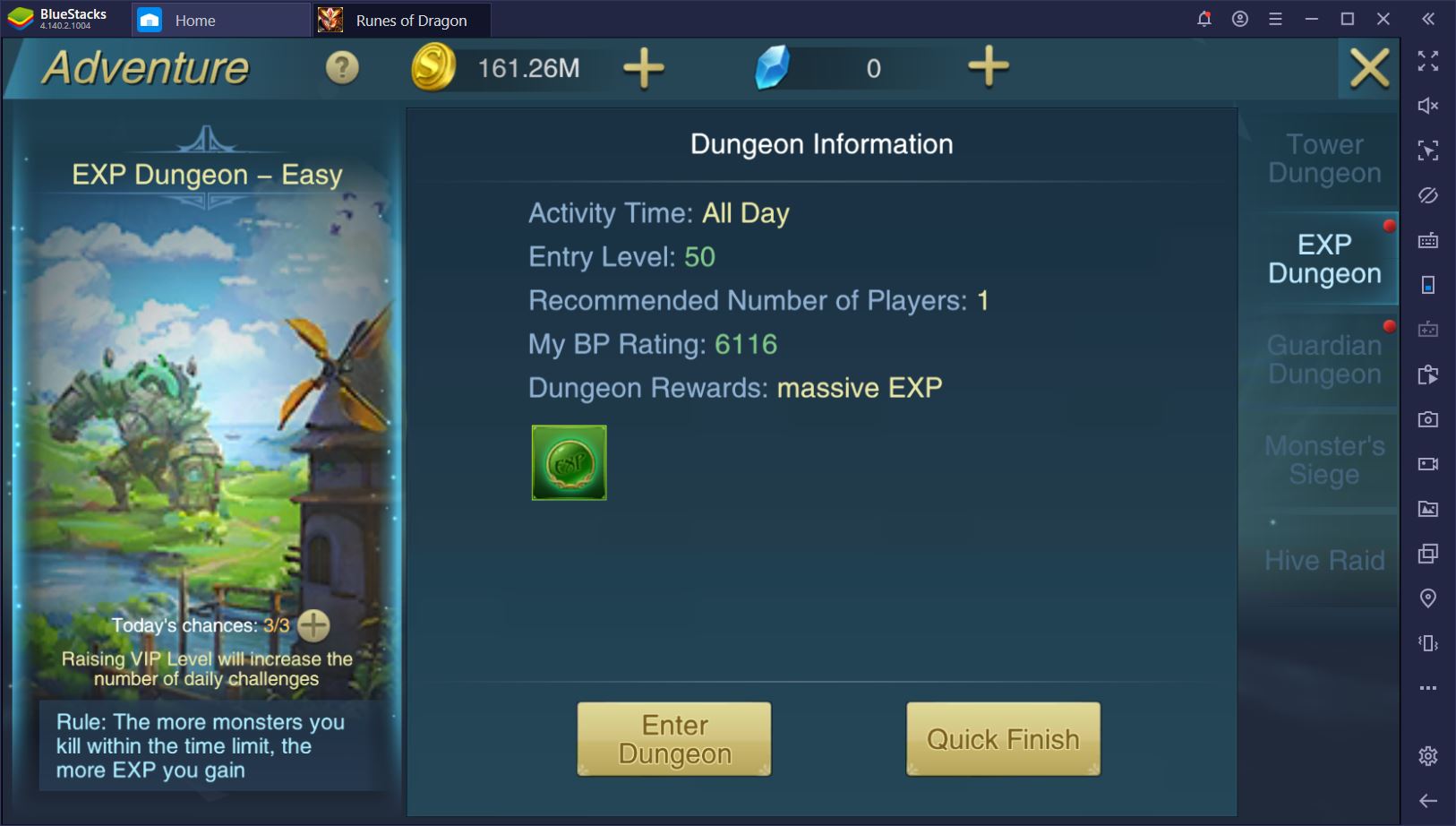 If you don't want to drain your phone battery during the course of the day, you can always play Runes of Dragon on PC using BlueStacks. Not only can your character complete more quests in this manner, but you can let them farm for hours on end with no interruptions.
3. Some Quests Are Timed
As you advance in the main questline, you'll notice that some additional quests pop up and that they are timed.
These offer more rewards if you complete main quests in a given time span, which means that the more quests your character completes uninterrupted, the better for your EXP gain.
4. Max Your Activity Points Each Day
There will be a number of different activities you can tackle each day to get more EXP, gear, and other rewards. We talk about them in detail in a different guide, but as a general rule, it's important to get these done as often as possible.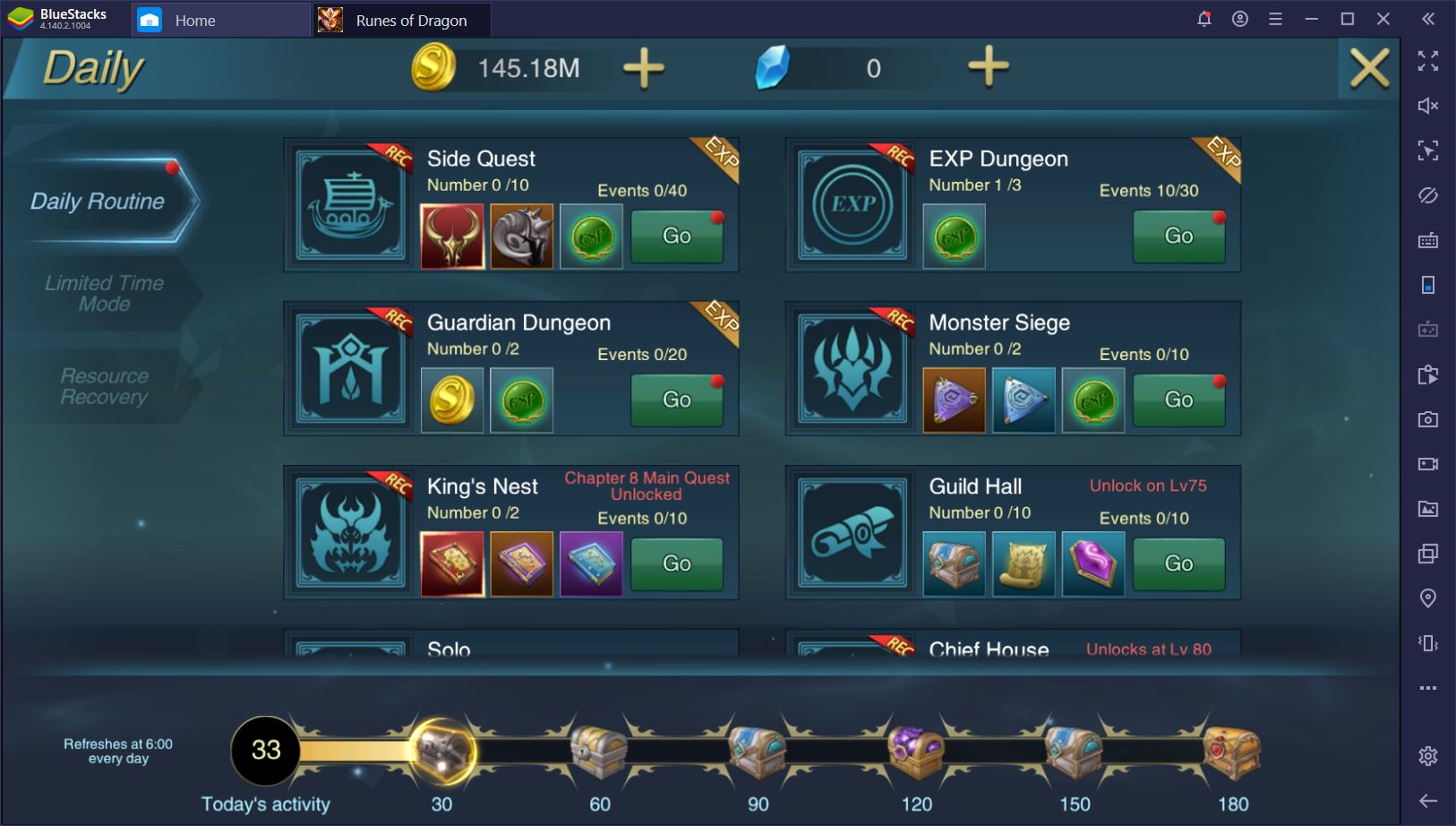 Every activity you complete during the day contributes to that day's activity score. The higher the score, the more goodies you receive for your efforts.
5. You Upgrade Gear Slots (Not Pieces)
Gear upgrades can be pretty costly in Runes of Dragon and it might look like they are applied to individual piece of gear. Thankfully, however, this is not the case. Whenever you upgrade your headpiece, for example, you actually improve the slot, rather than the item itself.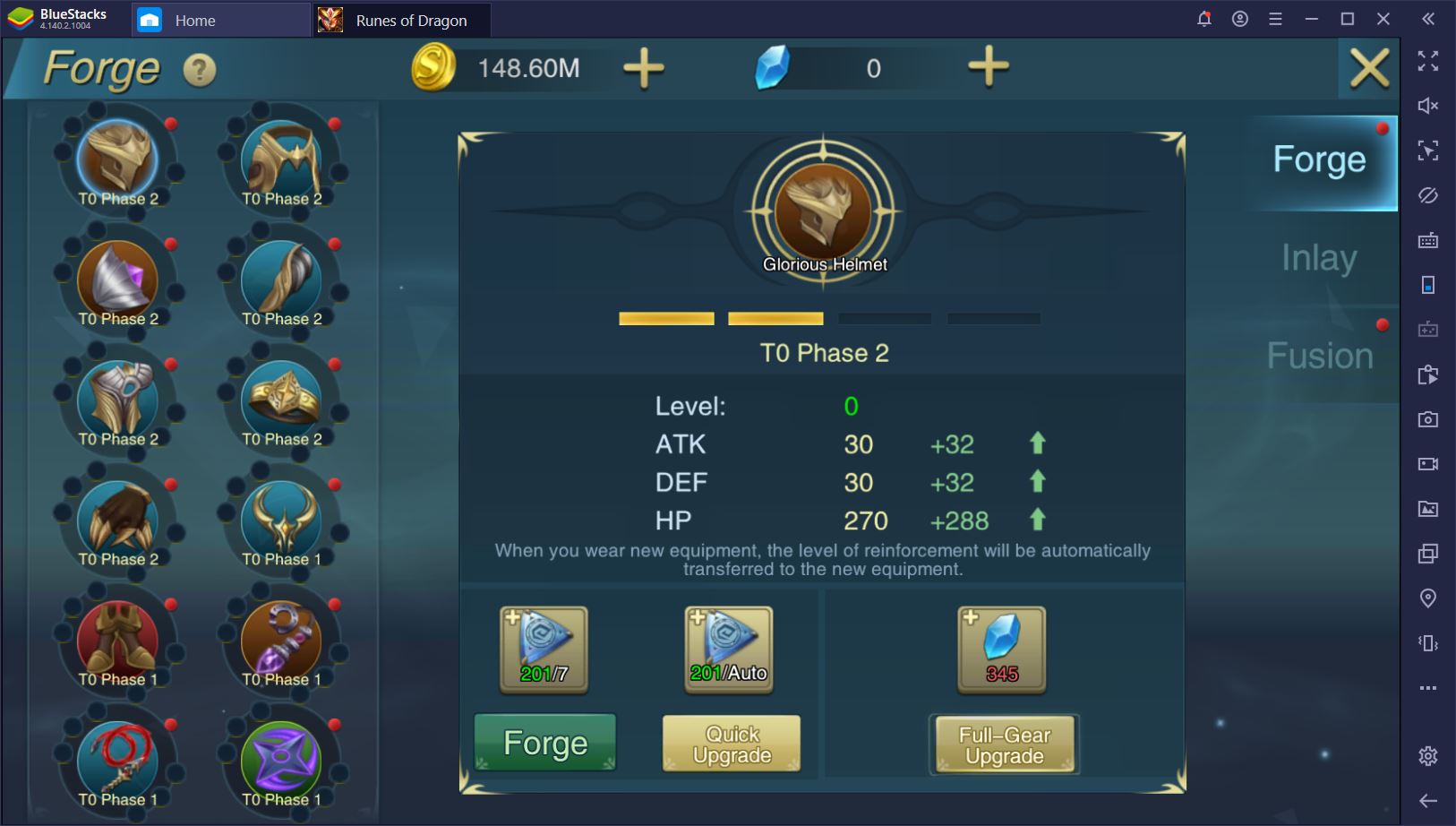 In other words, even though you will change that item in the near future, the upgrade will remain. As such, you should feel free to use your upgrade resources as soon as they become available.
6. Boost Your BP Often
There are many different ways to improve your character in Runes of Dragon, from leveling up to upgrading your gear and enhancing your mount, wings, and other features. We discuss these options at length in our guide to character BP.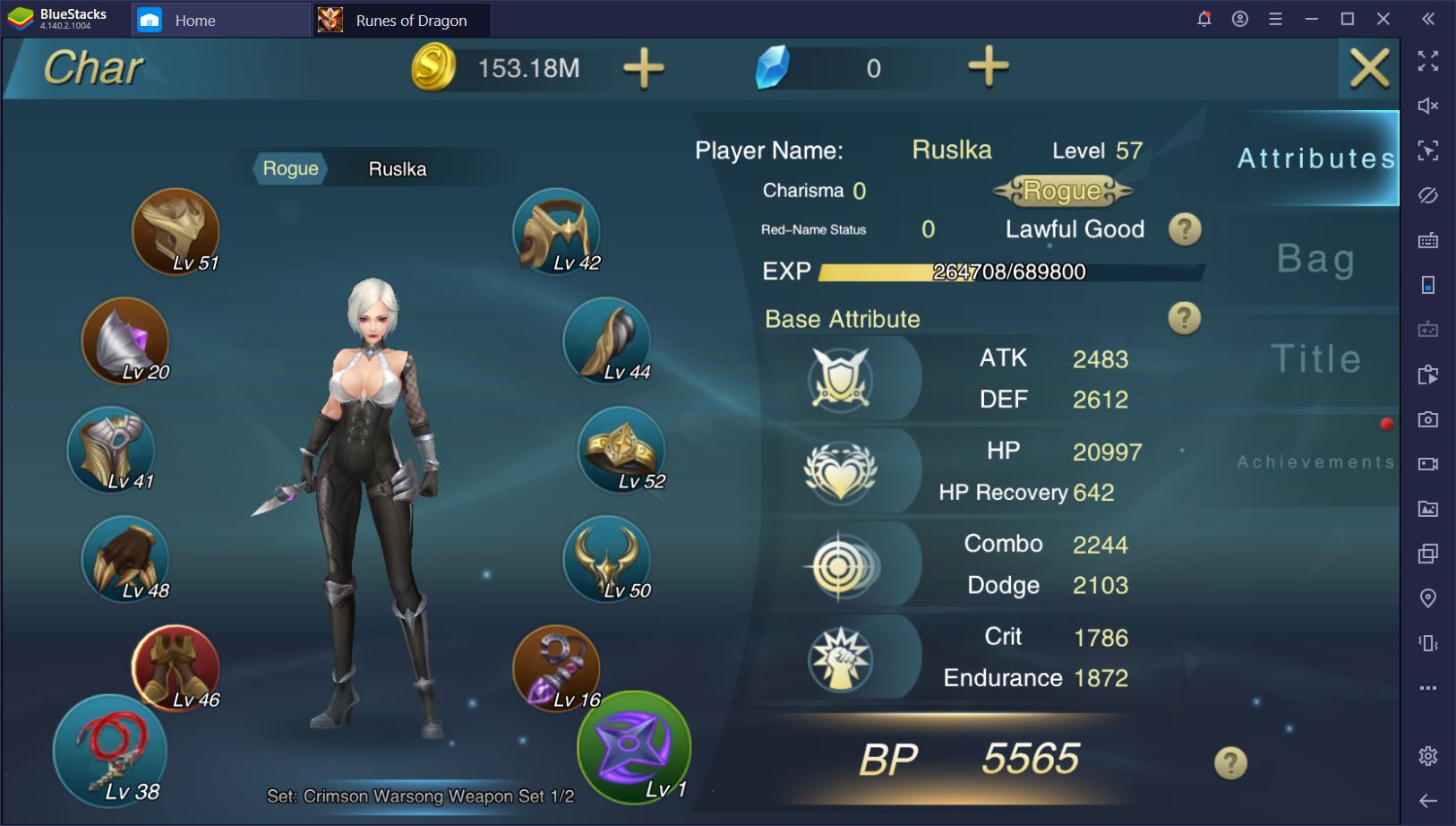 It's a good idea to go over the list of possible upgrades at least once every day. Most new content is unlocked based on your CP, so you want to improve your numbers as often as possible.
7. Complete Codex Entries for Extra Stats
The number of different menus that the game asks you to remember can be confusing. The Codex, for instance, is something you might easily forget, but that can improve your BP by quite a bit with very little effort.
When you access the Codex, you'll notice that different stat boosts can be unlocked by killing a given number of specific monsters. Whenever you have a free moment, set your character to farm these monsters and then collect your free improvements.
8. Claim Your Free Goodies
Speaking of free improvements, although Runes of Dragon does ask you to spend real currency fairly often, it also gives you many opportunities to earn goodies at no cost. You just have to remember to pass through all the right menus in order to collect everything.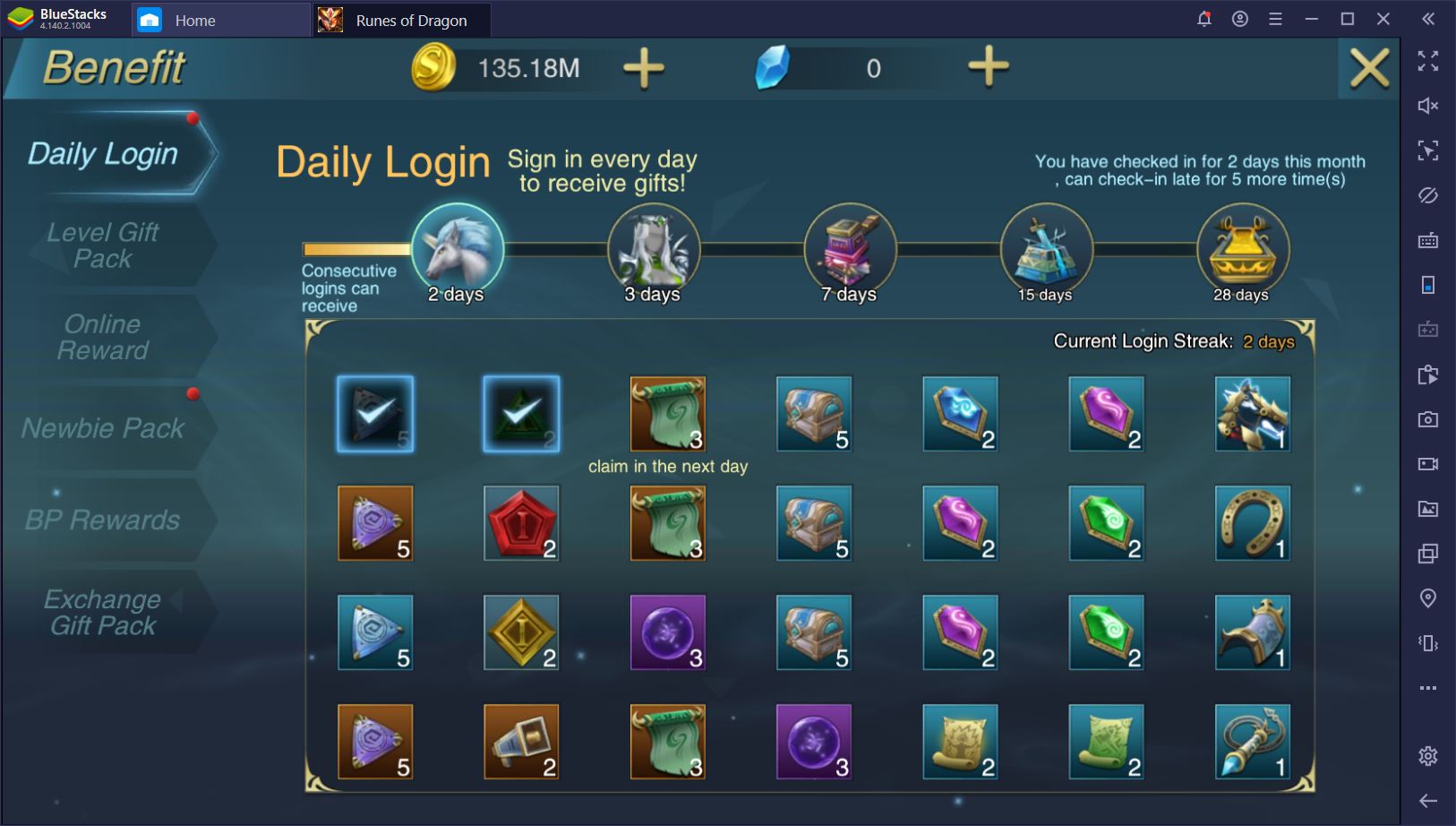 Start with the Achievements tab on the Character screen and make your way through the daily login bonus, the 7 day starter loot, the new server event (in case you're on a recently inaugurated server), and the activities screen.
9. Try Out All Game Modes
As you level your character, you'll unlock dozens of new game modes, both in PvP and in PvE. You might not think much of them to begin with, but the fun part of Runes of Dragon is hidden in some of these activities.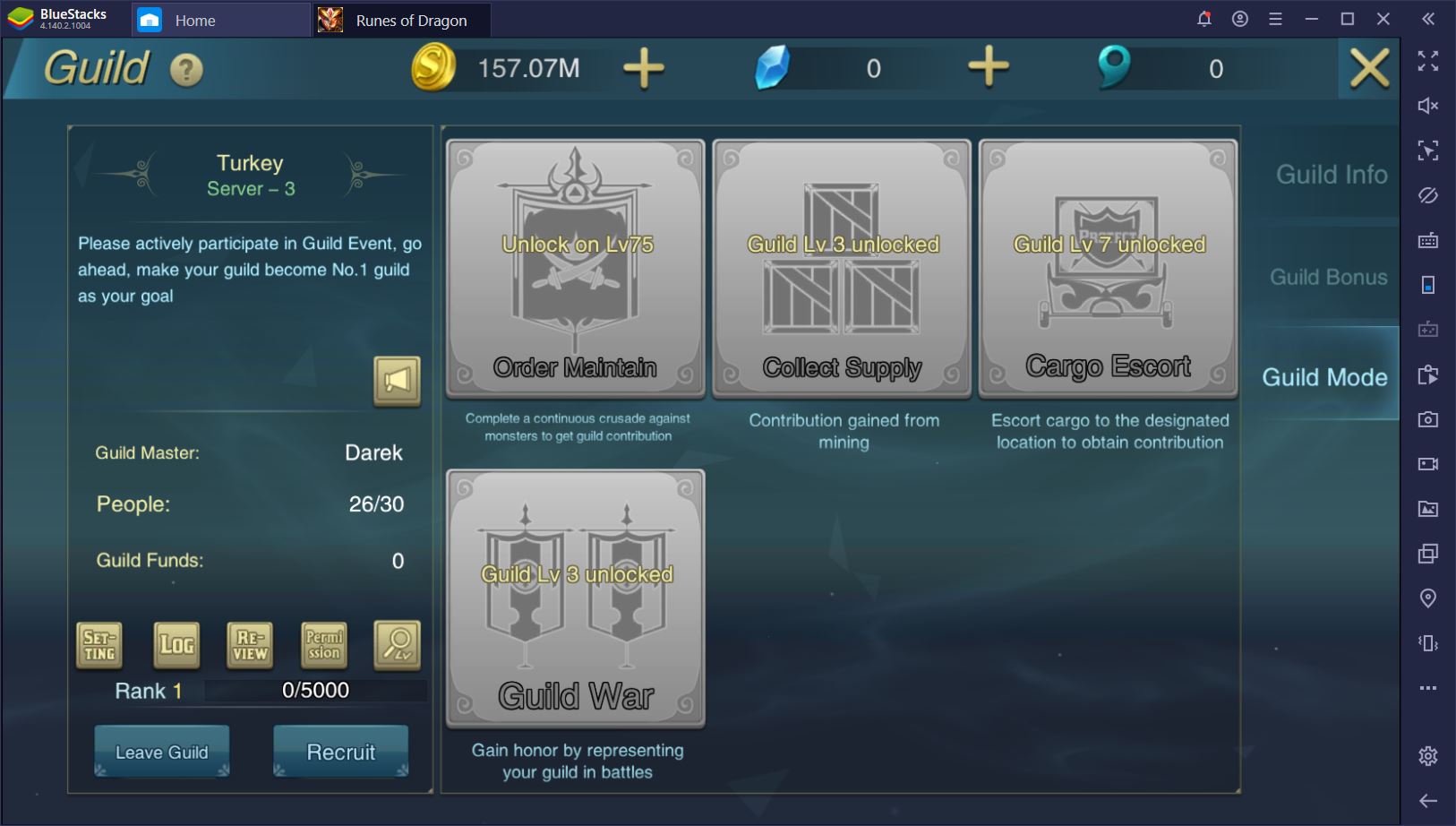 Join a guild as soon as possible to start enjoying raids and alliance wars. You might even make a few friends while you're at it.
10. RoD Takes Some Time to Start
You'll likely spend your first few days on Runes of Dragon on Auto Mode, which can be somewhat of a bubble popper for some players. The game can be misleadingly boring at this point, but it would be a pity to give up on it this soon.
Although it doesn't look like it, RoD does have some outlets for actual fun, such as some of its PvP modes and though raid bosses. The thing is, you have to wait patiently for at least 100 levels before you can experience them. Luckily, BlueStacks can take care of the grind, while you focus on activities you actually enjoy. Isn't that what emulators are for, after all?